Peanut butter confetti squares are an easy colorful dessert with fruity marshmallows, peanut butter, and butterscotch chips to make the perfect marshmallow fudge dessert. 
There are so many different desserts you can make with marshmallows, like Marshmallow Crunch Brownie Bars, and Peanut Butter Confetti Squares are one of the easiest you'll ever try. A perfect sweet treat for bake sales and potlucks.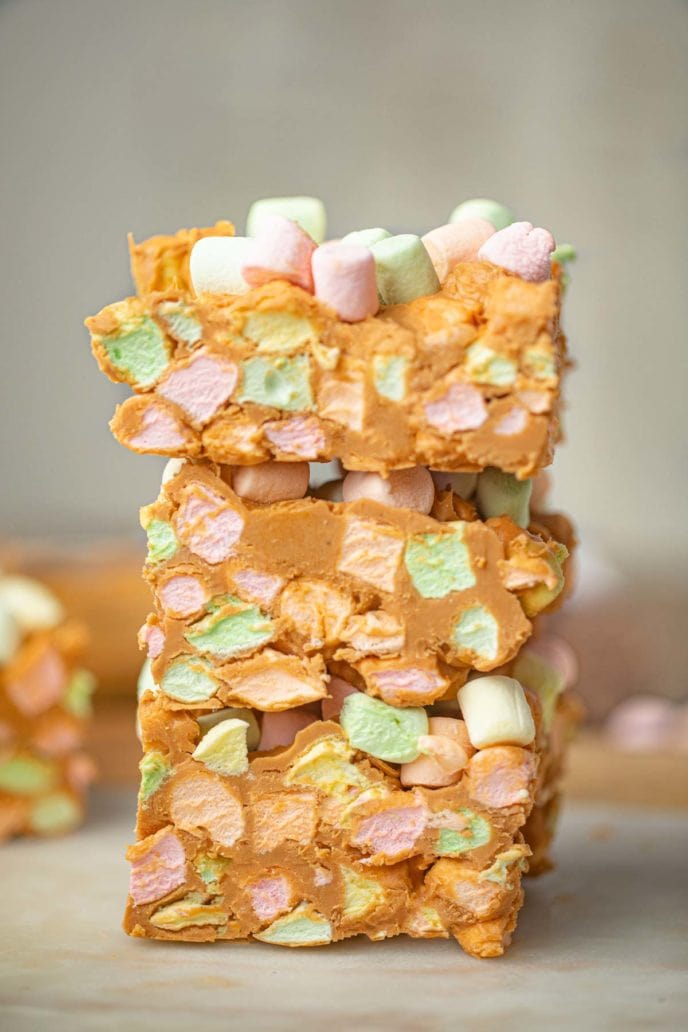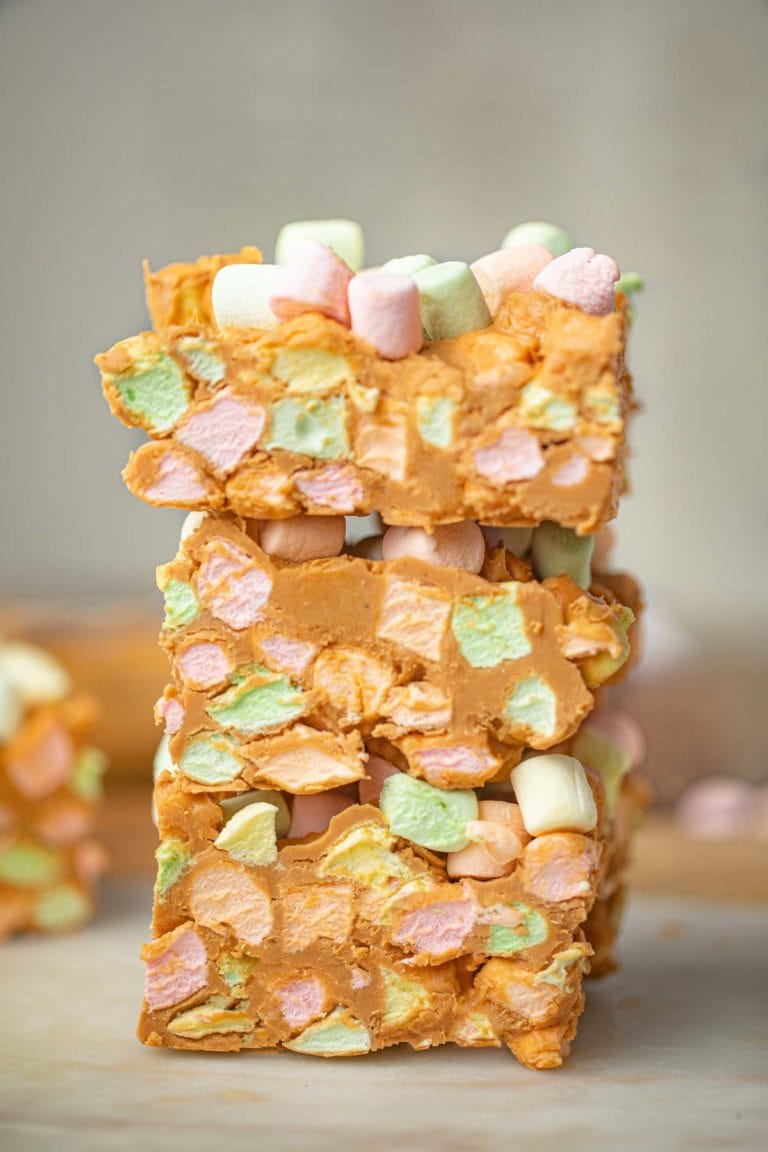 PEANUT BUTTER CONFETTI SQUARES
Marshmallow, peanut butter and butterscotch confetti squares are a yummy treat that comes from an easy recipe and can sit out at room temperature for long periods of time, which makes them great for the next bake sale you forget about until the last minute. The recipe is great if you want to let an aspiring chef try cooking for the first time with supervision, because it's quick, easy and doesn't need a ton of clean up. If you want to be really impressive, make your own Homemade Marshmallows from scratch first.
If you like no bake desserts, you should try my recipe for Rice Krispies Treats, No Bake Cookies or Avalanche Cookies.
HOW TO MAKE PEANUT BUTTER CONFETTI SQUARES
Spray a backing pan with cooking spray to start.
Over medium heat, melt the butterscotch chips and peanut butter in a large saucepan.
Once they're completely melted, stir the vanilla extract and salt into the peanut butter and butterscotch and turn off the heat.
Let the mixture cool to room temperature.
Stir in the marshmallows and pour the batter into your greased pan.
Put the whole pan into the fridge and refrigerate for at least 2 hours.
Take the pan out and turn it upside down over a plate to get the dessert out.
Cut into 12 squares and serve.
Here's a tip to get your frozen confetti squares out of the pan easier: line the bottom with wax paper or parchment paper first, making sure to leave enough poking up over the top to get a good grip on. Once the confetti squares have set, evenly pull up the paper and your dessert will come out with it.
Confetti Squares Flavor Variations:
Mini Marshmallows: if you want a different look and texture, use mini marshmallows. Just be aware that you will have to use more of them than you would expect.
Chocolate Chips: add chocolate chips when you stir in the marshmallows. If that's just not going to satisfy your sweet tooth, you can also use chunks of fudge.
Cupcakes: follow the recipe the same way but separate the marshmallow bars into a muffin tin instead of a single pan to make perfect, shareable treats for a party.
Nuts: if you use crunchy instead of creamy peanut butter, your confetti squares will feel like you stirred in hand chopped nuts without you having to add the extra step.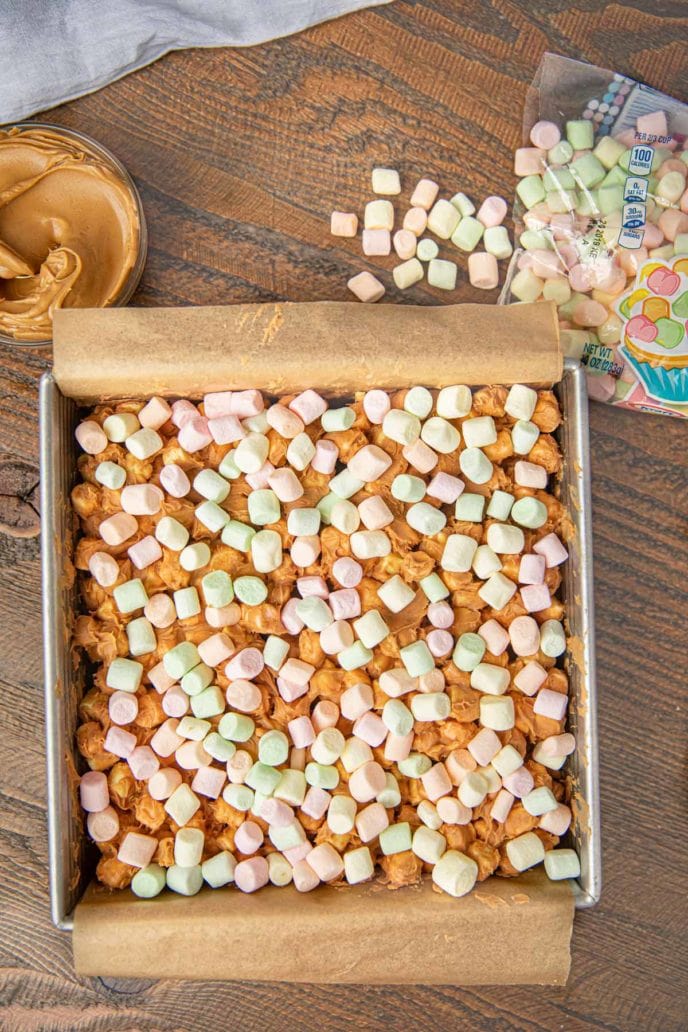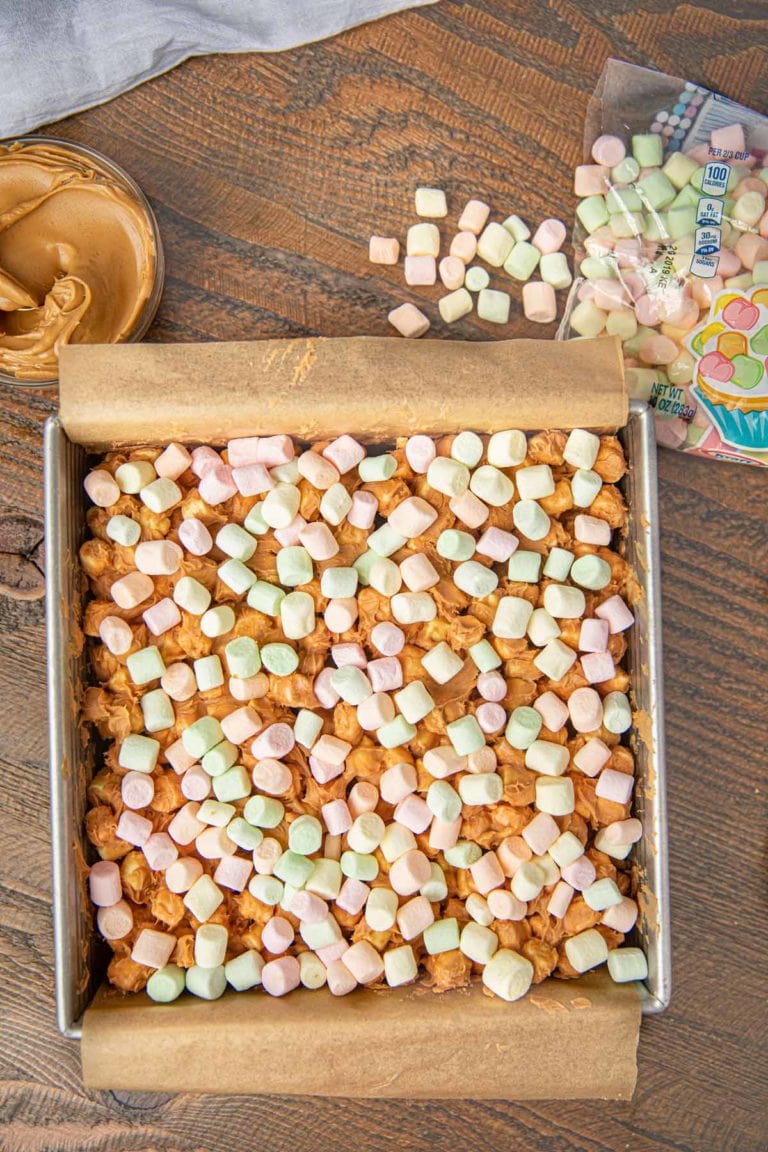 Create a free account to

Save Recipes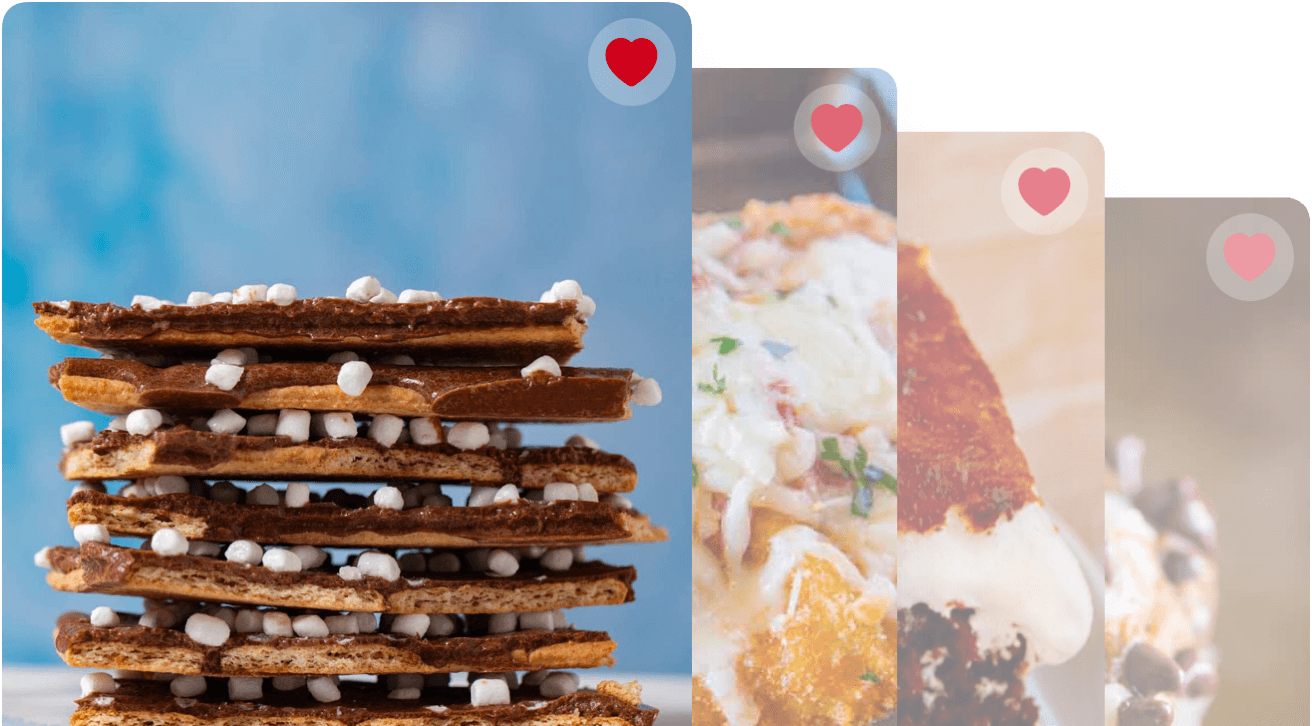 Marshmallow Fun Facts
Originally, marshmallows were made from the sap of the marshmallow plant. Before you think that the marshmallow plant is something from a Dr. Seuss book, it's actually a very beautiful plant that likes to grow on river banks and in salt marshes. Modern marshmallows don't have the sap in them anymore, sadly, and the marshmallow plant is usually grown as an ornamental flower instead.
August 30th is National Toasted Marshmallow Day. Celebrate appropriately by throwing a marshmallow tasting party with all of your friends.
Indiana makes a lot of marshmallows. Just to let you know just how invested in marshmallows Indiana is, the town of Ligonier is the self-proclaimed marshmallow capital of the world and the home of the Annual Marshmallow Festival.
How to Store Peanut Butter Confetti Squares:
Serve: you can leave peanut butter marshmallow squares at room temperature for a pretty long time, but they taste a lot better chilled so I wouldn't leave them out for longer than about 2 hours.
Store: you can keep confetti squares in the fridge for about a week before they start getting pretty gross.
Freeze: the squares won't freeze all the way through, so freezing them doesn't extend their shelf life very much. But, if you want a thicker texture, pop them in the freezer for a few days and eat them directly after taking them out.


Ingredients
Cooking spray

2

cups

butterscotch chips

1

cup

peanut butter

4

tablespoons

butter

1

teaspoon

pure vanilla extract

10

ounces

mini rainbow marshmallows
Instructions
Line an 8x8 baking pan with parchment paper.

In a medium pot on medium heat, whisk together the butterscotch chips, peanut butter and butter  for

2 minutes

until smooth.

Turn off the heat, whisk in the vanilla extract and let cool for

15 minutes

.

Fold in ¾ of the marshmallows and pour into the baking pan, then sprinkle the remaining marshmallows on top and press them into the mixture to adhere them.

Place the baking pan into the refrigerator for at least

2 hours

before cutting into 12 pieces and serving.
Nutrition
Calories:
347
kcal
|
Carbohydrates:
49
g
|
Protein:
6
g
|
Fat:
16
g
|
Saturated Fat:
5
g
|
Cholesterol:
13
mg
|
Sodium:
262
mg
|
Potassium:
140
mg
|
Fiber:
1
g
|
Sugar:
38
g
|
Vitamin A:
145
IU
|
Calcium:
11
mg
|
Iron:
1
mg