Pork Fried Rice is a quick, easy weeknight dinner with juicy pork tenderloin, crispy rice, frozen veggies, eggs, and classic Asian flavors.
Fried Rice is a well-loved Side Dish to favorite Chinese recipes like Orange Chicken and Beef and Broccoli. When you add tender pork and plenty of veggies, it becomes a hearty filling Dinner all on its own!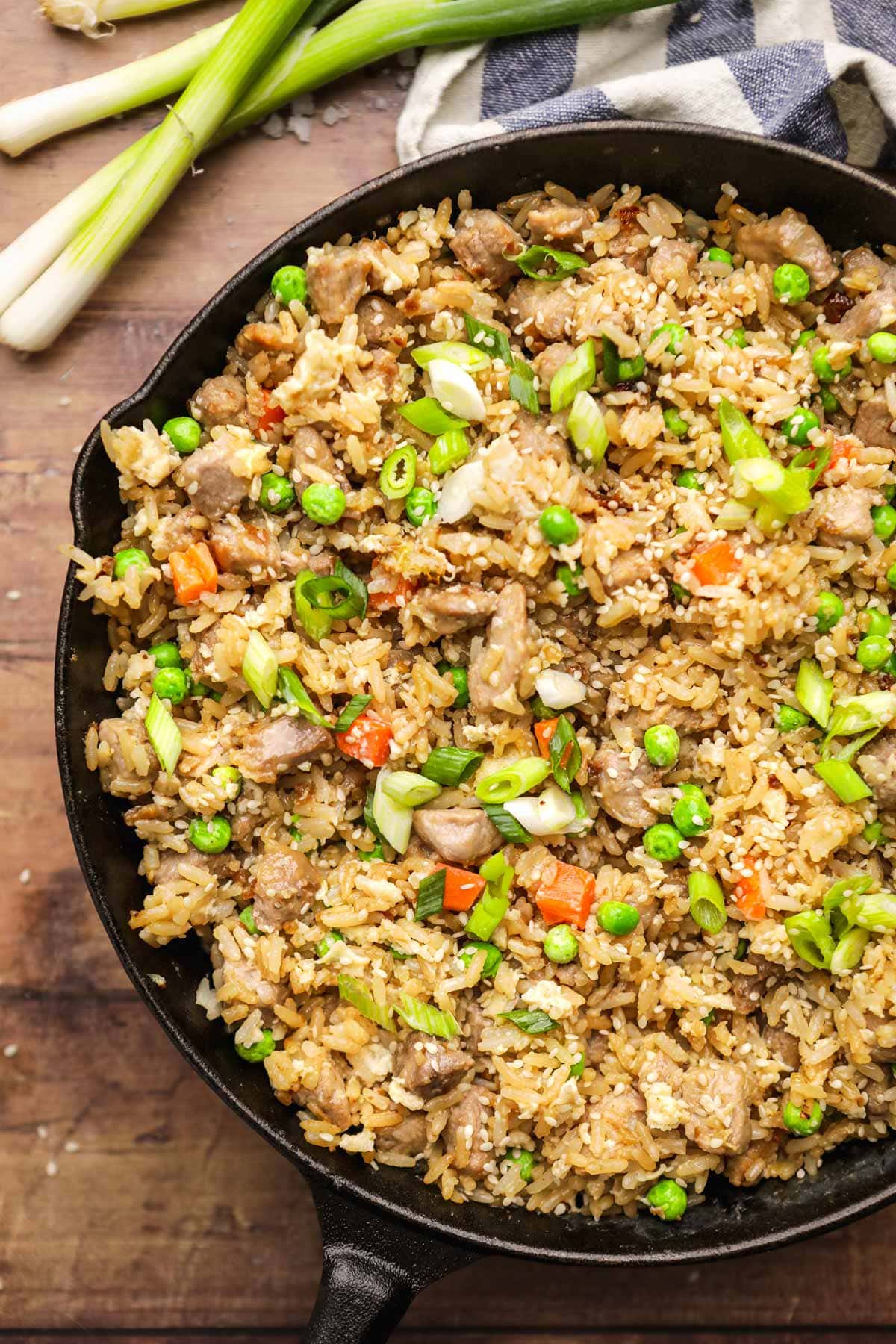 Pork Fried Rice is a delicious and satisfying dish that you can easily make at home, even on a busy weeknight. If you're craving some Asian flavors and looking for a quick and easy recipe, this dish has you covered. With juicy pork tenderloin, crispy rice, colorful veggies, and classic seasonings, it's a crowd-pleasing Chinese takeout dinner made right in your own kitchen.
This easy recipe takes a classic fried rice recipe and transforms it into a hearty and filling one-dish meal by adding some juicy, flavorful pork. The pork tenderloin is infused with Asian flavors in the soy sauce and garlic marinade. After about 20 minutes of marinating, the pieces of pork are cooked to crisp and tender perfection then set aside while you make the easy fried rice. Once the rice is done, it all goes back in the same pan, tossed a bit to warm up the pork and then dinner is ready!
One of the great things about Pork Fried Rice is that it doesn't require any fancy or hard-to-find ingredients. The key players are pork tenderloin and leftover rice. A bag of frozen peas and carrots add freshness and pop of color and the sauce is all pantry staples like garlic and soy sauce. Sesame oil and oyster sauce are easy to find in most stores and they last a while so they are great to have on hand if you like Asian food!
Adding pork not only makes fried rice more delicious, but also upgrades it to a balanced and satisfying meal in minutes! If you're serving a big group or are craving Chinese food feast, no need to call up your favorite Chinese restaurant. You can easily recreate takeout favorites like Sesame Chicken or Kung Pao Chicken at home and serve this hearty, amazing Pork Fried Rice on the side.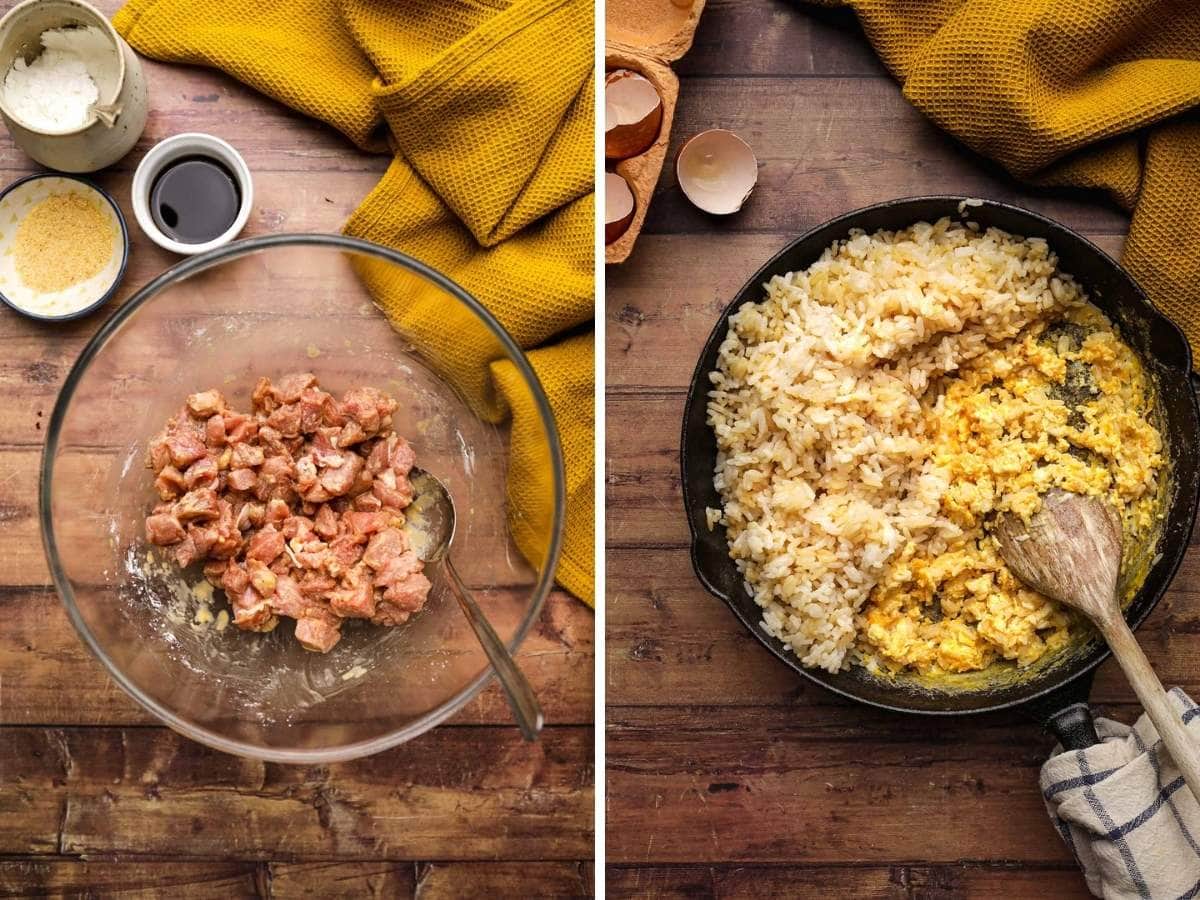 What is Pork Fried Rice?
Pork Fried Rice is a popular Chinese-American dish that combines cooked rice, pork, vegetables, and seasonings in a stir-fry style. The dish typically starts by frying diced or sliced pork in a wok or large skillet until cooked and slightly crispy. Then, vegetables like carrots, peas, and onions are added and stir-fried until tender. Finally, cooked rice is added to the pan along with soy sauce and other seasonings, and everything is tossed together until well mixed and heated through. Pork Fried Rice is often enjoyed as a main course or as a side dish alongside other Chinese dishes.
How to Make Pork Fried Rice
Marinate: Add the sliced pork, cornstarch, soy sauce, and garlic powder to a large bowl. Mix the ingredients well, and leave the pork to marinate for at least 20 minutes.
Cook pork: Add 2 tablespoons of vegetable oil to a large skillet or wok. Add the pork pieces and cook at medium-high heat for about 2 minutes on each side. Then remove the pork, and set it to the side.
Fry rice: Add 3 tablespoons of vegetable oil to the same pan, then add the rice. Cook the rice on high for 3-5 minutes, breaking it apart and mixing throughout the cook time. Add the soy sauce, oyster sauce, and sesame oil. Stir the sauce mixture quickly until it's combined with the rice. Push the rice to the side and add eggs into skillet. Stir and chop the eggs as they cook so that they're in small pieces.
Finish: Add the pork back into the pan, followed by the carrots and peas. Mix and cook until warm, then serve.
Our Most Popular Chinese Takeout Dishes
FAQs for Pork Fried Rice
What is the key to making fried rice?
The key to perfect Fried Rice lies in using cold, day-old cooked rice, as it has less moisture and clumps less when stir-fried. You can also cook the rice the same day, but it should be chilled completely before using.
What pan is best for making Pork Fried Rice?
You can use a variety of pans to make fried rice, but a wok or a large skillet is most commonly used. A wok's high, sloping sides allow for easy tossing and stirring of the ingredients, while a large skillet provides a wide cooking surface for even heat distribution. Ultimately, the key is to use a pan with good heat retention that's big enough to fit the ingredients while you are stir-frying them.
What is the secret ingredient in fried rice?
There's no one secret ingredient that makes fried rice taste amazing since it can vary depending on personal preference. However, a little bit of oyster sauce is often used to add a delicious umami flavor to the dish. Some people also like to add sesame oil, garlic, ginger, or a sprinkle of MSG for an extra tasty dish. The key is to experiment and find the flavors that make your fried rice irresistible to you!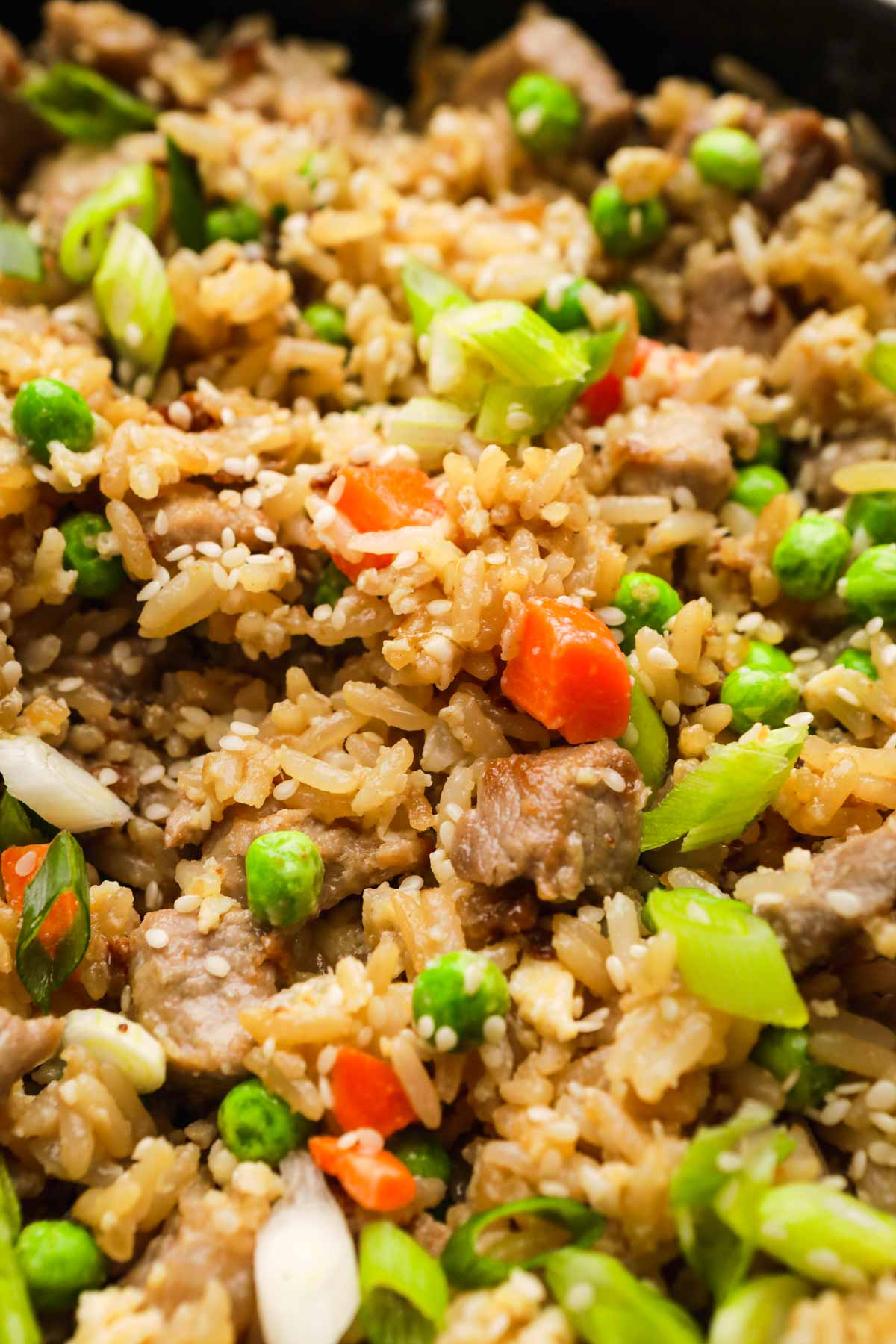 Create a free account to

Save Recipes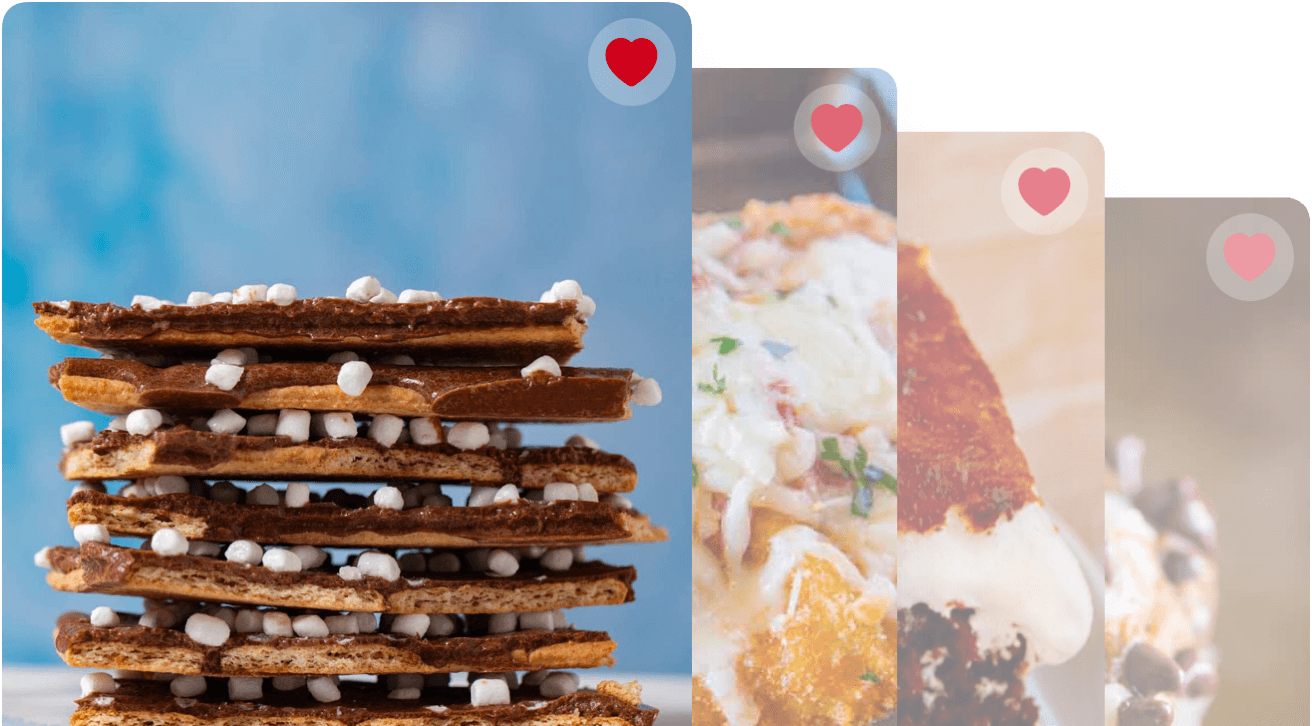 Key Ingredients
Pork: Juicy and tender pork tenderloin is perfect for quick skillet dishes like this fried rice. It's a flavorful, lean cut of meat that cooks up super quick. And since it's already tender (it's in the name!), you only need a short marinating time just to give it some Asian flavor.
Marinade: The marinade not only infuses the tender pork with flavor, it also creates a crispy coating around the meat. The salty, garlicky flavors get caramelized onto the pork and the cornstarch makes the crust deliciously crispy.
Rice: It's best to use cold, day old rice for fried rice because it's slightly dried out. Freshly cooked rice runs the risk of being mushy and won't get that nice crispy exterior that makes fried rice so good. If you need to make rice the day of, make it in the morning and pop it in the fridge all day loosely covered so it's ready to go for dinner.
Sauce mixture: Oyster sauce, sesame oil, and soy sauce come together easily to make a classic fried rice flavor. They are savory, salty, and aromatic sauces that have a strong flavor so don't be heavy handed with them, start with the recipe amount and only make small adjustments at a time.
Eggs: Whisked eggs are cooked quickly in the pan to give the fried rice a little extra protein, flavor and texture. The trick is to push the rice to the side so they scramble on the bottom of the pan instead of coating the rice and making it sticky.
Veggies: The frozen peas and carrots provide color, texture, and a pop of freshness to savory Pork Fried Rice. You don't want to thaw them first, the heat of the rice will steam them fast and the excess water keeps them from drying out.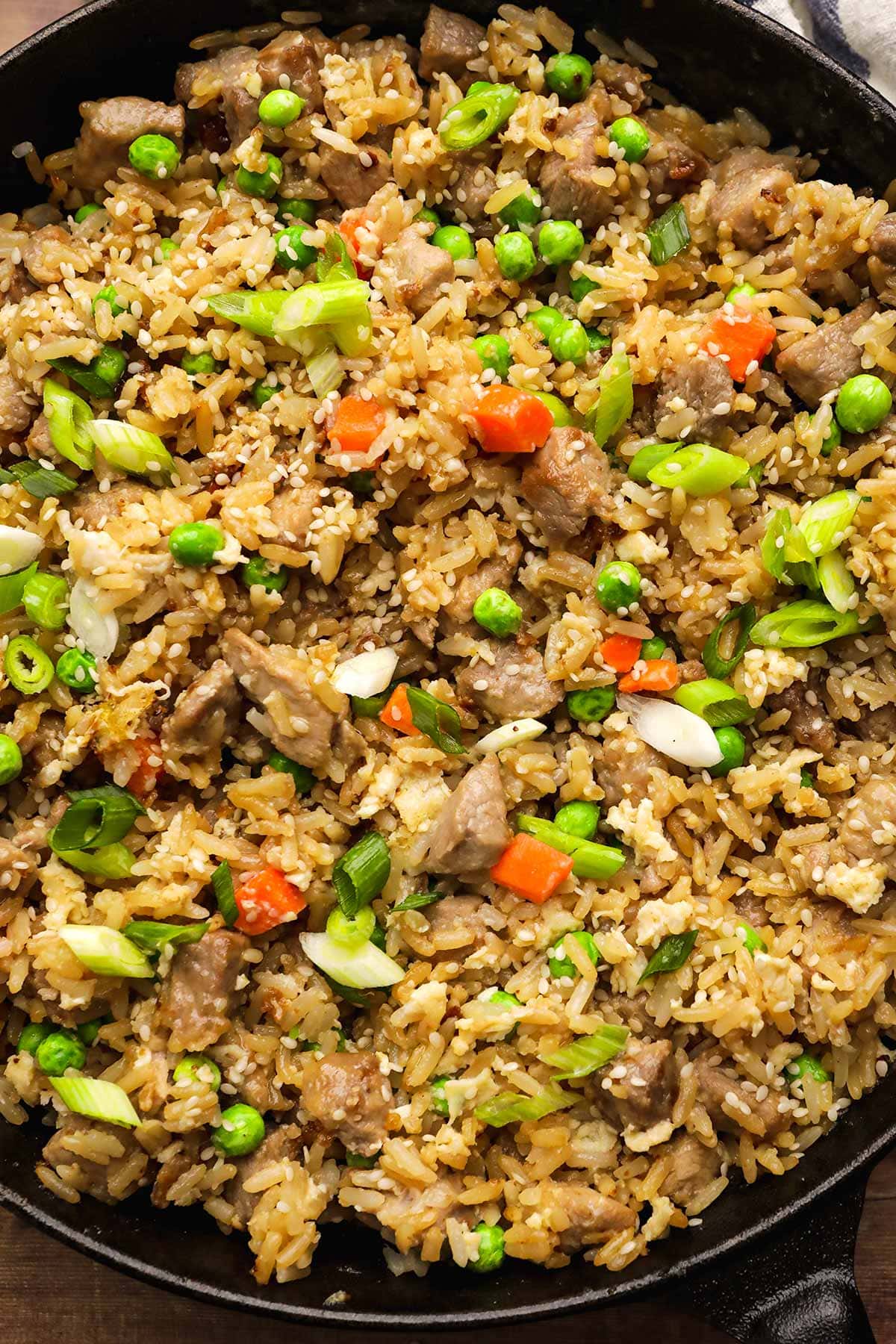 Variations
Veggies: You can add more variety of veggies like green beans, broccoli florets, bell pepper, or mushrooms to Pork Fried Rice. You want to use either frozen veggies or steam them first if they are fresh. Raw veggies won't have time to soften or cook in this fried recipe.
Seasonings: Fresh ginger, white pepper, red pepper flakes, and coriander are all flavorful seasonings found in Chinese cooking and would taste great in fried rice. For a garnish, try green onions and sesame seeds for more Asian flavor.
Meat: Instead of whole pieces of pork, you can use ground pork or other ground meat. You could also make this dish with chicken breast pieces or thinly sliced beef.
Rice: For a healthier version of this fried rice recipe, you can use brown rice instead of white rice. You can use fragrant long grain rice varieties like jasmine or basmati rice too!
More Delicious Asian Rice Recipes
How to Store
Serve: Don't leave Pork Fried Rice at room temperature for more than 2 hours. If you have any leftovers fried rice, transfer them to an airtight container to store in the fridge for 3 days.
Store: Reheat it over medium low heat, stirring occasionally, to crisp up the rice and warm it through evenly. It can also be reheated in the oven with a splash of broth if it seems dry.
Freeze: You can freeze Pork Fried Rice for up to 3 months. Make sure it's completely cooled before storing so it doesn't release excess moisture that causes ice to form and dry out. You can reheat the rice from frozen in the oven or thaw it and reheat in a skillet.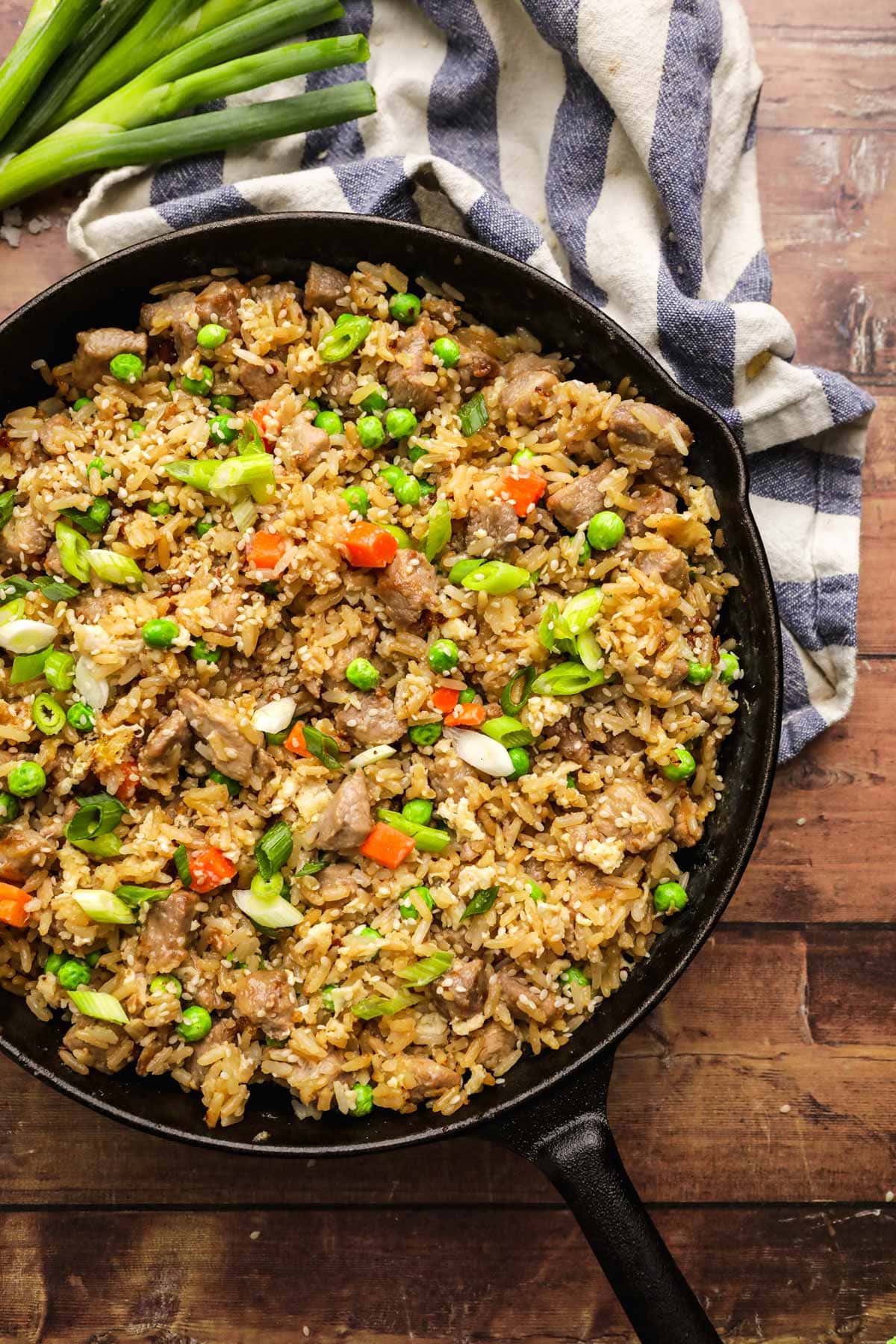 Ingredients
Pork:
1

pound

pork tenderloin

, cut into ½ inch chunks

2

tablespoons

cornstarch

2

tablespoons

soy sauce

1/2

teaspoon

garlic powder

2

tablespoons

vegetable oil
Instructions
In a large bowl add the pork, cornstarch, soy sauce, and garlic powder, mixing well.

Let marinate for

20 minutes

.

Add 2 tablespoons of vegetable oil to a large heavy skillet.

Cook the pork for

2 minutes

on each side then remove the pan.

Add the remaining 3 tablespoons of vegetable oil to a wok or large skillet and add the rice, breaking it apart and mix it into the oil.

Cook on high for

3-5 minutes

or until the rice starts getting a bit cooked through but not browned.

Add in the soy sauce, oyster sauce, and sesame oil and stir quickly to combine then push the rice off to the side of the pan and add in the eggs stirring them quickly and chopping them as you cook them to break them into little pieces.

Add the cooked pork and frozen carrots and peas, mixing the mixture together quickly, and serve.
Nutrition
Calories:
359
kcal
|
Carbohydrates:
53
g
|
Protein:
15
g
|
Fat:
9
g
|
Saturated Fat:
2
g
|
Polyunsaturated Fat:
4
g
|
Monounsaturated Fat:
3
g
|
Trans Fat:
1
g
|
Cholesterol:
71
mg
|
Sodium:
450
mg
|
Potassium:
287
mg
|
Fiber:
1
g
|
Sugar:
1
g
|
Vitamin A:
1176
IU
|
Vitamin C:
1
mg
|
Calcium:
32
mg
|
Iron:
1
mg