Pumpkin Fudge is a rich, creamy white chocolate fudge made with real pumpkin and pumpkin spice! A perfect candy recipe for fall holidays!
The holidays are the perfect time of year to make Homemade Candy Recipes, and it's hard to think of anything more festive than seasonal fudge. We've made a variety of fudge recipes with classic holiday flavors like Gingerbread Fudge and Peppermint Fudge. Serve this Pumpkin Fudge at your Halloween or Thanksgiving events this year!
Apart from making it for the holidays, this is also the perfect treat to use up your leftover holiday ingredients. If there's still a can of pumpkin puree in your cabinet after Thanksgiving, use it to whip up this delicious fudge!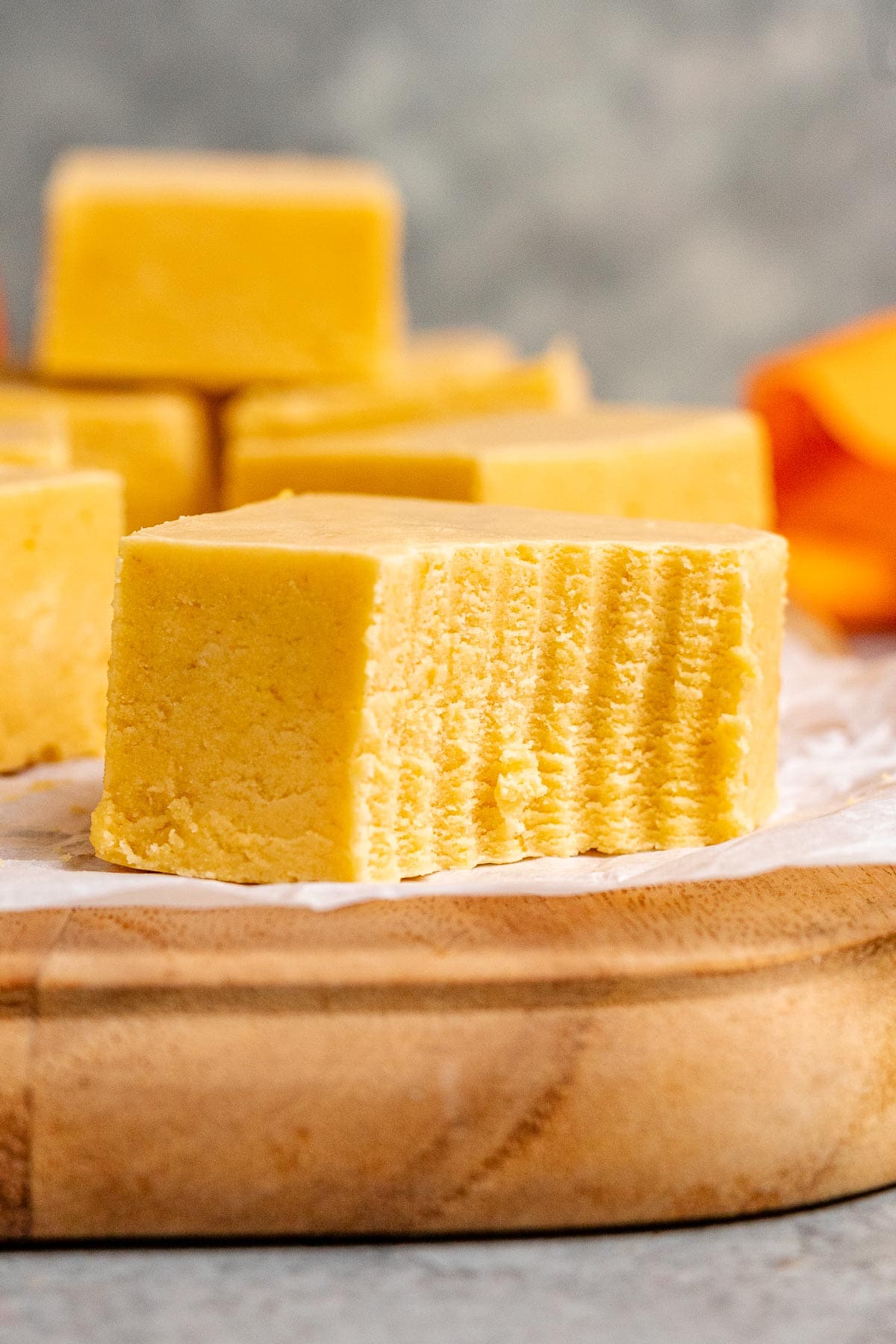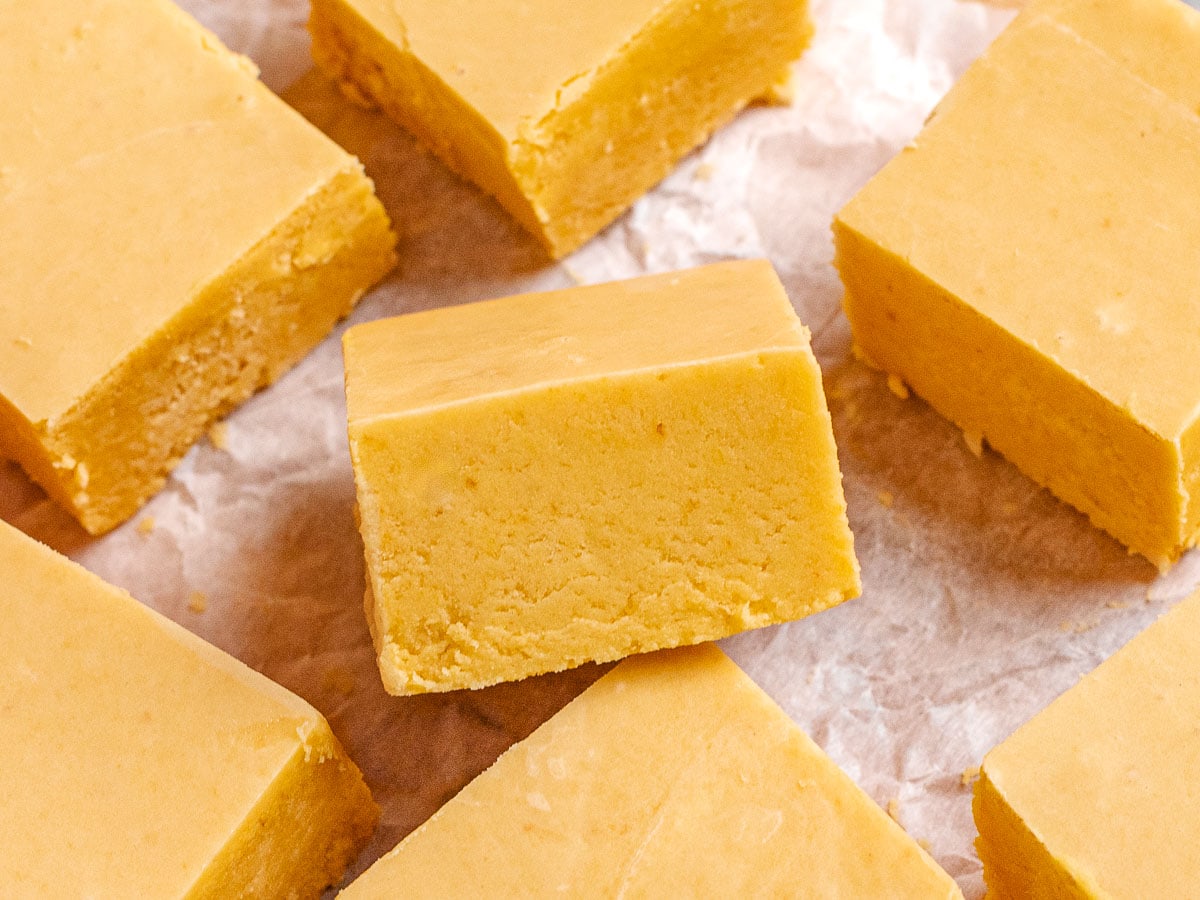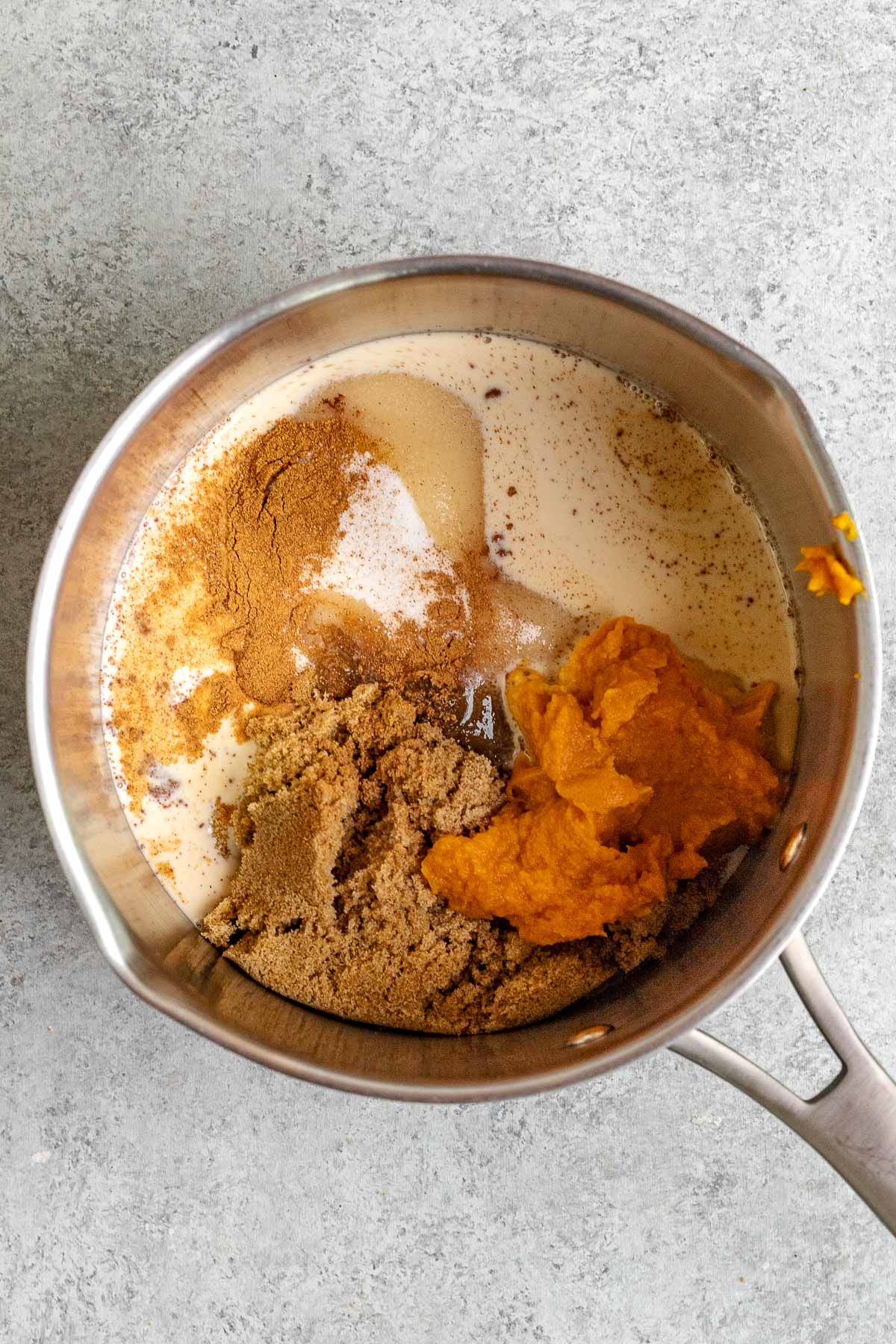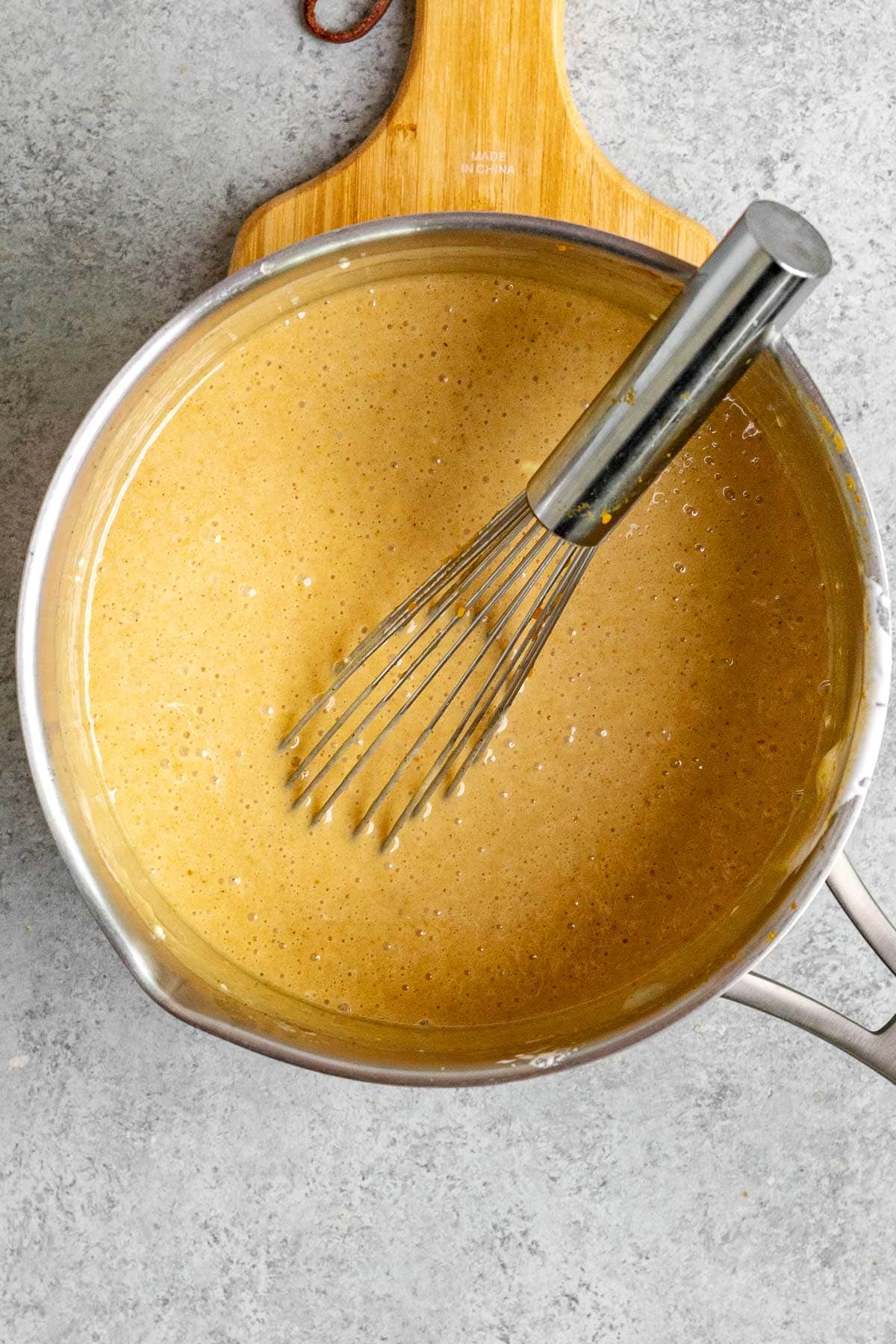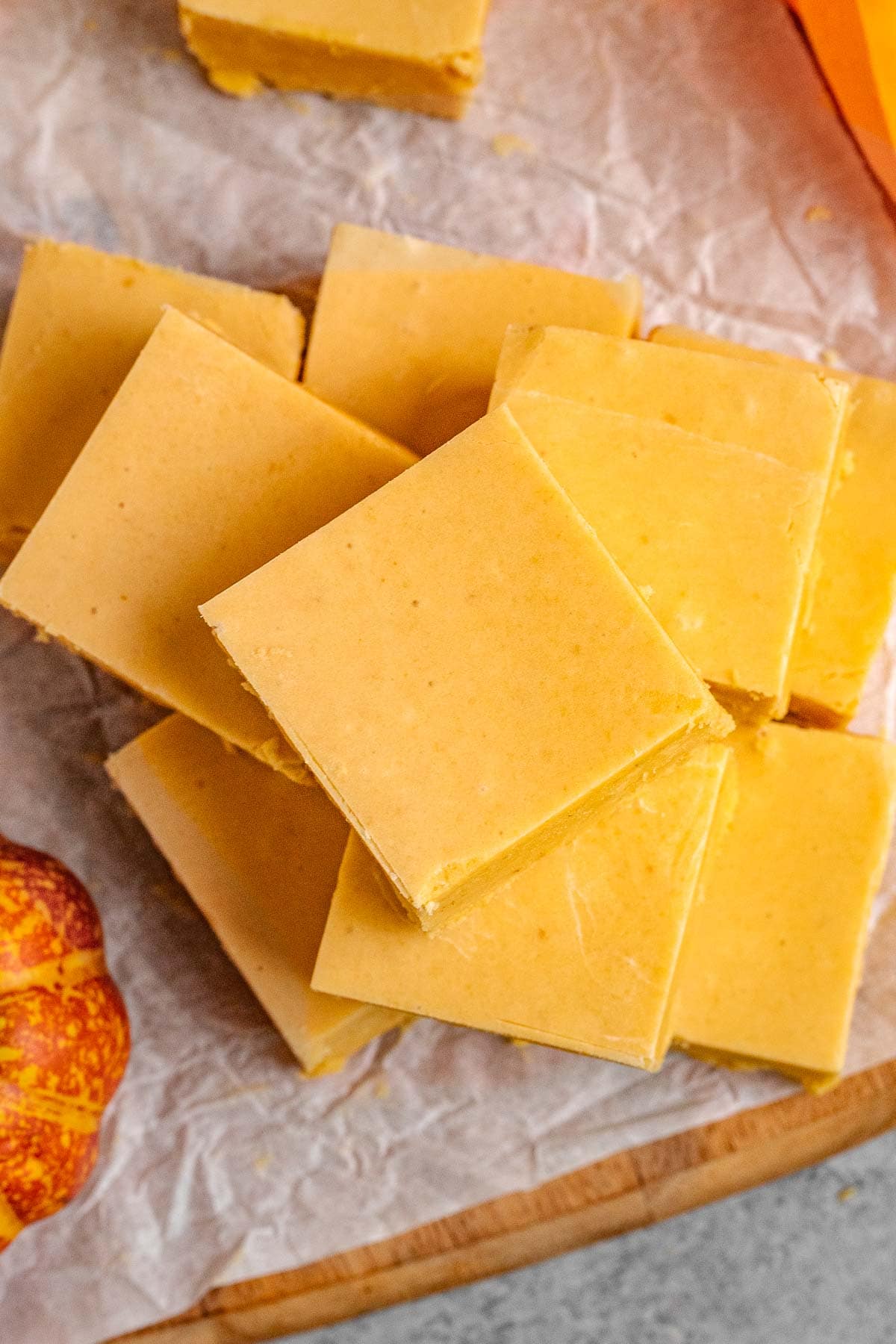 About our Pumpkin Fudge Recipe
This creamy fudge recipe is essentially just a simple white fudge, but with added pumpkin ingredients. To get the ultimate pumpkin flavor all you need is Pumpkin Spice and canned or Homemade Pumpkin Puree just like you'd use for pumpkin pie filling. The simple ingredients all come together easily in a medium saucepan to make the ultimate Pumpkin Fudge recipe!
This is the perfect treat to make for a holiday get together, or package up as an edible gift. If you give it as a gift, make sure to separate the fudge in the packaging so it doesn't stick together. If you're shipping the fudge put a gel ice pack in the box so that the Pumpkin Fudge won't melt in transit. Try adding Halloween or Thanksgiving sprinkles to the top depending on the occasion too.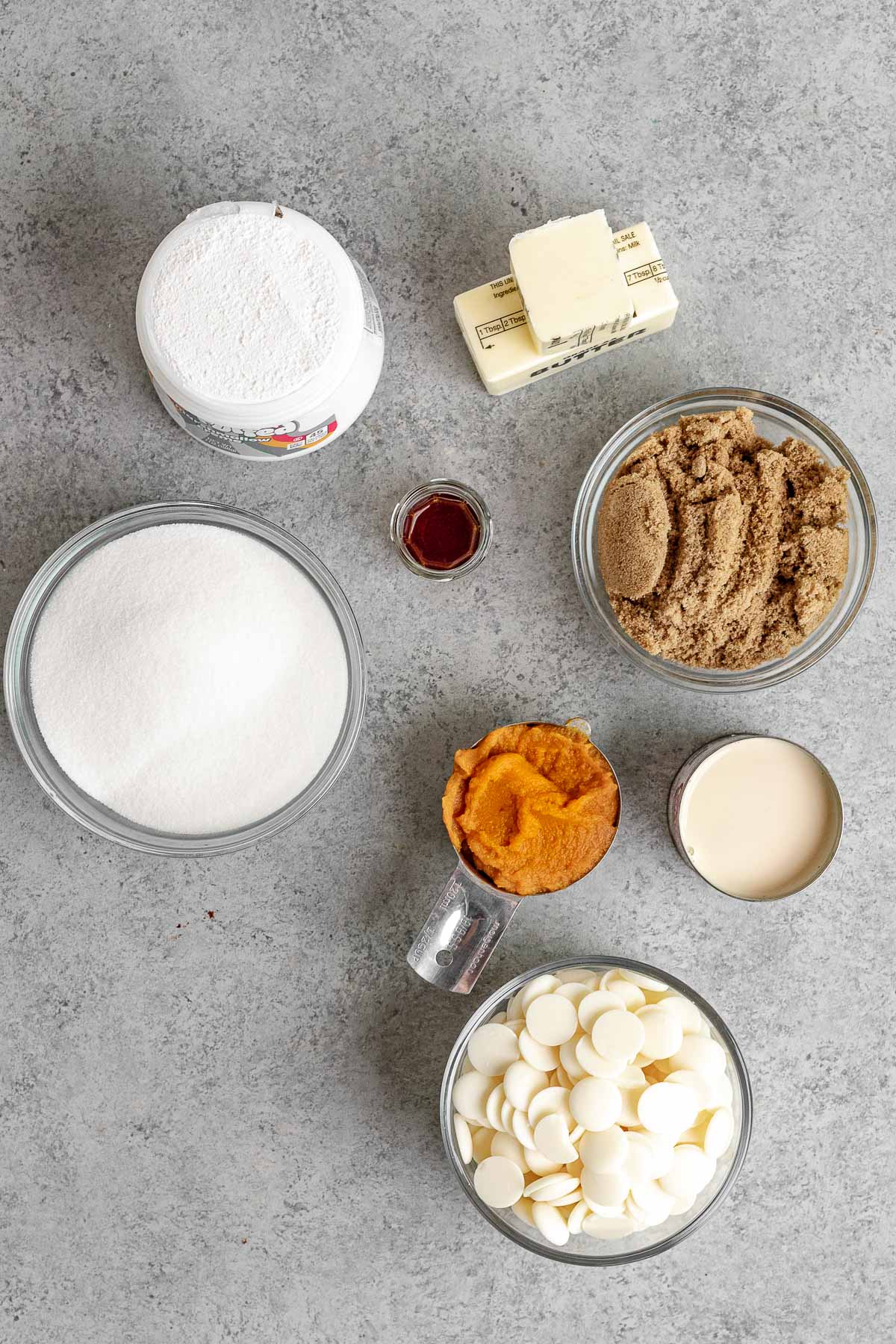 Pumpkin Fudge Ingredients
Sugar: This delicious fudge is made with 2 cups of sugar plus 1 cup of brown sugar so you get all the sweetness plus a hint of molasses for extra fall flavor. However, you don't want to use all brown sugar or you will have a hard time getting to the right temperature to set your fudge.
Evaporated Milk: The 5 ounces of evaporated milk help smooth the sugar mixture and add richness for a creamy, rich flavor without adding too much moisture.
Pumpkin: We added a ½ cup of pumpkin puree so this pumpkin fudge is packed with actual, real pumpkin flavor! If you are using homemade pumpkin puree, make sure to drain it well and pat it dry.
Spices: To give this Pumpkin Fudge a delicious pumpkin pie flavor, it has 2 teaspoons of pumpkin pie spice. You can make your own spice blend or pick one up at most grocery stores.
Butter: This decadent rich fudge has ¾ cup unsalted butter added for richness and flavor plus the fat in the butter helps bind everything so it sets better.
White Chocolate: This is a vanilla fudge which means it's made with white chocolate. Use 2 cups of white chocolate melting disks, or 12 ounces. You want to use disks because they are made for candy making and they melt smoother.
Marshmallow Creme: The 7 ounces of marshmallow creme adds a delicious marshmallow flavor plus it helps make the mixture fluffy for super soft fudge.
Vanilla: To enhance the vanilla flavor in the white chocolate, the mixture has 2 teaspoons of vanilla extract. The warm vanilla also brings out and compliments the pumpkin and fall flavors.
Kitchen Tools & Equipment
Fudge Pan: This recipe makes a lot of fudge mixture so a 9×13 inch baking pan will give you a good thickness and make a big batch of fudge squares. If you use an 8 or 9 inch square pan, you are going to get jumbo squares that will take much longer to set.
Candy Thermometer: The best kind of candy thermometer to use is a digital one for the most accurate reading. The thermometer is super important because if your sugar mixture doesn't reach the right temperature it won't set, and if it gets too hot you will get a grainy texture or burnt sugar taste.
How to Make Pumpkin Fudge
Time needed: 3 hours and 20 minutes.
The fudge mixture comes together easily in about 15 minutes but you will need at least 3 hours for it to set properly.
Prepare your Pan

Line a 9×13 inch baking  with aluminum foil, leaving some foil pressed up and over the sides. This will help you lift the fudge out of the pan. You could also use parchment paper.

Heat the Sugar Base

Put a large pot over medium heat and add the sugar, brown sugar, evaporated milk, canned pumpkin puree, and pumpkin pie spice. Bring the ingredients to a boil.

Cook the Sugar Mixture

Whisk the fudge mixture constantly for 8-10 minutes. Use a candy thermometer to check the temperature and stop when it reaches 234-240 degrees.

Melt the Chocolate and Marshmallow

Mix in the white chocolate chips, marshmallow creme, and vanilla. Remove the pot from the heat and continue whisking for 1 minute. The hot sugar mixture should melt the chocolate and marshmallow down.

Set the Fudge and Slice

Pour the mixture into your prepared pan and use an offset spatula to spread it out evenly. Refrigerate the fudge for 3 hours to firm it up before you slice it into squares.
Nutritional Facts
This creamy and decadent fudge is meant for indulging! It's got quite a bit of sugar, it's candy after all, but aren't the holidays meant for extra sweet treats?
Nutrition Facts
Pumpkin Fudge
Amount Per Serving
Calories 255
Calories from Fat 99
% Daily Value*
Fat 11g17%
Cholesterol 20mg7%
Sodium 29mg1%
Potassium 82mg2%
Carbohydrates 40g13%
Protein 2g4%
Vitamin A 990IU20%
Vitamin C 0.4mg0%
Calcium 54mg5%
Iron 0.2mg1%
* Percent Daily Values are based on a 2000 calorie diet.
Making Pumpkin Fudge Tips & Tricks
Keep your Fudge from Sticking to the Pan

You want to line your pan with foil or parchment paper so it doesn't stick. Using butter or oil will make it greasy on the outside and doesn't work as well. Make sure you leave a lip of foil over the edge so you can grab it and lift the whole block of fudge out of the pan. This lets you trim the edges easily for perfectly cut squares.

Making Fudge Set is a Science

There are a lot of things that need to come together to make perfectly set fudge. The sugar, pumpkin, and milk need to reach a certain temperature to let enough moisture escape, but not so hot it burns and hardens the sugar crystals. The chocolate is also a factor, too much and it will be clumpy and not enough chocolate and it won't set. So, this recipe is one you will want to follow closely and not make too many adjustments until you master the basics.
How to Store Pumpkin Fudge
Store: Store the fudge in the fridge wrapped in plastic, or put it in an airtight container. Separate each layer of fudge with parchment paper so that they don't get stuck together. Kept sealed, Pumpkin Fudge will be good in the fridge for 2 weeks.
Freeze: Lay out the fudge squares on a baking sheet and freeze for at least an hour, until solid. This keeps them from sticking. Store the frozen squares in a freezer-safe bag for up to 3 months. Enjoy frozen or let thaw in the fridge.
Ideas to Serve Pumpkin Fudge
Gifting: This creamy Pumpkin Fudge would make a delicious edible gift! Stack squares and wrap in festive cellophane. Tie the cellophane closed with fall-colored ribbons and maybe add a cute little fall charm. To keep the squares from sticking, you can put a little square of parchment between them.
Toppings: Add some tasty toppings like chopped Candied Pecans, toasted pumpkin seeds, walnuts, mini chocolate chips, crushed Toffee Bits, or festive sprinkles. Let your fudge set for about an hour, so they don't sink to the bottom, and gently press the toppings into the fudge so they stick.
FAQ for Pumpkin Fudge
What is Pumpkin Fudge made of?
This Pumpkin Fudge recipe is made with real pumpkin puree, pumpkin spice, marshmallow creme, and white chocolate for a creamy and soft vanilla fudge full of pumpkin flavor. The sugar base is both brown and white sugar plus evaporated milk and butter.
Why didn't my fudge set?
Chances are if your fudge didn't set it is because your sugar mixture didn't reach the right temperature. It could also be that you didn't have enough chocolate to help the other ingredients set, so make sure you use the amounts listed.
Recipe Card


Instructions
Line a 9×13 baking dish with buttered foil or spray with vegetable oil spray.

To a large pot add sugar, brown sugar, evaporated milk, pumpkin puree, and pumpkin pie spice and butter; bring to a boil.

Whisk constantly, for

8-10 minutes

or until the candy thermometer reaches 234 to 240 degrees.

Whisk in white chocolate disks, marshmallow crème, and vanilla extract.

Remove from heat, whisk constantly for

1 minute

until well combined, then pour into a baking dish and spread evenly.

Refrigerate for

3 hours

or until firm before slicing.
Nutrition
Calories:
255
kcal
|
Carbohydrates:
40
g
|
Protein:
2
g
|
Fat:
11
g
|
Saturated Fat:
7
g
|
Polyunsaturated Fat:
0.4
g
|
Monounsaturated Fat:
3
g
|
Trans Fat:
0.2
g
|
Cholesterol:
20
mg
|
Sodium:
29
mg
|
Potassium:
82
mg
|
Fiber:
0.2
g
|
Sugar:
37
g
|
Vitamin A:
990
IU
|
Vitamin C:
0.4
mg
|
Calcium:
54
mg
|
Iron:
0.2
mg
Pumpkin Fudge Variations
Chocolate Fudge: If you want to make a classic chocolate fudge, replace the white chocolate chips with semi-sweet chocolate chips. You could also use milk chocolate chips or dark chocolate chips.
Mix-ins: For some extra texture, try delicious mix-ins like chopped walnuts, pecans, or pumpkin seeds. You can also add some festive sprinkles over the top or drizzle on some melted chocolate.
Maple Syrup Fudge: Instead of using brown sugar to sweeten the fudge try using maple syrup for a slightly different fall flavor. Use a one to one ratio and don't adjust the other sugar.
Related Recipes
More Holiday Fudge Recipes