Scallop Gratin is an easy baked scallop recipe with a creamy, cheesy, white wine sauce you will LOVE in just 20 minutes!
We love Seafood Recipes on the site and recently we've started posting more scallop recipes. You can do so much with fresh scallops, like making Baked Scallops or Pan Seared Scallops, this recipe takes the richness factor up a few notches.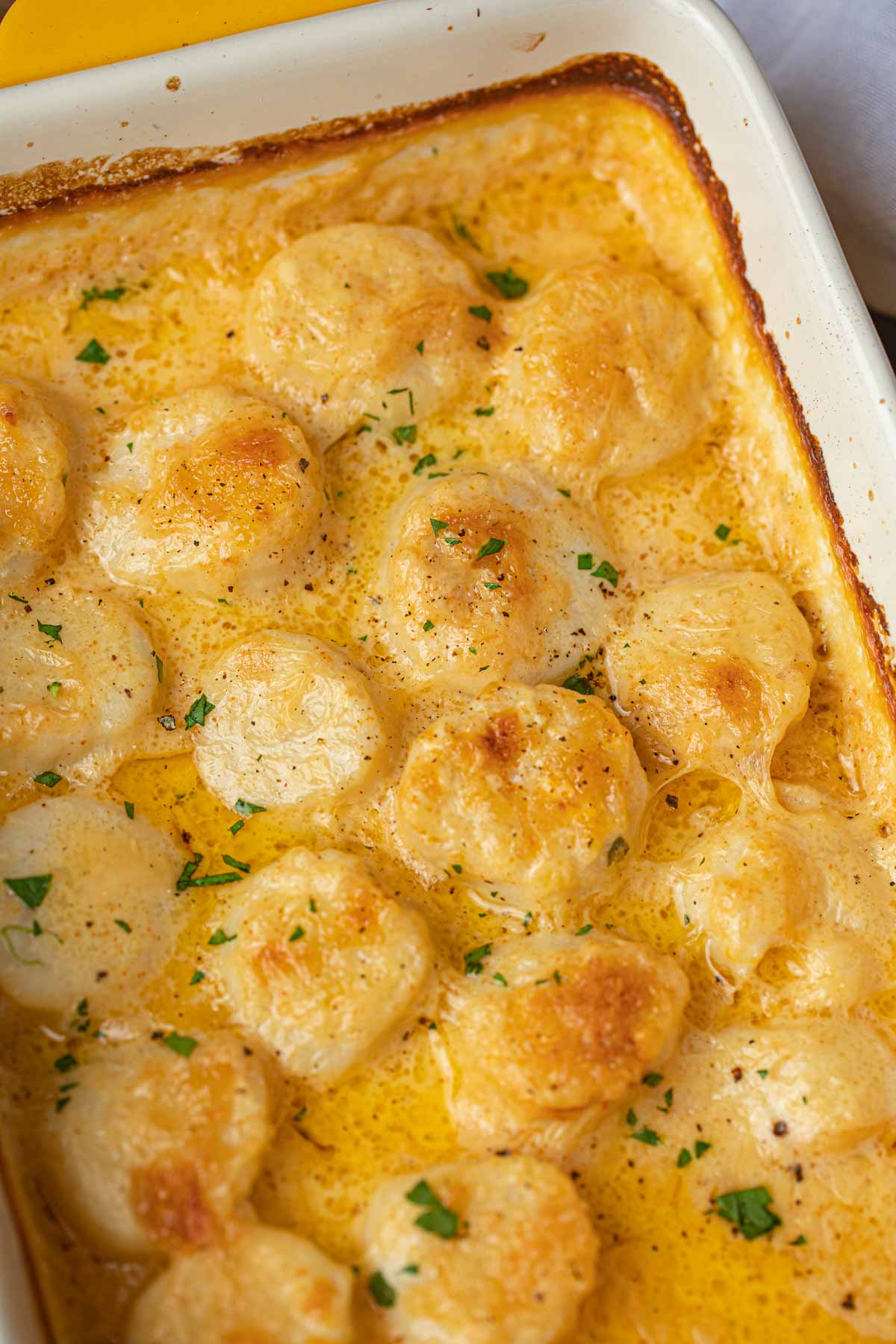 SCALLOP GRATIN
Scallop gratin is so rich and delicious that this may end up being one of your favorite ways to cook seafood. The savory flavor of the cheese and the natural saltiness of the scallops make this recipe the perfect comfort food. The cheesy sauce is so good you may try to eat it straight with a spoon.
If you are making this as a main course, you can serve it up as is, or stick a toothpick in the side of each scallop to make them an easily shareable appetizer for your next fancy get together. Trust me, this is the best use for a broiler ever.
Something to remember when you buy the ingredients for this recipe: you want to use sea scallops and not bay scallops. Bay scallop gratin won't feed as many people, and unless you want to serve it up as an appetizer you want more meat to go around.
HOW TO MAKE SCALLOP GRATIN
Preheat oven to 450 degrees.
Combine cream cheese, wine, lemon and spices in a small bowl until smooth.
Add scallops to your baking dish, and cover with the sauce, let it sit for five minutes.
Top with Parmesan and tarragon.
Bake for 4-5 minutes, then broil for just a minute until golden brown.
Flavor Mix-in Ideas
Garlic: I love the creamy white wine sauce complementing the scallop's natural flavors, but you know garlic would give this gratin and amazing flavor. Keep to just 1 clove or it will overwhelm all the flavors..
Panko Breadcrumbs: just like I did in my recipe for baked scallops, you can add a tiny pile of panko breadcrumbs to the top of each scallop. This dresses them up a bit if you're serving them as an appetizer for a fancy event, or if you're just in the mood for a classy dinner.
Shallots: finely chop shallots and sprinkle them onto the gratin when you put it in the oven. You can also dust the tops with some cayenne or black pepper to mix it up.
Prosciutto: fold slices of prosciutto onto a plate and set a single scallop on top. Drizzle some sauce over the top and stick a toothpick into it to make a beautiful and delicious hors d'oeuvres. Sprinkle some fresh parsley over it for a dash of color.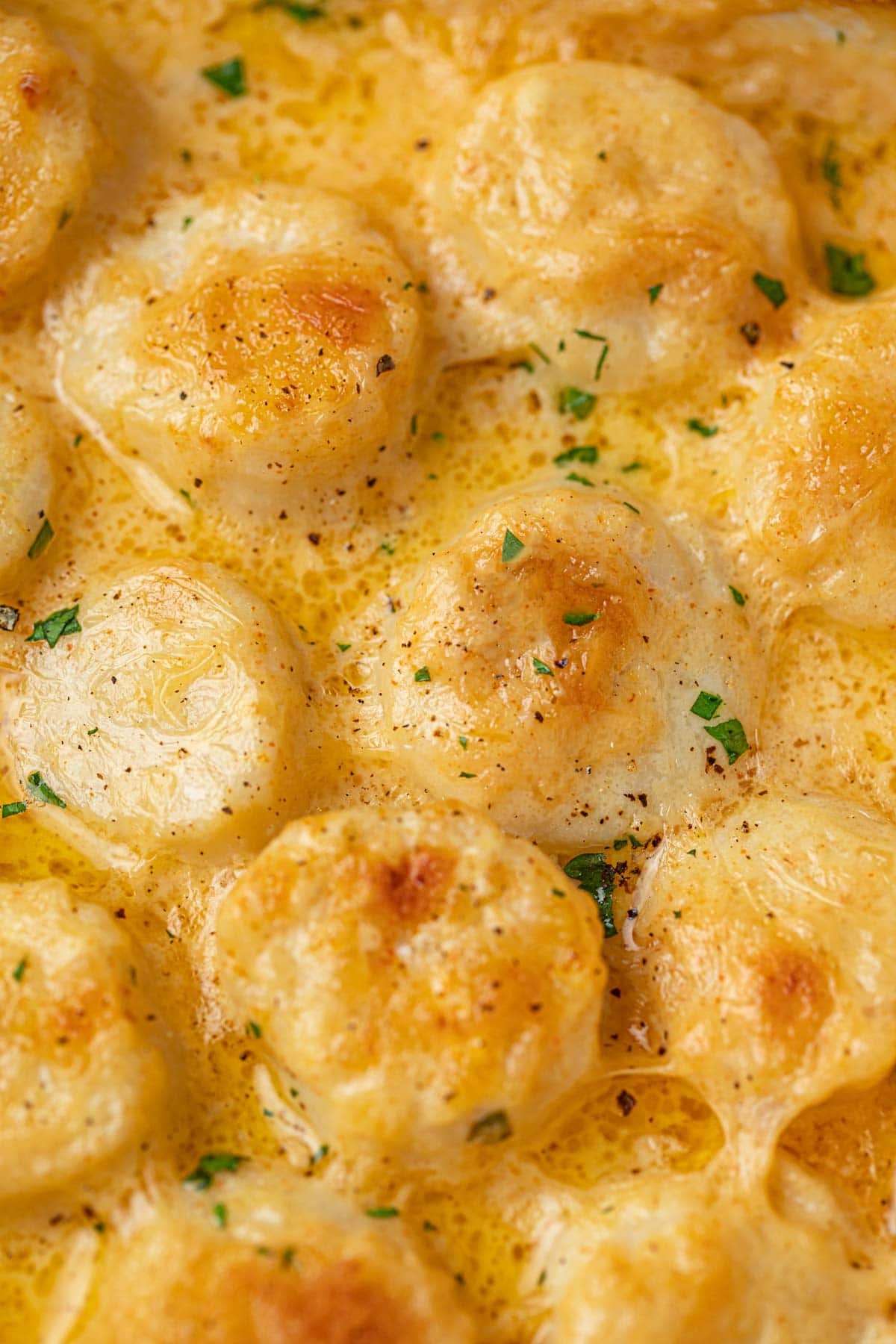 Create a free account to Save Recipes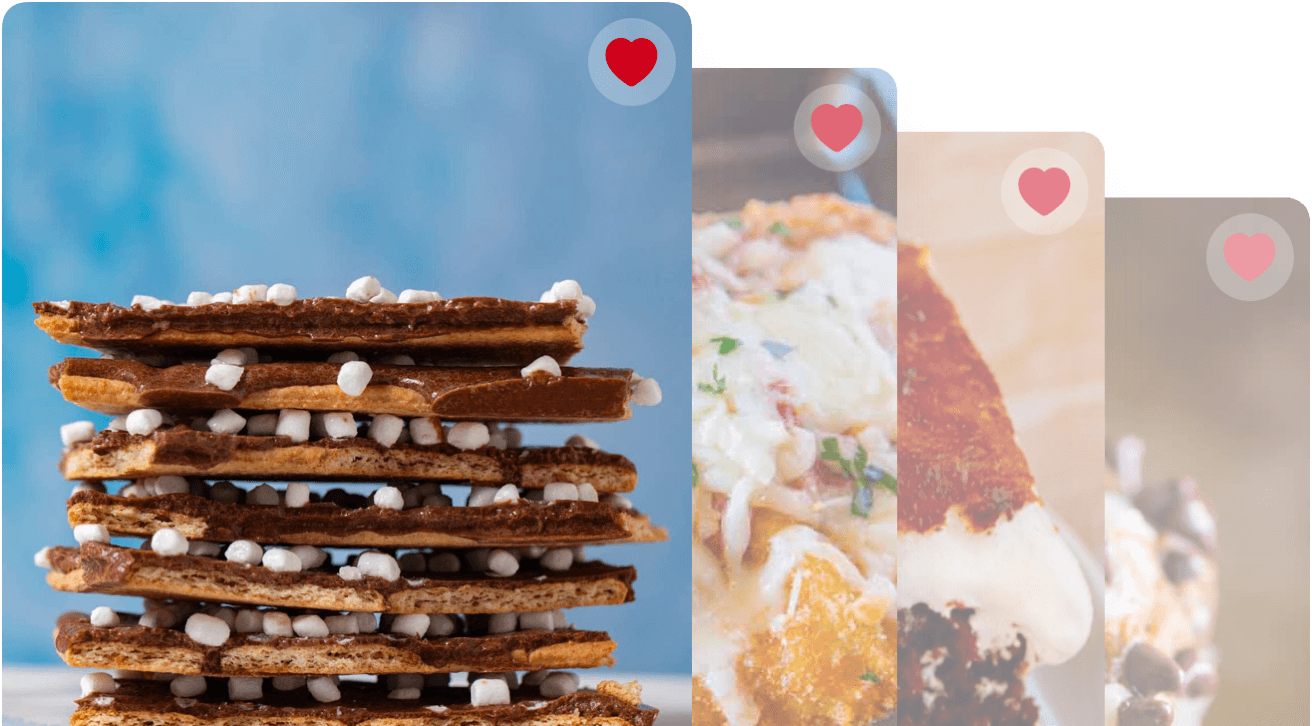 What to Serve with Scallop Gratin:
Garlic Bread: garlic bread is a classic, delicious side that's perfect for this scallops au gratin recipe because you can use the thick French bread baked in garlic butter to soak up the sauce.
Scalloped Potatoes: I didn't just choose this side because I was being clever with the name. Scalloped potatoes are rich and full of flavor, which makes them a great side to serve with scallop gratin.
Bacon Parmesan Brussels Sprouts: you won't have to force your kids to try these Brussels sprouts, they'll love them almost as much as you will. They're rich, earthy and full of bacon.
What is a "gratin"?
The term gratin is a mixture of two French words. "Gratter," which means "to scrape," and "gratiné" which means "crust" were thrown together to describe the method of cooking a cheesy top layer that gets crispy in the oven.
Over time, le gratin became slang for something high class or high society in France, kind of like the English term "upper crust."
How to Store Scallop Gratin:
Serve: you shouldn't leave scallop gratin out for longer than 2 hours at room temperature.
Store: your leftovers should last up to 3 days in the fridge before you will want to throw them out.
Freeze: frozen scallop gratin is good for about 6 months. For the best flavor, you should thaw it out and eat it well before then.
WHEN ARE SCALLOPS SAFE TO EAT?
According to the USDA's official website you can safely enjoy scallops when the internal temperature reaches 145 degrees F (62.7 degrees C.)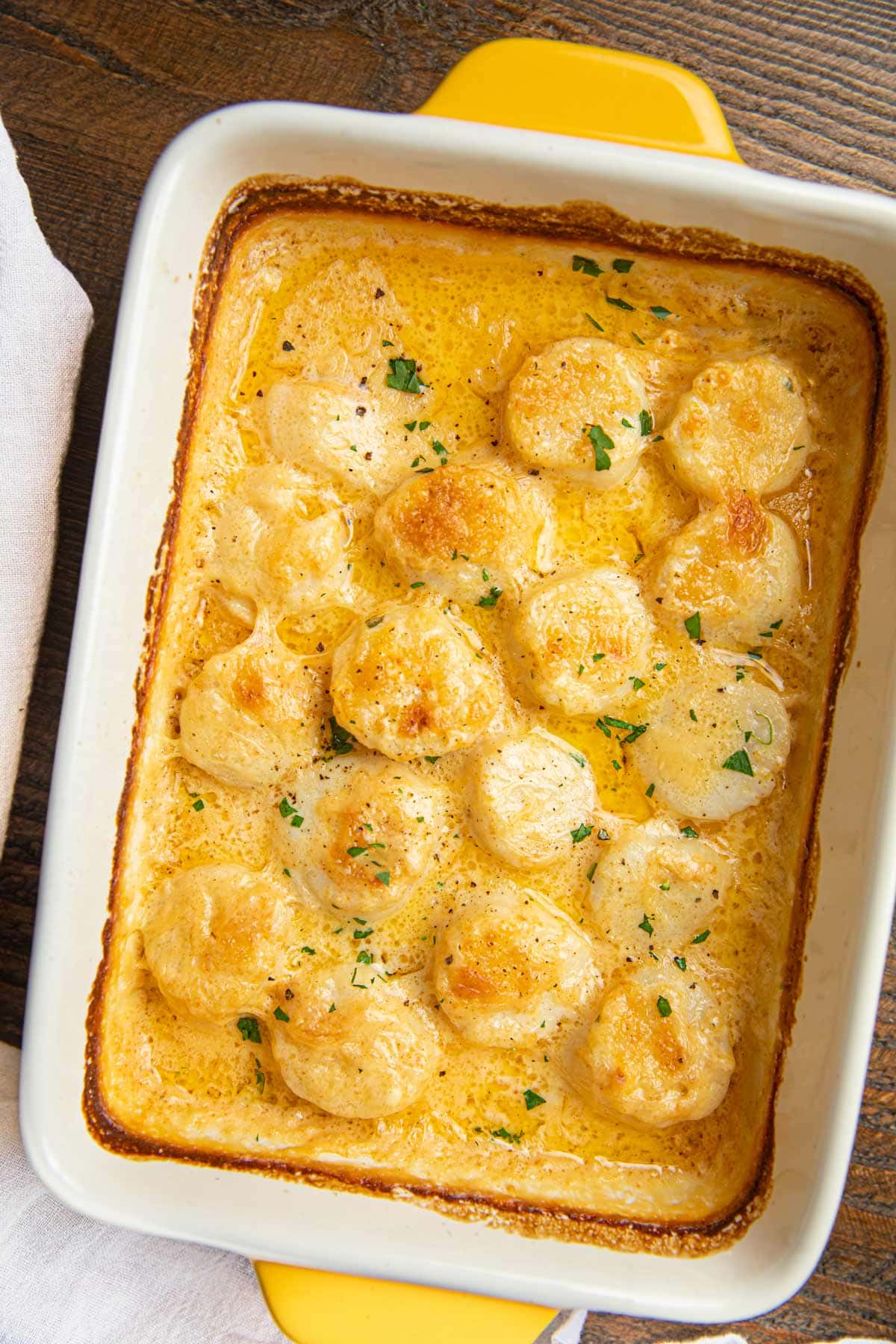 Ingredients
1 1/2

pounds

sea scallops

, (u-13 size)

¼

cup

cream cheese

, softened

¼

cup

white wine

1

lemon

, juiced and zested

1/4

teaspoon

kosher salt

1/8

teaspoon

coarse ground black pepper

1

tablespoon

fresh tarragon

, chopped

1/4

cup

Parmesan cheese

, shaved

1

pinch

cayenne pepper

, optional (to taste)
Instructions
Preheat oven to 450 degrees.

Add the scallops to your baking dish.

In a large bowl whisk together the cream cheese, white wine, lemon juice, lemon zest, salt, pepper, tarragon, Parmesan cheese and cayenne pepper (if using).

Pour the sauce onto the scallops and let them sit for

five minutes

before putting into the oven.

Bake for

5 minutes

, then turn on the broiler and cook for an additional

1-2 minutes

until the tops are golden brown.
Nutrition
Calories:
216
kcal
|
Carbohydrates:
10
g
|
Protein:
24
g
|
Fat:
8
g
|
Saturated Fat:
4
g
|
Cholesterol:
61
mg
|
Sodium:
960
mg
|
Potassium:
469
mg
|
Fiber:
1
g
|
Sugar:
1
g
|
Vitamin A:
315
IU
|
Vitamin C:
15.2
mg
|
Calcium:
125
mg
|
Iron:
1.5
mg