Shoofly Bread is a quick bread with the warm sweet flavors of the classic pie made with molasses, brown sugar, cinnamon, and crumb topping.
A fresh baked Quick Bread with a crumbly, sweet cinnamon topping like Cinnamon Streusel Bread or this molasses bread is a great way to start a weekend morning! Slather a slice warm from the oven with butter for a rich and sweet Breakfast.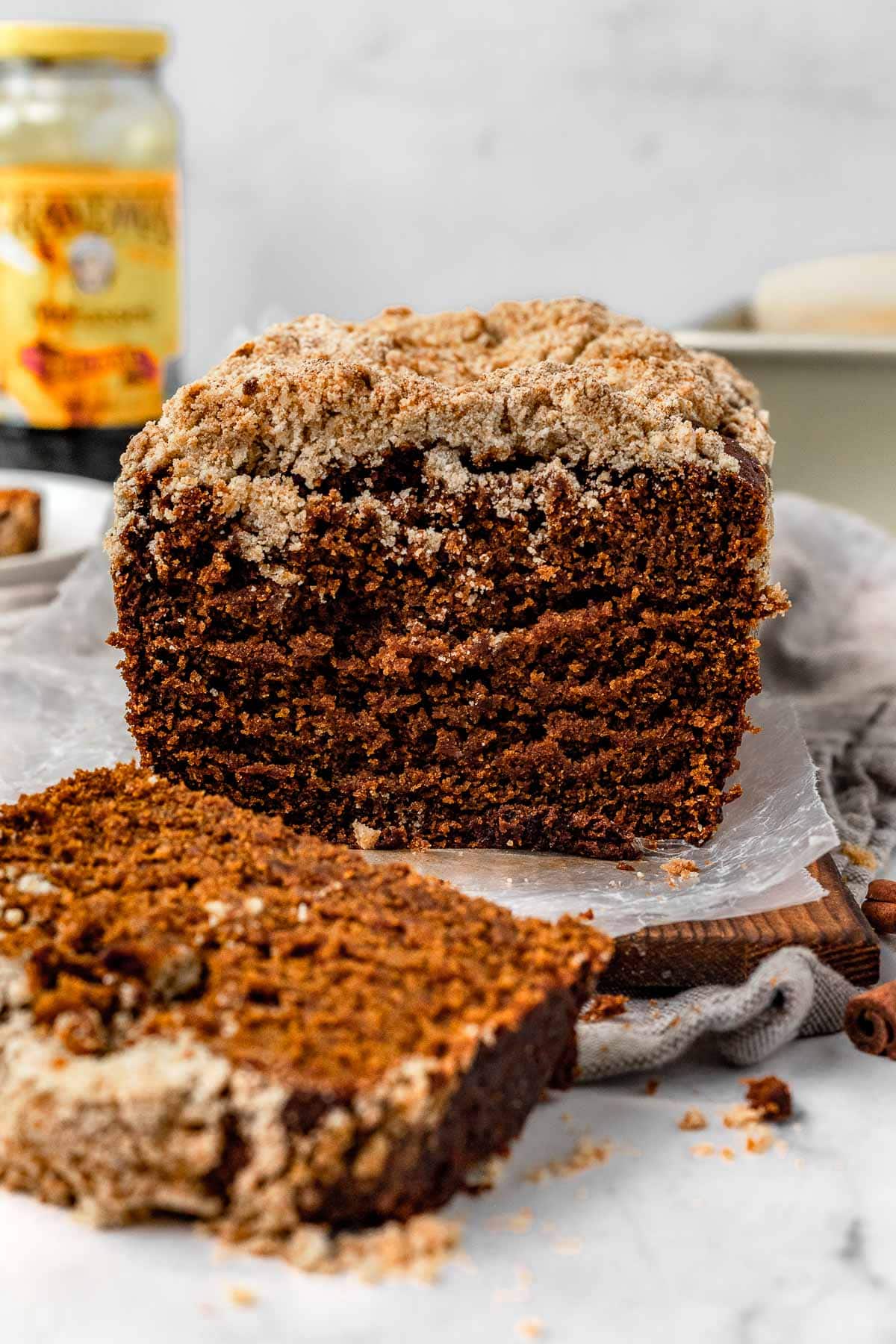 Just like our tender, molasses filled Shoofly Muffins, this quick and easy bread recipe is inspired by Shoofly Pie, a classic Pennsylvania Dutch recipe. It has all the same deep, sweet and rich distinct molasses flavor baked into a tender, warm loaf of bread with buttery brown sugar and cinnamon crumb topping. If you love old-fashioned treats, you are going to love this easy bread!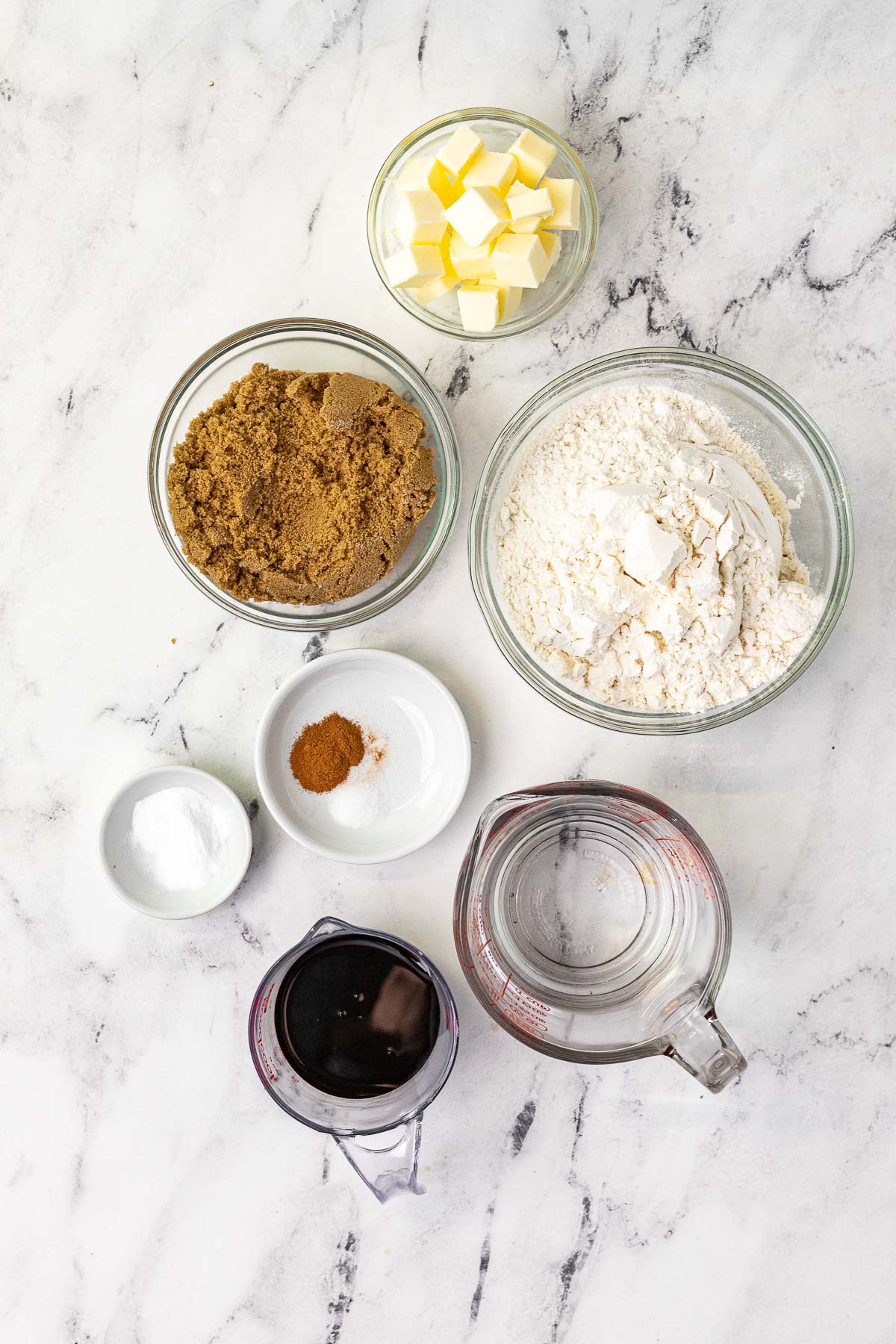 Whether you enjoy it as breakfast, a sweet snack, or dessert after dinner this Shoofly Bread never fails to impress. It is the perfect combination of crumbly and moist, sweet and slightly bitter dark caramel notes, plus buttery spices. Enjoy a freshly baked slice with a hot cup of coffee in the morning, or with some Vanilla Ice Cream instead of a brownie for a tasty sundae.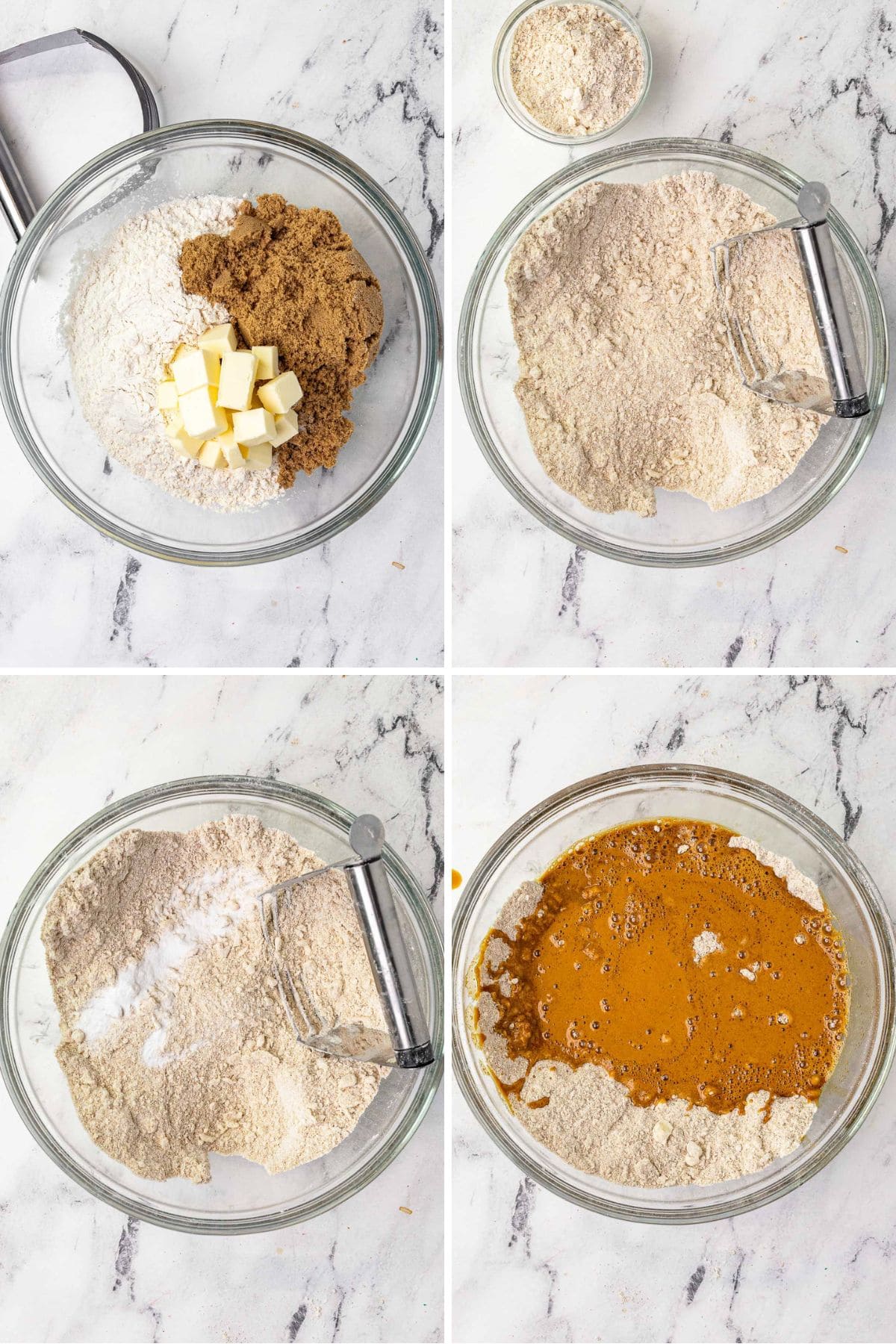 This bread recipe is so incredibly easy, in fact the topping and batter use the same ingredients, but there is no need to separate them or measure them twice like other recipes. Instead you mix the cold butter with the flour, brown sugar, salt and cinnamon until a crumble forms, set some of the crumb mixture aside then finish the batter with baking soda, hot water and molasses. Pour the batter in the pan, top with the reserved crumb mixture and in about an hour this bread is ready to enjoy!
One of the best things about this bread is how the warm scent fills your house as it bakes. The blend of sweet brown sugar, slightly smoky molasses, and woodsy cinnamon are delicious and inviting, like your favorite coffee shops. It smells so good, it'll take all your self-control not to eat the bread as soon as you take it from the oven. Giving it a little time to cool will be worth the wait, though!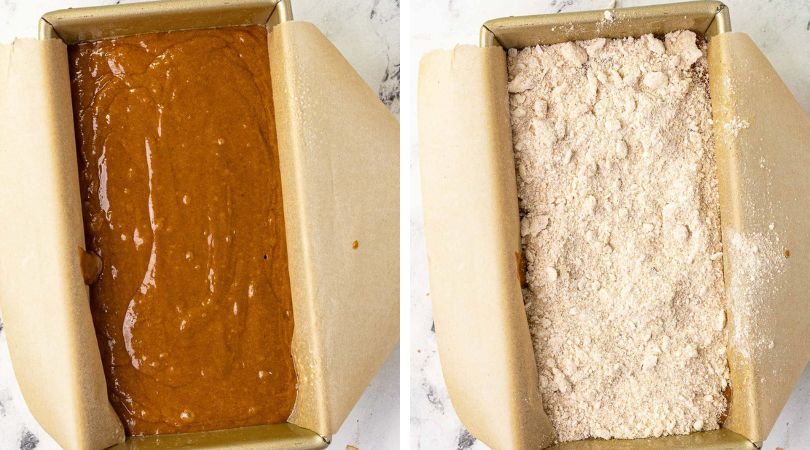 How to Make Shoofly Bread
Prep: Preheat your oven. Grease a bread pan with baking spray or line with parchment paper and spray with cooking spray.
Crumb Mixture: Dice the cold butter into small pieces. In a large bowl, add the flour, brown sugar, salt and cinnamon. Add the butter and use a pastry cutter to combine the ingredients until it's in small crumbles. Reserve a ½ cup of the mixture in a separate small bowl.
Batter: Stir the baking soda into the remaining butter mixture in the larger bowl. Dissolve the molasses in the boiling water until it is smooth. Stir the molasses mixture into the flour mixture until combined. Pour into the prepared loaf pan.
Bake: Pour the batter in the pan and top with the crumble mixture. Bake for 55-60 minutes, until a toothpick inserted into the center comes out clean with moist crumbs. Allow to cool for 10 minutes before removing from the pan.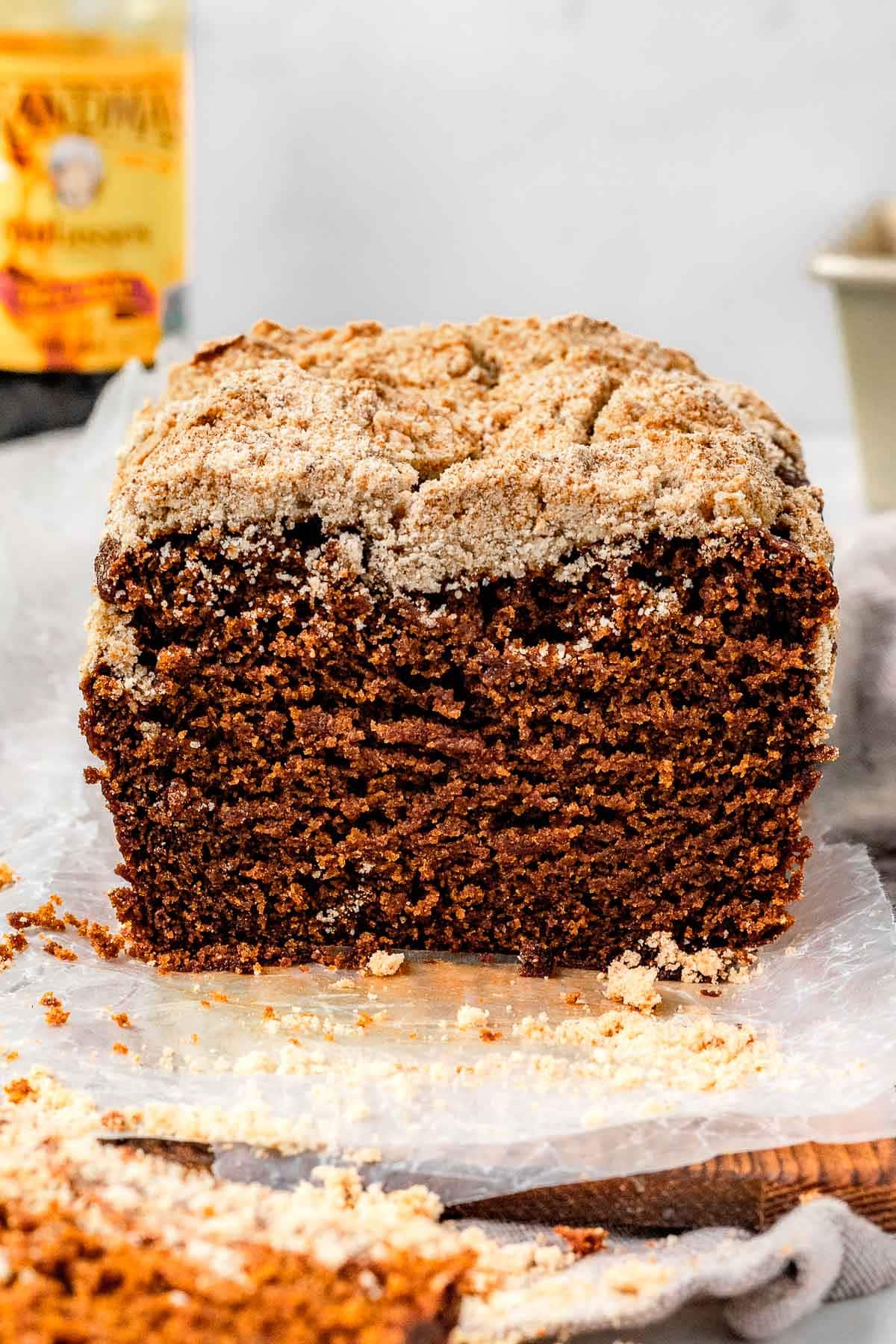 More Delicious Quick Breads
FAQs for Shoofly Bread
What is Shoofly Pie?
Shoofly Pie is an old-fashioned pie that is commonly thought of as a classic Dutch Pennsylvanian or Amish recipe. It is often described as a molasses crumb cake baked in a pie crust, and originally it was served for breakfast instead of dessert.
What does shoofly pie flavor taste like?
The flavor of shoofly pie and this shoofly bread is a dark, deep molasses that is intensely sweet, yet also smoky and rich. As the dessert bakes, the molasses flavor intensifies and the warm spices give it an almost dark chocolatey caramel taste.
What is the meaning of Shoofly?
While the exact origins and meaning of Shoofly has been disputed, many popular legends say that the name comes from needing to shoo-away flies that are drawn to the super sugary filling and topping.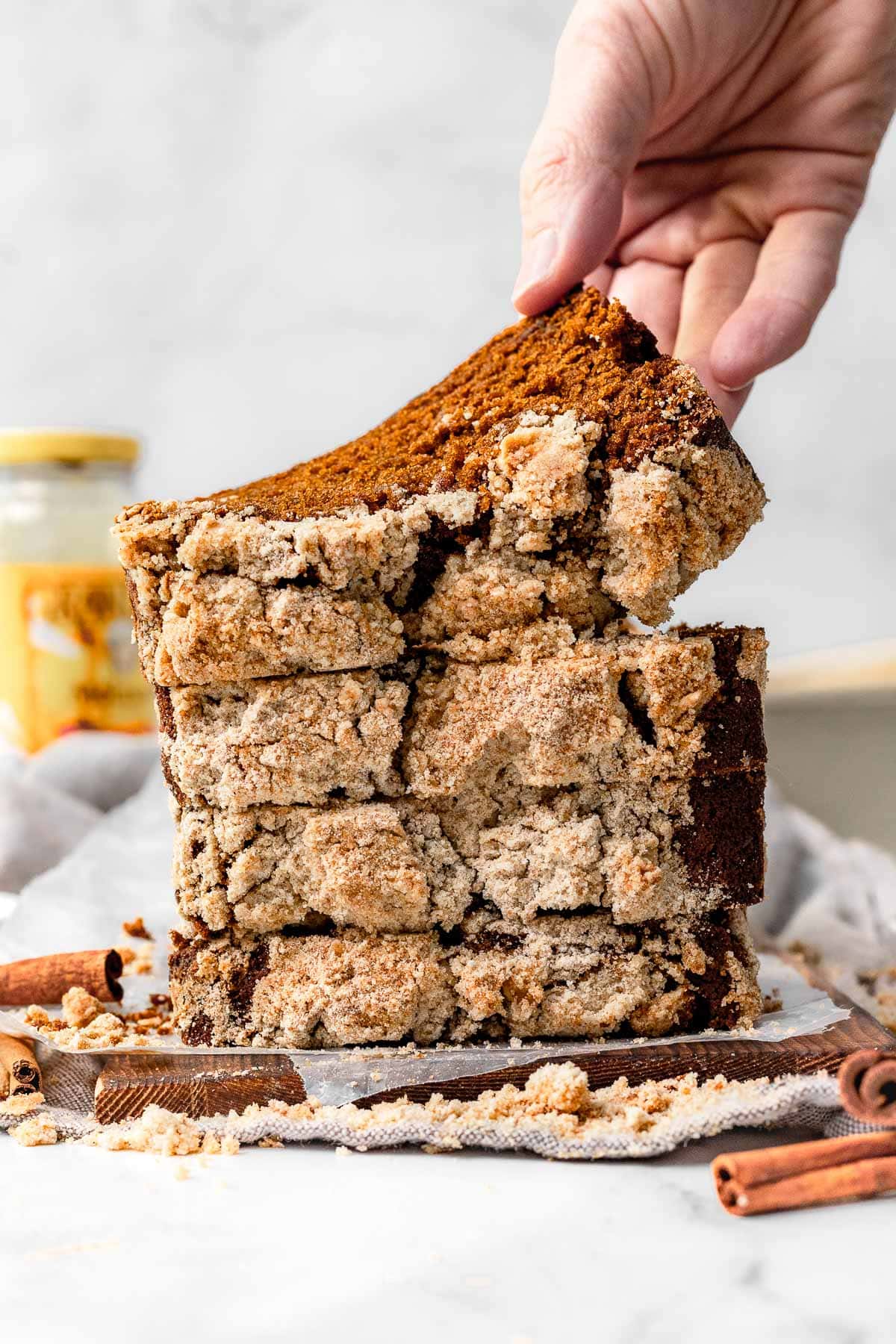 Create a free account to Save Recipes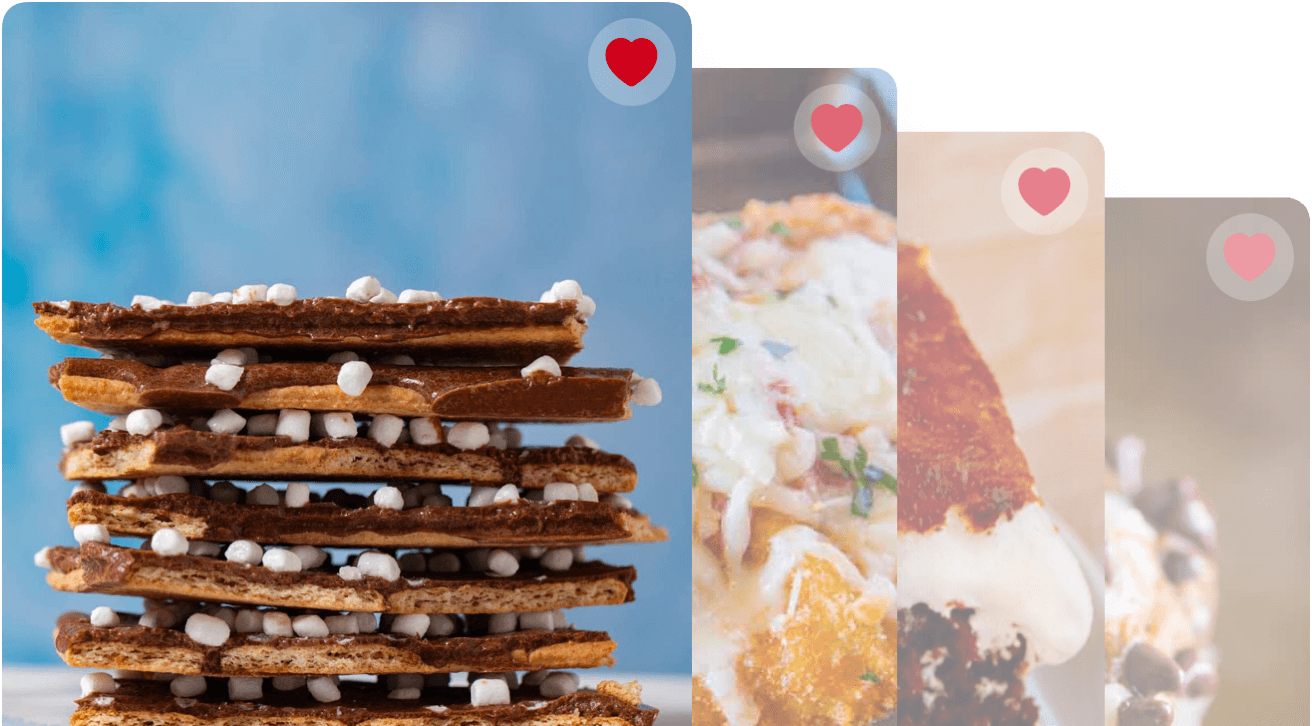 Key Ingredients
Molasses: Molasses is a thick syrup made from the juice extracted when sugarcane is processed into the crystallized sugar that you use everyday. The more the sugar juice is processed, the darker and less sweet the molasses becomes. Light molasses is very sweet with a thin maple syrup texture, dark molasses is thicker with slightly smoky caramel notes, and blackstrap molasses is really thick with a spicy smoky sweetness.
Brown Sugar: Brown sugar is sugar that hasn't had all the molasses extracted yet, and is usually unrefined. Because it has molasses in it, brown sugar is more moist than regular sugar so this bread is super tender. Plus the natural molasses in the sugar so you get even more of that sweet, smoky caramel flavor.
Butter: Unlike a lot of baking recipes, you want to use cold butter for this bread batter versus softened butter. The butter gets cut into the dry ingredients similar to a pie crust, however sugar is also added so it makes a streusel topping. Then the butter is softened with the hot molasses mixture so it forms a batter like normal.
Boiling Water: The boiling water serves two key functions in this recipe. First of all, you need hot water to thin out the molasses so it's easier to mix into the dry ingredients. Secondly, the hot water is used to soften the butter in the dry ingredients so it combines easily as well for mixing. The less you have to stir batter, the lighter and more tender the bread is when it bakes.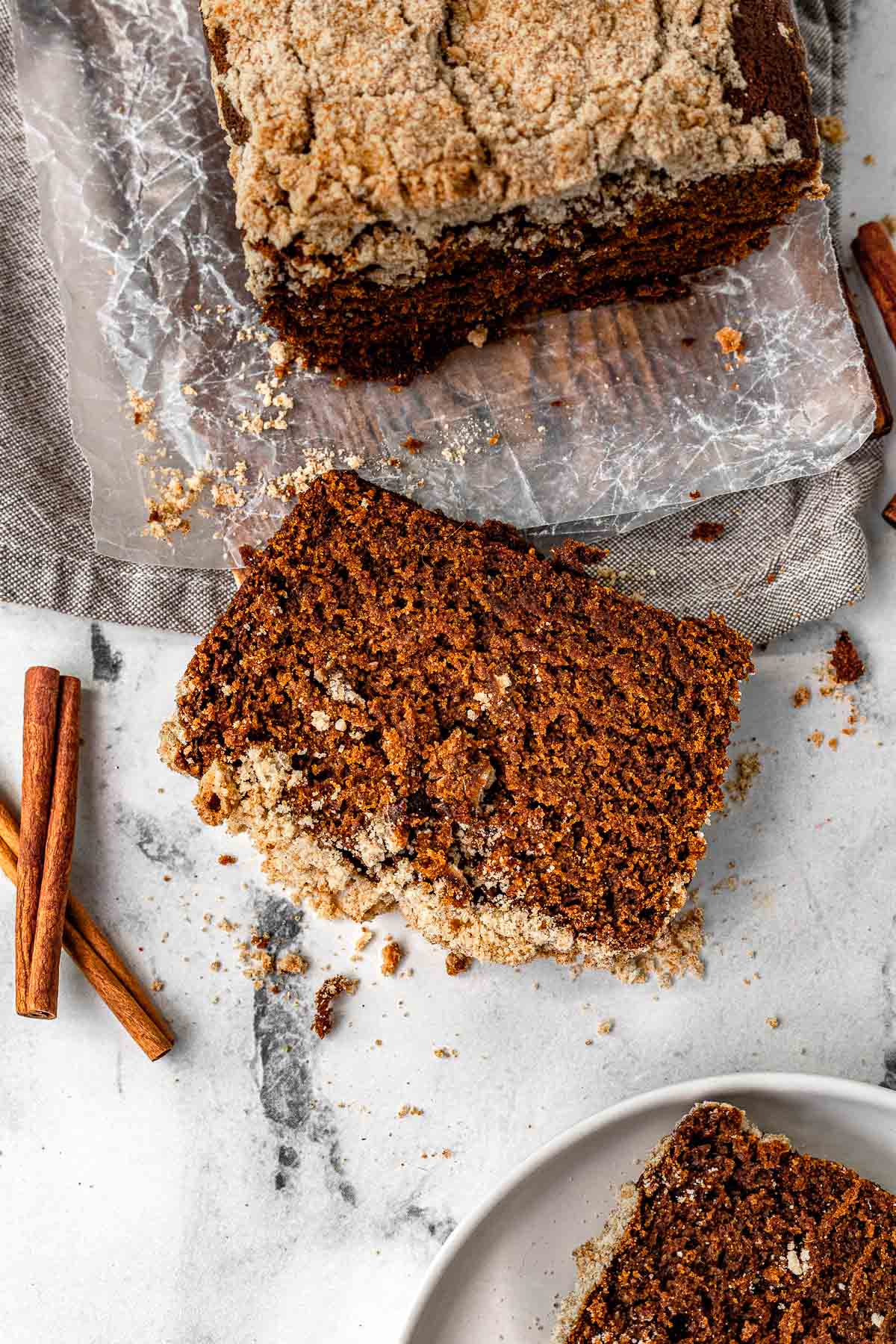 Can Shoofly Bread be made ahead of time?
This molasses in this bread keeps it very moist so it is a great recipe to make in advance. You can keep it in the fridge for a couple weeks or freeze it for about 6 months. If you want to freeze it, let it cool completely, remove it from the pan, then wrap the whole loaf twice in plastic wrap. Wrap it in a layer of foil or put it in a freezer bag. The plastic wrap protects it from moisture and freezer burn, while the outer layer protects it from absorbing freezer smells.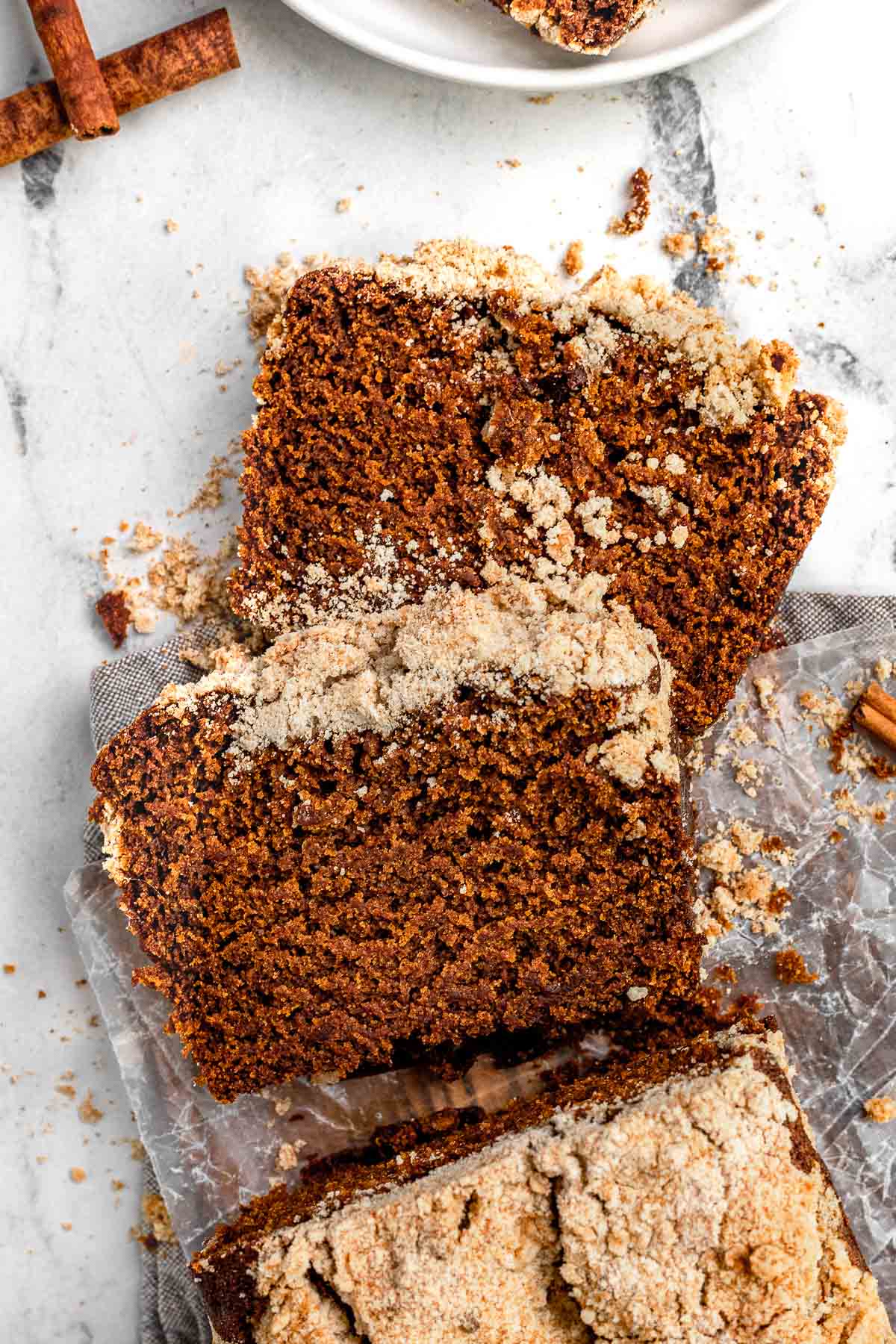 Variations
Caramel: Bring out more sweet caramel flavor by adding caramel baking chips to the batter and add a little sea salt to the batter to balance out the sweetness. Serve the bread with a drizzle of Salted Caramel Sauce.
Nuts: To add a crunchy texture to this soft, tender bread, mix in some chopped pecans, walnuts, or almonds to the bread batter. Toast the nuts in a dry skillet to bring out a deeper, nuttier flavor. You can also add them to the crumb topping.
More mix-ins: There are lots of other add-ins you can try besides nuts. You can mix in fruit like blueberries, cranberries, or raisins. You could also add semi-sweet chocolate chips, white chocolate chips, or Toffee Bits.
Banana Shoofly Bread: Make a combination of banana bread and shoofly bread by adding 2 mashed bananas to the recipe. Mix the bananas into the batter before adding the molasses. This will make the bread extra moist.
Glaze Topping: Instead of streusel you can make a glaze topping for your quick bread. Mix together 2 cups powdered sugar, 4 tablespoons milk, 1 teaspoon vanilla. Once the Shoofly Bread is baked and cooled, drizzle the glaze over the top. You can even top the glaze with some chopped nuts for something extra.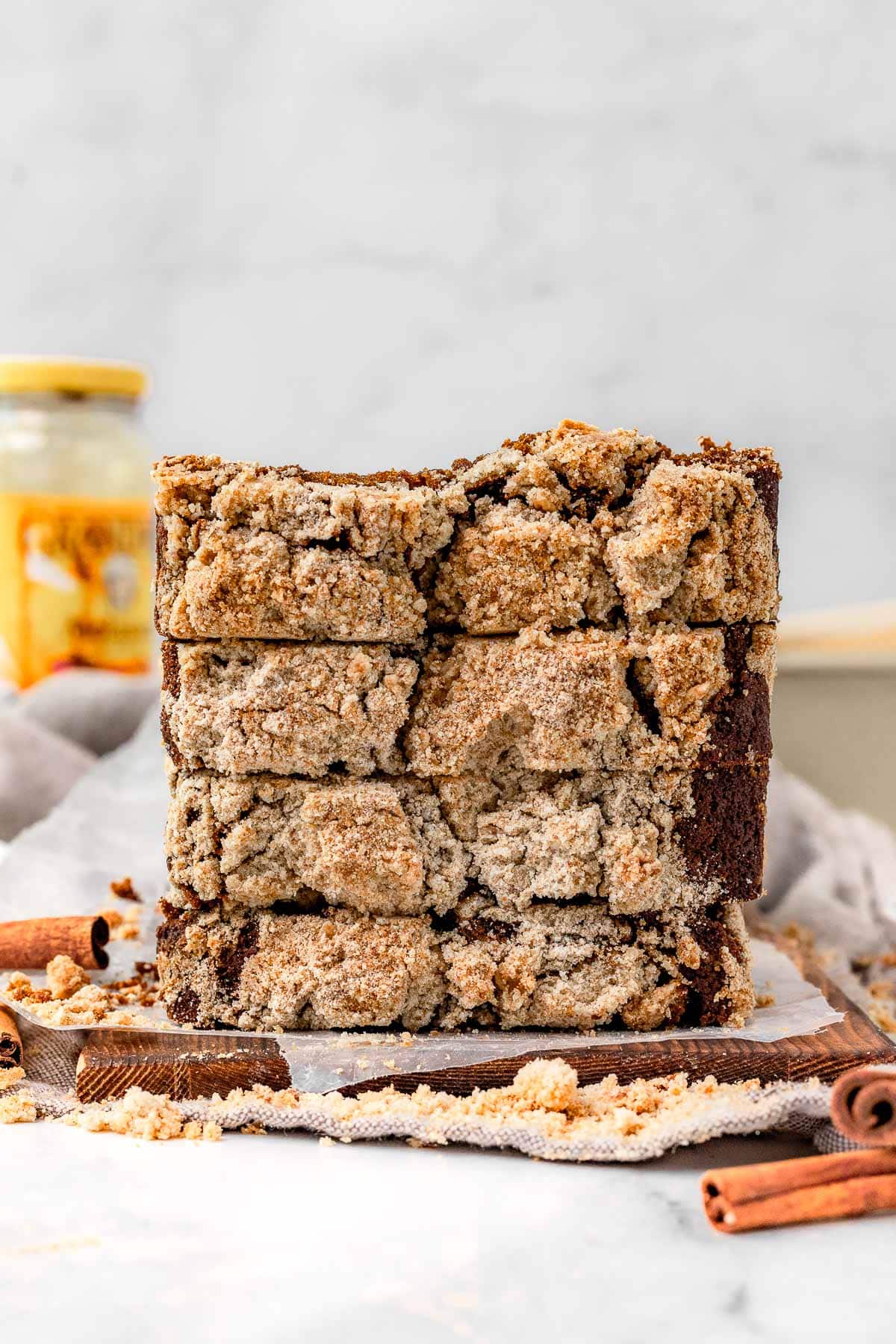 Old Fashioned Pie Recipes
How to Store
Serve: Let the Shoofly Bread cool, then cover it in plastic wrap and store it in a cool, dry place to keep it fresh. It will stay good at room temperature for 3-4 days.
Store: Kept in an airtight container or ziplock bag the bread will keep well in the fridge for up to 2 weeks. Warm the slices in the oven or microwave, or bring to room temperature, to serve.
Freeze: Wrap the remaining bread tightly, or individual slices, and put it in a freezer bag to store it in the freezer. It will last for 6 months in the freezer. Let it thaw in the fridge before reheating and enjoying.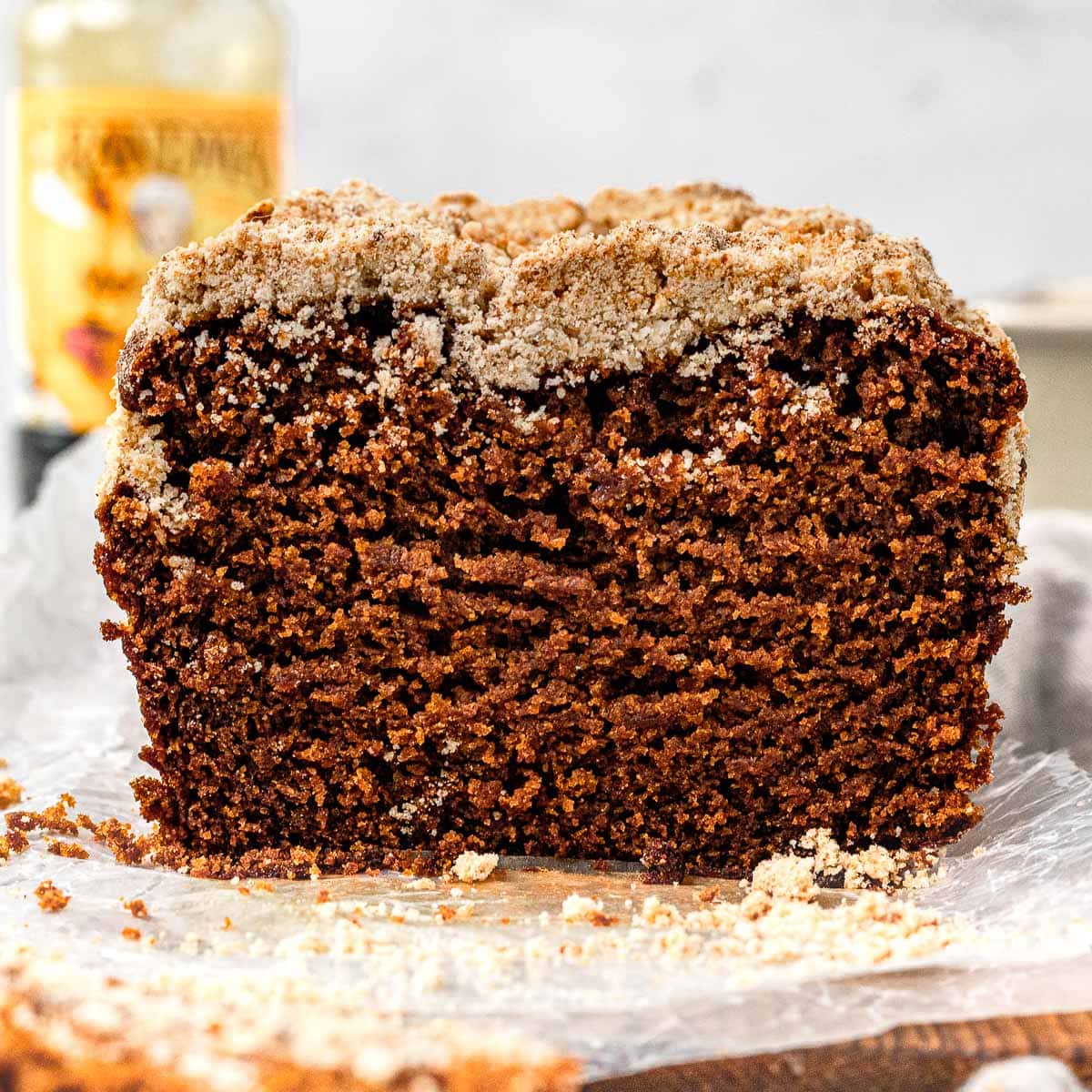 Ingredients
1/2

cup

unsalted butter

, cold

2 1/2

cups

flour

1

cup

packed brown sugar

1/8

teaspoon

salt

1/2

teaspoon

cinnamon

1

teaspoons

baking soda

1/2

cup

molasses

1

cup

boiling water
Instructions
Preheat oven to 350 degrees and spray an 9×5 inch loaf pan with baking spray.

Cut butter into small chunks then add to a large bowl with flour, brown sugar, salt and cinnamon.

Using a pastry cutter, add in the butter until it resembles small crumbles.

Remove ½ cup of the mixture in a small bowl and set aside.

Add in baking soda to the large bowl and stir.

Add molasses to boiling water and stir well until dissolved.

Add to large bowl and stir well until combined.

Pour batter into loaf pan and top with reserved crumble mixture.
Nutrition
Calories:
273
kcal
|
Carbohydrates:
48
g
|
Protein:
3
g
|
Fat:
8
g
|
Saturated Fat:
5
g
|
Cholesterol:
20
mg
|
Sodium:
128
mg
|
Potassium:
258
mg
|
Fiber:
1
g
|
Sugar:
28
g
|
Vitamin A:
236
IU
|
Calcium:
50
mg
|
Iron:
2
mg