Shrimp Scampi Pasta just like you order at your favorite Italian restaurant with a butter wine sauce with tons of garlic and Parmesan cheese.
Shrimp recipes make such quick, simple Dinners. This dish is especially great because it takes classic Shrimp Scampi and adds pasta to make it more filling, and you can still make it in under 30 minutes.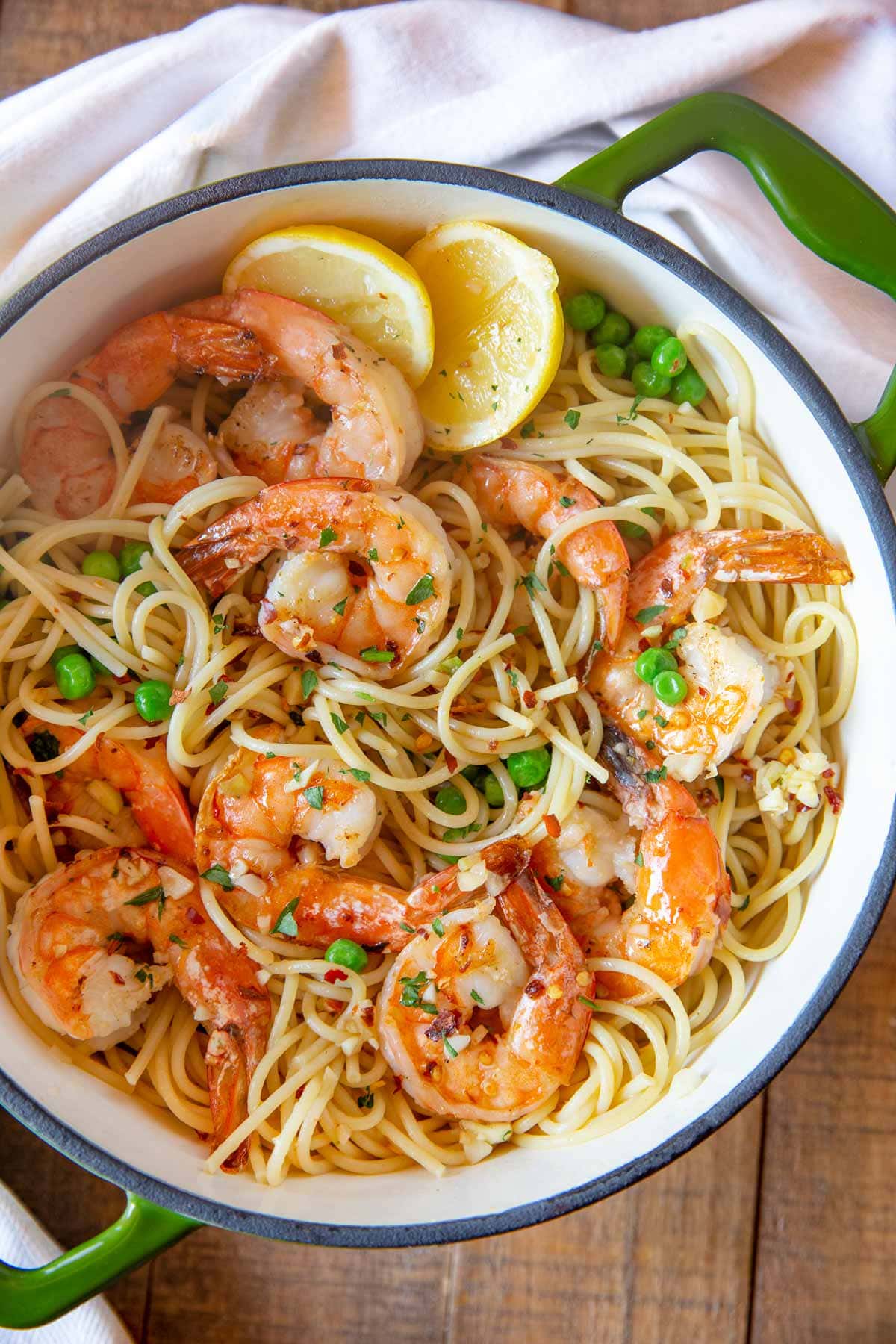 SHRIMP SCAMPI PASTA
Shrimp Scampi and Pasta is a surprisingly easy dish that's sure to impress anyone. The combination of flavorful shrimp, scampi sauce, and pasta seems like they'd take hours to make. You'd never guess the total time is just 30minutes. Once you toss the shrimp in the skillet, you'll be amazed how quickly your dinner is ready to go!
This is the perfect go-to recipe for when you're in a hurry, but still want something a little fancier than typical spaghetti. Serving the delicious shrimp with pasta makes it a filling dish on its own. For the ultimate Italian dinner, serve it with buttery Garlic Bread on the side.
The primary flavors of scampi sauce are lemon zest, garlic, butter, and white wine. As long as you have those ingredients, you're halfway to your delicious shrimp scampi. You don't even need to worry about getting an expensive white wine for the sauce. As long as you have a crisp, dry wine you're fine. Pinot Grigio, or something as simple as a Chardonnay would be excellent. There's no need to spend a lot of money on a white wine if you're only using it for cooking.
Another great thing about cooking with shrimp is that shrimp goes on sale fairly often. Just wait to make Shrimp Scampi until the next time you're at the grocery store and see the shrimp is on sale. Buy yourself a few pounds while it's cheap, and enjoy Shrimp Scampi on a budget.
MORE SHRIMP RECIPES
HOW TO PEEL & DEVEIN SHRIMP:
If they haven't already been removed, take off the legs and head of the shrimp.
Starting at the tail section, peel away the outer shell from the body of the shrimp.
After you peel the shrimp, use a pairing knife cut along the shrimp's spine about 1/4″ deep.
Remove and discard the black line that runs along the shrimp's back.
To remove the tail, pinch the shrimp where the tail and body meet. It should come off with just a little effort.
TIPS FOR MAKING THE PERFECT SHRIMP SCAMPI PASTA
Use fresh garlic. Garlic is the most powerful flavor in shrimp scampi, so it's essential to use fresh for the best flavor.
You also want to use fresh lemon juice. The lemon juice in shrimp scampi does a good job brightening up the flavor. Fresh will work much better for this than bottled lemon juice.
During your prep time, measure out your ingredients before you start cooking. Once you start sautéing the shrimp, this recipe goes fast. You don't want to risk burning anything while you measure out the next ingredient. It's much simpler to have everything measured and ready for when you need them.
Don't skip the marinading time. Allowing the shrimp to marinate in olive oil, red pepper, salt, and garlic for the full hour will give you a much more flavorful dish than if you cut the time short.
Don't overcook the spaghetti, linguine, or whatever pasta you use. You want to keep the pasta al dente for this dish.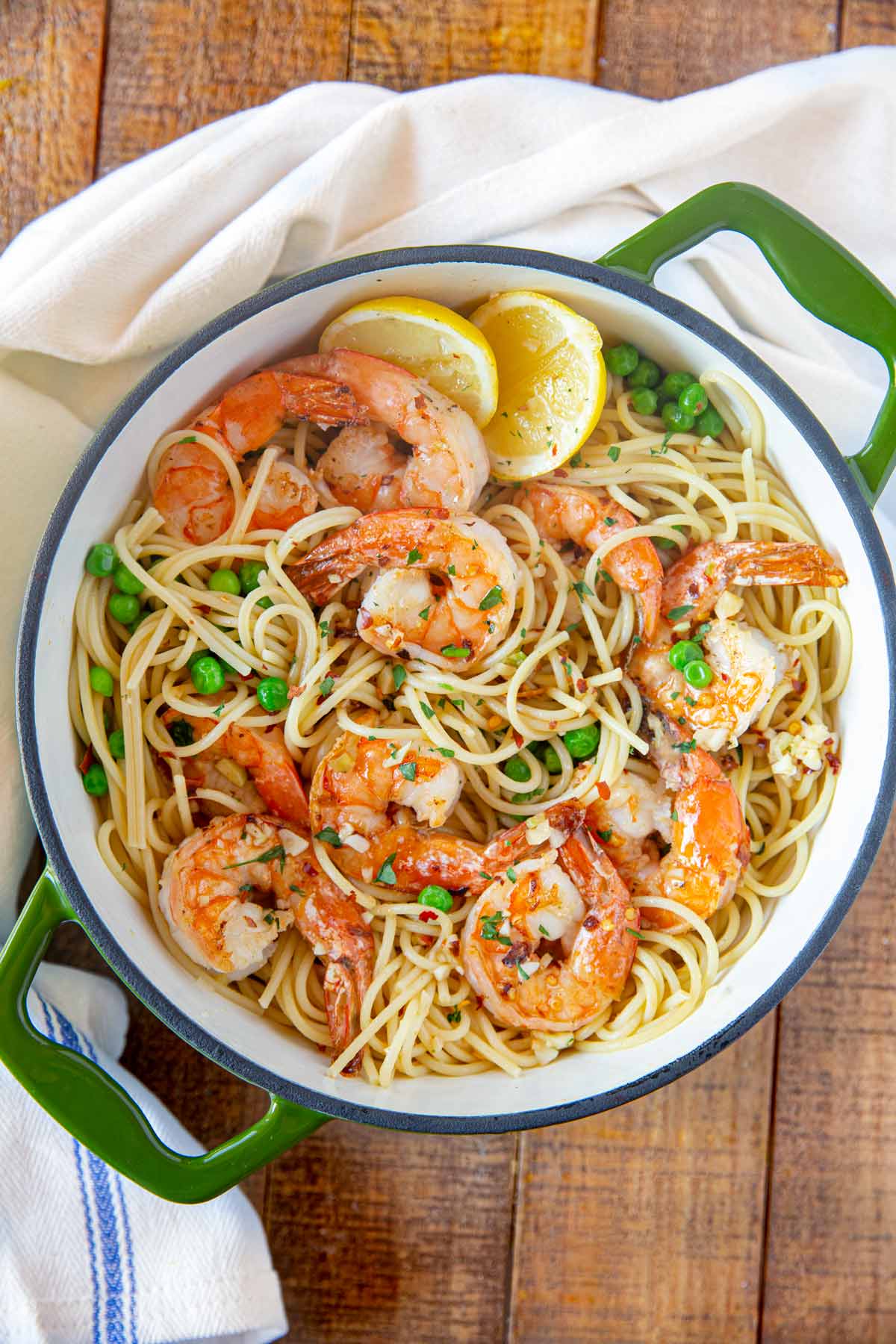 Create a free account to Save Recipes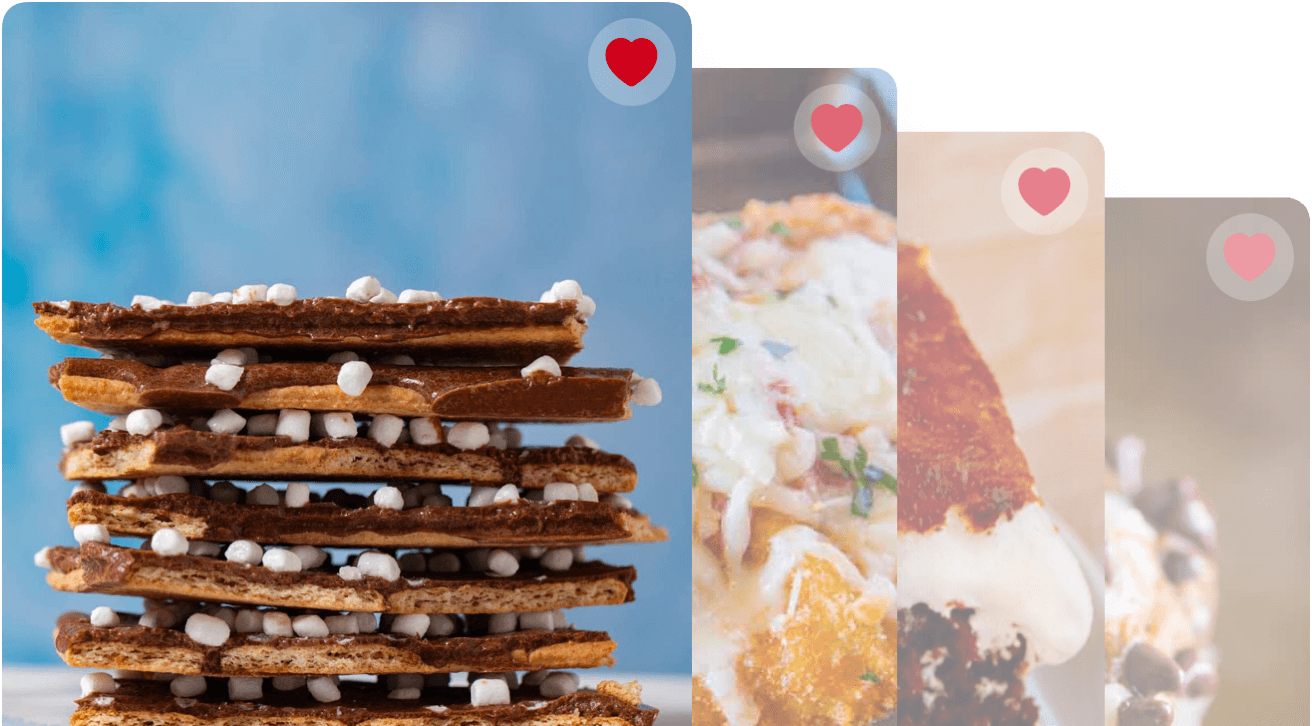 VARIATIONS ON SHRIMP SCAMPI PASTA
Pasta: Instead of using spaghetti, there are lots of other pastas you can pair with shrimp scampi. Linguine is a classic pasta to use with shrimp recipes. Other than linguine, there's angel hair pasta, fettuccine, or tagliatelle. Long somewhat thin pasta work best for this recipe. Whichever pasta you choose to use, leave it in the pasta water a few minutes shy of the package instructions. You don't want to overcook it.
Wine substitutes: If you don't have white wine, there are a few substitutes you can try. The most obvious alternative is using white wine vinegar. It will add a lot of the same flavor wine does. You could also use vegetable or chicken broth in place of the wine. Add a tablespoon of lemon juice or vinegar to the chicken stock to give it some of the bitterness of wine.
Add-ins: There are some ingredients you can try adding the next time you make shrimp scampi. Mix in some shallots to the skillet while you sauté the shrimp. You could also top the dish with grape tomatoes or sun-dried tomatoes before serving.
MORE EASY ITALIAN RECIPES
HOW TO STORE SHRIMP SCAMPI PASTA
Serve: Don't leave this Shrimp Scampi recipe at room temperature for more than 2 hours.
Store: Once the Shrimp Scampi and pasta have cooled to room temperature, put them in a freezer bag or airtight container. They'll keep well in the fridge for 2 days.
Freeze: You can freeze Shrimp Scampi without the pasta. The shrimp will stay good in the freezer for up to 2 months. You'll just have to make another large pot of pasta before serving the shrimp again.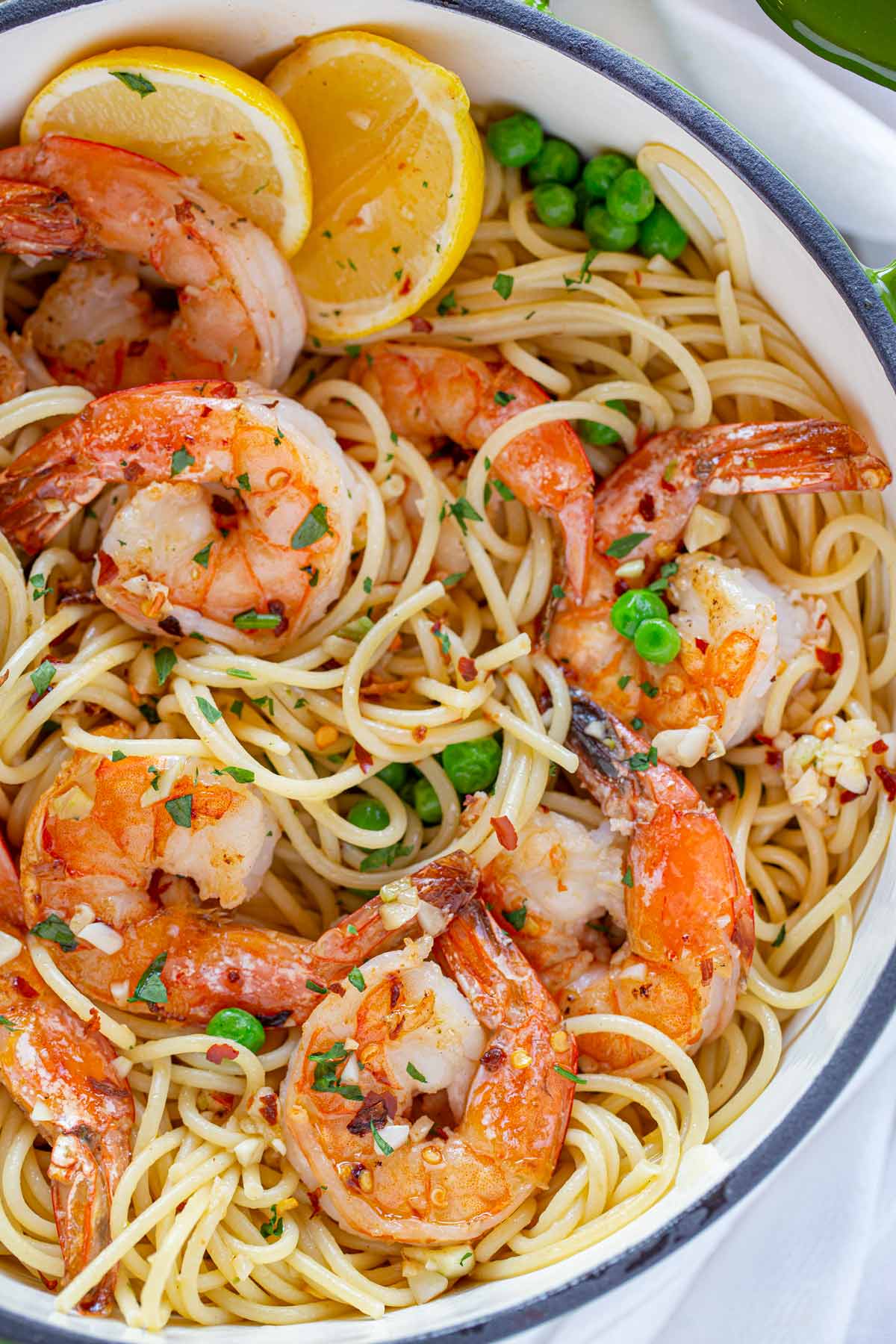 Ingredients
1

pound

spaghetti

4

garlic cloves

minced

1

teaspoon

kosher salt

1/4

teaspoon

red pepper flakes

1/4

cup

olive oil

divided

1

pound

large shrimp

peeled, deveined

1/4

cup

dry white wine

1

tablespoon

fresh lemon juice

4

tablespoons

unsalted butter

1/2

cup

shaved parmesan cheese

1

cup

green peas

frozen

parsley

optional
Instructions
Add the garlic, salt, red pepper flakes, ½ of the olive oil and shrimp to a bowl and let marinate for

60 minutes

.

Cook the pasta one minute shy of the instructions on the box (about

7-8 minutes

).

Heat a large skillet over medium high heat and the other half of the olive oil. Add the shrimp (reserve the marinade) to the pan, cooking on each side for

1-2 minutes

.

Remove the shrimp from the pan, add in the wine and lemon juice and cook for

3-4 minutes

or until reduced by half before adding in the butter and the peas, cooking and additional

3-4 minutes

.

Add the shrimp, pasta, marinade and Parmesan cheese to the pan, toss to coat and serve with parsley as a garnish if desired.
Nutrition
Calories:
425
kcal
|
Carbohydrates:
46
g
|
Protein:
22
g
|
Fat:
16
g
|
Saturated Fat:
6
g
|
Cholesterol:
162
mg
|
Sodium:
838
mg
|
Potassium:
233
mg
|
Fiber:
3
g
|
Sugar:
3
g
|
Vitamin A:
381
IU
|
Vitamin C:
11
mg
|
Calcium:
177
mg
|
Iron:
2
mg