Slow Cooker Cuban Mojo Pork made with citrus, garlic, oregano and cumin takes almost no prep time and makes a fantastic, flavorful meal your family will love any night of the week!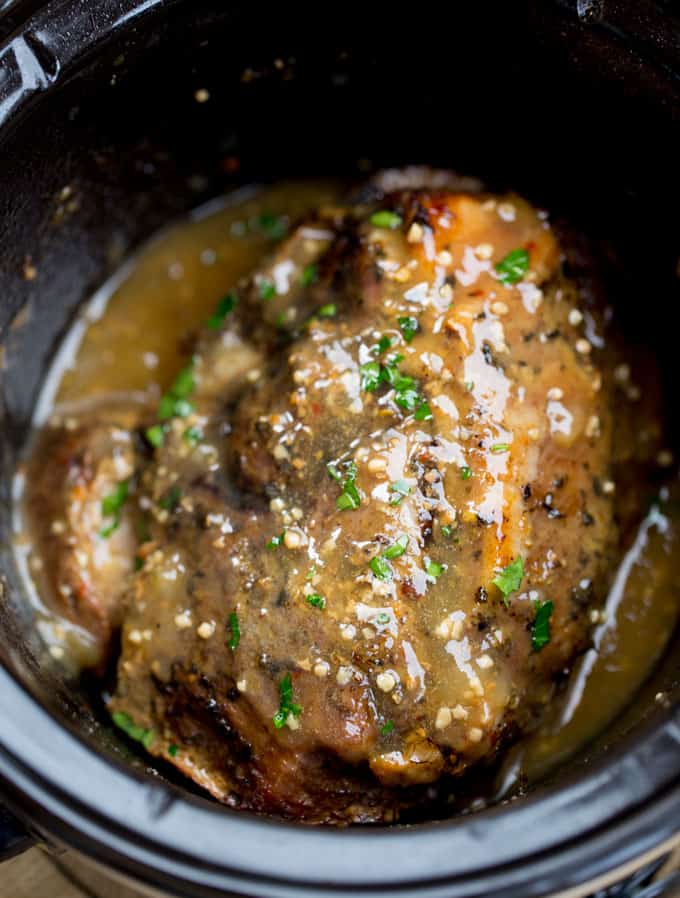 Slow Cooker Cuban Mojo Pork is a twist on the normal pulled pork most people love making in their slow cookers. One of our favorite ways to cook pulled pork is to put it in the slow cooker dry with nothing but Hawaiian sea salt and a bit of Worcestershire sauce for 24 hours on low to make the most tender Hawaiian Luau Pulled Pork ever.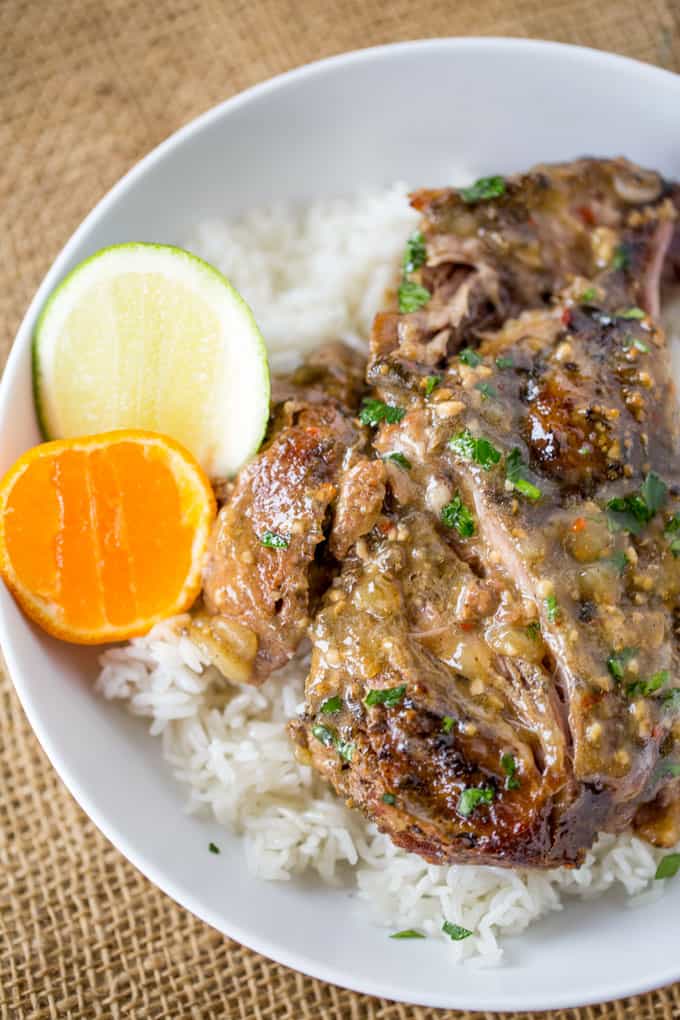 This Slow Cooker Cuban Mojo Pork is such a flavorful dish that we usually end up making it in large quantities (fun fact I have 4 slow cookers…yep, not kidding) and using the leftovers for EVERYTHING. We eat it with sandwiches, make it into tacos, shred it into quesadillas, top it over scrambled eggs and even add it to soups in the winter.
Being a slow cooker meal sometimes you'll want to just make this meal overnight or during food prep times and save it for later. Here it is ready to be frozen for later. Tell me you wouldn't be happy to open up your freezer and see this waiting for you for dinner.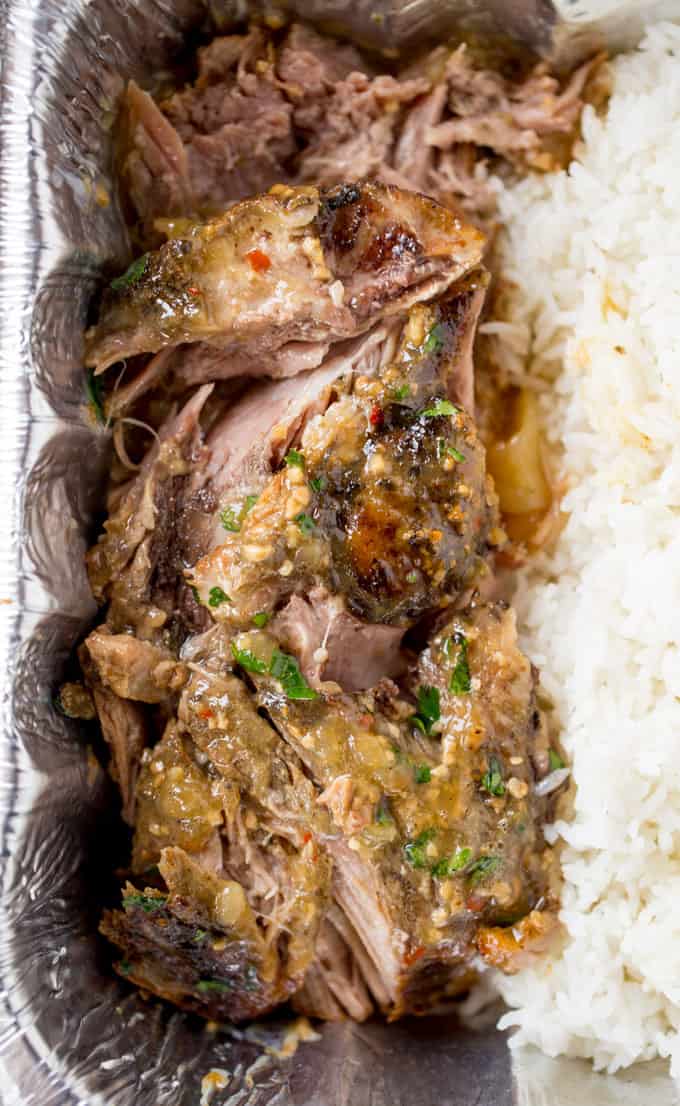 This Slow Cooker Cuban Mojo Pork is so flavorful you'll find yourself standing at the slow cooker picking at it while no one is looking to get all the delicious browned crust.
Speaking of Slow Cooker Pork Meals, have you checked out some of the other ones on the site?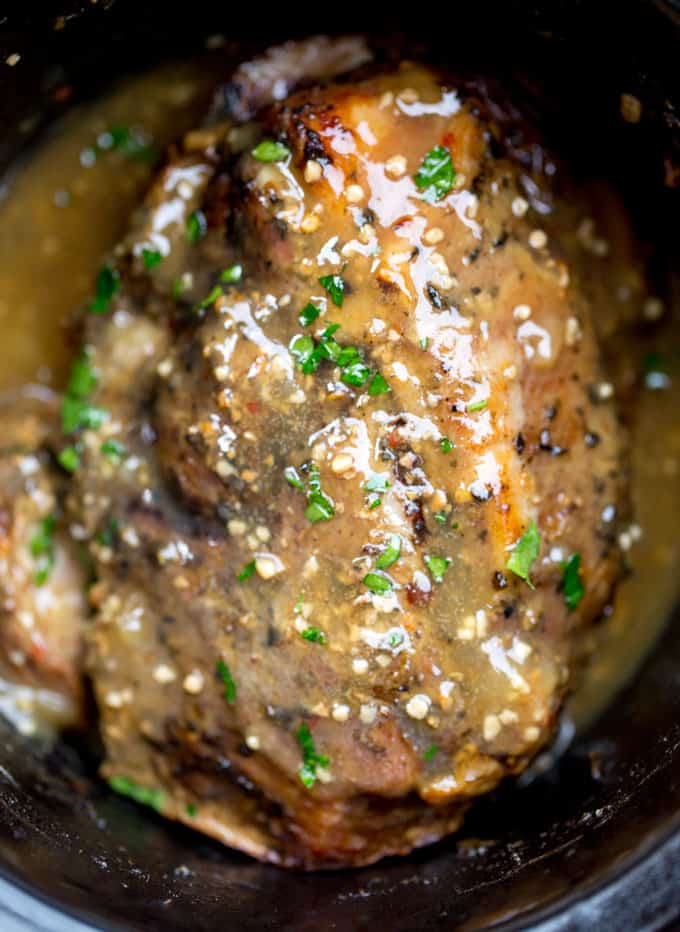 The sauce/liquid left in the bottom of the slow cooker when you're done cooking will be a bit thin. If you want it to be thicker as you can see in the pictures here, you're going to want to follow the steps in the recipe card and add the cornstarch slurry at the end of cooking.
It really does add to the meal and makes a luscious sauce. We use the sauce to pour over the roast or even in other things like over side dishes or on top of enchiladas or eggs. Look at how delicious the sauce looks even before you're cooking the pork: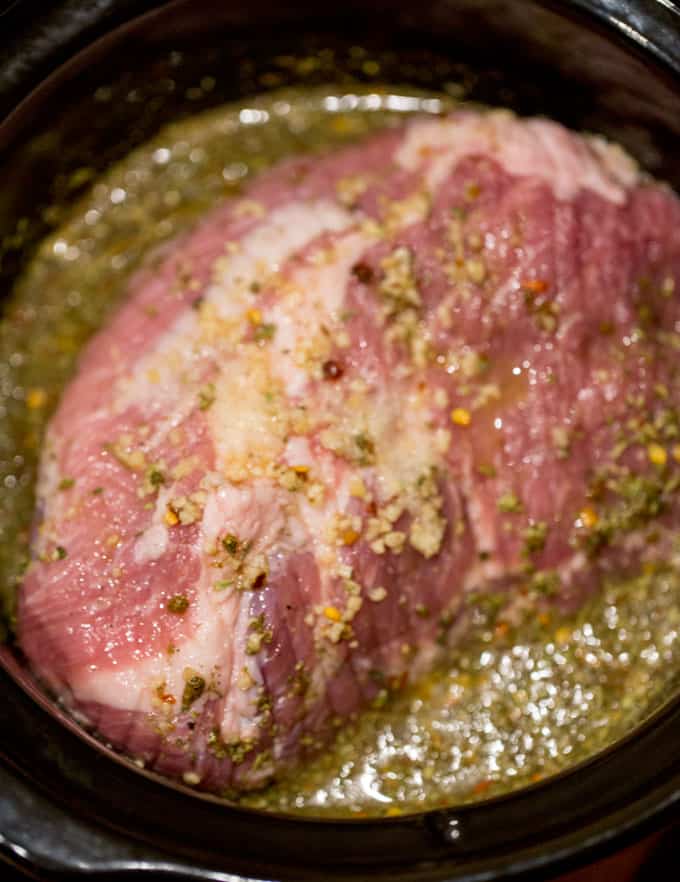 Sometimes if we know we are going to use the pork for a secondary recipe like enchiladas or tacos we will double all the sauce ingredients. Then you'll have enough that you can skip making any enchilada sauce.
The citrus, garlic and cumin add so much flavor you'll use the sauce on everything you can.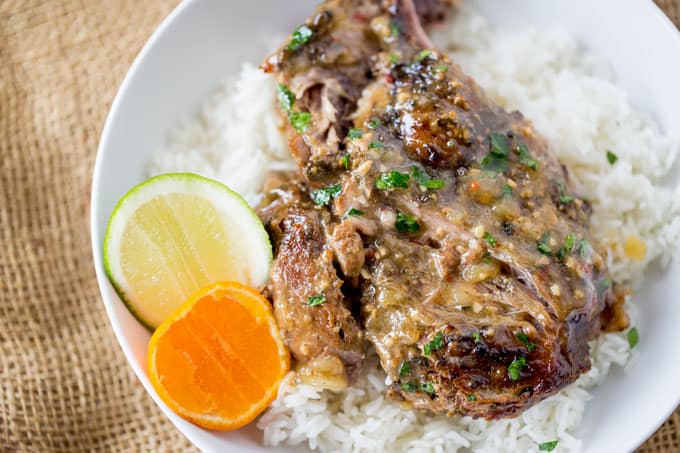 Tools used in the making of this Slow Cooker Cuban Mojo Pork:
Slow Cooker: For a pork shoulder this size I stay away from my larger slow cooker. I use a 4 quart round one, which allows for the pork to cook properly and lets it nestle amongst the sauce it makes instead of being in a much larger cooker and sitting in much shallower pool of liquid.
Dutch Oven: I use this to brown meats before they go into the slow cooker if I am not using my All-Clad slow cooker with the aluminum insert.
Cumin: I absolutely love cumin, it is a spice I use given any opportunity to use it. This brand is hands down a favorite of mine, I've tried many but the flavor here is brighter, bolder and just wonderful. You can find it locally as well, most ethnic stores sell the brand.


Ingredients
2

tablespoons

canola oil

2

teaspoons

Kosher salt

1/4

teaspoon

black pepper

4

pound

pork shoulder

1/4

cup

orange juice

1/4

cup

lime juice

2

teaspoons

cumin

2

teaspoon

dried oregano

1/4

teaspoon

crushed red pepper flakes

4

cloves

garlic

, minced

2

leaves

bay

1

tablespoon

cornstarch

(optional)

1

tablespoon

water

(optional)
Instructions
In a large pot add the canola oil on medium high heat.

Season the pork with the kosher salt and black pepper and brown the pork on all sides.

To the slow cooker add the orange juice, lime juice, cumin, oregano, red pepper flakes, garlic and bay leaves and mix it together.

Add the pork to the slow cooker and roll it in the mixture until it is coated well.

Cook on low for

8 hours

or on high for

6

.

When the pork is done you can serve as is with the juice on top.

If you want a thicker sauce,

30 minutes

before it is done skim the fat off the top, add a cornstarch slurry (1 tablespoon of cornstarch and 1 tablespoon of water to the slow cooker and cook on high for

30 minutes

.
Nutrition
Calories:
247
kcal
|
Carbohydrates:
2
g
|
Protein:
27
g
|
Fat:
13
g
|
Saturated Fat:
3
g
|
Cholesterol:
92
mg
|
Sodium:
689
mg
|
Potassium:
517
mg
|
Vitamin A:
75
IU
|
Vitamin C:
7.8
mg
|
Calcium:
37
mg
|
Iron:
2.3
mg