Easy Spatchcock Chicken recipe and step by step guide for how to cook an entire chicken with perfect juicy chicken meat and crispy skin.
This Spatchcock Chicken recipe is the perfect way to make Roasted Chicken that is cooked evenly throughout the entire bird. Prepping the meat with a spatchcock method gives you juicy delicious chicken in a faster cooking time! It's sure to be a new favorite recipe for a hearty weeknight dinner.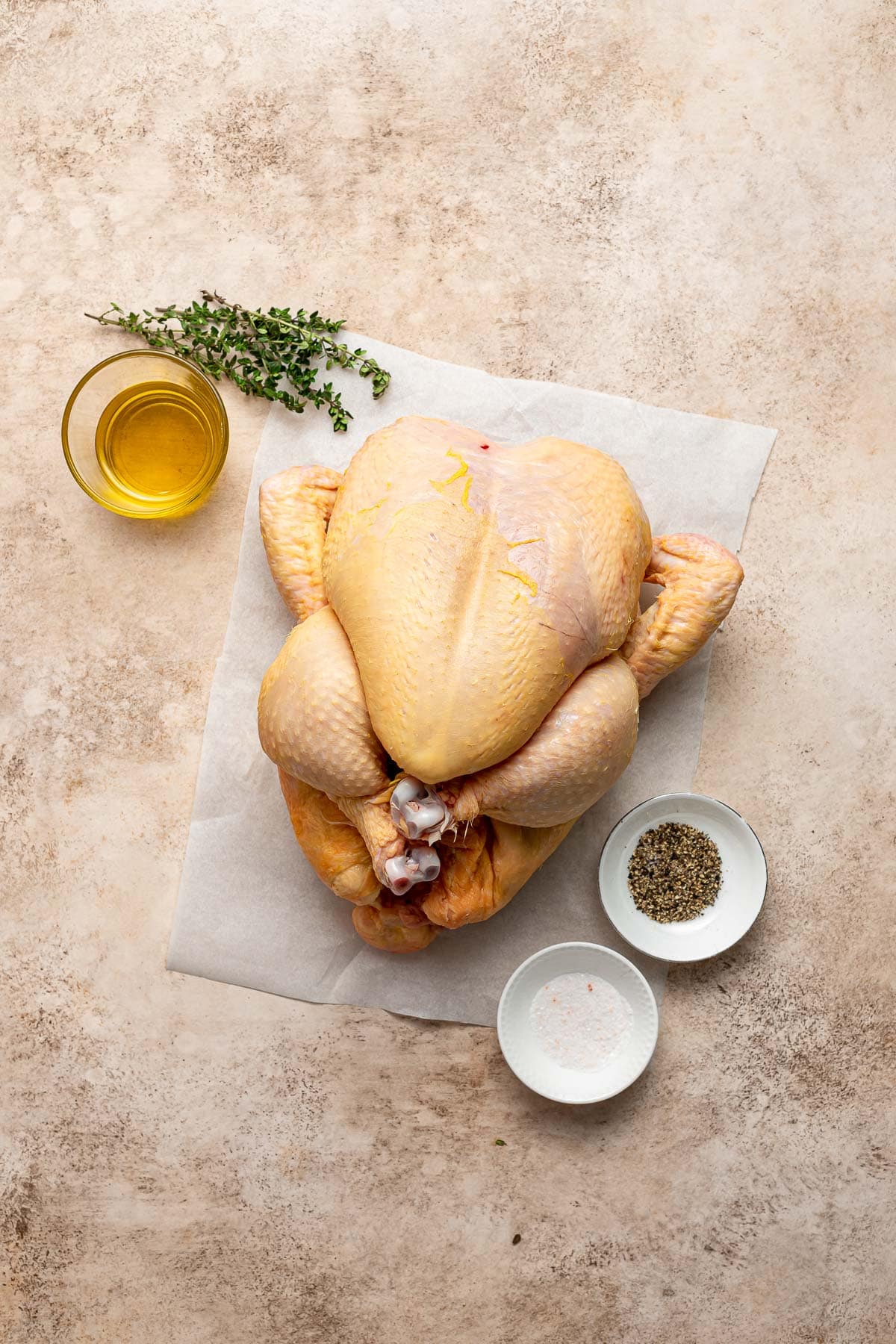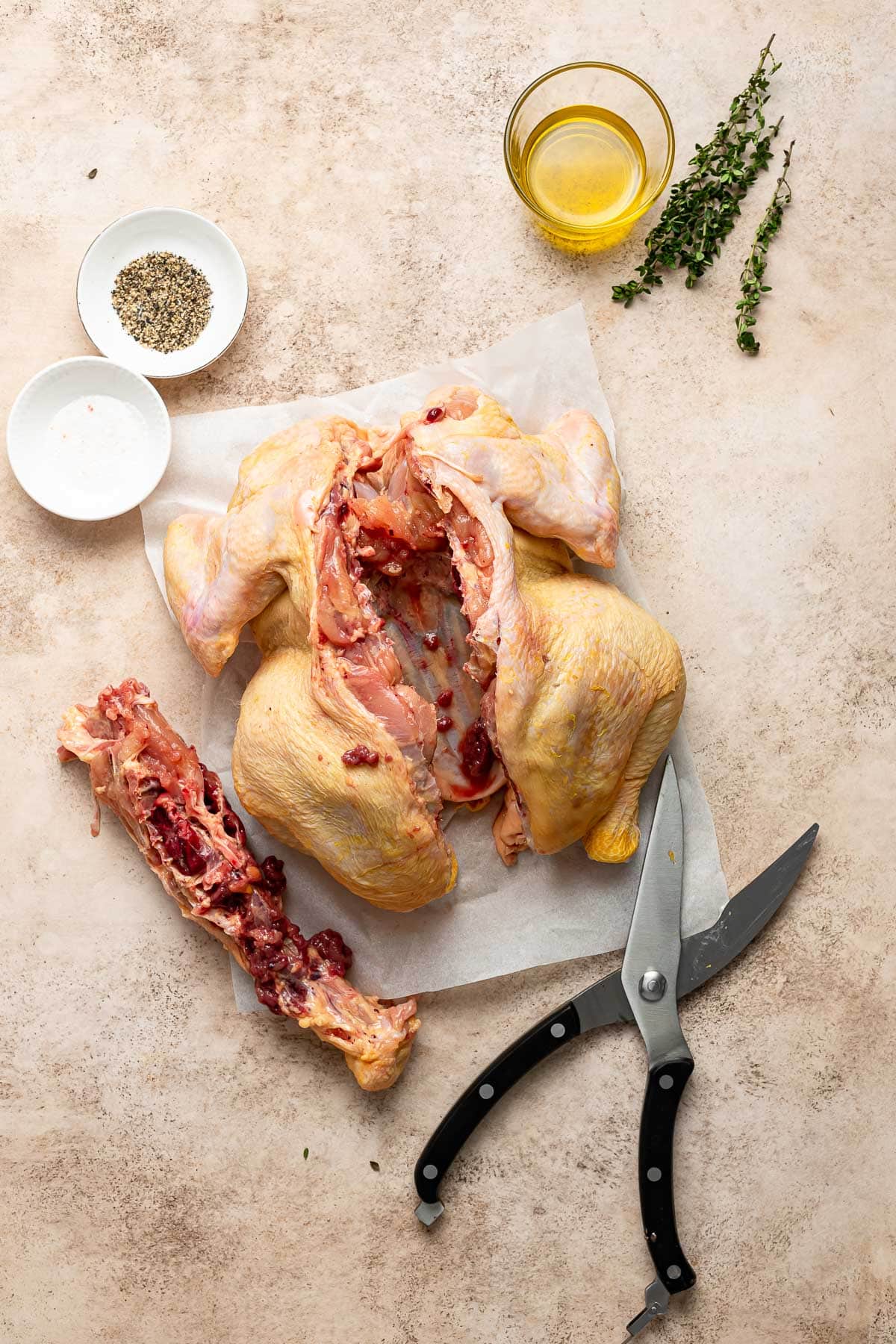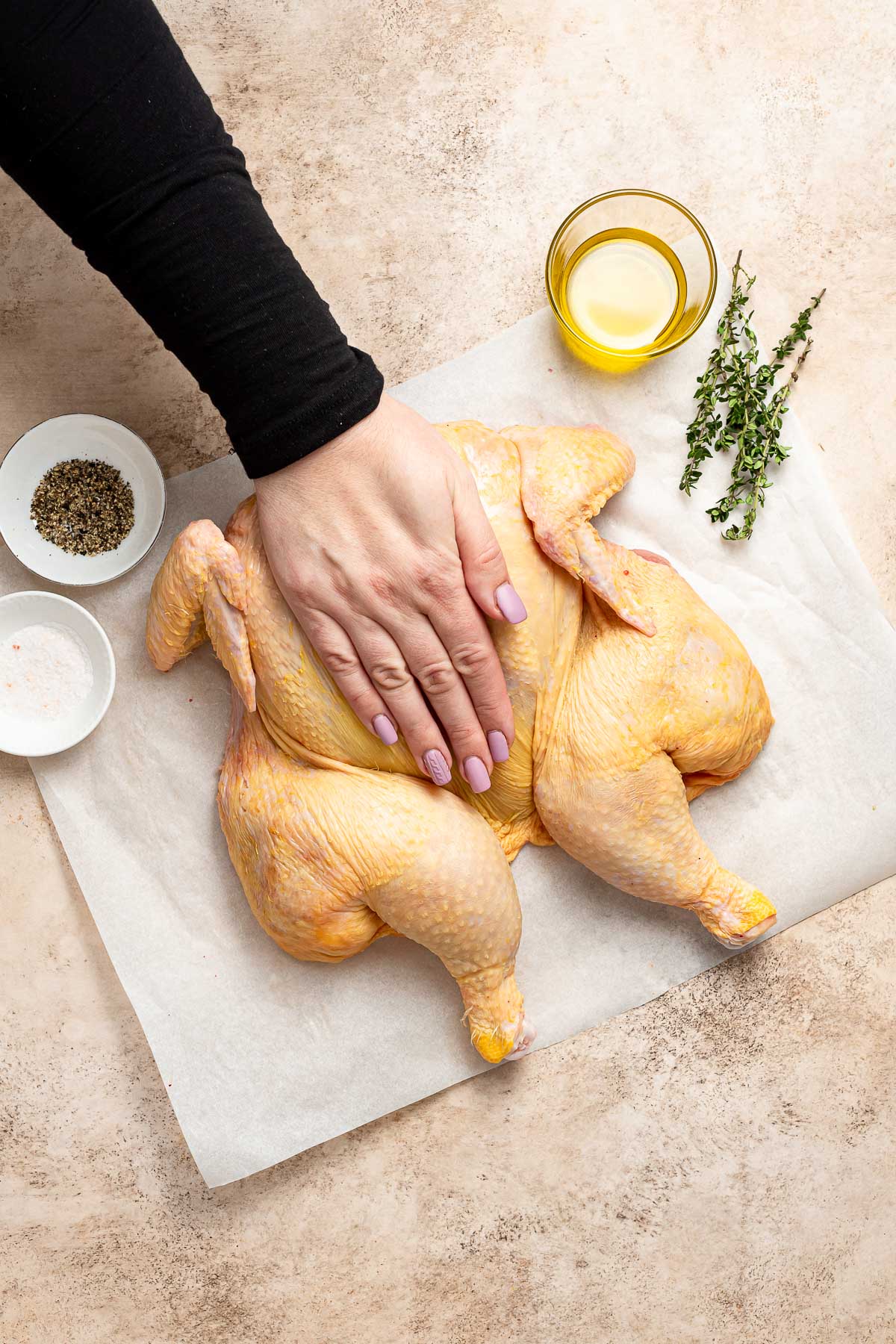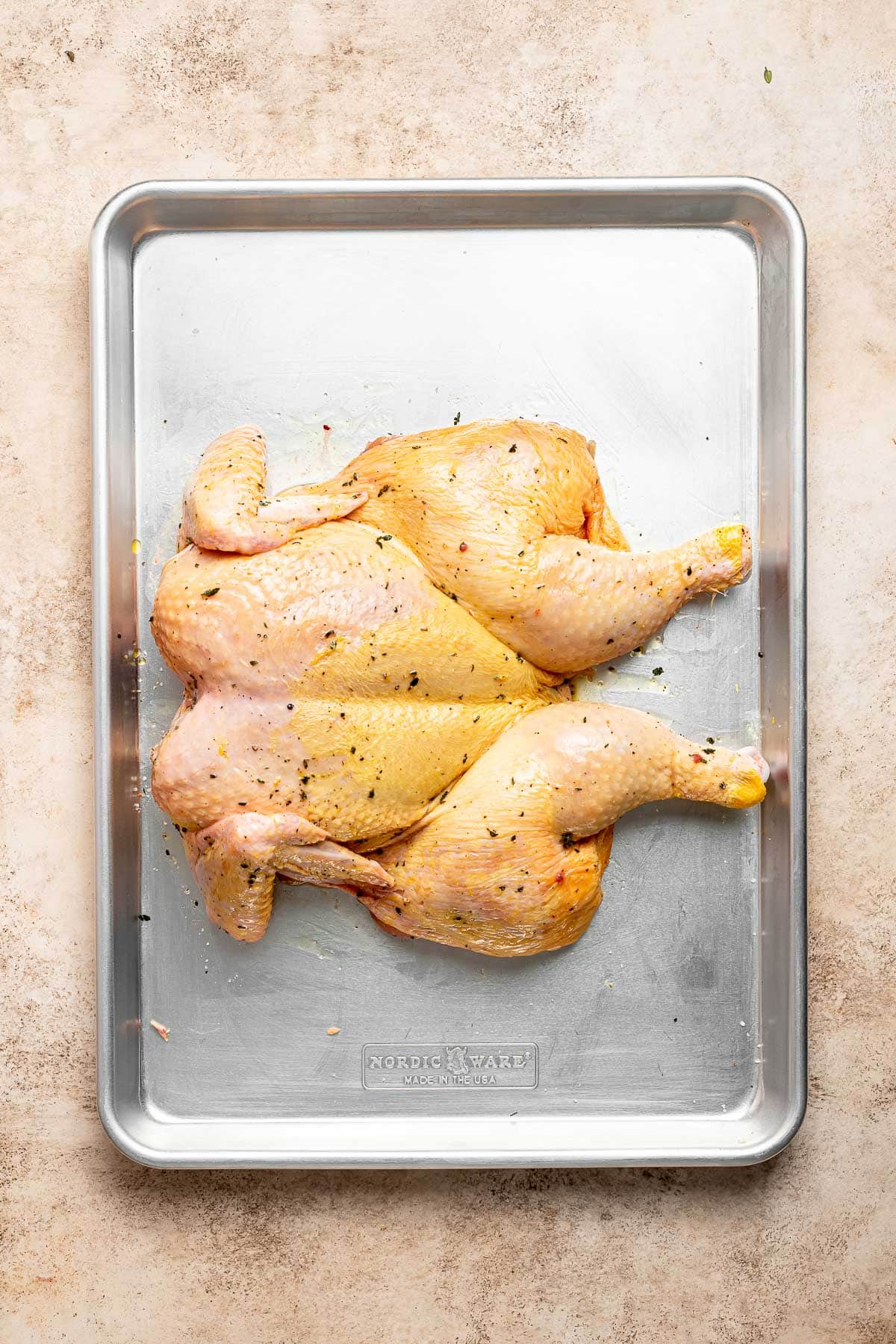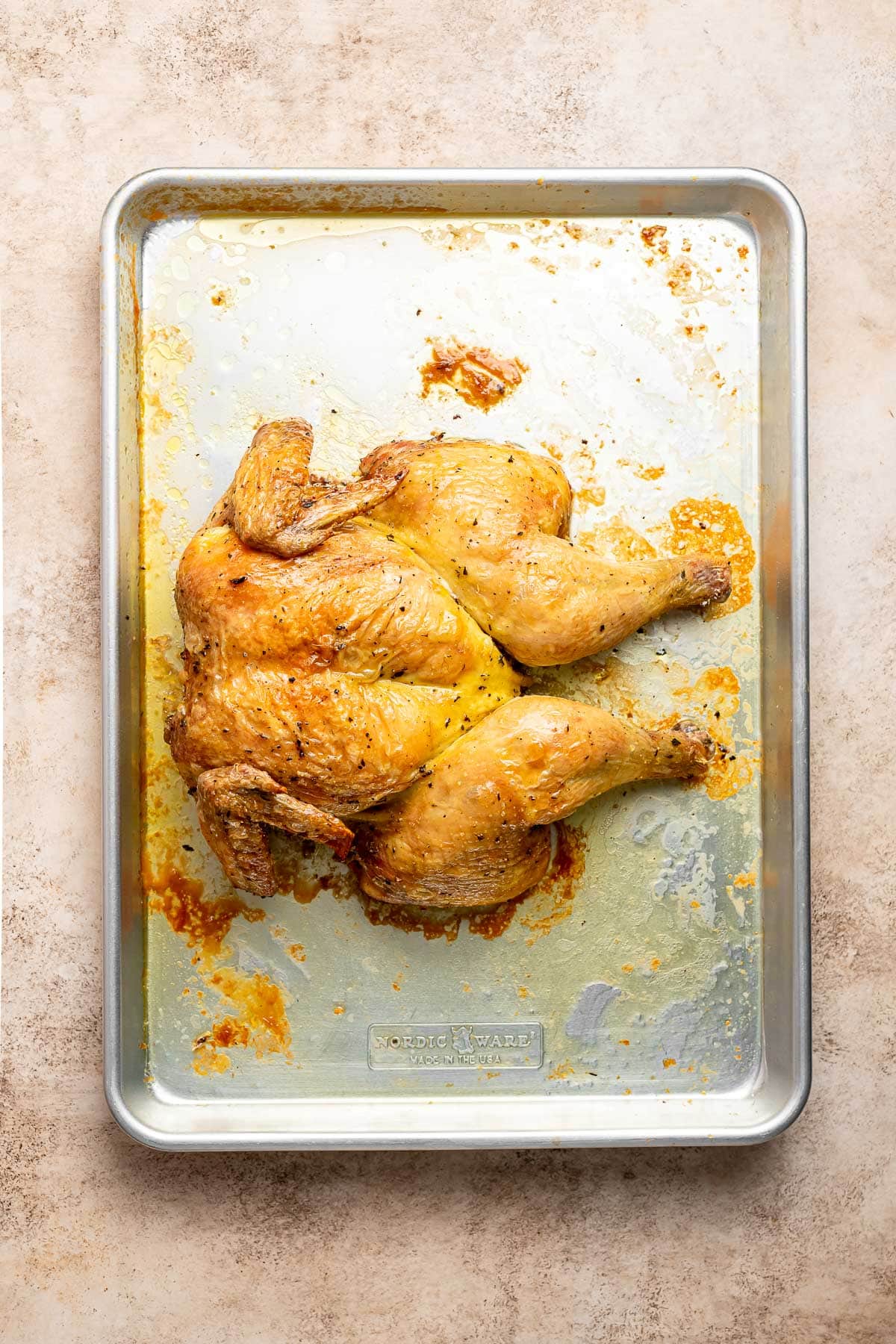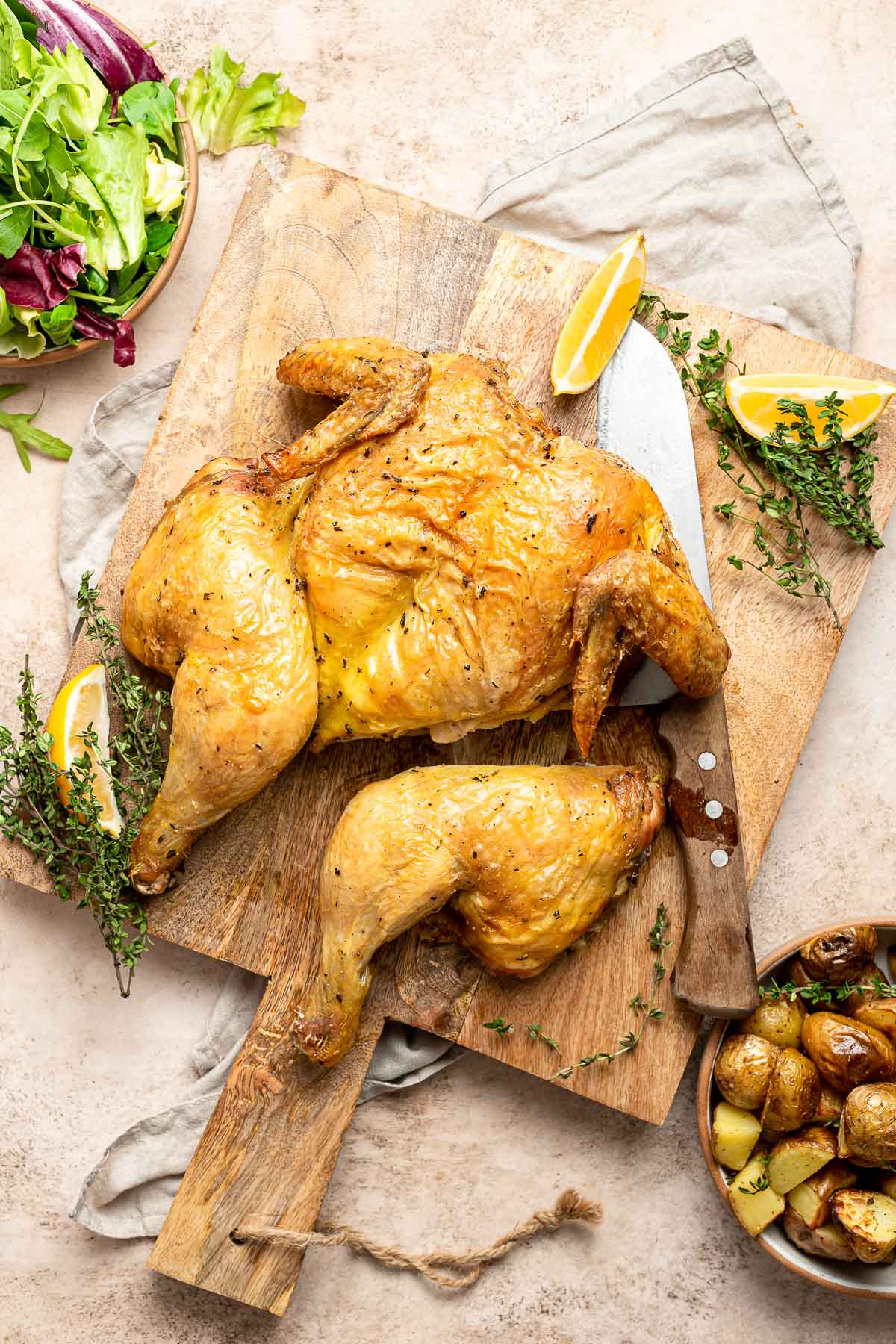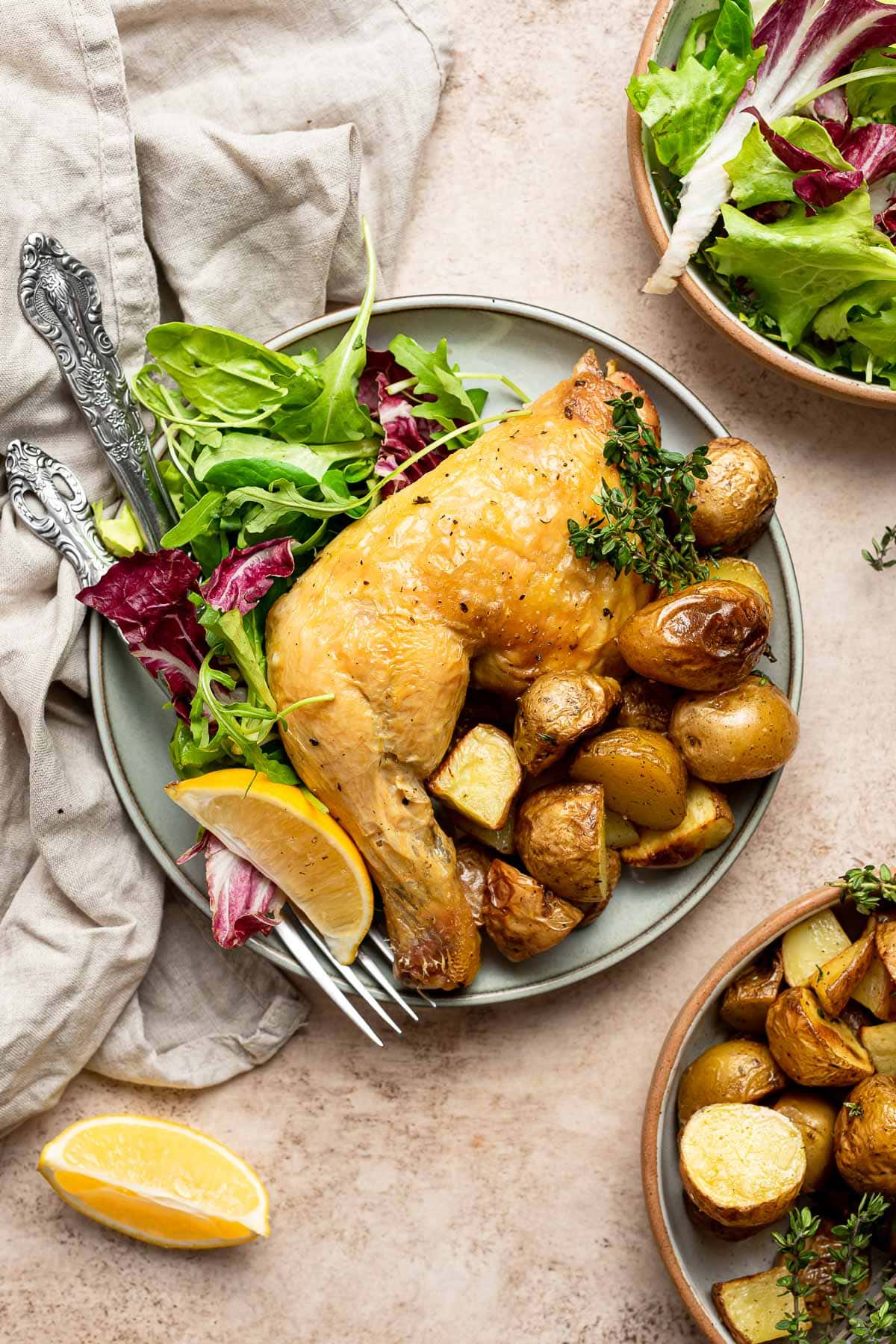 About our Spatchcock Chicken Recipe
The Spatchcock method might sound super fancy but it's actually an easy way to prepare a roasted chicken in a way that ensures it's perfectly cooked. No more overcooked breast meat in order to get crispy skin and fully cooked dark meat. Instead you get tender, juicy pieces of chicken all over and you still get amazing crispy skin too! All you need is a chicken, oil, some basic spices, and sharp kitchen scissors. By following a few quick step by step you can have the simple Spatchcock Chicken ready for the oven in minutes.
To Spatchcock chicken, or butterfly chicken, is a way to prep the meat where you remove the chicken backbone and press down on the meat to make it flat. Similar to making chicken breasts into cutlets makes them cook faster, flattening the whole chicken means faster cooking too. It also means you can get your spices and seasonings all over the entire bird for an even more flavorful, juicy and delicious chicken in a little over an hour.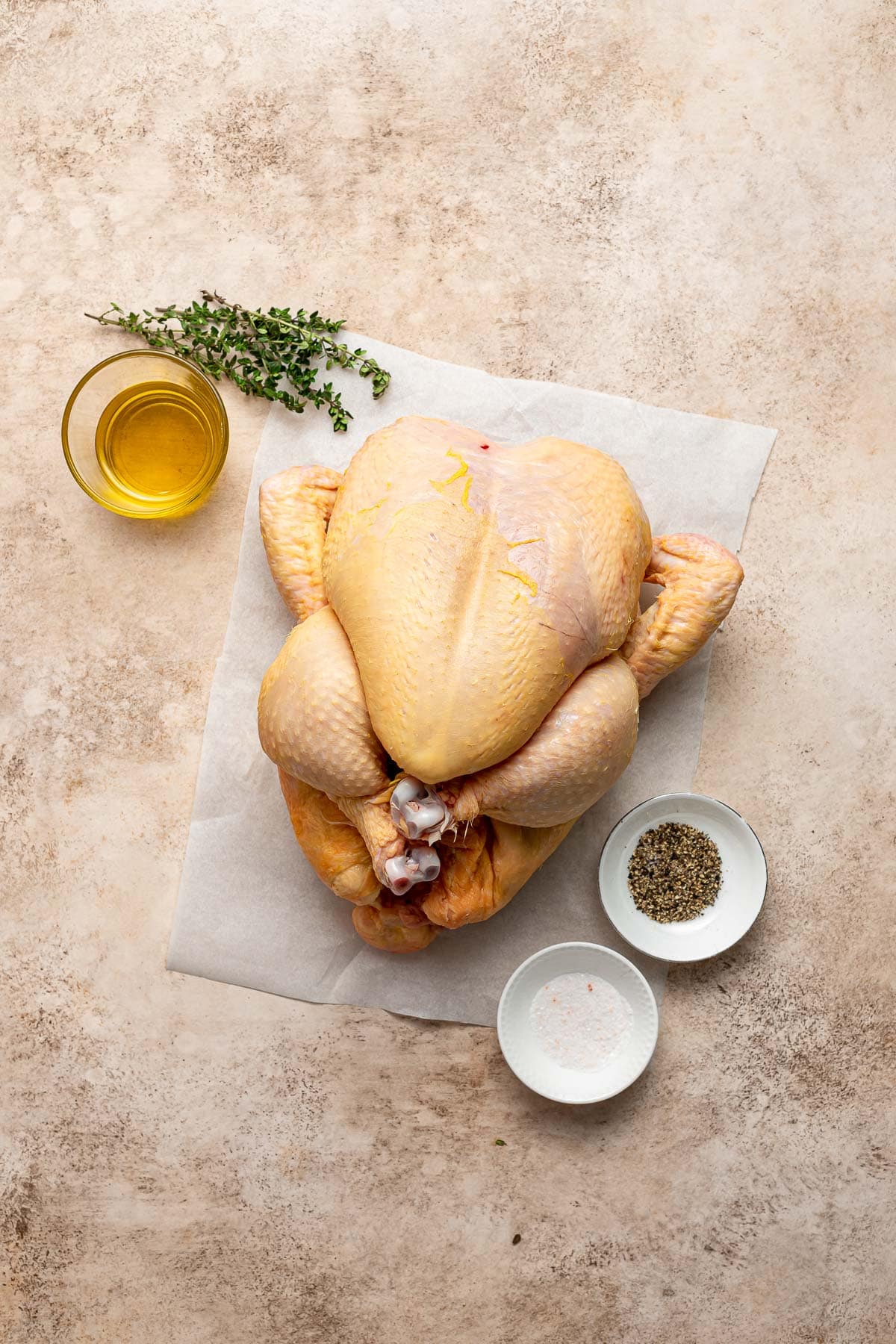 Spatchcock Chicken Ingredients
Chicken: This simple spatchcock chicken recipe is an easy way to prep a whole chicken for roasting. Get a medium size chicken between 4-5 pounds. By spatchcocking the bird, you'll be able to roast the breast meat, and chicken legs together to the perfect juicy flavor.
Olive Oil: The oil is essential to cooking the gorgeous chicken recipe. It provides moisture and stops the dish from drying out.
Seasoning: This Spatchcock Roasted Chicken is one of the simplest chicken recipes ever. All we've used to flavor the chicken is salt, pepper, and a little thyme. The juicy meat and simple seasonings make the perfect dinner. It's also a good base that you can add other spices and seasonings to for more flavor if you'd like.
Kitchen Tools & Equipment
Kitchen Shears: Sharp kitchen shears are best for removing the backbone because they will easily cut through the skin and they are easier to use than a chef's knife.
Rimmed Baking Sheet: You want to make sure your baking sheet or baking pan has high enough sides to catch all the juices from the chicken. Turn that excess juice into gravy or freeze it for later!
How to Make Spatchcock Chicken
Time needed: 1 hour.
Prep Time

If the chicken is frozen, make sure to give it enough time to defrost before starting the recipe. Get out a rimmed baking sheet and preheat the oven to 425 degrees.

How to Spatchcock a Chicken

To actually spatchcock a chicken you'll need a pair of sharp kitchen scissors. Use the kitchen shears to cut the backbone out of the chicken. Be careful to cut close to the spine so that you don't lose too much of the meat. Place the chicken on a cutting board with the breast meat facing up and the legs out. Use your hands to flatten the chicken, pressing down until you hear a cracking noise. It should all be an even thickness.

Cook the Chicken

Place the bird on your baking sheet. Rub olive oil over the skin and add the salt, pepper, and thyme. Put the dish in the 425 degree oven for a 40-50 minute cooking time. Take the chicken from the oven when it's golen brown on the outside and cooked through. You can test it's doneness using an instant read thermometer. It's safe to eat at 165 degrees.
Nutritional Facts
| | | | |
| --- | --- | --- | --- |
| Calories: | 265kcal | Protein: | 20g |
| Carbohydrates: | 1g | Fat: | 20g |
| Cholesterol | 82mg | Sodium: | 367mg |
| Fiber: | 1g | Sugar: | 1g |
Cooking Spatchcock Chicken Tips & Tricks
Perfect your Roasted Chicken with these handy tips!
Use the Proper Equipment

You do not want to try cutting a chicken apart with a dull pair of kitchen scissors and you certainly don't want to use regular scissors. Using non-kitchen shears, or dull ones, can cause injury as well as not being effective.

Get the Crispiest Skin

Before you go to season the chicken, make sure to pat it dry with a clean paper towel to remove any excess moisture. This helps the oil stick better which will give you the crispiest skin full of flavor!
What to Pair With Spatchcock Chicken
Drinks: The best thing about roasted chicken is that it can be served with all your favorite drinks from a glass of wine or beer to a fancy cocktail. A nice crisp Chardonnay or Moscow Mule would be refreshing on a summer night. For a cozier night in, try Pinot Noir, a stout beer, or Hot Apple Cider. 
Side Dishes: While your Butterfly Chicken is cooking you can make some classic comforting chicken dinner sides like Mashed Potatoes, plus some veggies, and Dinner Rolls. A nice tossed garden salad is a healthy, easy side option too.
Herb Butter: The roast chicken recipe would also taste great with a flavored butter. Try using a compound butter like garlic herb butter or Blue Cheese Butter to serve over the top of the chicken. The compound butter will melt over the meat and add delicious flavor and wonderful buttery texture.
How to Store Spatchcock Chicken
Serve: This Spatchcock Chicken recipe can be at room temperature for up to 2 hours. Refrigerate leftover chicken, after it has cooled, in an airtight container for up to 4 days.
Reheat: It's best to reheat the chicken covered in foil in the oven on low heat until it's warmed through. You can add a tablespoon of chicken broth to your baking dish to help keep it from drying out.
Freeze: For meal prep, you can roast the chicken, and keep it in the freezer for 4 months. Make sure to let the chicken completely cool before you seal and store it.
Ideas to Serve Spatchcock Chicken
Platter: Make Roasted Root Vegetables or Red Potatoes as your side dish. Plate your whole chicken, or the chicken cut into pieces, on a large serving platter and spread the roasted veggies around the chicken. Add some leaf lettuce around the edges for a nicer presentation.
Tacos: This simply seasoned chicken can easily be made into chicken tacos by carving up the meat and serving it with all your favorite toppings and some warm corn tortillas.
FAQ for Spatchcock Chicken
Why should you Spatchcock your chicken?
There are lot of benefits to spatchcocking chicken. By pressing the meat into an even thickness, it's able to cook more evenly. That way the thighs and chicken breast are done cooking at the same time. It makes a more juicy roast chicken without any of it drying out. Spatchcocking also helps the meat to cook more quickly. It only takes a few minutes of prep and you get the perfect tender meat with golden brown chicken skin.
How do you know when chicken is done cooking?
Roasted Chicken is done cooking when the internal temperature reaches 165 degrees F. You want to measure the temperature of the meat in the thickets part of the thigh because dark meat takes longer to cook.


Ingredients
4-5

pound

chicken

, giblets discarded

1

teaspoon

kosher salt

1/2

teaspoon

coarse ground black pepper

1/2

teaspoon

thyme

2

tablespoons

olive oil
Instructions
Preheat the oven to 425 degrees.

Using kitchen scissors cut out the backbone (spine) of the chicken.

Flatten the chicken on the cutting board and using both hands, press down on the chicken until you hear cracking noises and the whole chicken is an even thickness and flattened.

Dry the chicken with paper towels, then season with salt, pepper, and thyme.

Place chicken onto rimmed baking sheet or large baking dish.

Rub olive oil all over the chicken skin.

Roast for

40-50 minutes

or until cooked through to 165 degrees.
Nutrition
Calories:
265
kcal
|
Carbohydrates:
1
g
|
Protein:
20
g
|
Fat:
20
g
|
Saturated Fat:
5
g
|
Trans Fat:
1
g
|
Cholesterol:
82
mg
|
Sodium:
367
mg
|
Potassium:
208
mg
|
Fiber:
1
g
|
Sugar:
1
g
|
Vitamin A:
159
IU
|
Vitamin C:
2
mg
|
Calcium:
13
mg
|
Iron:
1
mg
Spatchcock Chicken Variations
Lemon Chicken: For some zesty lemon flavor in this recipe rub fresh lemon juice over the chicken at the same time that you add the olive oil. You can also garnish the Spatchcock Roasted Chicken with lemon wedges before you serve it.
Herbs: You can also add fresh herbs. Along with the fresh thyme, try seasoning the chicken with rosemary, basil, oregano, or chives.
More Roasted Chicken Recipes