Moscow Mule is a classic and refreshing ice-cold cocktail with vodka, lime juice, and ginger beer. Easy to make in just a couple of minutes!
If you like classic cocktails like this one, then you should definitely try your hand at making some other favorite Drink Recipes. Along with the Moscow Mule, try this Hot Toddy Recipe for a fun holiday option.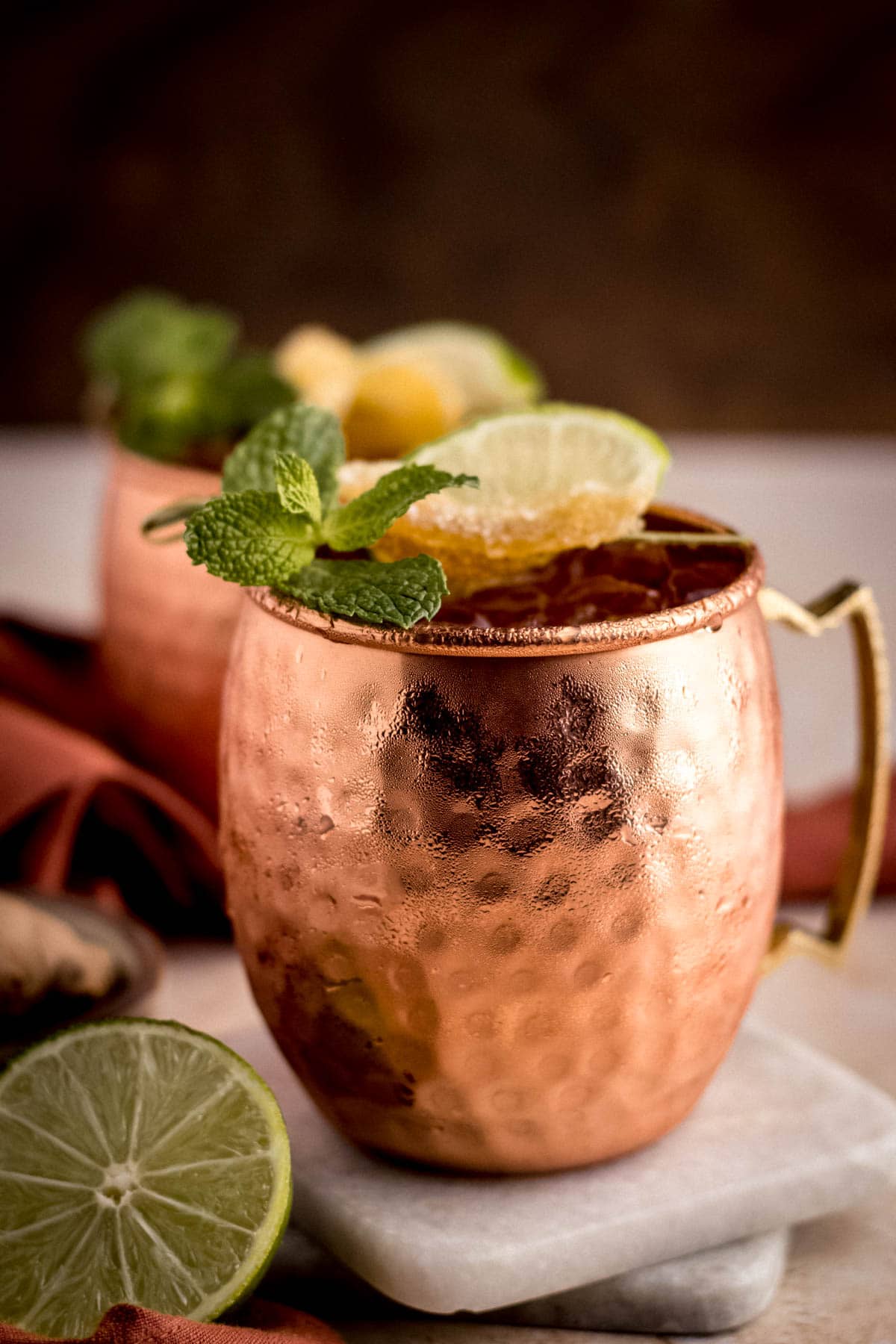 This is an all-time favorite drink to enjoy any time of year! Whether you need a cocktail hour drink for sipping on in the winter or on hot summer nights, this classic cocktail recipe fits the bill. The ginger flavor adds just the right amount of warm spice to make it enjoyable while sitting with your friends by a fire on a chilly evening. At the same time, refreshing lime flavors and the ice-cold, smooth consistency make it perfect to go with Grilled Chicken or Pulled Pork in the summer.
No matter when you make this recipe, you're sure to love how easy it is. Just add the three base ingredients and plenty of ice. Then mix and garnish for the perfect Moscow Mule. It couldn't be simpler, and it's great to share with friends!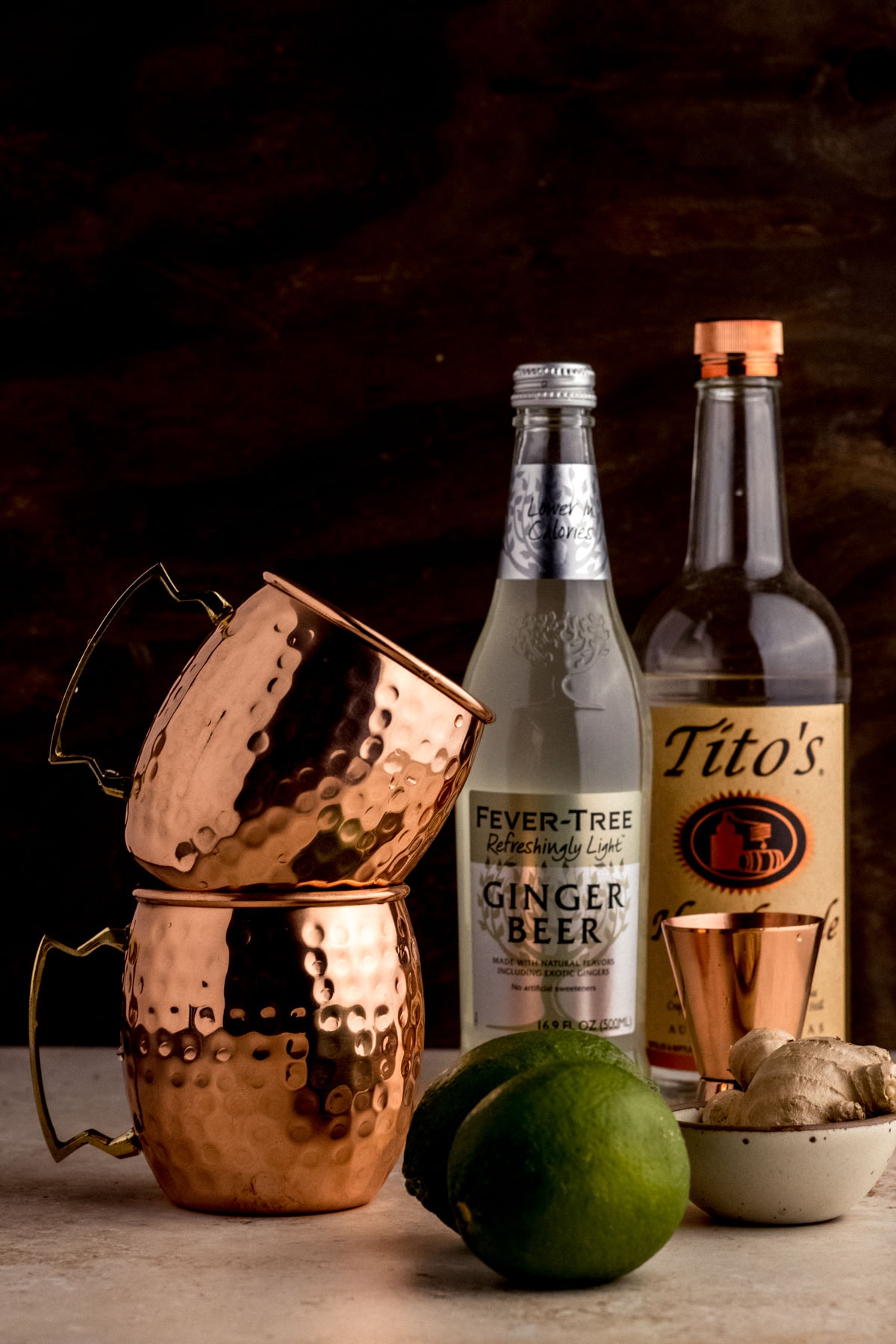 Frequently Asked Questions About Moscow Mules
Why should I serve a Moscow Mule in a copper mug?
The classic copper cup that Moscow Mules are served in gives them a distinct and stylish look. However, there's more to the reasoning for serving this drink in a copper mug than the aesthetics. Copper is good at holding temperature. So, when you pour the iced cocktail into a copper Moscow Mule mug, the cup takes on the temperature of the ice-cold liquid. As a result, the classic vodka-based cocktail stays chilled longer than it would served in classic cocktail glasses. 
Why is it called a Moscow Mule?
This classic vodka-based cocktail was actually created in the US, not Moscow. It also doesn't have anything to do with mules. So, where did the name come from? According to Huffpost, the name was randomly selected. Moscow came from the association a lot of Americans make between vodka and Russia, and some say the name mule was added because the ginger beer gives a kick of flavor, like a mule kicking. Either way, it's a catchy name that stuck. 
Can I use more or less alcohol in my Moscow Mule?
You can add a little more, or decrease the vodka in this recipe if that suits your taste. Start by adding or cutting by 1 tablespoon, then give it a taste. Be careful not to add too much as it can alter the flavor, and also alter the affect it will have on you more than you want.
Drink Recipes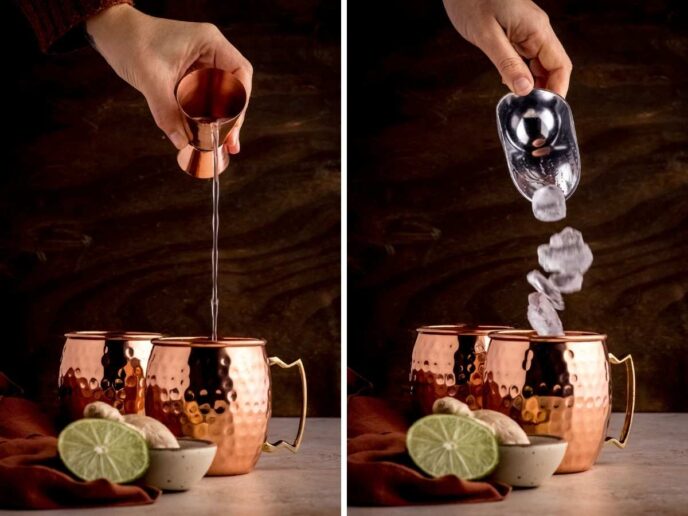 Key Ingredients
Vodka: The primary liquor in this recipe is vodka. Use 3 tablespoons, the same amount in a jigger for a shot. Smirnoff Vodka is the brand originally used for this mix and tastes great in it. However, you can feel free to change things up with your favorite vodka brand. 
Ginger Beer: This classic cocktail is the perfect way to use up a bottle of ginger beer. The fresh ginger taste cuts through the vodka and gives the drink a unique flavor, and a nice "kick." You can use your favorite brand, or experiment with different brands until you find one you love.
Lime: Adding bright lime flavor is the perfect refreshing taste to balance out the bold vodka and spicy ginger in this cocktail. Along with the citrus flavor, adding a lime wedge for garnish makes the drink look incredible. You can slice the lime in half and cut several circle-shaped slices to float on the top of your mules. You could also cut wedges and wedge them onto the rim of each mug.
How to Make
Prep Time: Before starting this recipe, make sure that you have enough ice and cut lime wedges for garnish. Consider the number of guests you have, and that each one might want more than one cocktail.
Mix: Add vodka, fresh lime juice, ginger beer, and ice cubes to your copper cocktail mug. Then use a stirrer to combine. Repeat with as many drinks as you need. 
Finish: Top the drink with a lime wedge for garnish. If you have mint leaves, a sprig of mint also makes a nice touch. Enjoy the Moscow Mule while fresh and chilled.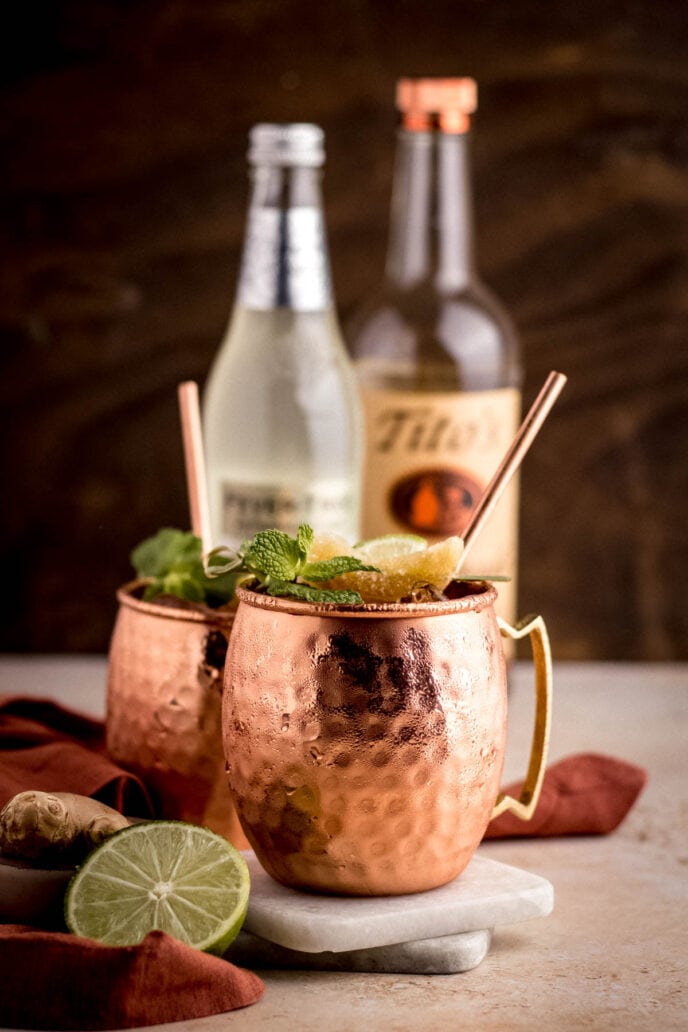 Create a free account to

Save Recipes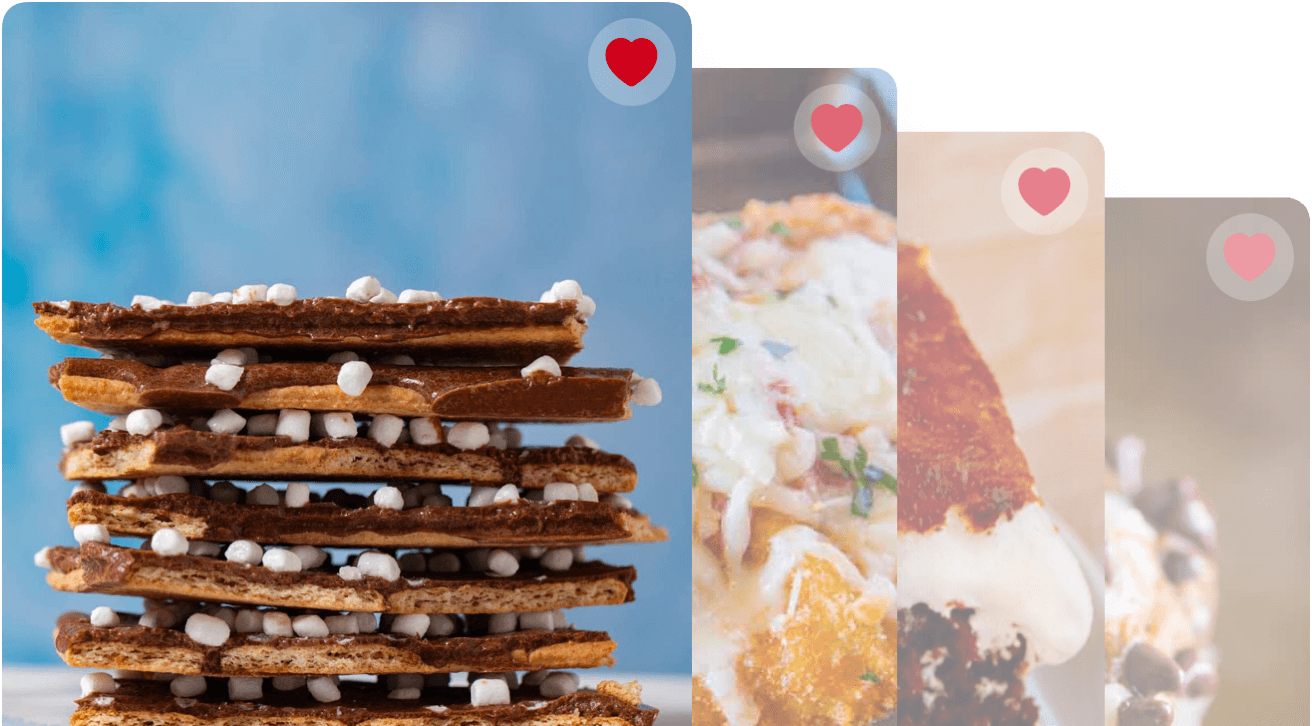 Variations
Mexican Mule: A Mexican Mule is a fun twist on this classic cocktail recipe. You keep the same crisp ginger and lime flavoring, but instead of vodka, use tequila.
Virgin Moscow Mule: If you want to make this classic drink for someone underage, or anyone who doesn't drink alcohol, you can easily mix an alcohol-free version. You'll want to replace the ginger beer with regular ginger ale or (non-alcoholic) ginger beer. Instead of vodka, you can use club soda. Adding a splash of non-alcoholic bitters helps make it a little less sweet. This non-alcoholic alternative stays true to the classic Moscow Mule flavor and is a great alternative. 
Apple Cinnamon Moscow Mule: To make this cocktail perfect for the holidays, you can give it a delicious spiced apple flavor. Along with the vodka and ginger beer base, you'll also mix in

1 1/2

 

ounces

 

apple cider. If you don't have apple cider, apple juice will work in a pinch. Then garnish the spiced cocktail with a cinnamon stick and fresh apple slices.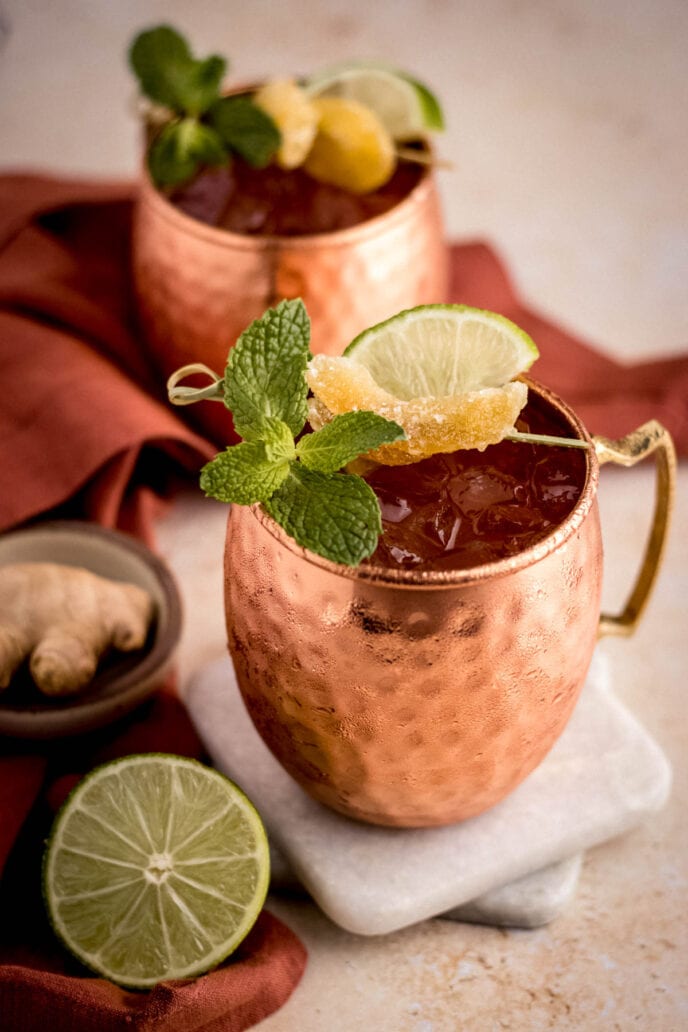 Perfect Dinners to go with Moscow Mules
How to Store
Serve: Like most cocktails, Moscow Mules are at their best when enjoyed fresh. 
Store: If you don't finish your drink, or if you want to prep cocktails in advance, you can store them in the fridge. Store the classic vodka cocktail in the fridge without ice for up to 48 hours. Removing the ice stops it from melting and watering down the drink. Then you can stir the chilled drink and add fresh ice before serving.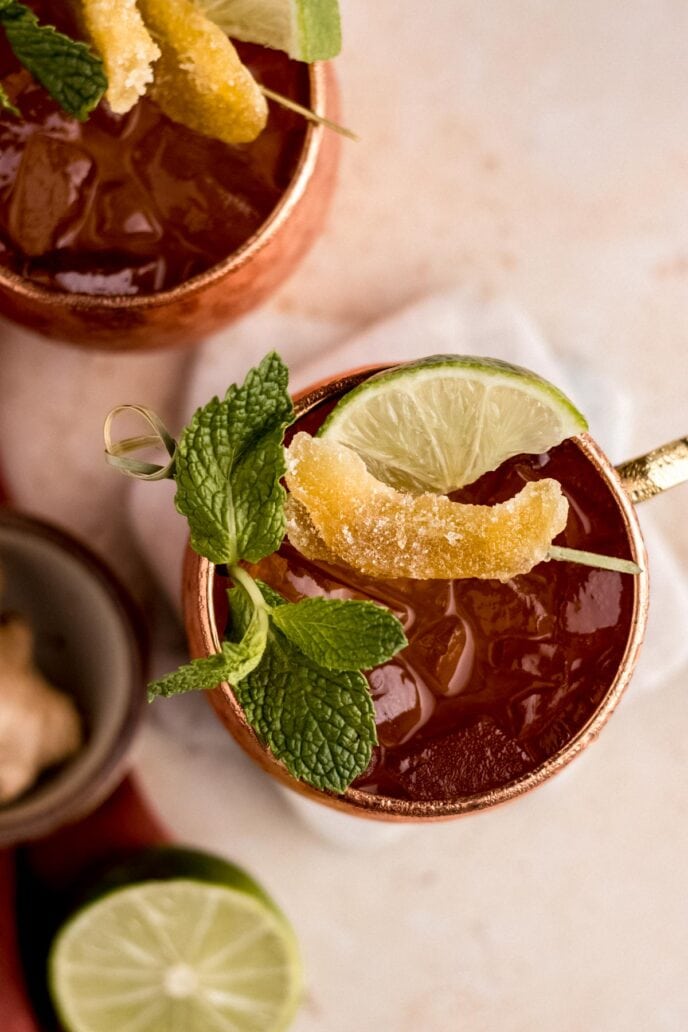 Ingredients
3

tablespoons

vodka

, (1 ½ ounces)

1

tablespoon

lime juice

, (½ ounce)

1/2

cup

ginger beer

1

cup

ice cubes

1

lime wedge

, for garnish
Instructions
Top the drink with a lime wedge to garnish.
Nutrition
Calories:
153
kcal
|
Carbohydrates:
13
g
|
Protein:
0.2
g
|
Fat:
0.1
g
|
Polyunsaturated Fat:
0.01
g
|
Sodium:
21
mg
|
Potassium:
38
mg
|
Fiber:
1
g
|
Sugar:
11
g
|
Vitamin A:
17
IU
|
Vitamin C:
10
mg
|
Calcium:
19
mg
|
Iron:
0.3
mg