Texas Roadhouse Rattlesnake Bites (Copycat) are addicting kicked up fried cheese balls with jalapenos. Cheesy crunchy appetizers that bring the heat!
These delicious Texas Roadhouse appetizers are sure to be your new favorite Copycat Recipe for parties or events. Move over Bang Bang Shrimp, there's a new spicy, crispy finger food recipe in town.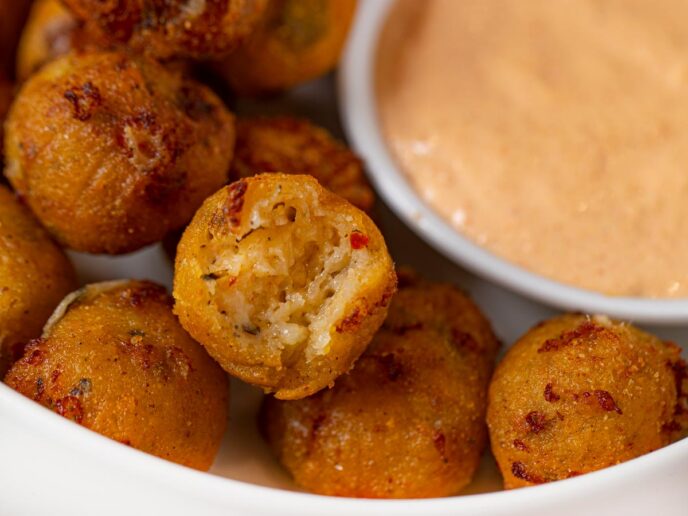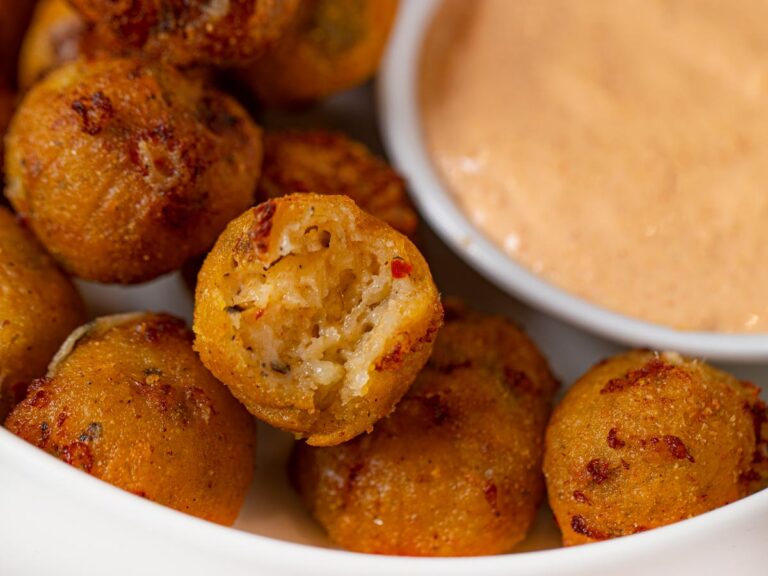 TEXAS ROADHOUSE RATTLESNAKE BITES
When it comes to appetizers, easy fried classics like chicken wings, mozzarella sticks, and fries are always a hit. But if you want to kick up your party food up a notch, you (and your guests) are going to absolutely love this real deal copy of a favorite app!
These Texas Roadhouse Rattlesnake Bites are cheesy, crispy, and surprisingly easy recipe to recreate at home. All you need is a fryer (a large pot or wok will work), and a handful of ingredients. It doesn't take too long to get these cheese filled spicy bites to a golden brown.
If you haven't had a Texas Roadhouse Rattlesnake Bite yet, get ready to have your mind blown. Imagine the best mozzarella sticks and jalapeno poppers rolled into bite-sized balls perfect for dipping. They are just the right amount of spicy and the creamy jack cheese just melts in your mouth.
These tasty little bites are delicious on their own but dipping sauces like Ranch Dressing or Honey Mustard add a kick of flavor while cooling down the heat. Traditionally, Texas Roadhouse Rattlesnake Bites are served with a Cajun Horseradish Sauce and I will definitely be doing a copycat recipe for that soon! Until then, I put a quick spicy horseradish sauce down below.
Quick Creamy Horseradish Dipping Sauce:
Mix the following ingredients together in a small bowl and chill in the fridge for at least an hour before serving with your Rattlesnake Bites.
Ingredients: ¼ cup mayonnaise, ¼ cup sour cream, 2 teaspoons ketchup, 2 teaspoons creamy horseradish, 1 dash cayenne pepper
MORE DELICIOUS DIPPING SAUCES
HOW TO MAKE TEXAS ROADHOUSE RATTLESNAKE BITES
Roll Bites: Mix the cheddar cheese and jalapenos, then roll into ¾ inch balls.
Chill Bites: Place the balls on a cookie sheet and freeze completely (2 hours is best, but 1 hour minimum).
Coat Bites: Roll the balls in the flour, then the milk/egg mixture, then the breadcrumb/seasoning mixture.
Fry Bites: Fry the balls in 350 degree oil in batches until golden brown.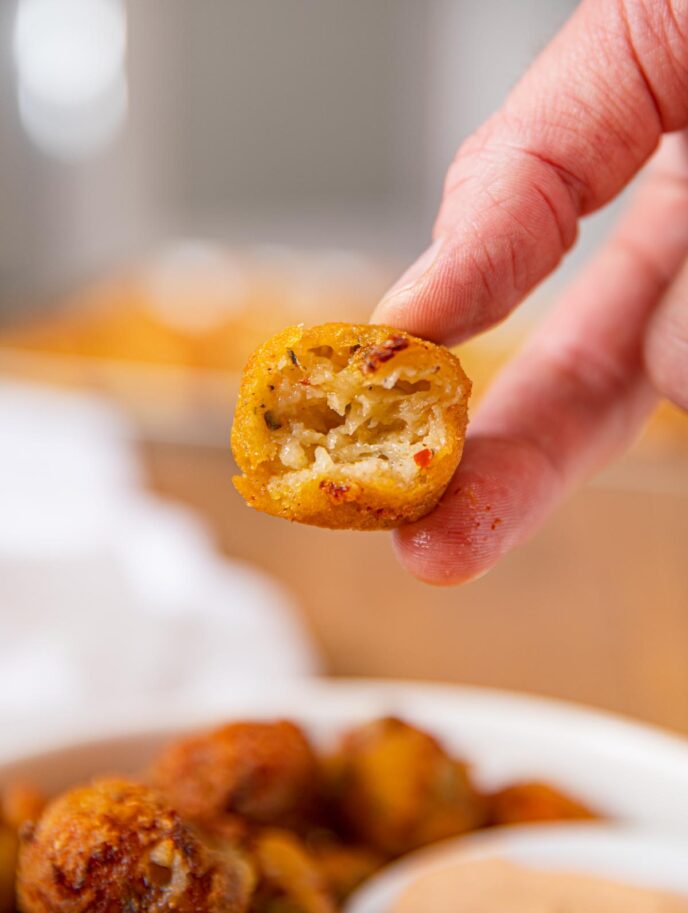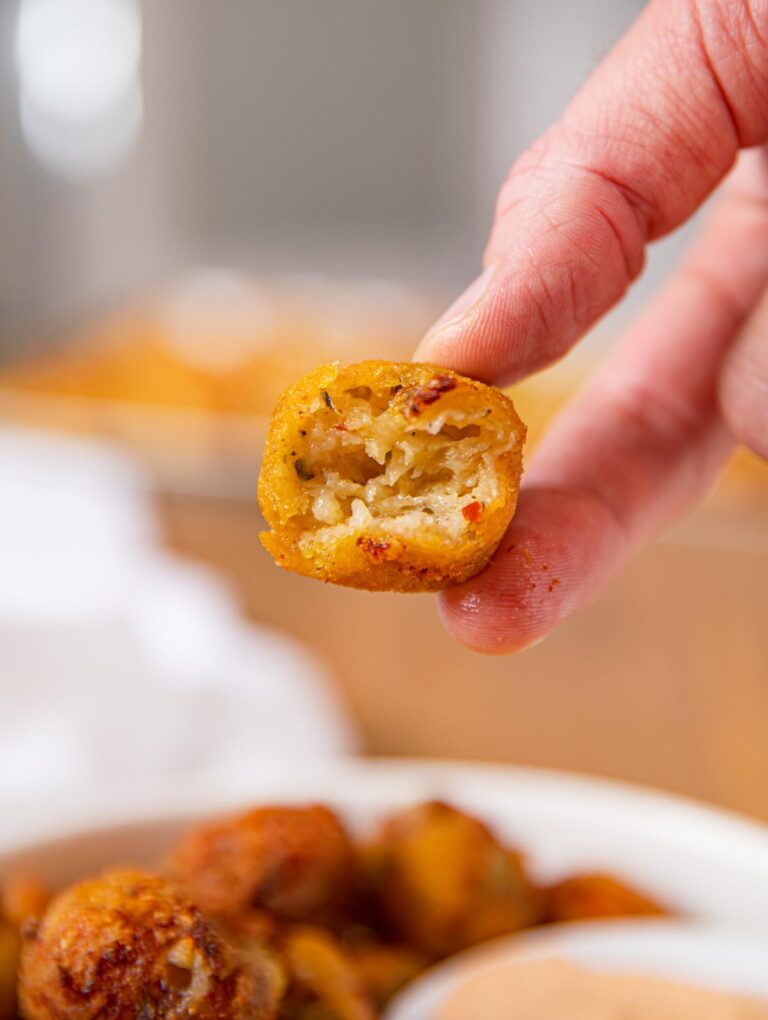 Create a free account to

Save Recipes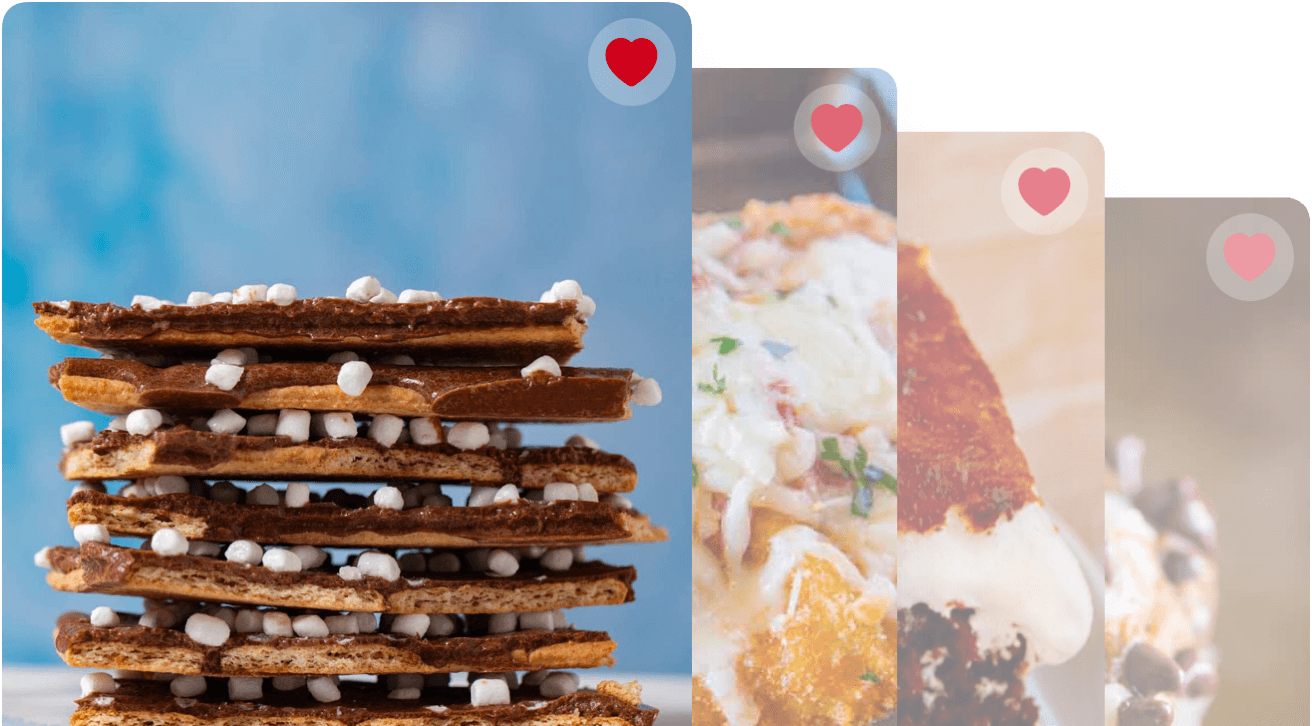 VARIATIONS ON TEXAS ROADHOUSE RATTLESNAKE BITES
Cheese: In authentic recipes, Monterey Jack cheese is what goes in Rattlesnake Bites but in your homemade ones try blending in mozzarella or pepper jack cheese. Also try cream cheese to make your bites gooey and creamy.
Hot Peppers: You can swap the fresh jalapenos for diced pickled jalapenos for a bit milder heat. If you want them more spicy, try using Habanero or Serrano peppers.
Southwestern: Use a tablespoon of Homemade Taco Seasoning in your breading and use diced green chiles instead of jalapenos for a Southwestern flavor.
Tips for Frying Rattlesnake Bites:
Don't skip freezing your cheese balls before you deep fry them. Once you shape your cheese mixture, pop in the freezer for at least 1 hour. If you skip this step the bites will dissolve in the fryer and won't look like the original. Remember the restaurant likely receives these bites in boxes already frozen. That is why their bites are perfect when they get to your table. Freeze them and you'll be much happier with the results.
Keep the temperature of your oil between 350 and 375 degrees. If you aren't using an electronic fryer, invest in an oil thermometer.
If you don't have have a fryer, use a large pot or wok that has high sides. This way the oil doesn't splash out and you can fill halfway and still submerge the small bites that you're frying.
Don't overcrowd the fryer or pot. Adding too much food will bring down the temperature of the oil and cause your food to get greasy or soggy for cooking too long in the oil.
MORE EASY APPETIZER RECIPES
HOW TO STORE TEXAS ROADHOUSE RATTLESNAKE BITES
Serve: Rattlesnake Bites are good for up to 2 hours at room temperature.
Store: I don't recommend storing these in the fridge for more than 3 days. Allow to cool before sealing in a container so no moisture collects.
Freeze: To store longer, flash freeze your bites on a cookie sheet for an hour. Transfer to a freezer bag and keep for up to 2 months. Reheat by frying or in the oven.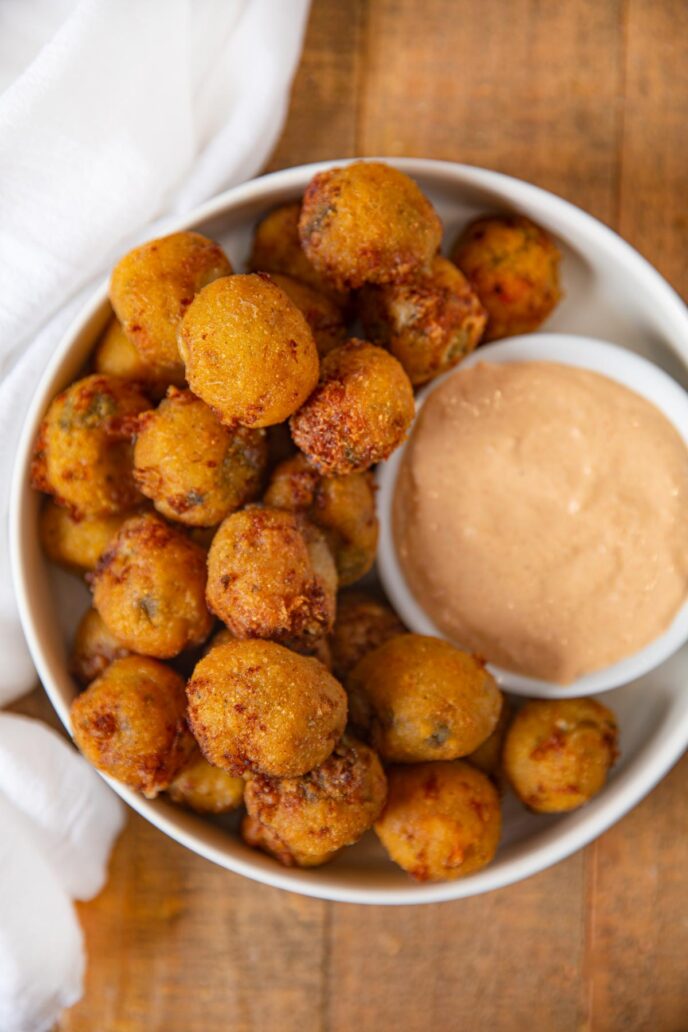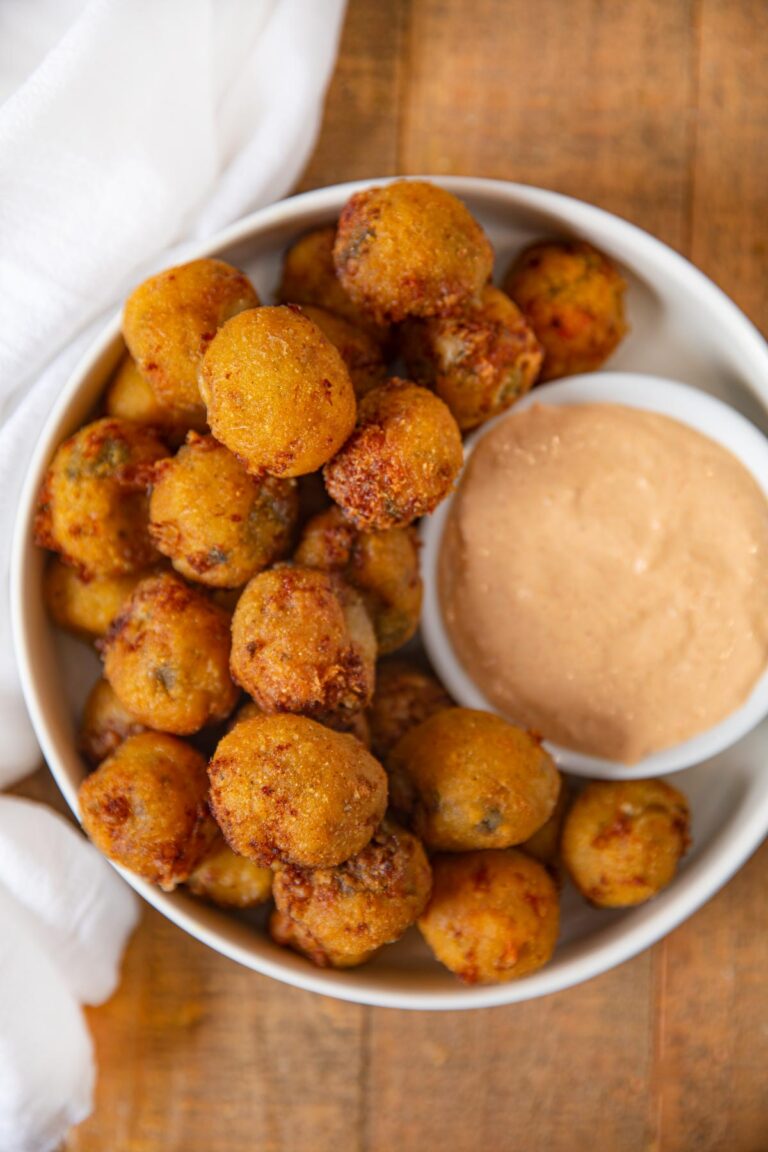 Ingredients
2

cups

Monterey Jack cheese

, shredded

2

jalapeños

, minced

1

clove

garlic

, minced

1

cup 

flour

1

large

egg

, beaten

1

cup

whole milk

1 1/2

cups

plain bread crumbs

1

teaspoon

paprika

1

teaspoon

garlic powder

1

teaspoon

cayenne pepper

canola or vegetable oil

, for frying
Instructions
Combine your shredded cheese, minced garlic, and jalapenos in a bowl and mix.

Shape cheese mixture into about ¾ inch balls, squeezing tightly to compress.

Place the balls on cookie sheet and freeze for about

60 minutes

minimum but for

2 hours

is preferred.

Preheat your deep fryer to 350 degrees.

Place the flour in a bowl.

Mix the egg and milk together in a second bowl.

Mix the bread crumbs, paprika, garlic powder, and cayenne pepper in a third bowl.

Roll the chilled balls in the flour mixture, then dipping into the egg mixture, and lastly coating with the bread crumb mixture.

Fry in batches for about

3-4 minutes

or until golden brown.

Drain on paper towel.

Serve with your favorite dipping sauces.
Nutrition
Calories:
86
kcal
|
Carbohydrates:
9
g
|
Protein:
3
g
|
Fat:
4
g
|
Saturated Fat:
2
g
|
Cholesterol:
12
mg
|
Sodium:
72
mg
|
Potassium:
37
mg
|
Fiber:
1
g
|
Sugar:
1
g
|
Vitamin A:
127
IU
|
Vitamin C:
1
mg
|
Calcium:
65
mg
|
Iron:
1
mg