Turkey Dumpling Soup is a hearty, comforting dish made with leftover turkey, vegetables, homemade dumplings, and easy seasonings.
Just like Leftover Turkey Casserole and our Turkey Soup recipe, this Dumpling Soup is the perfect way to use up your leftovers from Thanksgiving. It's a wholesome and easy Dinner to make with homemade broth and easy dumpling dough.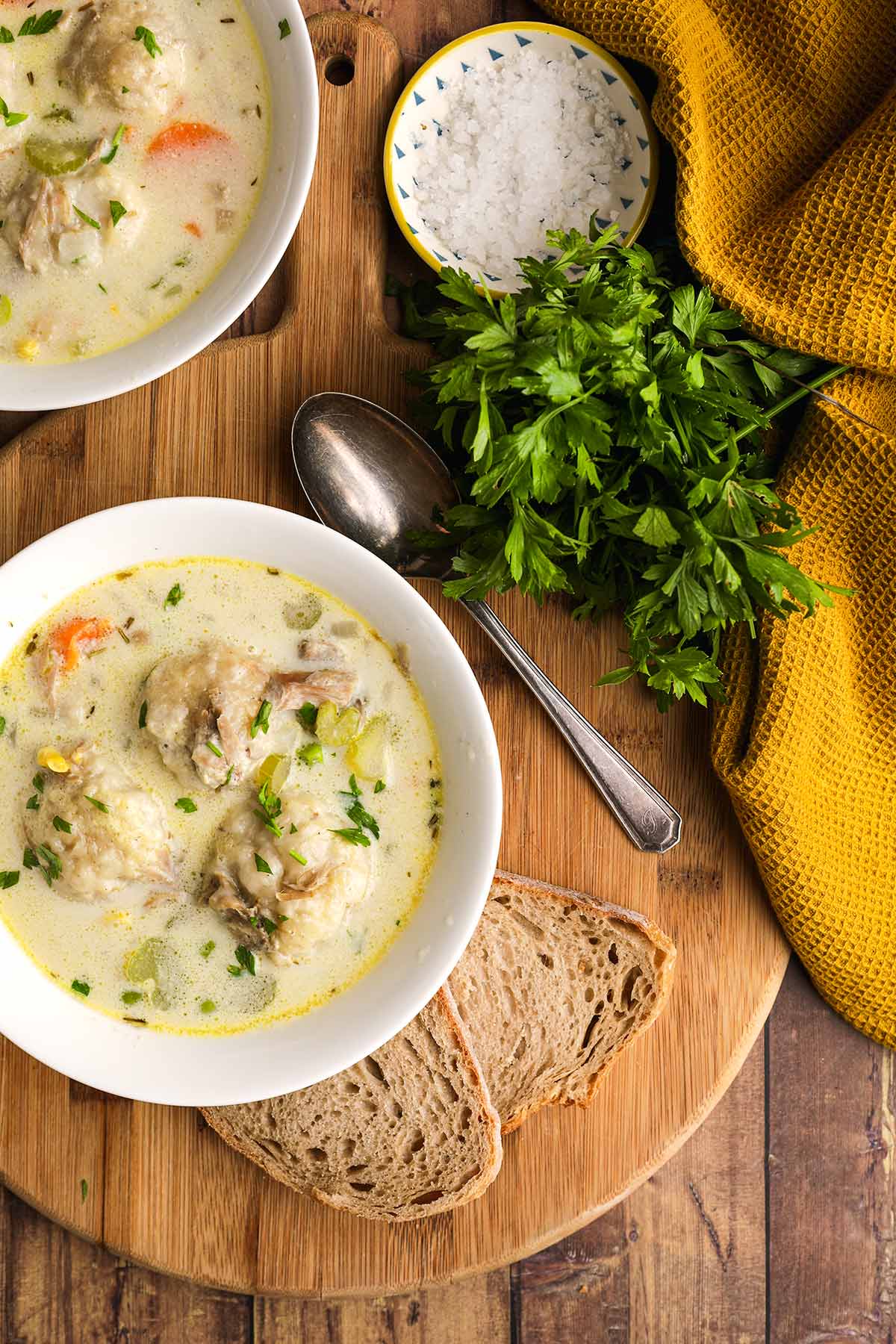 Turkey Dumpling Soup is the perfect comfort food to make with Thanksgiving leftovers. The simple ingredients and delicious homemade dumplings make for kid-friendly meals that the whole family will enjoy. Heat up this dinner on a cold night for a soothing soup that will warm everyone up.
This hearty soup is made entirely from scratch, with easy directions for making your own turkey broth and dumplings. It's so easy to make and comes out perfect every time. The best part about homemade soups is how you can customize them to use up odds and ends of ingredients you have after your holiday cooking. Add your family's favorite ingredients. Keep this hearty soup warm on the stove or in a slow cooker so your loved ones can help themselves to a cozy bowl of comfort as they watch sports, play outside, or just gather and chat.
If you make this soup with leftover turkey from Thanksgiving, be sure to use other leftovers as Side Dishes. Easy Dinner Rolls will taste great dipped in the hearty broth and nothing beats Creamy Mashed Potatoes for a filling side. This is sure to become a go-to dish after the holidays.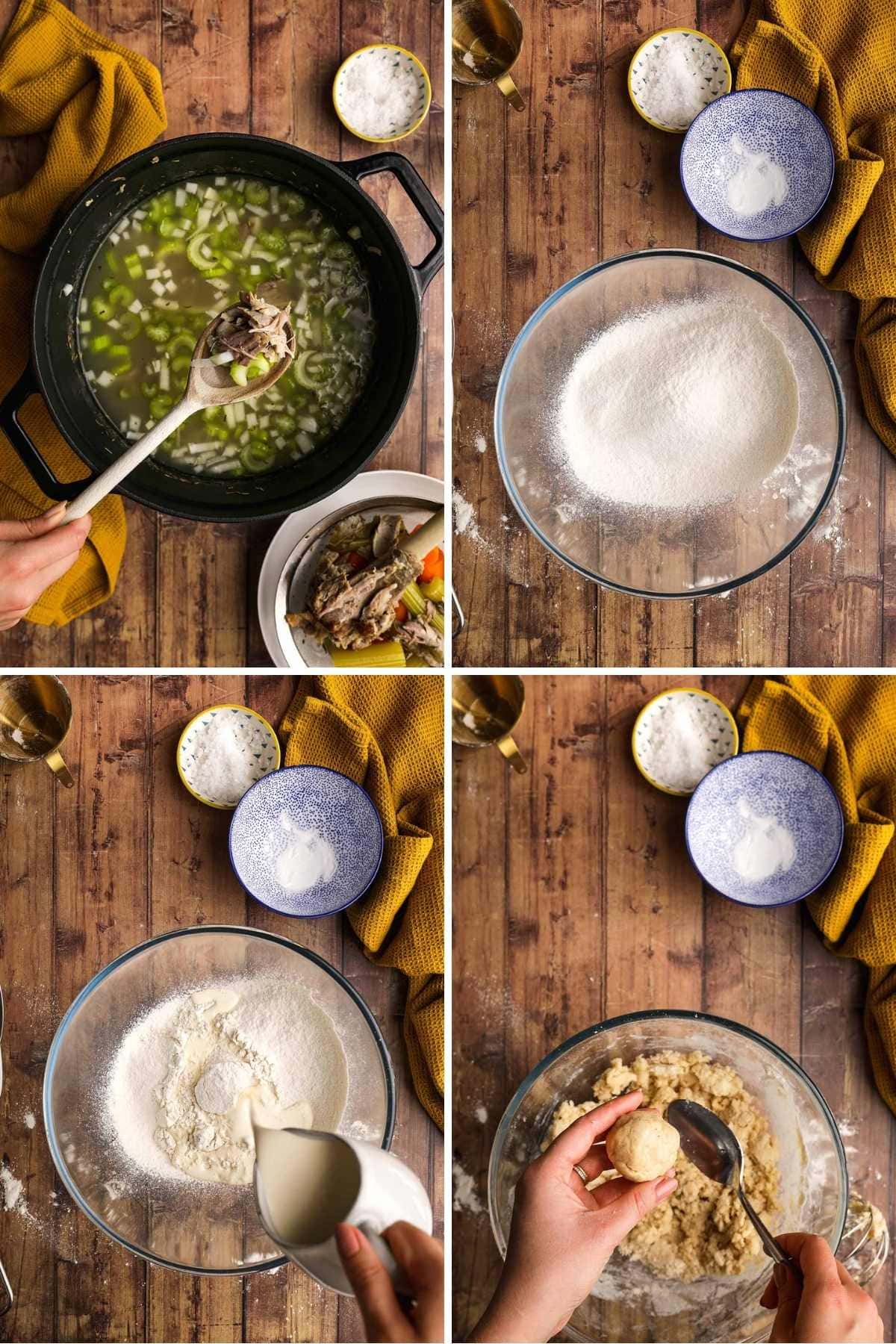 How to Make Turkey Dumpling Soup
Homemade broth: Add the leftover turkey meat and any large turkey bones to a stockpot. Add in the chicken broth, water, celery, carrots, thyme, rosemary, oregano, bay leaves, salt, and pepper. Stir all the ingredients together well. Bring to a boil over high heat, then lower the heat and keep at a gentle simmer. Continue simmering broth for 1 hour. Remove from the heat, and use a fine-mesh strainer to strain the broth.
Soup: Take the turkey meat from the strained ingredients and chop it into tender, bite-sized chunks. Add them to the pot with the broth. Cut the onion and celery, then add the diced onions, and celery to the pot. Continue simmering soup for 15 minutes for the onions and celery to become soft and translucent.
Flavorful dumplings: Sift the flour, baking powder, salt, and pepper into a large bowl. Whisk the heavy cream into the flour mixture until combined to make the delicate dumpling dough.
Finish Soup: Add the frozen vegetables and heavy cream into the soup over medium heat and stir. Add tablespoon measurements of dumpling batter into the soup. Don't let the dumplings touch or they'll combine into one large dumpling. Simmer the soup for 15 more minutes while covered to cook the dumplings through.
More After-Thanksgiving Turkey Dishes
Frequently Asked Questions
Can I make this soup without leftover turkey?
Yes! If you're in the mood for this delicious Turkey Dumpling Soup and you don't have leftover roasted turkey, you can use fresh turkey also. Buy a 3-4 pound turkey leg or breast, and sear it well on all sides before following the broth directions below. Make sure the meat is fully cooked through to 165 degrees before removing it from the simmering broth to chop and proceed with the rest of the Turkey Dumpling Soup recipe.
How do I know when soup dumplings are done?
The best way to tell if a dumpling is ready is to carefully scoop one out of the soup and cut it open. It should be fluffy and tender, without looking or tasting doughy. Be careful not to overcook the dumplings once they are done. They may start to disintegrate and get mushy in the soup.
Can I use a chicken carcass to make dumpling soup?
Absolutely! This leftover turkey recipe would work perfectly with extra meat and bones from a Homemade Rotisserie Chicken, or make it even easier with a pre-cooked grocery store chicken. You can even save leftover odds and ends of cooked chicken or turkey pieces in a heavy freezer-safe bag and use them in the future when you're in the mood for an easy, cozy soup.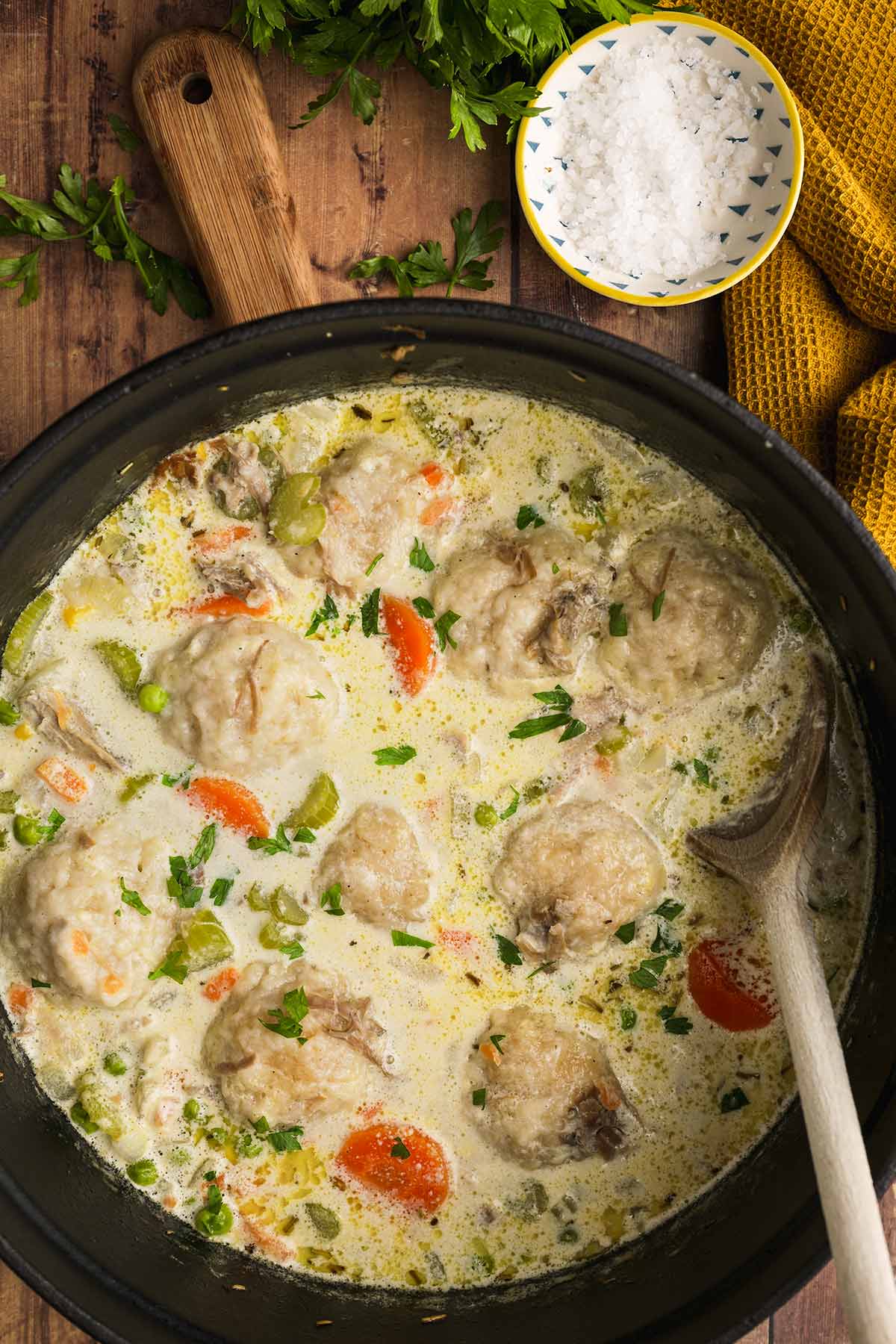 Create a free account to

Save Recipes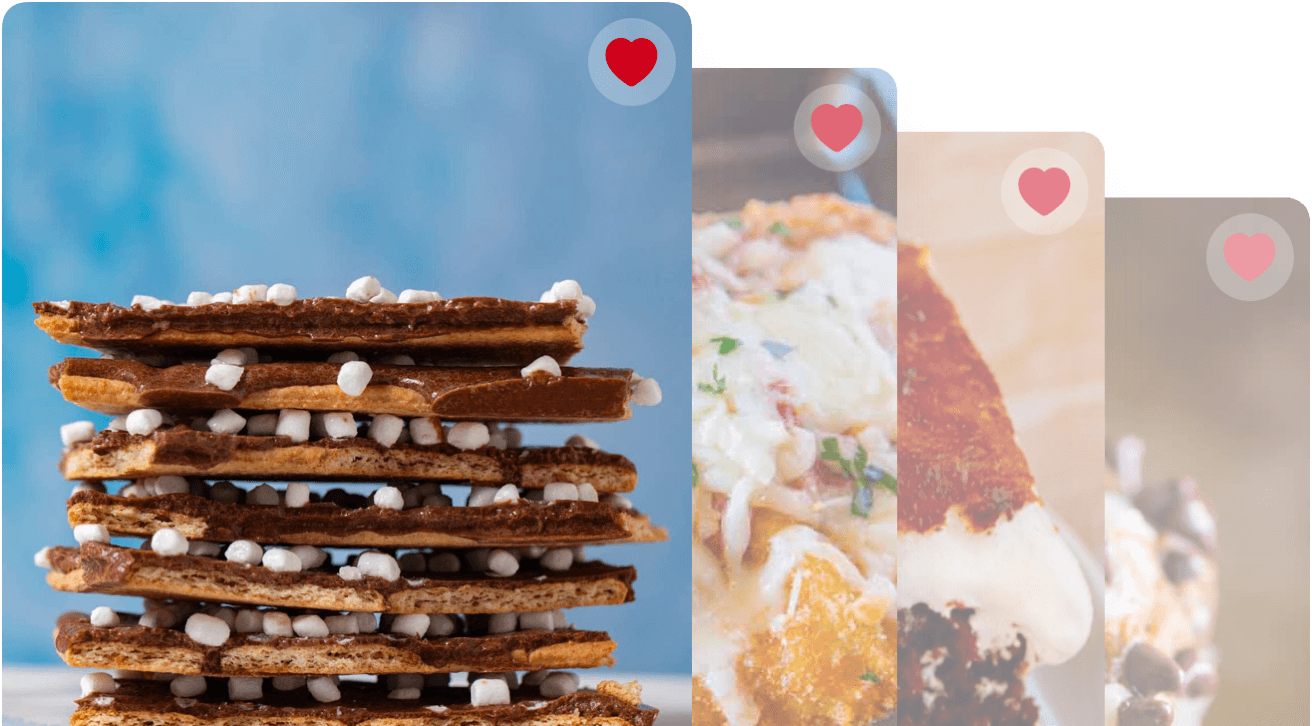 Key Ingredients in Turkey Dumpling Soup
Turkey Broth: Start with canned or boxed chicken broth, or make 8 cups of broth from bullion. To impart even more delicious turkey flavor into your soup, you'll simmer it for an hour with water, celery, carrots, thyme, rosemary, oregano, bay leaves, salt, and pepper. If you begin with a low sodium broth, you can control how much sodium you add to your liking.
Soup Ingredients: In addition to hearty chunks of turkey, Turkey Dumpling Soup is full of tender vegetables like onions, celery, carrots, peas, green beans, and corn. A mix of fresh and frozen veggies helps to make this leftover turkey soup delicious and easy.
Dumplings: The fluffy dumplings are made from flour, baking powder, salt, pepper, and heavy cream. It's a quick batter that comes together in minutes. Drop spoonfuls of the dumplings into the simmering soup to cook for 15 minutes before serving. They will soak up all the delicious flavors from the broth.
Slow Cooker Turkey Dumpling Soup
Make the turkey broth as usual, and cut up the vegetables so they're ready for the soup.
Once the broth is done add the broth, turkey pieces, onion, and celery to the slow cooker.
Add in the heavy cream and other dry ingredients.
Cover and cook on high for 3 hours.
Mix together the dumpling ingredients, and add them to the top of the soup. Keep the crockpot soup on high to cook the dumplings, then serve.
Can Turkey Dumpling Soup be Made Ahead?
Rather than completing the entire soup recipe, prepare each component ahead of time and plan to assemble them and finish cooking just prior to serving. To make Turkey Dumpling Soup in advance, follow the steps to simmer the turkey broth and create the soup base. You can refrigerate the strained broth in a sealed airtight container for up to 3 days. You can also refrigerate the chopped turkey meat and chopped onion and celery. Then, when you are ready to make the soup, you've already done most of the work! All you have to do is bring the broth and veggies back to a simmer for 15 minutes while you prepare the dumplings, then add your heavy cream and frozen veggies and cook the dumplings for an additional 15 minutes.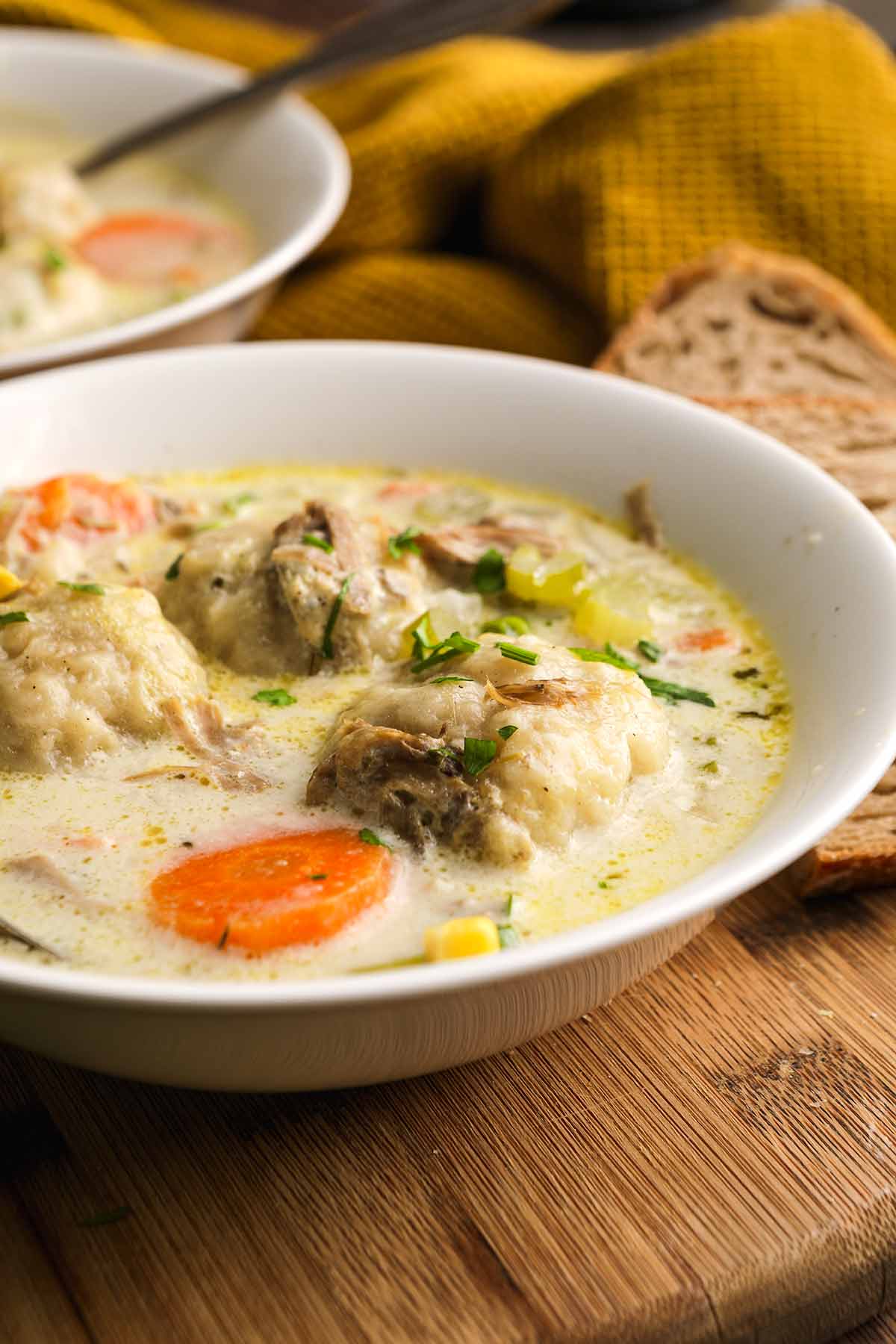 Variations on Turkey Dumpling Soup
Dumpling ingredients: You can replace the all-purpose flour in the dumplings with almond flour, oat flour, or coconut flour for a gluten-free flour mixture.
Creamy Turkey Soup: If you don't have heavy cream, you can still make the Turkey Dumpling Soup using milk, butter, and flour. Mix together 2 cups whole milk, ½ cup melted butter, and 6 tablespoons flour. Whisk that into the soup while it's cooking to make a rich buttery Turkey Soup.
Add-ins: For some flavorful add-ins try mixing in frozen corn, an extra-large onion, frozen peas, apple cider vinegar, Worcestershire sauce, hoisin sauce, and celery root.
Seasonings: For some extra flavors mix in seasonings and fresh herbs like fresh thyme, minced garlic cloves, poultry seasoning, an extra teaspoon of salt and pepper, bay leaf, and fresh parsley.
Broth: To make the turkey broth you can start by cooking it in veggie broth instead of chicken broth or try low sodium chicken broth.
More Soup Recipes
How to Store Turkey Dumpling Soup
Serve: Don't leave Turkey Dumpling Soup at room temperature for more than 2 hours.
Store: Let the soup cool to room temperature, then transfer them to an airtight container to store in the fridge. They'll keep well for 3-4 days.
Freeze: You can also keep the soup in the freezer for 3 months.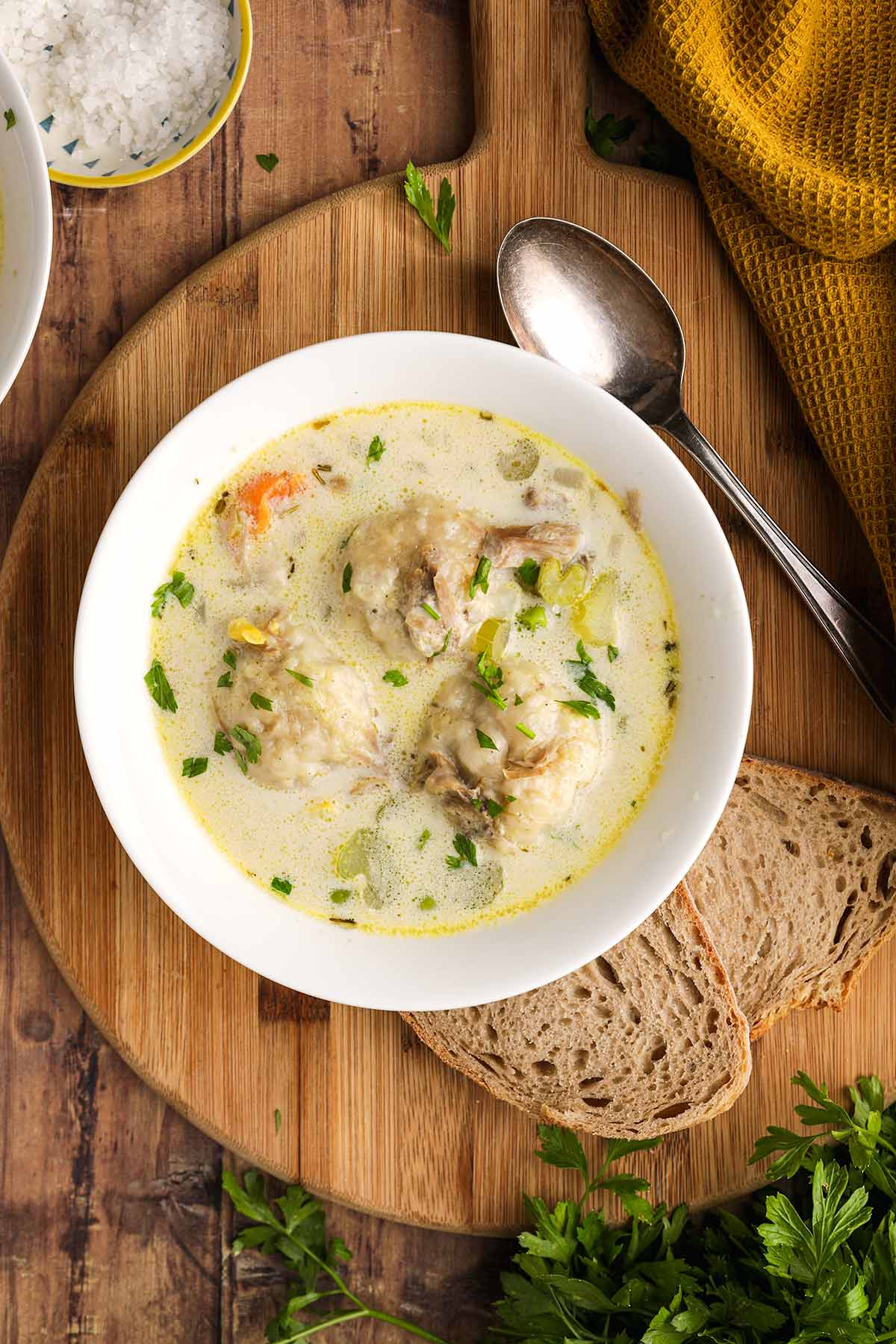 Ingredients
Soup Base:
3

cups

cooked turkey meat

, from leftovers (large bones would be good too)

8

cups

chicken broth

2

cups

water

3

stalks

celery

, cut into 3" chunks

2

medium

carrots

, cut into 3" chunks

1

yellow onion

, cut into wedges

1

teaspoon

dried thyme

1/2

teaspoon

dried rosemary

1/2

teaspoon

dried oregano

2

bay leaves

1

teaspoon

Kosher salt

1/2

teaspoon

coarse ground black pepper
Soup Ingredients:
1

yellow onion

, diced

3

stalks celery

, thinly sliced

16

ounces

frozen mixed vegetables

, peas, carrots, corn and green beans

1/2

cup

heavy cream
Dumpling Ingredients:
2

cups

flour

1

tablespoon

baking powder

1/2

teaspoon

kosher salt

1/2

teaspoon

coarse ground black pepper

1 1/4

cups

heavy cream
Instructions
To a large stockpot add the turkey meat and any large turkey bones you have.

Fill with chicken broth, water, celery, carrots, thyme, rosemary, oregano, bay leaves, salt, and pepper, and stir well.

Bring to a boil, then lower to a simmer and cook for 1 hour.

Remove from heat and strain the turkey broth.

Remove the turkey meat from the strained ingredients and chop into small chunks.

Add the strained broth and turkey meat back to the pot with the diced onion, and sliced celery.

Bring to a simmer and cook for

15 minutes

while onions and celery become soft and translucent.

While your soup is simmering make the dumpling batter.

Sift the flour, baking powder, salt, and pepper into a large bowl.

Whisk the heavy cream into the dry ingredients until combined.

To the soup, add in the frozen mixed vegetables and heavy cream and stir.

Add heaping 1 tablespoon measurements of the dumpling batter onto the soup (do not let them touch), then simmer the soup for

15 minutes

, covered, until the dumplings are cooked through.
Nutrition
Calories:
372
kcal
|
Carbohydrates:
32
g
|
Protein:
19
g
|
Fat:
19
g
|
Saturated Fat:
11
g
|
Polyunsaturated Fat:
2
g
|
Monounsaturated Fat:
5
g
|
Trans Fat:
1
g
|
Cholesterol:
97
mg
|
Sodium:
1155
mg
|
Potassium:
556
mg
|
Fiber:
4
g
|
Sugar:
4
g
|
Vitamin A:
5090
IU
|
Vitamin C:
8
mg
|
Calcium:
133
mg
|
Iron:
3
mg