Easy 15 Bean Soup recipe for the perfect cozy pot of soup in the winter! Made with dry bean mix, tomatoes, warm spices and a meaty ham bone.
Hearty bean Soup Recipes like Black Bean soup and White Bean Chicken Chili are the perfect savory meal for chilly nights. This classic 15 Bean Soup is another amazing recipe to add to your autumn and winter soup rotation.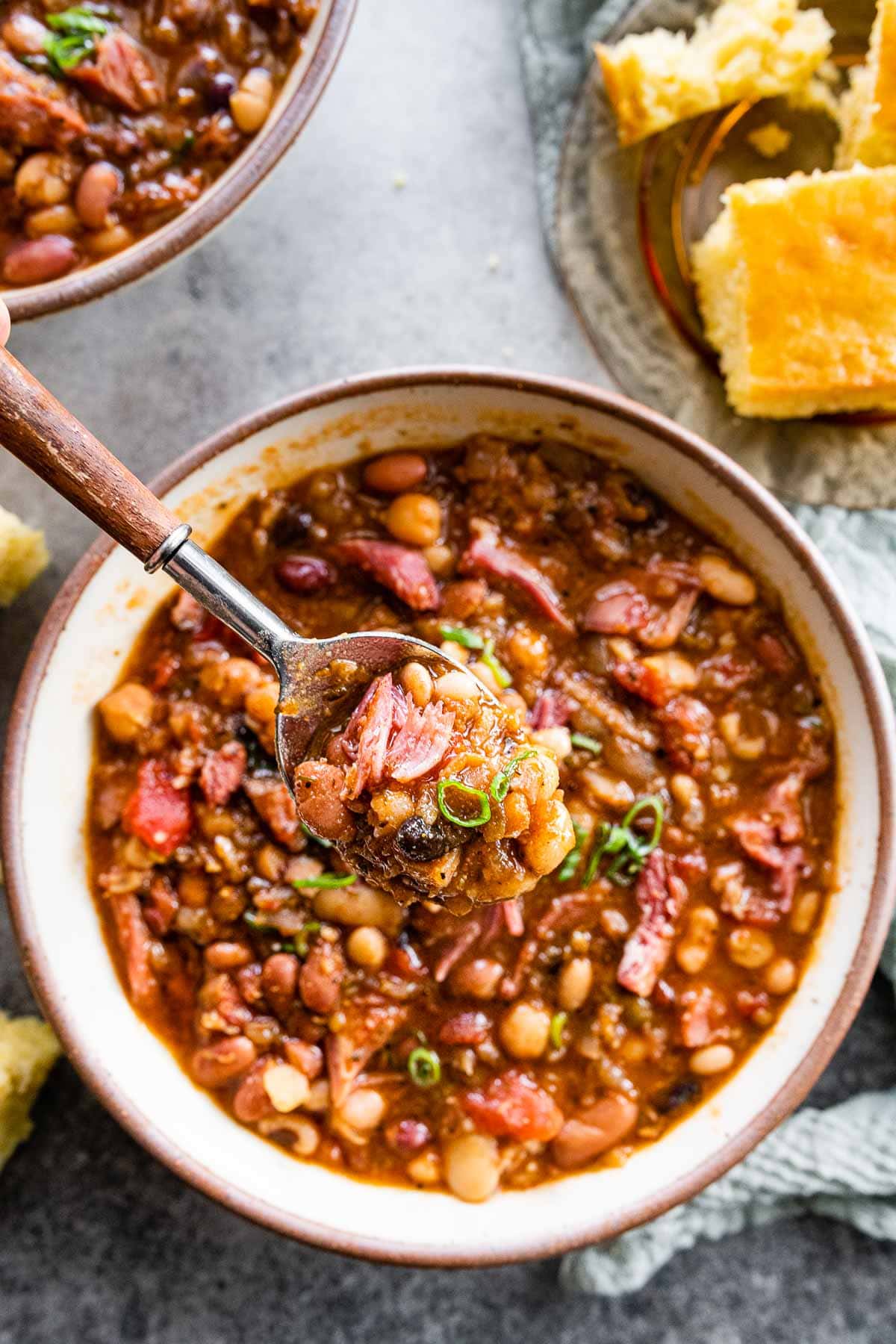 This old fashioned bean soup is a classic, comforting meal that will never go out of style. It's cozy, it's hearty, it's budget friendly, and it's a fail proof recipe. If you forget to soak your beans, no worries just add an extra hour of cooking time. You can even set it and forget it with a slow cooker adaptation. It's sure to be a new go-to favorite soup during the cold weather season.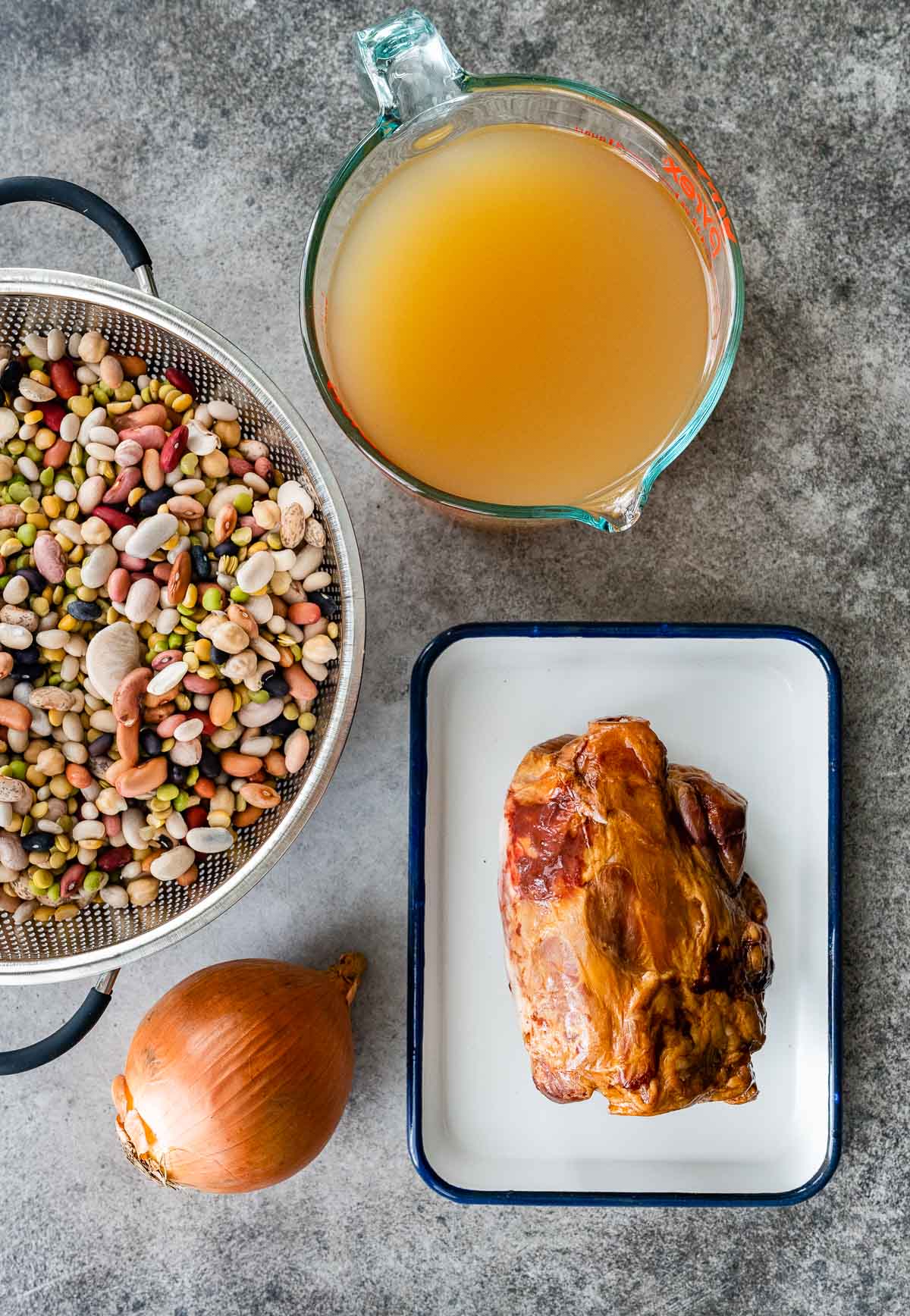 It all starts with a bag of 15 Bean Soup Mix which is, you guessed it, a blend of 15 different kinds of beans and legumes. All the beans bring their own unique taste, but by slow cooking them in chicken broth with ham hock, the flavors blend together into a rich soup mix. Instead of the basic seasoning pack that comes with the soup, this recipe uses a delicious blend of pantry spices for an even more delicious flavor.
For the ultimate comforting meal, serve your soup with your favorite variety of crusty bread. Warm fresh baked French Bread or Cornbread are both amazing dipping in the broth. A squeeze of fresh lemon and some fresh parsley make a bright, zesty garnish for this cozy soup too.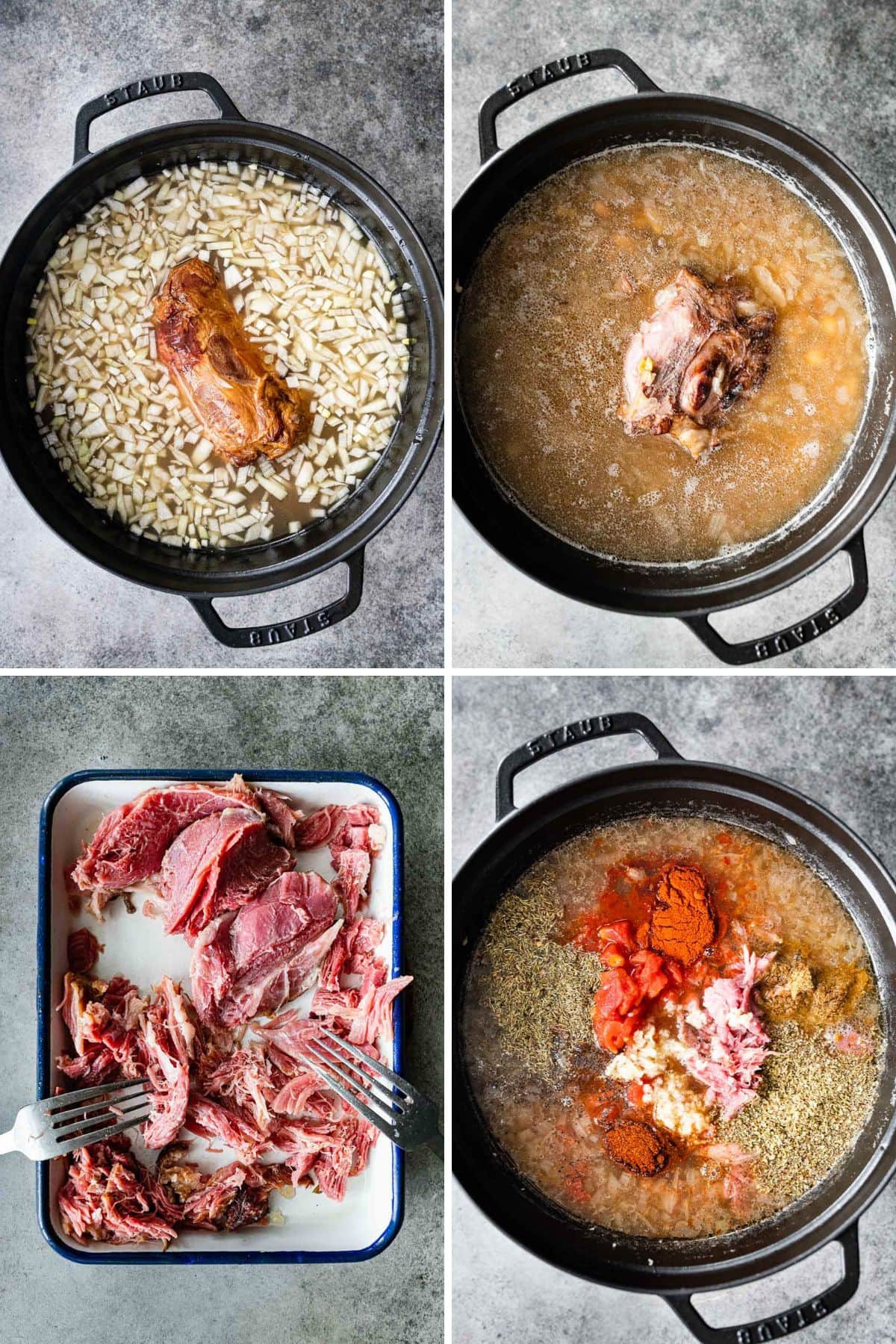 What is 15 Bean Soup Mix?
A 15 bean soup mix includes 15 dry bean varieties and a seasoning pack. A 20-ounce bag includes northern beans, pinto beans, large lima beans, yellow-eye beans, garbanzo beans, baby lima beans, green split peas, kidney beans, cranberry beans, small white beans, pink beans, small red beans, yellow split beans, lentils, navy beans, white kidney beans, and black beans.
How to Make 15 Bean Soup
Soak Beans: Pour the mixture of beans into a large soup pot. Add water to cover and soak the beans overnight. The next day, rinse the mixture until the beans are clean and drain water.
Cook Beans: Return the beans to the large dutch oven, this time with the chicken broth. Add the ham hock and onions, and turn the stove top to medium heat to bring the mixture to a simmer. Then reduce heat to medium-low. Cover the pot and cook for 2 hours. After the cooking time, you can remove the ham hock and shred the pork.
Note: The 2 hour cooking time is assuming you've soaked the beans the night before. If you haven't, it will take at least an hour longer to cook the soups beans.
Finish: Add the diced tomatoes, minced garlic, salt, pepper, oregano, thyme, paprika, chili powder, and cumin to the cooked beans. Stir well to combine the soup ingredients, and let it come to a simmer. Cook for an additional 30 minutes with the soup pot uncovered.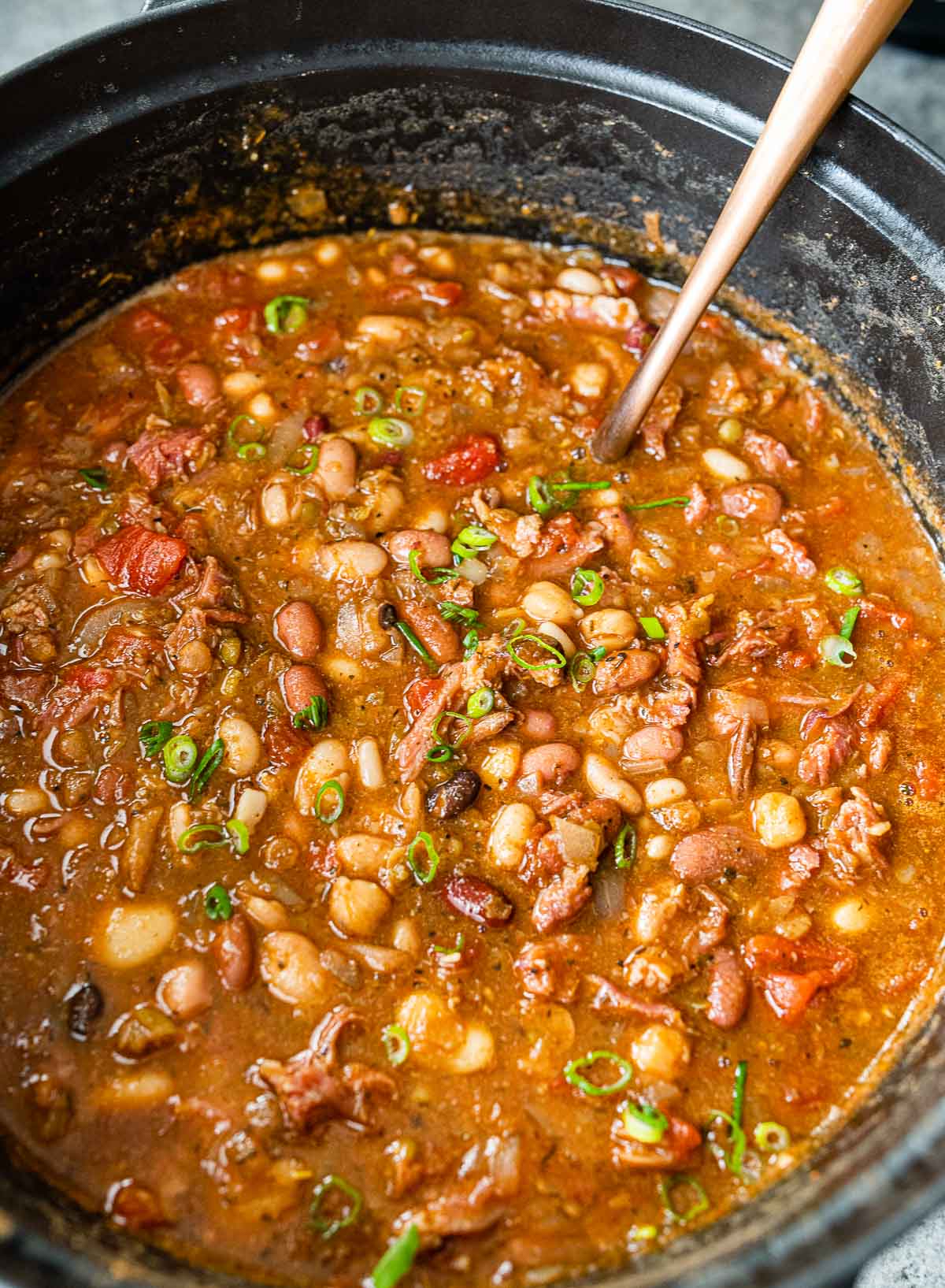 The Best Cornbread Recipes!
FAQs about 15 Bean Soup
Is 15 Bean Soup healthy?
This hearty soup is a great source of protein and fiber thanks to the many kinds of beans in the blend. It's also relatively low in calories and will keep you full for a long time.
How do you thicken 15 bean soup?
This soup will get nice and thick because of all the beans, but you can make it a bit thicker and creamier if you prefer. Simply blend about a cup of cooked beans and broth until smooth then return the puree to the pot.
Do you need to soak 15 Bean mix?
Yes, soaking dry beans the night before helps them cook more quickly and evenly. However, if you forgot to soak the soup beans, you can still cook them on the day of. It will just take about an hour more cooking time and you should add a cup of water to the broth.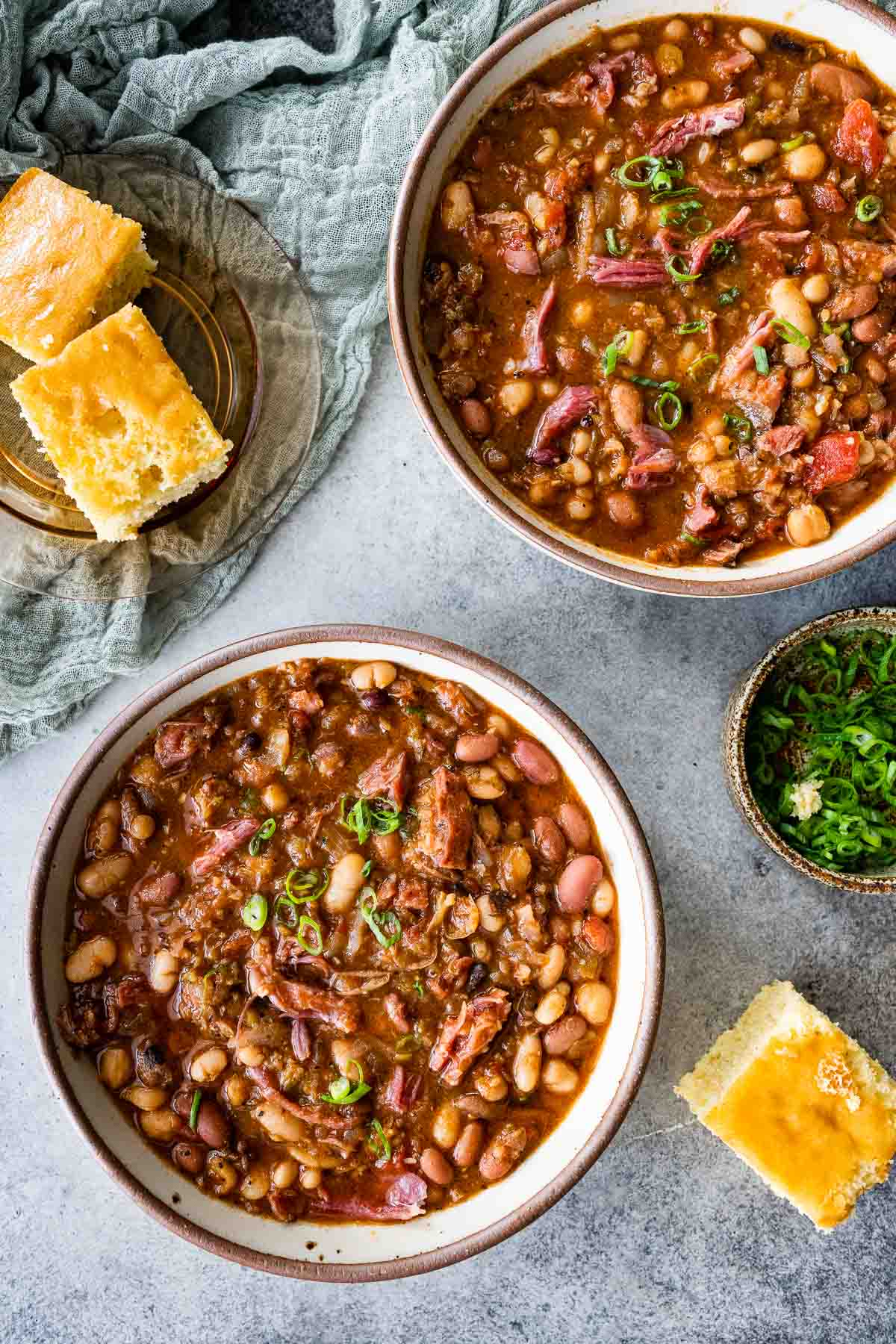 Create a free account to Save Recipes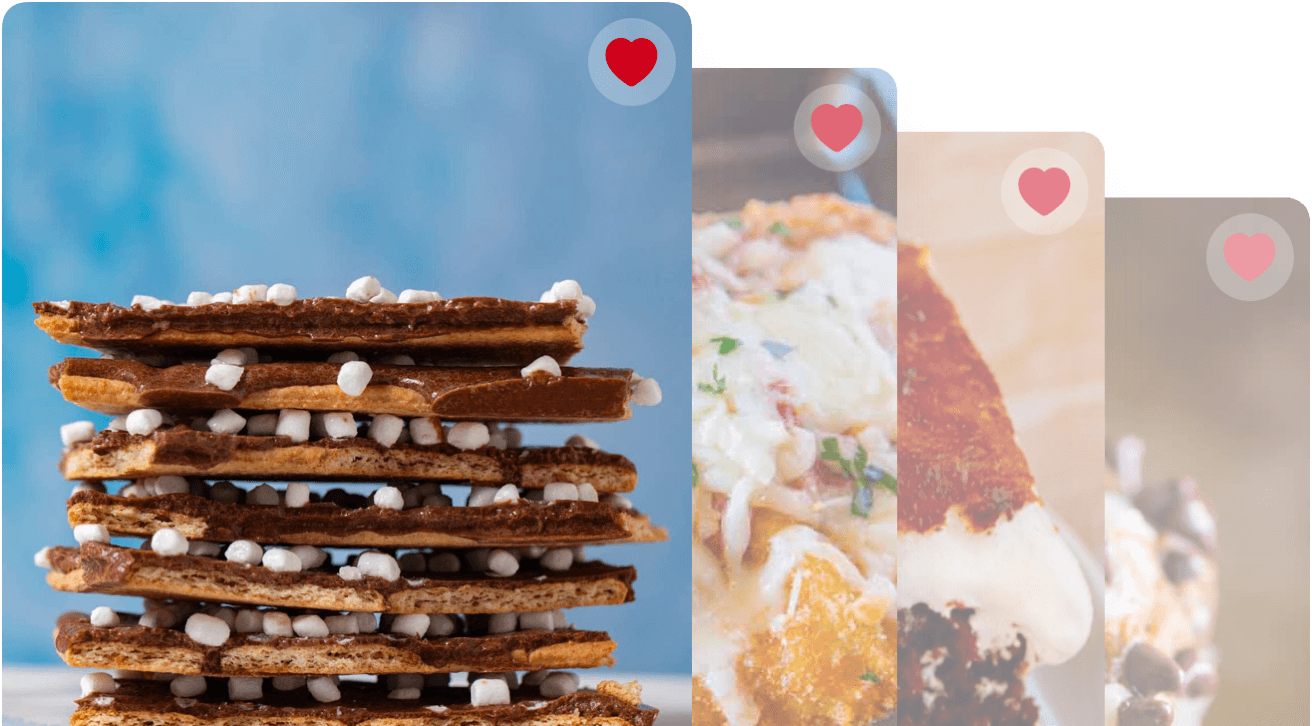 Key Ingredients
Mixed beans: To make this recipe, you'll need to pick up a bag of 15 Bean Soup Mix. As the name implies, the bean soup mix contains 15 different kinds of beans and legumes like Northern beans, pinto beans, split peas, lima beans, kidney beans, lentils and more. Discard the seasoning that comes with the beans, you will be adding your own for an even more flavorful soup.
Chicken broth: The chicken broth acts as the base for the soup and it cooks the bean mixture. It's best to use low sodium broth since the ham hock is pretty salty.
Meat: The ham hock may seem tough before you cook it, but it tenderizes while it cooks so it is easy to shred. You can also use a ham bone that has lots of meat on it. Ham hocks can be found at most grocery meat sections or just ask the butcher counter if they have one.
Tomatoes: The diced tomatoes add a little tang and some extra flavor to this soup. It's very important not to add the tomatoes until after the beans are tender. Tomatoes are highly acidic which will prevent the beans from softening.
Seasonings: The homemade seasoning blend gives this soup a more bold and smoky flavor than the packet that comes with the mix. Minced garlic cloves, kosher salt, black pepper, dried oregano, thyme, paprika, chili powder, and cumin gives this hearty soup the perfect warm and comforting spiced flavor.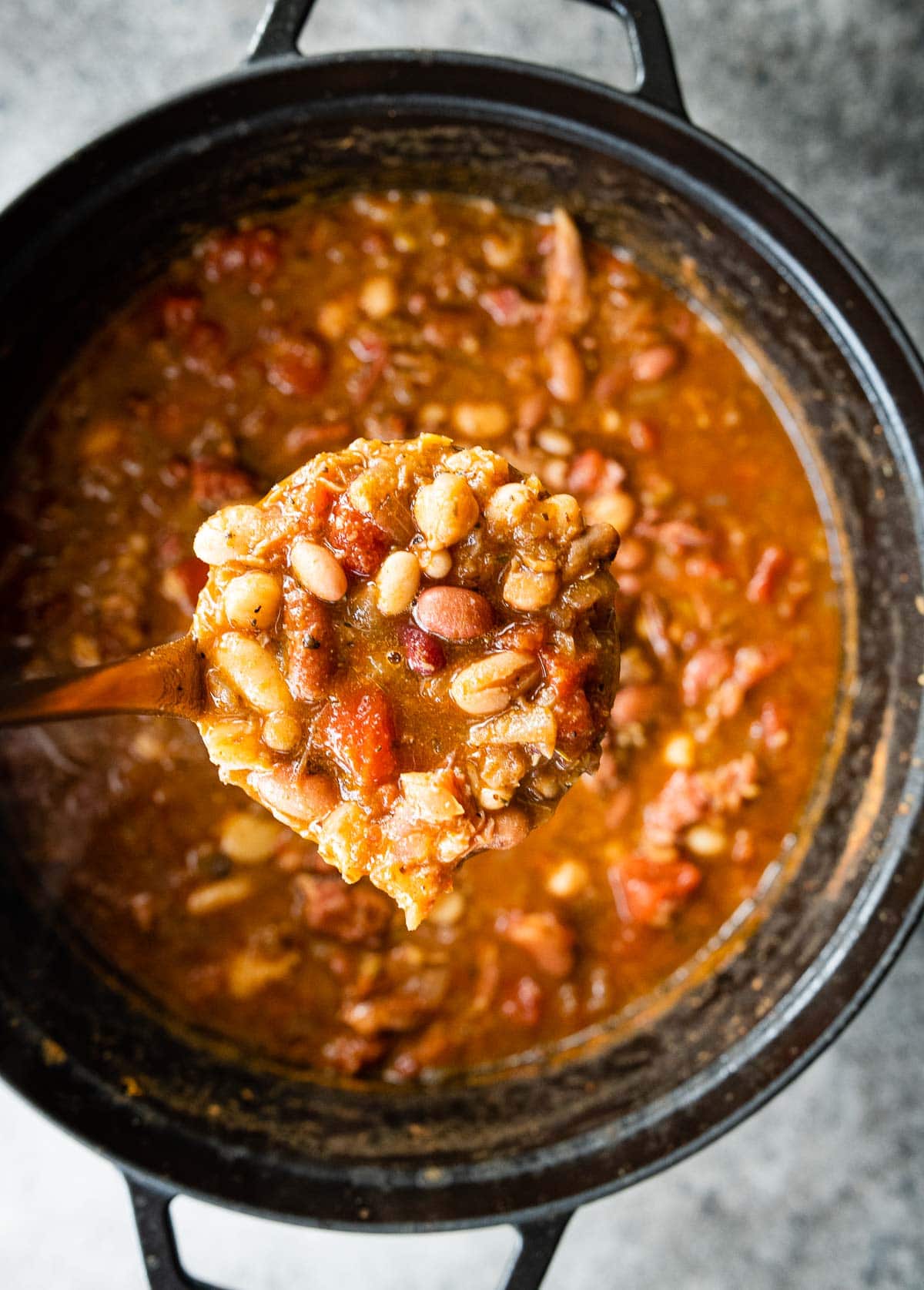 Can 15 Bean Soup be made ahead of time?
Yes, 15 Beans Soup can be made ahead of time especially since you need to soak the beans overnight. If you plan on making this soup often, you can double or triple up the spice blend and store it for your own ready to go flavor pack. This soup is also perfect for making and freezing for later. It will last in the freezer for about 6 months and in the fridge for up to 5 days. Freeze bags of soup flat on a baking tray until hard for easier storage that takes up less room in your freezer.
Variations
Meat: Instead of ham hock, you can try different kinds of meat in your 15 Bean Soup. Chicken breasts, smoked sausage, or beef stew meat all make delicious additions to the soup. Be sure to brown the beef before adding the broth for more flavor.
Vegetarian: To make a vegetarian version of this recipe, all you have to do is leave out the ham bone and replace the broth. Instead of chicken broth, you can cook the beans in vegetable broth or vegetable stock.
Vegetable add-ins: If you want more veggies in your soup recipe, you can add diced carrots, red onion, green bell pepper, or mushrooms. You can also add leafy greens like cooked kale or spinach.
Seasonings: If you want an easy way to experiment with the flavor, try adding spices like onion powder, red pepper flakes, mustard powder, or rosemary.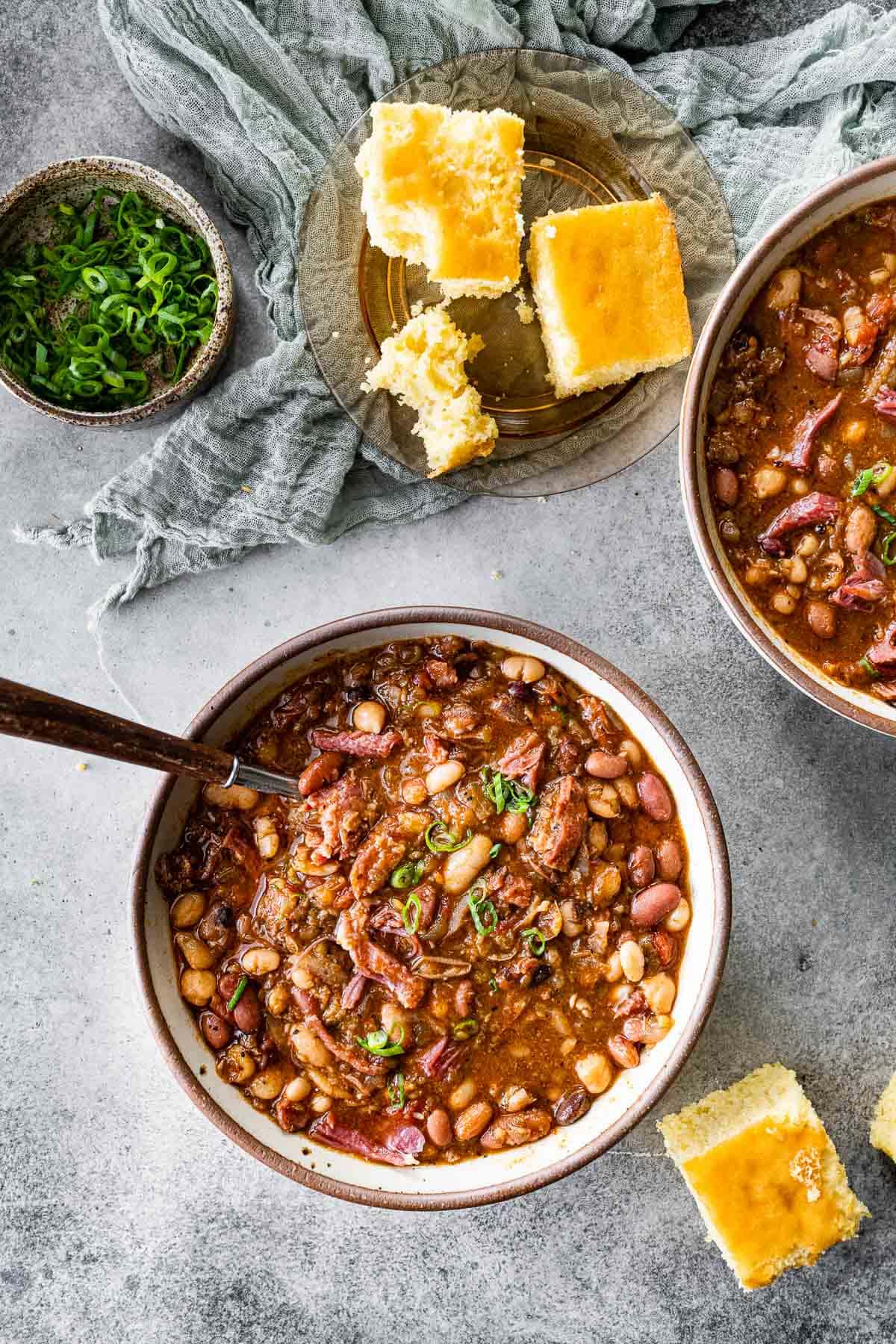 Slow Cooker 15 Bean Soup
You don't need to soak the beans overnight if you are cooking in a crockpot, however you do want to rinse them well and sort out any debris.
Add the 15 bean mix, ham hock, onions, and broth to the slow cooker.
Stir and cover. Cook on high for 5-7 hours or on low for 9-12 hours (or overnight).
Once the beans are softened, remove the ham hock and shred the meat.
Return the meat to the soup along with the tomatoes and seasonings.
Cook another 30 minutes uncovered, or longer if you want it thicker. Serve hot with bread.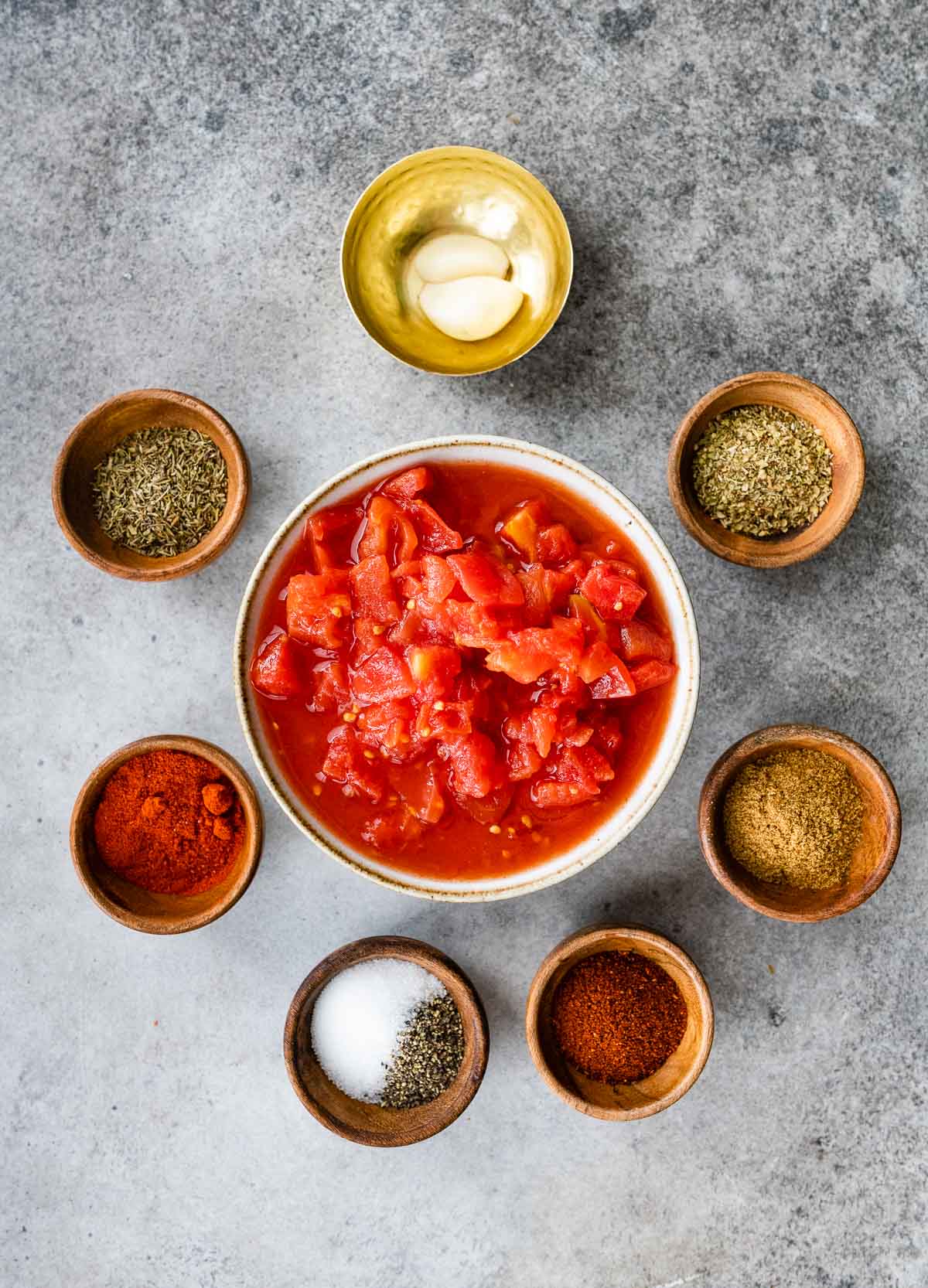 More Delicious Bean Soups
How to Store
Store: This soup can be kept at room temperature for up to 2 hours or kept warm in a slow cooker on low for up to 4 hours. Store leftover 15 bean soup in an airtight container after it has cooled. It will stay good for up to 5 days.
Store: Reheat the soup on the stove top slowly for even deeper flavors. Bring a simmer over low-medium heat, then simmer for about 5-10 minutes before serving.
Freeze: Cool the soup completely before storing in an airtight container or freezer safe bag, leaving some room for expansion. Thaw overnight in the fridge before reheating on the stove top or in a slow cooker.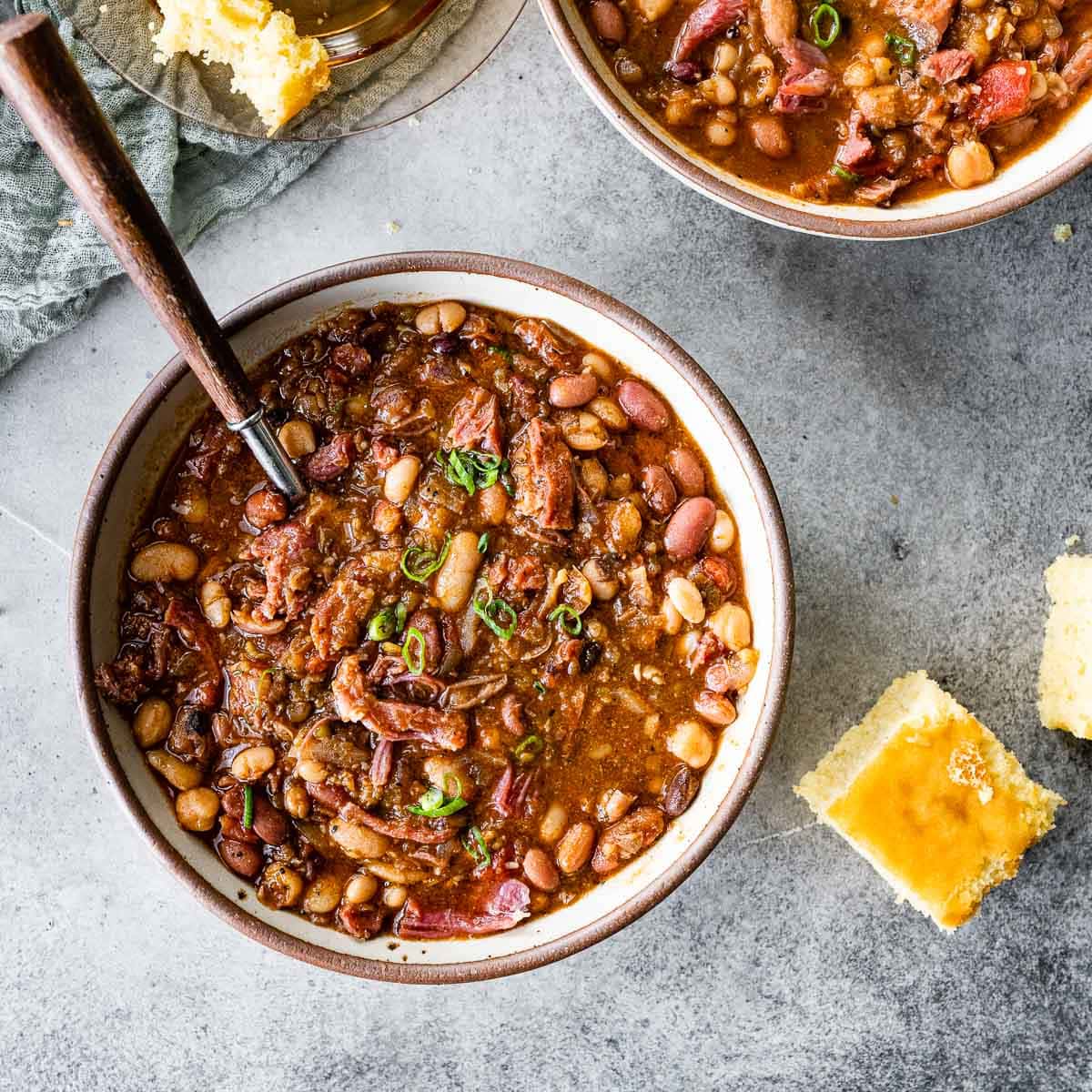 Ingredients
Soak:
20

ounces

15 bean mix

, discard packet

8

cups

water
Finish:
15

ounces

canned diced tomatoes

2

cloves

garlic

, minced

1

teaspoon

kosher salt

1/2

teaspoon

coarse ground black pepper

1

teaspoon

dried oregano

1

teaspoon

dried thyme

1

teaspoon

paprika

1

teaspoon

chili powder

1

teaspoon

cumin
Instructions
Soak:
Add the beans to the water, let sit overnight.
Cook the Beans:
Rinse the beans well.

Place the beans in a large dutch oven pot with chicken broth.

Add the ham hock and onions on medium heat bring to a simmer.

Reduce heat to medium low, cover and cook for

2 hours

(please note this is only if beans are soaked, if not they will need to cook longer, another hour at least).

Remove the ham hock bone and shred the pork.
Finish the Soup:
Add in the diced tomatoes, garlic, salt, black pepper, oregano, thyme, paprika, chili powder and cumin.

Stir well to combine, then let come to a simmer.

Cook for an additional

30 minutes

uncovered.

Serve with saltines or cornbread.
Nutrition
Calories:
324
kcal
|
Carbohydrates:
38
g
|
Protein:
22
g
|
Fat:
10
g
|
Saturated Fat:
3
g
|
Polyunsaturated Fat:
2
g
|
Monounsaturated Fat:
4
g
|
Cholesterol:
45
mg
|
Sodium:
2094
mg
|
Potassium:
864
mg
|
Fiber:
14
g
|
Sugar:
5
g
|
Vitamin A:
444
IU
|
Vitamin C:
11
mg
|
Calcium:
162
mg
|
Iron:
5
mg