Amish Sugar Cookies are an easy to make, super soft sugar cookie recipe. No chill cookie dough means a batch of cookies in about 20 minutes!
While a Classic Sugar Cookie Recipe has a bit more of a snap to it, these Amish Sugar Cookies have a soft, tender texture. Both versions have a sweet, buttery flavor and are an excellent Cookie Recipe to serve for any holiday.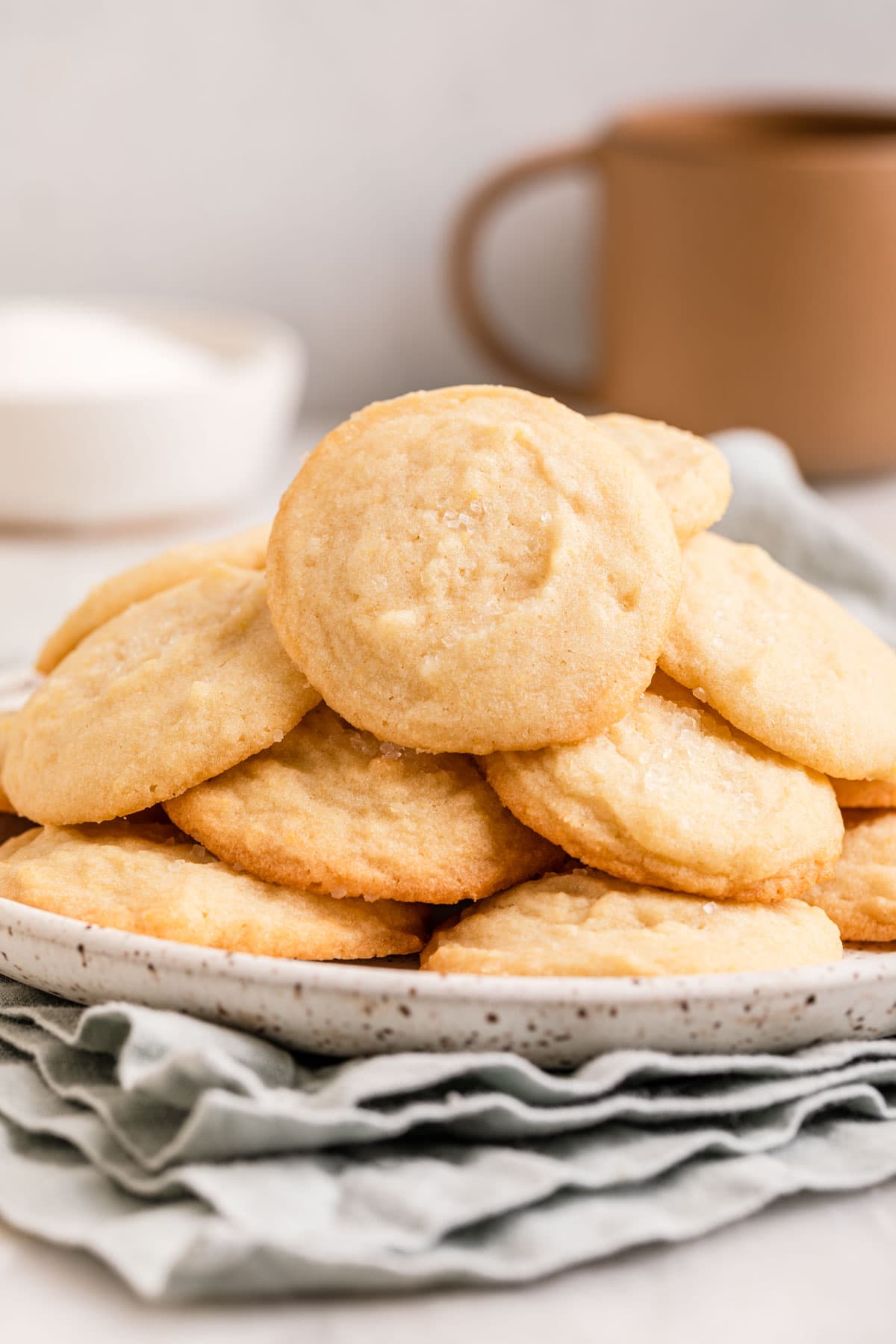 These old-fashioned Amish Sugar Cookies turn out with the perfect mild, sweet flavor and melt-in-your-mouth texture. You'd be hard pressed to find a more deliciously soft cookie recipe. Even better, you get this amazing texture and taste with a super easy baking process. Just combine the dough ingredients, bake for about 10 minutes, and voila! It's the perfect sugar cookie recipe for quick weeknight dessert, last minute bake sales, or when you to add one more easy cookie to your holiday treat platter.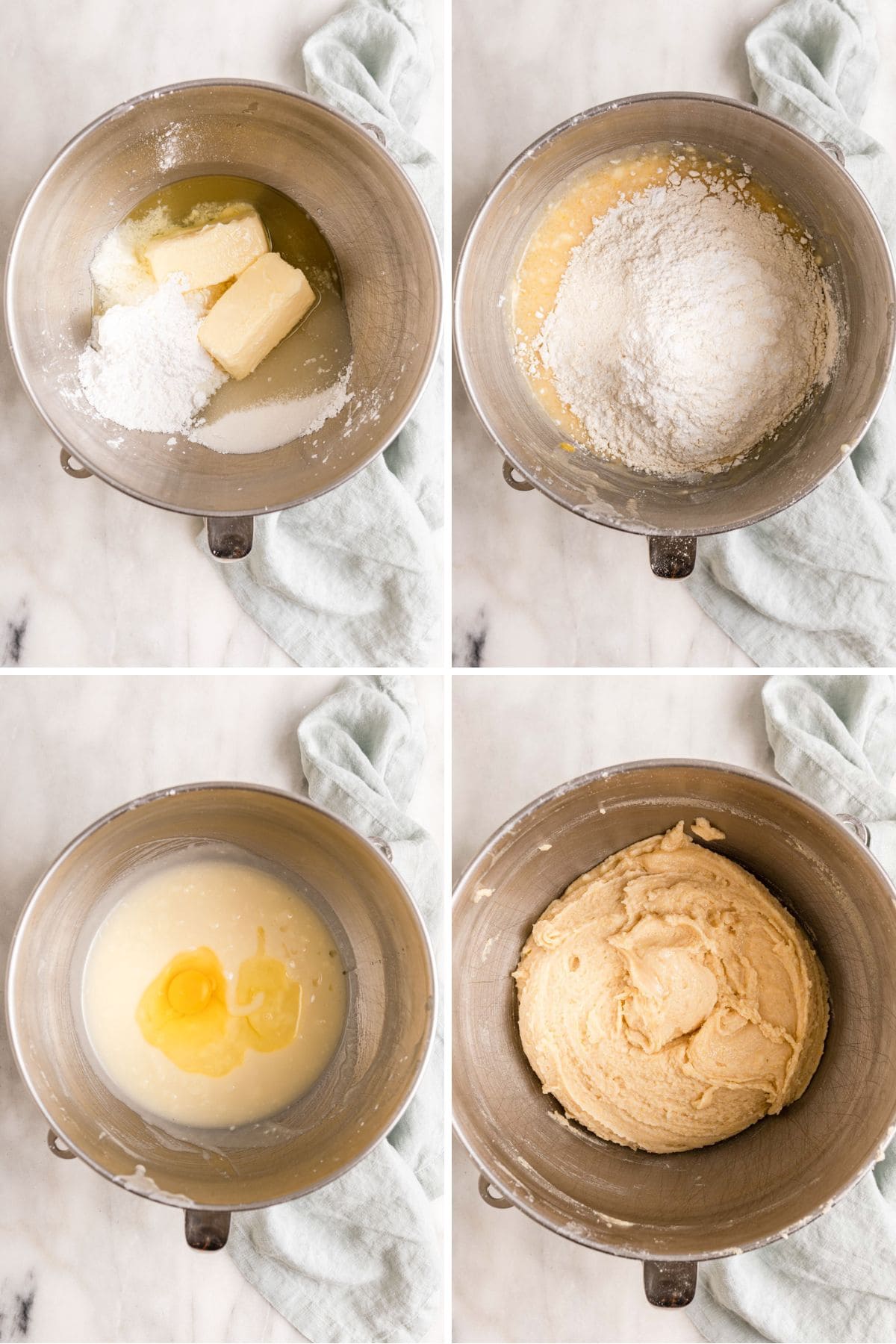 No Christmas dessert table would be complete without a favorite sugar cookie contribution to holiday cookies. But this year, instead of reaching for your regular rolled sugar cookies, try this delicious and easy cookie recipe straight from an Amish Cookbook. These melt in your mouth delicious cookies can be kept simple with the coarse sugar topping, or you can decorate with Buttercream Icing (aka warmed Buttercream Frosting) or Sugar Cookie Frosting. Some sprinkles or colored sugar instead of regular sanding sugar is another way to make these easy sugar cookies a bit more festive.
What are Amish Sugar Cookies?
Amish Sugar Cookies are a type of cookie that originated in Amish communities in the United States. They are typically made with simple ingredients such as butter, sugar, flour, eggs, baking soda, and cream of tartar. This recipe for Amish Sugar Cookies uses a combination of butter and vegetable oil to create a soft and chewy texture. The cookies are flavored with vanilla extract and are finished with a sprinkle of coarse sanding sugar.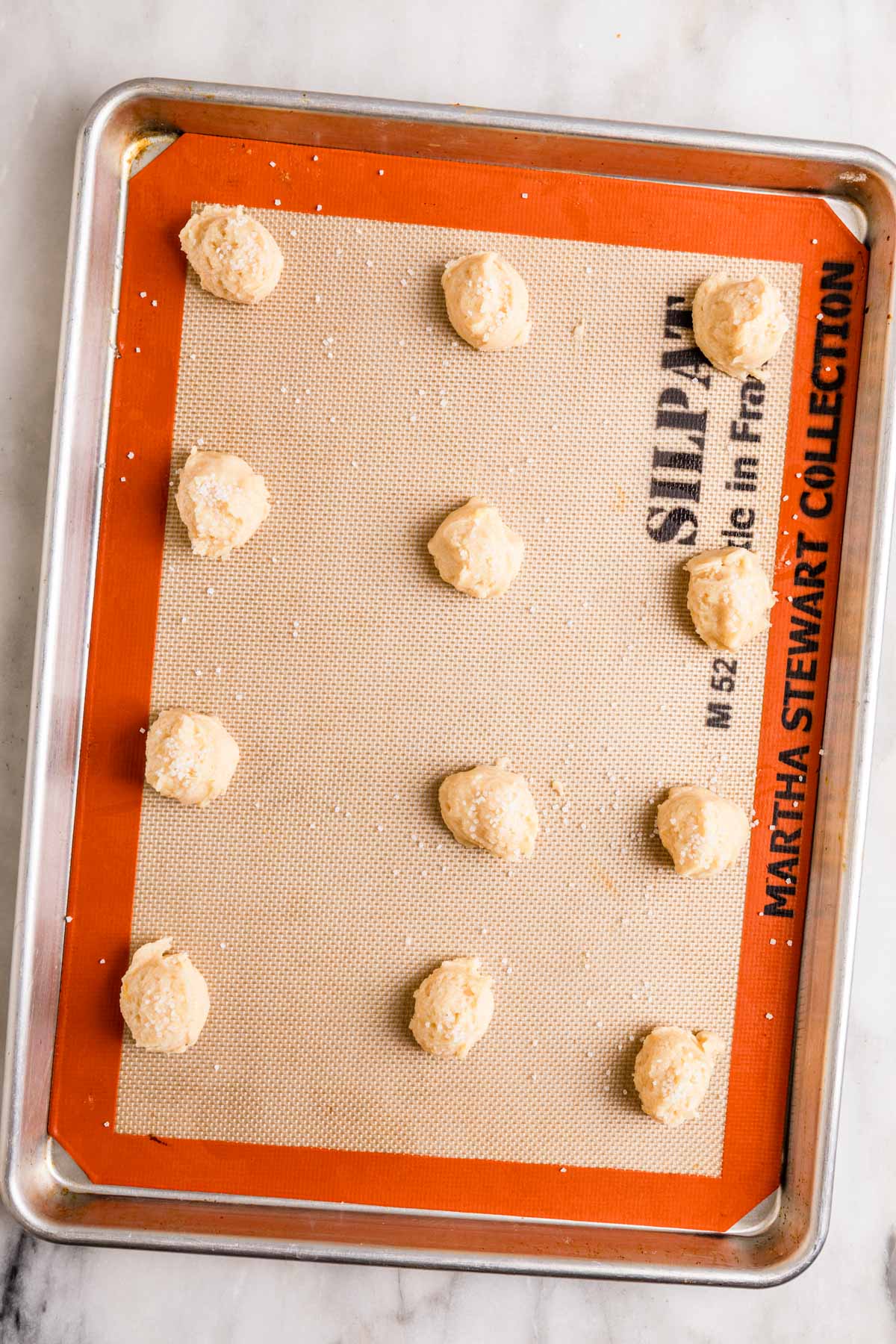 What is the difference between Amish Sugar Cookies and regular Sugar Cookies?
The main difference between Amish Sugar Cookies and regular Sugar Cookies is the texture. While regular sugar cookies are often crisp and crunchy, Amish Sugar Cookies are soft and chewy. This is achieved through the use of both butter and vegetable oil in the dough, which gives the cookies a tender and moist texture. Additionally, Amish Sugar Cookies typically use cream of tartar in addition to baking soda as a leavening agent, which can also contribute to their unique texture.
How to Make Amish Sugar Cookies
Prep: Start the recipe by preheating the oven to 375 degrees. Then you can line the cookie sheets with parchment paper to make suer the cookie dough doesn't stick.
Dough: Add the unsalted butter, oil, granulated sugar, and powdered sugar to your electric stand mixer. Then turn the electric mixer to low speed to slowly combine the butter mixture. Add each of the eggs one at a time. Then mix the vanilla extract, all-purpose flour, baking soda, and cream of tartar. Continue to stir until the dry and wet ingredients are well combined in the mixing bowl.
Shape: Us a tablespoon-sized cookie scoop to form the dough into 1-inch balls. Once you form the dough in balls, place them on the parchment-lined baking sheet. Then sprinkle coarse sanding sugar over the top.
Bake: Pop the Amish Sugar Cookies in the oven for 8-10 minutes. Then let them cool on the baking sheet for 5 minutes before serving or transferring to a wire rack to cool more.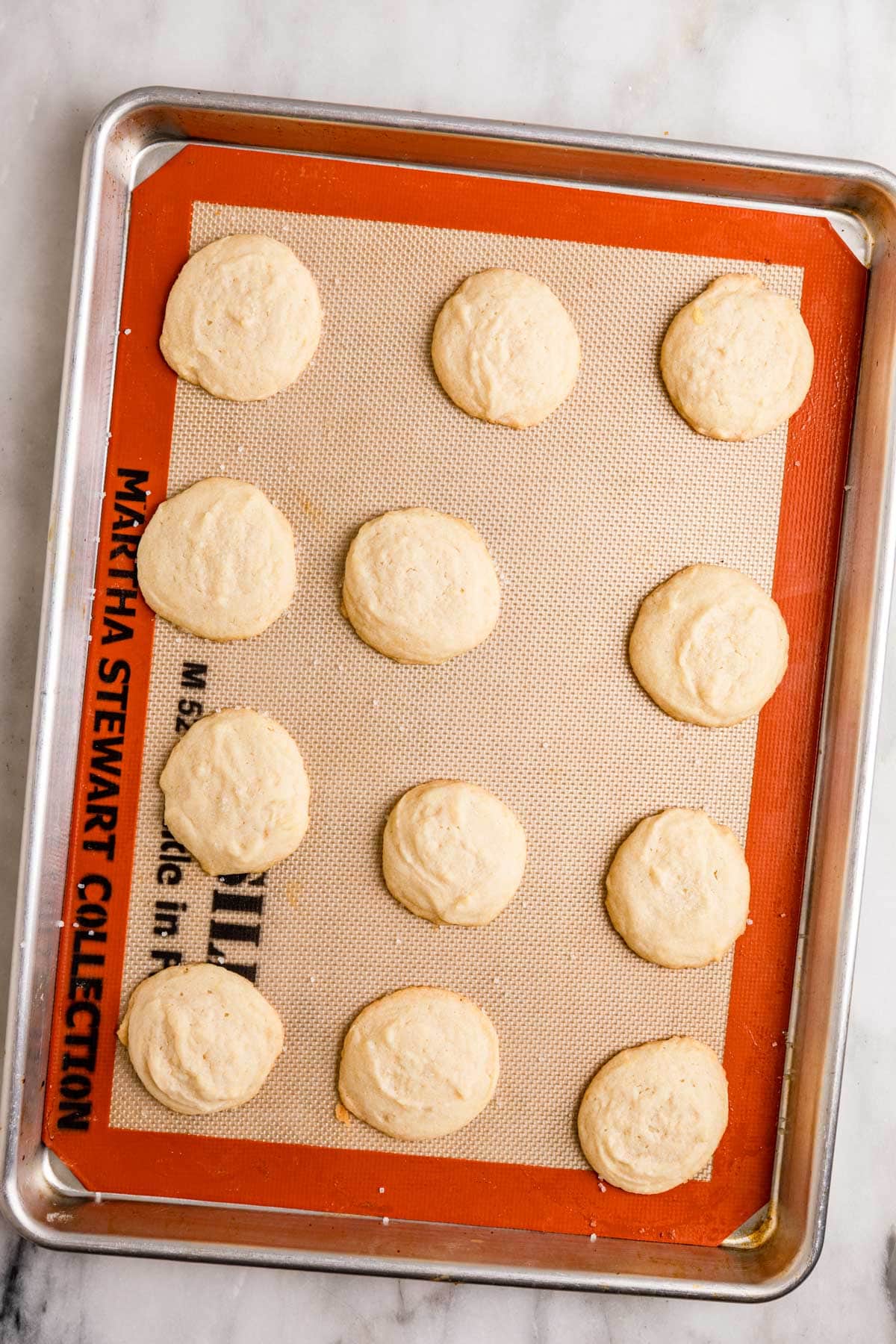 More Sugar Cookie Recipes
FAQs for Amish Sugar Cookies
Can you make Amish sugar cookies without cream of tartar?
Yes, it is possible to make Amish sugar cookies without cream of tartar. You can substitute it with lemon juice or vinegar, or simply omit it altogether and increase the baking soda by a small amount.
What does cream of tartar do in cookies? 
Cream of tartar is a common ingredient in cookie recipes because it activates the baking soda, which helps the cookies to rise and gives them a soft and tender texture. It also helps to stabilize egg whites, which is why it's often used in recipes for meringues and angel food cake.
What's the difference between shortbread and sugar cookies?
The main difference between shortbread and sugar cookies is their texture and ingredients. Shortbread cookies are typically denser, crumbly, and buttery in texture due to their high butter content and use of only a few basic ingredients, while sugar cookies are lighter and softer with a more tender texture, and often contain additional ingredients such as eggs, baking powder, and vanilla extract.
What makes these cookies unique?
These Amish Sugar cookies are special because they use a combination of butter and vegetable oil to create a soft and tender texture, and are finished with a sprinkle of coarse sanding sugar which adds a delicious crunch and sweetness to the cookies. Additionally, the recipe doesn't require any chilling time, which makes it quick and easy to make a batch of fresh cookies in a short amount of time.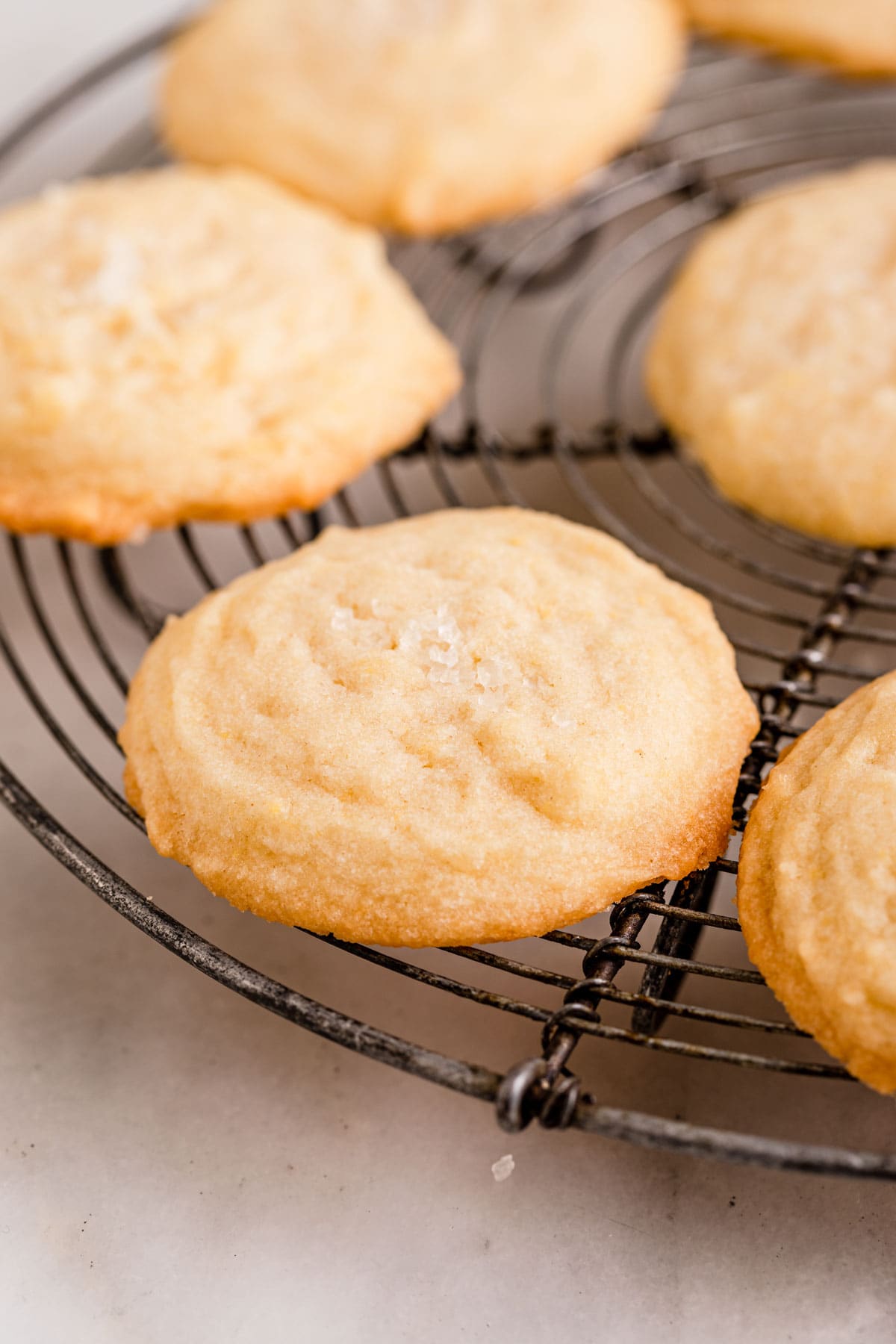 Create a free account to

Save Recipes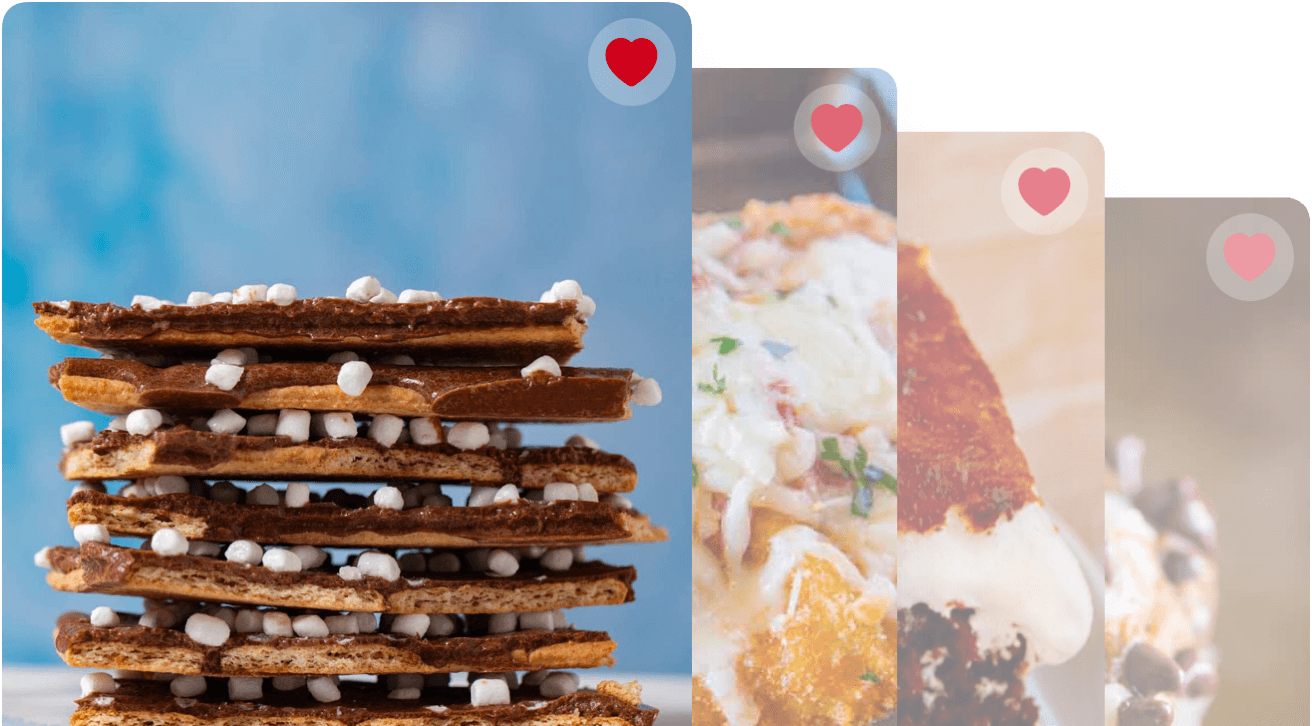 Key Ingredients
Oil and Butter: One thing that sets these cookies apart is that they use a combination of vegetable oil and unsalted butter for the fat, instead of one or the other like most cookie recipes. Butter adds flavor and richness to the cookies, while oil helps to keep them moist and tender. The combination of the two fats creates a balance of flavor and texture that is not possible with either ingredient alone. Additionally, using oil in combination with butter can help to reduce spreading in the cookies during baking, which can result in a more uniform and attractive appearance.
Sugar Combination: Another combination you don't find in a lot of cookies is the use of both granulated sugar and powdered sugar. The white sugar gives a more typical sweet flavor and adds structure to the cookie dough and the powdered sugar helps give thse Old-Fashioned Amish Sugar Cookies their fluffy, tender texture.
Cream of Tartar: The cream of tartar helps give the cookies their puffy shape and soft texture. It's an acidic ingredient that activates the baking powder so you get extra soft and pillowy, fluffy cookies.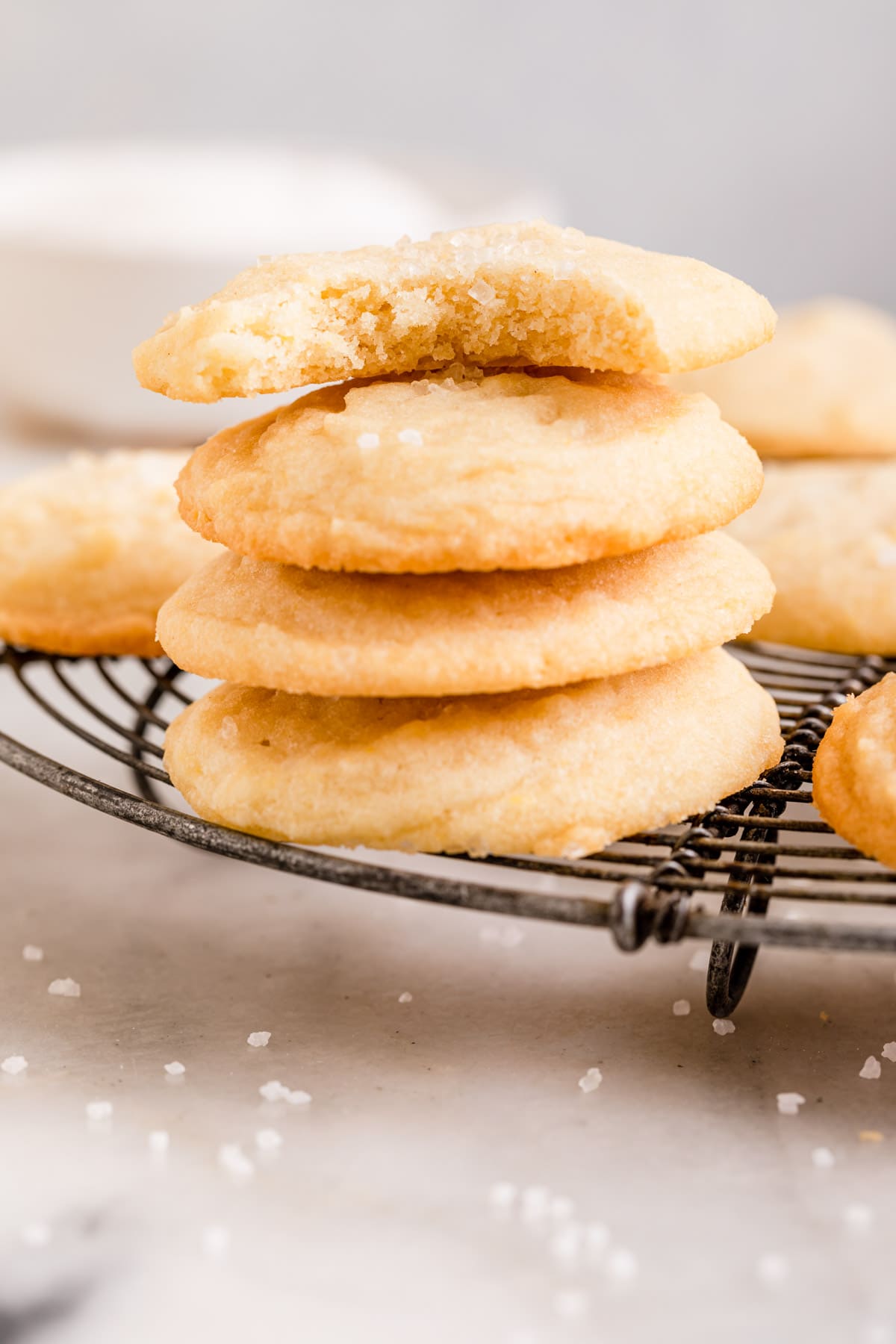 Variations
Extract: One easy way to experiment with the flavor of this cookie recipe is to change the kind of extract you put in. You can substitute vanilla extract for almond extract, lemon juice, or peppermint extract.
Glaze: To make an easy vanilla glaze for the Amish Sugar Cookies add ½ cup butter to microwave safe bowl. Then melt the butter in the microwave. Add 2 cups confectioners sugar, 2 tablespoons water, and 1 teaspoon vanilla extract to the melted butter. Then whisk the sugar and butter mixture into a glossy consistency before pouring it over the cooled cookies.
Cinnamon: You can also make these cookies with cinnamon sugar coating, similar to Snickerdoodles. Just whisk together 1 cup granulated sugar, and 2 tablespoons cinnamon in a medium bowl. Then roll the dough balls into cinnamon sugar mixture.
Mix-ins: You can also try classic cookie mix-ins like chopped nuts, mini chocolate chips, cinnamon chips, or dried cranberries. Use up to ½ cup of your mix-ins total for the right cookie dough to filling balance.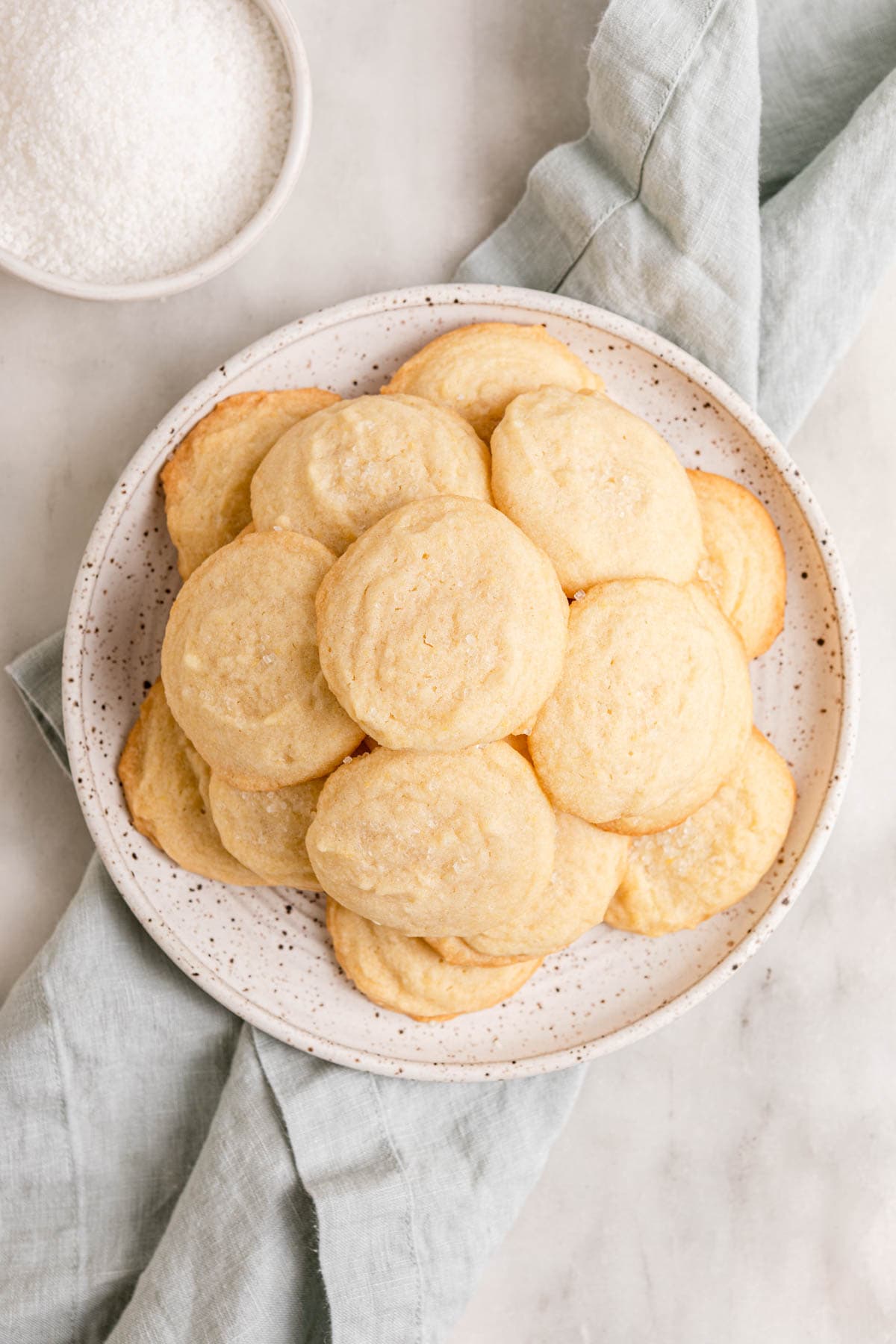 More Classic Amish Desserts
How to Store
Serve: Amish Sugar Cookies can stay good at room temperature for up to 2 weeks. To make sure that they keep their tender texture, cover them in plastic wrap and keep them in a dry place.
Store: Another option for storage is to cover them or transfer them to an airtight container to keep in the fridge for up to 2 months.
Freeze: You can also freeze Amish Sugar Cookies. Start by placing them on a parchment-lined baking sheet and freezing them for about 2 hours. Then when they're hardened, you can transfer the frozen cookies to a freezer bag to keep for up to 6 months.


Ingredients
1

cup

unsalted butter

, softened

1

cup

vegetable oil

1

cup

sugar

1

cup

powdered sugar

2

large

eggs

1

teaspoon

vanilla extract

4 1/2

cups

flour

1

teaspoon

baking soda

1

teaspoon

cream of tartar

3

tablespoons

coarse sanding sugar
Instructions
Preheat oven to 375 degrees.

To your stand mixer add the butter, oil, sugar and powdered sugar on low speed until well combined.

Add in the eggs one at a time.

Add in the vanilla extract then add in the flour, baking soda and cream of tartar until just combined.

Scoop 1 tablespoon sized spoonfuls of cookie dough onto a baking sheet and sprinkle with coarse sanding sugar.

Cool for

5 minutes

before removing from baking sheet.
Nutrition
Calories:
296
kcal
|
Carbohydrates:
33
g
|
Protein:
3
g
|
Fat:
17
g
|
Saturated Fat:
12
g
|
Polyunsaturated Fat:
1
g
|
Monounsaturated Fat:
3
g
|
Trans Fat:
1
g
|
Cholesterol:
36
mg
|
Sodium:
53
mg
|
Potassium:
54
mg
|
Fiber:
1
g
|
Sugar:
15
g
|
Vitamin A:
259
IU
|
Calcium:
8
mg
|
Iron:
1
mg