Baked Brie is a yummy, melty appetizer with puff pastry and raspberry preserves, perfect for holiday parties and weekend get togethers.
If you've tried some of our most popular Appetizers at previous holiday parties, like Deviled Eggs, Chipotle Queso and Crab Artichoke Dip, you definitely need to make this baked brie recipe. Baked brie is a yummy, melty dish that is stylish enough for any occasion.
BAKED BRIE
This is one of those new recipes that you'll want to share with all your friends. Baked brie is a great blend of easy and fancy, especially if you want something to serve at your next party that you don't need to work all day to make.
Brie has a naturally earthy, nutty flavor that compliments the light, crunchy flavor of puff pastry perfectly. You can serve it up with any assortment of fruit preserves you'd like, raspberry works wonderfully because of the crisp, tart flavor. Easy baked brie is fantastic, and you don't need a sharp knife to cut through it because baking the rind makes it soft without making it fall apart.
Baked Brie will be the star of any holiday party finger food spread, or it can be a perfect starter to a special holiday meal followed by Baked Ham, Candied Yams, and Green Bean Casserole.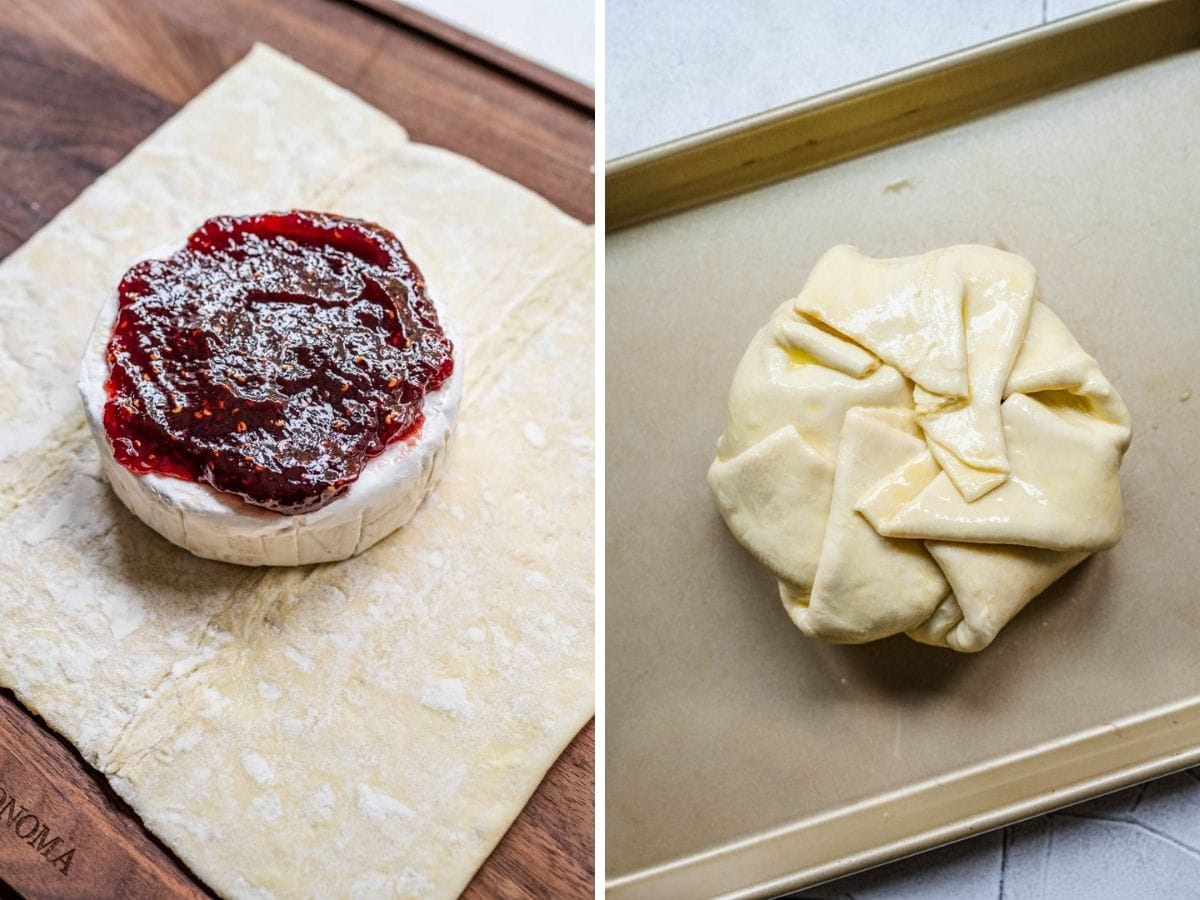 MORE HOLIDAY APPETIZER RECIPES
HOW TO MAKE BAKED BRIE
Start by preheating the oven to 400 degrees and getting out the pastry. If you're using frozen puff pastry, you'll want to make sure that it's properly thawed out.
Roll out the puff pastry on a large cutting board. You may want to lightly dust the board and the rolling pin you're about to use with flour to keep the pastry dough from sticking.
Roll the pastry dough out until it's about 1/4th of an inch thick. Make sure that it's evenly flattened.
Set the round of brie in the middle of the puff pastry and add the raspberry preserves to the top rind.
Fold the pastry over the top of the brie to cover it completely. Gently pinch the dough to keep it in place.
Set the brie, pastry and preserve assembled onto a baking sheet.
Mix together the egg and water to make an egg wash and brush it over the top of the pastry. Make sure to wipe away any of the egg wash that drips onto the cookie sheet to keep it from collecting underneath the brie.
Put it in the oven and let it bake for 35 to 40 minutes until it turns golden brown. Keep an eye on the brie and adjust the cook time if you see it completely melting.
Let it cool down for at least 5 minutes and then serve it up.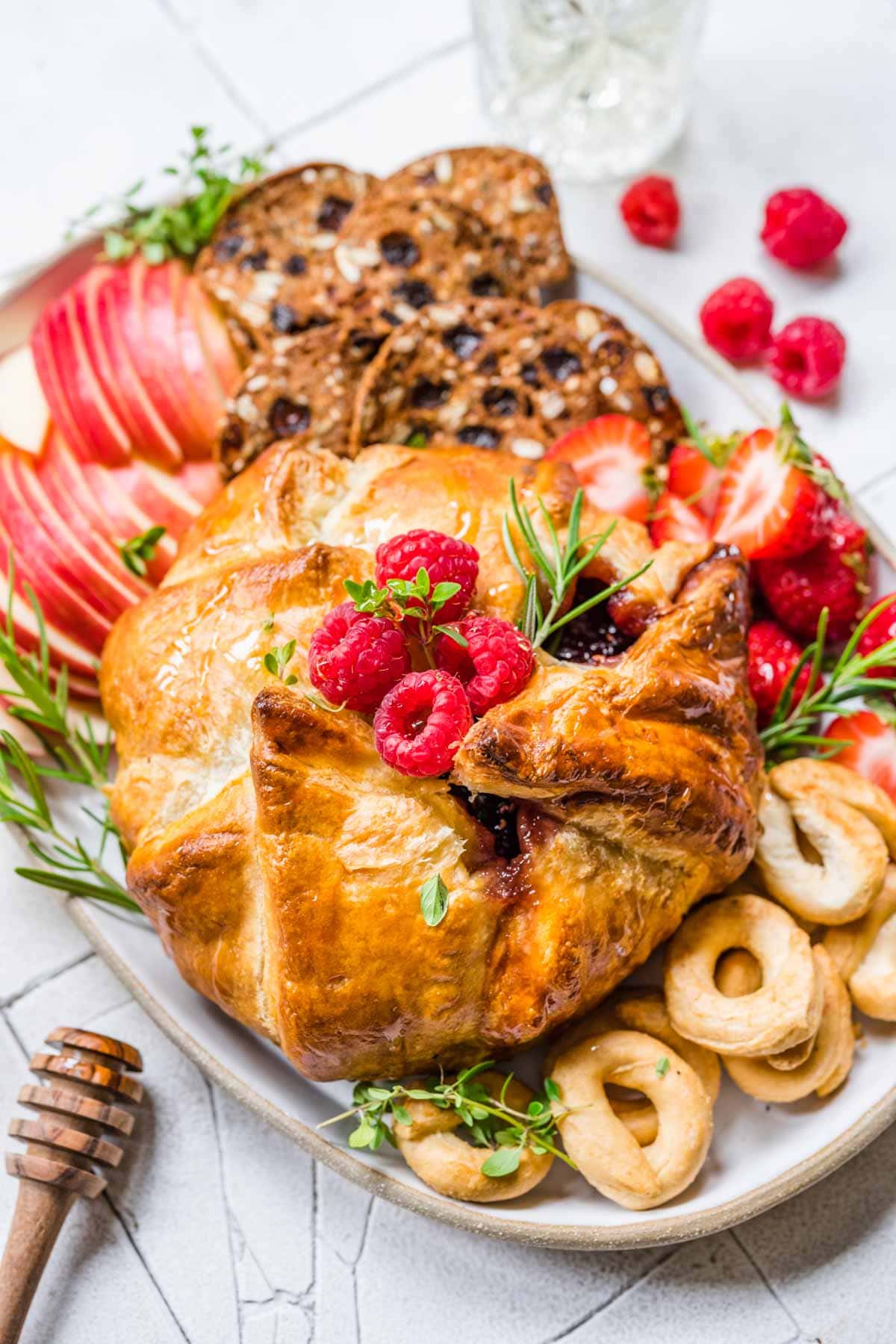 Create a free account to

Save Recipes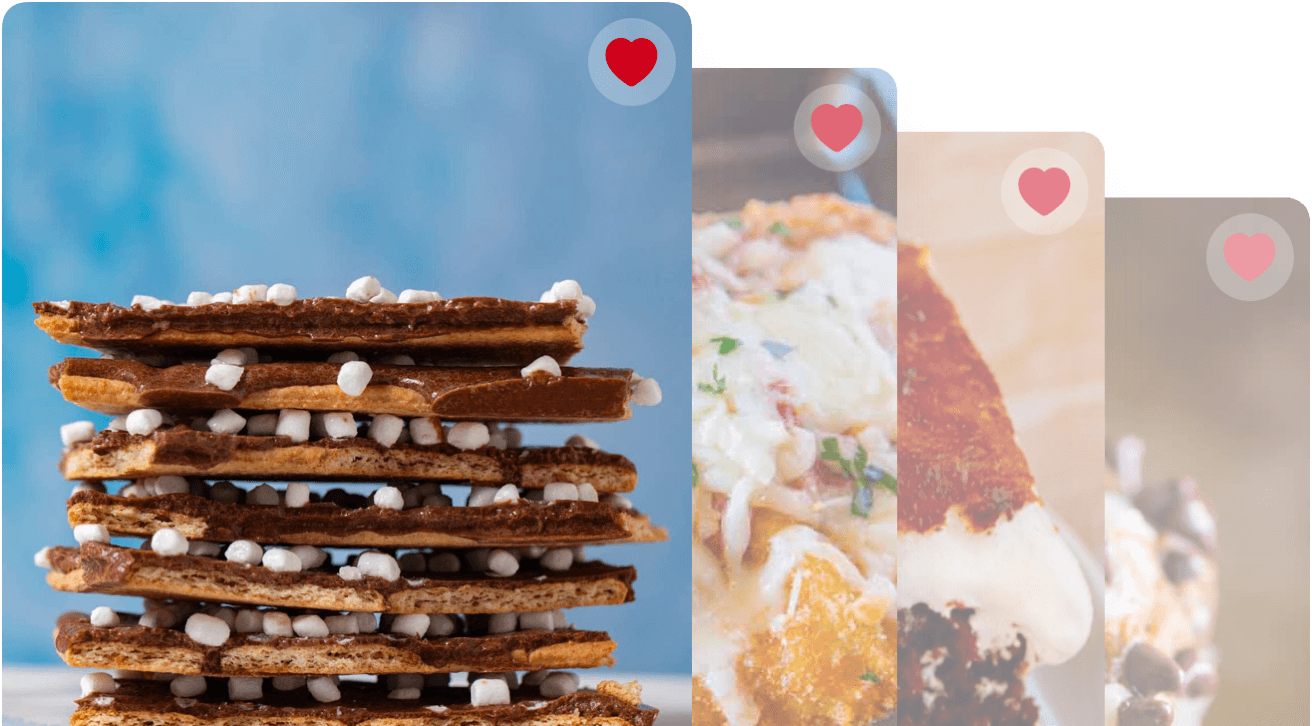 FREQUENTLY ASKED QUESTIONS
What other kinds of preserves can be used for Baked Brie?
You can use any flavor of preserves you'd like, but rich flavors like cranberry, apricot and fig jam work the best.
What can be added to the top of Baked Brie?
Sprinkle a little brown sugar or coarse sugar on top to give the baked brie a sweet crunch.
Can you add nuts to Baked Brie?
Yes! Finely slice or chop pecans, walnuts or cashews and set them on top to bake along with the pastry. Make sure not to let them burn.
Are caramelized onions good with Baked Brie?
Absolutely! After the baked brie has cooled and you're ready to serve it, serve it up with a side of caramelized onions for a zesty, bold flavor.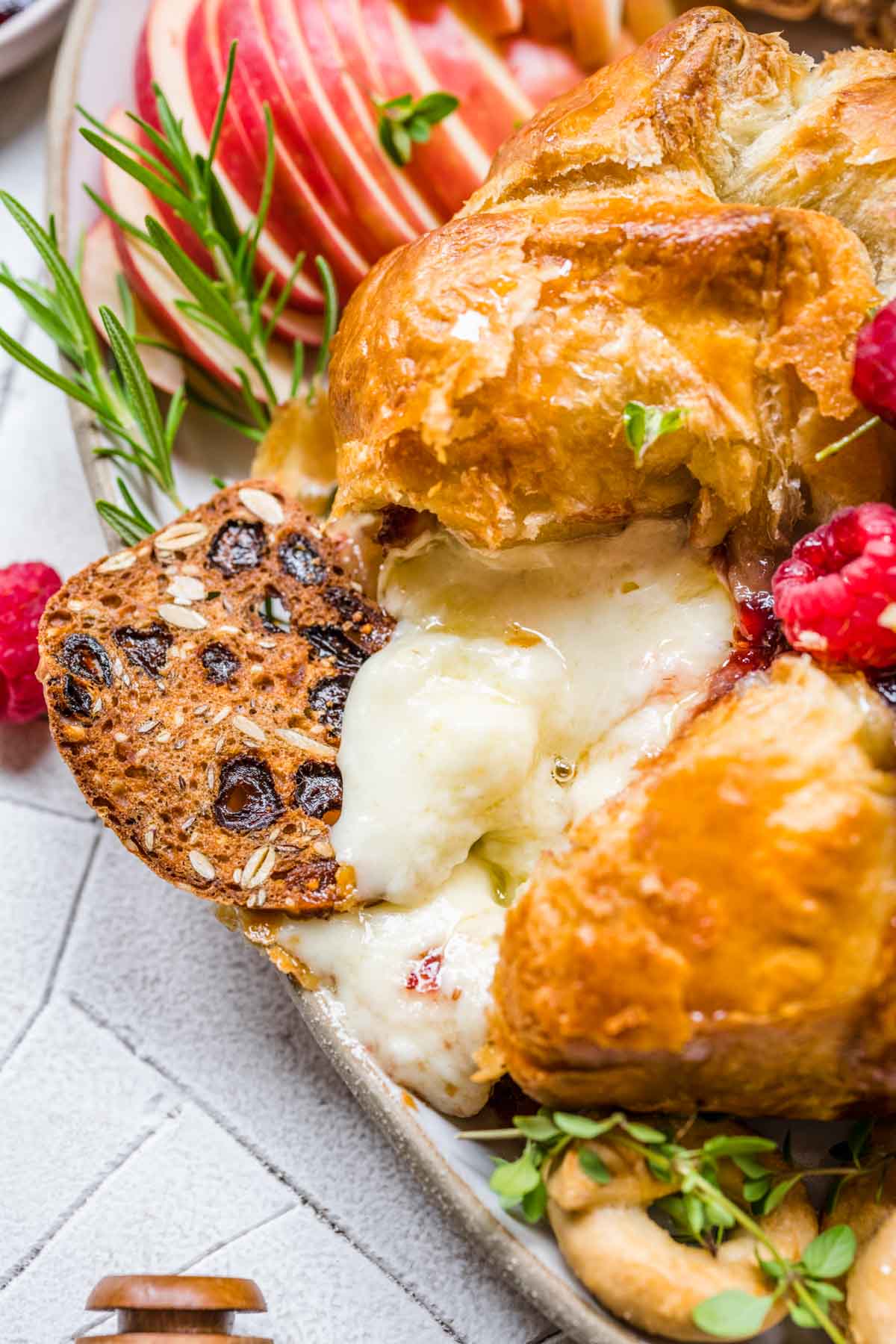 MORE CHEESY APPETIZER RECIPES
HOW TO SERVE BAKED BRIE
Serve: You shouldn't leave baked brie out for longer than 2 hours at room temperature.
Store: Let your leftovers cool to room temperature and then store them in an airtight container. Your baked brie will be good for up to 4 days.
Freeze: Baked Brie is best enjoyed straight out of the oven or the fridge, but you can freeze it tightly wrapped for up to 4 months. Thaw overnight and reheat in the oven to serve.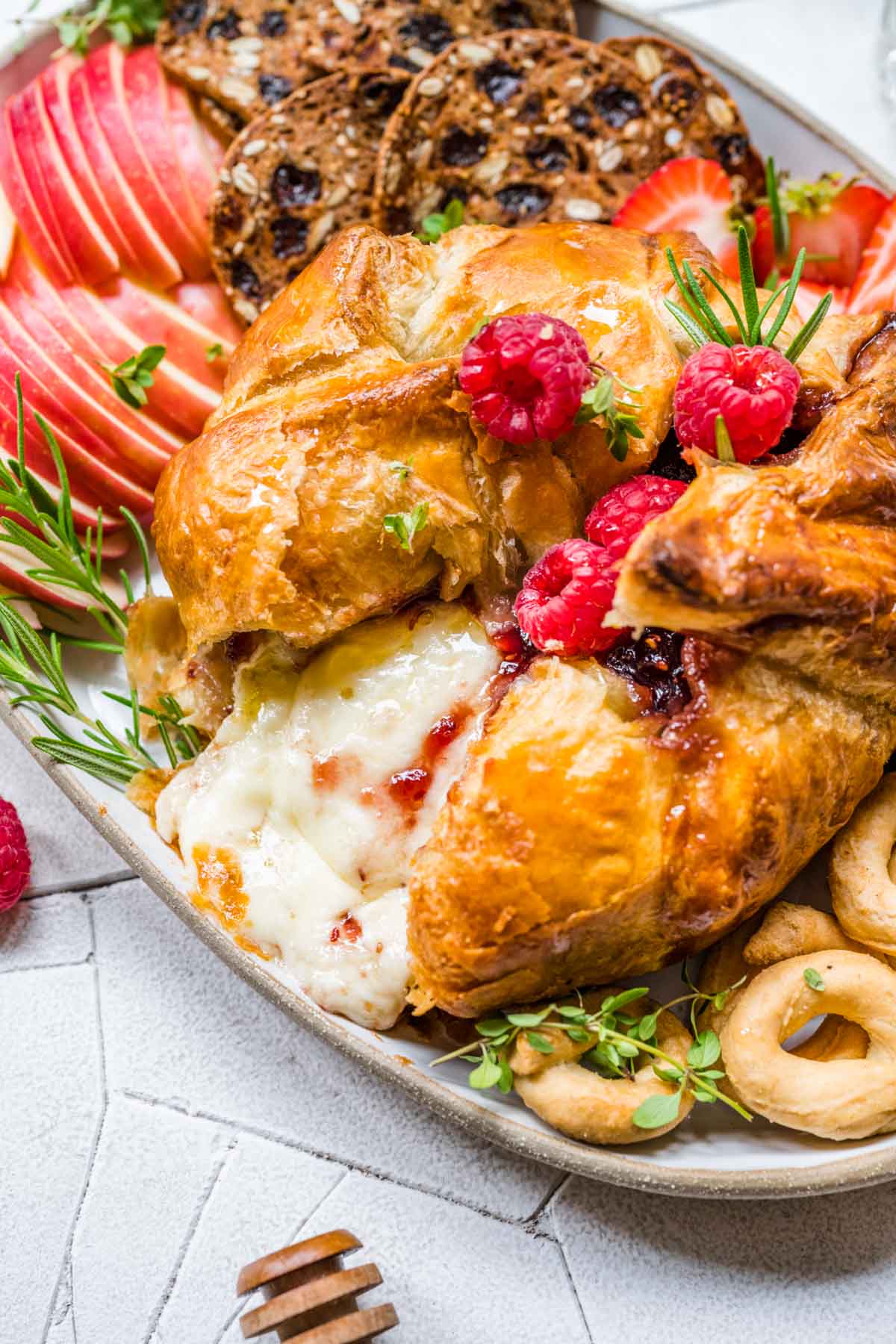 Ingredients
1

sheet puff pastry

, ½ a box

1

wheel Brie cheese

1/3

cup

raspberry preserves

1

large

egg

1

tablespoon

water
Instructions
Preheat the oven to 400 degrees.

Open the sheet of puff pastry onto a large cutting board and using a floured rolling pin, roll the dough to ¼ inch thick.

Add the puff pastry to a baking sheet.

Add brie in the middle of the puff pastry.

Gently spoon on the raspberry preserves on top of the brie.

Fold the puff pastry over the brie to form into a bundle.

Whisk together the egg and water and brush is over the puff pastry bundle.

Wipe away any egg that drips onto the baking sheet.

Bake for

35-40 minutes

or until golden brown.

Cool for a few minutes before gently using a spatula to move the bundle to your serving platter with cracker for serving with a small serving knife.
Nutrition
Calories:
166
kcal
|
Carbohydrates:
20
g
|
Protein:
8
g
|
Fat:
6
g
|
Saturated Fat:
2
g
|
Cholesterol:
226
mg
|
Sodium:
97
mg
|
Potassium:
106
mg
|
Fiber:
1
g
|
Sugar:
14
g
|
Vitamin A:
328
IU
|
Vitamin C:
2
mg
|
Calcium:
40
mg
|
Iron:
1
mg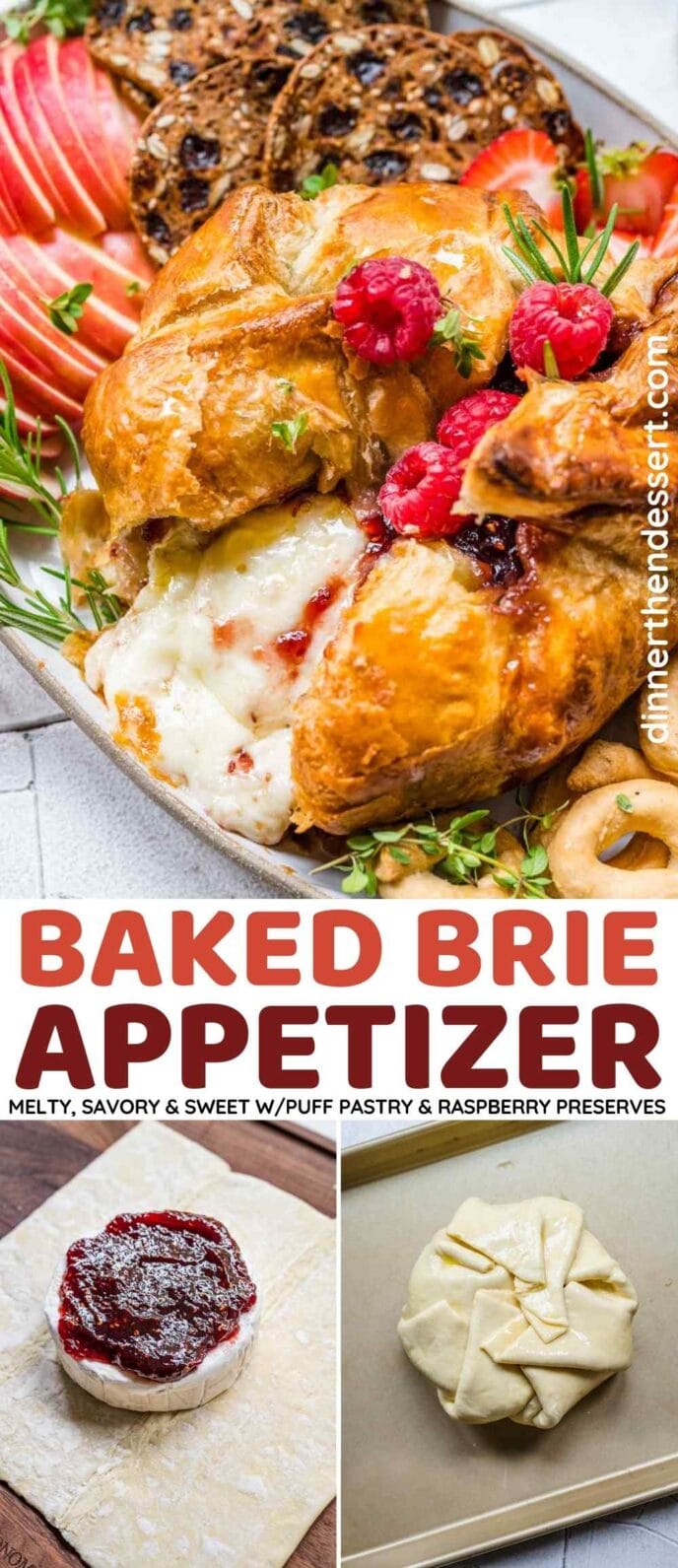 dd