Bonefish Grill Coconut Pie is the perfect copycat recipe of a rich coconut pie made with sweetened coconut, heavy cream and vanilla with a rich rum sauce. 
If you've tried my recipes for Chocolate-Dipped Coconut Macarons, Coconut Cake and Chocolate Chip Coconut Cookies but you are still craving more, you should definitely try this recipe.
And if after this you still can't get enough coconut, try my recipe for the Ultimate Coconut Cream Pie.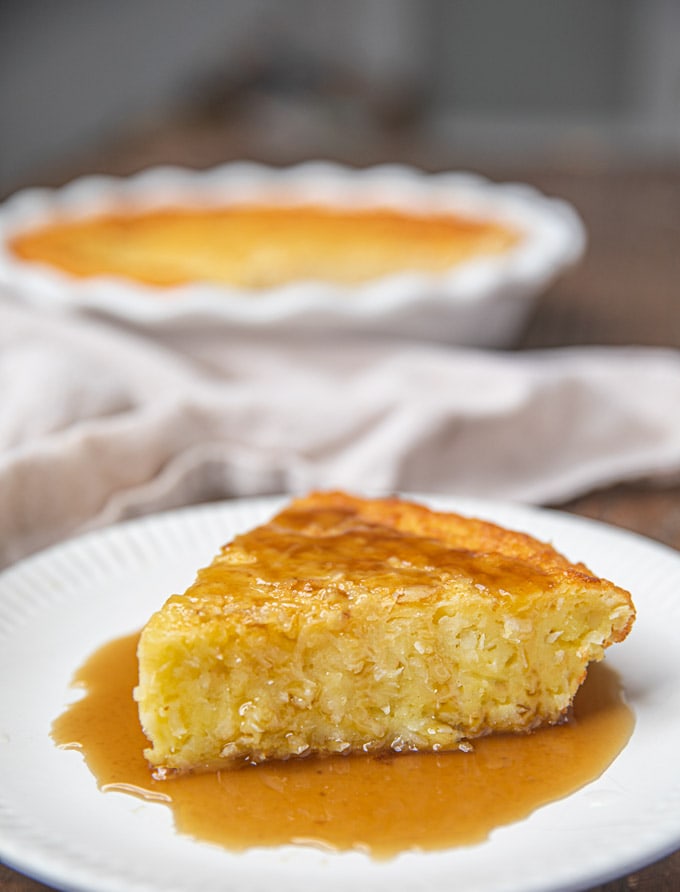 BONEFISH GRILL COCONUT PIE
The Bonefish Grill Jamaican Coconut Pie is legendary, and also shockingly easy to make. It's full of flavor and the rich, delicious rum sauce is something that everyone needs to try.
We visited Bonefish Grill this summer while looking for a healthy option while traveling. Since we enjoyed such a healthy meal I just had to order this coconut pie I saw every table around us ordering. I can see why they ordered it, the pie was AMAZING.
There is no reason why the pie wouldn't be, it is full of indulgent ingredients and topped with a delicious rum sauce. You can't go wrong. Heavy cream, sugar, 6 whole eggs… then the rum sauce. The rum sauce is almost as amazing as the rest of this pie.
The whole table shared our order of coconut pie but we all left wanting more. So I did what I do anytime I want to make a copycat recipe, I researched and cooked it immediately. This meant I was up cooking in our hotel room the same night. The next day we ate this coconut pie (and an original for comparison) for lunch. Life is wonderful sometimes. 😉
HOW TO MAKE BONEFISH GRILL COCONUT PIE
To make the pie filling:
Place milk, cream, sugar, all purpose flour, eggs and vanilla extract in a mixing bowl.
Mix with a hand mixer for 2 minutes on medium speed.
Add coconut and mix together until completely incorporated.
Place in a greased pie pan.
Cook at 350 degrees F for 40-45 minutes.
Bonefish Grill Rum Sauce:
In small sauce pan, heat butter over medium heat until melted.
Add brown sugar and mix together until the sugar dissolves.
Add rum and cook for 1 minute on medium heat.
Slice pie and serve with rum sauce, to your liking.
The great thing about the rum sauce recipe is that you can use it on all sorts of different desserts, especially ones that have sweet elements in them like milk chocolate or coconut. It's simple to make and absolutely delicious.
The rum does not cook all the way out of it though (if you want it to, cook an additional minute), so you should enjoy it responsibly and don't give any to anyone under 21.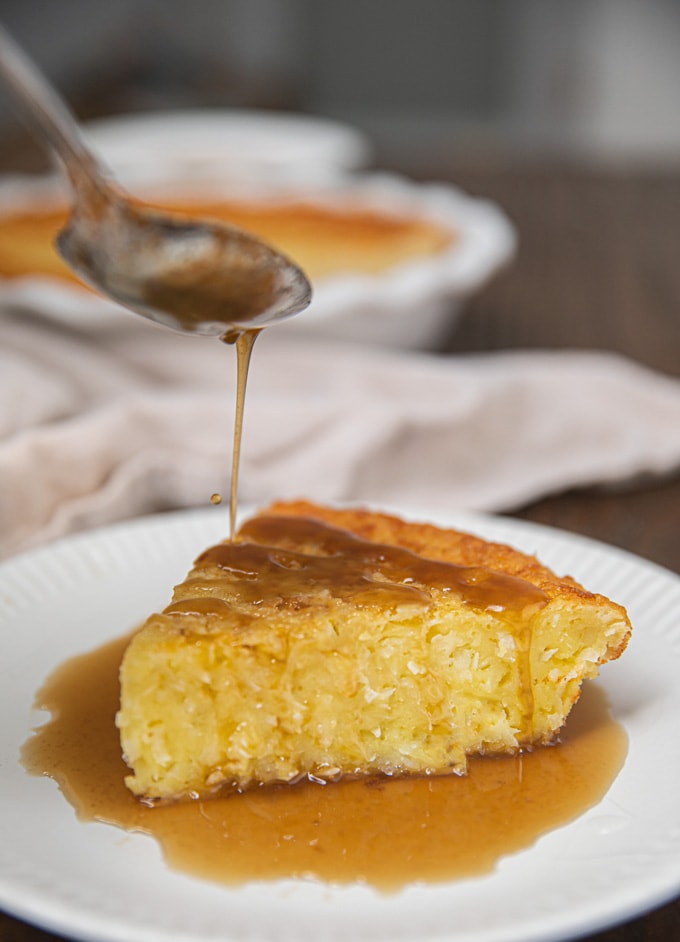 Create a free account to

Save Recipes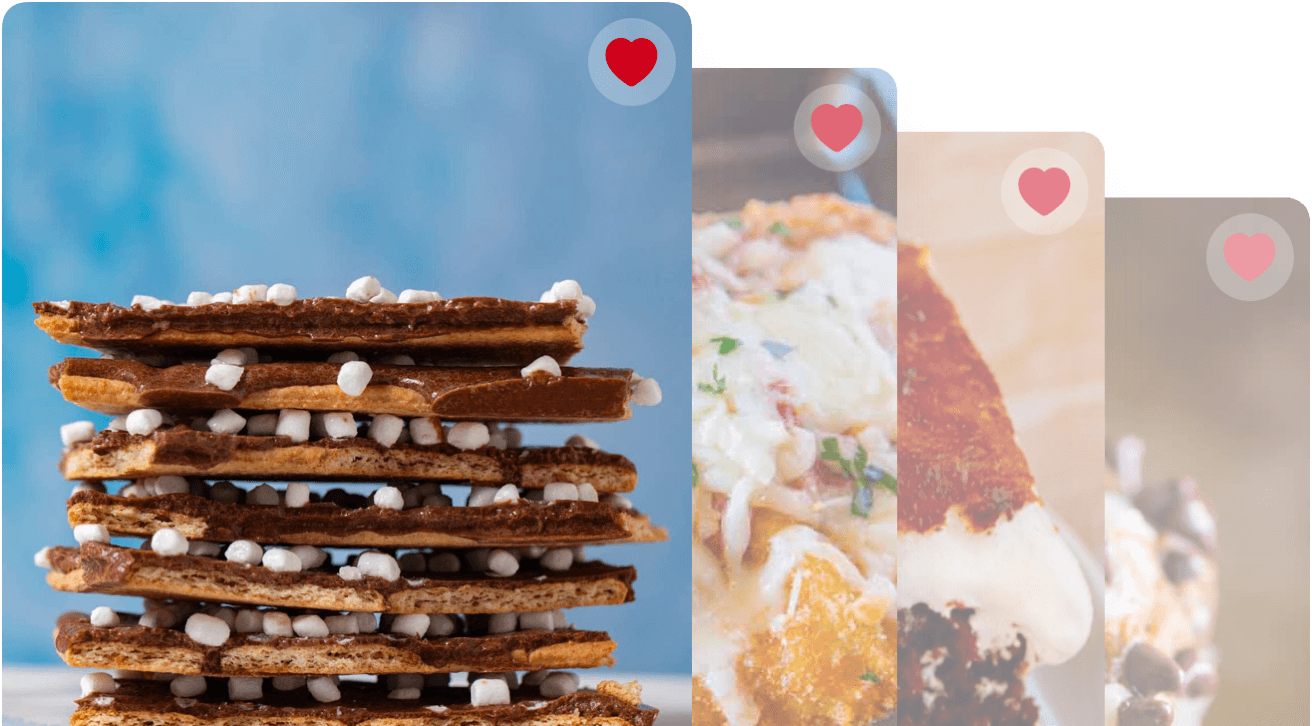 VARIATIONS ON BONEFISH GRILL COCONUT PIE
Nuts: Try topping your coconut pie with crushed macadamia nuts, pecans, walnuts or cashews. They add a rich, earthy flavor and a great crunch. You can also arrange sliced nuts on top of your pie to make it look fancy and fun without having to spend hours messing with it.
WHAT TO SERVE BONEFISH GRILL COCONUT PIE WITH
Homemade Vanilla Ice Cream: The most delicious thing is a slice of pie with a big scoop of ice cream. This recipe is incredibly easy and don't worry if you don't have an ice cream maker, you won't need one. There's something incredibly satisfying about serving up a dessert made from scratch and seeing the looks on everyone's faces when they try it.
Homemade Whipped Cream: Whipped cream is one of the easiest things to make. There are only 3 ingredients and it will take you under 5 minutes to go from a bowl of liquid to a fluffy, rich, delicious topping for any dessert.
STORING BONEFISH GRILL COCONUT PIE
Serve: You shouldn't leave the pie out for longer than about 2 hours or it can start to go bad. Make sure that you allow it to completely cool down to room temperature before you refrigerate.
Store: Coconut pie will stay fresh in the fridge for up to 4 days before it will start losing flavor and going stale.
Freeze: Cream based pies and custard pies famously don't freeze well. The freezing process makes the liquid inside the pie crystalize, which makes them have a completely different, unpleasant texture when you thaw them out. For best results, enjoy your Bonefish Grill Coconut Pie when it's fresh.


Ingredients
Coconut Pie
1

cup

whole milk

1

cup

heavy cream

1/2

cup

flour

1/2

cup

sugar

6

large

eggs

1

tablespoon

vanilla extract

2

cups

shredded coconut

, sweetened
Rum Sauce
1

cup

brown sugar

, packed

1

cup

unsalted butter

1/2

cup

dark rum
Instructions
To Make Coconut Pie:
Preheat oven to 350 degrees.

Whisk the milk, heavy cream, sugar, flour, eggs and vanilla in a large mixing bowl until smooth.

Add coconut and whisk together until the coconut is fully coated with the liquid.

Pour into a 9" pie plate and bake for

40-45 minutes.
To Make Rum Sauce:
Add the butter, brown sugar and rum to a medium saucepan

Whisk together until the brown sugar has completely dissolved then boil for

1 minute

(time it to be sure you cook for 1 minute).
Nutrition
Calories:
465
kcal
|
Carbohydrates:
34
g
|
Protein:
5
g
|
Fat:
30
g
|
Saturated Fat:
19
g
|
Cholesterol:
152
mg
|
Sodium:
191
mg
|
Potassium:
154
mg
|
Fiber:
1
g
|
Sugar:
28
g
|
Vitamin A:
916
IU
|
Vitamin C:
1
mg
|
Calcium:
70
mg
|
Iron:
1
mg