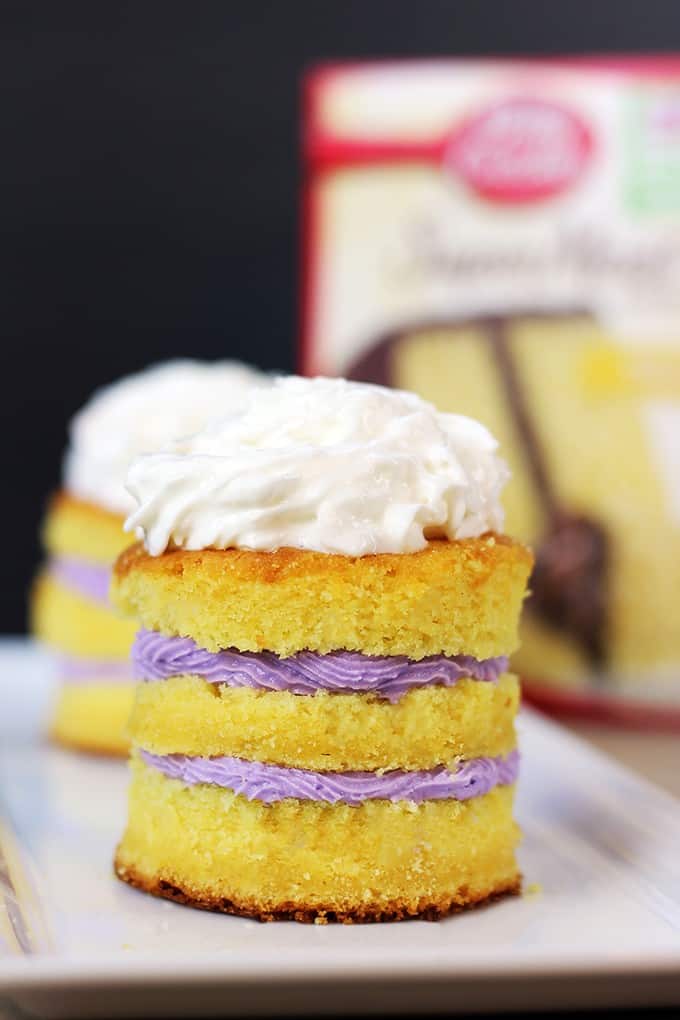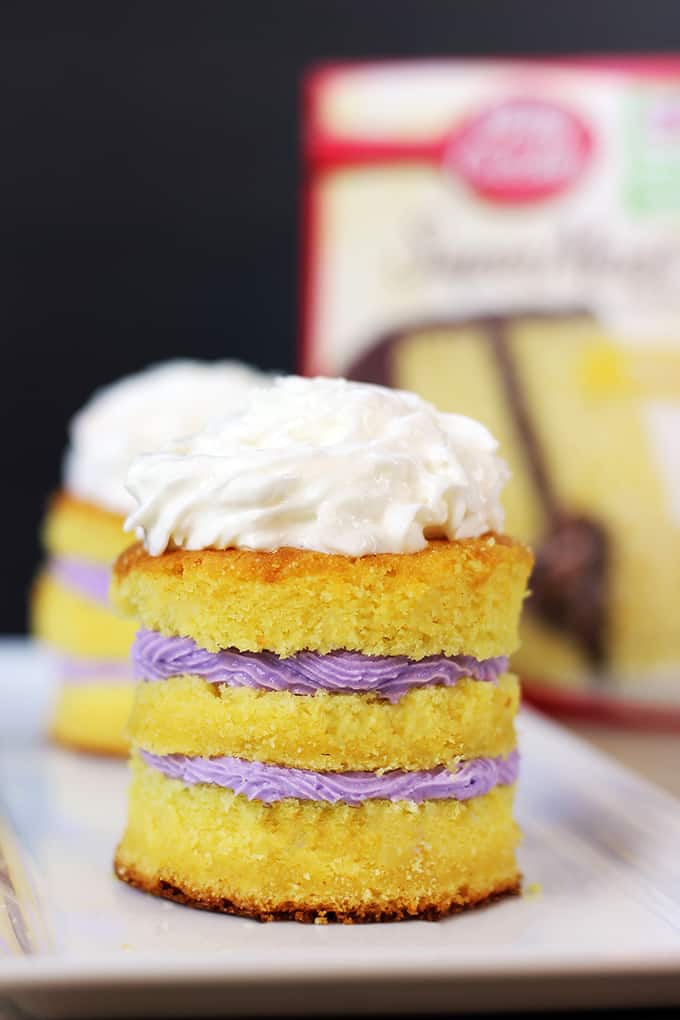 Just a couple of ingredient swaps you can make a regular cake mix taste like you've paid $6 a slice for bakery cake. This hack is easy, replaces oil with butter and turns a cake mix into a delicious buttery, rich, dense crumb cake, perfect for any special occasion.
I totally dragged my feet through the creation of this for my oldest child. We were in the grocery store because we ran out of bananas (our household goes through a half dozen every day) and what did we happen to walk past? An end cap of boxed cake mix. Cue the negotiation from my toddler:
Mommy, I want that!
Me: No, I'm not getting that but if you want cake I would be happy to make one for you!
Mommy I want that one! And I want to make it with you!
Me: Hmm (I'm disbelieving of this, most "help" is usually just chocolate chip stealing)
Mommy please, we can bake together! We bake this, you and me forever! (cue the arms in the air and the twirling).
Me: *Groan* Ok.
And I lost. To be honest, I sort of planned on ditching the box on our way back to the checkstand, but then I completely spaced on it until we got to the checkout area and who was watching me like a hawk? Yup. Sold.  So we get home and I stuffed it into the back of the cupboard. Later that same day, my toddler who for some reason was in love with the idea of baking this cake comes up to me and says: "Mommy you a chef, we make cake together" and I completely melted. We pulled out our favorite tiny chef hat and apron and our amazing Learning Tower (yes, a chair would work too and yes, I am a paranoid mom who loves the railing all around) and we got to work.
I am the first to admit, I am not a fan of cake mix. It is this weird overly crumbly, way too soft weird tasting cake and since I know how easy they are to make from scratch I actually think they are kind of overpriced. So I set off to the land of happiness and time wasting (Pinterest) and found a link to a hack for cake mixes.
Why did it make it onto the blog? Because this hack makes an altogether dull cake mix box taste fantastic! And since it happened to be the same weekend as my cake obsessed toddler's birthday, we did an easy side by side comparison.
A total of 25 people, both adults and children taste tested my from-scratch birthday cake with purple frosting and this cake mix hack with the same frosting. The result? Not a single person said "cake mix" to me. In fact many of them complimented the cake (and some thought this was better than my recipe)! I have to agree, it was so good, if the box came with these directions I think it would really up the game for cake mixes.
The crumb was tender, denser, buttery and rich. The distinct "cake mix flavor" was unrecognizable. Trust me, try it and you won't regret it!
So lets get down to the hack!


Ingredients
1

box

Betty Crocker Yellow Cake Mix

(this is what was picked out, I couldn't tell you which mix is best)

4

eggs

1

cup

melted butter

1 1/4

cup

milk

3

cups

Buttercream Frosting
Instructions
The only directions to note are that whatever the back of the box directs you to use, you have to:

Add an additional egg.

Replace the water with milk, same amounts.

Replace the oil with melted butter. DOUBLE the amount.

Cook with the same directions that are printed on the box.
Nutrition
Calories:
566
kcal
|
Carbohydrates:
75
g
|
Protein:
4
g
|
Fat:
27
g
|
Saturated Fat:
13
g
|
Cholesterol:
97
mg
|
Sodium:
584
mg
|
Potassium:
97
mg
|
Sugar:
55
g
|
Vitamin A:
595
IU
|
Calcium:
134
mg
|
Iron:
1.2
mg