Brown Sugar Peach Baked Ham (w/ Bourbon option) is sweet and tender with peach preserves, orange juice, cinnamon, cloves, and ginger.
If you've tried this classic Baked Ham Recipe this Brown Sugar Peach glazed ham adds extra tangy and sweet flavor from summery fruits like peaches and orange juice. It's the perfect Dinner to add to your holiday table this Thanksgiving, Christmas, or Easter.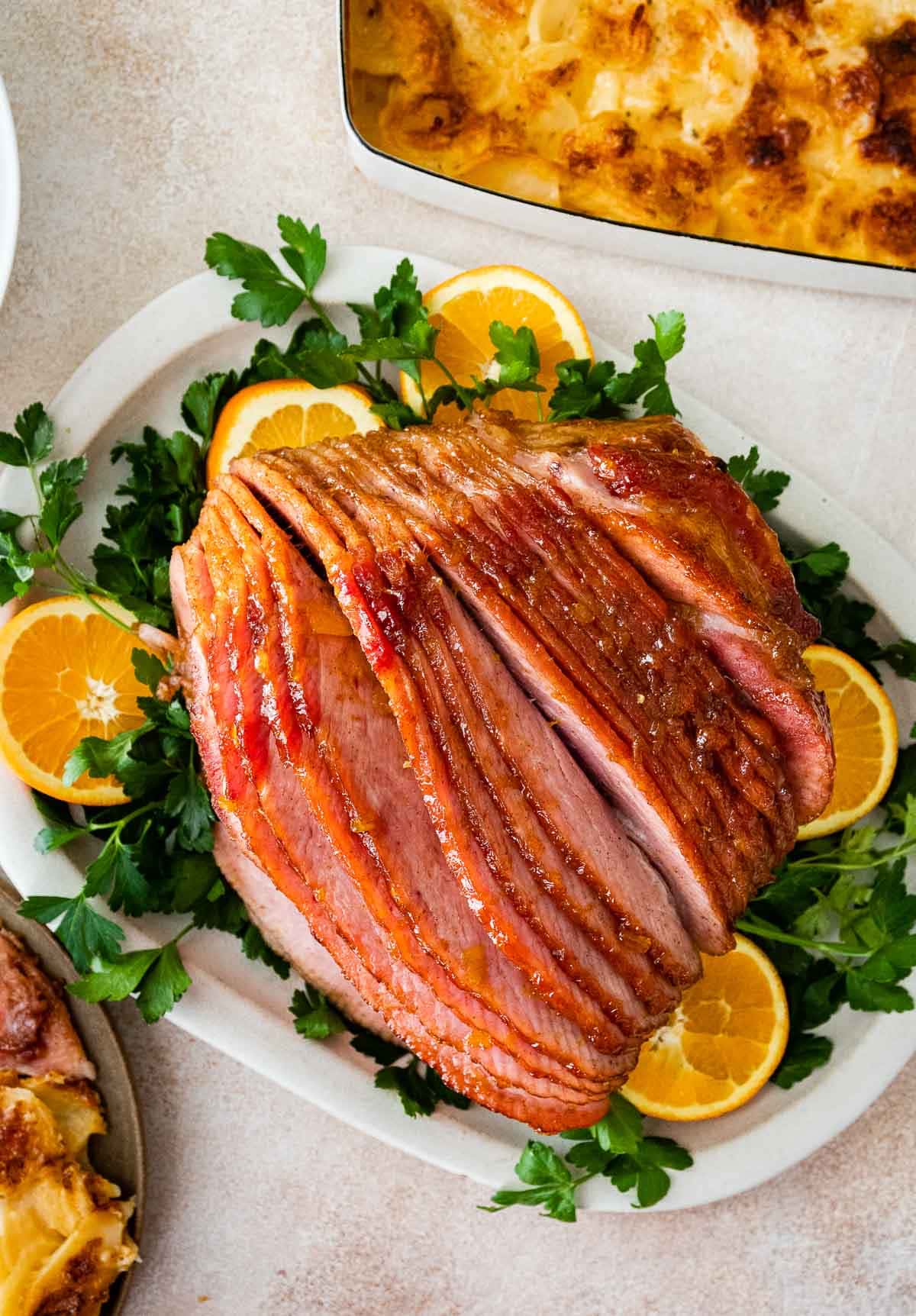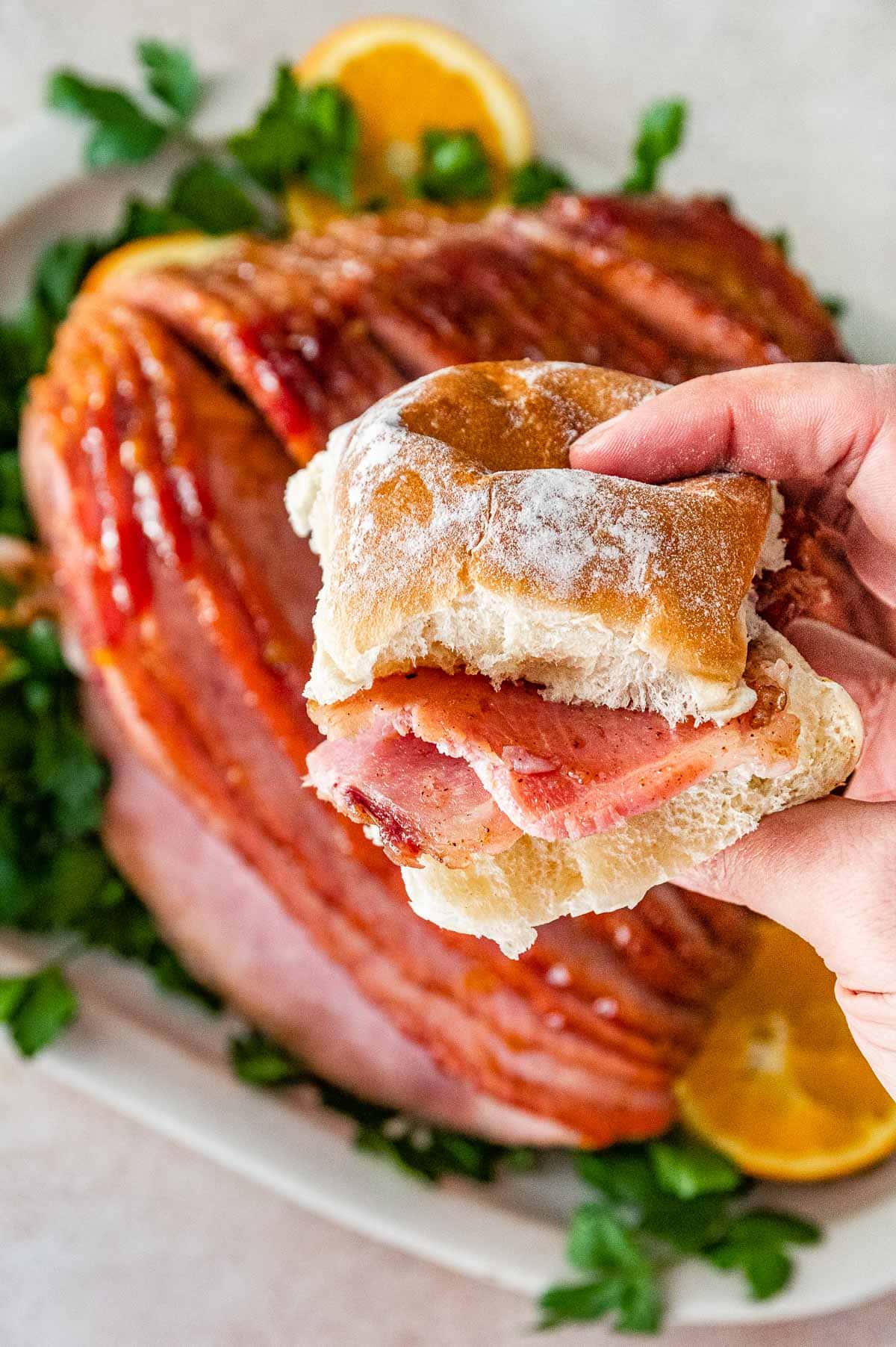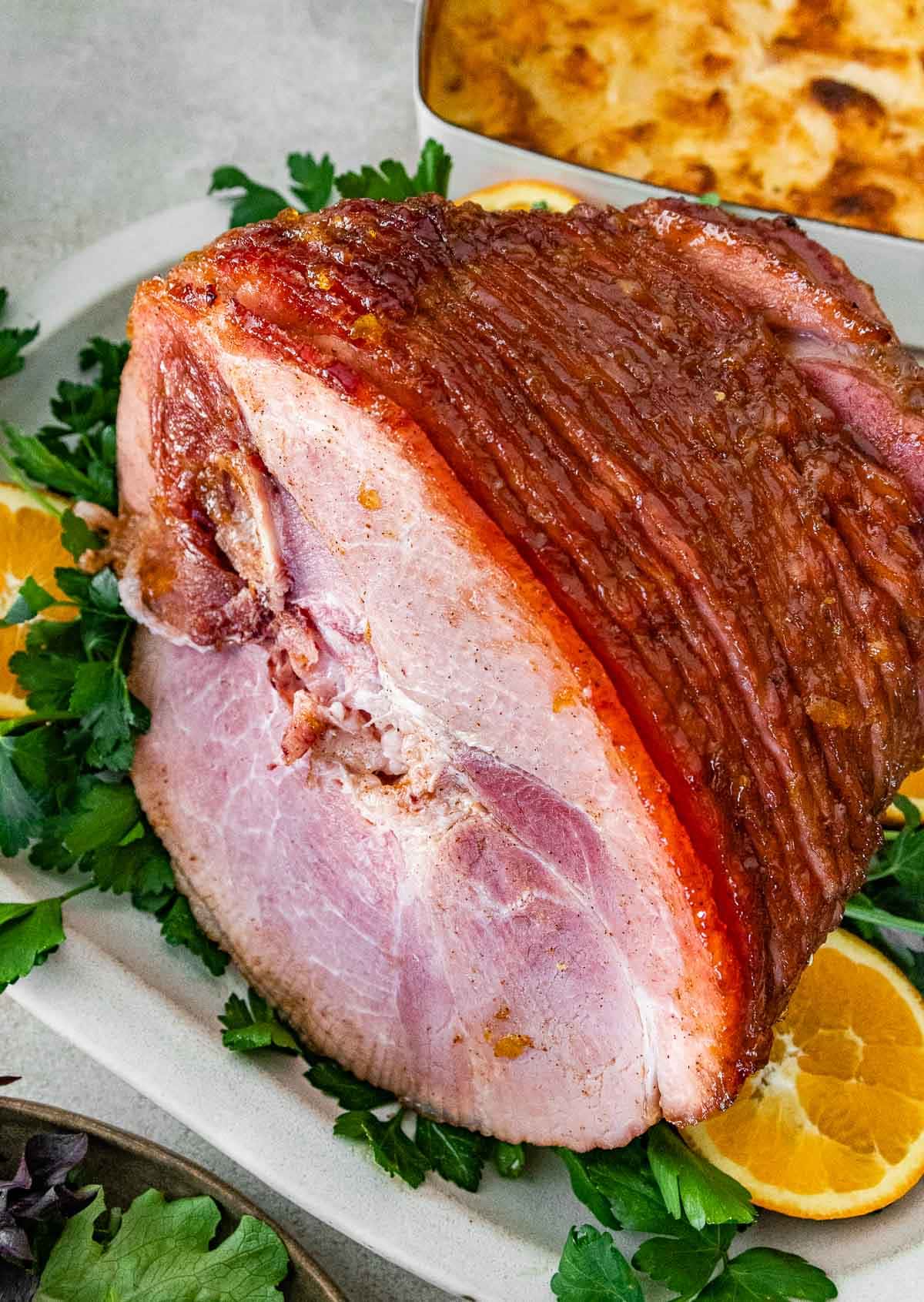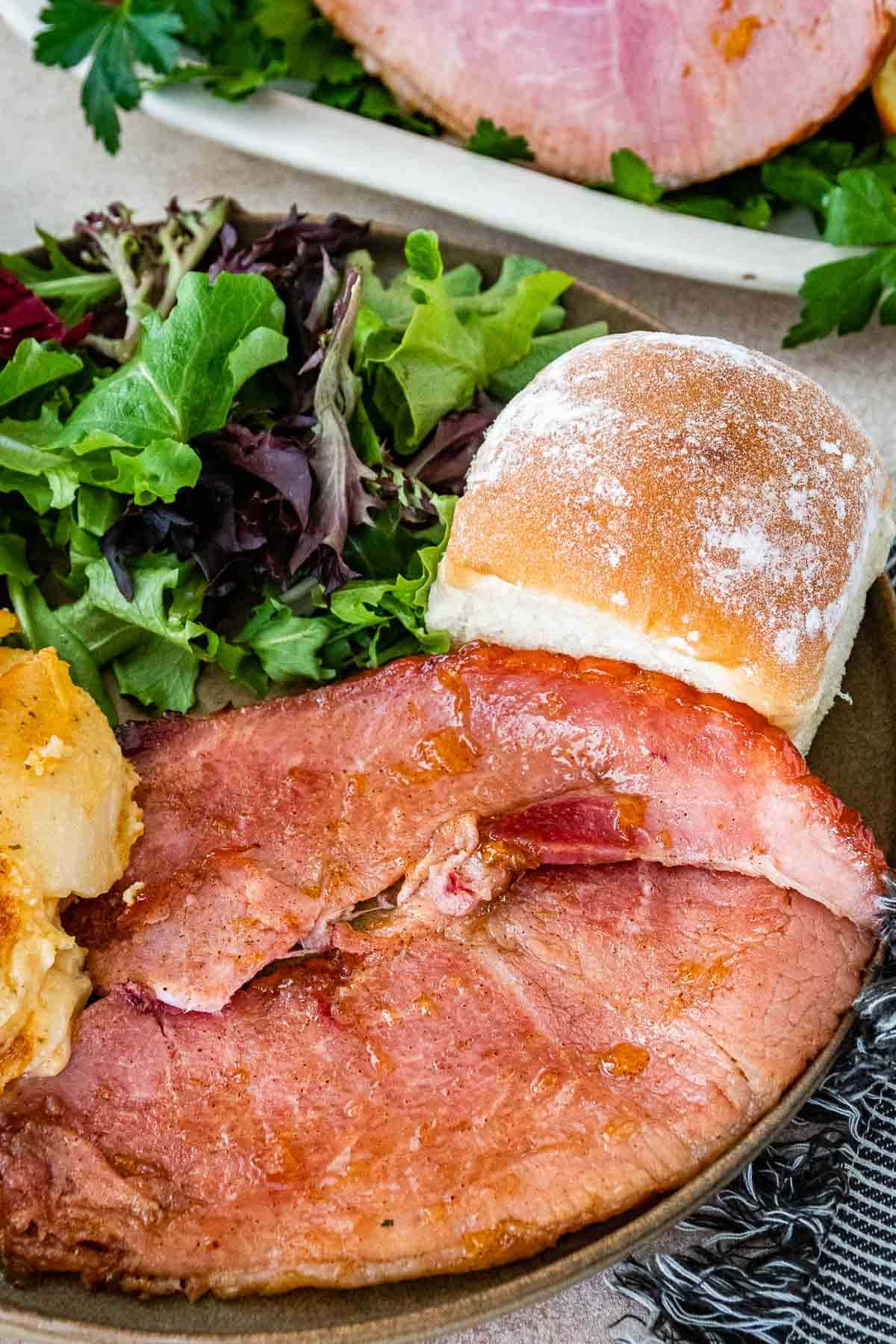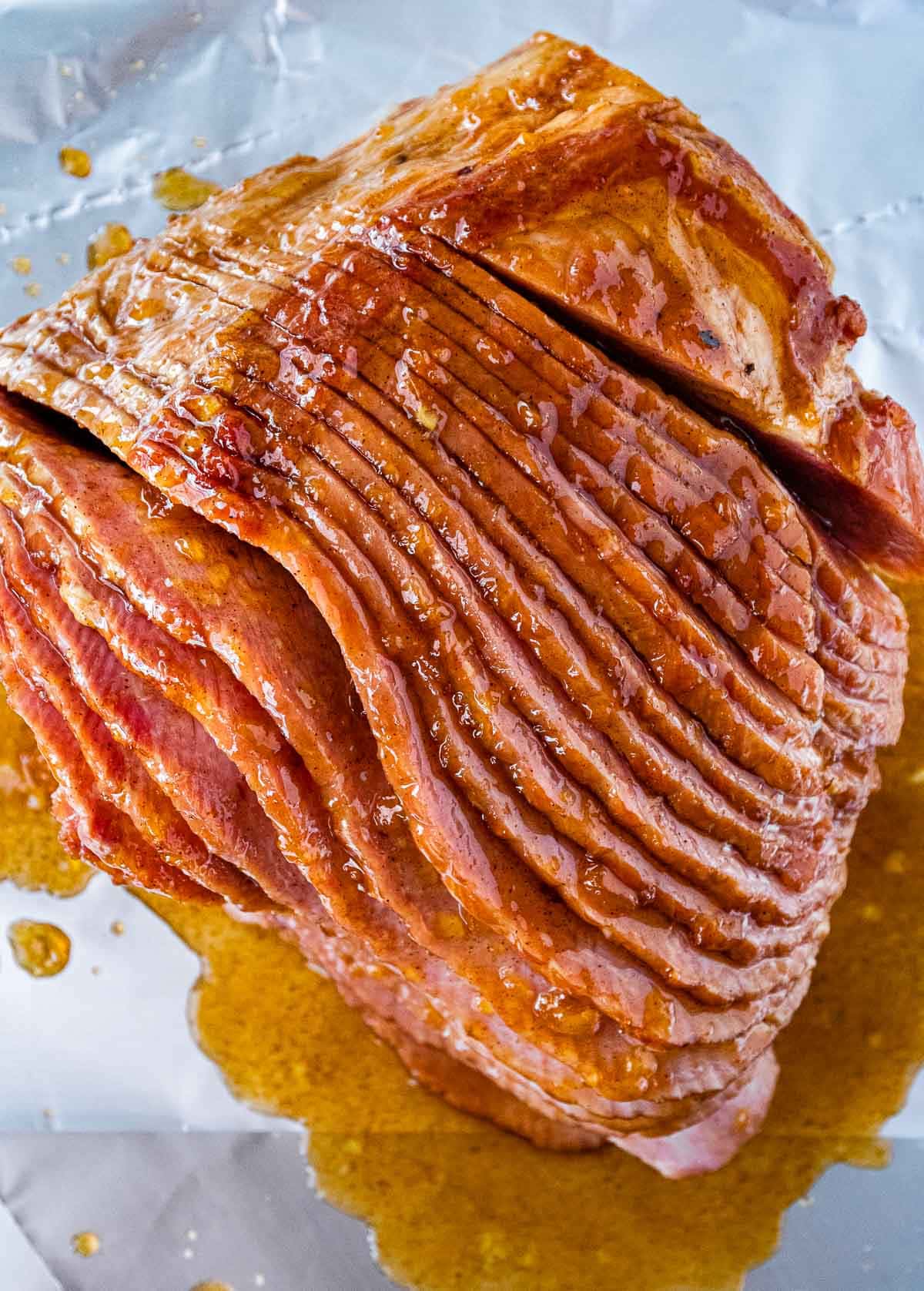 About Our Brown Sugar Peach Baked Ham Recipe
This is a tasty option for any special occasion. The classic brown sugar glaze gets reworked with irresistible fruit flavors that everyone is sure to love! It still has the classic taste of a holiday ham, but with the addition of more refreshing ingredients. Enjoy it with your family for any of your holiday dinners. Its a fun take on a traditional dish.
Although this dish looks and tastes impressive, the cooking process is actually quite easy. There are only a few recipe directions to get the meat and glaze prepared for the oven, then you just cover the dish and pop it in the oven to finish. Once it's done, you can serve it up with your favorite holiday sides to complete the meal. 
"Can Brown Sugar Peach Baked Ham be made ahead?"
Preparing Holiday Dinners can be really busy and there's so much to do. It would be so helpful to make this Baked Ham ahead and you can do that if you like. Just prepare the ham according to the directions. Let it cool completely and place it in the refrigerator. When you're ready to eat it you can choose to eat it cold, let it sit out for an hour so you can serve it at room temperature, or heat it up. To warm it, set the oven at 325 degrees and cover with foil. It will warm up faster if you cut the slices off the bone and place them on a baking sheet, covered, to warm in the oven.
Brown Sugar Peach Baked Ham Ingredients
1 spiral-cut ham: This great holiday ham is so easy to roast and slice into even pieces for the whole family. While it can dry out, the glaze prevents that so you still get a flavorful and juicy ham dinner.
Fruit: ¼ cup orange juice and 2 cups peach preserves give this dish a unique flavor from a typical Baked Ham recipe. It's refreshing and bright without overpowering the other ingredients.
Spices: Use 1 teaspoon cinnamon, ½ teaspoon cloves, and ½ teaspoon ginger to add a warm spiced flavor to the dish contrasting the sweet and tangy fruit flavors for a well-balanced dish.
¼ cup bourbon (optional): The bourbon is optional in this recipe. However, mixing it into the glaze enhances the sweetness of the fruit ingredients for an even more mouthwatering dish.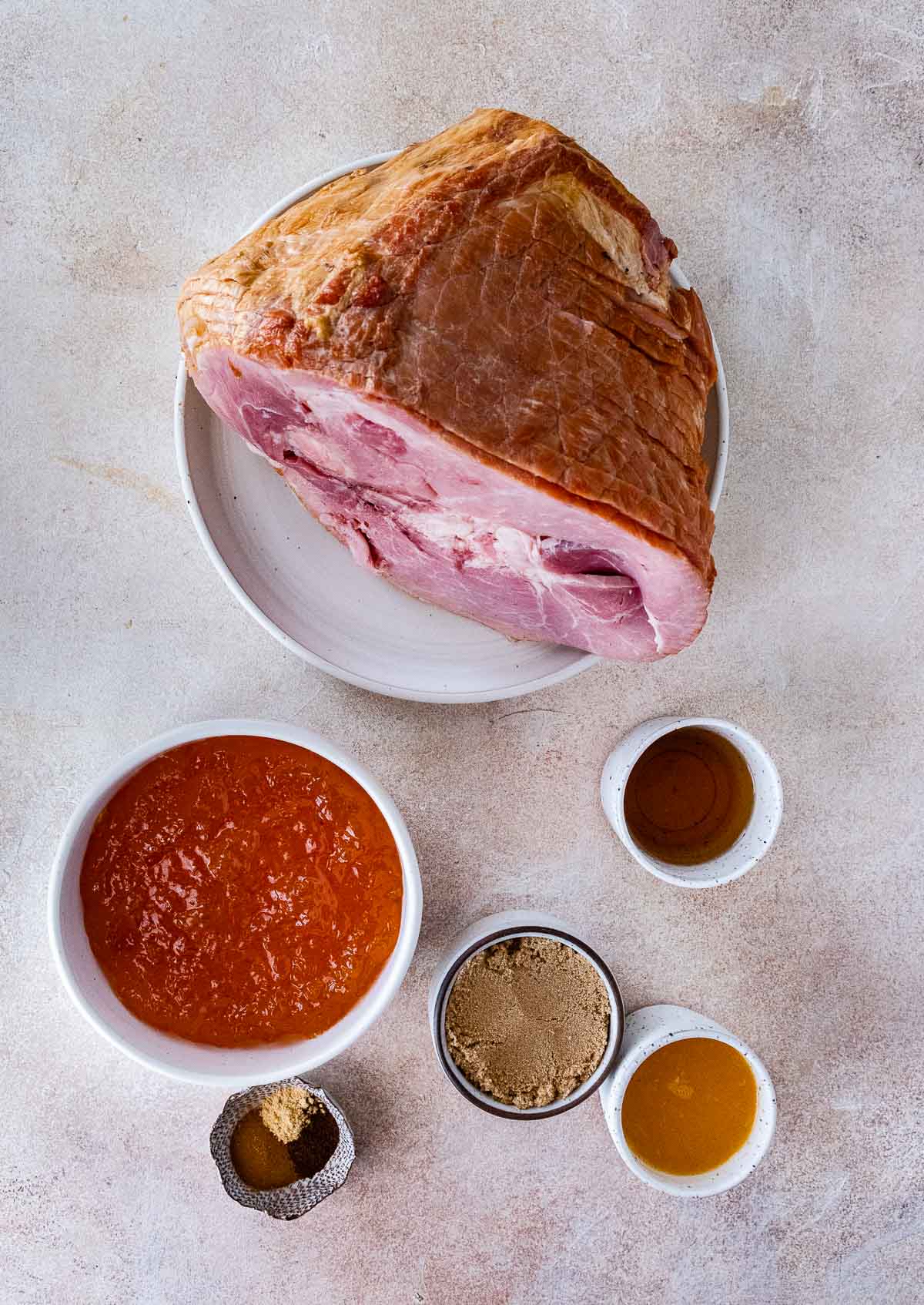 Kitchen Tools & Equipment
Roasting Rack and Pan: A roasting pan is needed to contain the ham and the juices, however the ham will sit in a rack that rests in the pan.
Saucepan and Spoon: Use a medium saucepan to make the liquid glaze for your ham. You'll need a spoon with a long enough handle to stir the glaze as it cooks.
Teaspoon Measures and Cup Measure: There are several spices to use in this recipe. You'll need a teaspoon measure to get the balance right. You'll use a cup measure for the bourbon, orange juice, and preserves.
Aluminum Foil: Your ham will cook covered in the oven so you'll need some aluminum foil to cover it. If you have a very large pan, you might need an extra long foil so you won't have to double up the foil to cover it all. However, if you can't find foil to fit your pan, using 2 pieces is fine. Just make sure it is well-covered.
Meat Thermometer: Use a meat thermometer to ensure your ham has reached an internal temperature of 145 degrees.
How to Make Brown Sugar Peach Baked Ham
Time needed: 1 hour and 40 minutes.
Prep Time

Start by preheating the oven temperature to 350 degrees. Rinse the entire ham in the sink and pat the meat dry. Then add a roasting rack to a large roasting pan. The roasting rack helps the meat to cook evenly on the bottom.

Glaze

Add the peach preserves, brown sugar, orange juice, cinnamon, cloves, and ginger to a large pot. If you want to make the glaze with bourbon, add it now as well. Stir the glaze until the sugar is dissolved. Bring the glaze mixture to a boil over medium heat, then let it cook for another 3-4 minutes. 

Dress the Ham

Pour the sweet peach glaze over the ham, making sure to reach each slice.

Foil Wrap

Wrap the ham with foil.

Cooking Time

Put the ham on the roasting rack and place pan in the preheated oven. Bake for 1-½ hours. To be safe, ham should have an internal temperature of 145 degrees. If the internal temperature hasn't reached that yet, put it back in the oven for a few more minutes of baking before serving.

Serve

Carefully remove the ham from the oven and let it cool about 10 minutes before handling it. Then uncover and serve.
Nutritional Facts
Nutrition Facts
Brown Sugar Peach Baked Ham (w/ Bourbon option)
Amount Per Serving
Calories 434
Calories from Fat 1206
% Daily Value*
Fat 134g206%
Cholesterol 496mg165%
Sodium 9524mg414%
Potassium 2385mg68%
Carbohydrates 69g23%
Protein 173g346%
Vitamin A 13IU0%
Vitamin C 9mg11%
Calcium 91mg9%
Iron 8mg44%
* Percent Daily Values are based on a 2000 calorie diet.
Recipe Tips & Tricks
Make this ham the star of your dinner table by following these tips.
Infuse the Peach Flavor

When adding the glaze to your ham, use a brush to spread the glaze not only over the outside of the ham, but also fan out the spiral-sliced pieces and get the glaze in every spiral by brushing the face of each slice.

Achieve Evenly Baked Ham

Be sure to use the roasting rack for your ham so it is not sitting in the juices. Sitting in the base of the pan, it will not cook evenly as that portion will cook faster than the rest of the ham.

Thermometer Placement

When checking the temperature of your ham, it is important to get the thermometer in the right spot for an accurate reading. You don't want it to be touching the bone. You want the thermometer to be in the middle of the thickest part of the ham meat.
What to Pair With Brown Sugar Peach Baked Ham
This Ham recipe has such a nice sweetness to it, you will want to serve it with some savory sides to balance the flavor. It goes great with a side of Creamy Mashed Potatoes, Roasted Vegetables, and Fluffy Dinner Rolls with butter. You could try some cheesy sides as well, like Scalloped Potatoes, Mac and Cheese, or Cheesy Corn Casserole. An easy side to make ahead of time, requires no reheating, and would pair well with the Peach Glazed Ham would be homemade Potato Salad.
How to Store Brown Sugar Peach Baked Ham
Serve: You should never leave cooked meat at room temperature for more than 2 hours.
Store: After it's cooled, you can slice the ham and store it in airtight plastic containers in the fridge for 3-5 days.
Freeze: You can also seal and freeze the ham for up to 6 months. Reheat the pre-cooked ham in a 325-degree oven until it's warmed through.
Ideas to Serve Brown Sugar Peach Baked Ham
Serve this Baked Ham for Thanksgiving, Christmas, or Easter. Take it to your next potluck to impress all your friends. Don't just serve them alongside Fluffy Dinner Rolls, instead use the rolls to serve ham sliders. Use the leftovers to make this Egg Skillet with ham instead of sausage, Cheesy Ham and Hash Brown Casserole, or this Ultimate Ham Sandwich. The possibilities are endless, and no matter how you serve it, it is delicious.
Alternative Brown Sugar Peach Baked Ham Cooking Techniques
Slow Cooker Brown Sugar Peach Ham
To make Brown Sugar Peach Ham in your Crock Pot, begin by rinsing and drying your ham. Place it in the slow cooker. Then bring peach preserves, bourbon (optional), brown sugar, orange juice, and spices to a boil. Cook for 3-4 minutes. Glaze the ham, covering each slice. Cover the cooker, and cook on low for 2-3 hours or until it reaches 145 degrees internal temperature.
FAQs for Brown Sugar Peach Baked Ham
What kind of ham should I buy?
You need to purchase a spiral-sliced ham. It will already be fully cooked and have the bone in. If it does not have the bone, you'll adjust the cooking time to be a little less. The size will depend on how many guests you have. You can estimate ⅓ to ½ pound of ham per person.
Can I use different preserves?
You can use any preserves you choose. Apricot, mango, or pineapple would all taste delicious. For more ideas on changing up the flavors, see variations below.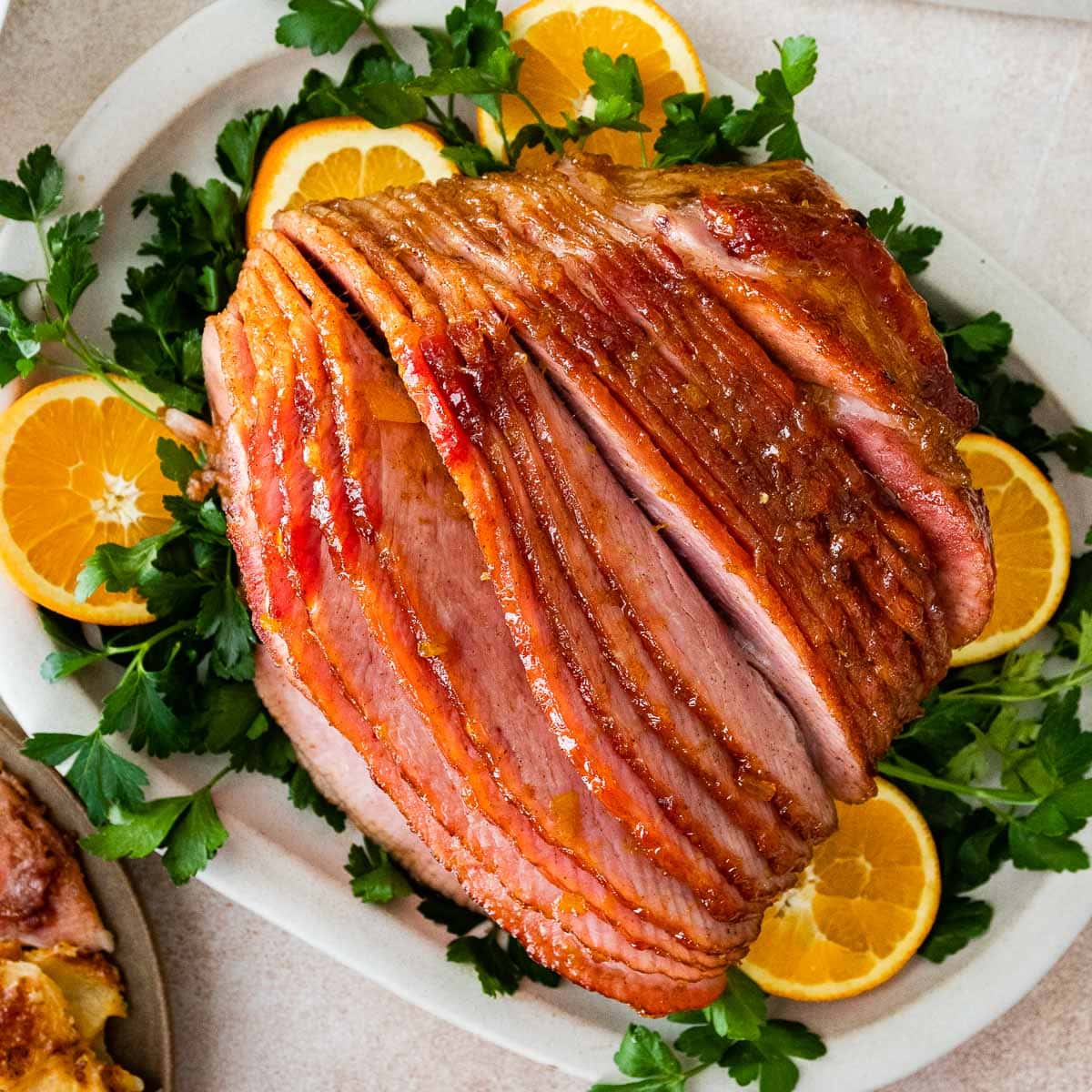 Recipe Card


Ingredients
1

spiral cut ham

2

cups

peach preserves

1

cup

brown sugar

, packed

1/4

cup

orange juice

1/4

cup

bourbon

, (optional)

1

teaspoon

cinnamon

1/2

teaspoon

ground cloves

1/2

teaspoon

ground ginger
Instructions
Preheat oven to 350 degrees and add a roasting rack to a large roasting pan.

Rinse the ham, pat it dry with paper towels, and place it in a large piece of foil to wrap it closed.

In a large pot add the peach preserves, brown sugar, orange juice, bourbon, cinnamon, cloves, and ginger and stir well.

Bring glaze mixture to a boil on medium heat and cook for

3-4 minutes

Pour onto each individual slice of ham and over the top of it before wrapping the foil tightly and baking for

90 minutes.
Nutrition
Calories:
434
kcal
|
Carbohydrates:
69
g
|
Protein:
173
g
|
Fat:
134
g
|
Saturated Fat:
48
g
|
Cholesterol:
496
mg
|
Sodium:
9524
mg
|
Potassium:
2385
mg
|
Fiber:
1
g
|
Sugar:
55
g
|
Vitamin A:
13
IU
|
Vitamin C:
9
mg
|
Calcium:
91
mg
|
Iron:
8
mg
Brown Sugar Peach Baked Ham Variations
Fruit Flavors: You can try different kinds of fruit juices in the glaze to replace the orange juice. Apple juice or pineapple juice would both taste great. You could also serve the ham with maraschino cherries, pineapple slices, orange slices, or lemon slices.
Seasonings: An easy way to experiment with the flavors in any recipe is by adding in your favorite herbs and spices. Try mixing black pepper, dry mustard, garlic powder, paprika, nutmeg, or rosemary into the glaze. If you want a slightly spicy glaze, you could even add a pinch of cayenne pepper.
Whiskey Glaze: Just like we've used bourbon in this recipe, you can cook whiskey into the glaze for an enhanced flavor.
Related Recipes