Brown Sugar Chicken Brine is the perfect way to prepare juicy chicken, but with a sweet and spicy twist made with brown sugar, molasses, and cayenne pepper.
This easy Chicken Brine Recipe is the perfect way to prepare Roasted Chicken Thighs so that they are packed with tons of flavor. Add in some sides and you'll have the perfect Easy Weeknight Dinner.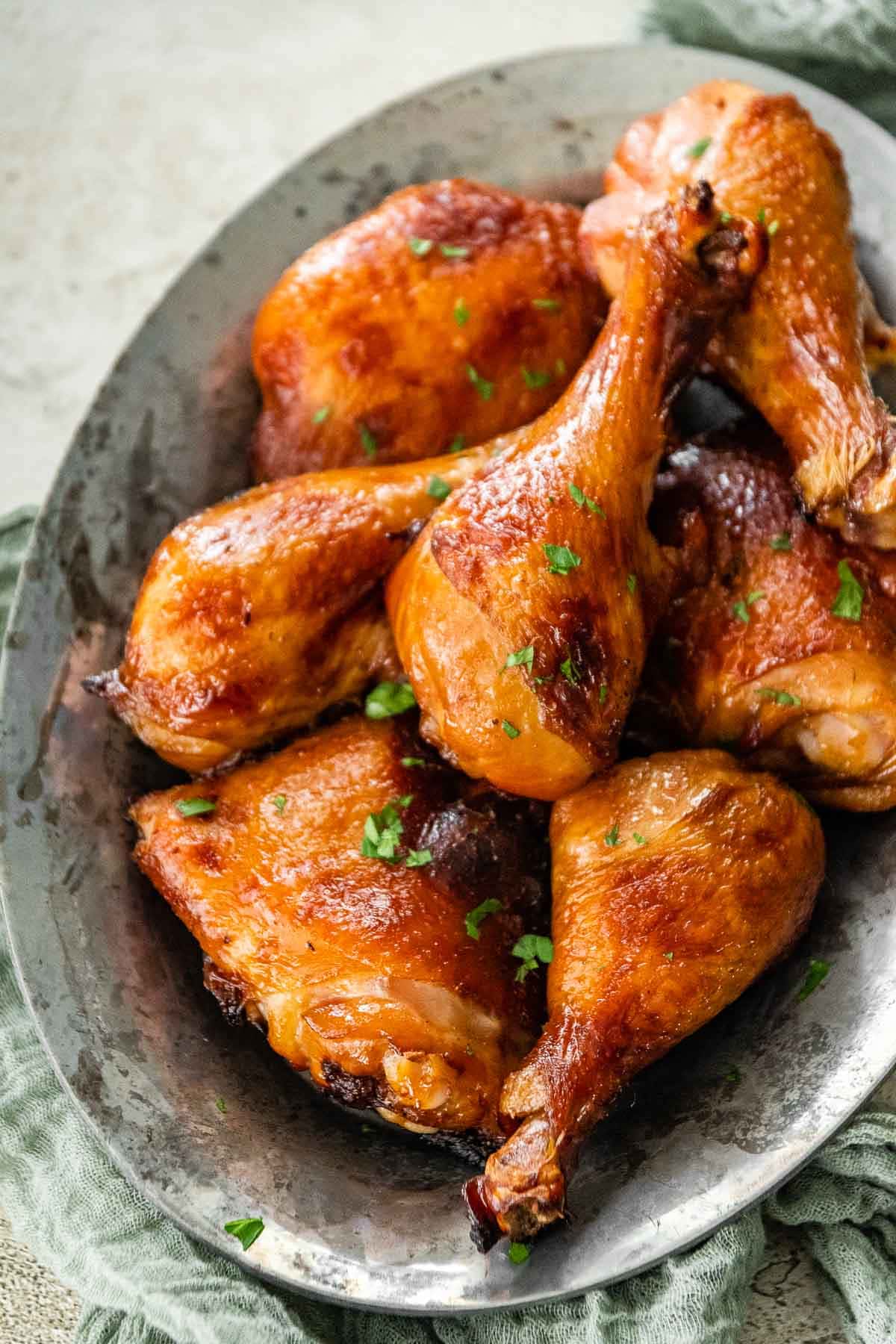 This Chicken Brine recipe is a super-easy way to make flavorful chicken recipes. All you have to do is add the spice, salt, and sugar to water. Then dissolve the ingredients into a quick chicken brine. Place the chicken in the brine to soak, and in a few hours, you'll have the moistest chicken ready to pop in the oven!
This recipe adds cayenne pepper, soy sauce, brown sugar, and molasses to this simple chicken brine so it gives the chicken a dark, sweet, and spicy taste. Aside from those, you will also see basic ingredients that you'd find in a Traditional Chicken Brine.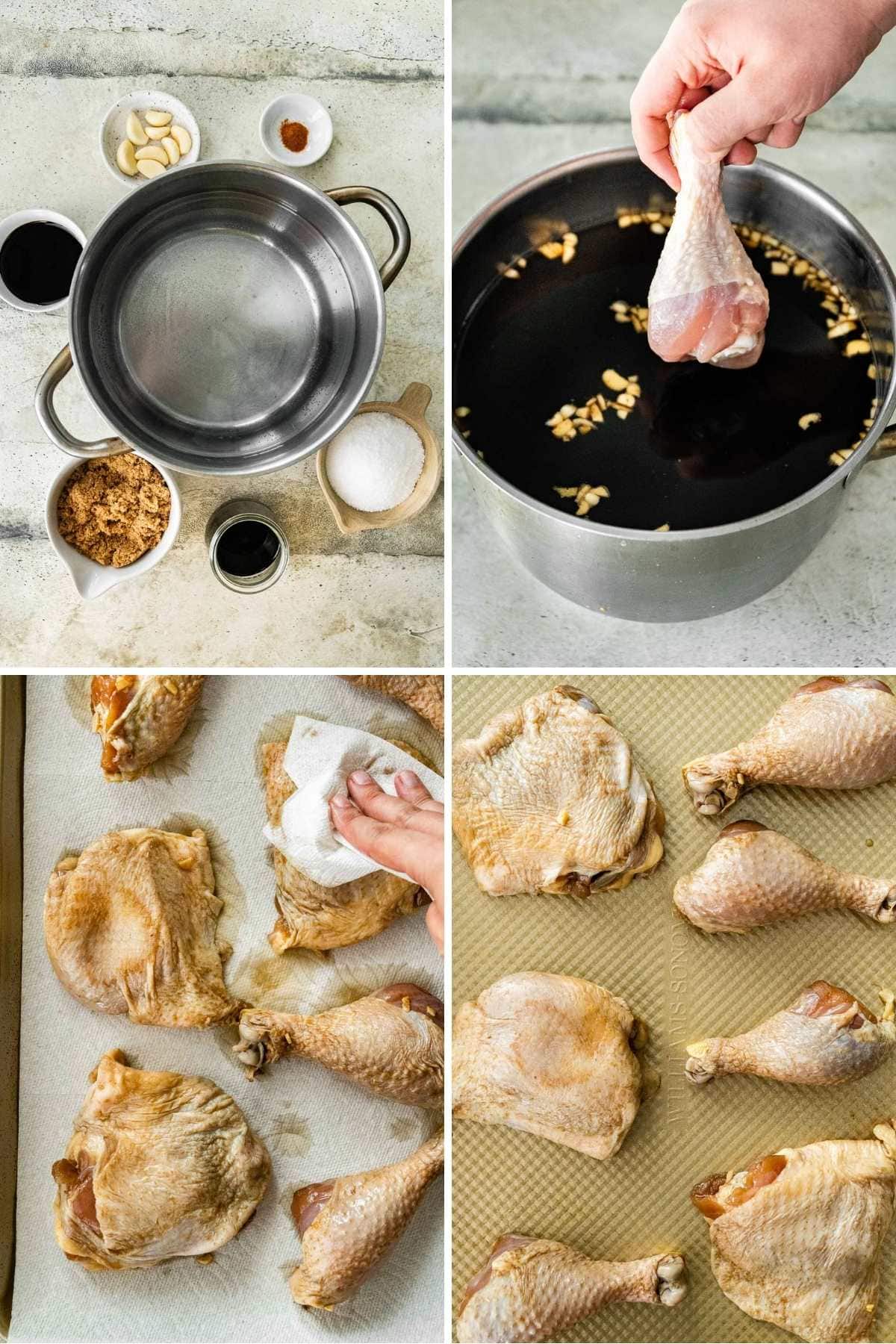 While the other ingredients add plenty of flavors to make the perfect chicken, the key to a chicken brine is dissolving salt in water. While you brine a chicken the liquid soaks into the meat along with any extra flavors you've added, and the salt breaks down proteins to further tenderize the meat. Once it's done you'll have amazingly flavorful, sweet, and juicy chicken!
Key Ingredients
Kosher Salt: Salt is what will help tenderize your meat while it sits in the brine. It will also help your chicken retain moisture once it cooks. Be sure to use kosher salt for your brine, rather than table salt. Kosher salt crystals are perfect for dissolving in water and it creates an excellent brine.
Soy Sauce: The salt in soy sauce will give the kosher salt a boost, further tenderizing your chicken. Additionally, the soy sauce will add a little extra flavor to your chicken.
Brown Sugar and Molasses: The brown sugar and molasses are there to add some sweet flavor to balance out the salt in your chicken. They will also help your chicken brown nicely in the oven.
Garlic and Cayenne Pepper: Use the brine to tenderize your chicken, but while it's sitting there in that brine, why not bring some other flavors in as well? The garlic and cayenne pepper will add some spiciness to the sweet and salty flavors.
Chicken Recipes That You Can Brine
How to Make Brown Sugar Chicken Brine
Wet Brine: Add water to a large stockpot. Mix the brown sugar, kosher salt, molasses, low sodium soy sauce, garlic, and cayenne pepper into the wet brine. Bring to a boil and mix the ingredients until the sugar and salt dissolve into the brining mixture.
Chicken Prep: Turn off the heat and let the brining solution cool to room temperature. Then put the chicken in the brine. Cover and refrigerate for a minimum of 4 hours or up to 8 hours. 
Cook: When you get to the end of the brining time, preheat the oven to 400 degrees. Drain the chicken, and rinse it under cold water in the sink. (Make sure to sanitize the sink before using it again). Gently pat any excess moisture from the chicken with paper towels. Place the chicken on a baking pan and cook for 35-40 minutes until it's at 165 degrees at the thickest point.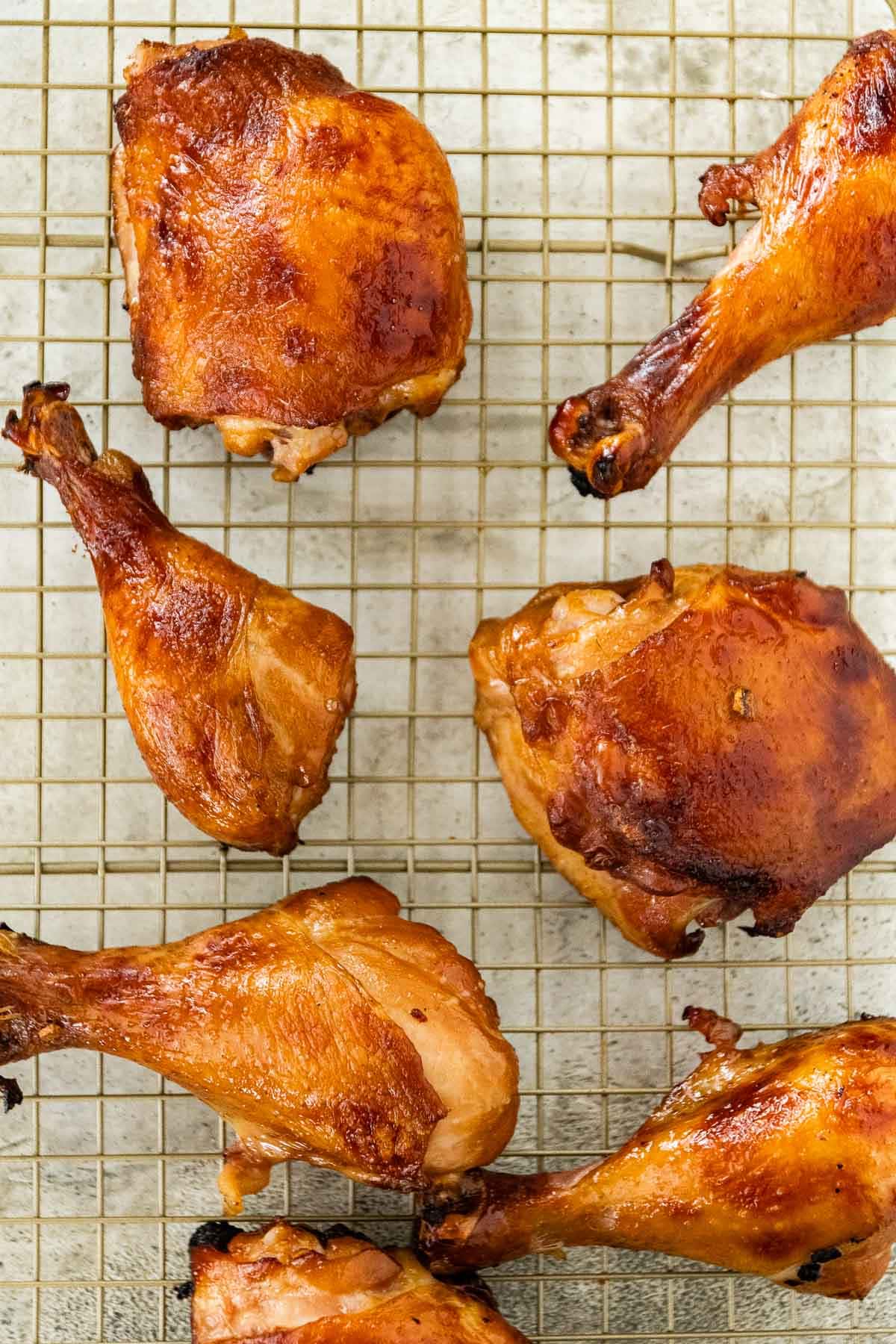 Create a free account to Save Recipes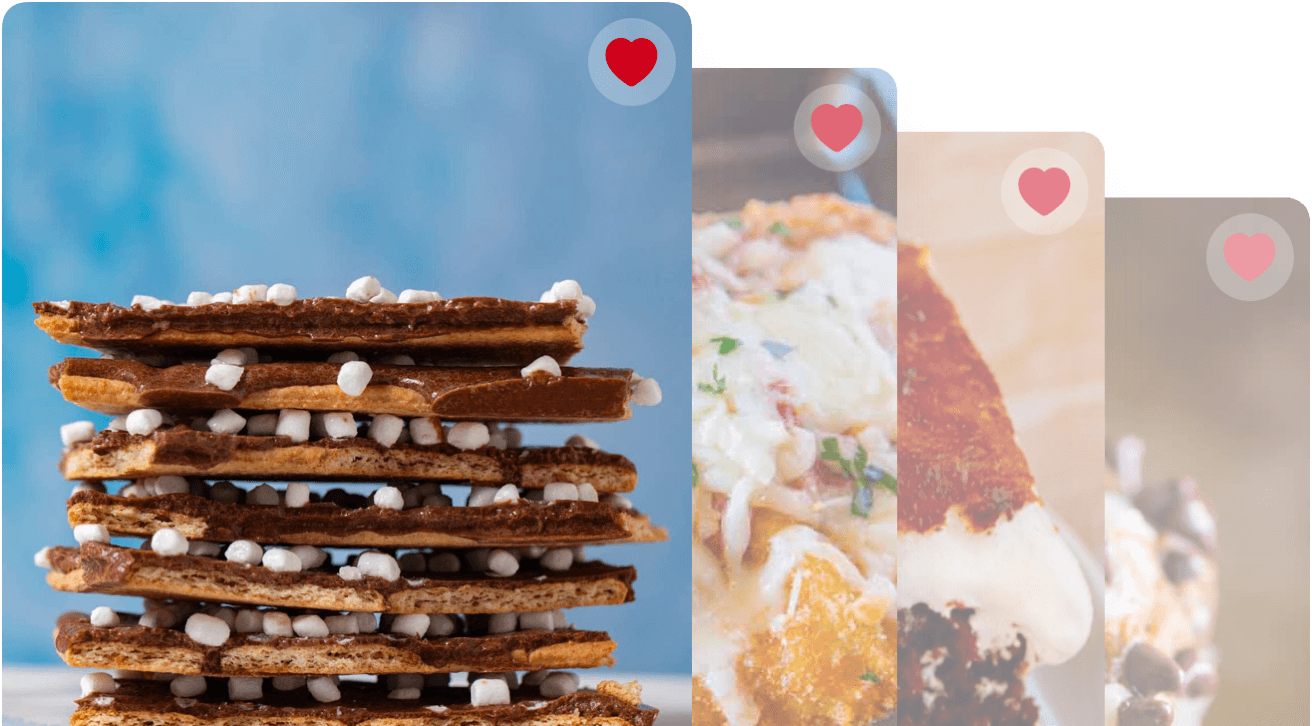 Frequently Asked Questions About Brown Sugar Chicken Brine
Why rinse the chicken after it comes out of the brine?
It is important to rinse the chicken because there is a lot of salt in the brine, so much that it may make the chicken too salty to eat.
Why pat the chicken dry before cooking it?
Deliciously crispy chicken skin is one of small joys in life. However, wet skin on your raw chicken will make your cooked chicken skin soggy. Make sure to pat it dry as well as you possibly can before putting it in the oven.
Why does chicken need to be refrigerated while brining?
The brine alone will not protect bacteria from growing on your chicken. That chicken and the brine should go into the refrigerator, just like you'd store any raw chicken in the refrigerator until ready to cook it.
Variations
Meat: You can try using different cuts of chicken in the brine like chicken breasts. Soak the chicken for 4 hours to make tender chicken breasts. You could also use turkey legs or other turkey pieces in this brine to make moist turkey.
Additional Seasonings: This recipe uses simple ingredients, brown sugar, molasses, and a few spices to perfectly flavor the chicken. You can experiment with overall flavor by adding more of your favorite seasonings into the mix. Try adding black pepper, bay leaf, paprika, onion powder, black peppercorns, allspice, or minced garlic cloves. 
Orange Chicken: To add a bright, citrusy flavor to the recipe, whisk 1-2 cups of orange juice into the brining mixture to flavor the chicken. 
What to Serve with Brined Chicken Dinner
How to Store
Serve: Don't leave your Chicken recipe at room temperature for more than 2 hours.
Store: After the chicken has cooled, put it in an airtight container to store in the fridge for 3-4 days. You can also make the chicken brine recipe ahead of time and store it in the fridge for up to 2 weeks before using it to brine the chicken.
Freeze: If you want to store the chicken longer, seal it in a freezer bag or another airtight container to keep in the freezer for up to 3 months.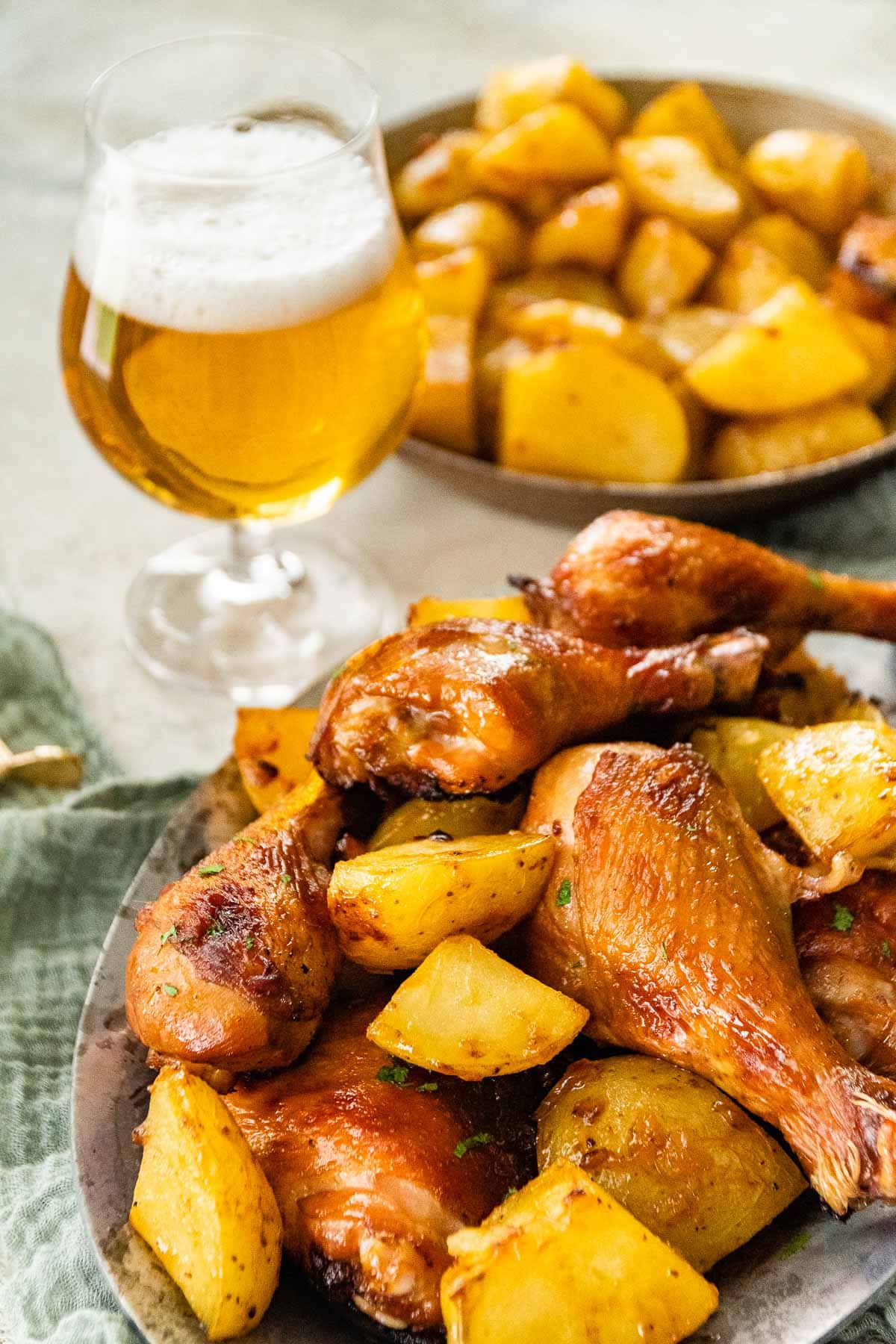 Ingredients
16

cups

water

3/4

cup

brown sugar

, packed

3/4

cup

kosher salt

1/4

cup

molasses

1/4

cup

low sodium soy sauce

8

cloves

garlic

, minced

1/2

teaspoon

ground cayenne pepper

8

chicken thighs

, bone-in and skin-on

8

chicken legs

, bone-in and skin-on
Instructions
In a very large stockpot add the water, brown sugar, kosher salt (do not use table salt), molasses, low sodium soy sauce, garlic, and cayenne pepper.

Bring to a boil on high heat.

Stir well until sugar and salt have dissolved.

Turn off heat and let cool naturally until water is at room temperature.

Add chicken to the pot and cover.

Refrigerate for a minimum of

4 hours

, up to

8 hours

.
To Cook:
Preheat the oven to 400 degrees.

Remove chicken from brine and rinse under a very slow stream of water (sanitize your sink after rinsing).

Dry the chicken gently with paper towels.

Place into baking pan and cook for

35-40 minutes

until chicken is cooked through to 165 degrees at its thickest point.
Nutrition
Calories:
321
kcal
|
Carbohydrates:
15
g
|
Protein:
20
g
|
Fat:
20
g
|
Saturated Fat:
5
g
|
Polyunsaturated Fat:
4
g
|
Monounsaturated Fat:
8
g
|
Trans Fat:
0.1
g
|
Cholesterol:
115
mg
|
Sodium:
5563
mg
|
Potassium:
360
mg
|
Fiber:
0.1
g
|
Sugar:
14
g
|
Vitamin A:
129
IU
|
Vitamin C:
1
mg
|
Calcium:
44
mg
|
Iron:
1
mg