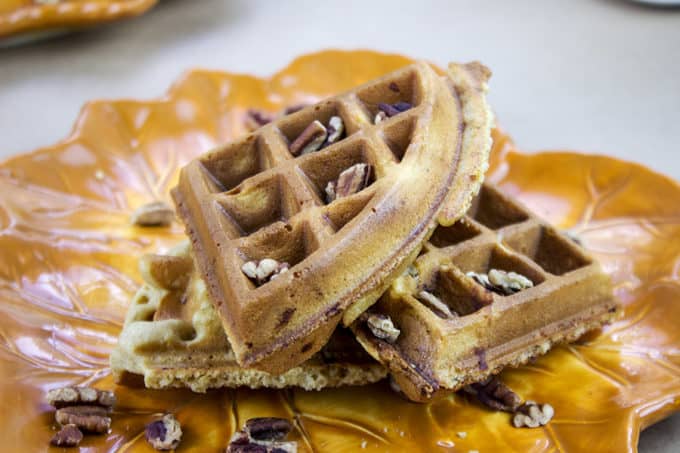 Brown Sugar Pecan Buttermilk Waffles are the perfect warm and cozy breakfast you'll want to enjoy now that the weather is cooling down but not full of holiday ingredients you may already have your fill of!These waffles are sweet from the brown sugar, tangy from the buttermilk, crunch from the minced pecans in the waffle and fluffy all at the same time. It also doesn't hurt that you can start the batter and be eating in less than 20 minutes!
This recipe does require the use of a special kitchen electric. It actually happens to be my husband's favorite because he absolutely loves waffles so the Belgian waffle maker in our house is a total workhorse. It is a favorite of mine mostly because it is foolproof and I can add the batter, set it to cook and wait for the beep to tell me they're ready while I prepare the rest of the meal. I joke it is my breakfast sous chef, so needless to say this sous chef earns it's cabinet space! Also ours is special because it is a double waffle maker so you make two large round waffles at the same time!
This recipe is so easy I like to call it an almost pantry recipe. I make when I've purchased buttermilk for a recipe that calls for a small amount and leaves me with extra. Aside from the buttermilk everything else in the recipe is a basic pantry item for us, so the only thing we have to be on the lookout for when we make these is, 1: Do we have buttermilk and 2: Do we have maple syrup.
This house is obsessed with maple syrup and my memory is shot from the blog, clients and two little ones. This means I never remember what we need or don't need in the house and it explains why when I made these waffles and I had a moment of panic that we may not have maple syrup only to open the cabinet to find (I kid you not) 3 unopened bottles. Yikes.
The pecans in the recipe serve double duty, I mince up a portion of them and add them to the batter and then the rest are scattered on top. I also only use one bowl to make this since it is just one less bowl to wash. After I mix the dry ingredients, I make a well in the middle of the bowl like I was making fresh pasta. Add the wet ingredients to the middle and whisk carefully trying not to add the dry ingredients in yet. Then when the wet ingredients are mostly combined, I whisk the dry ingredients towards the middle of the bowl. Sounds much more complicated than it is, but hey I just saved myself about 3 minutes of dishwashing. Ok, who am I kidding, I saved my husband 3 minutes. 🙂 He is the best.
I was also going to make a flavored whipped cream for the waffles but honestly with the maple syrup, the brown sugar and the pecans (never mind the delicious bacon I served along side these) it would have been overkill to make the whipped cream.
Today I flew home to Los Angeles for the second food blogging conference in the last week. At least I got to benefit from not even having to really unpack anything but clothing before flying back out! As I tend to do before I am getting ready to head to the airport we always enjoy breakfast for dinner (this is usually because it is the easiest and quickest thing to make and the kids definitely won't put up a fight against bacon and sausage!). In honor of that I am bumping up this post which I originally had planned to go live next weekend and am celebrating breakfast food. Hopefully as you are enjoying this post this morning I will be enjoying some delicious Coffee Bean coffee with some dear friends I miss so much!
PS, don't forget to check back in tomorrow to see if you won a $50 giftcard to Sprouts! And if you haven't entered, go do it now! You have one day left before the winners are picked! Also, come back Monday to see what the second half of our Dinner, then Dessert Holiday Gift Card Giveaway is going to be from. You'll love the sweet treats they sell!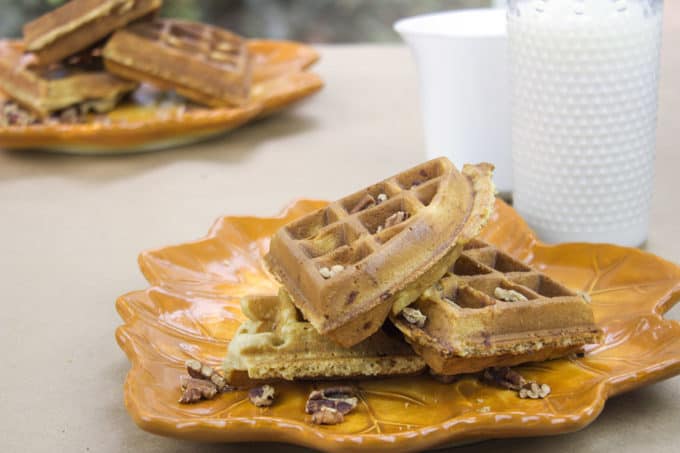 Ingredients
1 1/2

cups

flour

1 1/2

teaspoons

baking powder

1/2

teaspoon

baking soda

1/2

teaspoon

salt

3

tablespoons

brown sugar

1/3

cup

canola oil

2

large eggs

2

teaspoons

vanilla extract

1 1/4

cups

buttermilk

3/4

cup

pecans

, divided (¼ cup minced, ½ cup chopped)
Instructions
Add the flour, baking powder, baking soda, salt, brown sugar and ¼ cup of minced pecans to a large bowl.

Make a large well in the bowl (this prevents using a second bowl, but if you feel uncomfortable with this just mix your wet ingredients separately) and add the eggs, oil, buttermilk and vanilla.

Whisk the wet ingredients together while trying to keep them away from the dry ingredients surrounding them.

Mix the wet into the dry until just combined, so it is still pretty lumpy.

Cook to your waffle makers specifications and top with remaining chopped pecans and maple syrup.
Nutrition
Calories:
583
kcal
|
Carbohydrates:
51
g
|
Protein:
11
g
|
Fat:
37
g
|
Saturated Fat:
4
g
|
Cholesterol:
90
mg
|
Sodium:
542
mg
|
Potassium:
421
mg
|
Fiber:
3
g
|
Sugar:
13
g
|
Vitamin A:
240
IU
|
Calcium:
191
mg
|
Iron:
3.2
mg