Carrot Bundt Cake is a perfectly moist and sweet easy cake recipe filled with warm spices, fresh carrot shreds, pineapple chunks, and walnuts.
Turning a delicious Carrot Cake into a Bundt cake is an easy way to put a new twist on a favorite Cake Recipe. Carrot Bundt Cake has all the flavors you love from the classic layer cake but shaped like a beautiful tasty wreath.
Any carrot cake lover is sure to enjoy this amazing Carrot Bundt Cake with fluffy Cream Cheese Frosting. It's loaded with all the tasty mix-ins like shredded carrots, walnuts, pineapple and coconut that make this Spring sweet so yummy. It's just as rich, flavorful, and delicious as your usual carrot cake recipe with a few added bonuses besides the unique and beautiful shape!
First of all, making a carrot cake in a Bundt pan means that more of the cake batter is touching the pan during the baking time. Classic ingredients like carrots, buttermilk, and pineapple keep the center of the cake perfectly moist while the sugars caramelize into a crispy, sweet crust. It forms a delicious firm outer layer that wraps almost completely around the tender cake inside.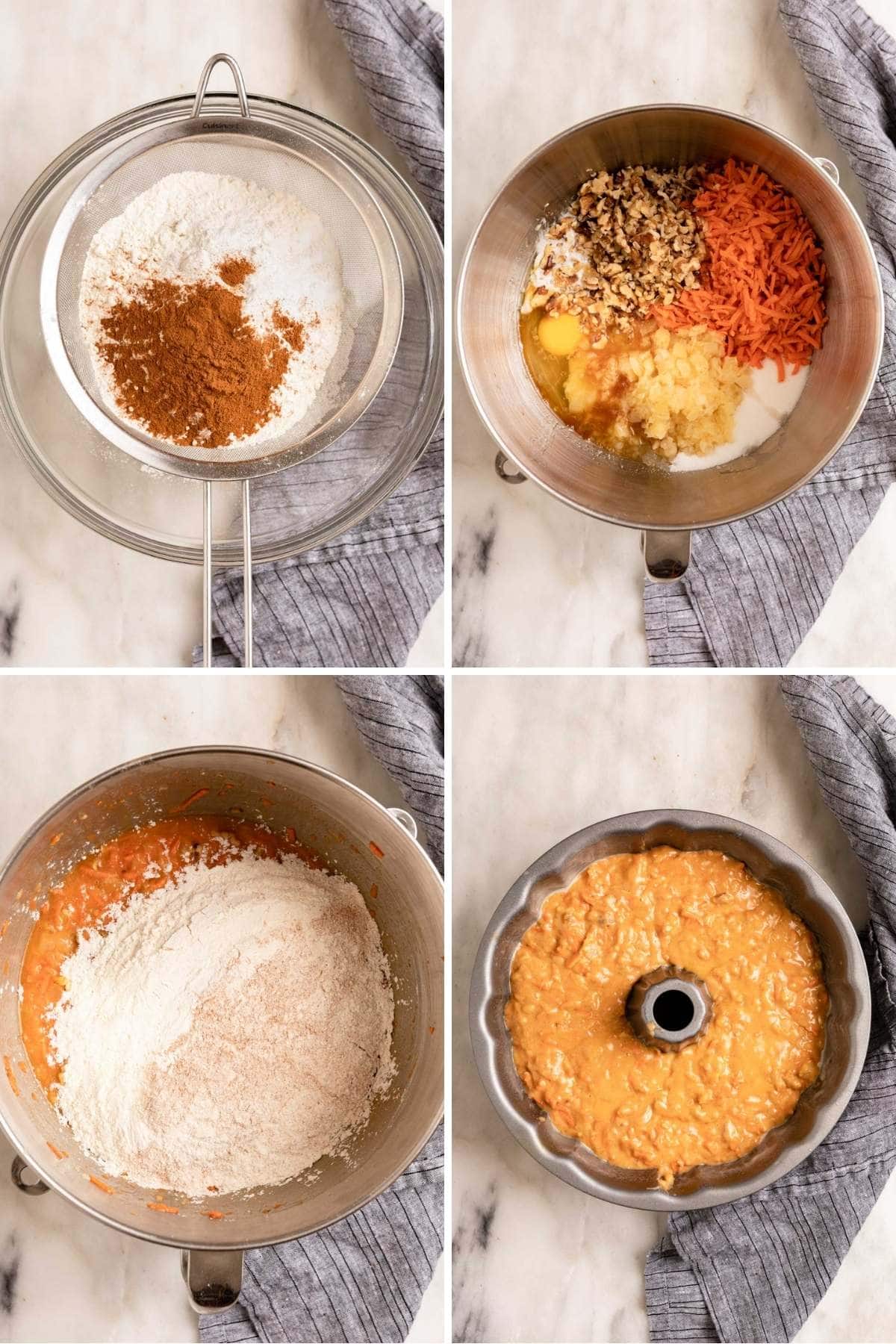 Additionally, a Carrot Bundt Cake is a little bit easier to make than your usual carrot cake. It only takes a few minutes to mix the batter and it all goes into one pan before you pop it in the oven. While a bundt cake has a longer baking time than layered carrot cake, you don't have to worry about cooling it fully and assembling it later. Just cool the baked cake on a wire rack for about 30 minutes then drizzle it with a thick layer of cream cheese icing. This incredible Carrot Bundt Cake is guaranteed to shine on your dessert table during holidays and is the perfect cake for Easter!
How to Make Carrot Bundt Cake
Prep time: To start, preheat the oven to 350 degrees. Grease your Bundt pan with baking spray or use cooking spray and dust with flour.
Cake batter: Sift the flour, baking soda, salt, and cinnamon into a medium bowl, and set it to the side. Then add the eggs, buttermilk, oil, sugar, carrots, walnuts, pineapple, and vanilla to your electric mixer. Combine at low speed before adding the dry flour mixture. Continue stirring, until the dry ingredients are just combined into the other cake ingredients.
Baking time: Pour the batter into the prepared Bundt pan, and use a spatula to make sure it's spread evenly. Pop it in the oven for 70-75 minutes. After the cooking time, use a toothpick to double-check it's done. Then let the carrot cake cool on a wire rack.
Cream Cheese Icing: Add the butter, cream cheese, and vanilla extract to a large mixing bowl or stand mixer. Cream butter and cream cheese at medium speed, for 2-3 minutes until light and fluffy. Then lower the speed, so you can add the powdered sugar. Continue stirring to combine the cream cheese with sugar. Then raise the speed to medium for about 30 seconds. Once the mixture is fluffy, spread it over the Carrot Bundt Cake. Let it all set before you slice and serve the frosted cake.
FAQs for
Carrot Bundt Cake
Do I need to refrigerate cream cheese frosting?
Cream cheese frosting should be stored in the refrigerator, as it contains dairy products that can spoil if left at room temperature for too long. So any leftover frosted cake should be covered or stored in an airtight container in the refrigerator to keep it from spoiling.
Why do you use vegetable oil in this cake?
Vegetable oil is used in a carrot cake instead of butter because it is a neutral-tasting oil and does not add any additional flavor to the cake like butter would. Additionally, it keeps the cake moist and tender by providing a consistent texture throughout the batter that bakes evenly with no cold spots.
Can I make this recipe into cupcakes?
Yes, you can easily turn this Carrot Cake recipe into Carrot Cake Cupcakes. Prepare the carrot cake batter as usual and fill a lined muffin tin cups 2/3 full with cake batter. Bake for 18-22 minutes, or until a toothpick inserted into the center comes out clean with moist crumbs.
What makes a bundt cake different?
A Bundt cake is different from other cakes in that it is baked in a distinctive ring-shaped Bundt pan, which gives it a unique shape and decorative fluted edges. The pan itself also allows for better heat distribution and results in a more even baking.
How long should a cake sit in a bundt pan before removing?
A cake should sit in a Bundt pan for at least 10-15 minutes after being removed from the oven before attempting to remove it from the pan. This allows the cake to cool and contract slightly, making it less likely to stick to the pan and less likely to fall apart when removed.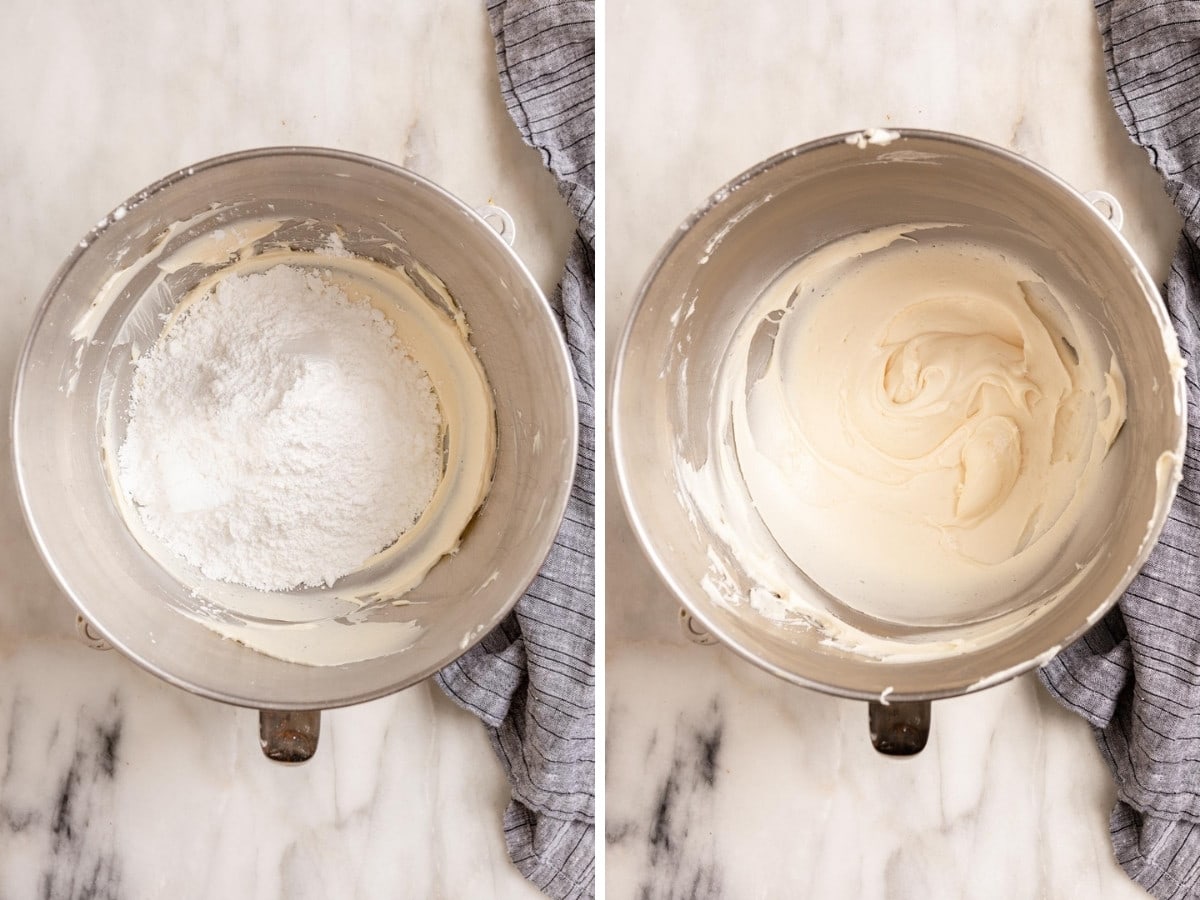 Create a free account to

Save Recipes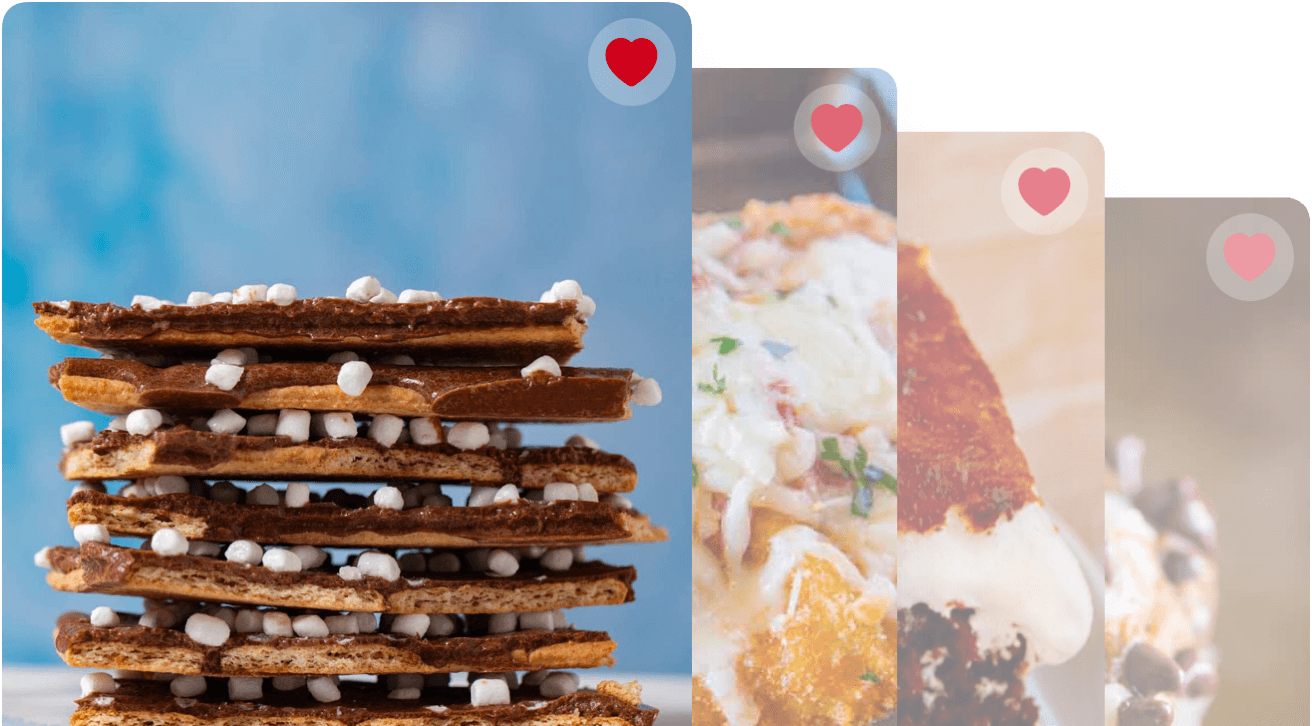 Key Ingredients
Carrots:

Grated carrots

are an excellent ingredient to add to

cakes

. The

fresh carrots

release moisture while they bake, making a more soft and

tender cake

.
Mix-ins:

Carrot cakes

have lots of delicious mix-ins other than shredded carrots. Walnuts, pineapple, and

coconut

all add lots of amazing

texture

and flavor to this recipe. The

pineapple and coconut

add a tangy, fruity flavor that complements

cinnamon-spiced desserts

.
Walnuts: It's hotly debated whether you should make carrot

cake with nuts

, so if you don't love the crunchy

texture

they add to the

cake

, by all means leave them out.
Buttermilk: Buttermilk also adds a subtle tang to

carrot cake batter

that tastes amazing with the

cream cheese

icing

. It also helps to activate the

baking

soda so you have a lighter

cake

instead of a heavy

dense cake

.

Cream Cheese Frosting

: For the

frosting

, all you need is butter,

cream cheese

,

vanilla extract

, and

powdered sugar

. Make sure to use room temperature ingredients for the

frosting

. Then the

cream cheese

can easily mix with the butter into a light, fluffy consistency that is easy to spread over the

Carrot Bundt Cake

.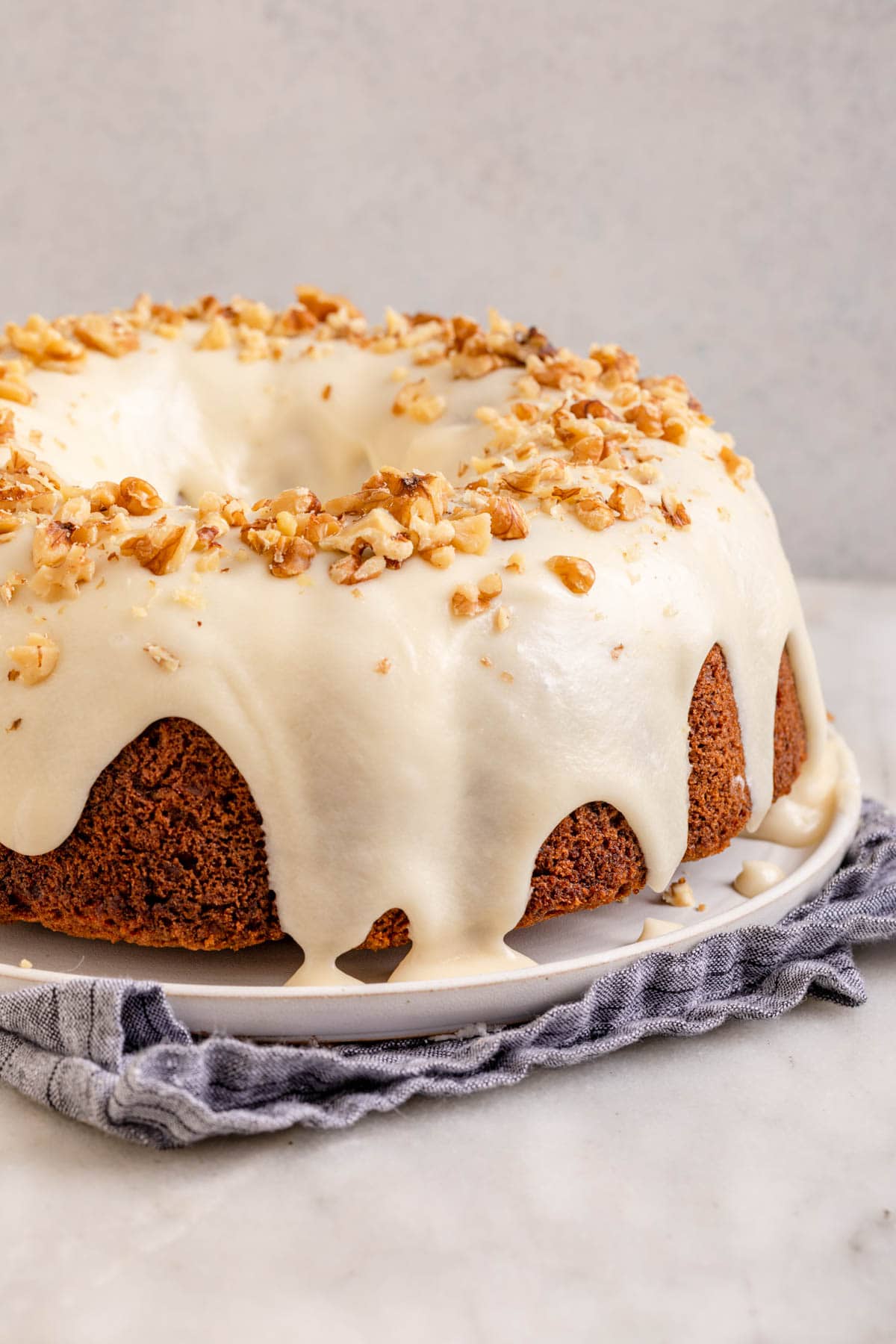 Variations
Spices: There are lots of warm spices you could mix into this Bundt Carrot Cake. Along with the cinnamon, try sifting in a teaspoon ginger, a teaspoon nutmeg, or cloves, or adding Pumpkin Pie Spice for a fall flavored cake.
Nuts: If you're a fan of carrot cake with nuts, but don't want to use walnuts, you can always swap in pecans, almonds, hazelnuts, or pistachios.
Sugar mixture: If you prefer not to use granulated sugar in baking, you can replace it with brown sugar, honey, or coconut sugar.
Brown Butter Glaze: Instead of sweet cream cheese frosting, you can top this Baked Carrot Bundt Cake off with a sweet brown butter glaze. To make it, heat a stick of butter in a saucepan over medium heat for about 10 minutes. The butter should start to look golden brown. Then carefully pour the browned butter into a bowl. Add 2 cups of confectioners' sugar, 2 teaspoons vanilla, and 2-4 tablespoons whole milk, depending on the consistency. Then whisk until combined into a smooth glaze. Pour the brown butter glaze over the Carrot Bundt Cake and enjoy.
Cheesecake Filling: Add a cheesecake layer to your bundt cake for an extra special cake. To make a cheesecake filling, blend 16 ounces cream cheese, 1 large egg, ½ cup white sugar, and 2 teaspoons vanilla extract. Add half the carrot cake batter to the pan, spoon the cheesecake filling over top then cover with the remaining cake batter.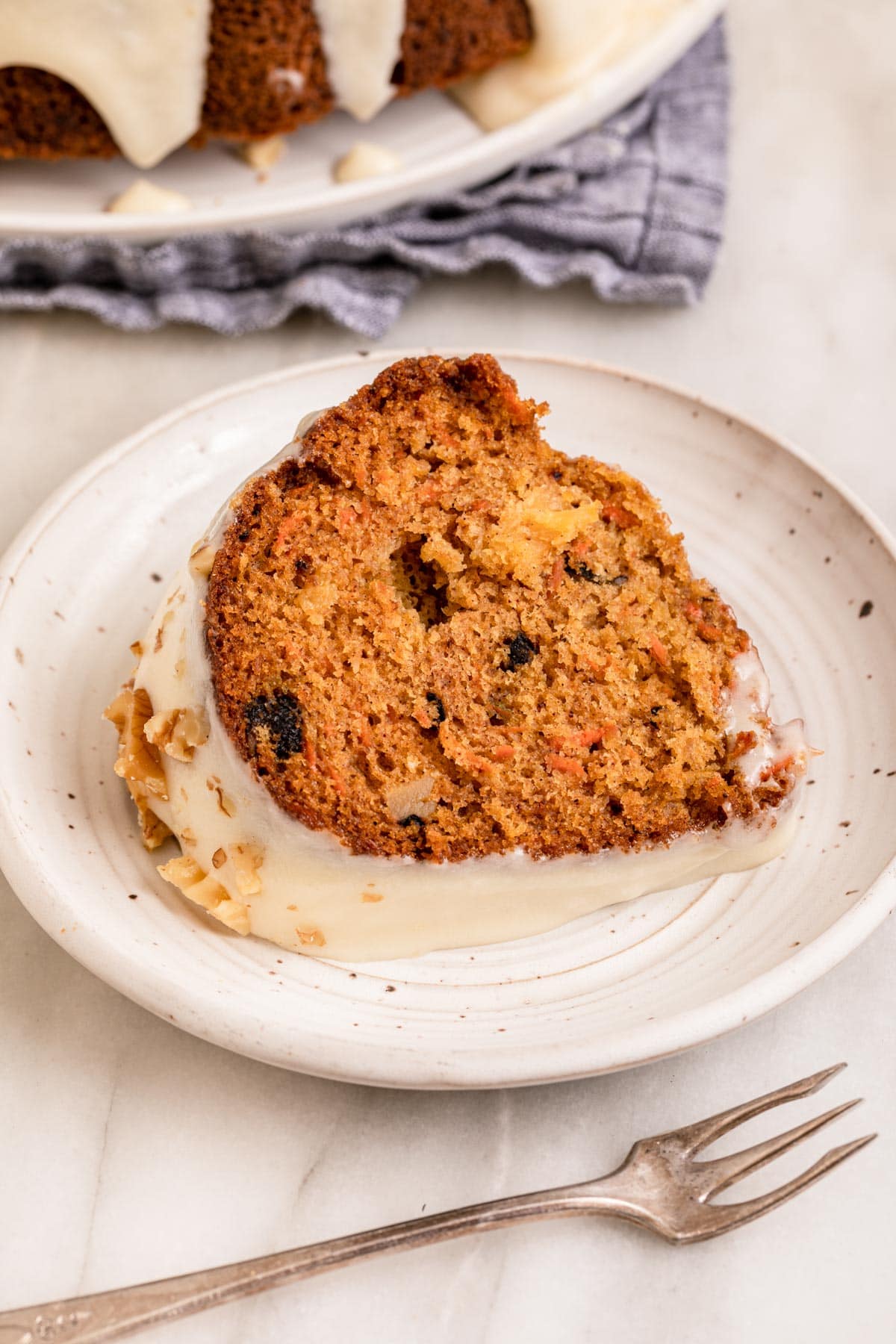 How to Store
Serve: Because of the cream cheese icing, you shouldn't leave your frosted carrot cake at room temperature for more than 3 hours.
Store: Let the carrot cake cool before you frost and store it in the refrigerator. Wrap the cake plate with aluminum foil or transfer leftover cake slices in an airtight container. It will stay good for up to 5 days.
Freeze: You can freeze unfrosted cake for up to 6 months. Wrap the baked cake tightly in plastic wrap and aluminum foil. Let it thaw in the fridge before frosting and serving.


Ingredients
Carrot Bundt Cake:
3

cups

flour

2

teaspoons

baking soda

1/4

teaspoon

salt

2

teaspoons

ground cinnamon

3

large

eggs

1/2

cup

buttermilk

1/2

cup

vegetable oil

1 1/2

cups

white sugar

3

cups

shredded carrots

1

cup

walnuts chopped

1 8

ounce

can crushed pineapple

, drain juice really well

2

teaspoons

vanilla extract
Cream Cheese Frosting:
4

tablespoons

unsalted butter

, softened

4

ounces

cream cheese

, softened

1/2

teaspoon

vanilla extract

3

cups

powdered sugar
Instructions
Carrot Bundt Cake:
Preheat oven to 350 degrees.

Sift the flour, baking soda, salt, and cinnamon into a bowl.

Into your stand mixer add the eggs, buttermilk, oil, sugar, carrots, walnuts, pineapple, and vanilla on low speed. Then, add in the flour mixture.

Spray a 10" Bundt pan well with baking spray.

Spread batter evenly in the Bundt pan.

Bake for

70-75 minutes

or until a toothpick comes out clean.
Cream Cheese Icing:
To your stand mixer add the butter, cream cheese, and vanilla extract on medium high speed. Whip for

2-3 minutes

until light and fluffy.

Lower the speed to the lowest setting and add in the powdered sugar until just combined.

Raise speed to medium until fluffy for

30 seconds

.

Pour over the cooled cake.
Nutrition
Calories:
430
kcal
|
Carbohydrates:
66
g
|
Protein:
6
g
|
Fat:
17
g
|
Saturated Fat:
9
g
|
Polyunsaturated Fat:
4
g
|
Monounsaturated Fat:
3
g
|
Trans Fat:
1
g
|
Cholesterol:
43
mg
|
Sodium:
244
mg
|
Potassium:
197
mg
|
Fiber:
2
g
|
Sugar:
45
g
|
Vitamin A:
4203
IU
|
Vitamin C:
3
mg
|
Calcium:
49
mg
|
Iron:
2
mg