Cherry Chocolate Shortbread Cookies are soft, buttery chocolate shortbread cookies sprinkled with chocolate chips and maraschino cherries.
Shortbread Cookies are one of those Cookie Recipes that only need a few simple ingredients to be amazing and you can change them as easily with one or two ingredients. From classic Scottish Shortbread to Cranberry Chip to chocolate cherry, there's a shortbread recipe for every occasion!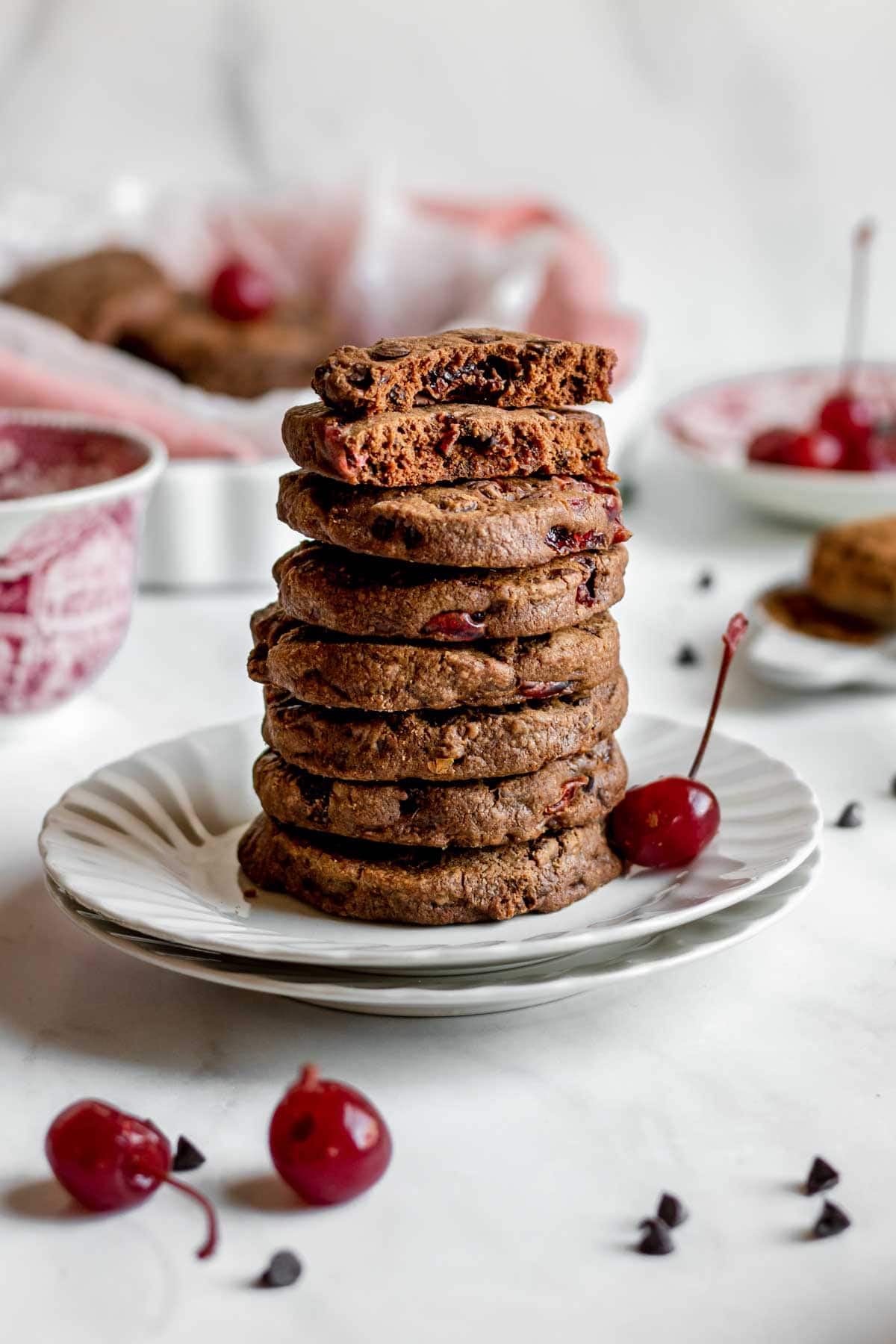 Shortbreads are an old-fashioned cookie that never goes out of style! You can enjoy shortbread cookies all year long, but they are especially tasty during the winter with a cup of Hot Cocoa or black tea to dunk them in. These easy chocolate shortbread cookies take a basic 3 ingredient recipe and add a few items from your pantry for an extra special treat.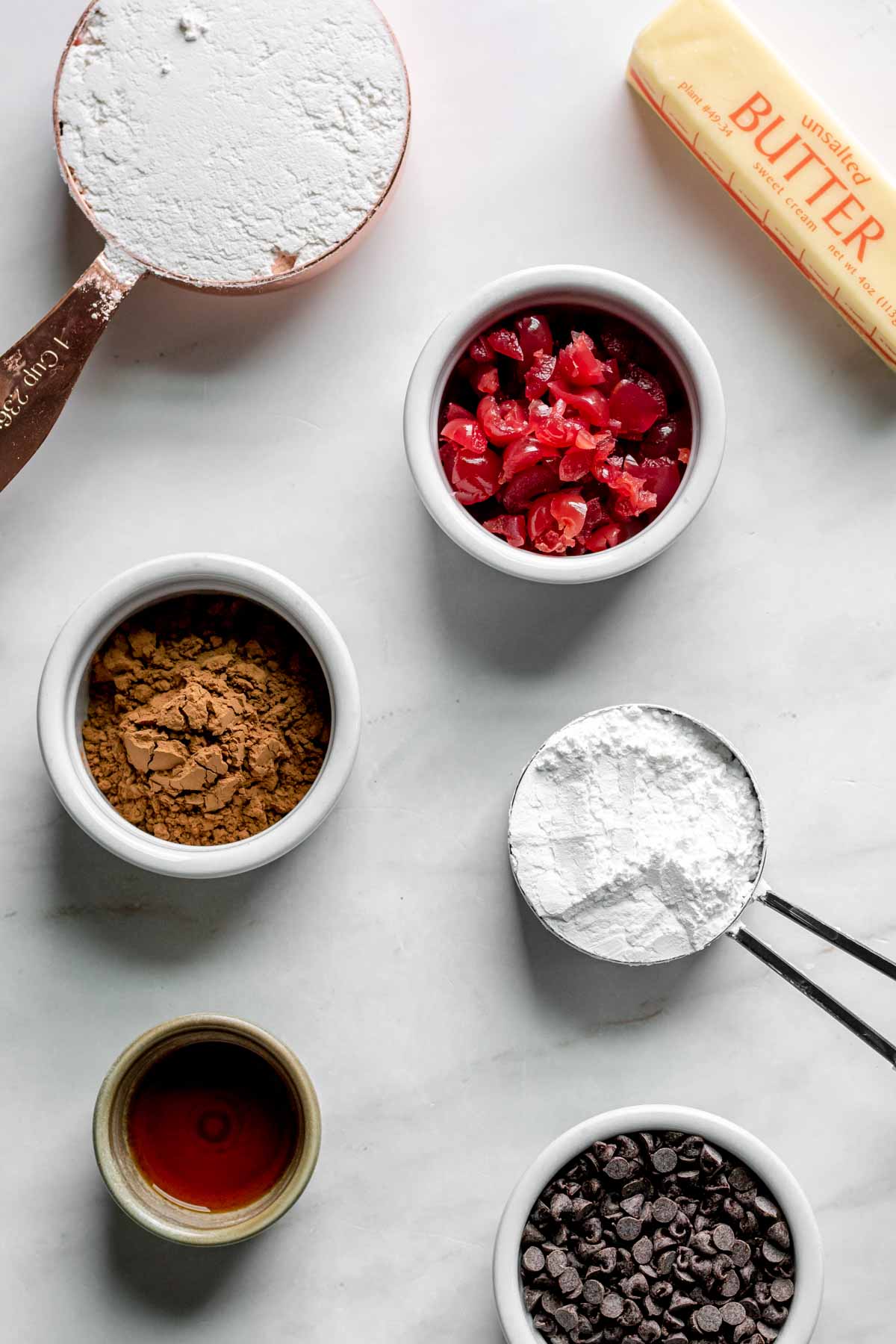 Cherry Chocolate Shortbread Cookies sound like a fancy cookie recipe but they are actually very simple to make. The key to perfect shortbread cookies is to chill your dough completely before slicing and baking. Chilling first keeps your cookies from spreading as they bake, so you get even round Chocolate Cherry Shortbread Cookies every time.
This Cherry Chocolate Shortbread Cookie recipe uses maraschino cherries that are sweet, chewy, and slightly tart. Be sure to drain the cherries and dry them thoroughly before adding them the cookie dough. If your cherries are too wet, the texture of the cookies won't have that buttery smoothness that's oh so addicting. You could also use red and green candied cherries instead for a Christmas theme cookie.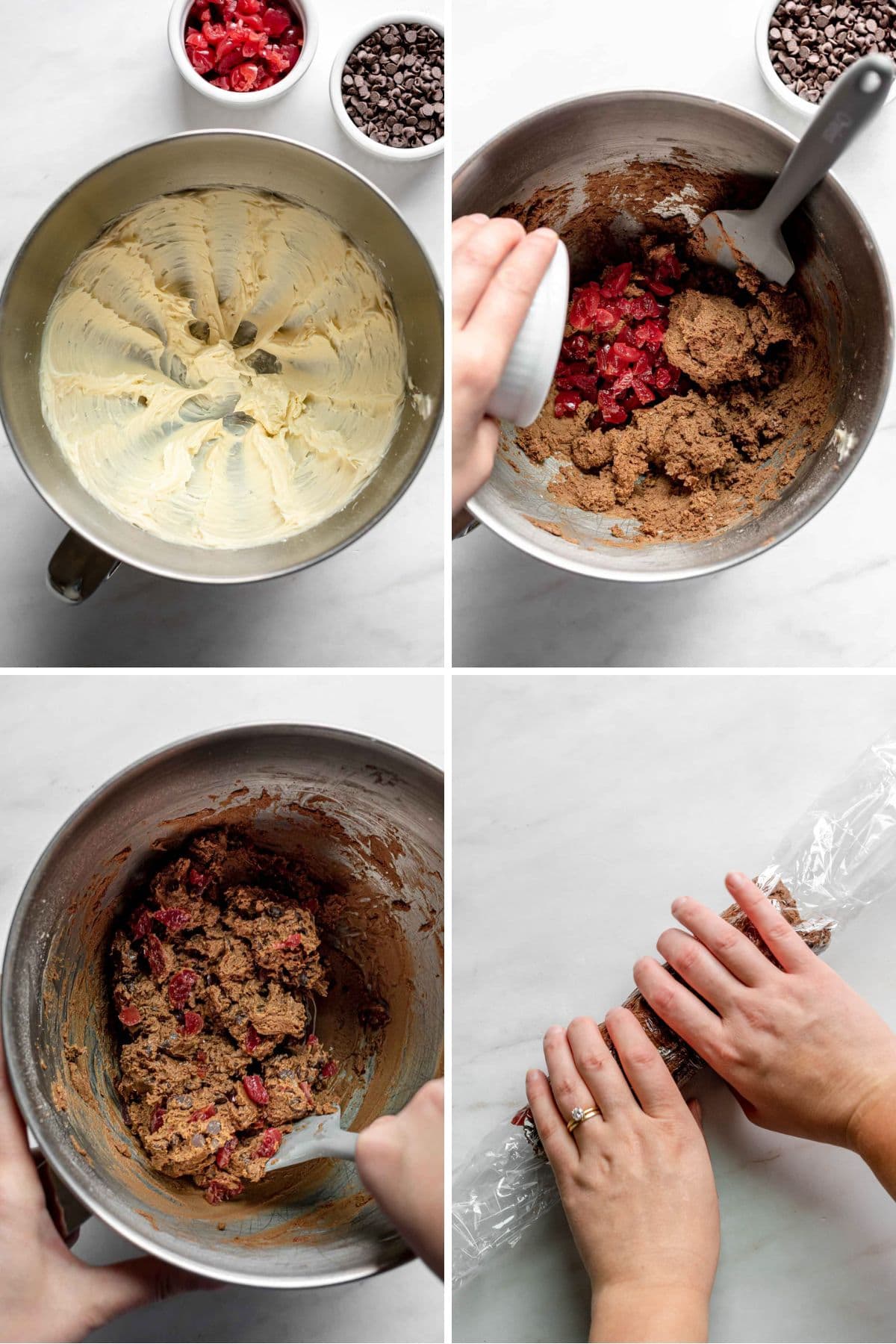 Make these Cherry Chocolate Shortbread Cookies for Valentine's Day with a drizzle of White Chocolate Ganache. You can add some pink and red sprinkles for a festive touch! Chocolate Cherry Shortbread Cookies are a great edible gift for holidays or special occasions. Shortbreads go great with hot tea, so fill a cute mug with cookies and a couple tea bags, then wrap in tissue paper and ribbons.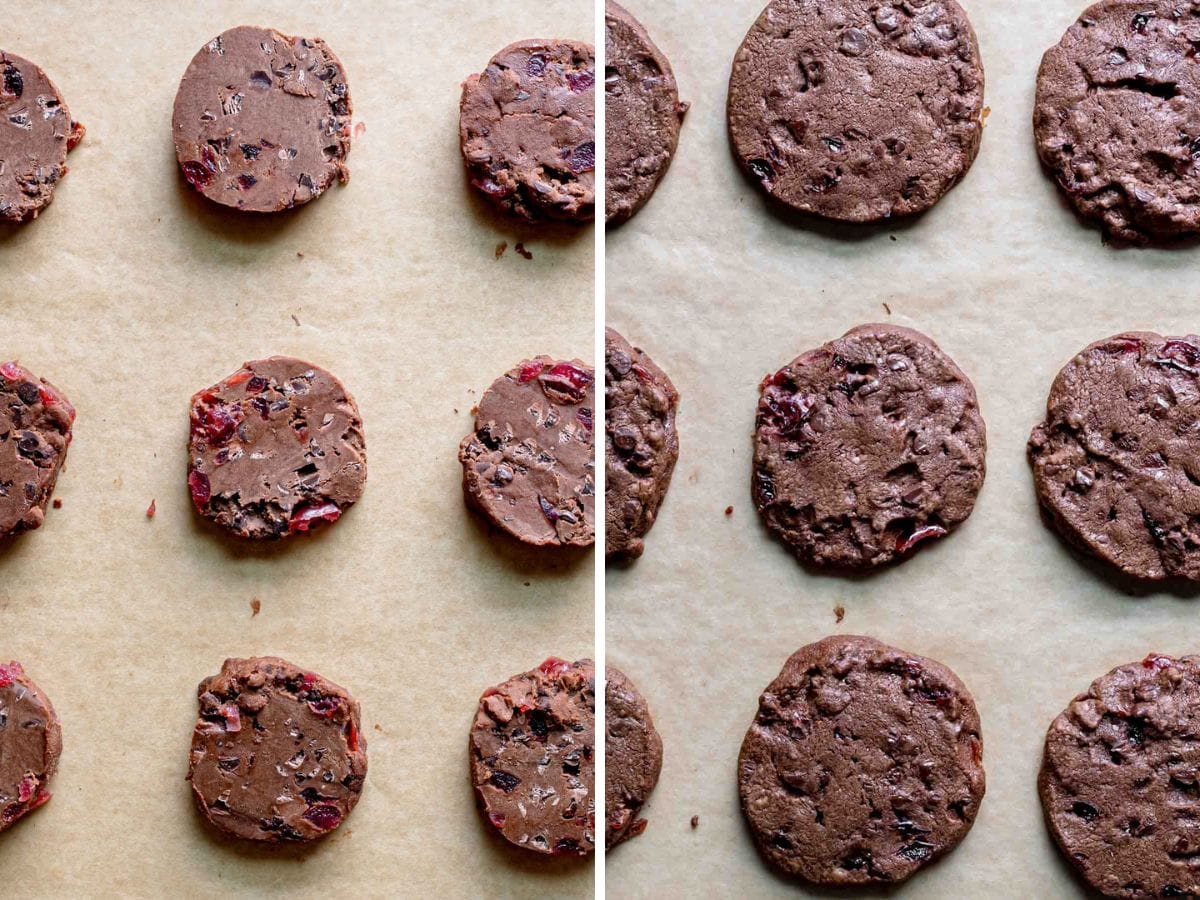 How to Make Cherry Chocolate Shortbread Cookies
Prep: Preheat your oven and line a baking sheet with parchment paper. Drain any syrup from the cherries and pat them dry with a paper towel. You want them very dry so they don't add liquid to the dough. Coarsely chop the cherries into tiny pieces.
Dough: Cream the butter, vanilla and powdered sugar in a stand mixer on high speed for a couple minutes until it's light and fluffy. Reduce the speed to the low. Then begin adding in the flour and cocoa powder slowly until just combined.
Shape: Gently fold the cherry pieces and mini chocolate chips into the dough without overmixing. Roll the dough into a log about 2 inches wide. Wrap the dough log with plastic wrap.
Bake: Chill the cookie dough for at least 30 minutes. Once chilled, cut the cold dough into thick slices and place on your prepared baking sheets. Bake about 20 minutes, until the edges just set, careful not to over bake.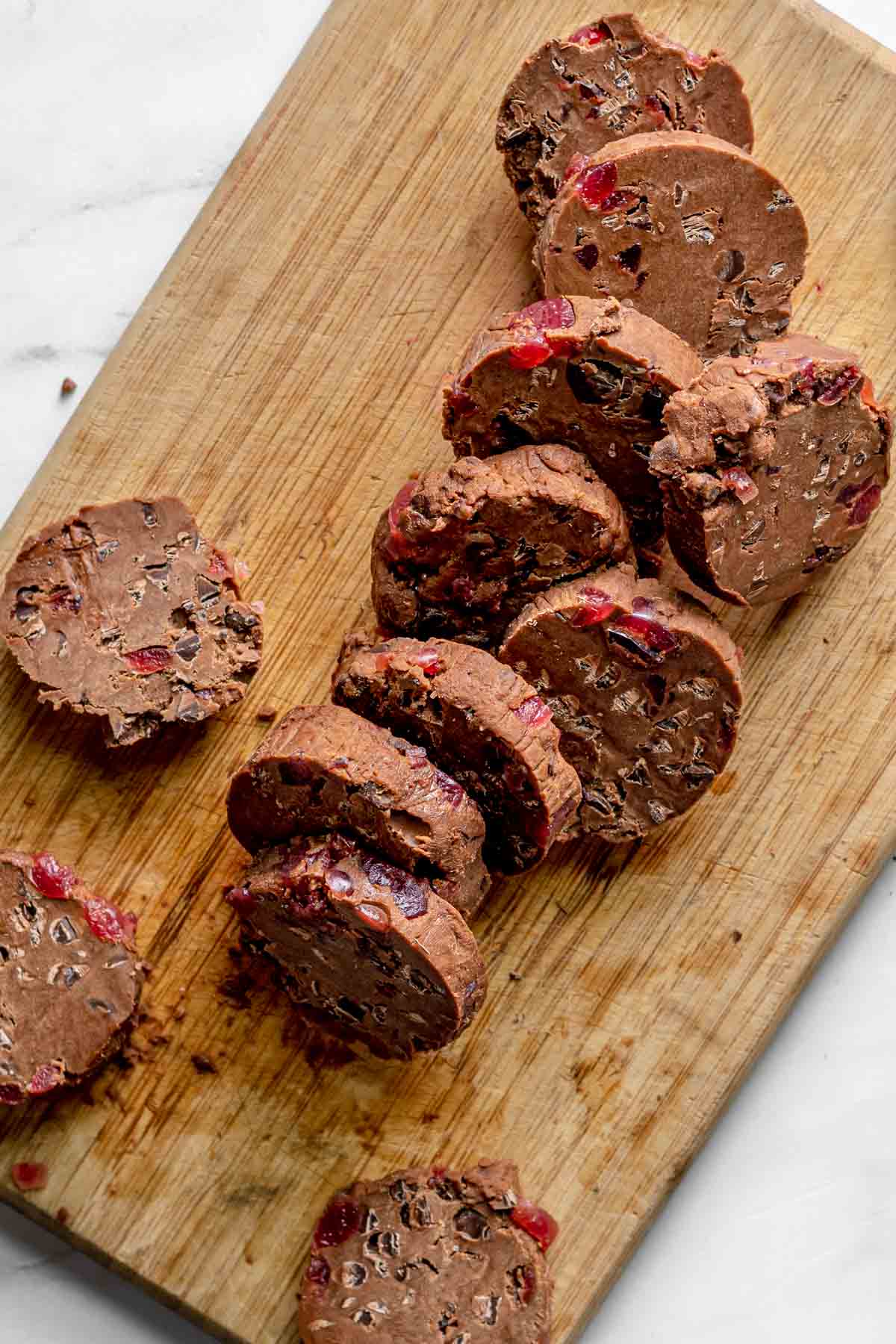 More Shortbread Cookie Recipes
FAQs for Cherry Chocolate Shortbread Cookies
Why did my Cherry Chocolate Shortbread Cookies spread?
Your Cherry Chocolate Shortbread Cookies may have spread due to factors such as overly soft or melted butter, usually due to not chilling time. The refrigeration time helps the butter become solid again so it melts slower as the cookies bake so they don't spread too much.
What are common mistakes when making Cherry Chocolate Shortbread?
Common mistakes when making shortbread include over-mixing the dough, using overly soft or melted butter, not chilling the dough adequately, baking at too high of a temperature, and not allowing the shortbread to cool completely before handling or storing. These mistakes can result in tough or crumbly texture, excessive spreading, or a loss of the distinct buttery flavor and delicate crumb that make a good shortbread.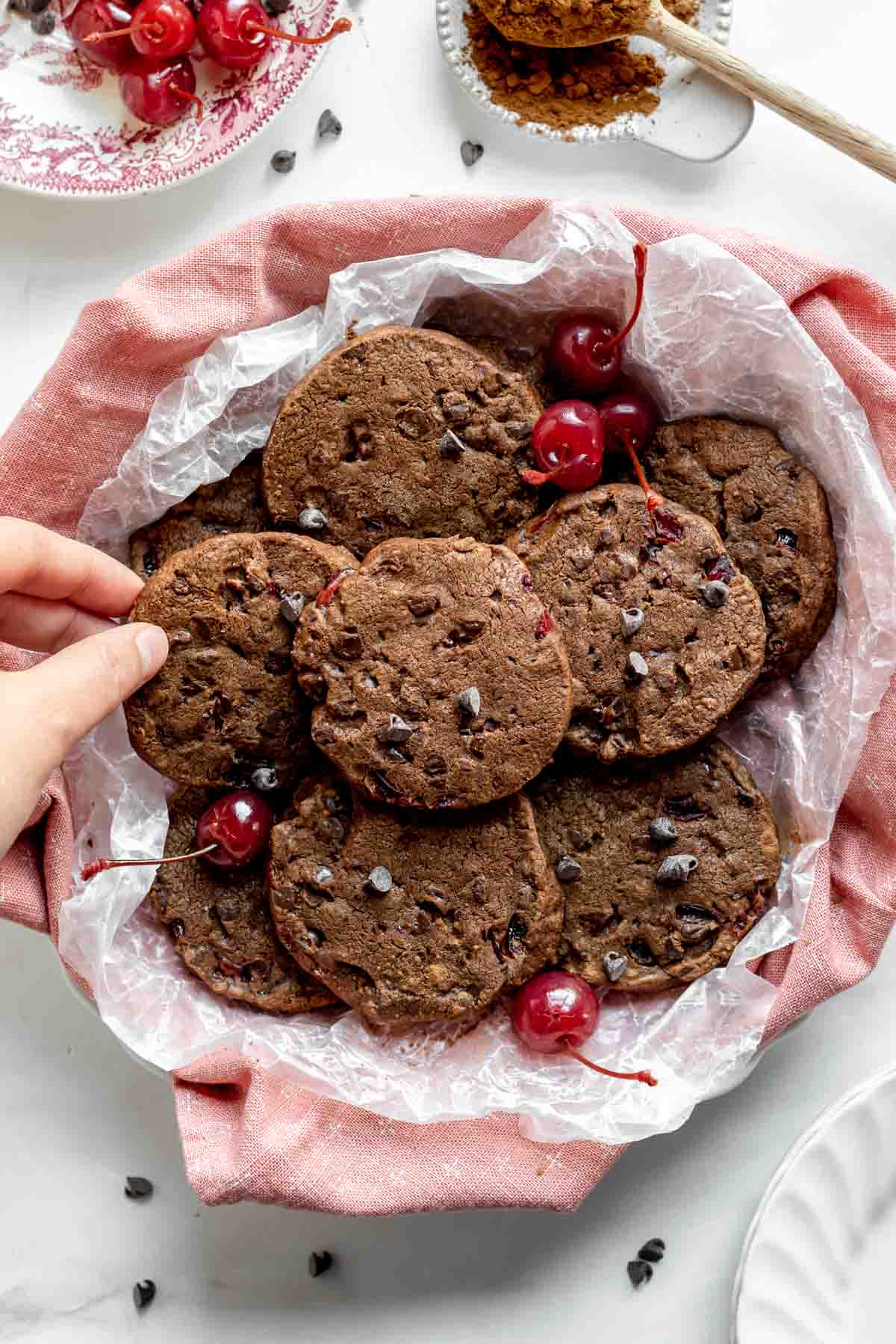 Create a free account to Save Recipes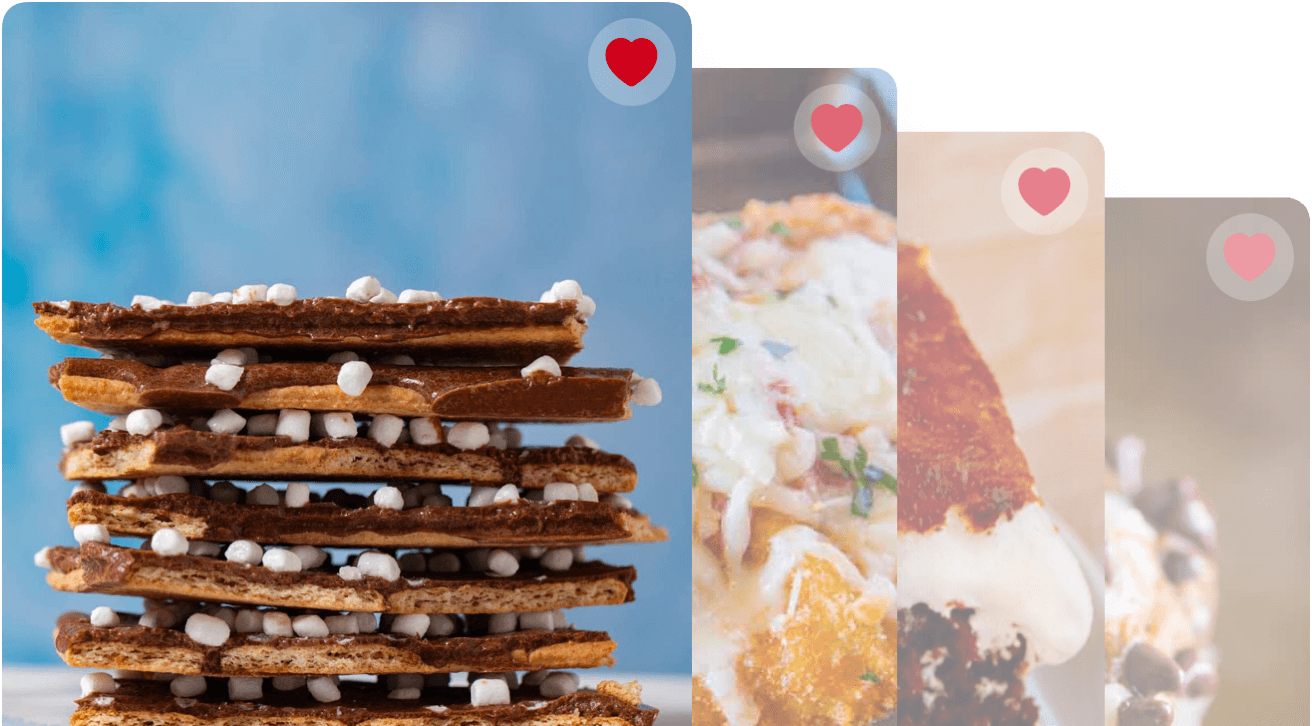 Key Ingredients
Maraschino Cherries: Maraschino cherries are preserved cherries soaked in a sweet syrup. They add a burst of sweet cherry flavor to these chocolate shortbread cookies. They need to be dried and any excess syrup removed so the cookie dough isn't too wet.
Butter: Butter is a must have ingredient in shortbread cookies and adds richness and moisture for a soft and tender texture crumb. It also gives these cookies their signature buttery taste that shines through the chocolatey flavors.
Vanilla: The vanilla extract adds a warm and aromatic note to the cookies, bringing together the the chocolate and cherry flavors.
Powdered Sugar: The fine texture of powdered sugar helps to create a smooth dough and gives the perfect amount of sweetness throughout the cookies.
Cocoa Powder: Just a couple of tablespoons of unsweetened cocoa powders is needed to fill these cookies with a rich chocolate flavor.
Chocolate Chips: The mini size of the chocolate chips ensures even distribution throughout the dough, creating pockets of melty chocolate goodness in every bite. You can substitute regular size for the mini chocolate chips if needed.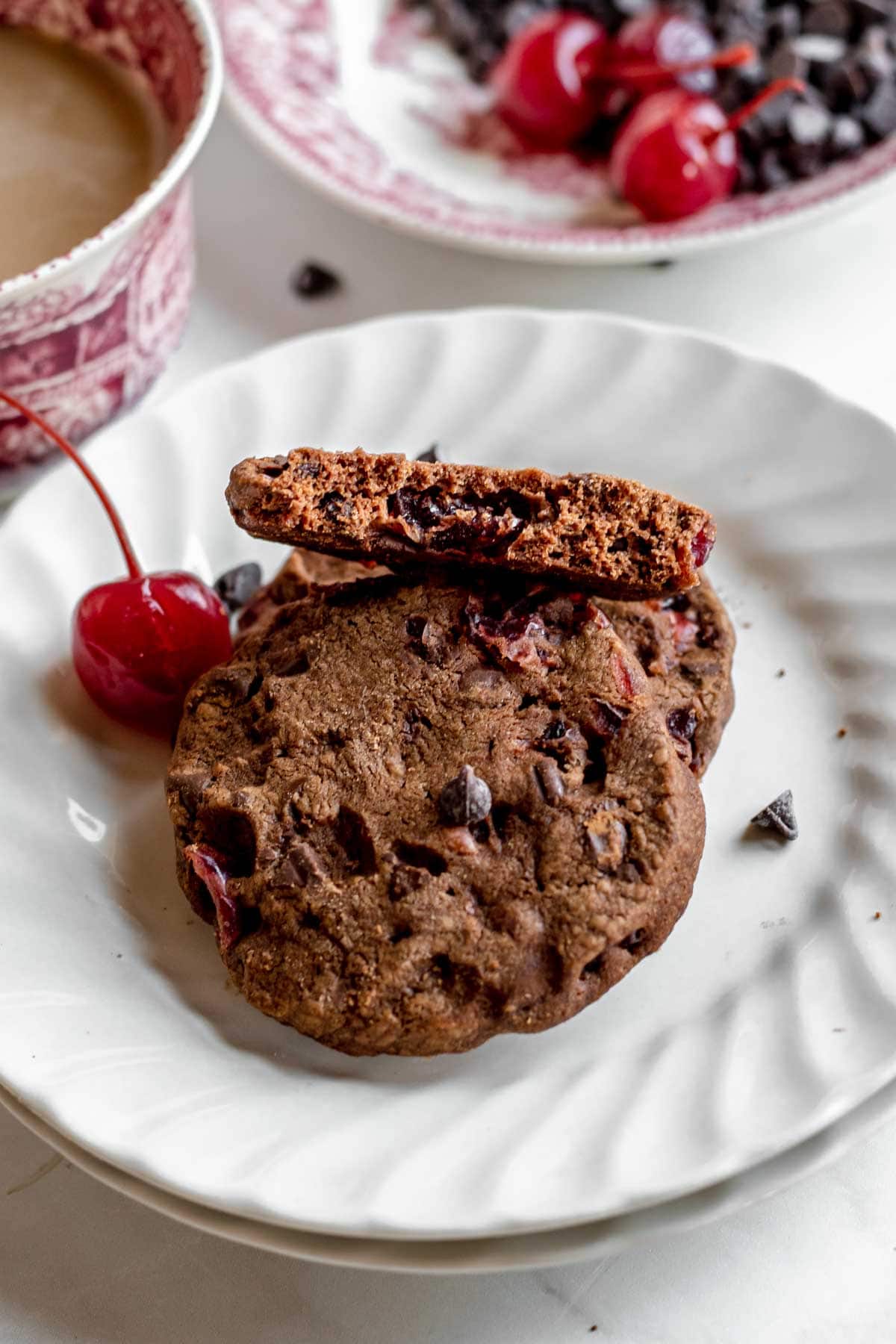 Can you make Cherry Chocolate Shortbread Cookies in advance?
You can make Cherry Chocolate Shortbread Cookie dough ahead of time and bake the cookies later. After you prepare the cookie dough and roll into the log shape, wrap the cookie dough in plastic wrap and store in a freezer safe bag. Leave at room temperature for a few minutes while the oven preheats, then slice from frozen and bake. You can also slice the cookie dough into disks, freeze the disks on a parchment paper lined baking sheet until solid. Store in a freezer container with plastic wrap or wax paper between layers. The dough will stay good, properly stored, for up to 4 months in the freezer. You can bake the cookies from frozen, adding about 2-3 minutes to the baking time, or thaw overnight in the fridge first before baking as usual.
Variations
Cherries: Instead of candied green cherries and red cherries. Candied cherries are the kind you find in Fruit Cake, and are chewier then maraschino cherries. For a tart, less sweet fruit, you could use dried cherries or try them with dried cranberries during the holidays.
Nuts: Give these Cherry Chocolate Shortbread Cookies a little crunch by adding ½ cup chopped pistachios, almonds, walnuts, hazelnuts, or pecans. Toast the nuts for more flavor and chop them into small pieces so they distribute better in the shortbread dough.
Mix-ins: Instead of mini chocolate chips you can add candy coated mini chocolate pieces like rainbow chips, mini M&Ms, or Toffee Bits. Try dark chocolate chips, white chocolate chips, cherry baking chips, or other fun flavored baking chips too.
White Chocolate: Instead of dark chocolate, you can make these White Chocolate Cherry Shortbread Cookies by swapping the cocoa powder with more all-purpose flour. Instead of the mini chocolate chips, use white chocolate chunks and give them a melted white chocolate drizzle after they've cooled.
Chocolate: If you are a chocolate lover, take these cookies to the next level with a dark chocolate drizzle or dipping the cookies into chocolate that's been melted. Microwave a medium bowl of chocolate chips or melting chocolate, stirring every 20 seconds until fully melted. Then dip half of the cookies into chocolate, and allow to cool and set in a single layer on a clean cookie sheet with parchment paper on top.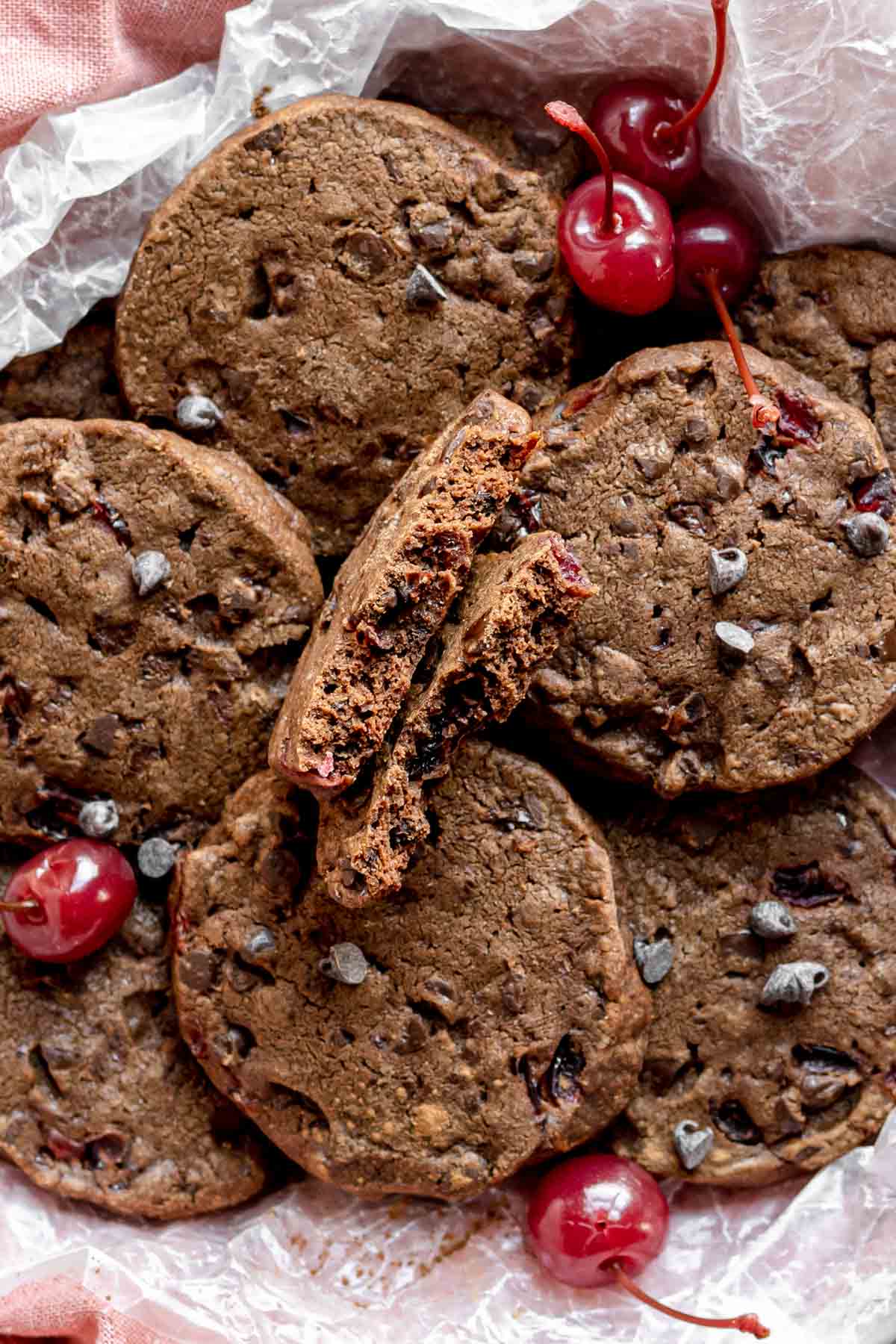 More Chocolate Cherry Treats
How to Store
Serve: You can keep these Cherry Chocolate Shortbread Cookies at room temperature for up to 1 week in a sealed container. Keep a paper towel in the bottom of the container to absorb moisture and keep these buttery cookies soft.
Store: Cool cookies completely before you store them in an airtight container. You can store Chocolate Cherry Shortbread Cookies in the fridge for up to 2 weeks.
Freeze: Freeze Cherry Chocolate Shortbread Cookies on parchment lined cookie sheets in a single layer for an hour. Transfer cookies to an airtight container and store for up to 6 months in the freezer. Thaw uncovered at room temperature before serving.


Instructions
Preheat oven to 325 and line a half sheet pan with parchment paper.

Dry the cherries with a paper towel really well then coarsely chop.

Add butter, vanilla and powdered sugar to a stand mixer and cream on high speed for

1-2 minutes

until light and fluffy.

Lower speed to the lowest setting and add in the flour and cocoa powder slowly until just combined.

Fold in the cherries and mini chocolate chips.

Roll the mixture into a 2 inch wide log and wrap with plastic wrap.

Refrigerate for

30 minutes

.

Cut into ½ thick slices and bake for

20 minutes

.
Nutrition
Calories:
183
kcal
|
Carbohydrates:
23
g
|
Protein:
2
g
|
Fat:
10
g
|
Saturated Fat:
6
g
|
Cholesterol:
21
mg
|
Sodium:
7
mg
|
Potassium:
30
mg
|
Fiber:
1
g
|
Sugar:
14
g
|
Vitamin A:
258
IU
|
Calcium:
19
mg
|
Iron:
1
mg