Cherry Clafoutis is a beautiful yet easy classic French dessert recipe. Creamy thick baked custard topped with sliced sweet, fresh cherries.
A warm Cherry Pie is a classic Fruit Dessert for fresh cherries, but sometimes you want something simpler. This easy, baked custard is the perfect way to enjoy juicy summer cherries with way less time and work.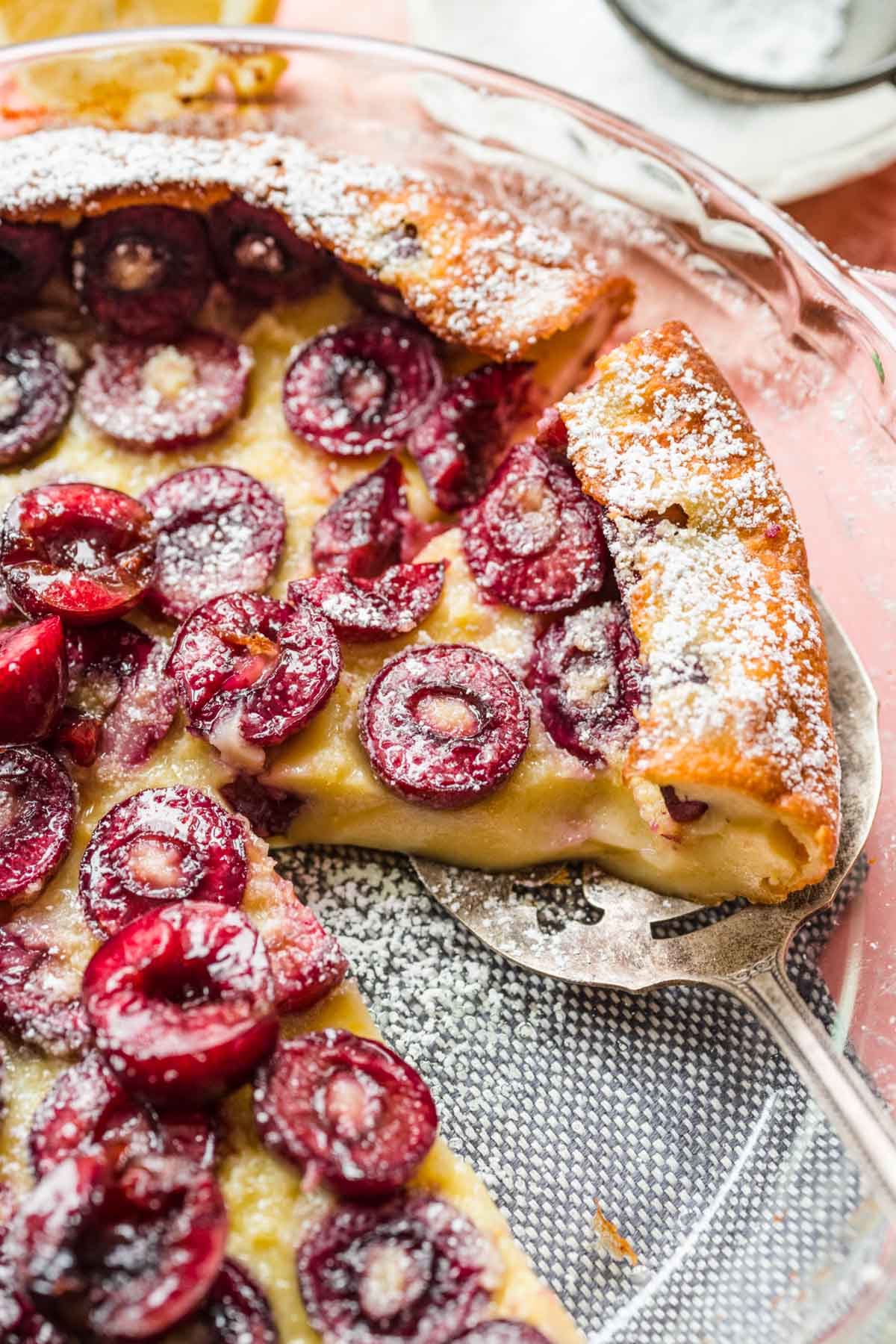 While it sounds super fancy, Cherry Clafoutis is actually a simple, rustic dessert that is easy to make. You don't need any fancy ingredients, techniques or special equipment. It is a baked custard-style dessert, but unlike most custard desserts, you don't need to temper the eggs before baking. It turns out with a flan-like texture with delicious bites of cherry throughout. It's not overly sweet either, so it makes a great brunch treat as well as a summer dessert.
Traditionally, clafoutis is served on its own, with a dusting of powdered sugar for simple presentation and a little extra sweetness. However, you could serve it warm with a scoop of Vanilla Ice Cream for an indulgent summery treat. Since it's not overly sweet, and it's packed with eggs, you could even serve this gorgeous baked cherry custard for a special brunch!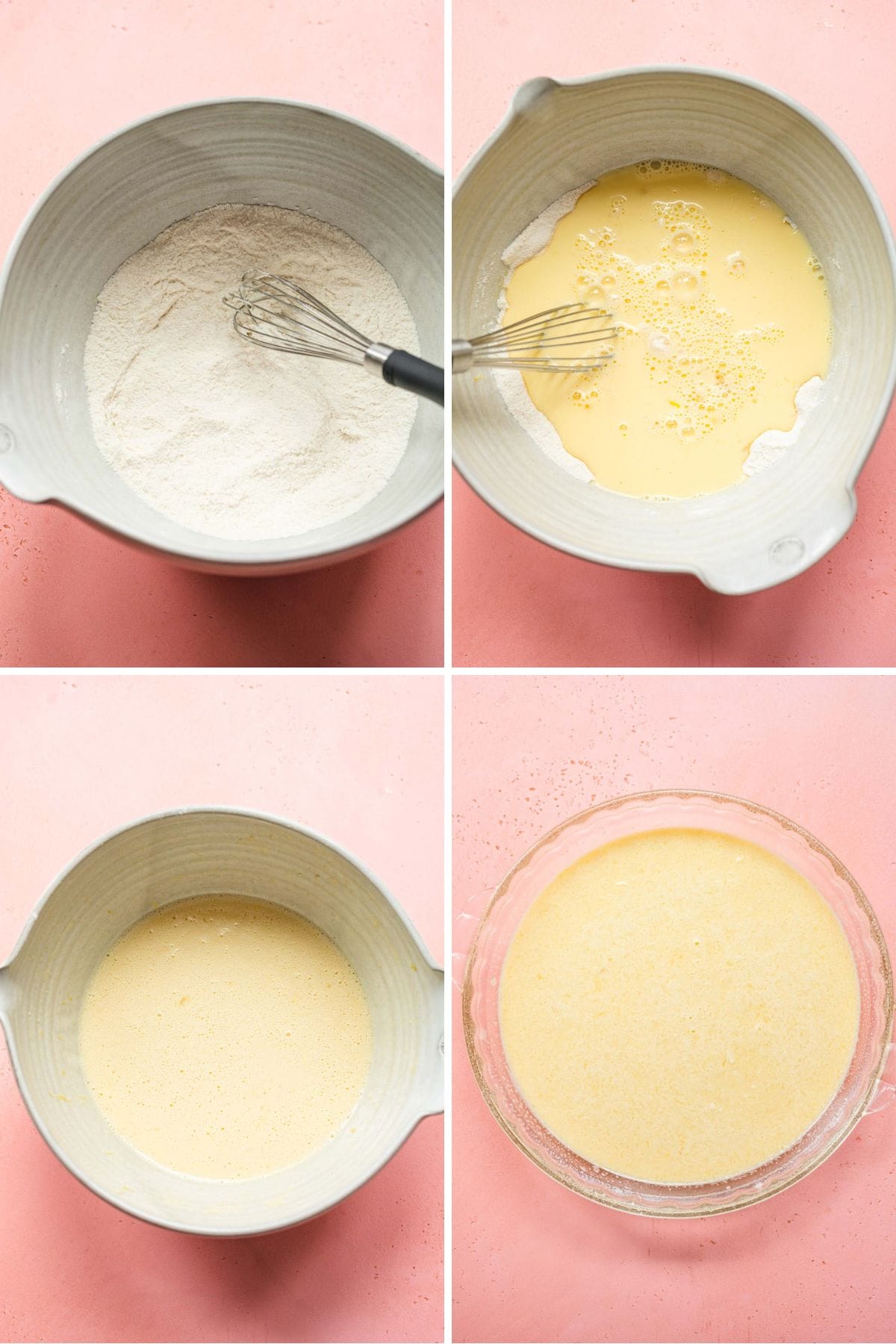 What is Cherry Clafoutis?
Cherry Clafoutis, pronounced Kla-Foo-Tee, is a classic French baked custard topped with fresh cherries that originated in rural France. The easy custard batter is made with eggs, milk, sugar, flour, and melted butter. It's lightly flavored with almond extract and lemon zest, then poured into a baking dish. The egg batter gets topped with sliced cherries, traditionally black cherries, then it's baked until it's golden brown. The texture of Clafoutis is a thick semi-firm custard, like you crossed Mexican Flan with a Dutch Baby Pancake. It's creamy, slightly sweet and eggy with bursts of fresh, juicy cherry flavor!
How to Make Cherry Clafoutis
Prep time: Start by preheating the oven. Grease a pie dish, or similarly sized ceramic baking dish, with nonstick cooking spray..
Clafoutis Batter: Add the flour, granulated sugar, and kosher salt to a large mixing bowl. Whisk together the dry ingredients until well combined. Add the eggs, melted butter, lemon zest, almond extract, and milk to a second mixing bowl. Whisk the wet ingredients, and then add them to the flour mixture. Whisk until just combined into a smooth batter.
Baking time: Pour the batter into your prepared baking dish. Top with the fresh cherries, spread evenly over the top. The fruit should naturally sink into the batter. Bake for 30-35 minutes until the top of the Cherry Clafoutis is golden brown. Take the finished dish from the oven and dust with confectioners sugar if desired.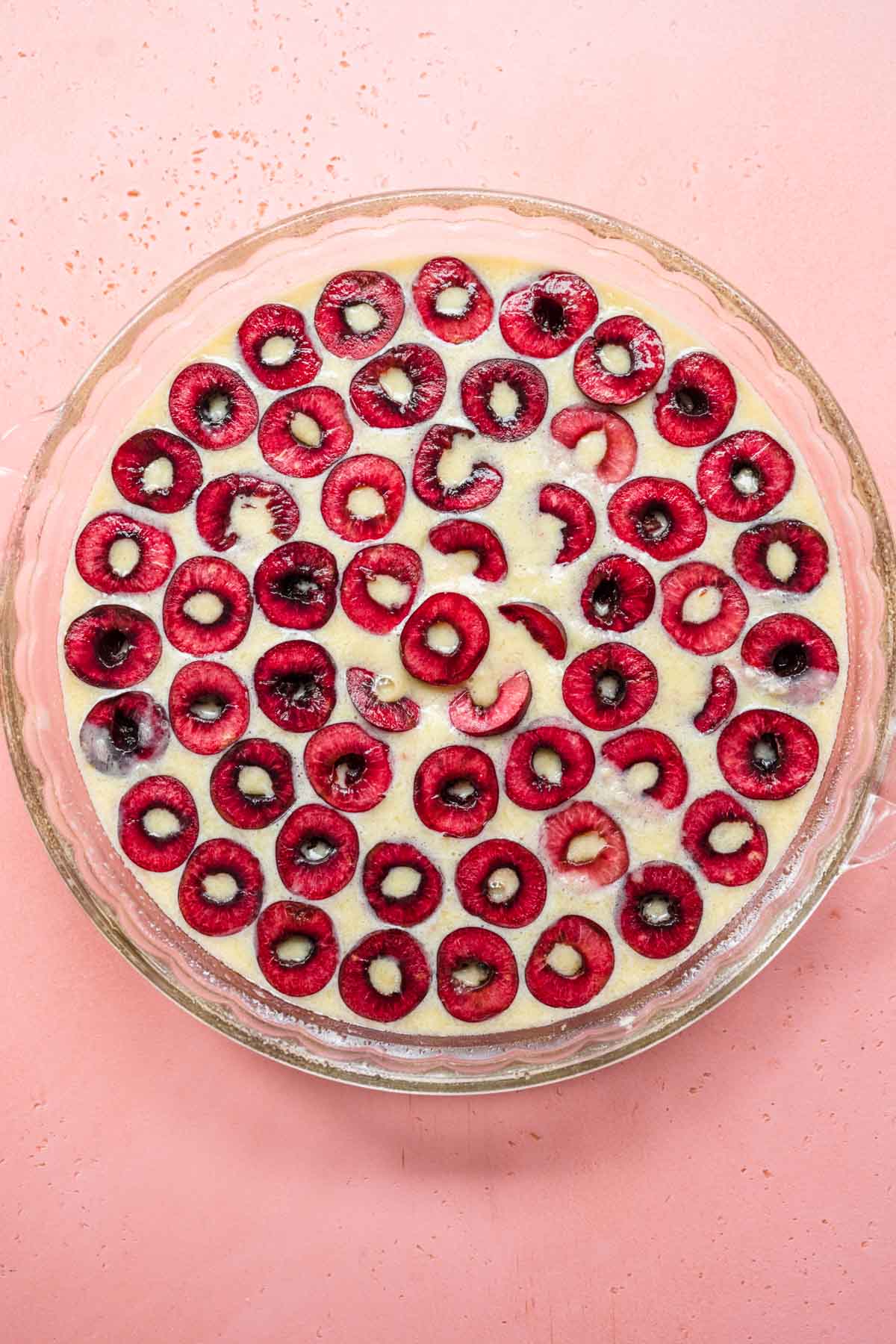 More Fresh Cherry Recipes
FAQs for Cherry Clafoutis
Is clafoutis served hot or cold?
Typically Clafoutis is served lukewarm but you can enjoy it either hot, warm or cold, depending on your preference. When the Cherry Clafoutis is still hot, the inside has a gooey, thick pudding-like consistency. However, if you prefer a firmer flan-like fruit dessert, you can wait for the dish to cool before slicing and serving.
When is the best time to make Cherry Clafoutis?
Cherry season lasts from around April to late August so it's easy to get juicy, tart, and sweet cherries all summer long for Cherry Clafoutis. Although you can make this delicious baked cherry dessert any time of year, it really shines as a late summer treat to use up the last of your perfectly ripe cherries.
Can you use other fruits to make Clafoutis?
You can absolutely use other sliced fruits to make clafoutis, however there are a couple things to keep in mind. If you use other fresh berries, they have more juice that will seep into the custard. For more firm fruits like apples and pears, you'll want to soften them first a bit, either by roasting or sauteing a few minutes.
What kind of cherries should you use for clafoutis?
Traditionally, Cherry Clafoutis is made with sour cherries, usually black cherries, but you can really use any kind of fresh cherries you prefer. It's best to use fresh cherries because they are firm, but if you use frozen you will want to thaw them first and drain them well so your batter doesn't get watery.
Why is my Cherry Clafoutis rubbery?
This French dessert is almost mistake proof, but the one thing that can mess it up is over-cooking it. Over-baking your Cherry Clafoutis will make it rubbery, so make sure you only cook it until the top is golden and just set.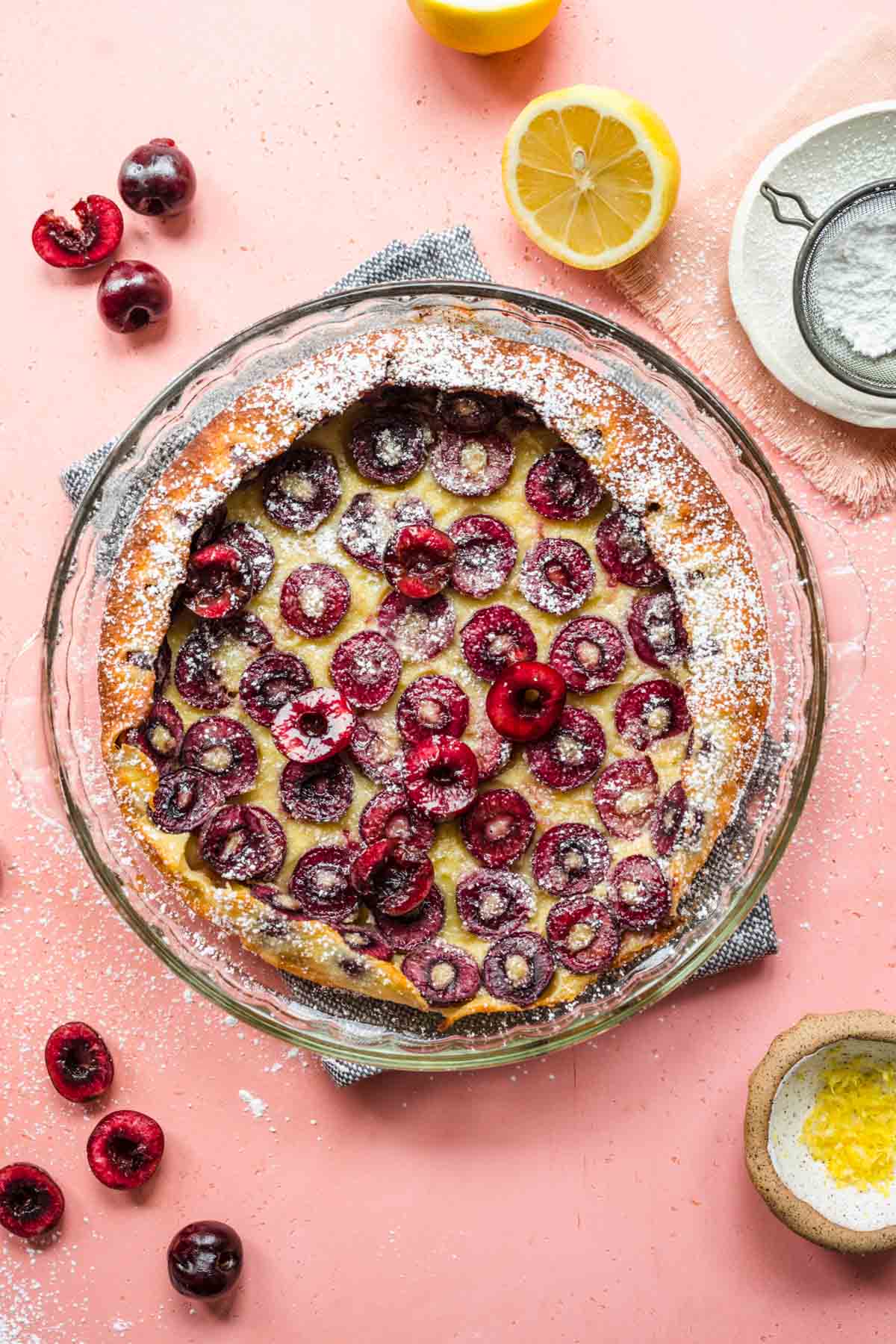 Create a free account to

Save Recipes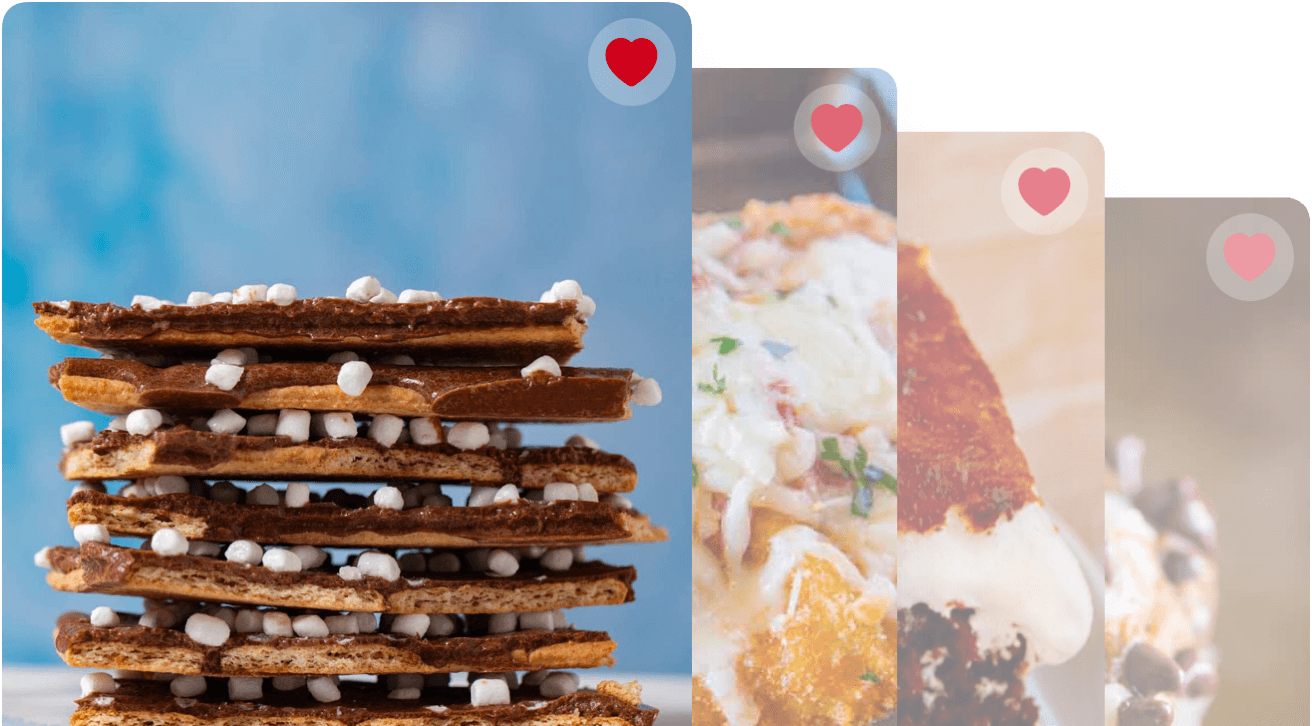 Key Ingredients
Eggs: Using 3 large eggs in the batter helps give the Cherry Clafoutis its rich, custard-like texture inside. You want to bring them to room temperature so when you whip them, they get lots of air.
Butter: Another way to make the simple batter extra gooey is by using melted butter. As the smooth batter cooks, it becomes golden brown and slightly crisp on the top but stays nice and soft with the fruit and buttery batter inside.
Almond extract: The light almond flavor added with almond extract compliments the sweet and tart cherries well with a rich, comforting flavor.
Lemon zest: Lemon zest is also a great flavor addition. The tart taste actually enhances the sweet flavor in the cherries.
Milk: Whole milk is going to be best for this rich and eggy custard dish, but you can also use 2% milk if needed. Just don't use fat free or skim milk, it will change the texture and it won't be as rich.
Cherries: I love making this recipe when fresh cherries are in season. Depending on your taste, you can use black cherries or Rainier cherries.
Can you make Cherry Clafoutis ahead of time?
While Cherry Clafoutis is best while warm the same day it is baked, you can prepare parts of it ahead of time. Pitted and sliced cherries will stay firm for up to 2 days ahead. The batter can be prepared and kept in a sealed container, or in the mixing bowl wrapped tight with plastic wrap, for up to 1 day. When you are ready to serve it, just pour the batter, add the sliced cherries and bake as usual.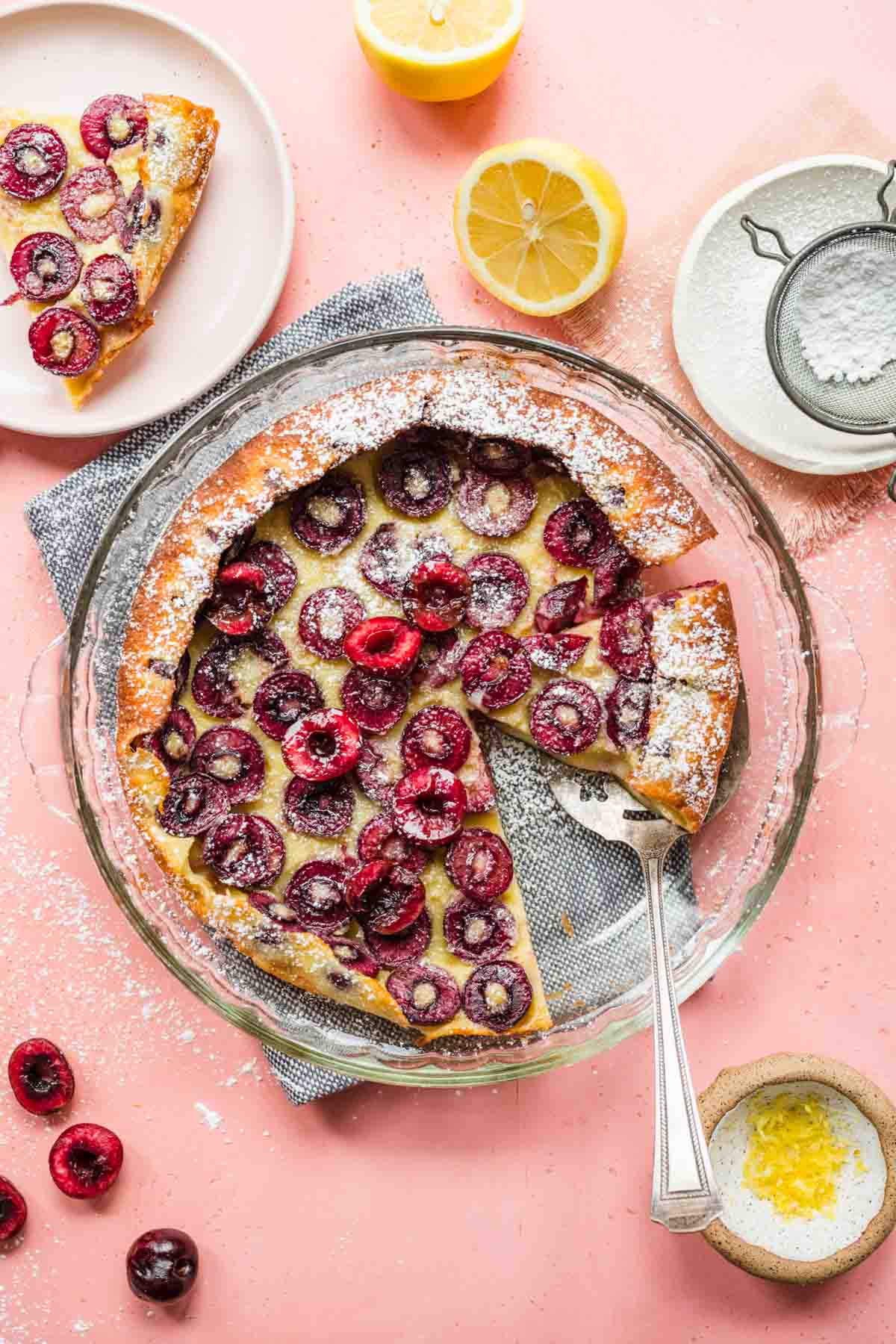 Variations
Almonds: Almonds and cherries go together perfectly because the pits of cherries have the same chemical compounds that cause the unique aroma of almonds. To enhance the almond flavor, swap in almond flour, which also makes your Cherry Clafoutis gluten-free.
Vanilla: If you'd like a light, comforting vanilla flavor, you can replace the almond extract in this recipe with vanilla extract.
Fruit: Instead of cherries, you can use other soft stone fruits like plums, peaches, or apricots. You could also use other kinds of berries like raspberries, blueberries, strawberries, or blackberries. If you use fruit with a firm flesh like apples or pears, you'll want to soften them first because the dish doesn't cook long enough to soften them naturally.
Cherry Liqueur: You can add up to a tablespoon of cherry liqueur like kirsch or cherry flavored brandy to enhance the cherry flavor and make it extra special during the holidays.
How to Pit Cherries
Pitting cherries can be a pain, but more because it's time consuming versus being difficult, especially if you have a cherry pitter. However, even if you don't have a cherry pitter, you can still do it fairly easily.
Use a wooden skewer, chopstick, or sturdy reusable metal straw.
Remove any stem and insert the skewer or straw at the top where the stem was.
Push it through until you feel the cherry pit.
Continue pushing the pit through until it pops out of the other end of the cherry.
You can pit your cherries a day or two in advance and store them in the fridge until you are ready to bake the clafoutis.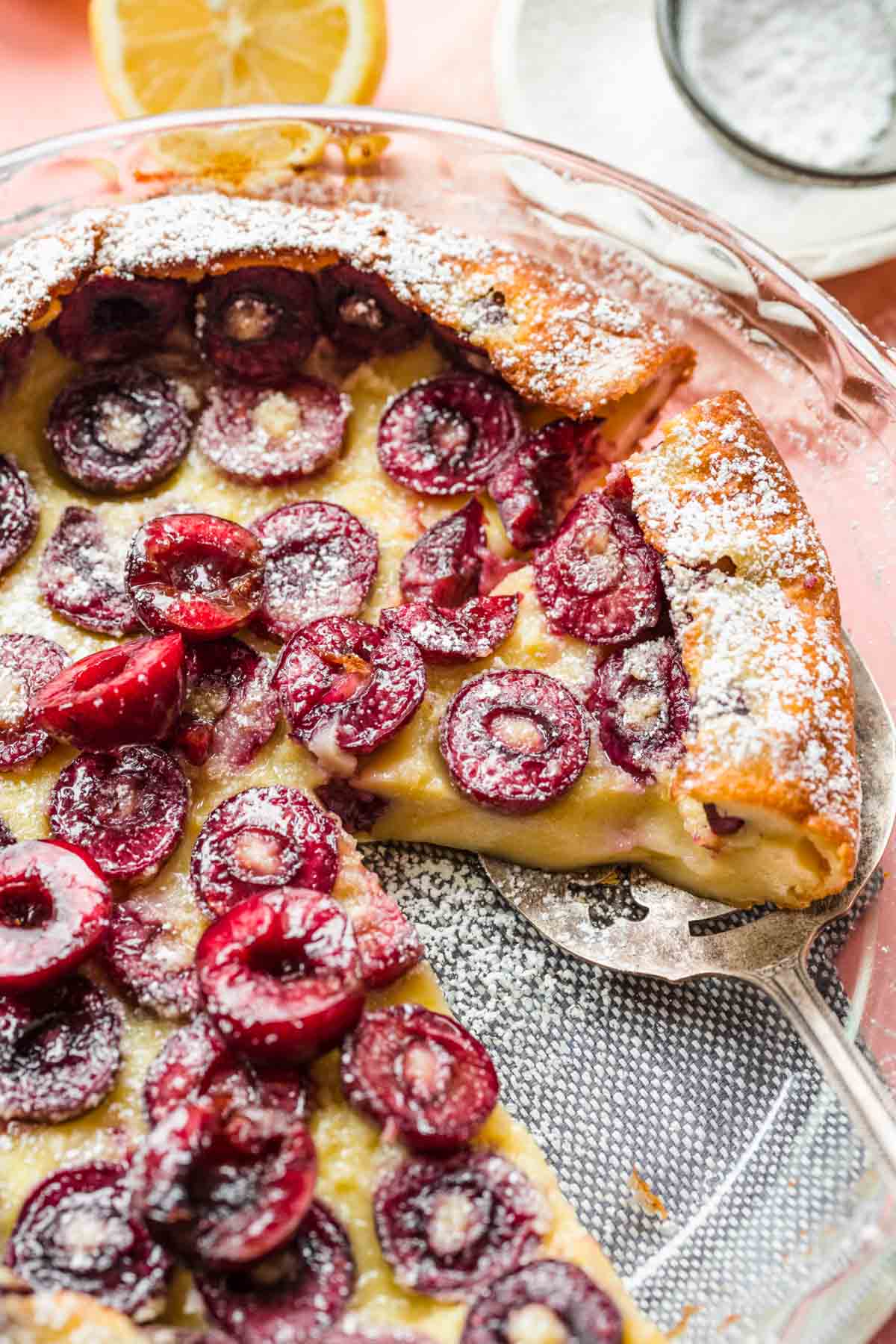 More Easy, Beautiful Fruit Desserts
How to Store
Serve: Traditionally, this classic French dish is served warm, but you can also serve it cold if you prefer. It can be at room temperature for up to 2 hours before it needs to be stored in the fridge.
Store: Leftover Cherry Clafoutis can be stored in the baking dish with plastic wrap or transferred to an airtight container. It will stay good for about 3-4 days, but keep in mind the fruit will continue to release juices.
Freeze: Unfortunately, the combination of fresh baked fruit and the flan-like custard don't thaw well together, so you don't want to freeze Cherry Clafoutis.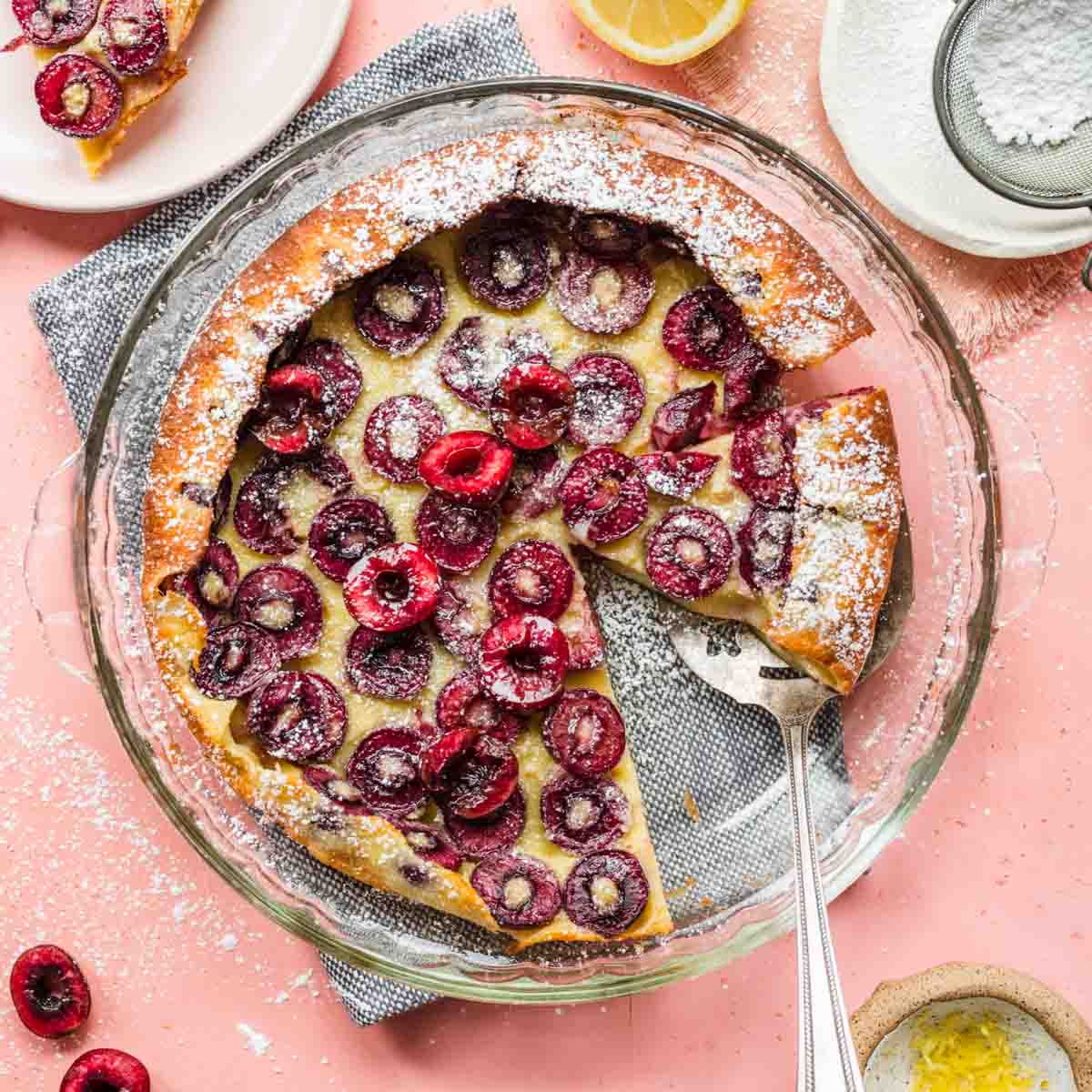 Ingredients
1/2

cup

flour

1/3

cup

sugar

1/8

teaspoon

salt

3

large eggs

, room temperature

3

tablespoons

unsalted butter

, melted and slightly cooled

1

teaspoon

lemon zest

1

teaspoon

almond extract

1

cup

whole milk

, room temperature

1/2

pound

cherries

, pitted
Instructions
Preheat oven to 350 degrees and spray a 9" pie dish with baking spray.

In a large bowl whisk together the flour, sugar and salt to combine.

In a second bowl whisk together the eggs, melted butter, lemon zest, almond extract and milk, then add it to the flour mixture and whisk until just combined.

Pour the batter into the gratin dish and top evenly with the cherries.

Bake for

30-35 minutes

until the top of the clafoutis is golden brown.
Nutrition
Calories:
213
kcal
|
Carbohydrates:
27
g
|
Protein:
6
g
|
Fat:
9
g
|
Saturated Fat:
5
g
|
Polyunsaturated Fat:
1
g
|
Monounsaturated Fat:
3
g
|
Trans Fat:
1
g
|
Cholesterol:
101
mg
|
Sodium:
98
mg
|
Potassium:
183
mg
|
Fiber:
1
g
|
Sugar:
18
g
|
Vitamin A:
384
IU
|
Vitamin C:
3
mg
|
Calcium:
67
mg
|
Iron:
1
mg