Chicken Broccoli Pasta Bake is the perfect cozy weeknight dinner with a thick, creamy, cheesy pesto sauce and crisp cracker topping.
It's hard to think of anything more comforting than creamy, tender chicken Dinner Recipes. Whether it's Chicken Divan, Chicken Casserole, or this Chicken Broccoli Casserole, the simple ingredients are wonderfully hearty, rich, and easy to throw together for an instant family favorite.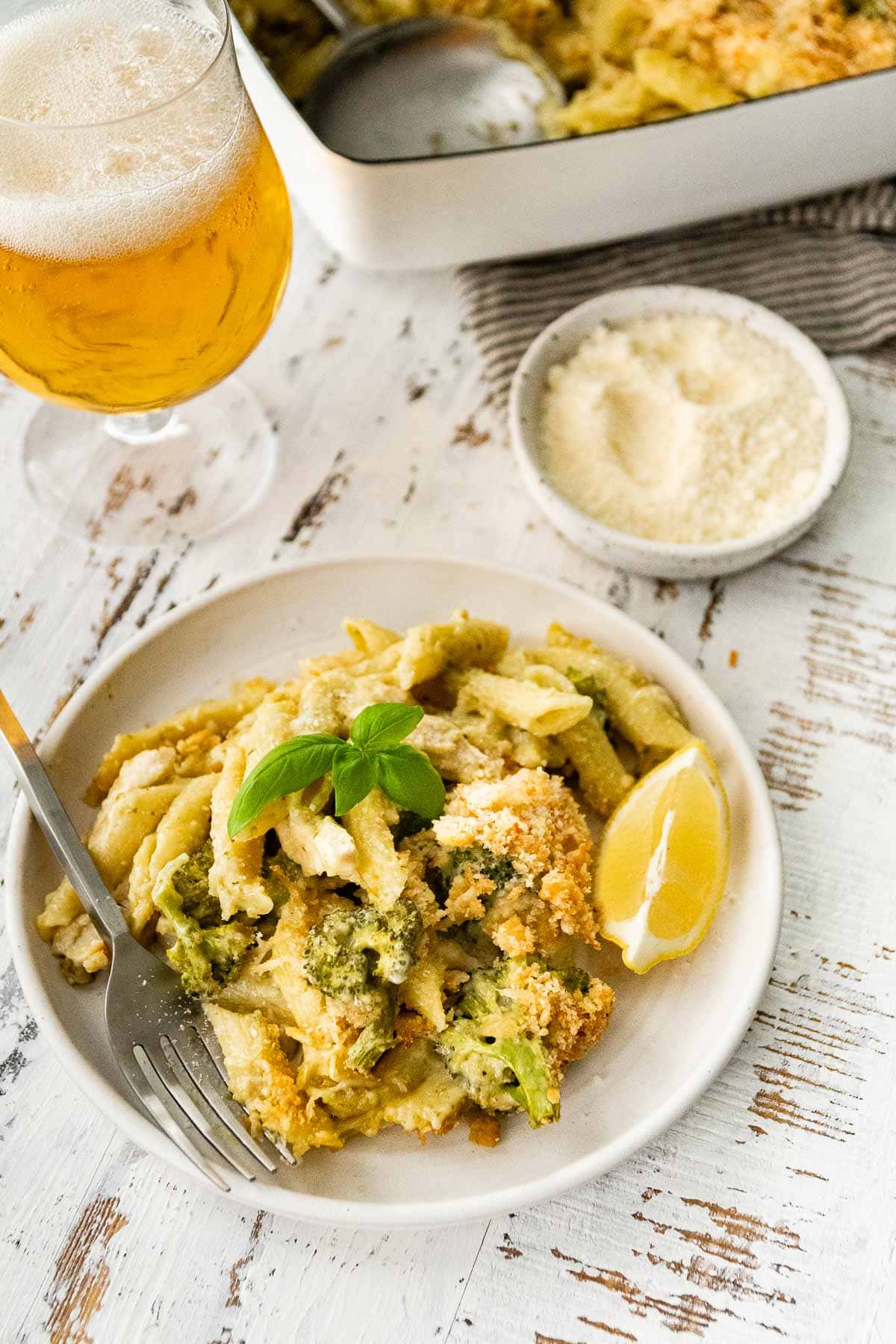 Broccoli Chicken Pasta Casserole is a simple recipe that you'll find yourself coming back to over and over again for weeknight meals. The instructions are super easy to follow, and after a quick prep time, you just pop the dish in the oven until it's baked to melty, cheesy perfection.
The combination of fresh broccoli florets and pasta with chicken is wonderfully filling, so you don't have to worry about making lots of sides for your family dinner. Just bake the one casserole dish and enjoy!
The creamy sauce adds tons of amazing flavor to this classic chicken dish. Pesto Sauce and Alfredo are mixed together to coat the chicken. The savory and creamy sauces are combined with two types of cheese, mozzarella, and parmesan, for the ultimate creamy, rich Italian sauce. You absolutely won't be able to get enough of this comforting and creamy pasta bake.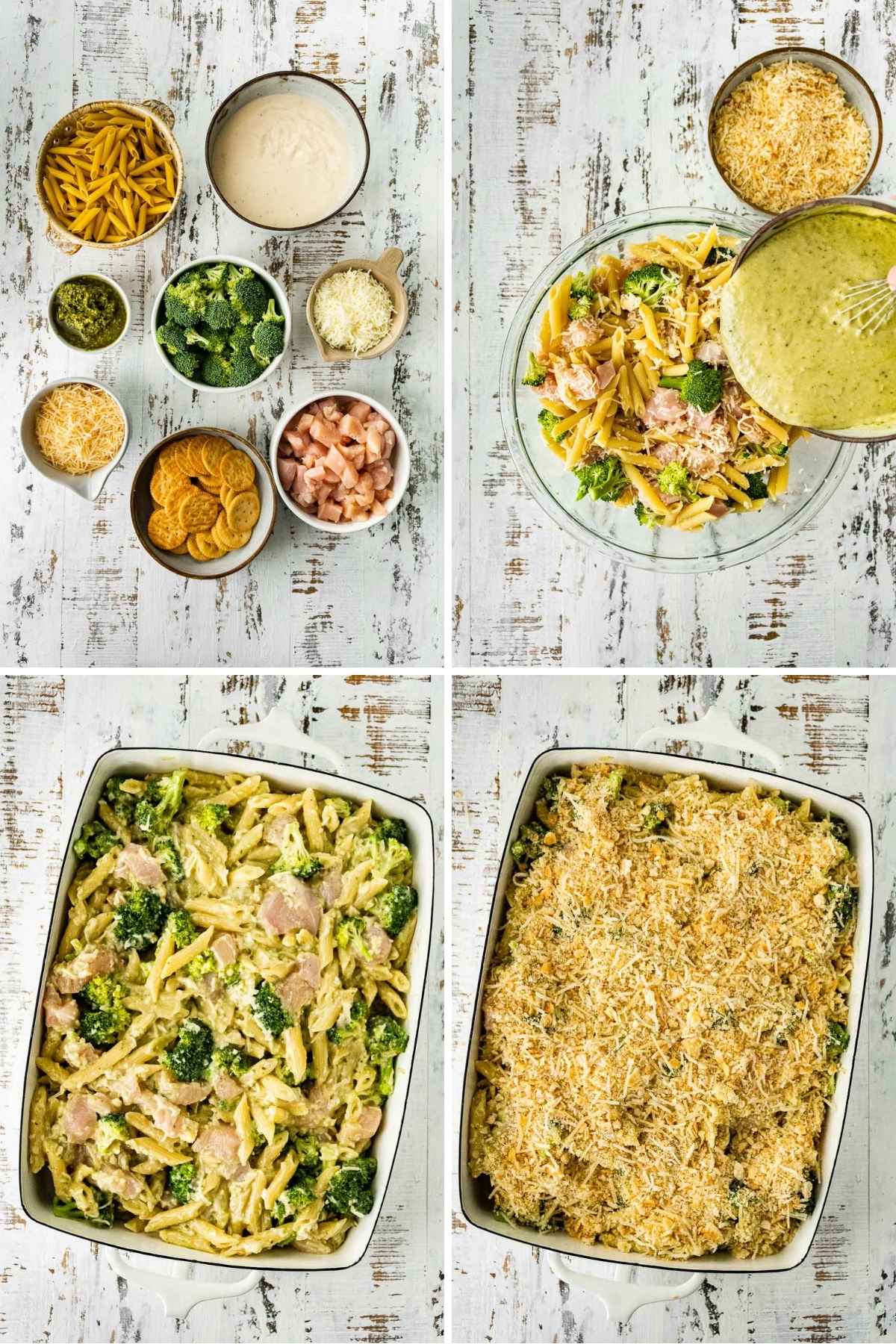 Key Ingredients
Broccoli Florets: Broccoli florets are the small piece of broccoli that get cut off of the top of a large stem you see at the grocery store. They are perfect bite-size pieces for your Casserole and they taste great with the creamy, cheesy sauce.
Pesto Sauce: Pesto sauce is made from fresh basil, pine nuts, Parmesan cheese, olive oil, and garlic. The flavor of pesto will get mixed into your sauce to bring that nutty freshness into every bite.
Alfredo Sauce: Creamy, delicious Alfredo will form the base of your Casserole. The sauce contains cream, butter, and also Parmesan cheese just like the pesto sauce. These two pair well together, and make such a tasty, creamy base.
Mozzarella and Parmesan Cheese: These cheesy additions will thicken your sauce, and provide the cheesy flavor that blends so well with the broccoli and chicken.
Ritz Crackers: Packaged Ritz crackers get crushed up, then mixed with some Parmesan cheese to form the crunchy topping of this Casserole. It might just be everyone's favorite part, because nothing forms a buttery, crunchy crumble like Ritz crackers. Crush them up pretty finely, but you can keep some slightly larger chunks for variety in texture.
More Comfort Foods
How to Make Chicken Broccoli Pasta Bake
Prep Time: Start by turning the oven heat to 375 degrees, and grease a 9×13 inch oven-safe baking dish. 
Pasta: Put a large pot of water over medium heat and add in a little bit of kosher salt. Add the uncooked pasta to boiling water and cook until just 2 minutes short of the box instructions. Then drain the pasta.
Casserole Dish: Slice the uncooked chicken into bite-sized pieces. Add the sliced chicken breasts, bite-sized florets, cooked pasta, pesto sauce, Alfredo sauce, mozzarella, and ½ cup Parmesan cheese to a large mixing bowl. Mix the ingredients together until the chicken, pasta, and broccoli florets are coated in the creamy sauce. Then pour the mixture into the casserole dish. Mix together the Ritz cracker crumbs and remaining Parmesan cheese to sprinkle over the top. 
Cook Time: Put the dish in the preheated oven for 20-25 minutes until the cheese is bubbly and the topping is golden brown. 
Frequently Asked Questions About Chicken Broccoli Pasta Bake
Why is the pasta cooked 2 minutes short of the package instructions?
The pasta is not cooked all the way because it will continue cooking once baked in the casserole dish. If you cook it all the way before baking it, the pasta will be overcooked when you take it out of the oven.
What kind of pesto and Alfredo sauce should be used in this recipe?
You can use any pesto or Alfredo sauce that you enjoy eating. Choose a packaged brand that you like, or you can make your own. If you make your own, you might want to make it ahead of time so that you can still enjoy how quick it is to put this meal together.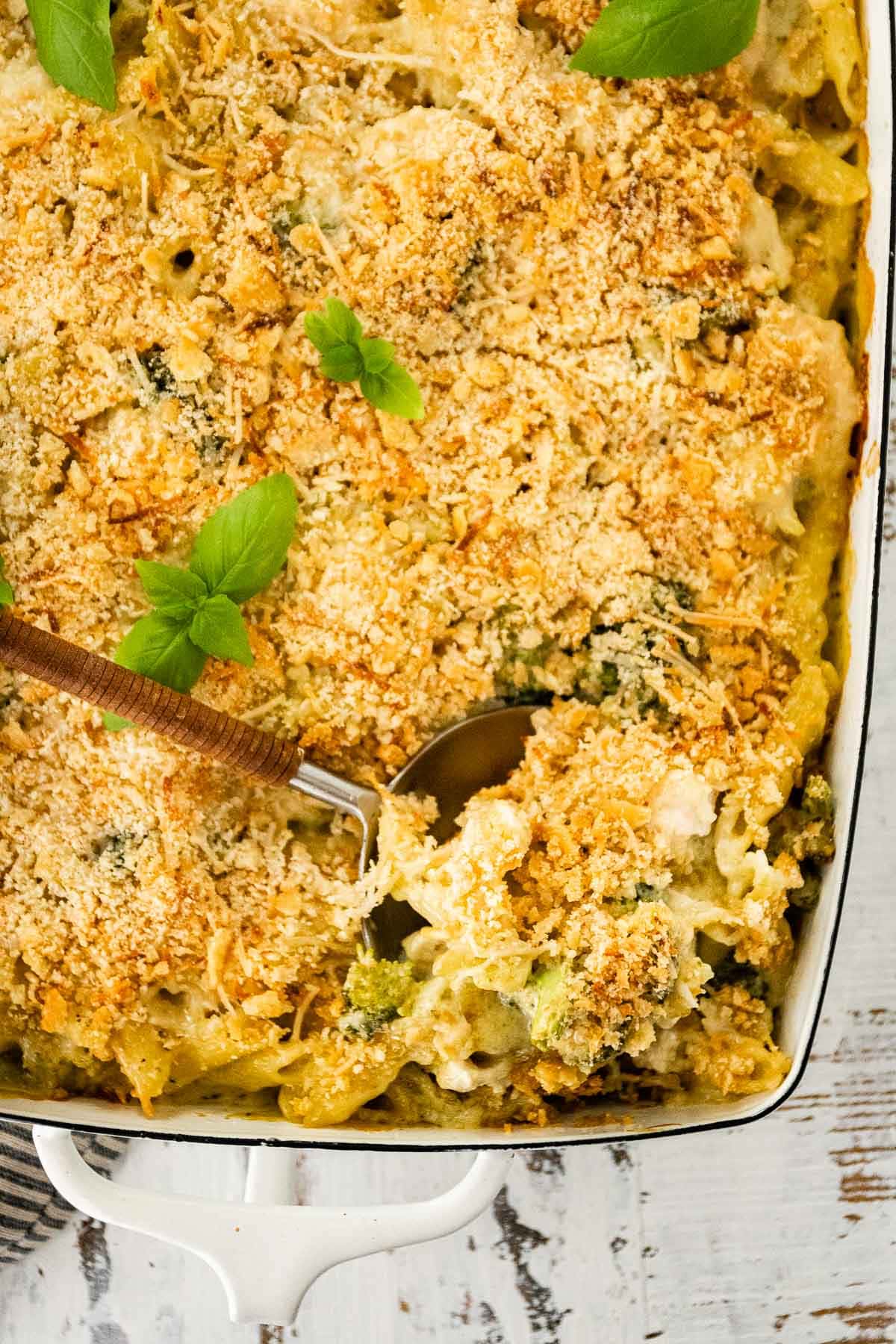 Create a free account to Save Recipes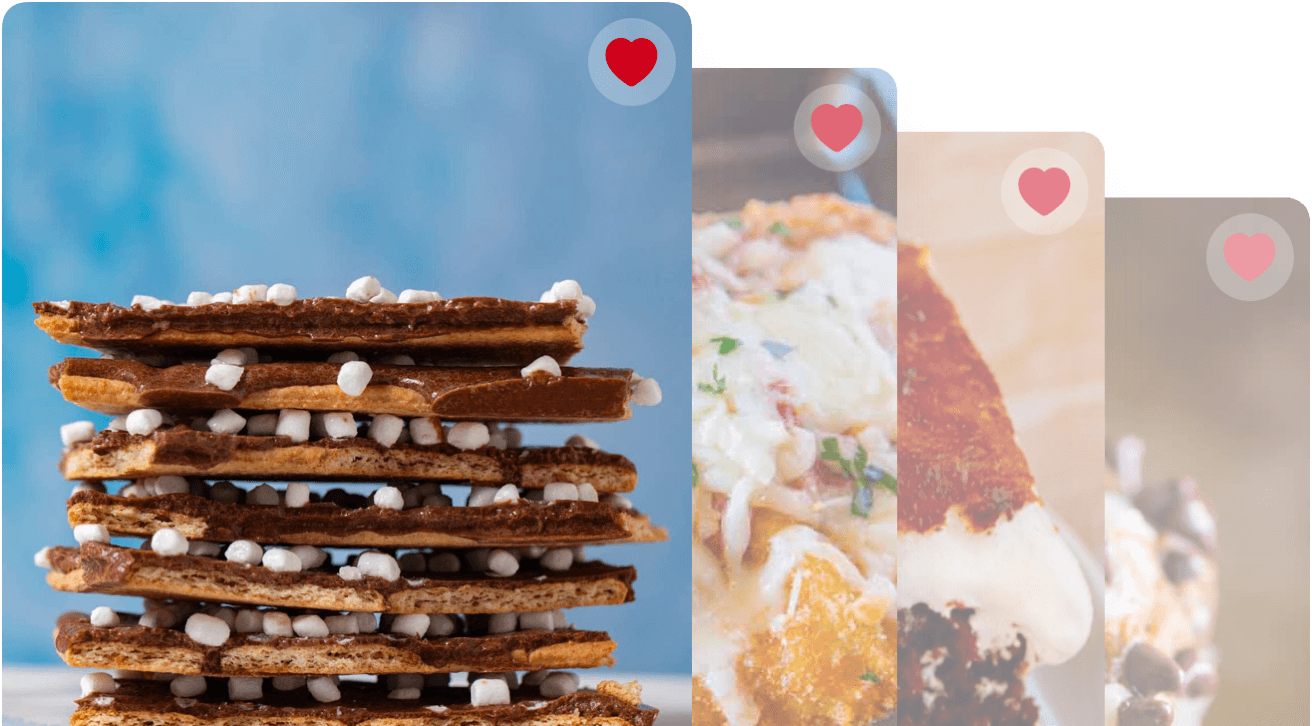 Variations on Chicken Broccoli Pasta Bake
Types of Cheese: You can try using different types of cheese in the cheese sauce for this recipe. Sharp cheddar cheese, provolone, Pepper Jack, gouda, or Monterey Jack would all taste amazing in this Broccoli Chicken Casserole. 
Broth: To add some extra flavor to the pasta, you can use chicken broth or vegetable stock in place of the salted water when you're boiling the noodles.
Pasta: You can try out a different type of pasta in the recipe. Macaroni, bowtie pasta, rigatoni, or any shortcut pasta would work great in this casserole dish. 
Extra Veggies: You can add different kinds of veggies to the Chicken Broccoli Casserole to go along with the fresh broccoli. Onion, corn, carrots, or peas would all make delicious and colorful additions. 
Garlic Chicken Broccoli Bake: For a bold garlicky flavor in the recipe, you can add garlic powder or minced garlic cloves to the mixture.
Seasonings: To give some extra flavor to the recipe, you can add in your favorite spices and seasonings. Mix in red pepper flakes, oregano, thyme, paprika, or chili powder.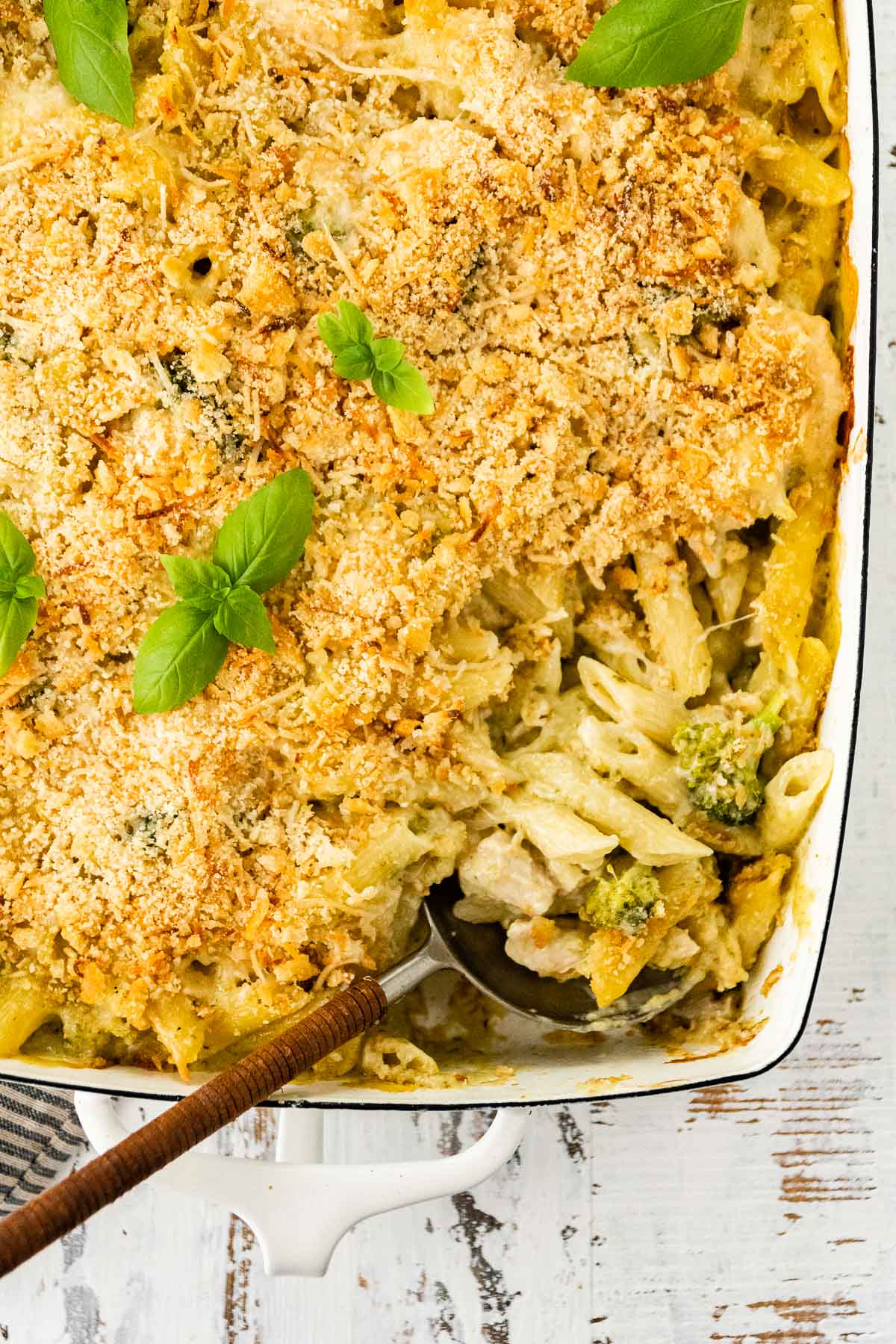 More Chicken Recipes
How to Store
Serve: If you have any leftover chicken casserole, don't leave it at room temperature for more than 2 hours.
Store: Cover the Broccoli Chicken Casserole in plastic wrap or transfer it to an airtight container to seal it. You can store the simple dish in the fridge for 3-4 days.
Freeze: You can also store leftover chicken in the freezer. The frozen Broccoli and Chicken will stay good for up to 3 months in the freezer.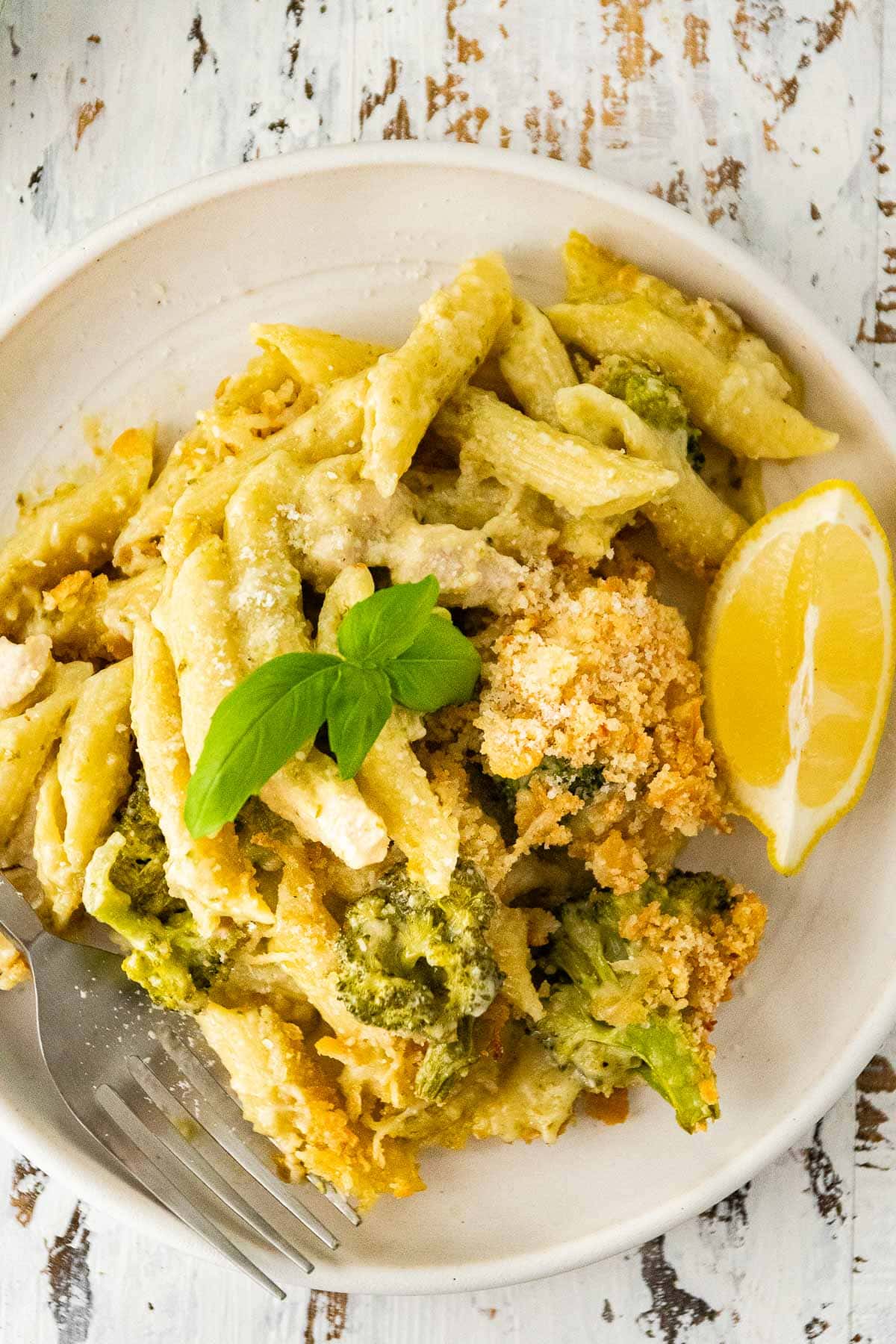 Ingredients
8

ounces

penne pasta

2

cups

chicken breast

, chopped (raw)

2

cups

broccoli florets

1/2

cup

pesto sauce

3

cups

Alfredo sauce

1

cup

mozzarella cheese

1

cup

grated Parmesan cheese

, divided

20

Ritz crackers

, crushed
Instructions
Preheat oven to 375 degrees and grease a 9×13 inch baking dish.

Cook the penne in a large pot of salted boiling water 2 minutes less than the box says.

In a large bowl mix the chicken, broccoli, pasta, pesto sauce, Alfredo sauce, mozzarella, and ½ cup of the Parmesan cheese.

Pour into the baking dish.

Mix the Ritz cracker crumbs and the remaining ½ cup of Parmesan cheese.

Sprinkle over the pasta mixture.

Bake, uncovered for

20-25 minutes

.
Nutrition
Calories:
343
kcal
|
Carbohydrates:
22
g
|
Protein:
16
g
|
Fat:
21
g
|
Saturated Fat:
9
g
|
Polyunsaturated Fat:
3
g
|
Monounsaturated Fat:
4
g
|
Trans Fat:
0.1
g
|
Cholesterol:
72
mg
|
Sodium:
797
mg
|
Potassium:
211
mg
|
Fiber:
1
g
|
Sugar:
3
g
|
Vitamin A:
445
IU
|
Vitamin C:
14
mg
|
Calcium:
157
mg
|
Iron:
1
mg