Chile Relleno Casserole is a hearty, easy family-friendly dish with whole green chilis, cheddar and jack cheeses baked together in less than 45 minutes.
Casseroles are perfect for those nights when you want to eat something quick. We've done Chicken Parmesan Casserole, a Breakfast Casserole and the classic Tuna Noodle Casserole.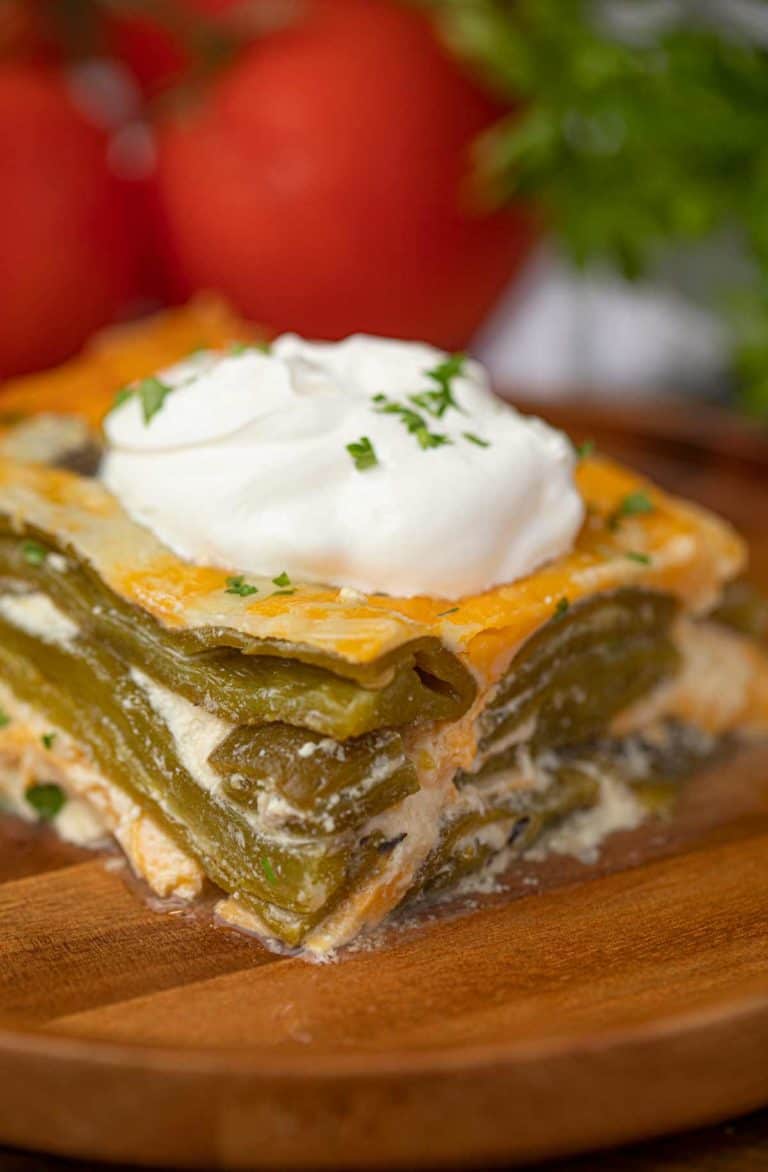 CHILE RELLENO CASSEROLE
Chile Rellenos are a delicious dish that is popular in many Mexican restaurants, but have you ever tried it in a casserole? Our Chile Relleno Casserole, which is a mildly spicy, vegetarian friendly Tex-Mex easy dinner version of the classic recipe that also happens to be low carb.
We promise that you won't be disappointed. Chili Rellenos come in a variety of styles, and for our recipe we chose a cheese stuffed version with green chiles because of how rich and savory it is.
Also, if you're looking for something good as a follow-up to your dinner, you should try our Tres Leches Cake.
How to Make Chile Relleno Casserole:
Start by spraying your nonstick cooking pan, and preheating your oven.
Cut cubes of Monterery Jack cheese and slice the green chiles so that you have two equal sized halves.
Stuff the chiles with the cheese and line them up inside the pan in a single layer.
Combine the eggs, milk, flour and baking powder in a bowl and whisk them together until they're blended.
Pour the mixture over the chilis so that they are well coated.
Cover the Chili Relleno Casserole with shredded cheddar cheese.
Bake for 30 to 35 minutes, until the top is golden brown.
What to serve with Chile Relleno Casserole?
Spanish Rice: this recipe is easy to follow and goes great with all kinds of Mexican dishes.
Corn Salsa: this dip is great for parties, especially if you're over using salsa from a can. Easy to make, and ready in 5 minutes.
Refried Beans: beans go great with any casserole, but especially this one. Our refried bean recipe is fast, so you can make it while the casserole is baking.
Pile on the Toppings!
Cilantro: chop up some fresh cilantro and sprinkle it over the top of the casserole once it's been baked or use it as a garnish for the side of your dish.
Chorizo sausage, ground beef or chicken: chicken, chorizo and ground beef work really well with this recipe, as well as many other Mexican dishes. If you go ahead with using meat, always check the internal temperature of the casserole with a probe thermometer. Casserole with meat is safe to eat when the internal temperature reaches 160 degrees F (71.1 degrees C), according to the USDA's website.
Cotija: if you are up for something a bit different, try stuffing your peppers with cotija instead of Monterey Jack cheese. Cotija is more salty than Monterey Jack, and gives the whole dish a different flavor. Still use cheddar to cover the top the casserole, because cotija is much firmer.
Enchilada Sauce: If you want this to be like a wet enchilada, you can top with some easy 10 minute homemade enchilada sauce that is one of my most popular recipes on the site!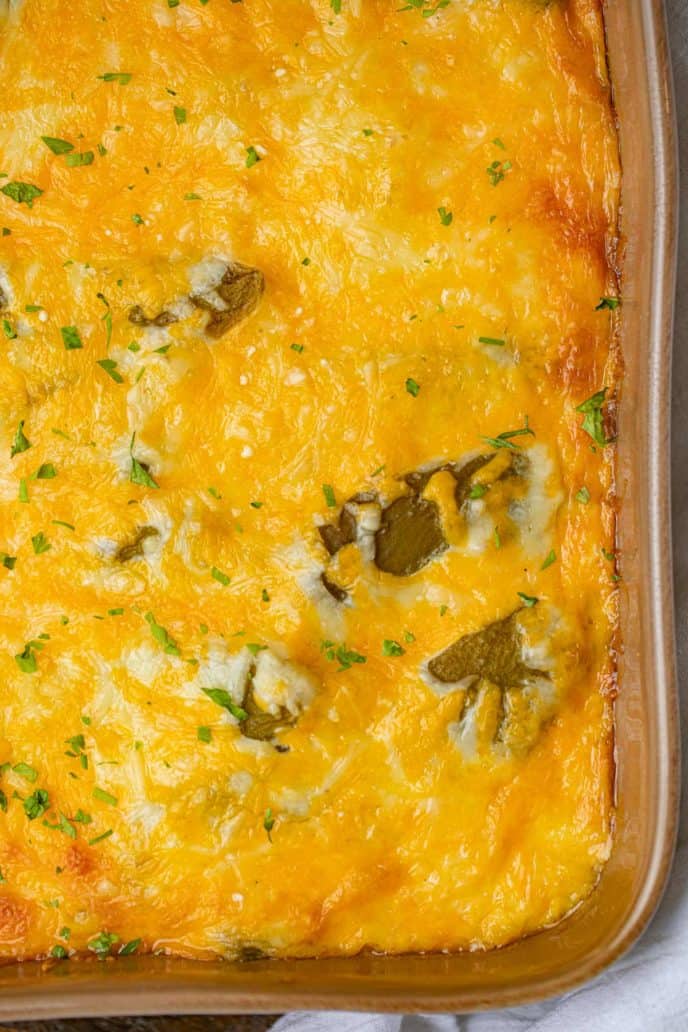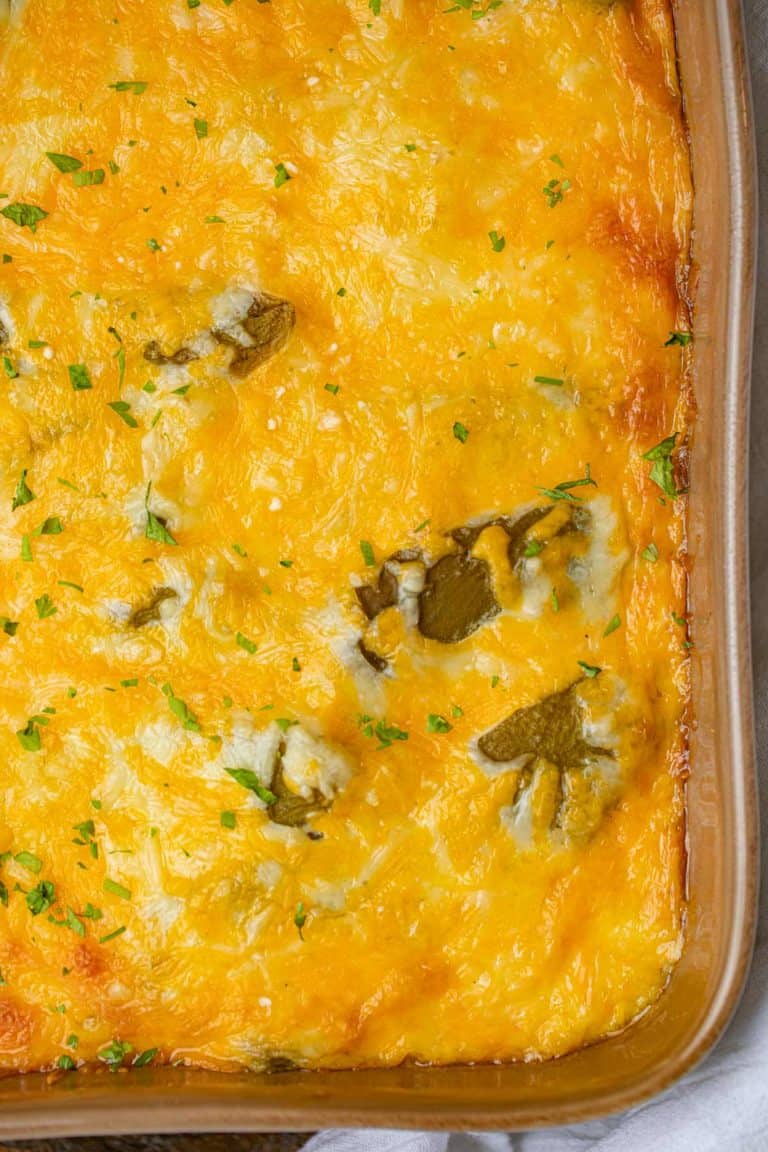 Create a free account to

Save Recipes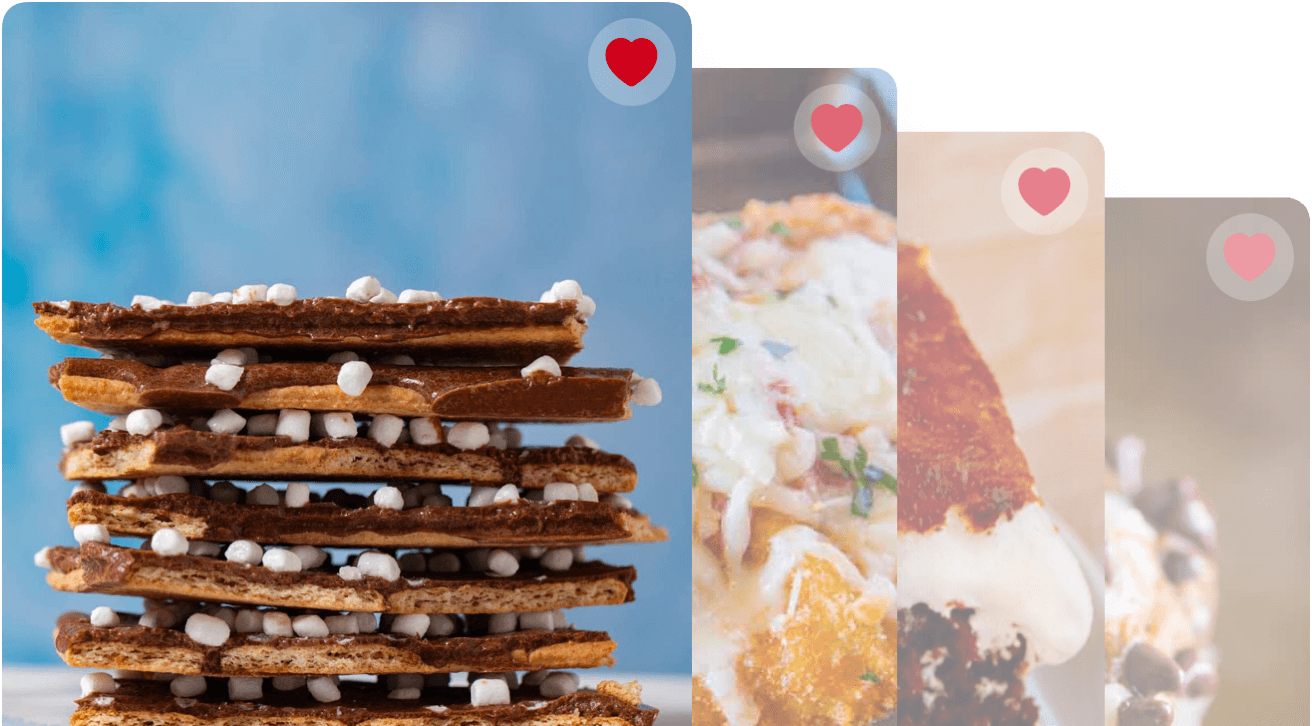 OTHER CHILES
What kind of chile you use for this recipe is entirely up to you. If you are fresh out of green chilies, or just want to try something a little different, here are some that work great with this relleno recipe.
Anaheim chile: this chile is a little smaller than some other varieties, but it is still easy to pack with cheese.
Poblano peppers: these are what chile rellenos are traditionally made with, since they are large and bake really well. Poblanos are also a good source of vitamin A as well as being tasty.
New Mexico/ Hatch chiles: if you want something a little spicier than green chiles, New Mexico chiles pack more heat and are still big enough to fit a lot of stuffing inside. They also aren't spicy enough to make you regret eating them.
HOW DO YOU SPELL "CHILE?"
You've probably seen it spelled "chili," "chilli," and "chile." So, which one is right? Actually, they all are, according to Miriam-Webster Dictionary's website.
Chile: this is the original Spanish spelling of the word. It is also the name of the South American country. So, when you're serving up chile rellenos, you can be smug and correct your friends' spelling.
Chili: "chili" is the standard English spelling for both the delicious stew and the hot pepper you accidentally put in your delicious stew.
Chilli: this spelling is only used by British English speakers.
Now that you know this, feel free to debate chillies with the English person you just meet while eating your chili that you just put hot chiles in.
GLASS DISHES
If you are using a glass casserole dish, you should check them for cracks before you use them (even tiny ones.) Cracked glass doesn't distribute the heat from your oven evenly around the dish. This means that in the best scenario, your casserole won't cook evenly and in the worst scenario, your glass dish could shatter. Save yourself from potential burns and give your dish a good once-over before using it.
How to Store Chile Relleno Casserole:
Serve: you shouldn't leave your casserole out for longer than two hours at room temperature.
Store: kept in an airtight container, it will stay good for 3 days before it starts getting gross.
Freeze: it will keep in the freezer for up to 3 months.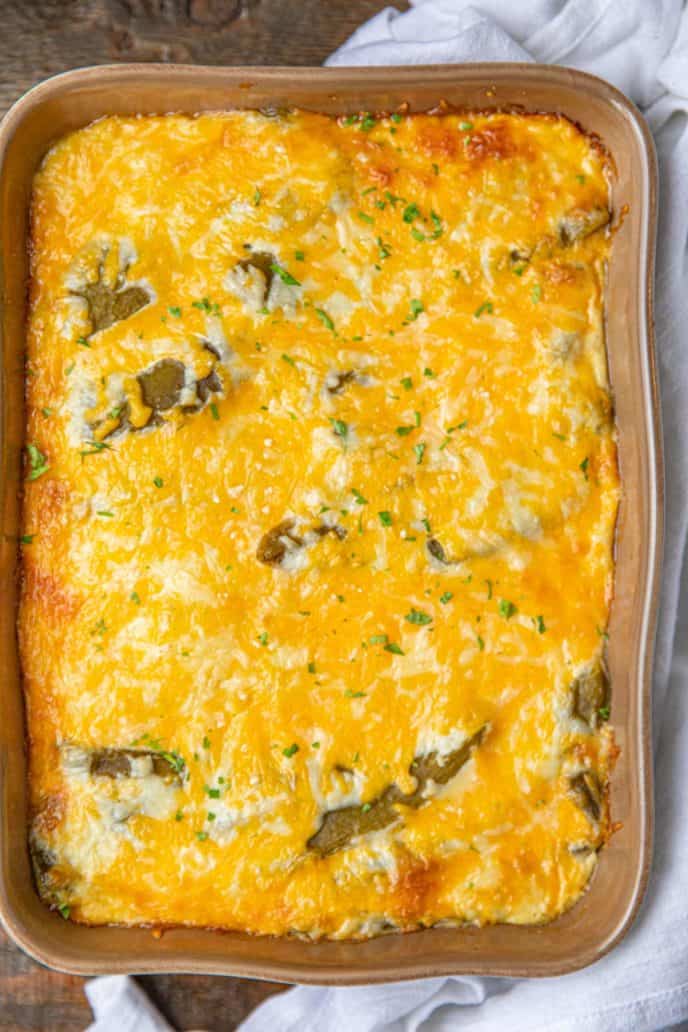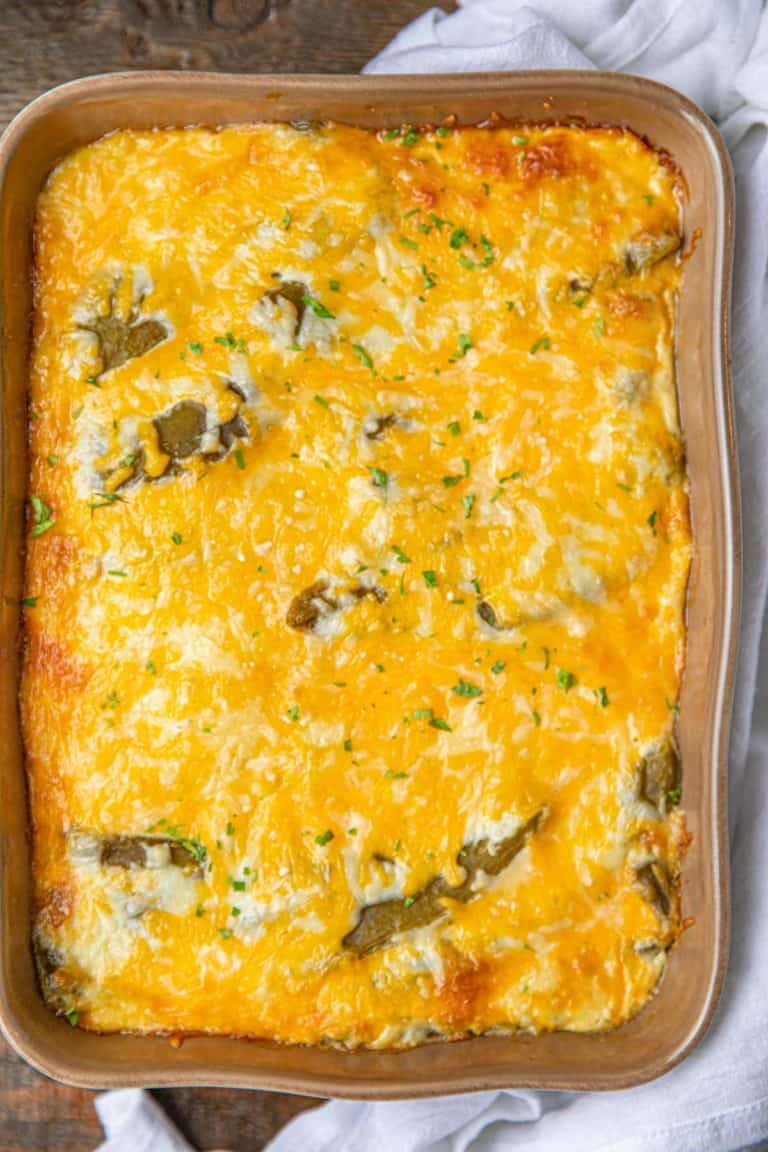 Ingredients
21

ounces

whole green chiles

, canned - drained

8

ounces

Jack cheese

, cut into 1" cubes

8

large eggs

3/4

cup

whole milk

1

cup

flour

1

teaspoon

baking powder

2

cups

cheddar cheese

, shredded
Instructions
Preheat oven to 350 degrees F (176.6 degrees C). Spray a 9"x13" baking pan with vegetable oil spray.

Place 2 cubes of jack cheese into each chili and line them up in the pan.

Whisk together the eggs, milk, flour and baking powder and pour it over the chilis.

Put the cheddar cheese over the egg mixture and bake for

30-35 minutes

or until golden brown.
Nutrition
Calories:
236
kcal
|
Carbohydrates:
9
g
|
Protein:
15
g
|
Fat:
15
g
|
Saturated Fat:
9
g
|
Cholesterol:
147
mg
|
Sodium:
267
mg
|
Potassium:
139
mg
|
Fiber:
1
g
|
Sugar:
1
g
|
Vitamin A:
515
IU
|
Calcium:
326
mg
|
Iron:
1.3
mg