jump to recipe
Chili's Chicken Enchilada Soup (Copycat)
This post may contain affiliate links. Read my disclosure policy here.
Chili's Chicken Enchilada Soup copycat is creamy, rich, slightly spicy and thick blended together and topped with chunks of chicken breast meat.
 Chili's Chicken Enchilada Soup
Chicken Enchilada Soup is a delicious, easy soup make with some fun and unique ingredients you'll love! Unlike most Mexican soups this one doesn't have a whole bunch of vegetables inside.
In fact the only one in there, onions, sort of disappear into the soup as it cooks. It also has a deliciously thick texture that is from something called masa harina.
I have a bag of masa harina I love using for a bunch of different recipes, but the use of it in this recipe to thicken the soup is a less expensive and easier way compared to the boiling of ground corn tortillas that more authentic enchilada soups use.
If you can'd find the masa harina or if you have corn tortillas and want to use them up, add them to your food processor and process them as finely as you can. They will break down fully in the soup.
What is masa harina? Masa harina is made from dried corn which is soaked in lime and water before being ground into flour. It's commonly used in the making of tortillas.
MY OTHER RECIPES
First things first, the original version of the recipe calls for masa harina, which can be difficult to find if you don't have any ethnic grocers nearby. I buy this one at my local store but a good online version is this one although admittedly more expensive.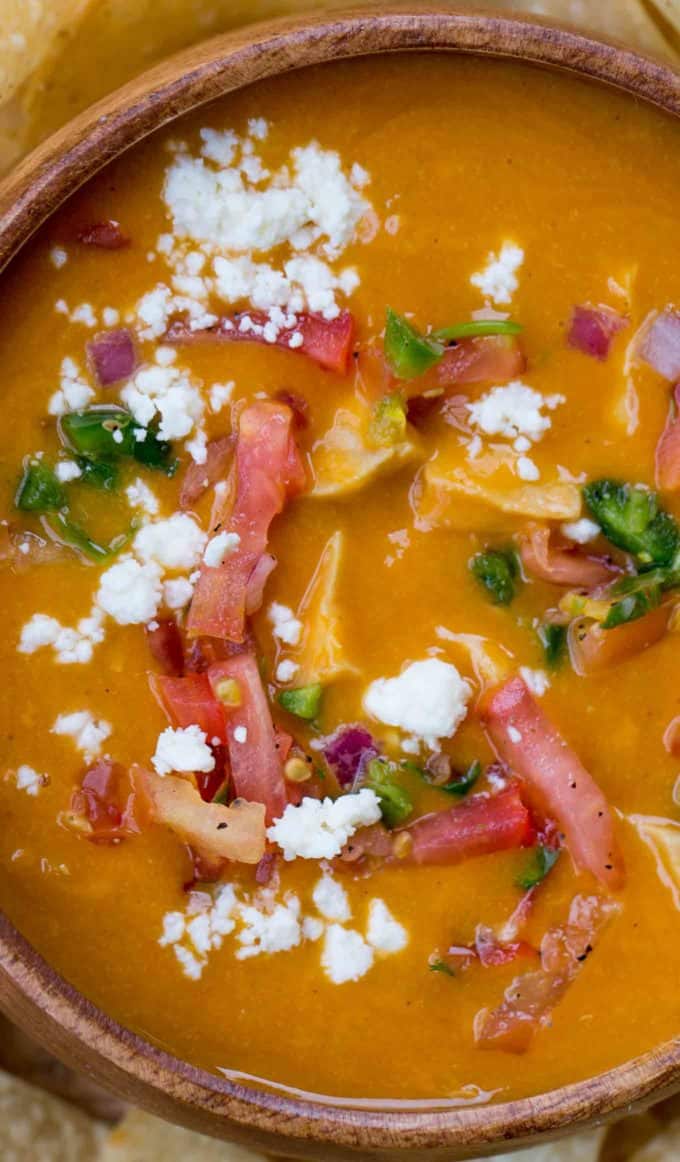 Some tips for making this easy enchilada soup:
The original calls for Velveeta but I just don't use Velveeta as a rule (My only processed cheese habits are Cheez Whiz for Philly Cheesesteaks).
I use Better than Bouillon instead of chicken stock and amp up the flavor using more than it calls for on the label. This is an easy way to deepen the flavor of your soup.
Slow Cooker Chicken Enchilada Soup Recipe:
Add in all the soup ingredients except for the cream cheese and cheddar cheese. Mix really well and cook on low for 7-8 hours (High for 3-4 hours). In the last hour add in the cream cheese, cheddar cheese and stir well. Serve with the toppings as instructed in the recipe below.
Looking for more soups?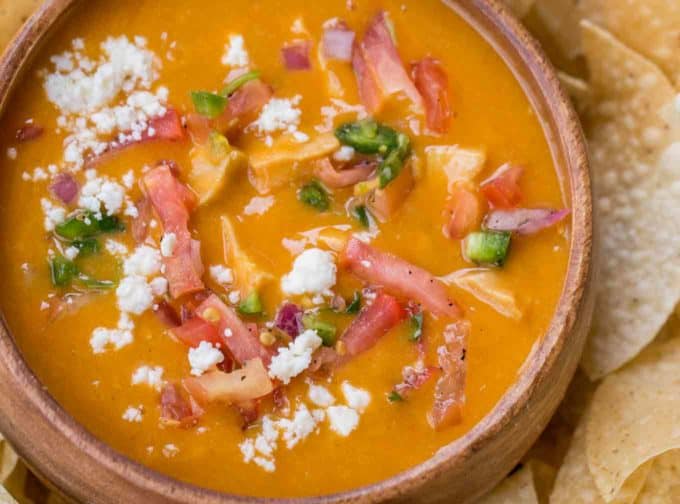 Tools used in the making of this Chili's Chicken Enchilada Soup:
Chicken Base: I almost never buy boxes of broth because I keep the beef, chicken and vegetable version of this Better Than Bouillon.
Dutch Oven: Great for soups or braised meats and the lid is actually a frying pan.
Chili's Chicken Enchilada Soup (Copycat)
Chili's Chicken Enchilada Soup copycat is creamy, rich, slightly spicy and thick blended together and topped with chunks of chicken breast meat.
Ingredients:
Chicken Enchilada Soup
1 pound chicken breasts, boneless skinless and cut into 1″ chunks
1 teaspoon Kosher salt, divided
2 tablespoons canola oil
3/4 yellow onion, diced (the rest of the onion goes to the topping)
1 teaspoon chili powder
1 teaspoon cumin
1 garlic clove, minced
4 cups chicken broth
1 cup masa harina
4 cups water
1 1/2 cups enchilada sauce (or one 12 ounce can)
8 ounces cream cheese cheese, cut into small cubes
8 ounces sharp cheddar cheese
Toppings
2 roma tomatoes, diced
1/4 yellow onion, diced
1/2 jalapeno, deseeded, deveined and minced
1/4 cup chopped cilantro
1/8th teaspoon kosher salt
1 pinch coarse ground black pepper
1/4 cup cotija cheese crumbles
Directions:
In a large dutch oven add the canola oil over medium high heat.
Add half the kosher  to the chicken pieces and add them to the dutch oven.
Cook the chicken 3-4 minutes on each side, until just cooked through.
Remove the chicken and add in the onions and lower the heat to medium.
Add in the spices and cook for 3-4 minutes until translucent.
Add in the chicken broth and whisk.
In a large bowl add the masa harina to the water and whisk it together well.
Add it into the dutch oven along with the enchilada sauce.
Stir well and let simmer for 30-40 minutes on low heat.
Add in the cream cheese and cheddar cheese and stir well until melted.
Add the topping ingredients, except for the cotija cheese into a bowl together and stir.
Top the soup with some of the tomato mixture and some crumbled cheese.
All images and text ©
Made this recipe?
Show me what you made on Instagram or Facebook and tag me at @DinnerthenDessert or hashtag it at #dinnerthendessert.
Dinner, then Dessert, Inc. owns the copyright on all images and text and does not allow for its original recipes and pictures to be reproduced anywhere other than at this site unless authorization is given. If you enjoyed the recipe and would like to publish it on your own site, please re-write it in your own words, and link back to my site and recipe page. Read my disclosure and copyright policy. This post may contain affiliate links.