Chopped Steak is easy recipe for tender ground steak patties that are a hearty, budget-friendly comfort food dish full of delicious flavor!
Traditional recipes like Beef Meatloaf and Salisbury Steak are the ultimate Dinner dishes in the classic comfort food department. This easy hamburger steak recipe is just as hearty, delicious, and comforting!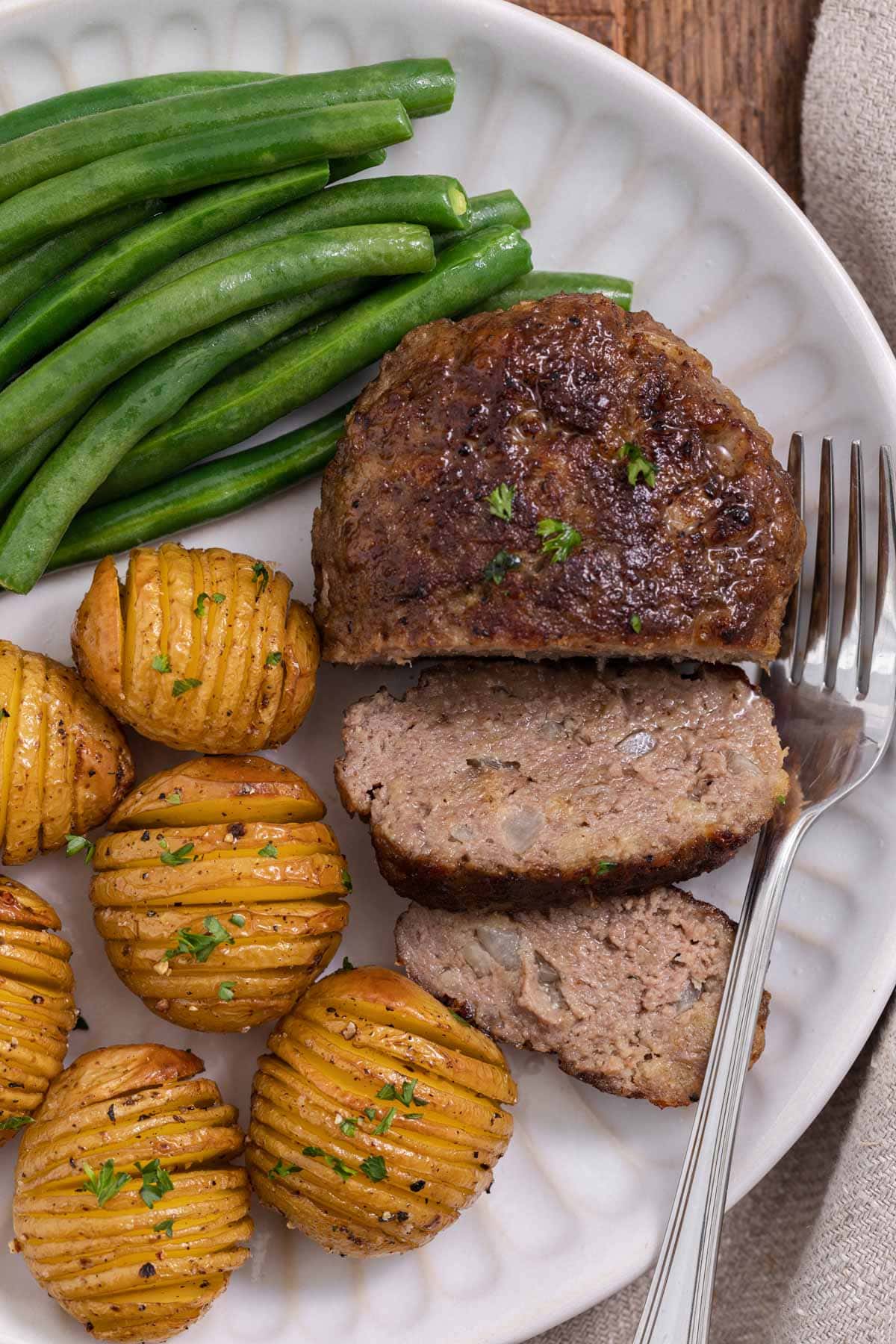 Comfort food is one of those things that means something different to everyone, but really it comes down to food that feels comforting. Some you eat when you're sick, like Chicken Noodle Soup, and some you eat when you want old-fashioned goodness. Chopped Steak is definitely in the nostalgic comfort food department. It's a budget-friendly and ready in minutes for hearty comfort food that fills you up body and soul.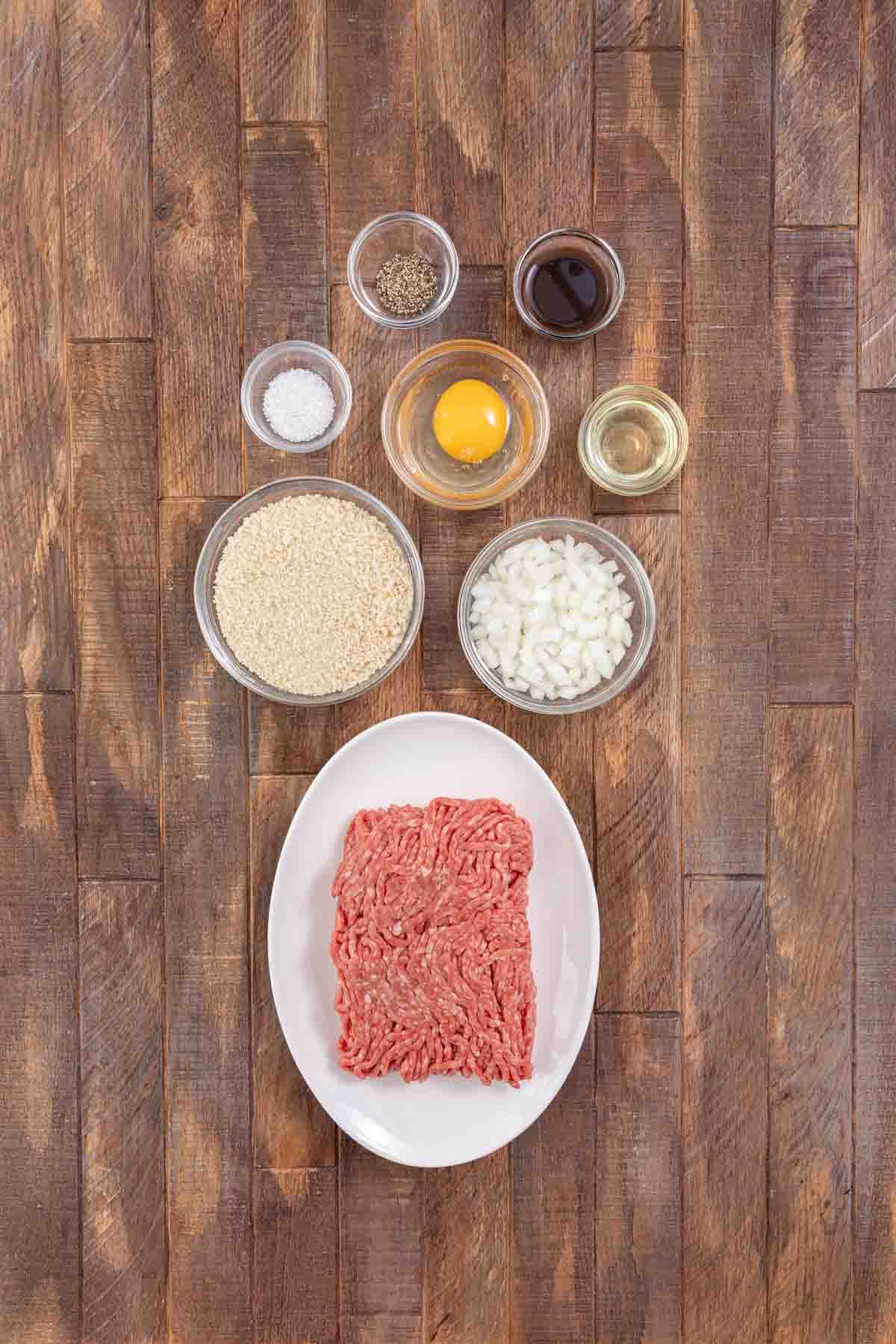 This timeless classic isn't just your regular ground beef patty or cubed steak. A Chopped Steak has layers of flavor and a moist, tender texture that make it as main dish worthy as any sirloin steak. You start with high quality ground beef, or ground sirloin, and mix it with ingredients like egg and breadcrumbs to lock in the juices. There's a light bit of seasoning and some onions to add more moisture. The patties get seared and cooked in a hot skillet just like a steak so they come out incredibly juicy and tender.
Serve this Chopped Steak recipe with some Mashed Potatoes and Sauteed Mushrooms for a hearty comfort food dinner. You can make some gravy with the pan drippings and few ingredients if you prefer, but it's so juicy you don't need any extra sauce. But, if you just can't imagine comfort food without gravy (and who could blame you), there's some gravy recipes included in the Variations Section of this post!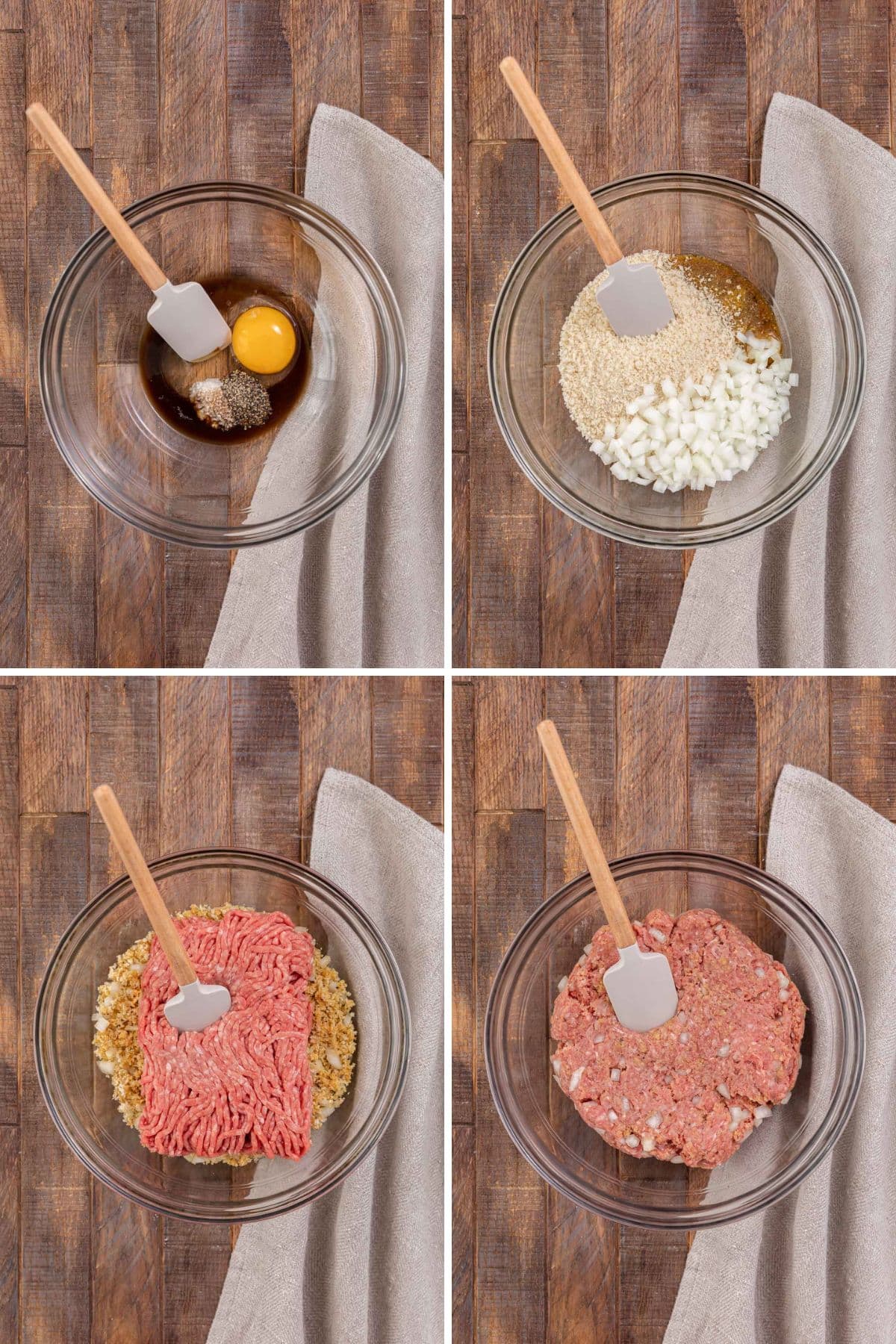 What is Chopped Steak?
Chopped steak is a savory old-fashioned dish of ground steak patties that are cooked on the stove top and served like steak. It's a classic recipe that was created to stretch the budget by grinding up steaks and combining the meat with fillers like breadcrumbs. Similar to meatloaf, cubed steak, and Salisbury steak, it is a well-loved comfort food that was popular at the turn of the 20th century when the dollar needed to go far.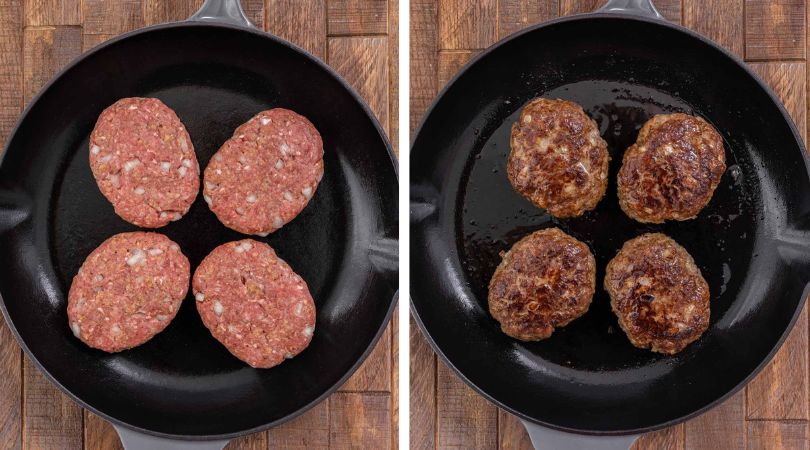 What is the difference between Chopped Steak and Hamburger Patties?
While they are both patties made from ground beef, Chopped Steak is not the same as your Classic Hamburger patty. Chopped steak typically includes additional ingredients like breadcrumbs, onions, and seasonings to enhance its taste and texture. Regular burger patties on the other hand are often just ground meat and some basic seasonings like salt and pepper.
How to Make Chopped Steak
Seasonings: Whisk the egg, Worcestershire sauce, salt and black pepper in a large bowl until combined. Stir in the bread crumbs and diced onions.
Patties: Mix the ground beef into the seasoning mix until it's well combined and evenly distributed. Shape the meat into 4 thick and flat oval patties.
Cook: Heat the vegetable oil in a large heavy skillet over medium high heat. Once the oil is hot, add the patties and cook for about 5 minutes on each side. They should be well browned and cooked through.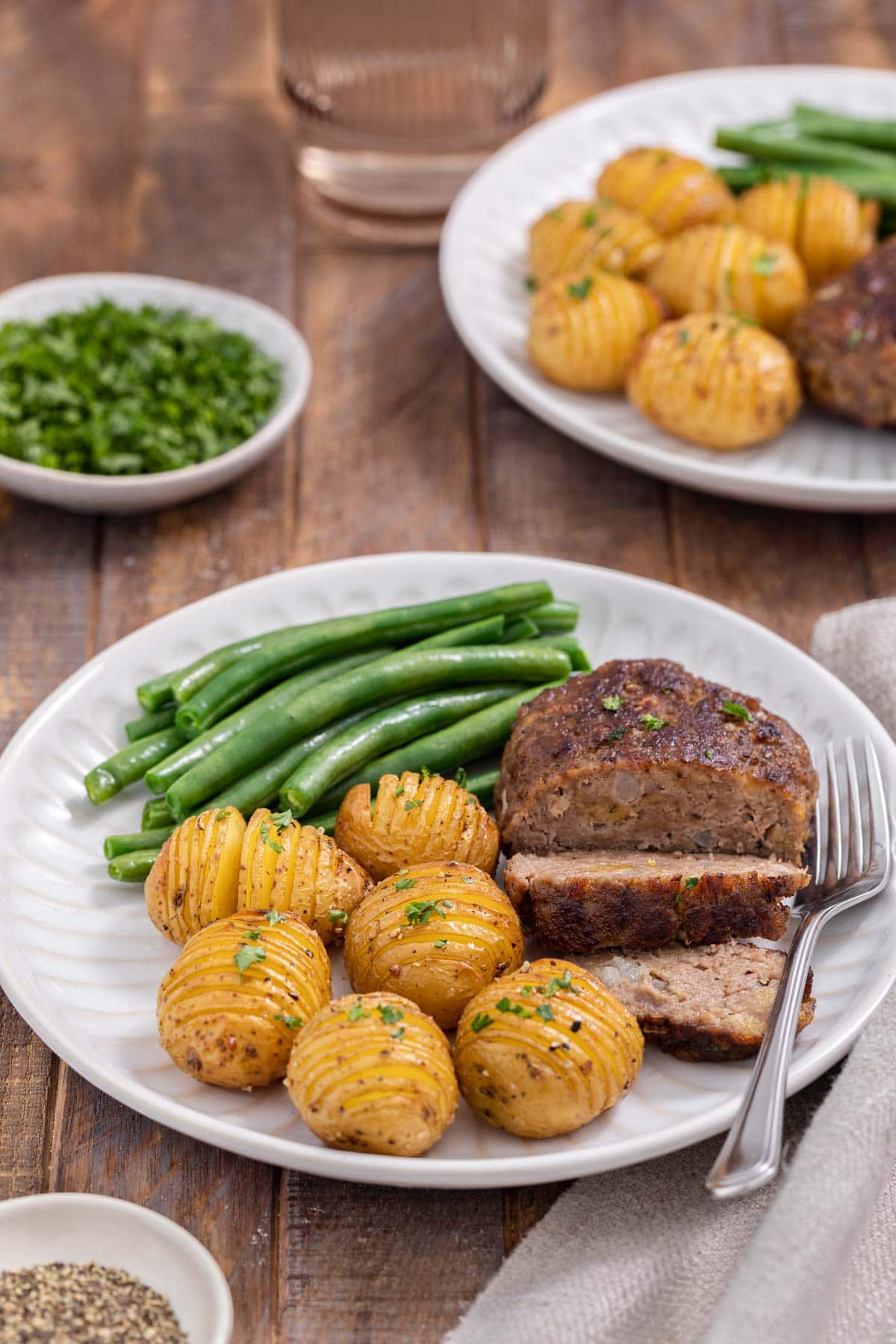 Delicious Comfort Food Side Dishes
FAQs for Chopped Steak
What do you serve with Chopped Steak?
Chopped Steak pairs wonderfully with a variety of classic comfort food sides like creamy mashed potatoes and macaroni and cheese. They are often served topped with sauteed mushrooms and onions plus brown gravy or pan sauce similar Salisbury steak.
Are Chopped Steak and Salisbury Steak the same?
No, they aren't the same but they are super similar. Basically Salisbury Steak is a Chopped Steak that is cooked with gravy and often mushrooms. The meat mixture for Salisbury Steak doesn't usually have bread crumbs or egg added, because it gets moisture from cooking in the pan sauce.
Where does Chopped Steak come from?
Chopped Steak has its roots in American cuisine and is believed to have evolved from the Salisbury steak, a dish popularized by Dr. J.H. Salisbury in the late 19th century. While the exact origins of chopped steak are not well-documented, it has become a staple comfort food in the United States as an easy flavorful and budget-friendly dinner.
How do you keep Chopped Steak moist?
The key to a super moist Chopped Steak (and meat patties in general) is to get a quick, good sear to lock in the juices during the cooking process. For the ultimate sear, use a cast iron skillet or other heavy skillet and get it hot before adding the chopped steak patties.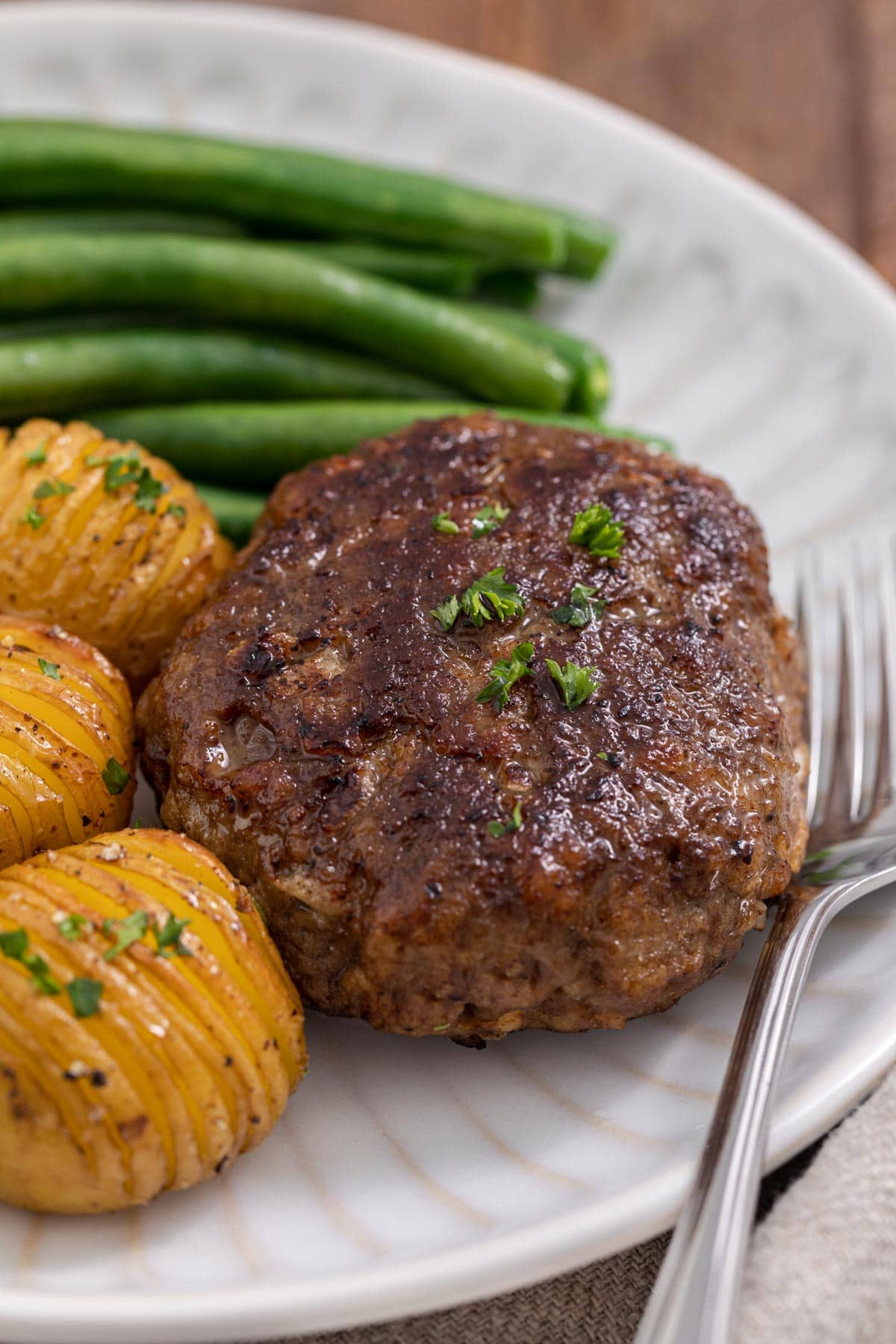 Create a free account to Save Recipes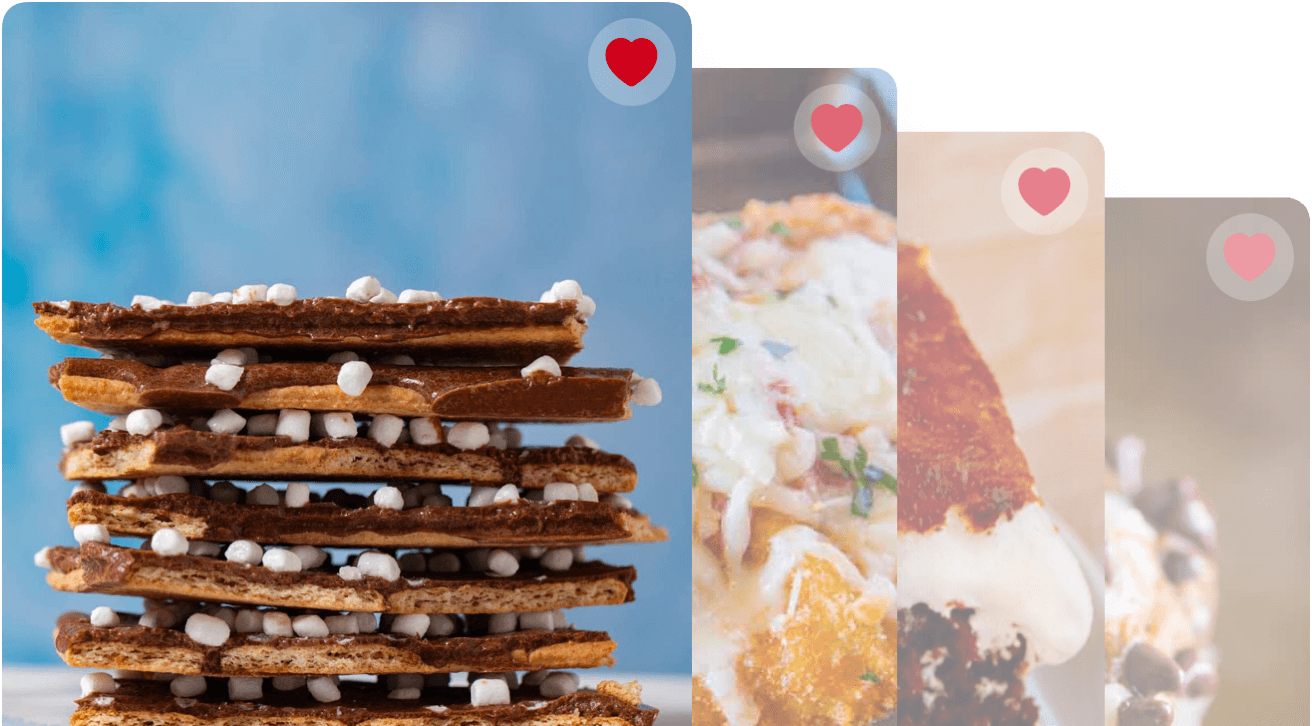 Key Ingredients
Ground Beef: Traditionally Chopped Steaks are made with ground steak, and you can certainly use that, but good quality ground beef with a higher fat ratio like 85/15 or 80/20 works just as well. Plus it's usually easier to find and definitely easier on the wallet than steak.
Egg: Beyond binding, the egg contributes to the tenderness of the patties and adds some extra richness to regular ground beef, for a juicy and satisfying Chopped Steak.
Worcestershire Sauce: Worcestershire sauce elevates the beef's natural flavors for a much more savory beef patty. It can be salty though, so stick to the tablespoon for the best balance.
Bread Crumbs: You might think bread crumbs would dry out meat patties, but they actually help retain moisture by soaking up the natural juices. They are the secret ingredient for tender, juicy, flavorful Chopped Steaks.
Onion: Finely chopped yellow onion adds some more flavor and just a little earthy sweetness to balance all the savoriness. Beyond the flavor, they also make the patties more moist.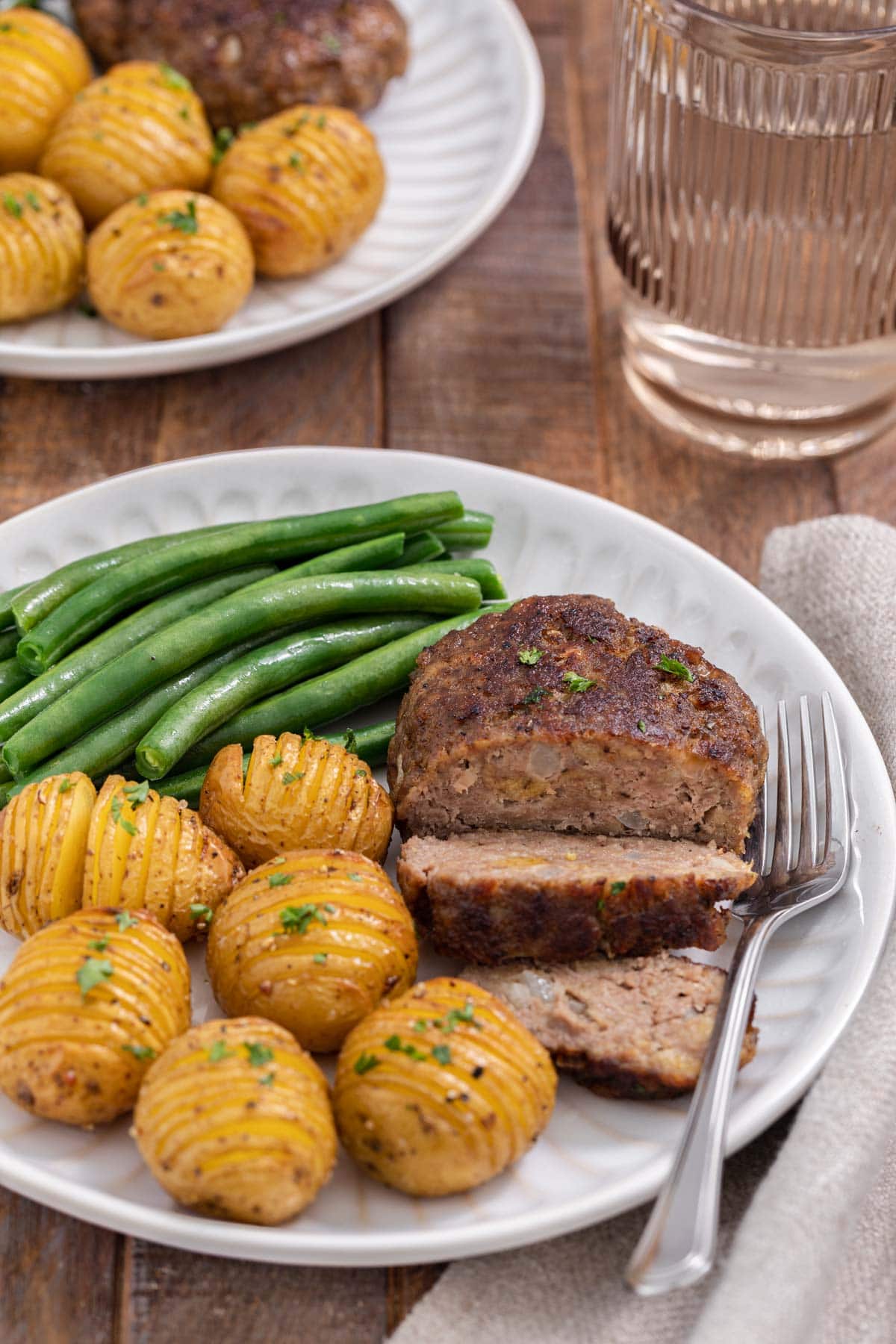 Can Chopped Steak be made ahead of time?
While Chopped Steak is best freshly cooked, you can prep the patties ahead of time. Simply prepare the meat mixture and form the patties. Store them in an airtight container, with wax paper between layers so they don't stick together, for up to 2 days in the fridge. You can also freeze the raw patties on a baking sheet until solid, then wrap them individually and store in the freezer for up to 2 months. Thaw the patties overnight in the fridge before cooking as usual.
Variations
Creamy Mushroom Gravy: Make a delicious creamy mushroom gravy with the pan drippings, Cream of Mushroom Soup and fresh mushrooms. Remove the patties from the pan, then add 2 tablespoons of butter and 8 ounces sliced mushrooms. Saute until the mushrooms are softened. Stir in 1 can of Cream of Mushroom soup, adding beef broth to thin it out as needed.
French Onion: Add more savory onion flavor by adding a pack of french onion dip (like the kind you add to sour cream) to the beef mixture. Serve topped with Caramelized Onions and a brown gravy made with beef broth and pan drippings.
BBQ Glaze: Add a smoky and slightly sweet BBQ flavor to your chopped steak by brushing each patty with your favorite BBQ Sauce while they cook. Serve them with extra BBQ sauce on the side for dipping.
Meat: Chopped Steak doesn't have to be made with just ground beef. You can do a blend, similar to Italian meatloaf by using half veal or pork. You could also make them with ground turkey or chicken, but with the leaner meat you will want to add a tablespoon of oil to the meat mixture.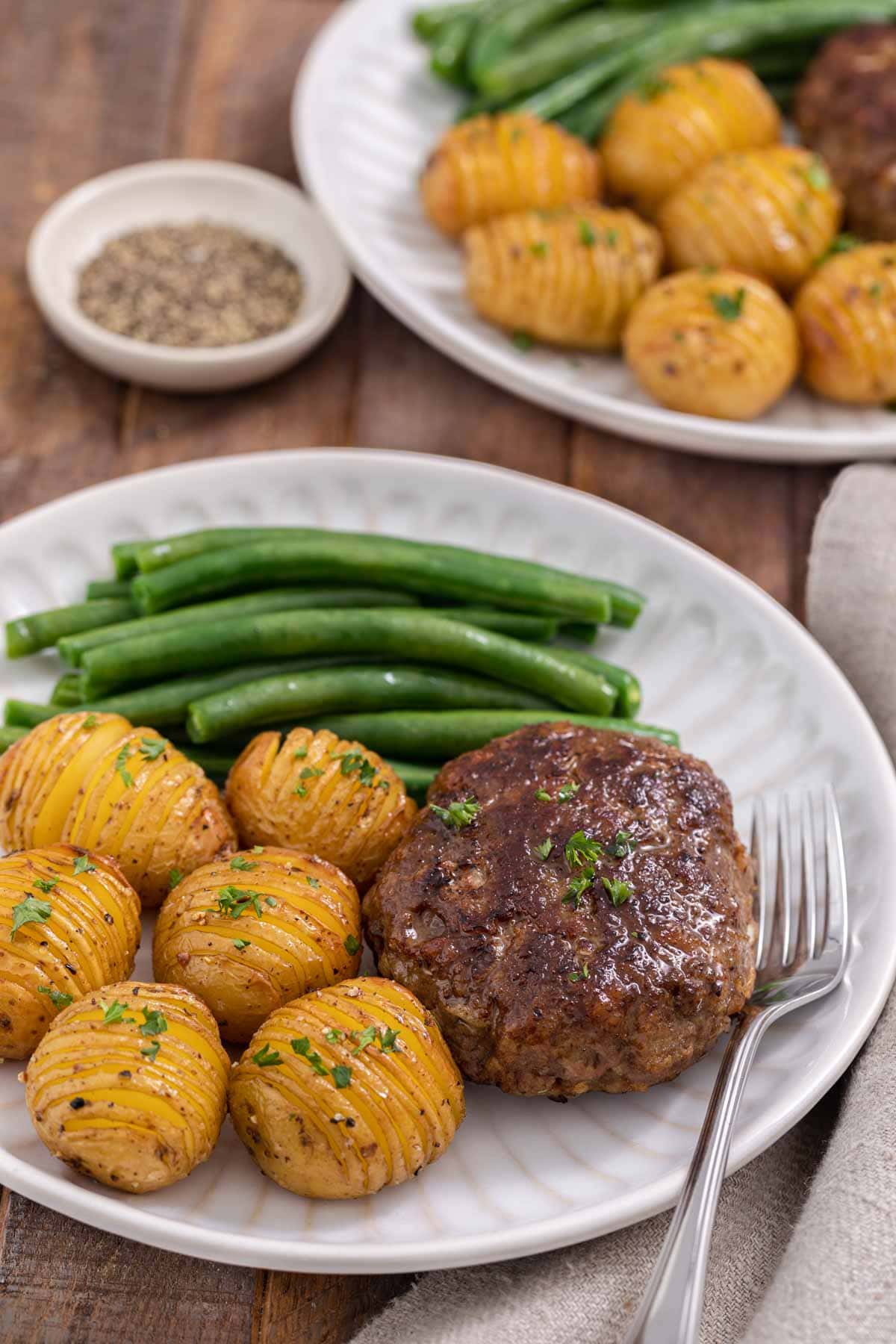 More Classic Ground Beef Dinner Recipes
How to Store
Store: After cooking, allow your Chopped Steak to cool slightly before storing. Store leftovers in an airtight container in the refrigerator for up to 3-4 days.
Reheat: To keep your patties from drying out, add the beef patties and a tablespoon of water (or beef broth) to a skillet and cover with a lid to reheat. Warm up over medium heat until heated through.
Freeze: Let your cooked Chopped Steak patties cool completely then wrap them individually in plastic wrap. Freeze the wrapped patties in a resealable freezer bag for up to 3 months. Reheat from frozen or thaw overnight in the fridge before reheating.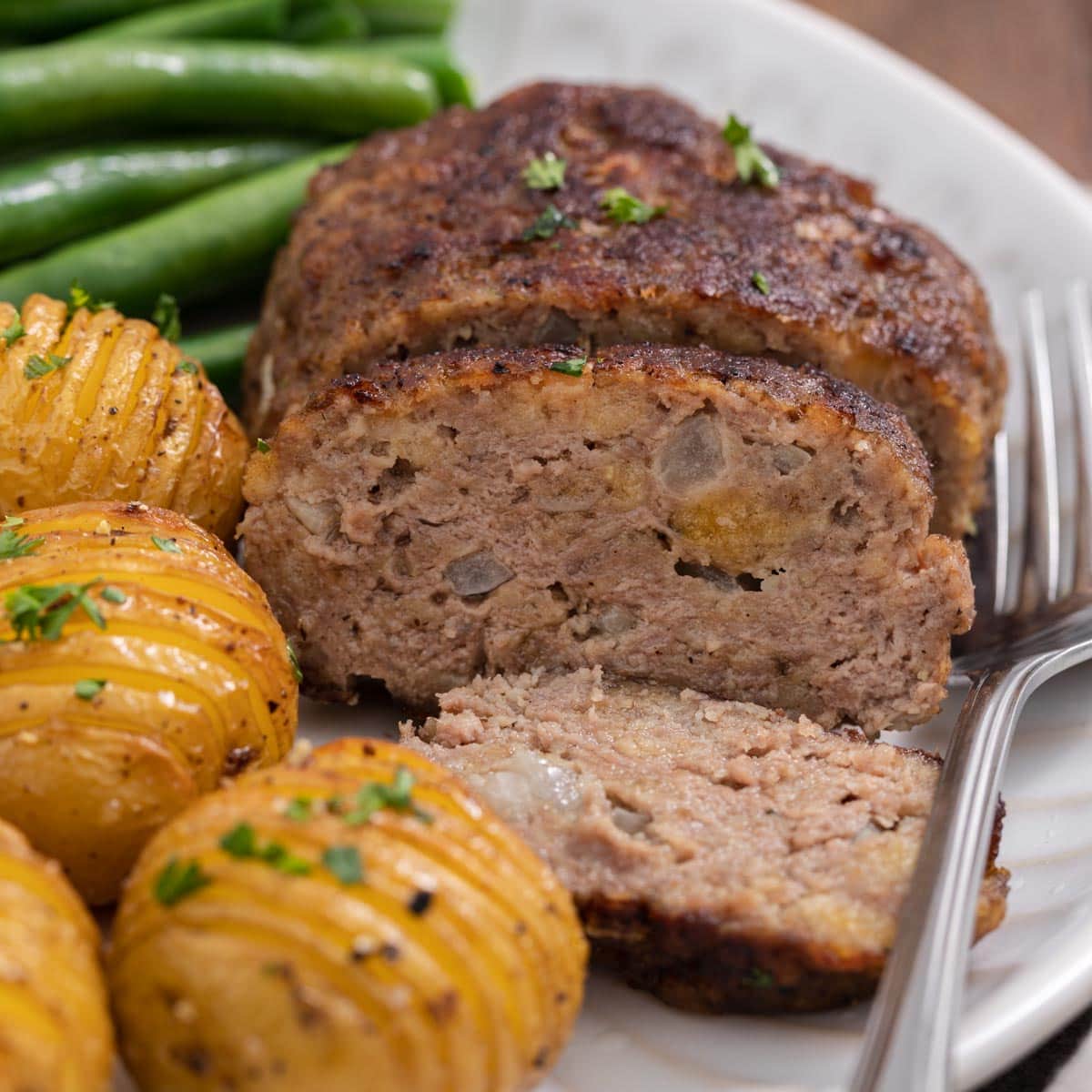 Ingredients
1

large

egg

1

tablespoon

Worcestershire sauce

1

teaspoon

kosher salt

1/2

teaspoon

coarse ground black pepper

1

cup

bread crumbs

1/4

yellow onion

, finely chopped

1

pound

ground beef

, (85/15)

2

tablespoons

vegetable oil
Instructions
In a large bowl add the egg, Worcestershire sauce, salt and black pepper and whisk well to combine.

Add in the breadcrumbs and onions, mix well.

Add in the ground beef, stir to combine.

Add vegetable oil to a large skillet on medium-high heat.

Shape the beef into 4 oval patties.

Add to the skillet and cook for

5-6 minutes

on each side until browned and cooked through.
Nutrition
Calories:
435
kcal
|
Carbohydrates:
21
g
|
Protein:
26
g
|
Fat:
26
g
|
Saturated Fat:
8
g
|
Polyunsaturated Fat:
5
g
|
Monounsaturated Fat:
10
g
|
Trans Fat:
1
g
|
Cholesterol:
124
mg
|
Sodium:
927
mg
|
Potassium:
452
mg
|
Fiber:
1
g
|
Sugar:
2
g
|
Vitamin A:
72
IU
|
Vitamin C:
1
mg
|
Calcium:
81
mg
|
Iron:
4
mg