Easy Crab Rangoon recipe for a beloved appetizer of crispy wontons with a creamy crab filling made of cream cheese and imitation crab meat.
Crab Rangoon has to be one of the most popular Appetizers at any Chinese-American restaurant, second perhaps to Egg Rolls. These wontons are similar to Panda Express Cream Cheese Rangoon but with the addition of sweet imitation crab meat!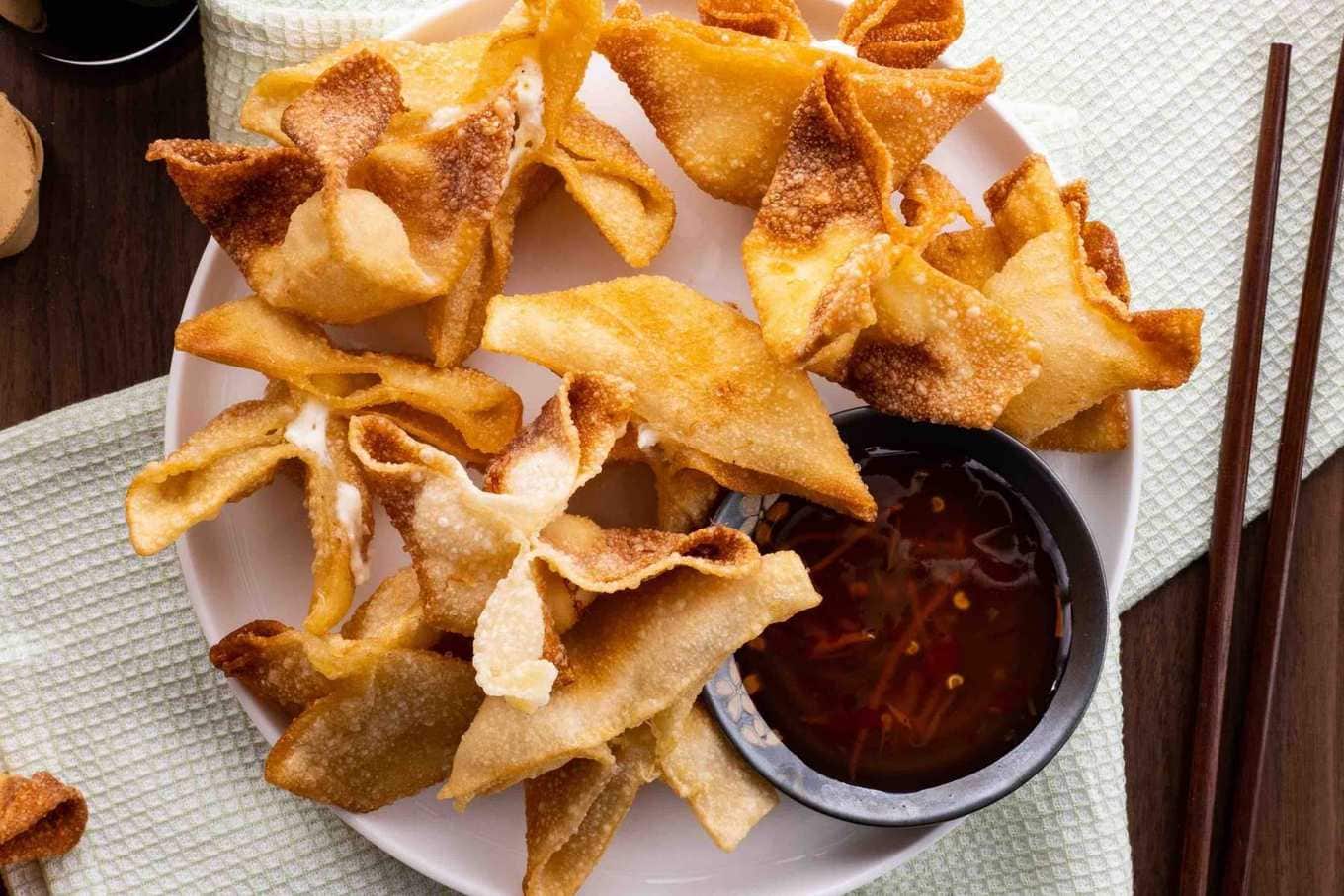 From Chicken Chow Mein to Mongolian Beef to Sweet and Sour Pork, we all have our own top choice for best Chinese takeout. When it comes to appetizers though, Crab Wontons are a dish we can all agree on. The only thing better than a crispy fried dumpling stuffed with a creamy, tangy cheese and crab wonton filling is having hot, freshly made homemade Crab Rangoons.
Not only are Crab Rangoon incredibly delicious, making them homemade is incredibly easy too. The creamy filling is made with imitation crab, garlic, and Worcestershire sauce mixed into soft cream cheese. Then you hand fold a pre-made wonton wrapper around the crab mixture, seal them up tight, then fry them until they are perfectly crispy. From start to finish, it takes about 20 minutes to make crab wontons.
These delicious Crab Wontons make perfect party appetizers since you can make them ahead of time and freeze them for months. The day of your party, you can fry the frozen creamy crab wontons without thawing them. In minutes, they are ready to serve up with other dim sum favorites like Potstickers and Spring Rolls. Whether you are having these crispy crab dumpling appetizers on a casual weeknight or for a party, you don't want to forget the Sweet and Sour Sauce for dipping!
What is Crab Rangoon?
Crab Rangoon, also known as Crab Wontons, are fried wontons or dumplings with a cream cheese and crab meat filling. They are a beloved appetizer found at most Chinese takeout restaurants, but they are actually an American dish. While the fillings can vary with seasonings, they always have crab meat, either real crab meat or imitation crab meat, mixed with cream cheese. They are served most often Sweet and Sour Dipping Sauce, but other Asian dipping sauces like duck sauce or sweet chili sauce are popular too.
What is the difference between Fried Wontons and Crab Rangoon?
Fried Wontons can have various types of fillings, which can include a combination of vegetables, ground meat, or seafood. On the other hand, Crab Rangoon specifically refers to wontons filled with a mixture of crab meat and cream cheese. While both are deep-fried and feature a crispy wonton wrapper, the distinctive filling of Crab Rangoon sets it apart from other types of fried wontons.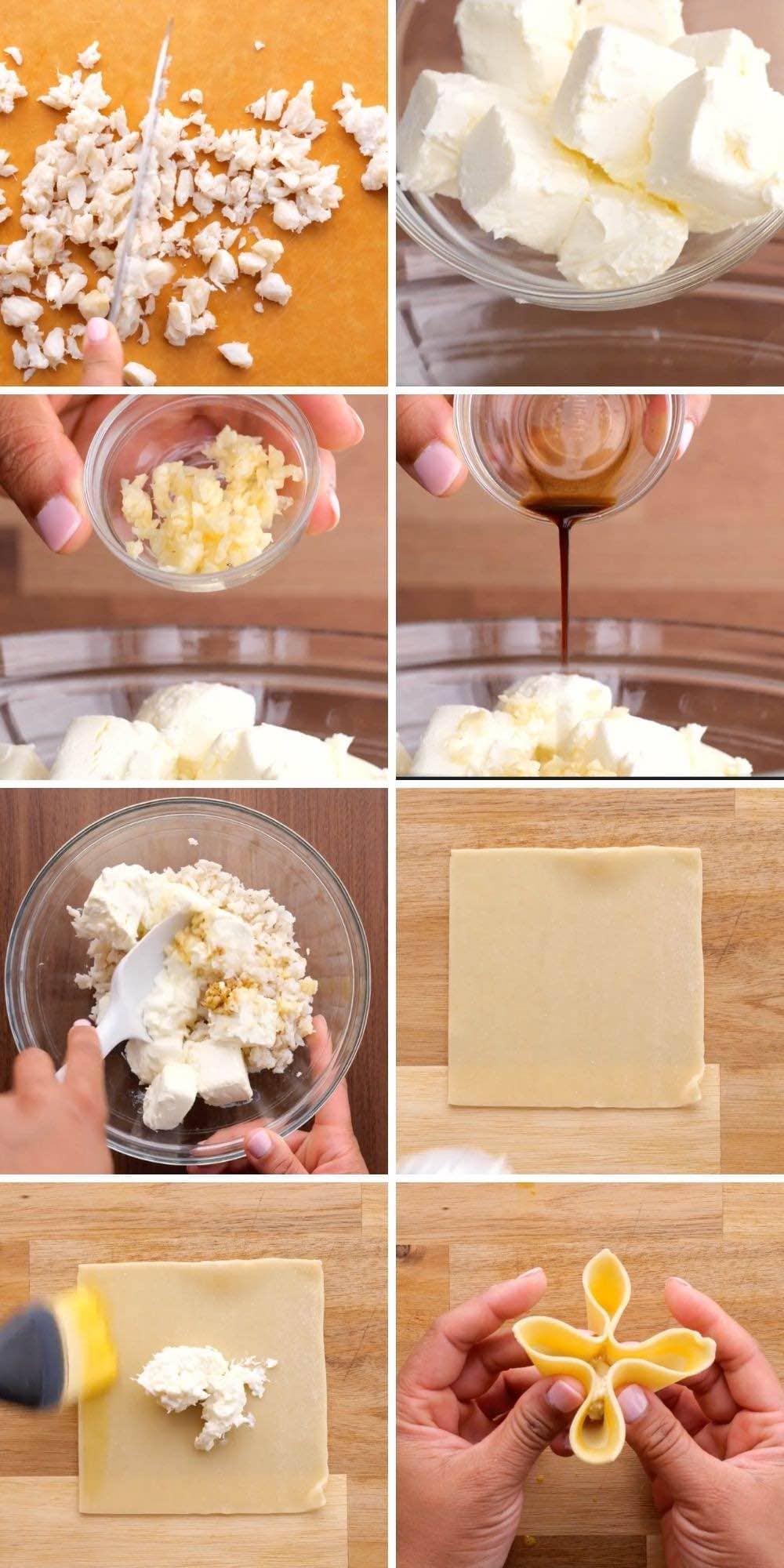 How to Make Crab Rangoon
Filling: Dice the imitation crab into little bits. Combine with the softened cream cheese, minced garlic, and Worcestershire sauce until well mixed.
Assemble: Place 1 teaspoon of filling in the center of the wrapper. Brush the edges with the egg and pinch the corners together to form a four cornered star. There is a video as well as step by step instructions in this post for how to fold Crab Rangoon.
Fry: Heat oil in a large dutch oven to 350 degrees. Working in batches, fry the wontons until they are browned and crispy, about a minute or two. If they are taking longer to fry, remove debris in the oil and let it heat back up to 350 then resume frying.
How do you fold Crab Rangoon?
Spoon approximately 1 teaspoon of the crab and cream cheese mixture onto the center of the wonton skin laid on a flat surface.
Dip your finger or a small brush into beaten egg and lightly brush the edges of the wonton wrapper, which will form a sealant.
Fold the sides of each corner up and connect, like a four cornered star, and bring the corners towards the center like a little purse. Press the edges to seal.
Make sure there is no trapped air and the edges are sealed.
FAQs for Crab Rangoon
Is Crab Rangoon Chinese or Thai cuisine?
Even though nowadays you'll almost always find some version of Crab Rangoon at Chinese, Thai, and other Asian restaurants, it's actually an American-fusion dish. It was invented at a u0022Polynesian-Styleu0022 restaurant in California but was adapted by American Thai and Chinese restaurants somewhere along the line and is now a beloved appetizer we associate with Asian cooking even though it's completely American!
Are Crab Puffs the same as Crab Rangoon?
Crab Puffs are similar to Crab Rangoon but not exactly the same. Both dishes involve a crispy outer shell filled with a creamy crab mixture. However, Crab Puffs are typically made with puff pastry dough, while Crab Rangoon uses wonton wrappers. The filling ingredients may also vary slightly between the two, but the overall concept and flavors are similar.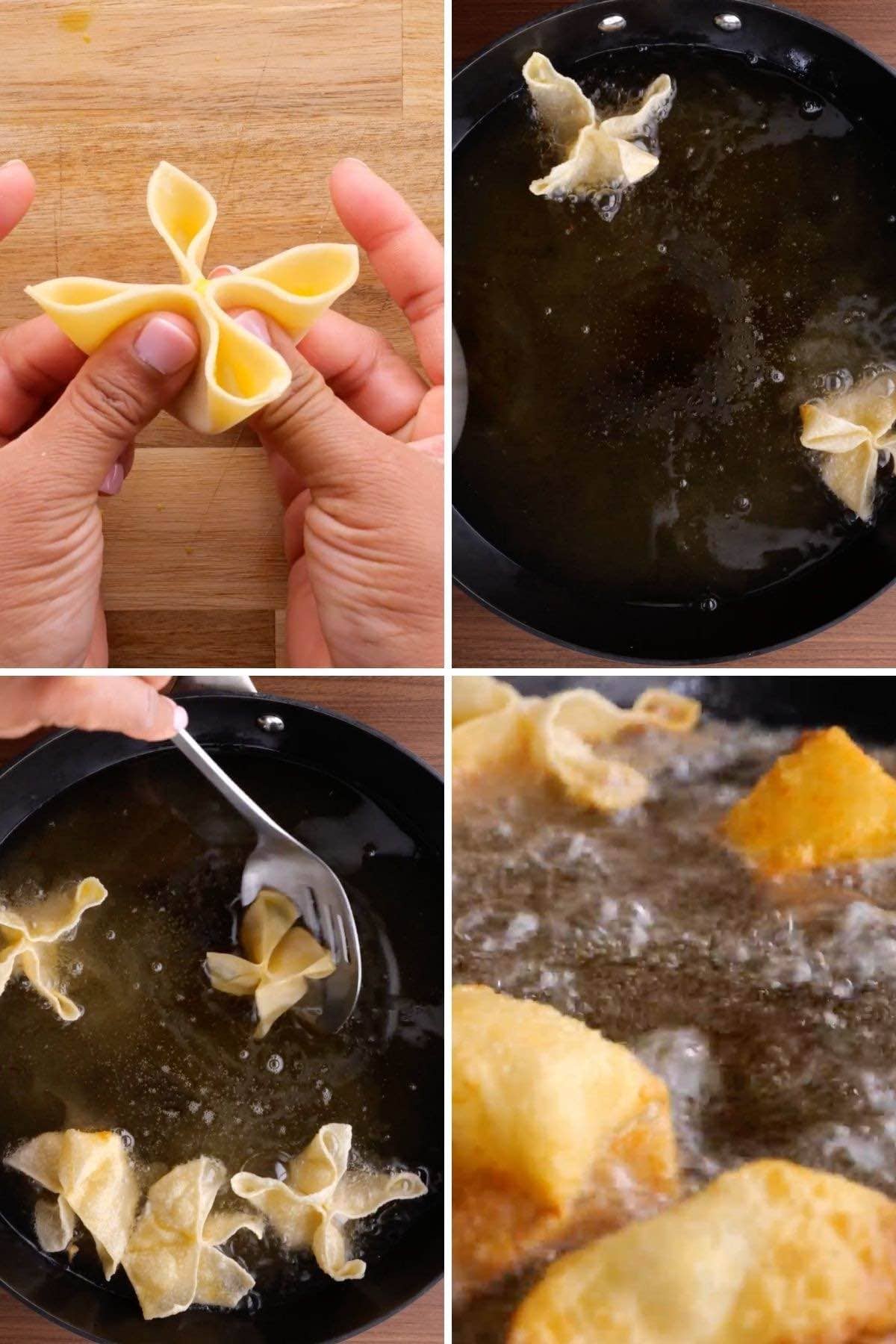 Create a free account to Save Recipes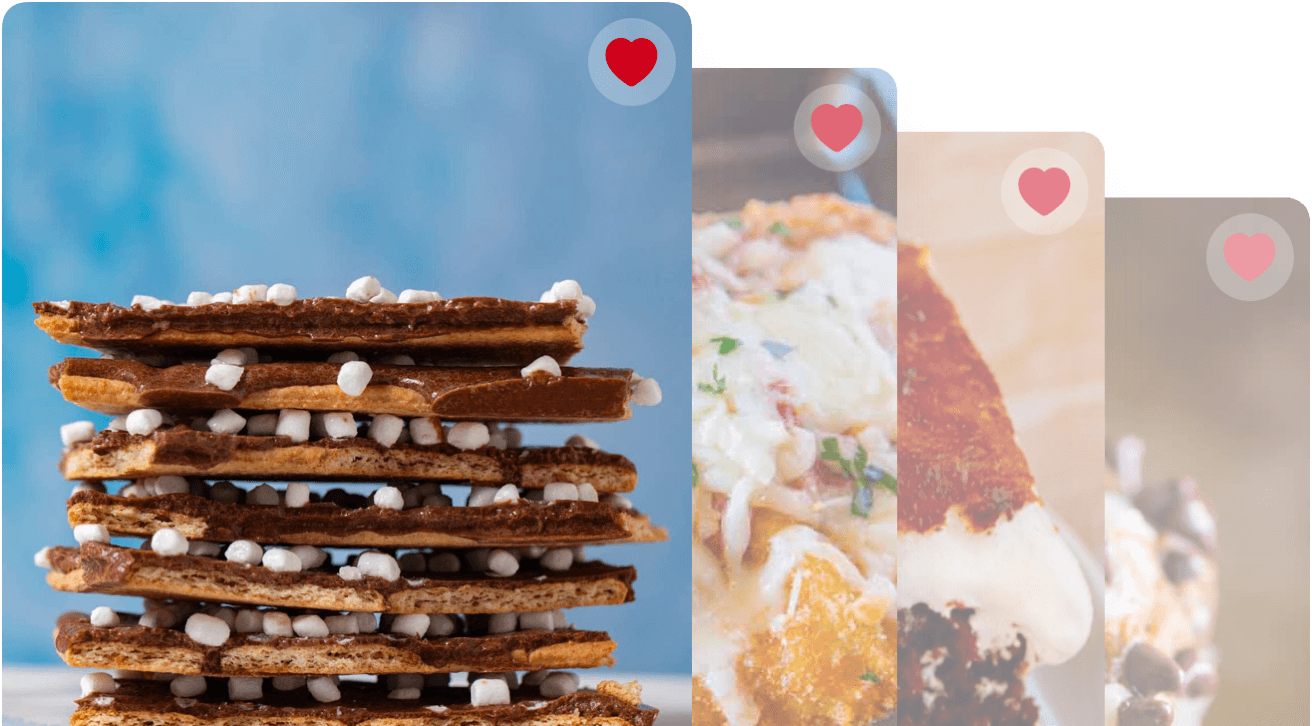 Key Ingredients
Crab: Crab meat has a delicate seafood flavor and a flaky texture to the filling that works great in these tasty crispy wontons. Imitation crab meat, or surimi, is made from white fish, such as pollock, combined with other ingredients to mimic the taste and texture of real crab meat.
Cream Cheese: Cream cheese adds a rich, velvety element to the crab mixture. The cream cheese also helps bind everything, while also making a super creamy, melty filling. It gets pretty hot inside the wrapper so be careful biting into the freshly cooked wontons!
Garlic: Minced garlic adds its savory distinct aromatic flavor that complements the seafood and cream cheese and it's a common seasoning in Asian cooking.
Worcestershire Sauce: Worcestershire sauce brings a tangy and slightly sweet flavor, intensifying the taste of the crab and providing depth to the rich creamy filling.
Wonton Wrappers: Pre-made wonton wrappers are thin sheets of dough used to make dumplings and other Asian stuffed appetizers. They are smaller than eggroll wrappers, but similar in shape and thickness. Square wonton wrappers are easier to fold because you can just match up the corners and pinch them.
Egg: Brushing egg wash around the edges of the wonton skins helps seal the Crab Rangoon, preventing the filling from leaking out during frying.
Can Crab Rangoon be made ahead of time?
Yes, you can absolutely make Crab Rangoon ahead of time a couple of ways. First of all you can make the filling up to 3 days ahead of time before assembling them and frying like usual. You can also assemble them and freeze them before cooking, or you can cook them first then freeze them. Either way they will stay good for up to 3 months and can be cooked from frozen.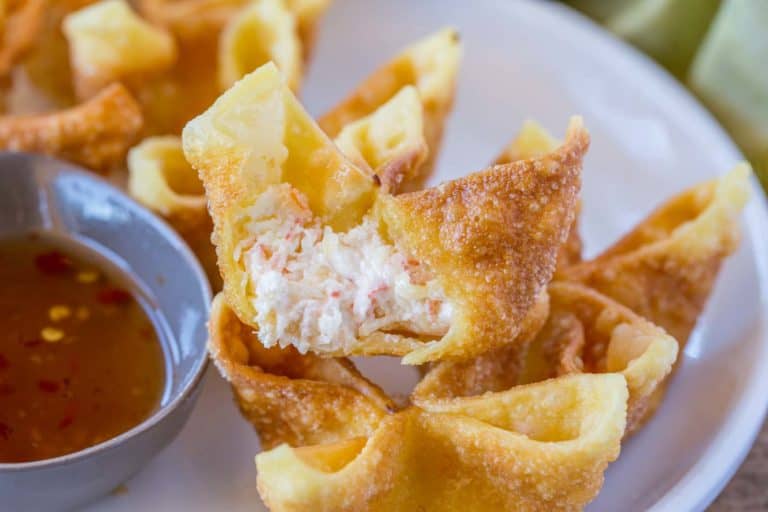 Variations
Crab: Instead of imitation crab, you can make these with real crab meat, either with canned crab, frozen crab or fresh crab meat from the seafood counter. If you want to splurge, make these with King Crab meat!
Veggies: You can add some finely chopped veggies like green onions, chives, mushrooms shredded carrots, water chestnuts, or bell pepper to your creamy filling. Just make sure to mince the vegetables into small bits so they don't overpower the crab.
Sauce: Sweet and Sour Sauce is the traditional side, but you could serve these indulgent crispy crab andcream cheese filled dumplings with light soy sauce, plum sauce, sweet chili sauce, or duck sauce instead. If you like spicy foods, try them with some Chinese hot mustard!
Baked Crab Rangoon
Preheat the oven to 375 degrees.
Prepare the crab and cheese filling as usual.
Assemble the wontons, sealing them well.
Lightly spray or brush outsides of the wontons with cooking oil.
Bake the Crab Rangoon on a baking sheet in a single layer for 15-18 minutes, or until they are crispy.
Air Fryer Crab Rangoon
Preheat your air fryer to 375 degrees.
While it's heating up, prepare the filling and assemble the rangoons like normal.
Spray the air fryer basket with cooking spray.
Working in batches, place crab wontons in a single layer in the basket and lightly spray with oil.
Air fry for 5 minutes, then pull the basket out and shake the wontons around a bit.
Return the basket and cook another 5-10 minutes, or until they are crispy and golden brown.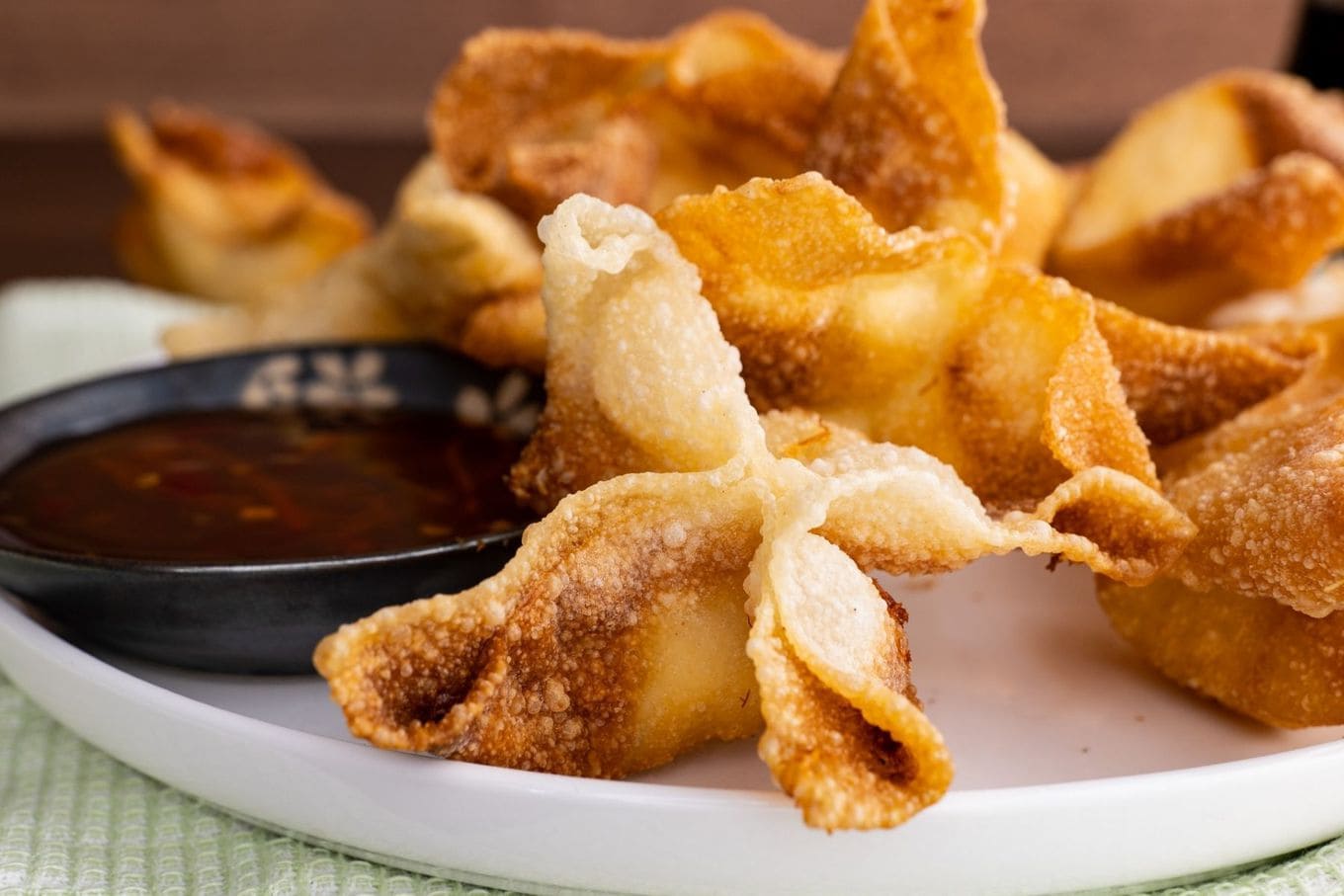 Our Most Popular Chinese Dishes!
How to Store
Serve: It's best to serve Crab Rangoon hot and fresh from the fryer. Because of the cheesy crab filling, they can be at room temperature for up to 2 hours.
Store: Crab Rangoon will keep in an airtight container for up to 3 days in the refrigerator. Reheat in a 375 degree oven or air fryer to crisp back up.
Freeze: Cool the Crab Rangoon completely before freezing. Freeze in a single layer before sealing in an airtight plastic bag for up to 3 months. Reheat in the oven from frozen until heated through.


Ingredients
8

ounces

crab meat

, Imitation crab meat

8

ounces

cream cheese

1

large

clove garlic

, minced

1/4

teaspoon

Worcestershire sauce

12

wonton wrappers

1

large

egg

, beaten

deep frying oil
Instructions
Chop up the crabmeat in small pieces.

Mix well with the cream cheese, garlic and Worcestershire sauce.

Add 1 teaspoon of filling to the center of the wonton.

Brush the edges with the egg and pinch the corners together (make sure there is NO trapped air) to form a four cornered star like in this tutorial.

Fry in 350 degree oil until browned and crispy, roughly

1-2 minutes

.
Nutrition
Serving:
1
g
|
Calories:
110
kcal
|
Carbohydrates:
6
g
|
Protein:
6
g
|
Fat:
7
g
|
Saturated Fat:
4
g
|
Polyunsaturated Fat:
0.4
g
|
Monounsaturated Fat:
2
g
|
Trans Fat:
0.002
g
|
Cholesterol:
43
mg
|
Sodium:
268
mg
|
Potassium:
77
mg
|
Fiber:
0.1
g
|
Sugar:
1
g
|
Vitamin A:
282
IU
|
Vitamin C:
1
mg
|
Calcium:
33
mg
|
Iron:
0.5
mg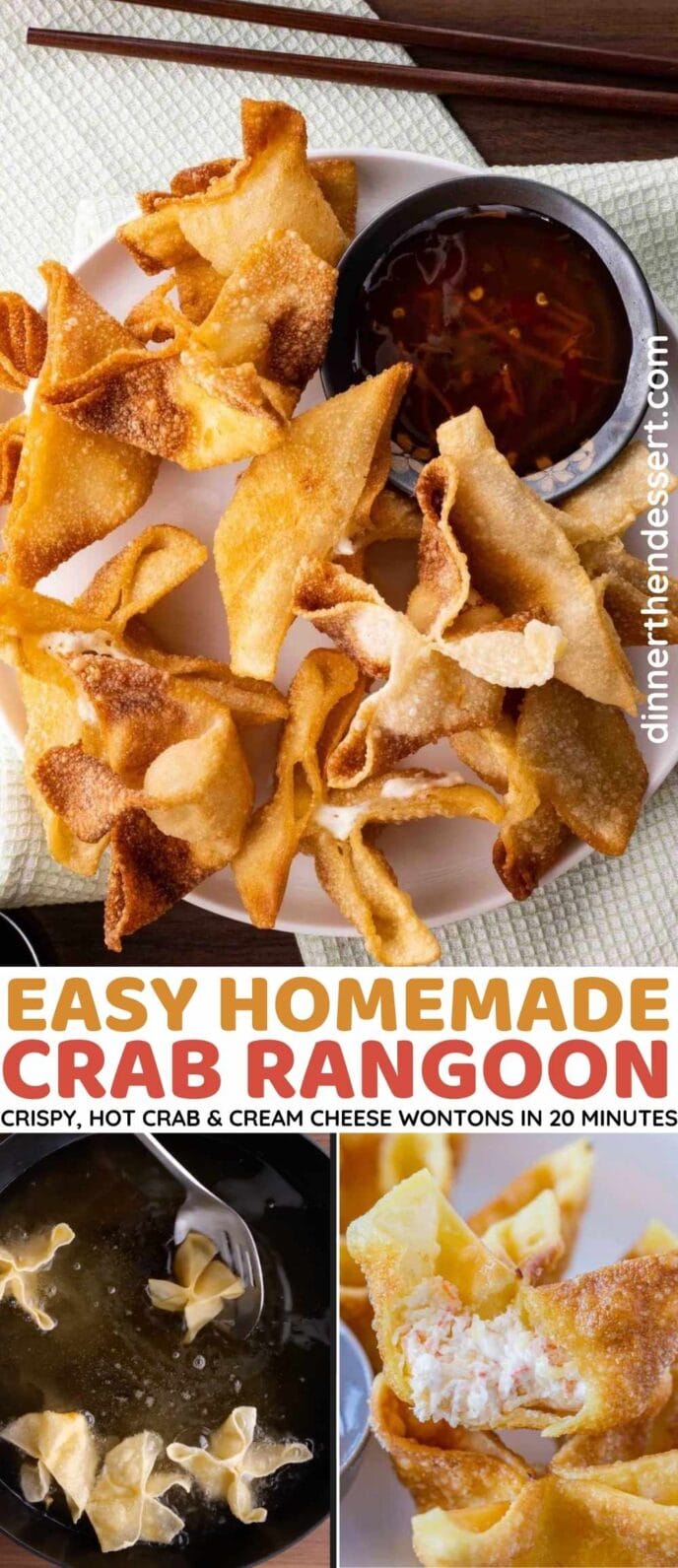 Photos used in a previous version of this post.