Creamed Corn is the ultimate, comforting side dish for any occasion, made with yellow corn, butter, heavy cream, and a little bit of sugar.
Creamed Corn is a traditional American Side Dish that you can serve with your favorite family dinners for a filling, flavorful vegetable dish. For another cooking option, try this Slow Cooker Creamed Corn recipe.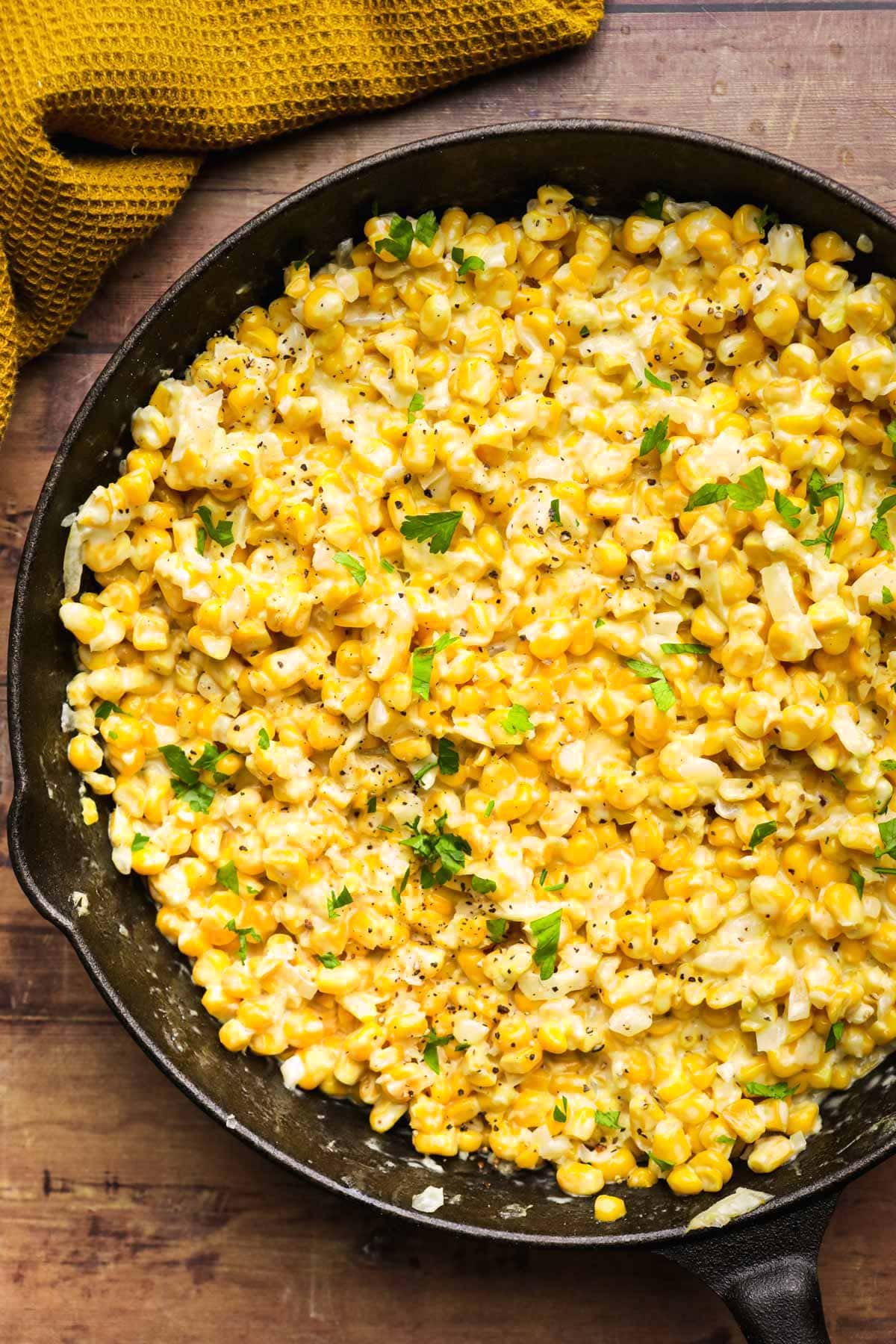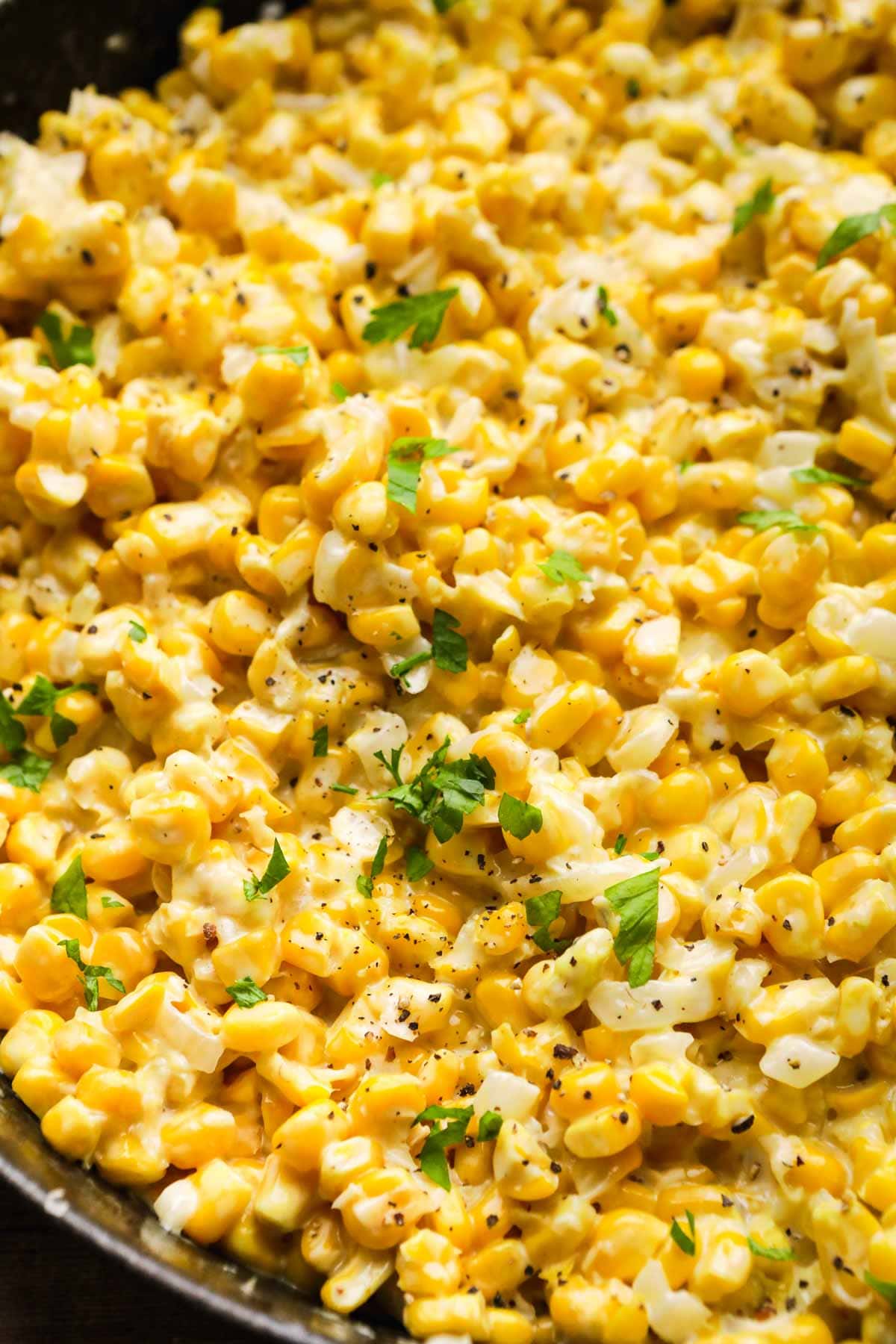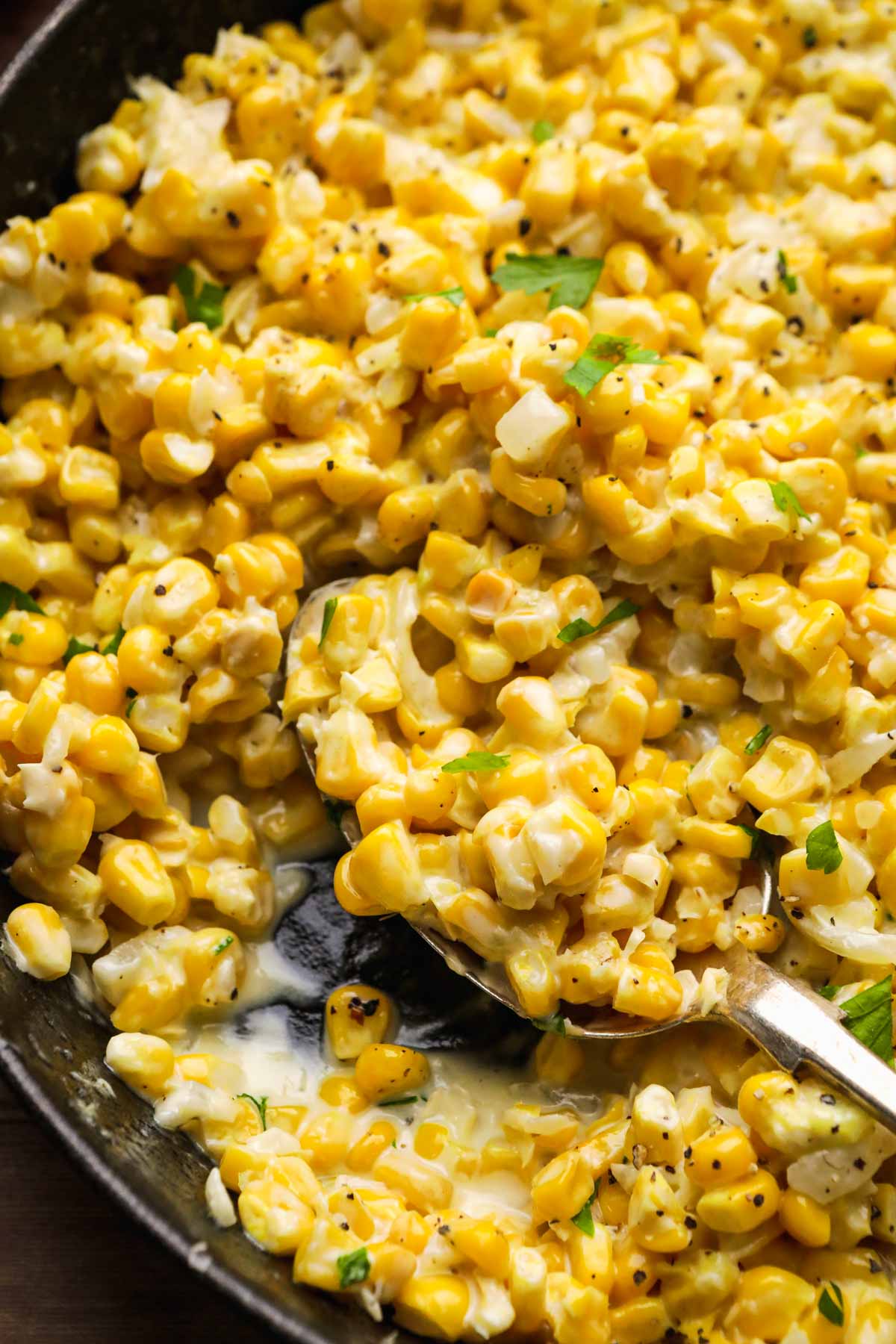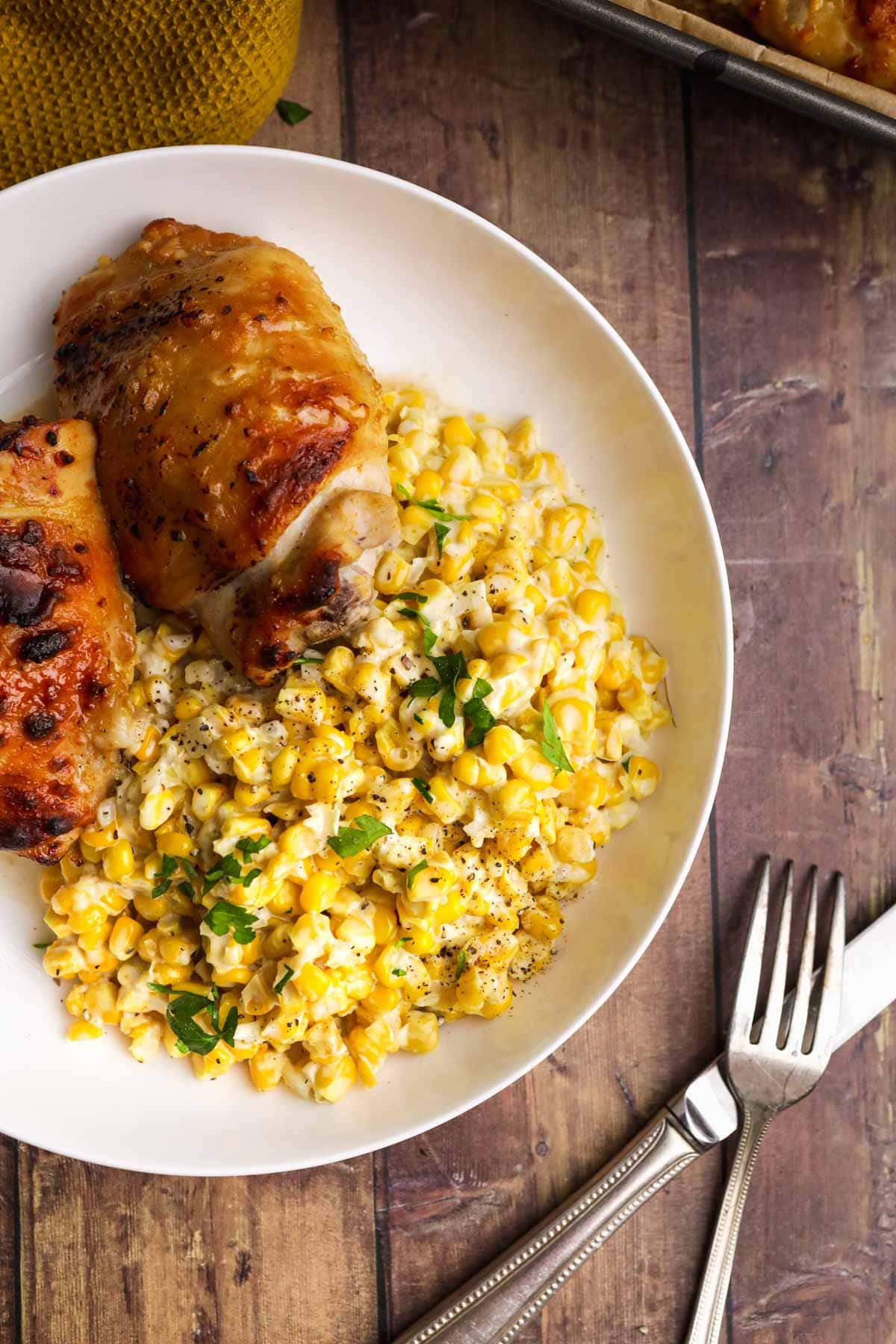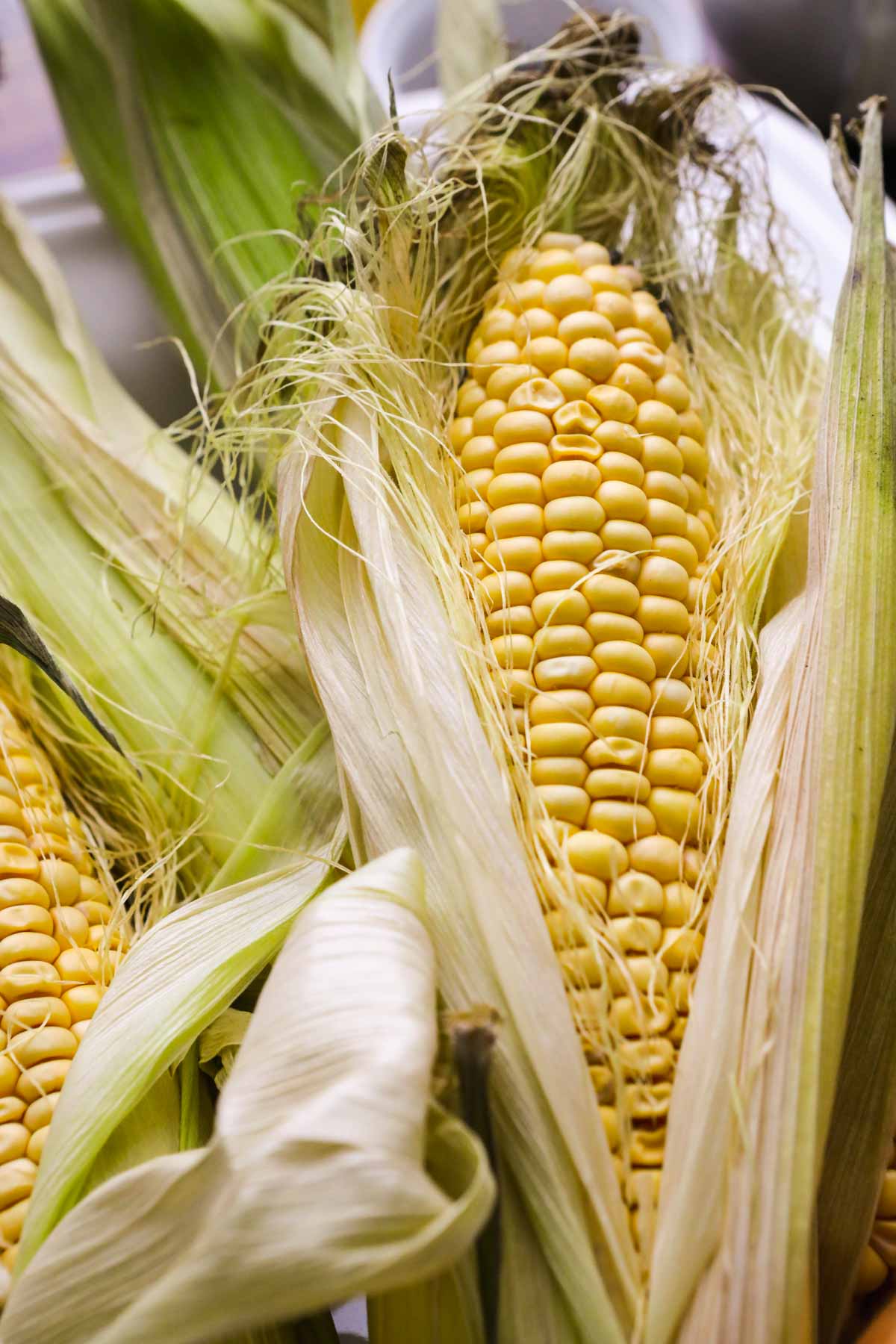 About Our Creamed Corn Recipe
Creamed Corn is made by combining flavorful corn kernels with a rich, seasoned cream sauce. You can make it easily on the stovetop in less than 20 minutes! With such a quick cook time and the simple ingredients, it is totally worth it to make this yourself, rather than using the canned stuff. The minute you taste it, you will agree.
This corn recipe makes a delicious addition to anything from holiday meals to weeknight dinners. Easy-to-make cream-style corn is the perfect balance of sweet and savory flavor, all cooked into a rich, creamy consistency. This homemade version will bring more flavor and more texture too, as you can achieve a creamy consistency while still maintaining more of the full corn kernels.
"Can Creamed Corn be made ahead?"
Even though this recipe takes less than 20 minutes to prepare, it might be helpful to make it the night before to free up your time on the day you serve it. Luckily, making Creamed Corn ahead of time is a breeze! Just prepare the recipe and let it cool completely. Refrigerate it in an airtight container, and when you're ready to serve it, just heat it up over the stove on medium heat. 
Creamed Corn Ingredients
6 cups yellow corn: Sweet yellow corn is the perfect base for this recipe. It absorbs some of the creaminess and sweet flavor from the ingredients surrounding it. However, the kernels still maintain their shape, giving the dish a wonderful consistency.
½ yellow onion: The onion balances out the sweet ingredients to give the Creamed Corn a slightly more savory flavor.
1 teaspoon kosher salt, and ¼ teaspoon black pepper: You'll use salt and pepper to build up the savory flavor from the onion.
¼ cup unsalted butter: Use 4 tablespoons butter to cook the onion and corn before adding the creamy ingredients. Unsalted butter will help you control the salt content in the Creamed Corn. If you only have regular butter, you can decrease the kosher salt by half.
Cream mixture: ½ cup heavy cream and 1 teaspoon granulated sugar form a creamy sauce to set Creamed Corn apart from more savory vegetable dishes. As you cook, the cream thickens, and the sugar blends with the naturally sweet flavor of the corn, so the whole dish has a cohesive blend of sweet and savory flavors.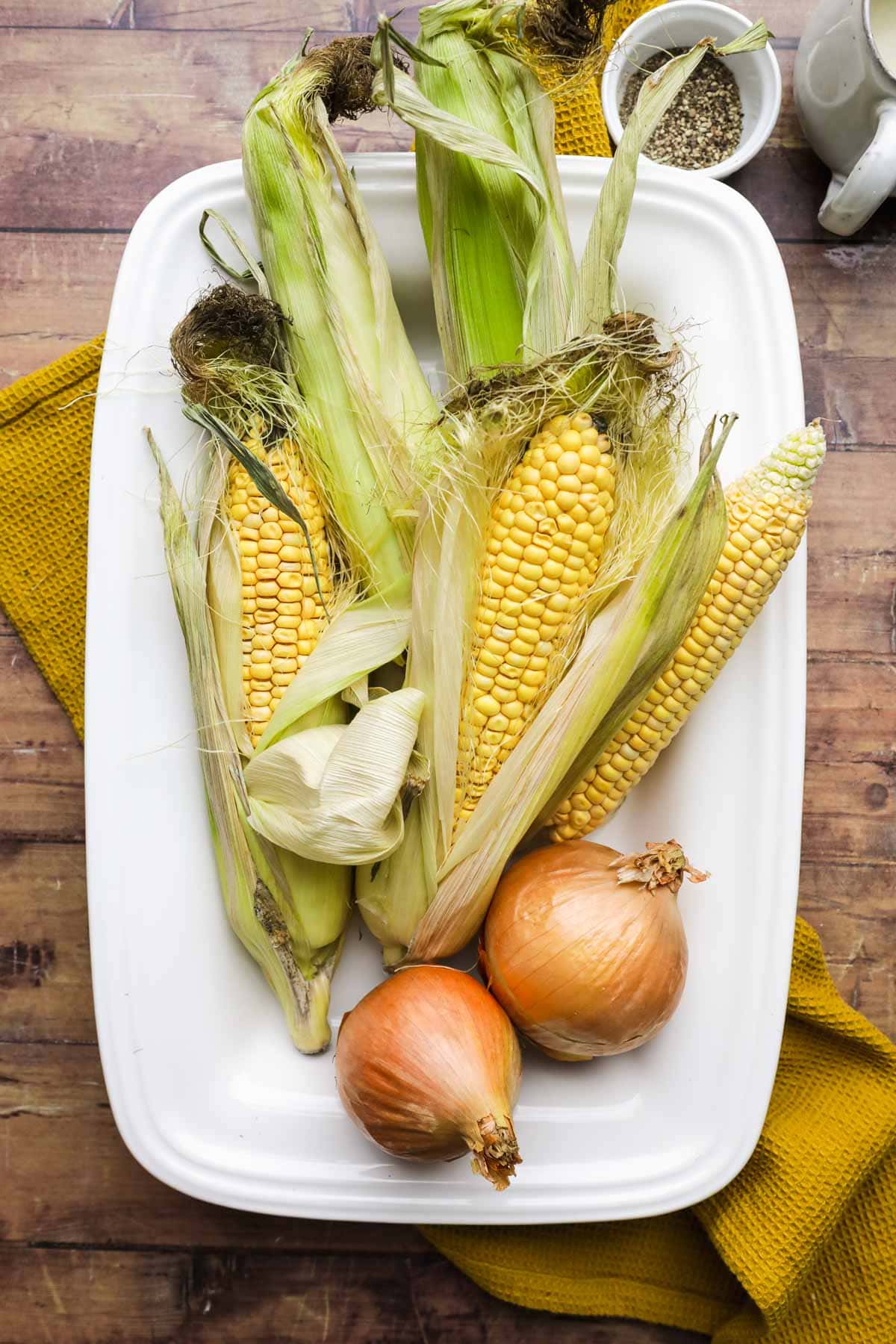 Kitchen Tools & Equipment
Cutting Board: Use a cutting board to cut your corn and keep all the kernels right where you want them so you can easily add them to the skillet
Sharp Knife: Use the knife to chop your onions and slice the corn kernels off of the cob.
Large Skillet: Grab your favorite skillet for this dish, and you'll only need one to combine all the ingredients into creamy goodness.
Spoon or Spatula: A spoon or spatula is needed to consistently stir your creamed corn mixture.
How to Make Creamed Corn
Time needed: 18 minutes.
Cut the Onions

Finely chop half of a yellow onion.

Shuck the Corn

If you're using fresh sweet corn, shuck them clean.

Cut the Kernels

Slice the kernels off the cob.

Cook Onions and Corn in Butter

Add the onion, corn, and ¼ cup butter to a large skillet. Then cook them over medium heat until the onions are translucent. This should only take you 6-8 minutes.

Make the Cream Sauce

Then mix the sugar, heavy cream, salt, and pepper into the corn mixture. Continue the cooking time for another 7-8 minutes while stirring.

Thicken and Serve

The Creamed Corn is ready to go when the mixture has thickened. Then remove it from heat and enjoy.
Nutritional Facts
Nutrition Facts
Creamed Corn
Amount Per Serving
Calories 218
Calories from Fat 117
% Daily Value*
Fat 13g20%
Cholesterol 36mg12%
Sodium 299mg13%
Potassium 276mg8%
Carbohydrates 26g9%
Protein 4g8%
Vitamin A 700IU14%
Vitamin C 7mg8%
Calcium 17mg2%
Iron 1mg6%
* Percent Daily Values are based on a 2000 calorie diet.
Cooking Tips & Tricks
You'll be wowed by how easy this is to make, and you'll wow everyone else when you achieve perfect Creamed Corn by following these tips.
Cut Kernels with Ease

Trim the corn kernels off the cob with ease. Use a bundt pan, turn it right side up and place the cob in the center hole. It will serve as a holder for the corn and will keep it nicely in place while cutting lengthwise to release the kernels. Then the bundt pan will hold the kernels as they fall off the cob.

Avoid Scorching the Cream

It is important that you stir your corn mixture consistently as the cream can scorch and burn on the bottom of your skillet.

Achieve a Creamy Texture

To get a rich, creamy texture you want to watch the thickness of your cream sauce as it cooks. If it looks too thin for proper creamed corn, keep cooking and stirring until it thickens. Make sure it doesn't become too thick and sticky while stirring it. You can always add a tablespoon of cream if needed.
What to Pair With Creamed Corn
The mixture of heavy cream and delicious corn kernels gives Creamed Corn a delightful and unique texture. You can make it as a Thanksgiving side dish along with classic dishes like Green Bean Casserole, Mashed Potatoes, and Cranberry Sauce.
Creamed Corn is also a delicious BBQ side that you can enjoy during the summer. Often, Creamed Corn is considered a summer dish because that's the season when it's easy to get fresh corn. It's an excellent way to change things up from classic corn on the cob. Serve it up with Pulled Pork, Hamburgers, or hot dogs for the perfect, crowd-pleasing cookout meal.
How to Store Creamed Corn
Serve: Due to the cream, you don't want to leave this corn recipe at room temperature for more than 2 hours.
Store: If you have leftover Creamed Corn, you can transfer it to an airtight container to store in the fridge for 3-5 days. You can reheat the corn on the stovetop over medium-low heat before serving.
Freeze: Unfortunately, the ingredients in Creamed Corn don't freeze well. It's better to enjoy it fresh or eat the leftovers within a few days.
Ideas to Serve Creamed Corn
A big bowl of Creamed Corn will look so inviting on your Thanksgiving table, at a potluck, or any dinner gathering. However, due to the creamy nature of this dish, you could give everyone their own serving of Corn in individual ramekins or small bowls. That way, the corn won't spread around the plate, which can be problematic for those who don't like their food to touch!
Alternative Creamed Corn Cooking Techniques
Slow Cooker Creamed Corn
To make Crock Pot Creamed Corn, add 2 pounds of frozen sweet yellow corn, ½ cup milk, 4 tablespoons butter, and 1 teaspoon kosher salt to your slow cooker or crock pot. Top with 8 ounces of cream cheese. Cook it on low for 4 hours or cook on high for 2 hours. Stir the mixture and then cook and additional 15-20 minutes with the lid off. Garnish with fresh chopped parsley and enjoy!
FAQs for Creamed Corn
Should I use canned, fresh, or frozen Corn?
Fresh corn kernels are the best choice for this recipe. The fresh corn flavor just can't be beaten. However, the recipe also works with canned corn and frozen corn. Since the corn is cooked with butter, cream, and so many other delicious flavors, you probably won't notice much of a difference. Plus, if you don't have time to shuck fresh corn, canned or frozen is an excellent option to speed up the recipe.
How is Creamed Corn different from Corn Pudding?
Corn Pudding is another popular side dish used at Thanksgiving, or at barbecues. However, Corn Pudding contains ingredients like cornstarch, and eggs that make it a thicker consistency similar to rice pudding or bread pudding. It also contains a lot more sugar and has an overall sweeter taste than this Creamed version.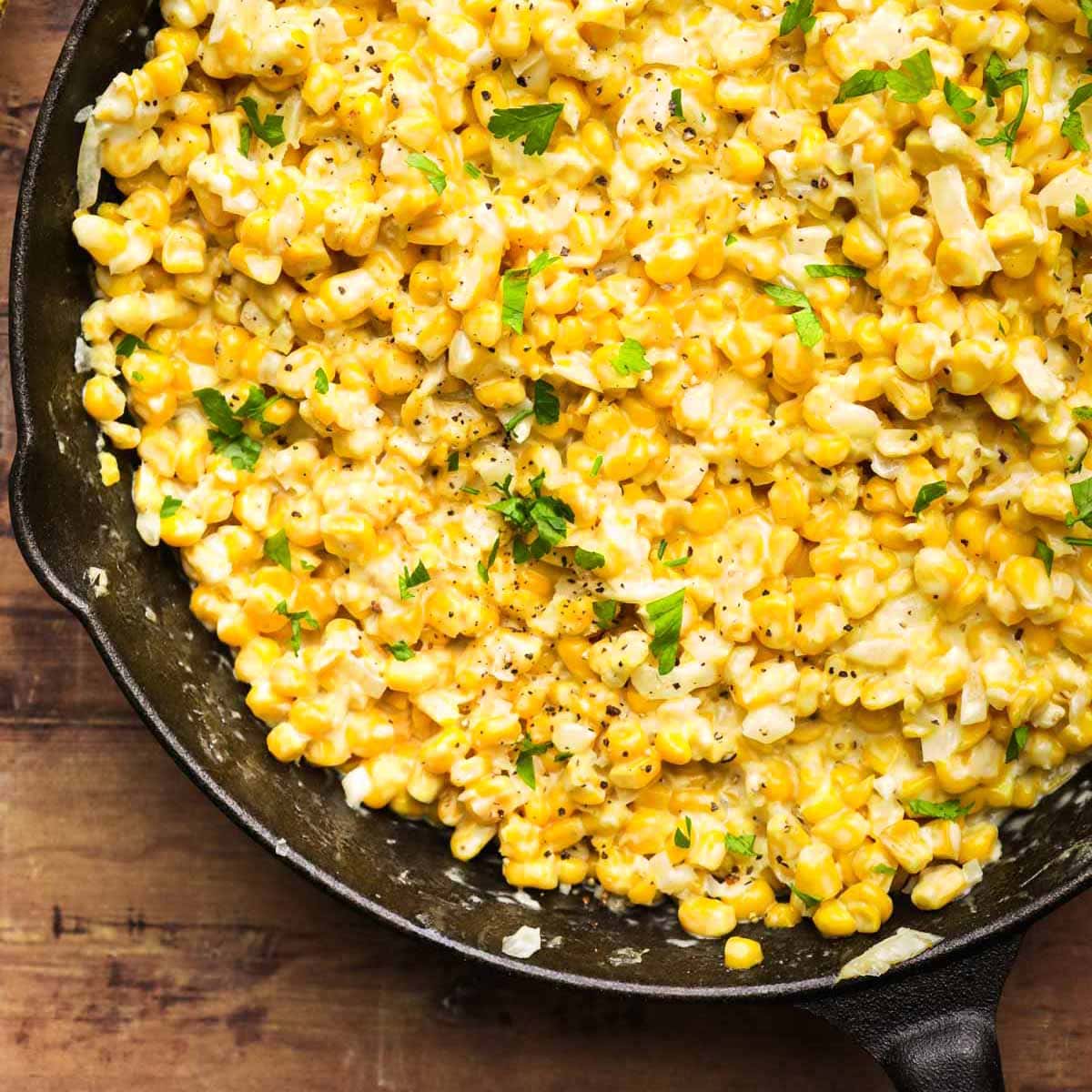 Recipe Card


Ingredients
1/2

onion

, finely chopped

6

cups

sweet corn

, yellow

1/4

cup

unsalted butter

1

teaspoon

sugar

1/2

cup

heavy cream

1

teaspoon

kosher salt

1/4

teaspoon

coarse ground black pepper
Instructions
Add the onion, corn, and butter to a large skillet and cook on medium heat until the onions are translucent, about

6-8 minutes

.

Add in the sugar, heavy cream, salt, and pepper and stir.

Cook uncovered, stirring, for

7-8 minutes

until the mixture is thickened.
Nutrition
Calories:
218
kcal
|
Carbohydrates:
26
g
|
Protein:
4
g
|
Fat:
13
g
|
Saturated Fat:
7
g
|
Polyunsaturated Fat:
1
g
|
Monounsaturated Fat:
4
g
|
Trans Fat:
1
g
|
Cholesterol:
36
mg
|
Sodium:
299
mg
|
Potassium:
276
mg
|
Fiber:
3
g
|
Sugar:
6
g
|
Vitamin A:
700
IU
|
Vitamin C:
7
mg
|
Calcium:
17
mg
|
Iron:
1
mg
Creamed Corn Variations
Cream Cheese Corn: You can make Creamed Corn with cream cheese for an even richer side dish. To make the Cream Cheese Corn, you can replace the heavy cream with 1 cup milk and ½ a package of cream cheese. Cut the cream cheese into chunks so that it can quickly melt into the milk in the creamy corn dish.
Flavor Additions: To give the recipes some different flavors, mix in additional seasonings like garlic salt or minced garlic cloves, onion powder, or a dash of cayenne pepper. Add in diced jalapeños for a spicy, creamy corn side.
Bacon: Creamed Corn tastes excellent with crispy bacon bits mixed in. Start by cooking the bacon strips in a large skillet. Then slice the crisped bacon, and add them to the corn mixture before serving. You can also sprinkle some over the top so everyone knows it contains delicious bacon.
Cheese: Before serving, you can top off the Creamed Corn with shredded parmesan, cheddar, provolone, or Pepper Jack cheese. Then mix so that the cheese melts into the corn.
Related Recipes