jump to recipe
Creamy Bacon Pea Salad
This post may contain affiliate links. Read my disclosure policy here.
Creamy Bacon Pea Salad with mayonnaise, bacon, cheddar cheese and crunchy sweet peas. The perfect southern summer side dish!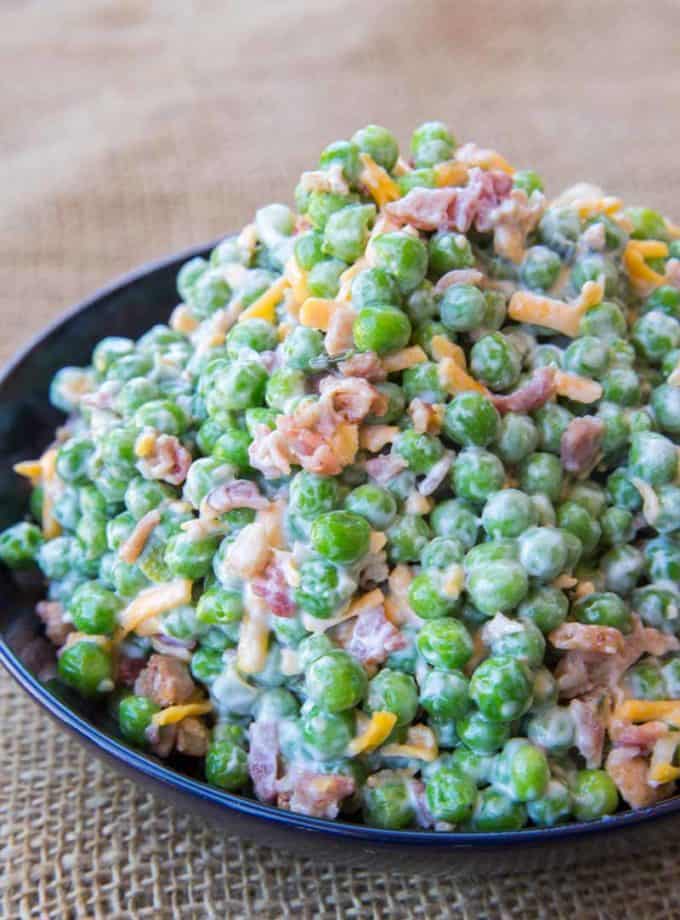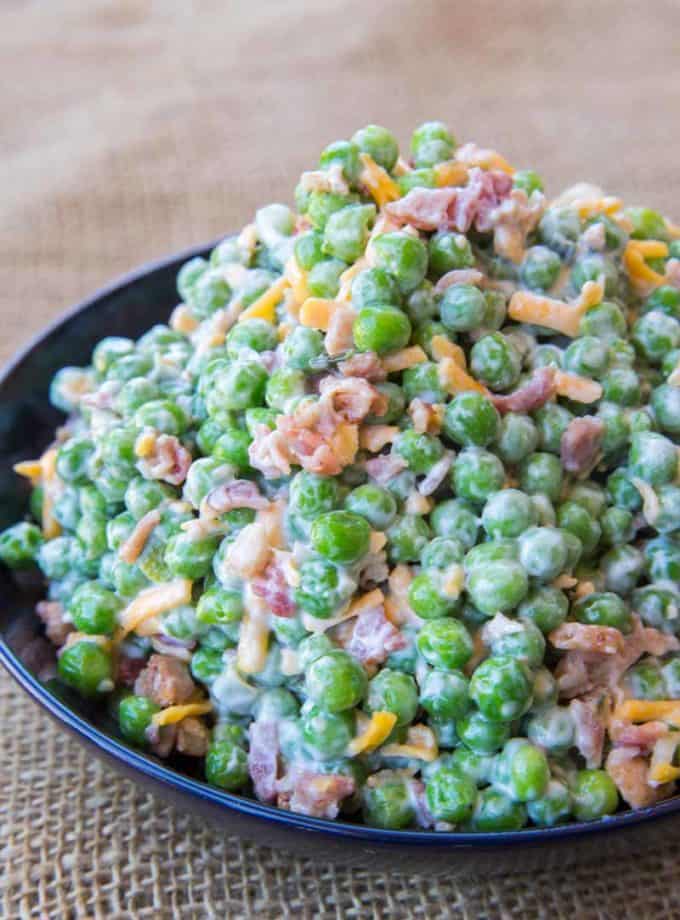 Creamy Bacon Pea Salad is a southern staple and an indulgent, easy, craveable crazy sounding salad that you will go nuts for once you've tried it.
Some friends and family members I've made this Creamy Bacon Pea Salad for have been put off at the idea of "pea salad" or a salad with a mayonnaise base, but as soon as they try the salad? They are eating it by the spoonfuls! Then they come up to you at the end of your event and ask "hey so can I get that pea salad recipe?" It happens ALL the time.
Looking for more summer salads to serve with your favorite grilled foods?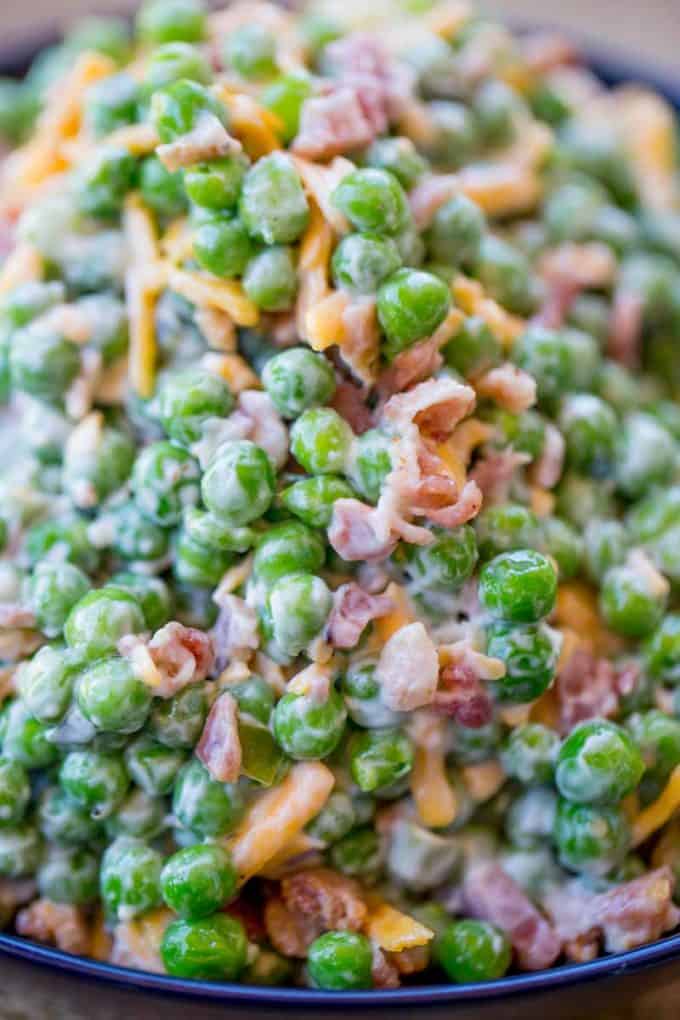 This Creamy Bacon Pea Salad recipe is such an easy side dish to make because it really is just a mix of a handful of ingredients. I like to use thick cut bacon for the salad but I have friends who use the premade bacon bits (made of actual bacon) and swear by the flavor. You can't argue with that, with pre-made bacon bits you can have this salad chilling in the fridge in less than 10 minutes.
Some questions I get asked a lot about this pea salad recipe:
MY OTHER RECIPES
Do you serve this as a cold green pea salad? Yes, you serve this pea salad recipe cold.
Do you make this pea salad with canned peas? No, I like the crunch of using frozen, thawed peas, but if you prefer the texture of the canned peas by all means go ahead. I would rinse the peas before using them in the salad.
Can you add egg? Yes, I've made this pea salad with egg before. I hard boil 4 eggs and chop them into small 1/2″ dice and combine gently with the rest of the ingredients.
Layered Pea Salad can also be made with this recipe. First toss the peas and cheese with the mayonnaise, salt and pepper then add half the peas, half the onions, half the bacon then repeat. Top with a bit more cheese.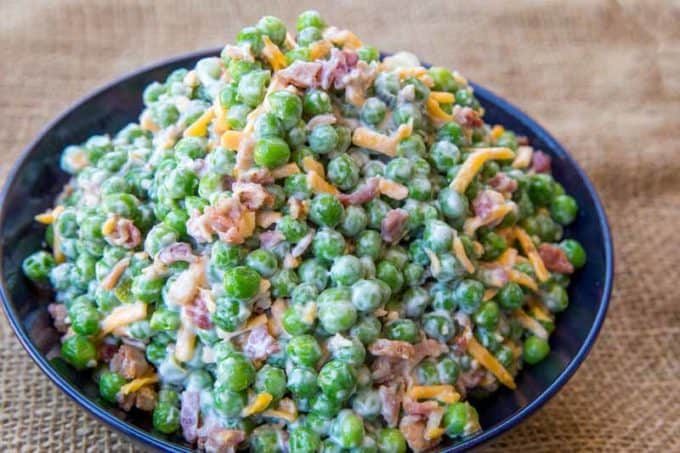 Tools Used in the making of this Creamy Bacon Pea Salad:
Bacon Bits: If you want to skip browning and chopping your own bacon, these bacon bits are a quick and easy swap.
My favorite Kitchen Knife: You may not even have a lot to chop but this knife is so inexpensive and I love it so much I want to share it any time chopped items are involved (second from the top on the left. It is an AMAZING knife).
Cheese Grater: Your knuckles will thank you.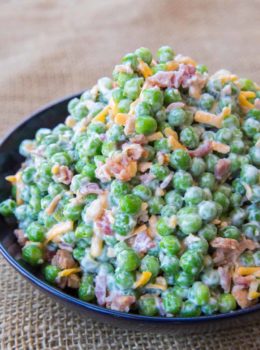 Creamy Bacon Pea Salad
Creamy Bacon Pea Salad with mayonnaise, bacon, cheddar cheese and crunchy sweet peas. The perfect southern summer side dish!
Prep Time 12 minutes
Total Time 12 minutes
Ingredients
2 pounds frozen peas
1 cup shredded sharp Cheddar cheese
1/2 cup red onion chopped
1 cup mayonnaise
1/2 teaspoon Kosher salt
1/4 teaspoon black pepper
1 pound bacon cooked crisp and chopped
Instructions
Rinse the frozen peas in a colander and let drain for a few seconds while you make the rest of the salad.

Into a large bowl add the cheese, red onion, mayonnaise, Kosher salt, black pepper and bacon.

Top with the peas and stir together until fully combined.

Chill in the refrigerator for at least an hour before serving.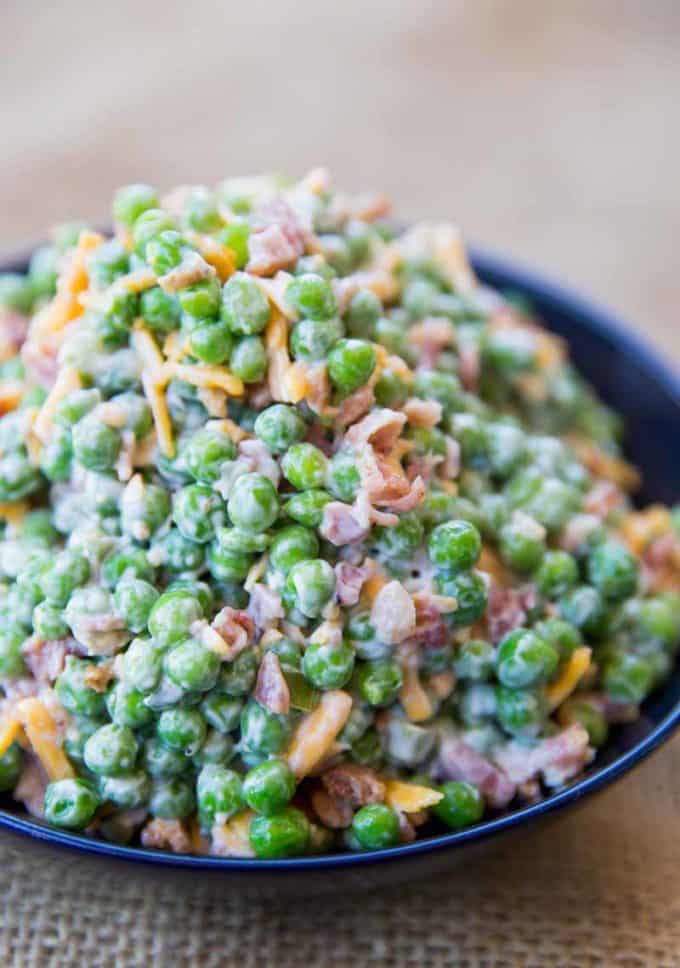 Products Featured in this Recipe:
Dinner, then Dessert, Inc. owns the copyright on all images and text and does not allow for its original recipes and pictures to be reproduced anywhere other than at this site unless authorization is given. If you enjoyed the recipe and would like to publish it on your own site, please re-write it in your own words, and link back to my site and recipe page. Read my disclosure and copyright policy. This post may contain affiliate links.