French Bread Rolls are the PERFECT yeast bread to serve on the weekend because they're warm and fluffy on the inside, crusty on the outside, and incredibly easy to make!
Easy homemade bread doesn't have to be intimidating, including White Bread, Homemade Dinner Rolls, Cornbread or even Garlic Bread.
FRENCH BREAD ROLLS
French Bread Rolls are the PERFECT thing to serve with dinner. They're soft and fluffy on the inside, and crusty on the outside like a French baguette. This is one of my go-to roll recipes because they're also an incredibly easy yeast bread to make, plus you don't have to knead it by hand because it's done entirely in the stand mixer!
I love to serve this french bread recipe for lunch with Classic Minestrone Soup or a Classic Wedge Salad, or for dinner with my Meat Lasagna. This roll recipe also works perfectly with my Sloppy Joe fillings. If you want a more flaky breakfast option you can also check out my recipe for Buttermilk Biscuits!
HOW LONG DO FRENCH BREAD ROLLS LAST?
French bread dinner rolls will last at room temperature for 4-5 days, wrapped tightly. You can also store them in an airtight container to keep them soft. Heat the french bread in the oven wrapped in tinfoil at 200 degrees F to make them seem fresh-baked again before serving.
CAN YOU FREEZE FRENCH BREAD DINNER ROLLS?
French bread rolls can be frozen either before or after they've been cooked. For cooked, freeze them in a sealable plastic bag wrapped in tinfoil. Defrost at room temperature for a few hours before serving, or reheat in the oven to make them soft and crusty again.
For uncooked, divide the dough into balls, then place on a baking sheet and place in the freezer. Once they're frozen, about an hour, you can move them to a plastic bag. When you're ready to bake, place them back on the baking sheet and bake according to the recipe, spraying with cold water to make them extra crusty (make sure it's cold, warm water won't work as well).
WHY IS MY FRENCH BREAD SO HARD?
If your roll recipe turns out too hard, it's possible that you're overcooking the rolls. Set a timer, and use an oven thermometer to make sure the oven is cooking at the right temperature.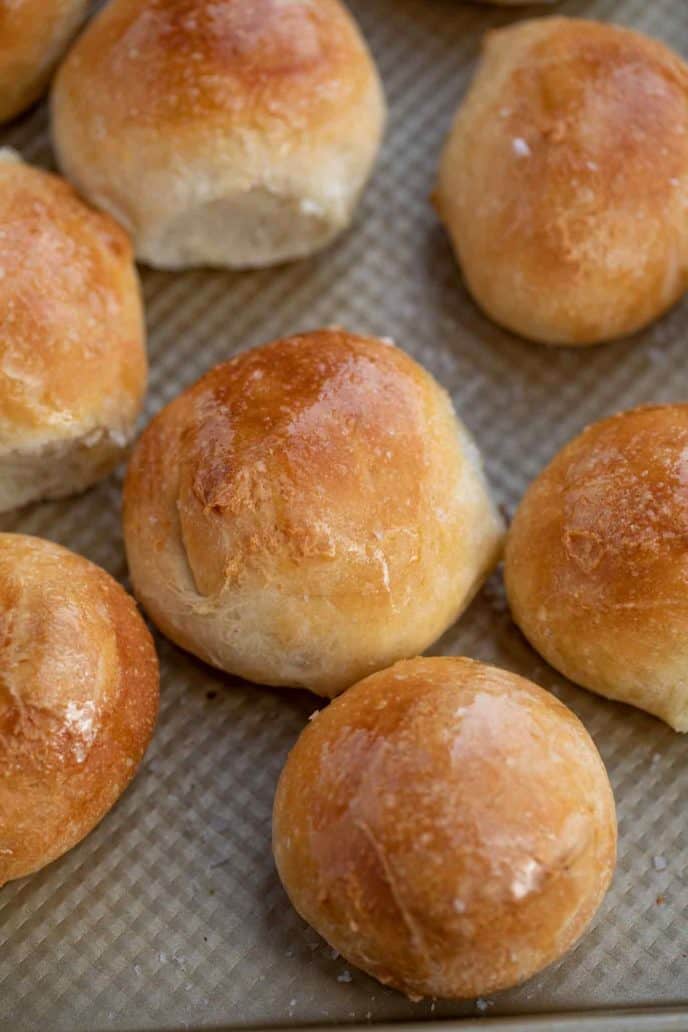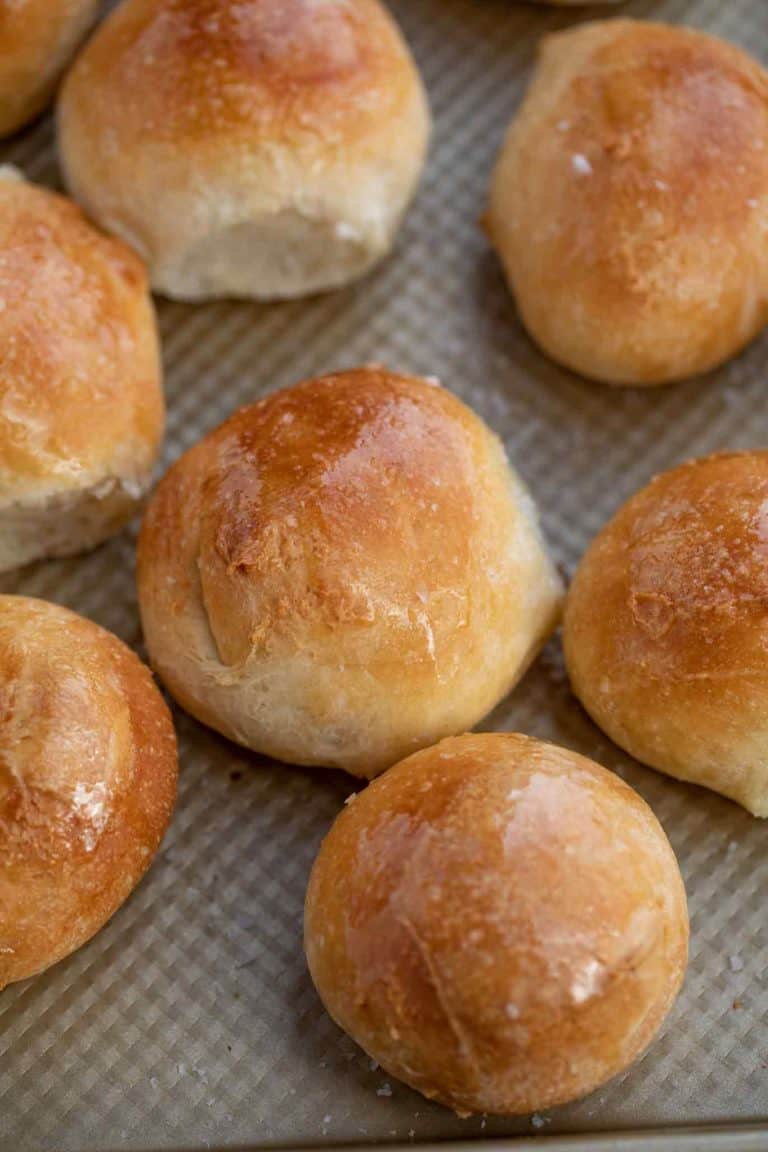 Create a free account to Save Recipes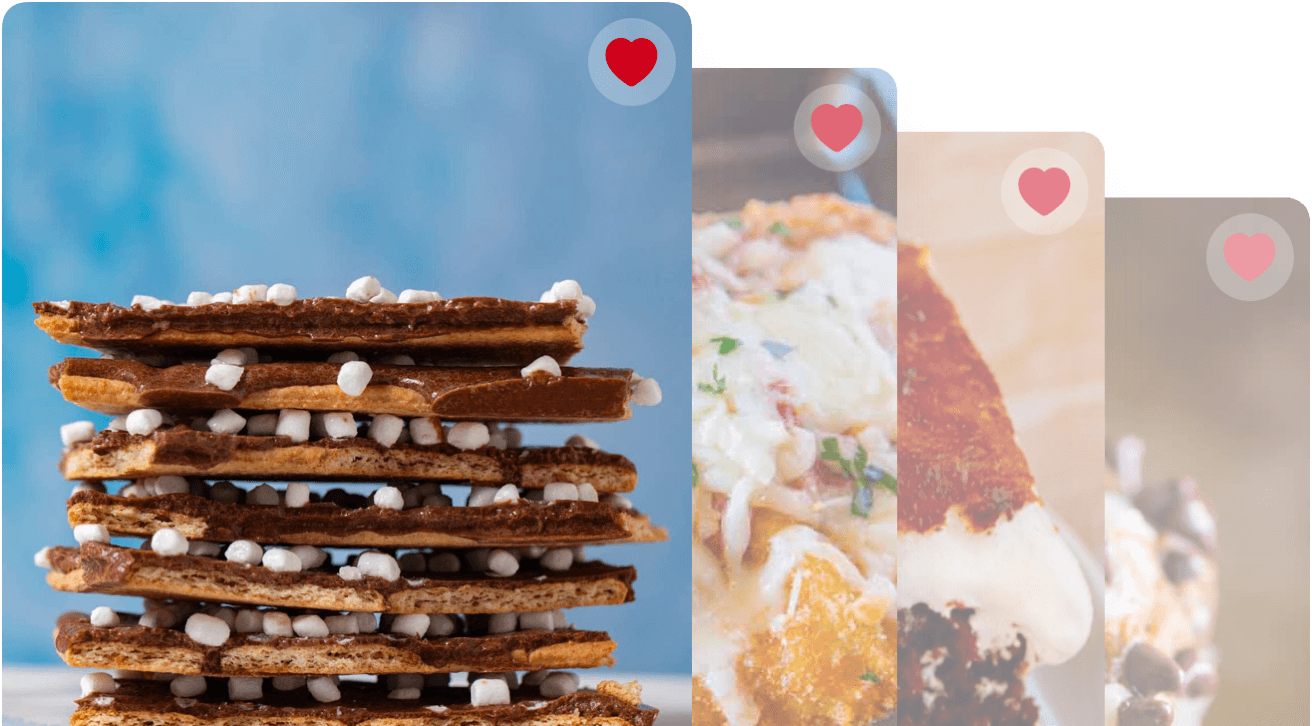 WHICH FLOUR DO YOU USE FOR FRENCH BREAD?
Some french bread recipes call for bread flour, because bread flour contains more protein. But I find that all purpose flour works fine instead of bread flour for this french bread recipe. You can also use whole wheat or other wheat flour for a healthier version.
 SOUPS TO ENJOY WITH THESE ROLLS
TIPS FOR MAKING FRENCH BREAD ROLLS
Make sure to set a timer and let the yeast and sugar sit in the hot water for the full time in this bread recipe. This step is called "proofing", and it lets the yeast activate. The water will look cloudy and slightly foamy when it's ready to use. I let it proof in the stand mixer, but you can use any large bowl.
When you're letting the dough rise, the yeast needs a warm environment to grow. I usually put it near a window, or if your oven is on for another recipe you can keep it on top of the stove.
Make sure your yeast is as fresh as possible for this bread recipe. If the packet is expired, I recommend not using it, because your french bread won't rise correctly.
Watch the french bread dough carefully, and stop kneading when it starts pulling away from the bowl. Kneading the dough for too long can result in dense rolls.
We're using the stand mixer for this bread recipe, but you can knead it by hand if you want to.
You can use this same french bread recipe to make french bread dinner rolls or an actual loaf or baguette. Or roll them very thin and make breadsticks! You can also buy a baguette pan that will help keep the baguettes crispy on the top and bottom.
Wrap these french bread dinner rolls in tinfoil after they're done baking, to keep them warm until you're ready to serve.
Line your baking sheet with parchment paper to help keep the french bread from sticking.
You can substitute the active dry yeast with rapid rise yeast if you have to.
If the dough is sticking to your hands while you're trying to work with it, dust your hands with flour lightly.
Brush the baguette dough with egg wash, or with butter to make the outside golden brown. You can also use a sharp knife to slice down the middle top of the roll for presentation.
Serve this french bread with soft butter or olive oil and herbs, and a sprinkle of flaky sea salt (my favorite fancy yet inexpensive finishing touch on foods) on top.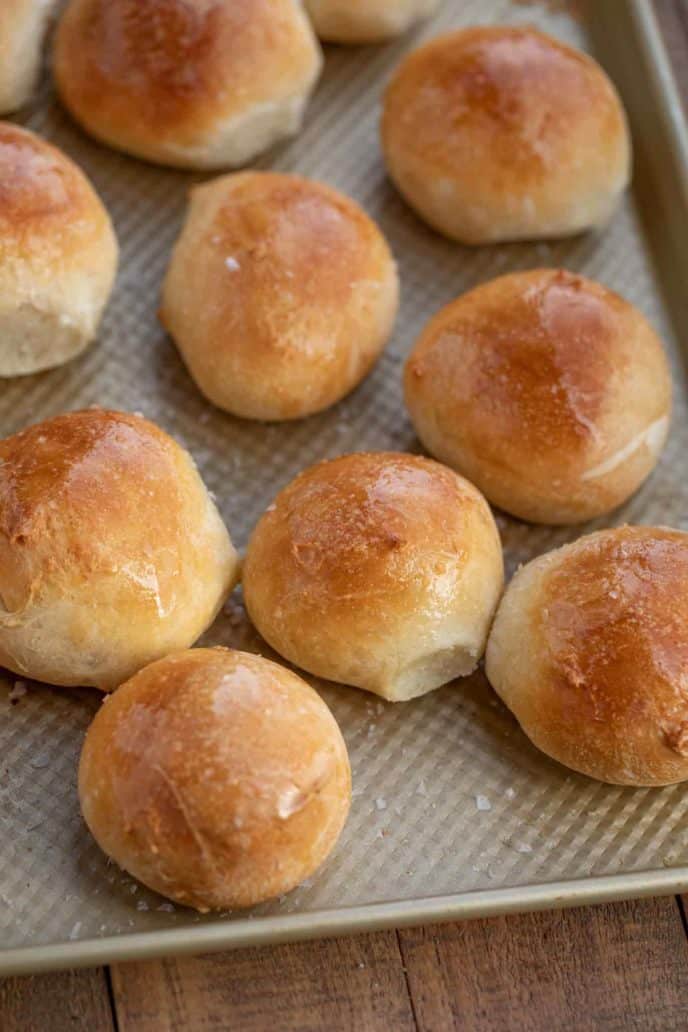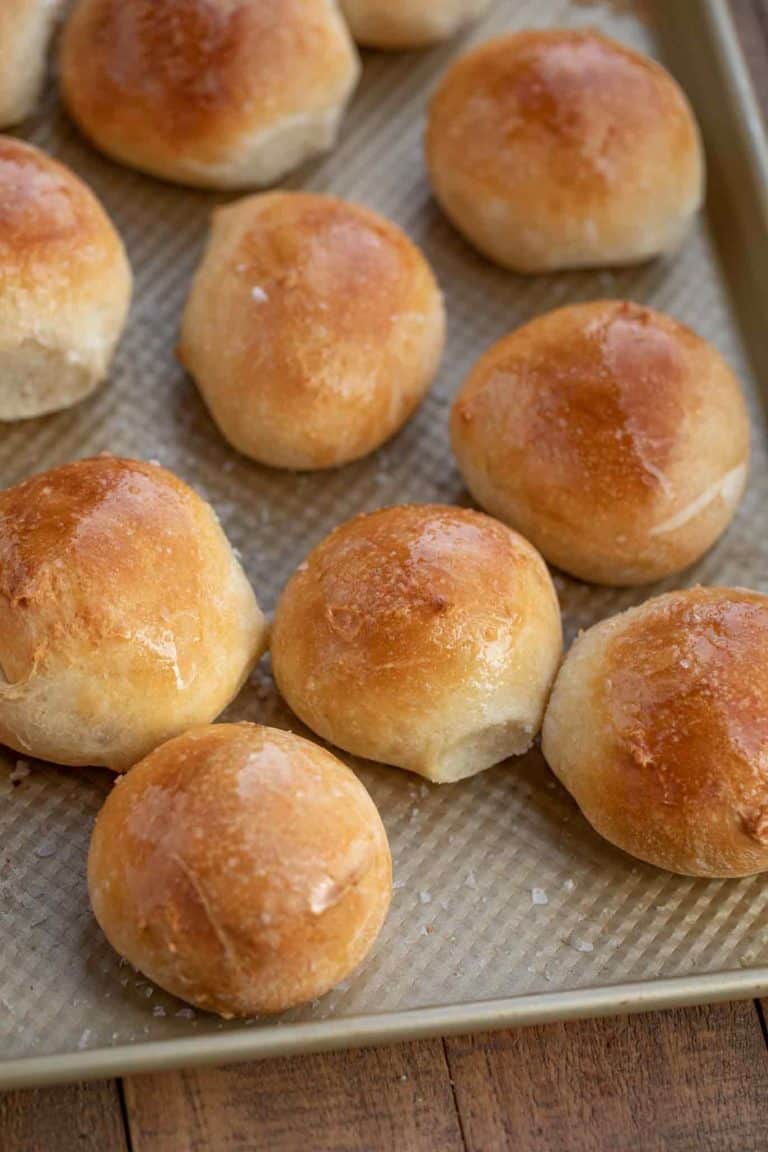 Ingredients
1 1/2

cups

warm water

(110 degrees)

3

teaspoons

active dry yeast

2

tablespoons

sugar

2

tablespoons

vegetable oil

2

teaspoons

kosher salt

, divided

3 1/2

cups

flour

2

tablespoons

unsalted butter

, melted

spray bottle with ice water
Instructions
To a stand mixer add the warm water, yeast and sugar and let sit for

10 minutes

until cloudy.

Add the oil, half the salt and 2 cups of the flour with the dough hook and let it combine on medium speed adding the flour in ¼ cup increments until the dough starts to come together and eventually starts to pull away from the bowl, then turn up the speed and let it knead for

5 minutes

.

Add to an oiled bowl and turn in the bowl to coat with oil then cover with a damp towel and let rise in a warm spot until it doubles in size for

60 minutes

.

Divide the dough into 16 balls, place on a greased baking sheet and let rise for an additional

30 minutes

then brush gently with butter and sprinkle with remaining salt before baking at 400 degrees for

18-20 minutes

spraying the dough with ice water twice halfway through the baking process to make the crust chewier.
Nutrition
Calories:
133
kcal
|
Carbohydrates:
22
g
|
Protein:
2
g
|
Fat:
3
g
|
Saturated Fat:
2
g
|
Cholesterol:
3
mg
|
Sodium:
292
mg
|
Potassium:
31
mg
|
Sugar:
1
g
|
Vitamin A:
45
IU
|
Calcium:
5
mg
|
Iron:
1.3
mg