Easy Rump Roast is a hearty, easy one pot meal of tender, flavorful slow roasted beef with potatoes and carrots. Perfect for Sunday dinner.
Just like Classic Pot Roast with Vegetables, this easy, rustic Dinner Recipe is hearty and delicious, with plenty of leftovers for next day sandwiches!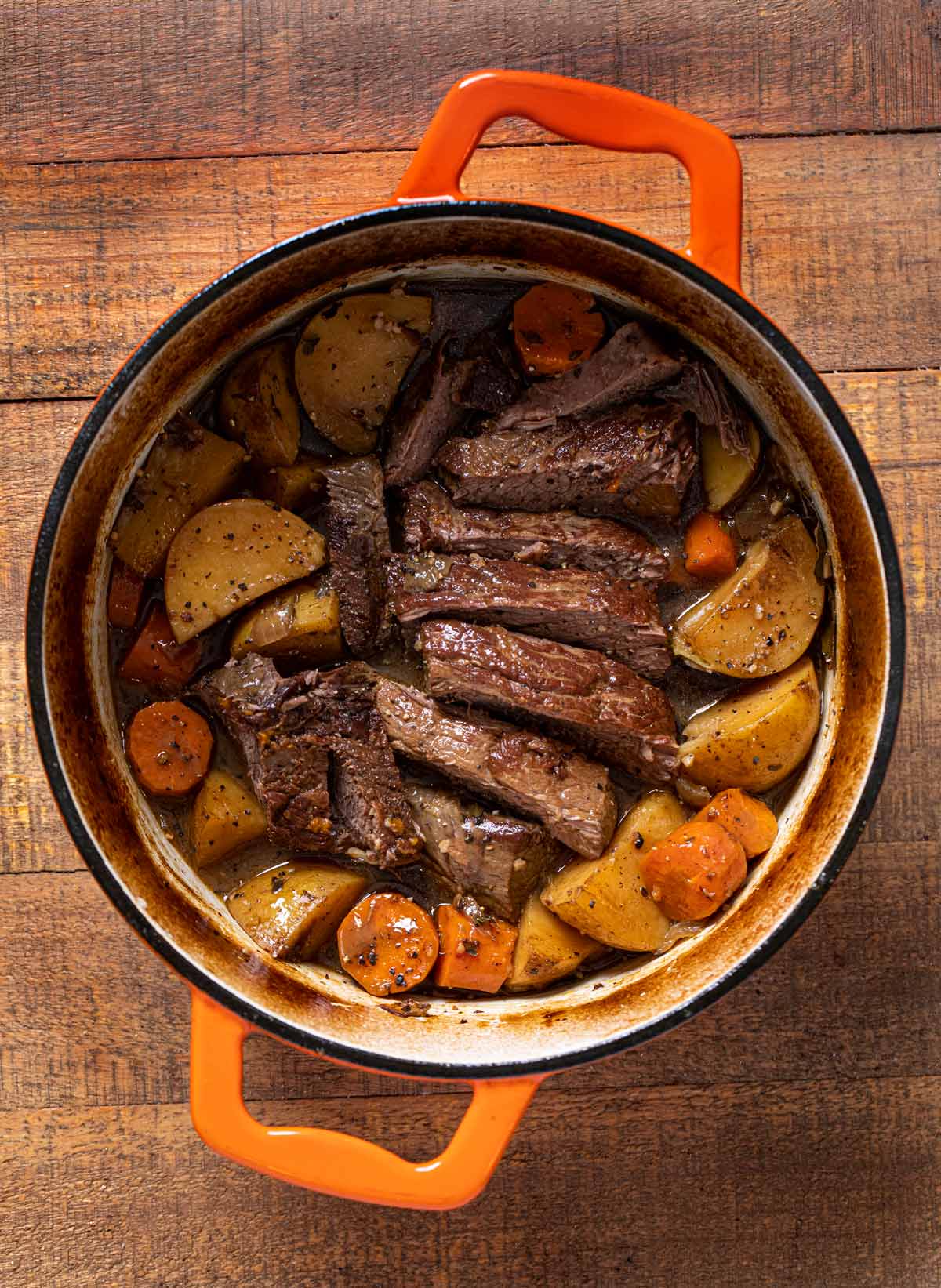 This Easy Rump Roast recipe comes together in minutes with simple seasonings, potatoes, carrots, and beef broth. You'd never guess that such a tender, flavorful beef roast is made with so few ingredients. The key is searing the seasonings on the beef roast before it is cooked on low heat in the oven. Make sure you don't skip the searing step, it really locks in the flavor and juices for a melt-in-your-mouth roast.
Easy Rump Roast is a complete one-pot meal that doesn't need any side dishes if you don't feel like making them. The sauce in the pan can be left as an au jus or can be made into a thick, tasty gravy for the potatoes and beef. Serve with homemade or store-bought Dinner Rolls or Beer Bread to soak up the beefy sauce.
This tender roast beef recipe makes great leftovers for a round two dinner or quick lunch. You can slice your delicious Rump Roast for Roast Beef Sandwiches (complete with horseradish sauce!) or shred the meat for Beef Tacos. Cook a larger beef roast and freeze half the meat for dinners later on. Simply prepare the meat, slice or shred, freeze in a plastic bag, and then thaw overnight to use.
How to Make Easy Rump Roast
Preheat oven to 325 degrees.
Season beef with 1 teaspoon kosher salt and ½ teaspoon coarse ground black pepper.
Add vegetable oil to large pot on high heat.
Sear on all sides until well browned, about 3-4 minutes on each side. Remove from heat.
Add in the carrots, potatoes, onion and garlic.
Mix the beef broth, Worcestershire sauce and pour it over the vegetables.
Cover and cook in the oven for 3 to 3 ½ hours.
Easy Side Dish Recipes
Frequently Asked Questions
What is the best way to cook a rump roast?
A rump roast, also known as a bottom round roast, is a leaner cut of meat from the rear leg. Like a chuck roast, boneless beef round is an inexpensive cut of meat that gets tender and flavorful when it's cooked low and slow. It's a perfect cut of beef for slow roasting in a dutch oven, cooking in a crock pot, or quickly tenderizing in a pressure cooker.
What is the difference between rump roast and pot roast?
Rump Roast is technically a pot roast, since it's a roast made in a pot. iI just uses a different cut of meat than the chuck roast you may normally use. Don't worry, it's not an expensive cut like a brisket or London broil. Rump Roast is still a budget friendly meal you can make for Sunday dinner, special occasions, or prep ahead for busy weeknights.
How do you know when rump roast is done?
For a medium rare roast, you want to cook Rump Roast until the internal temperature reaches 135 degrees. Allow the roast beef to rest minimum 3 minutes before slicing. With the long cooking time of this beef roast recipe, you should not have any issues with it being a safe temperature.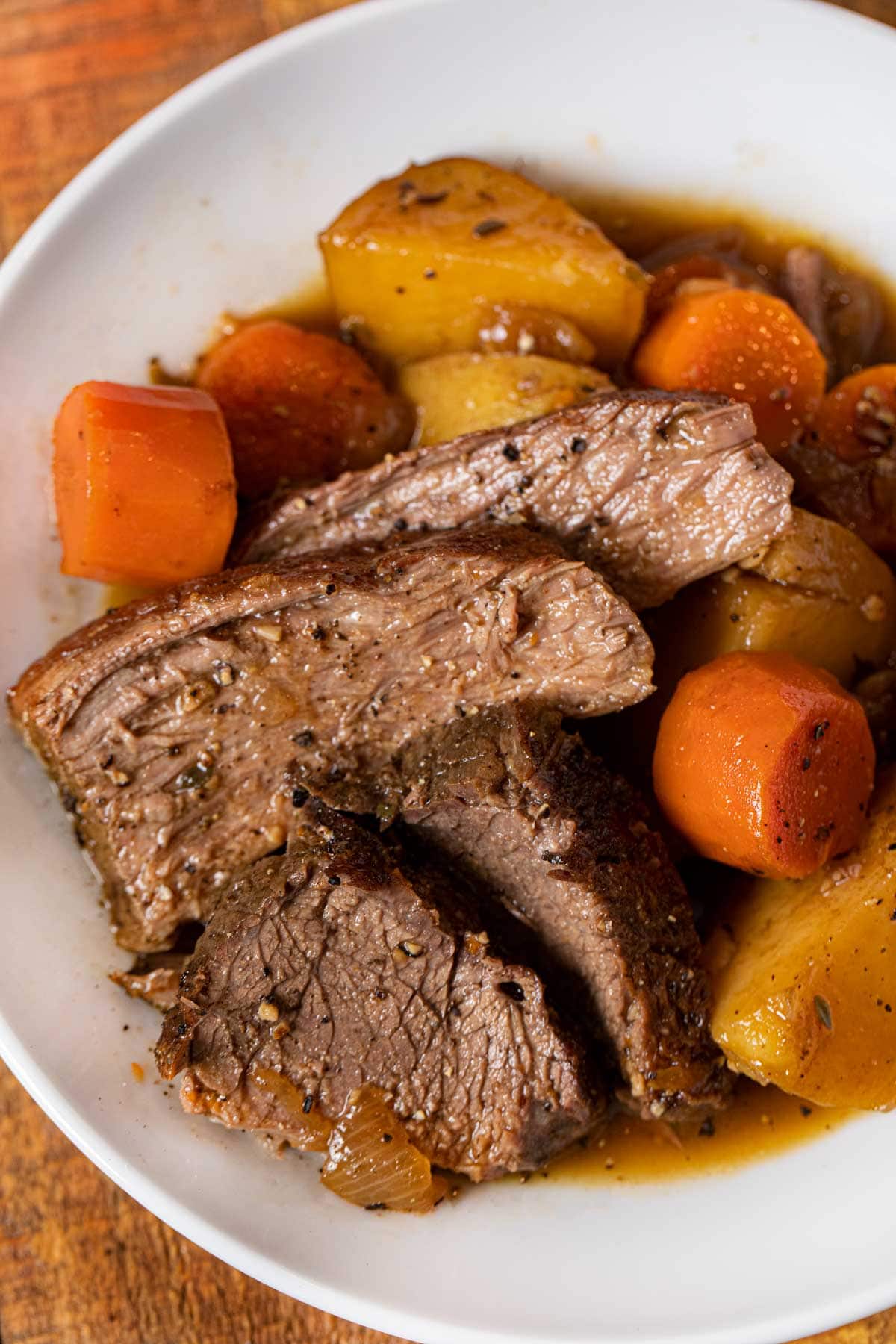 Create a free account to

Save Recipes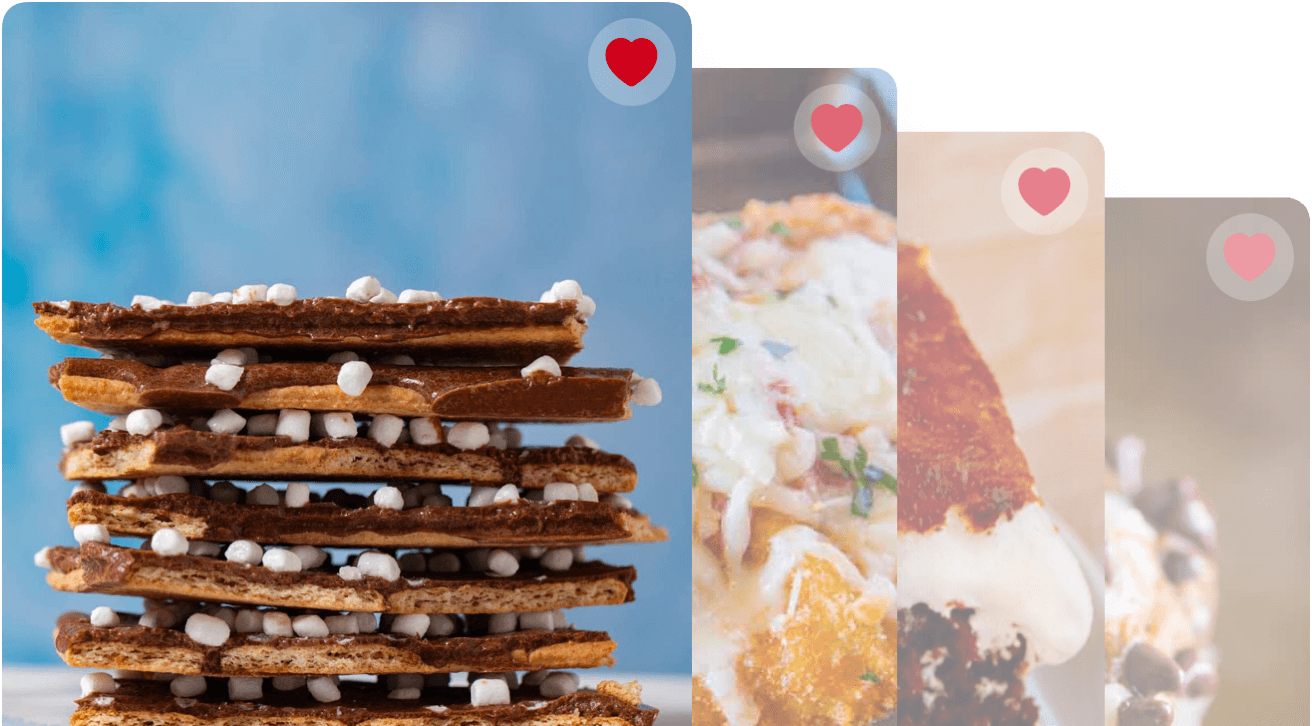 Key Ingredients in Rump Roast
Beef: For this tender Rump Roast, choose a 3 pound roast that has a nice fat cap and marbling throughout. It may also be labeled as a bottom round roast in your grocery's butcher counter.
Veggies: The onions, potatoes, and carrots in this recipe will give you a delicious side option as well as help to flavor the beef while it braises. Use Yukon or yellow potatoes, because they are waxier and can withstand the long cooking process better than russet potatoes. Yellow potatoes will not break down and become mushy like other varieties.
Broth: You can use canned beef broth or keep a good quality bullion on hand when you only need 2 cups as in this recipe. Adding the 2 tablespoons Worcestershire sauce will enhance the flavor even more. If you don't have Worcestershire, you can substitute it with soy sauce, red wine, or balsamic vinegar.
Seasonings: Along with salt and pepper, you'll use fresh garlic to infuse the Rump Roast with aromatic flavor. Mince 3 cloves garlic and add them in with the rest of the vegetables.
Slow Cooker Rump Roast Recipe
In a large pan over medium-high heat, sear seasoned roast in oil on both sides 3-4 minutes.
Transfer beef to slow cooker. Add vegetables and garlic around meat.
In a separate bowl, whisk beef broth and Worcestershire sauce.
Pour sauce over meat and vegetables in slow cooker.
Cover slow cooker with lid and cook on low heat for 8-9 hours, or on high for 4-5 hours.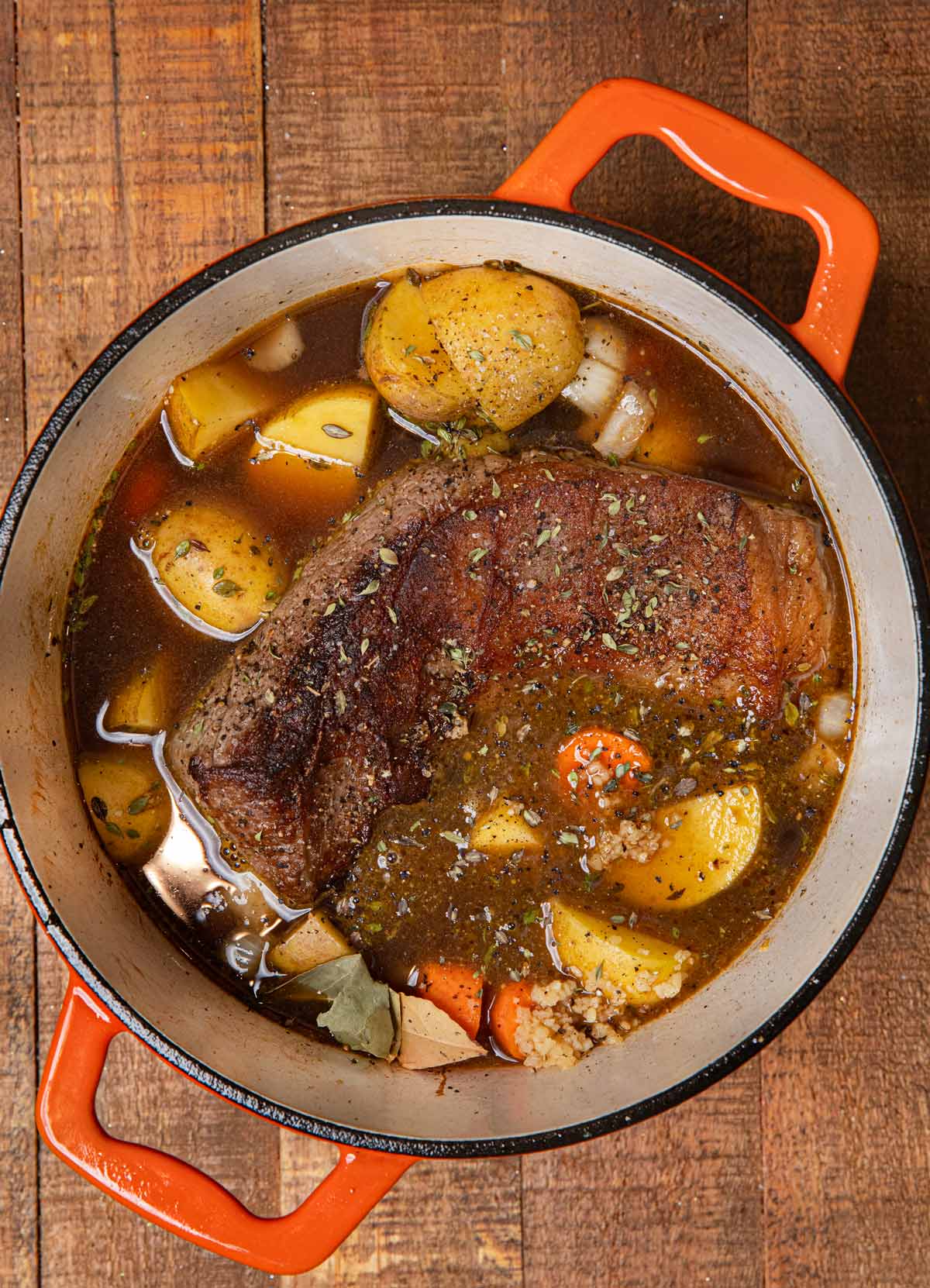 Instant Pot Rump Roast
Turn Instant Pot to Sauté function and heat vegetable oil until shimmering.
Add seasoned roast and sear on both sides for 3-4 minutes. Set aside and turn off Instant Pot.
Deglaze pot with beef broth, scraping off any browned bits, then whisk in Worcestershire sauce.
Return beef to Instant Pot and add veggies, onion, and garlic. Stir.
Secure lid and seal pressure valve. Set to Manual High Pressure for 60 minutes.
Naturally release pressure for 15 minutes, then release rest of pressure (if any) and serve.
Can Rump Roast be Made Ahead?
Rump Roast is a great meal to make ahead because the beef will stay tender and juicy in the au jus. You can make the entire roast up to 3 days in advance and reheat it on the stovetop over medium heat when you are ready to serve. You can even freeze the meat and veggies separately and thaw them whenever you want a cozy, hearty meal ready to serve.
Variations on Rump Roast
Meat: Instead of bottom round roast, you can make this Rump Roast recipe with chuck roast, bottom sirloin, or expensive cuts like brisket.
Veggies: Add other root vegetables like parsnips, turnips, or sweet potatoes along with the carrots and potatoes. You can add celery or cabbage to make this dish heartier without adding extra calories or taking away flavor.
Ranch Roast: For a tangy, creamy Ranch Rump Roast, whisk 2 tablespoons Ranch Seasoning and 1 cup Condensed Chicken Soup with the beef broth and Worcestershire sauce before pouring over the veggies and meat.
Broth: Instead of all beef broth, use 1 cup red wine, brewed strong coffee, or dark beer like a stout or porter. Using a concentrated beef stock will add even more meaty flavor, so add an extra tablespoon or two.
Gravy: Remove roast, potatoes, and carrots to a serving platter. In a bowl, whisk ½ cup flour with ½ cup water until combined, then slowly whisk into the liquid in your pot until smooth and desired consistency. Season with salt and serve over roast and potatoes.
More Roast Recipes
How to Store Rump Roast
Serve: Keep Rump Roast at room temperature for no more than 2 hours. You can keep it warm in a slow cooker with braising liquid for up to 4 hours.
Store: Cool Rump Roast and veggies and store together in an airtight container in the refrigerator for up to 3 days. Reheat in the oven or on the stove top for best taste and texture.
Freeze: Once cool, slice beef and store in a freezer safe plastic bag or sealed container. Freeze beef for up to 2 months and thaw overnight in the refrigerator before reheating. You can freeze potatoes and carrots separately for up to 4 months.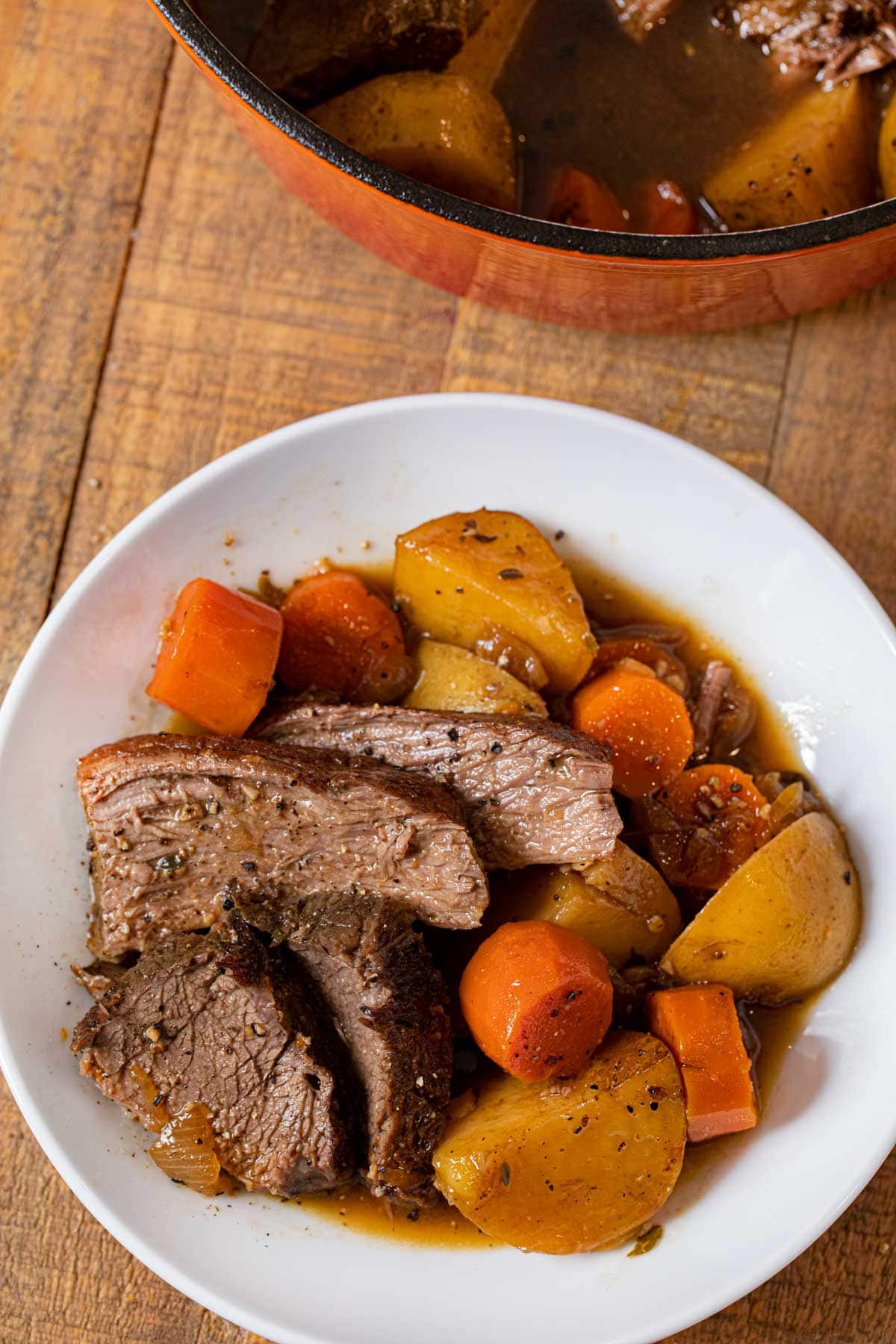 Ingredients
3

pound

beef rump roast

1

teaspoon

kosher salt

1/2

teaspoon

coarse ground black pepper

2

tablespoons

vegetable oil

2

medium carrots

, peeled and cut into 2 inch chunks

3

yukon potatoes

, peeled and cut into 2 inch chunks

1

yellow onion

, cut into 1 inch chunks

3

garlic cloves

, minced

2

cups

beef broth

2

tablespoons

Worcestershire sauce
Instructions
Preheat oven to 325 degrees.

Season beef with 1 teaspoon kosher salt and ½ teaspoon coarse ground black pepper.

Add vegetable oil to large pot on high heat.

Sear on all sides until well browned, about

3-4 minutes

on each side. Remove from heat.

Add in the carrots, potatoes, onion and garlic.

Mix the beef broth, Worcestershire sauce and pour it over the vegetables.

Cover and cook in the oven for

3 to 3 ½ hours

.
Nutrition
Calories:
452
kcal
|
Carbohydrates:
20
g
|
Protein:
54
g
|
Fat:
16
g
|
Saturated Fat:
8
g
|
Cholesterol:
141
mg
|
Sodium:
888
mg
|
Potassium:
1318
mg
|
Fiber:
3
g
|
Sugar:
3
g
|
Vitamin A:
3397
IU
|
Vitamin C:
21
mg
|
Calcium:
78
mg
|
Iron:
6
mg