French Vanilla Ice Cream is an easy homemade ice cream recipe with a smooth, creamy texture and rich vanilla flavor from real vanilla beans.
Luscious Vanilla Ice Cream is a classic Frozen Treat to serve at an ice cream social, enjoy outside on a warm day, or serve with your favorite baked goods. Add a scoop over fresh baked Apple Crisp or Apple Pie for the ultimate Dessert combo.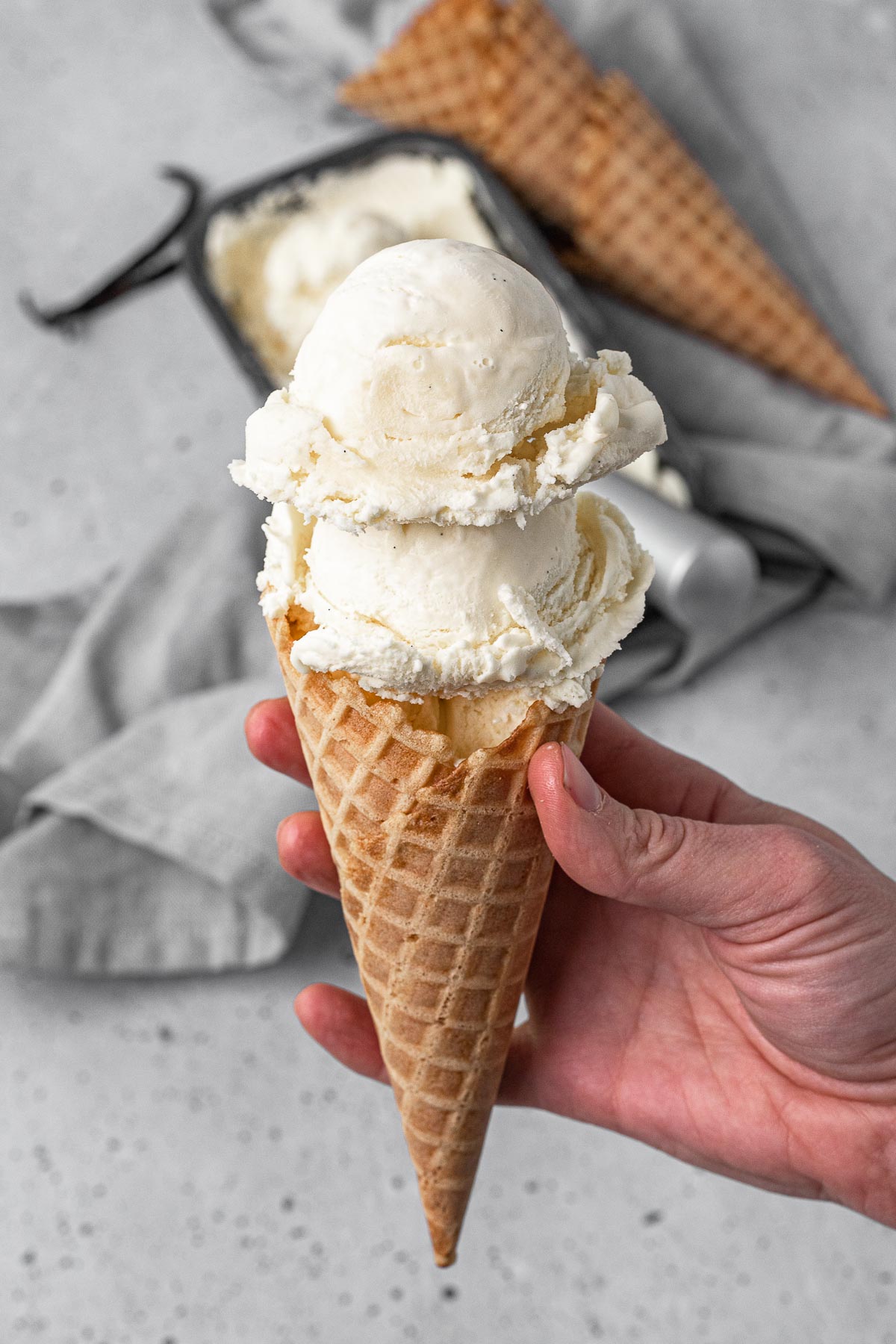 This homemade ice cream recipe upgrades your classic scoop of vanilla with tons of real vanilla bean flavor and an egg-custard base for the dreamiest, rich and smooth texture. But just like a regular vanilla ice cream recipe, it's made with simple ingredients and a standard ice cream machine, in about the same amount of time. The key to this French version is the custard base which can sound complicated but it's easy with this step by step guide.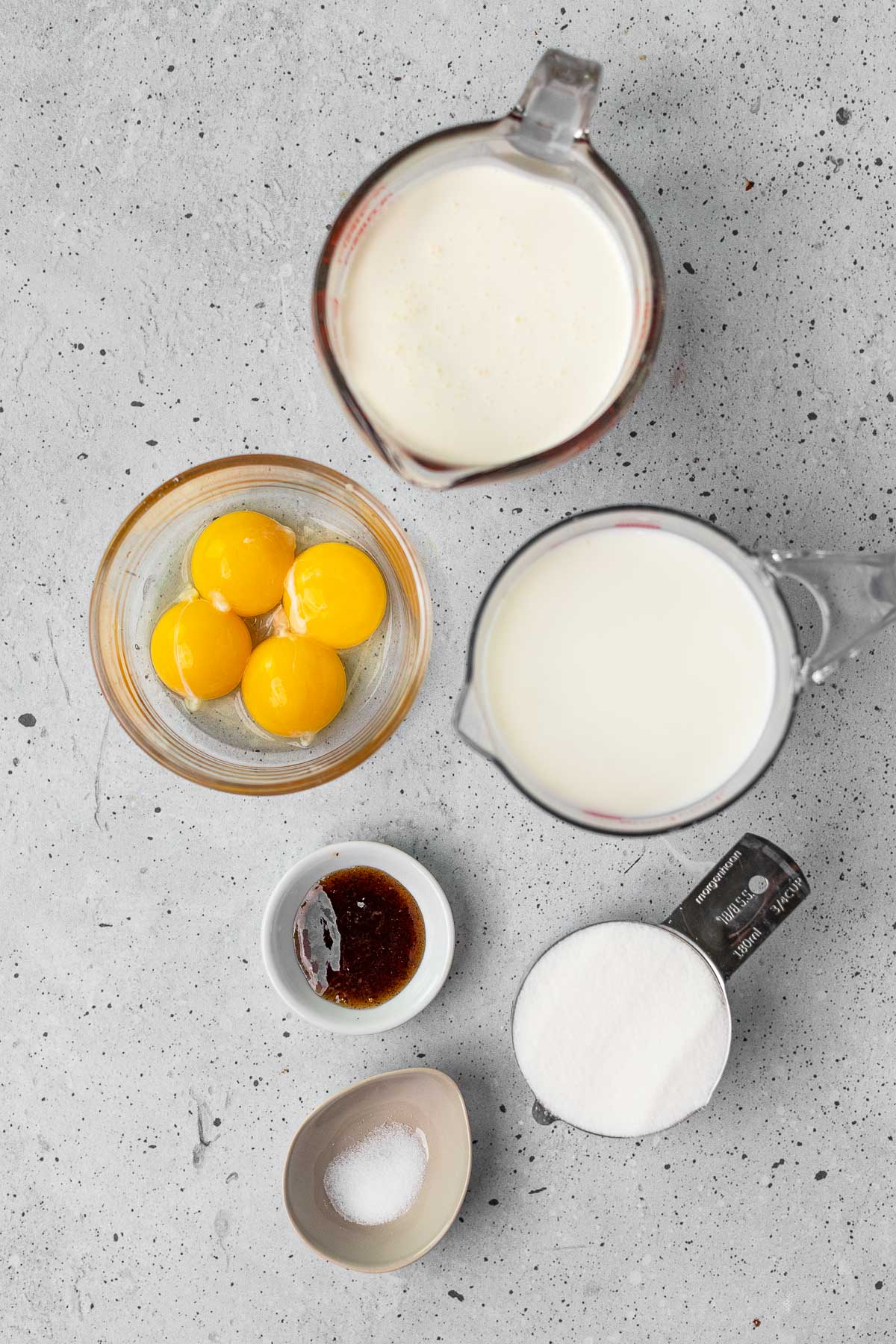 Although it takes a little extra work and time, you don't have to be an expert to make homemade French Vanilla Ice Cream. By paying careful attention to the directions and tips in this recipe, this elevated version of simple ice cream comes together quite easily. Once it's finished the French Vanilla is well worth the little bit of extra effort. It's thick, creamy, smooth, and wonderfully rich.
After your homemade vanilla ice cream is ready, you can enjoy all the deep, classic vanilla flavor all on it's own or add a variety of toppings for even more delicious flavor. Whipped Cream, Hot Fudge Sauce, Strawberry Topping, and Caramel Sauce all taste incredible over a bowl of ice cream. Make this special, extra creamy vanilla ice cream during the holidays and add a scoop to your favorite pies and other baked desserts.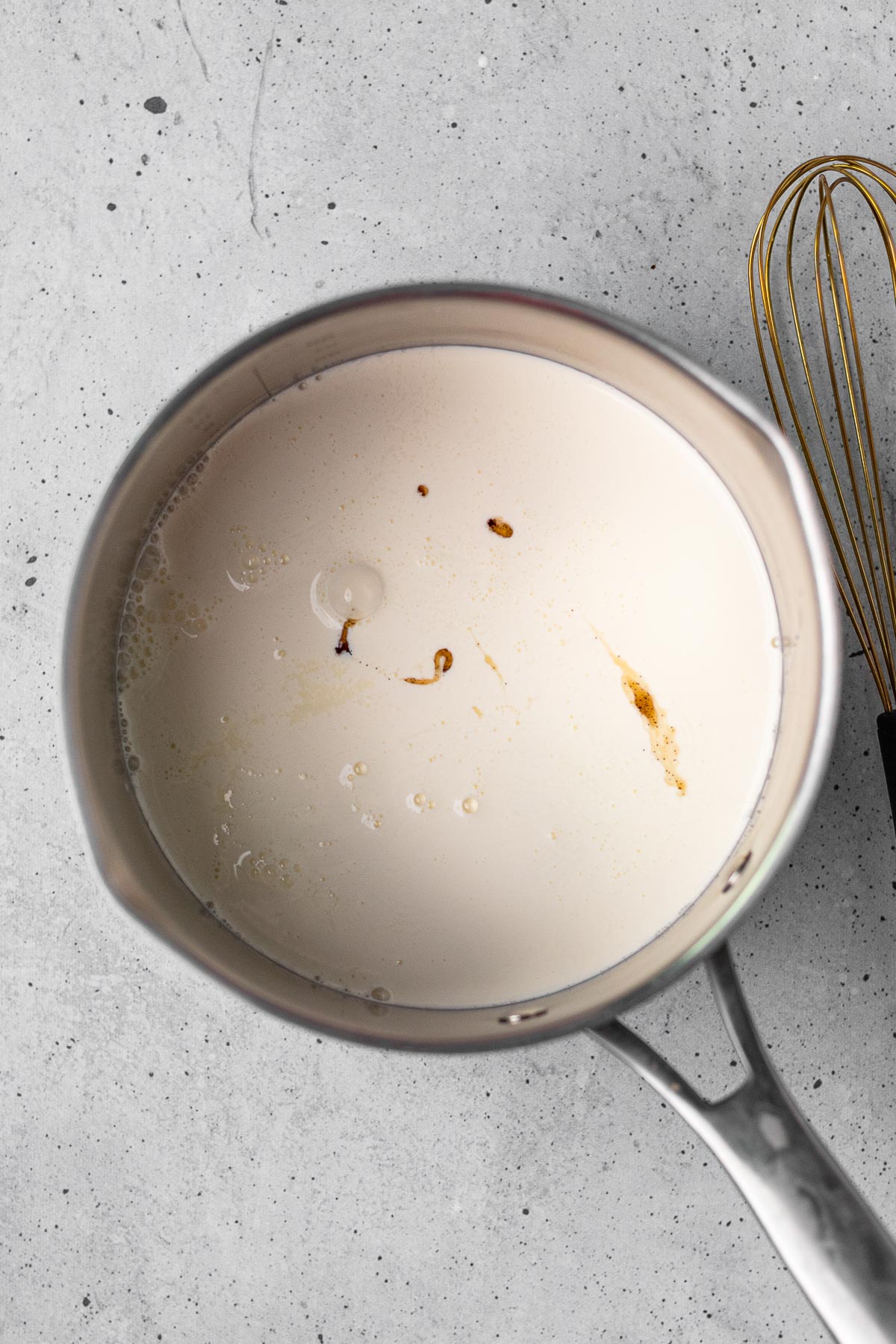 What is French Vanilla Ice Cream?
The misconception about French Vanilla Ice Cream is that it's not the type of vanilla that sets it apart, but the French way of making an ice cream base. French-style ice cream is a custard-based ice cream made with lots of egg yolks and cream. Egg custard ice cream has a creamier texture and rich flavor, and while vanilla bean is the most common, it can be made in pretty much any of your favorite flavors.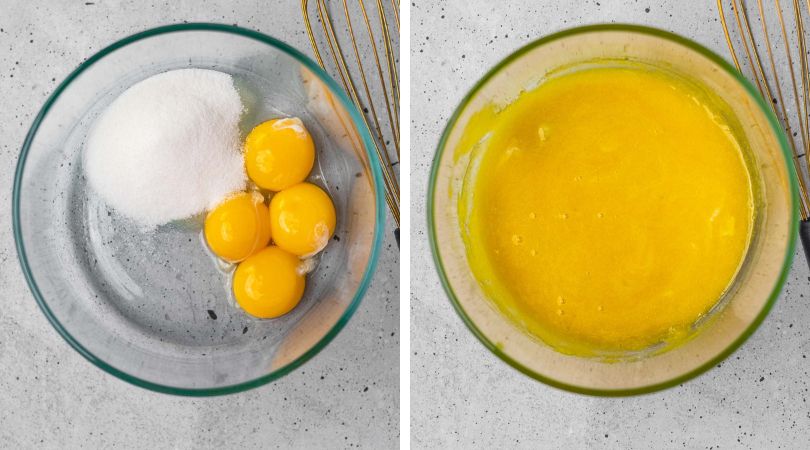 How to Make French Vanilla Ice Cream
Eggs: Start by separating the egg yolks from the egg whites. Add the yolks to a mixing bowl and whisk them with ¼ cup sugar.
Cream: Add the remaining sugar, heavy cream, whole milk, vanilla bean paste, and salt to a saucepan over medium heat. Bring the milk-cream mixture to a simmer while continuously whisking. Then turn the stove down to medium-low heat.
Temper: Add half of the hot cream mixture into the egg yolk mixture. Pour it in a slow stream while constantly whisking. Then slowly pour the combination back into the pot while still whisking.
Cook: Cook for 8-10 more minutes until the custard thickens. Be careful not to let it boil or the finished ice cream will taste scalded. Remove the mixture from heat and pour it into a heat-proof bowl.
Chill: Let the mixture cool completely, then cover the bowl and chill in the fridge for at least 2 hours.
Freeze: Add the chilled cream base to your ice cream machine, according to the machine's instructions. Freeze for at least 3 hours before serving.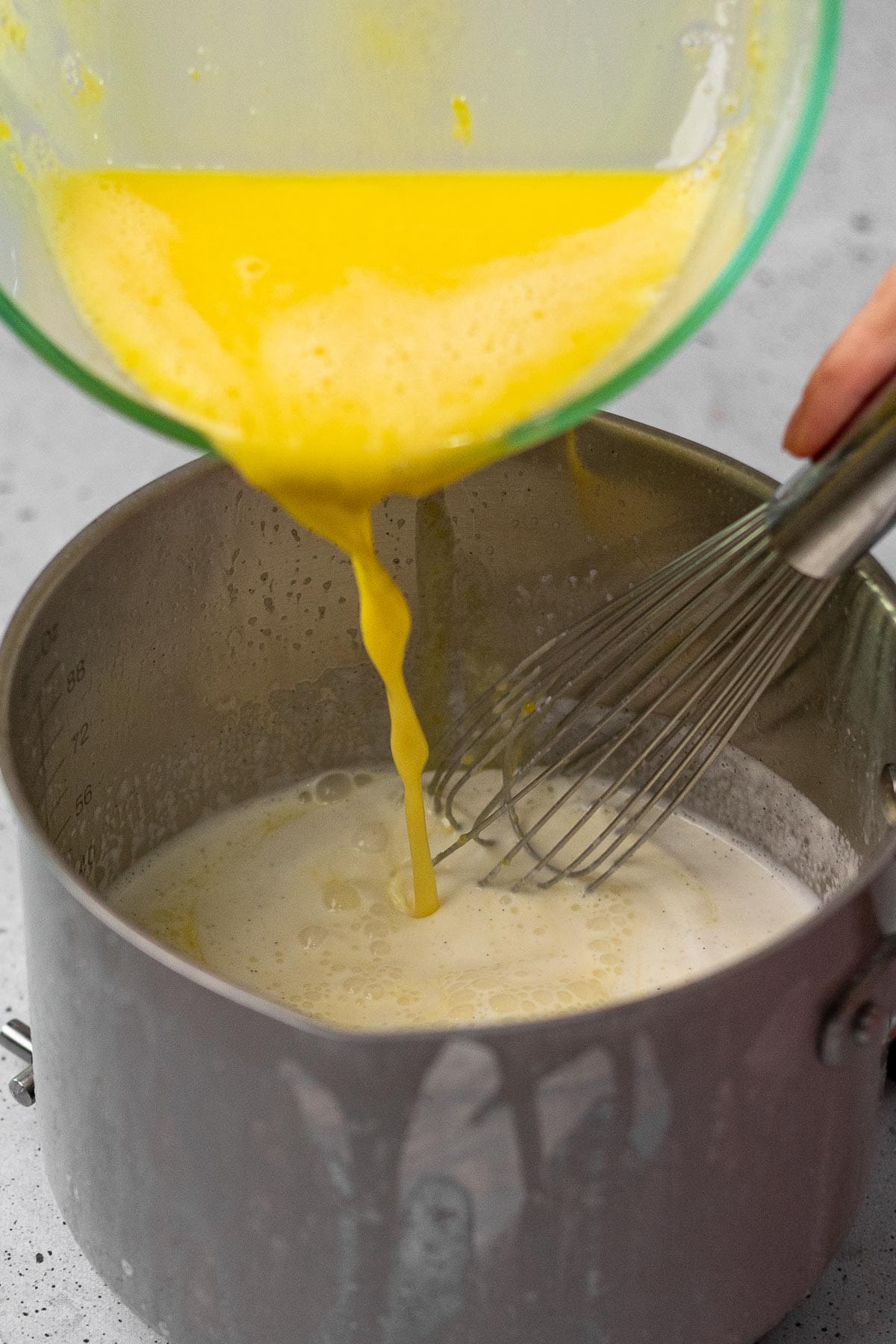 Warm Desserts to Serve with Vanilla Ice Cream
FAQs for French Vanilla Ice Cream
What's the difference between vanilla ice cream in French vanilla ice cream?
The difference between any regular vanilla ice cream recipe and French Vanilla is the rich custard base made from egg yolks and heavy cream. Any vanilla ice cream can be made with vanilla paste or whole vanilla beans, but for it to be French Vanilla it needs to have an egg custard ice cream base. 
What is special about French vanilla ice cream?
What makes French Vanilla Ice Cream so special is that it's made with a rich egg yolk and cream mixture that gives it a creamier texture and richer flavor than regular ice cream. Its usually made with real vanilla paste so it's flecked with vanilla bean seeds and has more natural vanilla flavor.
Why do you temper the eggs with hot milk?
You don't want to skip the tempering step when making the custard base or your eggs will cook and scramble. Tempering means adding a hot liquid slowly to a cold liquid, like dairy or eggs, so that they get warmer without cooking. Then you repeat the process the other way, slowly adding the warmed eggs or milk back into the hot liquid so it again heats slower and stays liquid.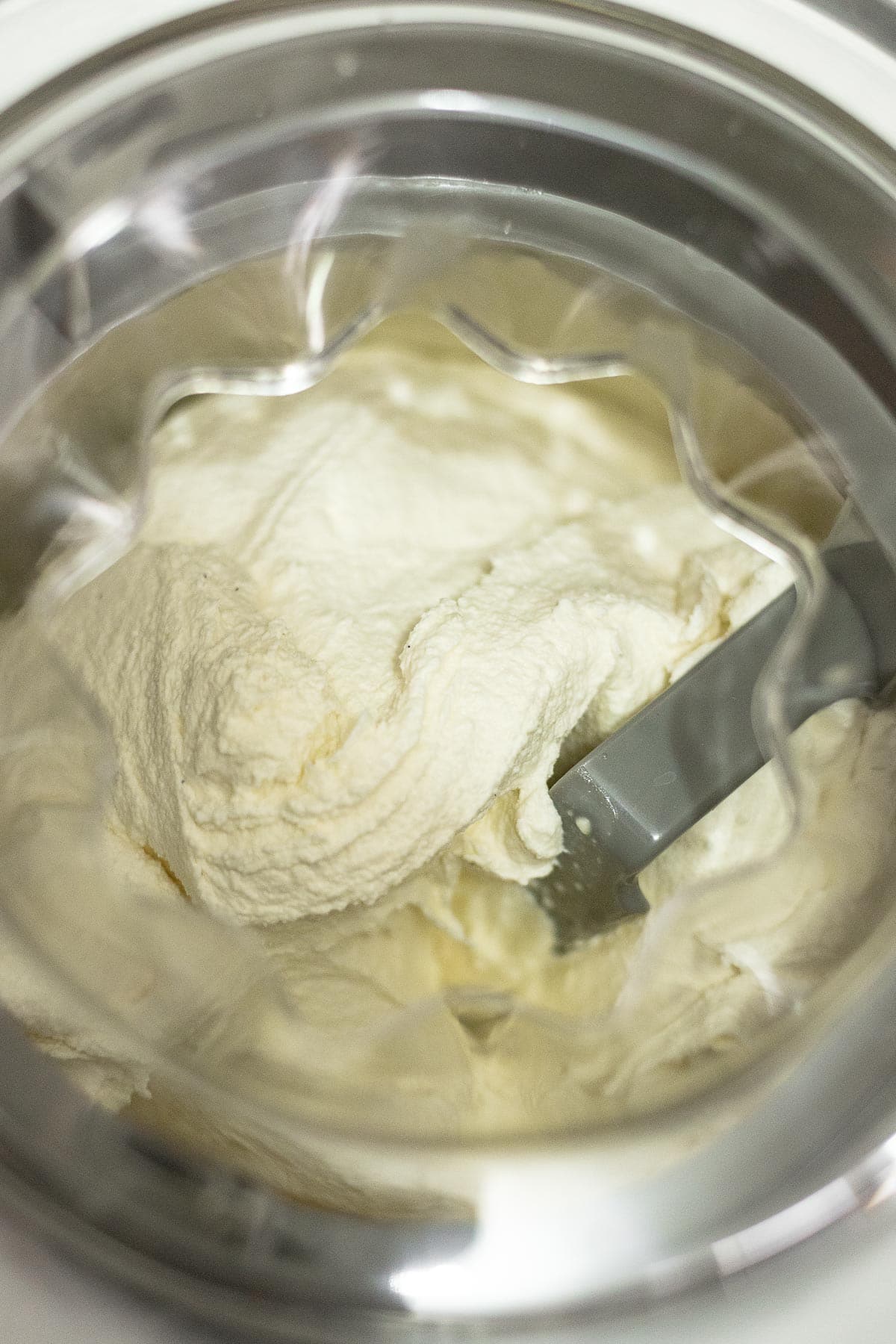 Create a free account to

Save Recipes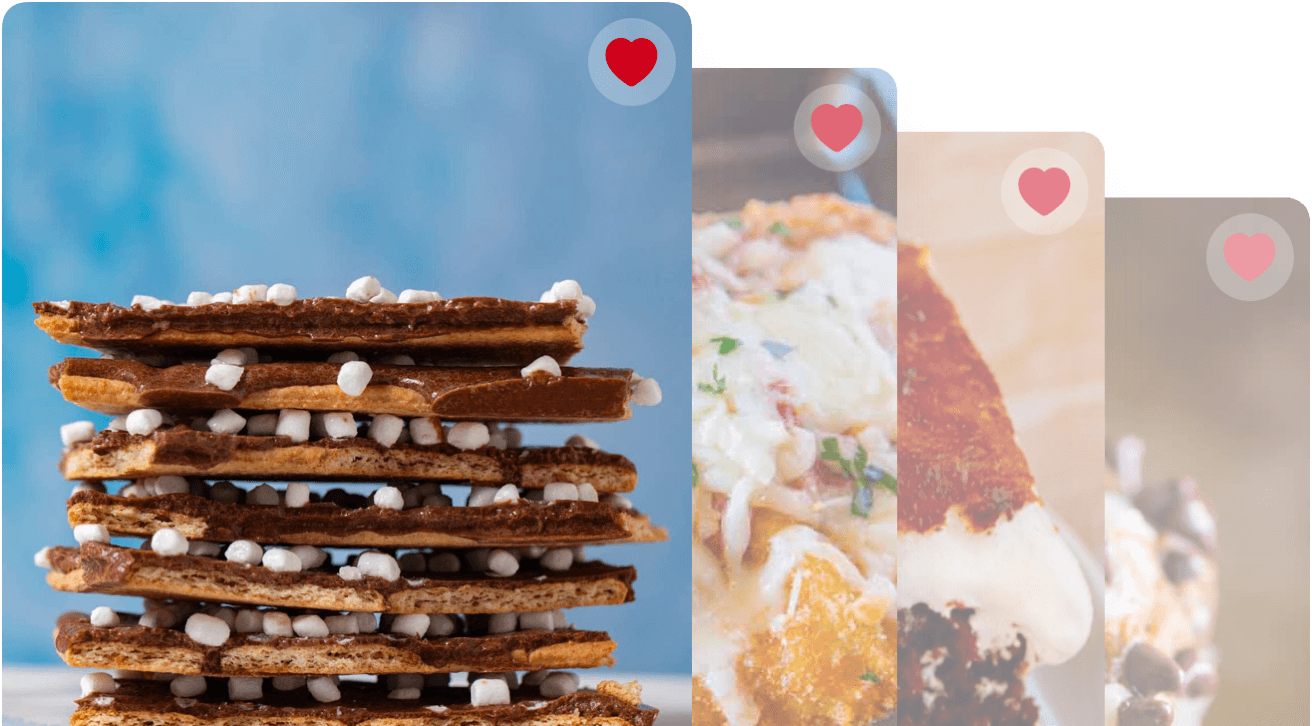 Key Ingredients
Egg Yolks: This ice cream needs a classic egg yolk custard in order to be considered French-style. The yolks are tempered with hot cream and milk before cooking so you get a silky, smooth ice cream. Make sure the egg yolks are room temperature and not cold.
Heavy Cream: Heavy cream is the second part of a true French-style custard base and helps create a richer, creamier taste. Heavy cream has a high fat content which helps the ice cream thicken as it churns.
Whole Milk: Because heavy cream has such a high fat content, you want to also use milk or your ice cream will be too rich and thick. Sounds crazy but it's true that it can be too rich! The whole milk prevents the heavy cream (and your ice cream) from turning into butter.
Sugar: Did you know room temperature sugar will help raise the overall temperature of the egg yolks? Adding the granulated sugar before tempering your egg yolks helps ensure they don't curdle for the smoothest, creamiest ice cream.
Vanilla Bean Paste: Vanilla bean paste is a blend of vanilla extract, sugar, and vanilla bean seeds, and usually has a natural thickener to hold it together. It's going to give your vanilla ice cream a deeper flavor and beautiful vanilla bean specks.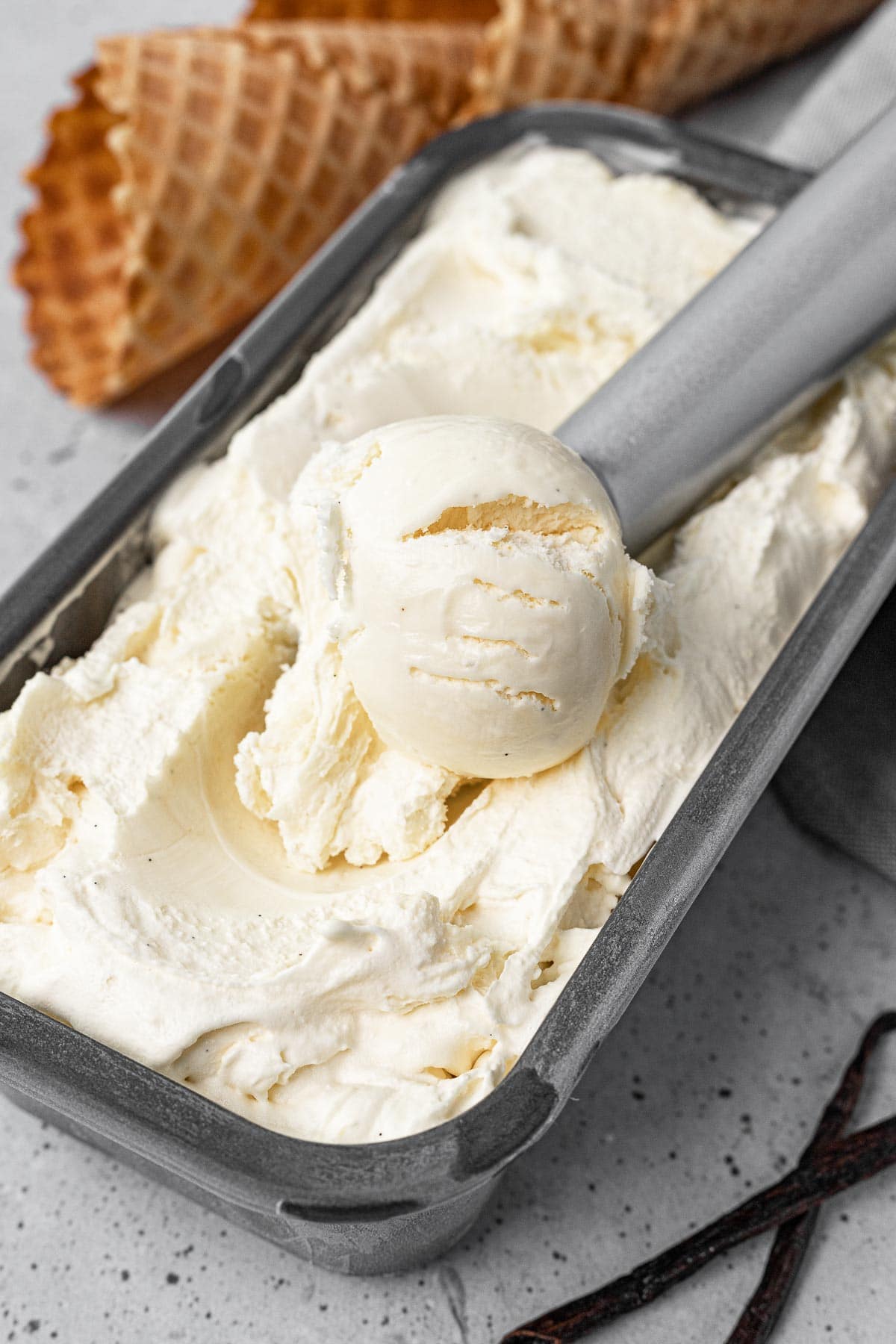 Variations
Ice Cream Sandwiches: To make your own Ice Cream Sandwiches, add one scoop of frozen ice cream in between two of your favorite homemade Cookies. Make sure to bake your cookies about 3-4 inches wide so they are big enough and bake them slightly longer than usual so they are firm enough to hold the ice cream without breaking.
Chocolate: Add ¼ cup cocoa powder to the egg yolk and cream mixture after you add the egg yolks for a rich chocolate ice cream. Make it even more chocolatey with mini chocolate chips or chocolate chunks.
Candy Cane Ice Cream: For a tasty Christmas flavored ice cream, swap half the vanilla for peppermint and add 2-3 drops of red coloring. Then when it's time to add mix-ins, add mini chocolate chips and crushed candy cane pieces.
Add-ins: More simple but tasty mix-ins that go great with vanilla are chopped Oreos, pistachios, Candied Pecans, vanilla baking chips, fresh berries, or coconut flakes. Follow your ice cream machine's instructions for adding mix-ins.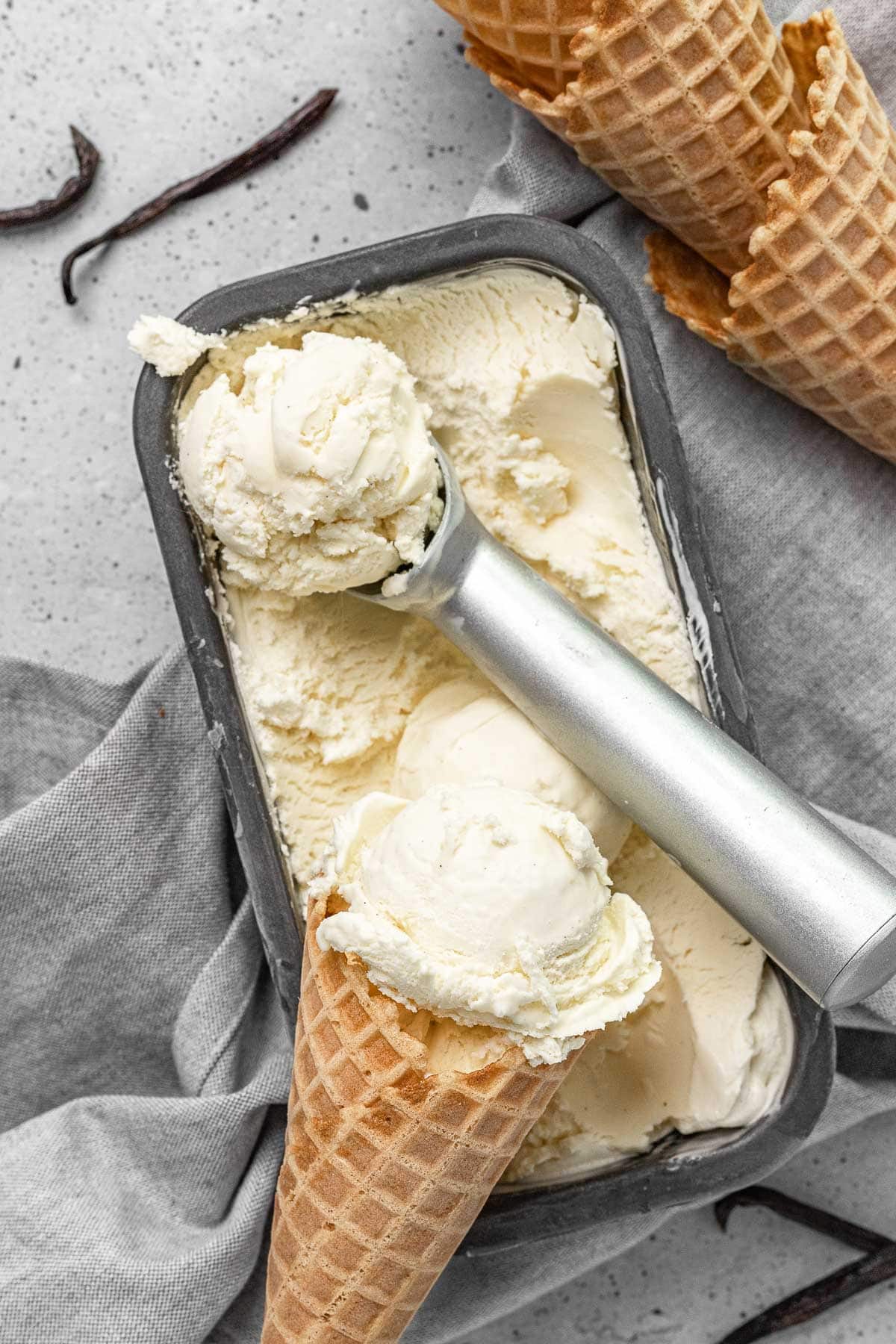 Homemade Vanilla Bean Paste
You can make your own vanilla bean paste to keep on hand to give all your desserts a more robust vanilla flavor. You need 5-6 whole vanilla bean pods, ½ cup granulated sugar, ½ cup water, and 1 tablespoon corn syrup.
Dry out the pods by baking at 150 degrees F for 60-90 minutes, until dried but not burnt. They should turn brittle as they cool.
After they have completely cooled and are very brittle, grind the pods in a coffee or spice grinder.
Bring the sugar, water and corn syrup to a simmer and simmer for 5 minutes. Remove from heat.
In a small glass jar with a lid, add the syrup mixture and vanilla bean powder and mix well.
Store in a cool, dry place for 4-6 months.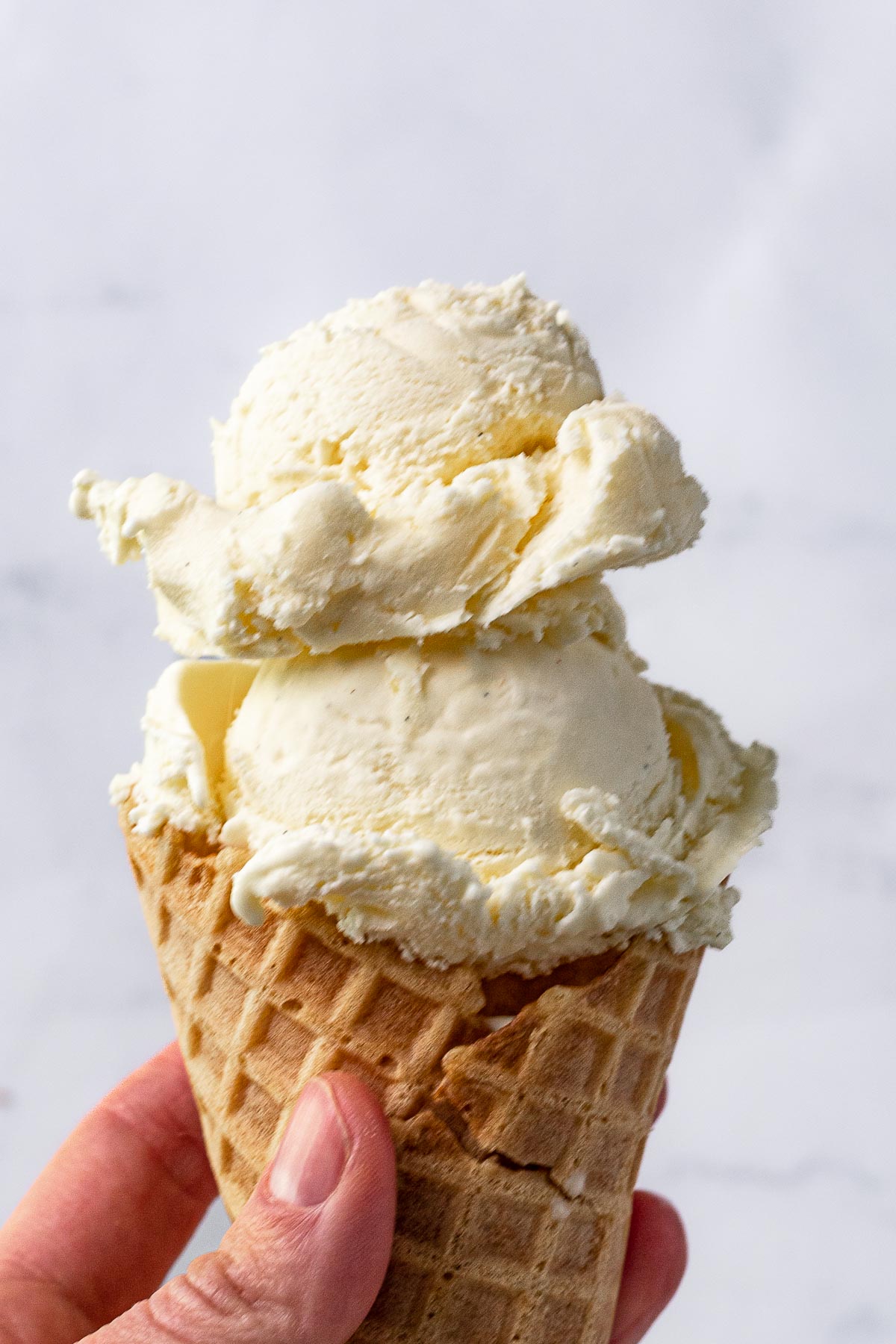 More Classic Ice Cream Flavors
How to Store
Serve: Homemade ice cream needs to freeze for about 3-4 hours before you can serve it. Don't leave it out for more than 10-15 minutes at a time because it will melt faster than store-bought ice cream.
Store: Transfer the ice cream into a storage container, add a layer of plastic wrap to prevent ice crystals, cover with the lid and store in the back of the freezer. Stored properly, homemade ice cream will stay good for up to 4 weeks.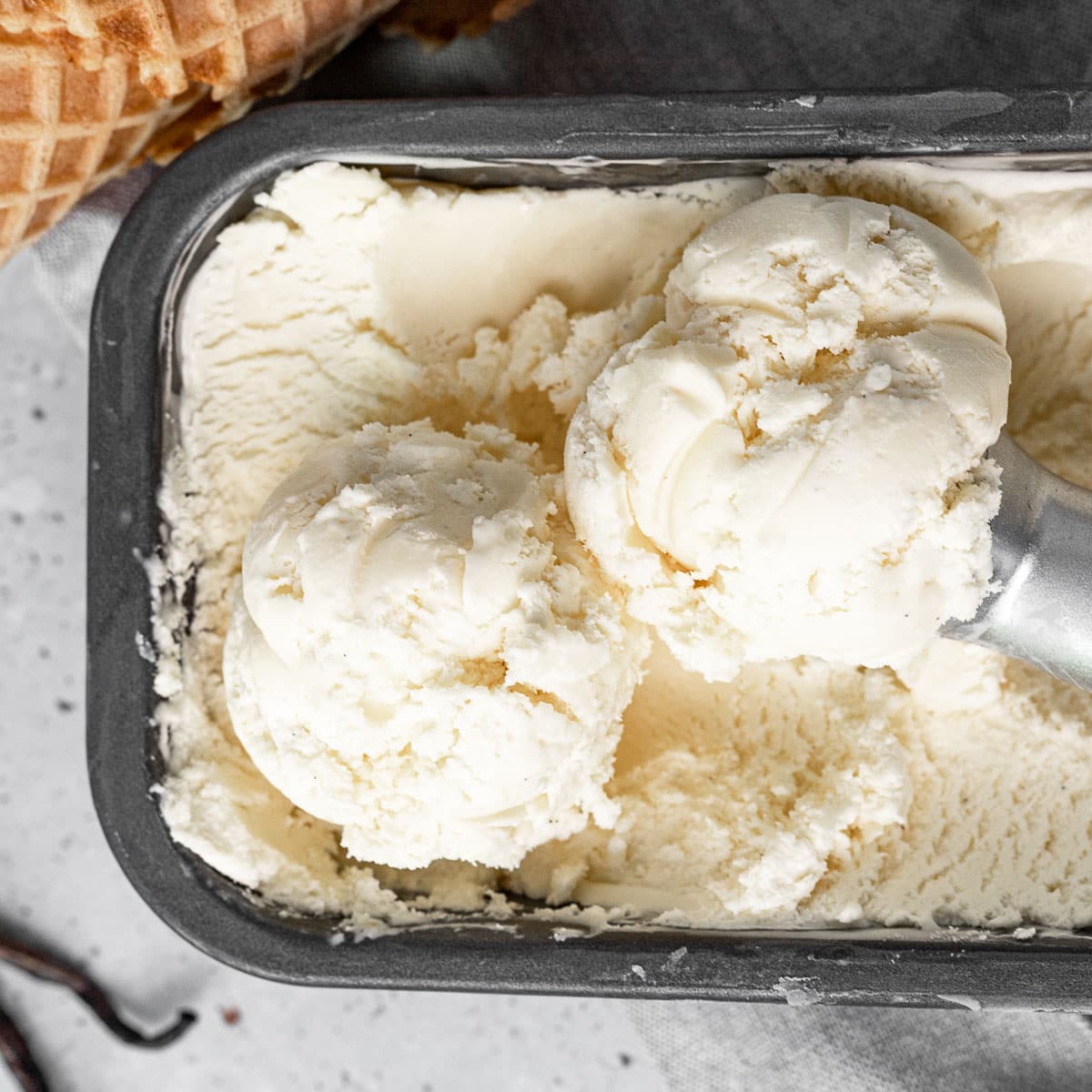 Ingredients
4

large

egg yolks

, lightly beaten

3/4

cup

sugar

2

cups

heavy cream

2

cups

whole milk

1

tablespoon

vanilla bean paste

1/4

teaspoon

salt
Instructions
In a medium bowl whisk eggs well with ¼ cup sugar.

In a medium saucepan add the rest of the sugar, heavy cream, whole milk, vanilla bean paste, and salt on medium heat.

Whisk non-stop and bring to a simmer, then reduce heat to low.

Add ½ cup vanilla bean mixture in a very slow thin stream to the egg yolks while whisking quickly (do not stop whisking).

Pour the egg/custard mixture back into the pot slowly while whisking constantly.

Cook until mixture is thickened, about

8-10 minutes

(do not let boil or milk will taste scalded).

Turn off heat and pour into a metal bowl or other heat proof bowl.

Let cool completely, then refrigerate (covered) for

2 hours

.

Add custard to your ice cream maker (per machine instructions) then freeze for at least

3 hours

to harden before serving.
Nutrition
Calories:
277
kcal
|
Carbohydrates:
20
g
|
Protein:
4
g
|
Fat:
21
g
|
Saturated Fat:
13
g
|
Polyunsaturated Fat:
1
g
|
Monounsaturated Fat:
5
g
|
Cholesterol:
133
mg
|
Sodium:
93
mg
|
Potassium:
126
mg
|
Sugar:
20
g
|
Vitamin A:
877
IU
|
Vitamin C:
0.3
mg
|
Calcium:
100
mg
|
Iron:
0.2
mg