Garlic Butter Salmon is an easy, mouth-watering, oven-baked dish made in just 20 minutes and flavored with buttery lemon and garlic sauce.
Seafood Recipes like this one make a nice change in pace to typical weeknight dinners. If you've already tried the recipe for Oven Baked Salmon this just adds a little extra flavor to the cooking liquid.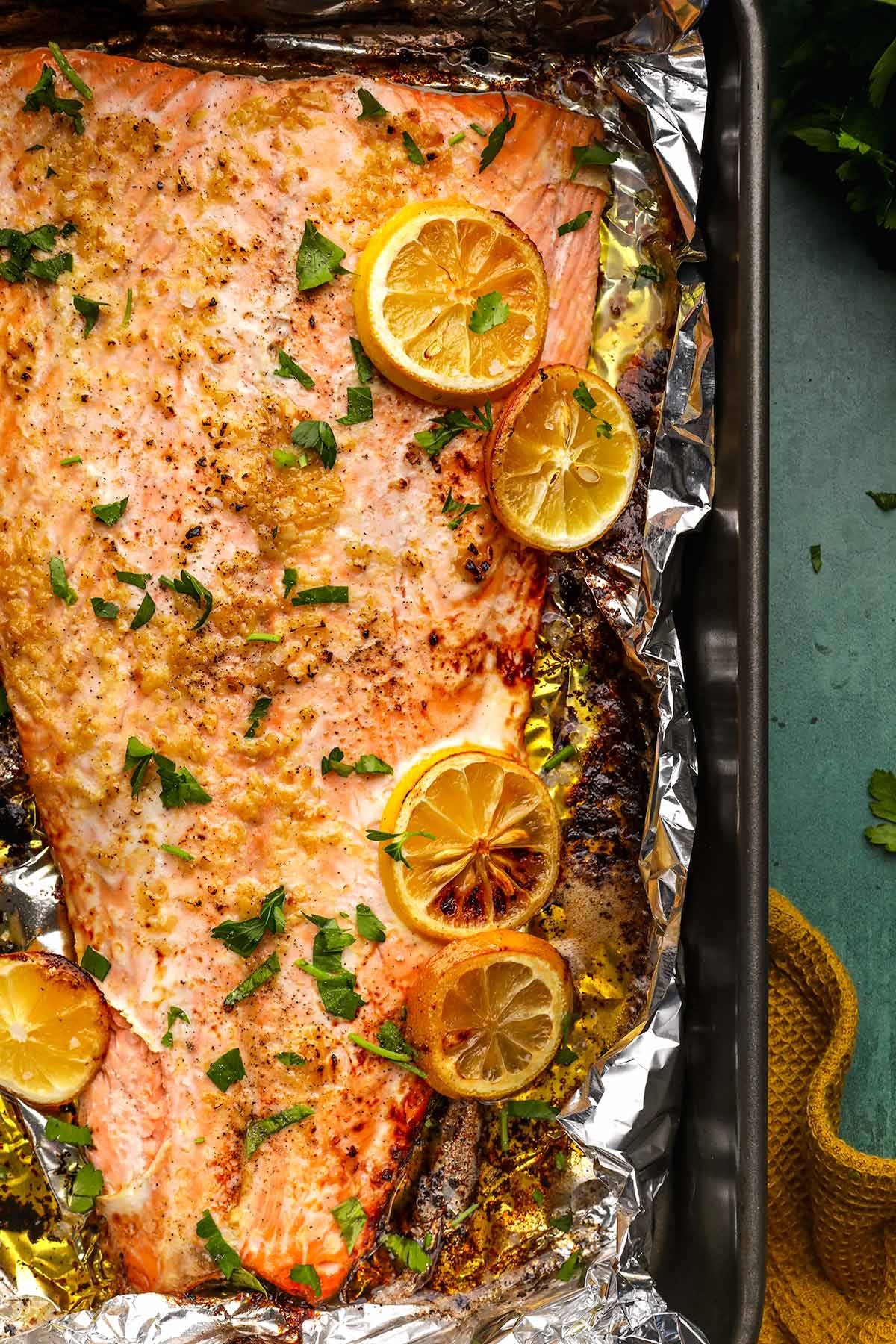 Baked Salmon is a simple and healthy dinner that you can use to quickly prepare and cook salmon fillets. Making the garlic butter for the salmon recipe only takes a few minutes, but it adds tons of delicious flavor to the dish. It's a light and refreshing dinner that's great to serve with simple sides like asparagus, Roasted Broccoli, or Mashed Potatoes.
Although pan-fried, smoked salmon or grilled salmon are great, baked salmon is a wonderful dish for anyone new to cooking seafood because it's a pretty fool-proof recipe. Baking the salmon gives it time to absorb the flavors of the garlic, lemon, and seasonings. Once it's baked, you'll have a juicy, moist baked salmon with flaky salmon skin.
Along with being delicious, Baked Salmon recipes are also incredibly healthy. Salmon is low in calories and rich in omega-3s which makes it very heart-healthy. This salmon recipe is also gluten-free, and because it's baked there's no extra oil you'd get from frying.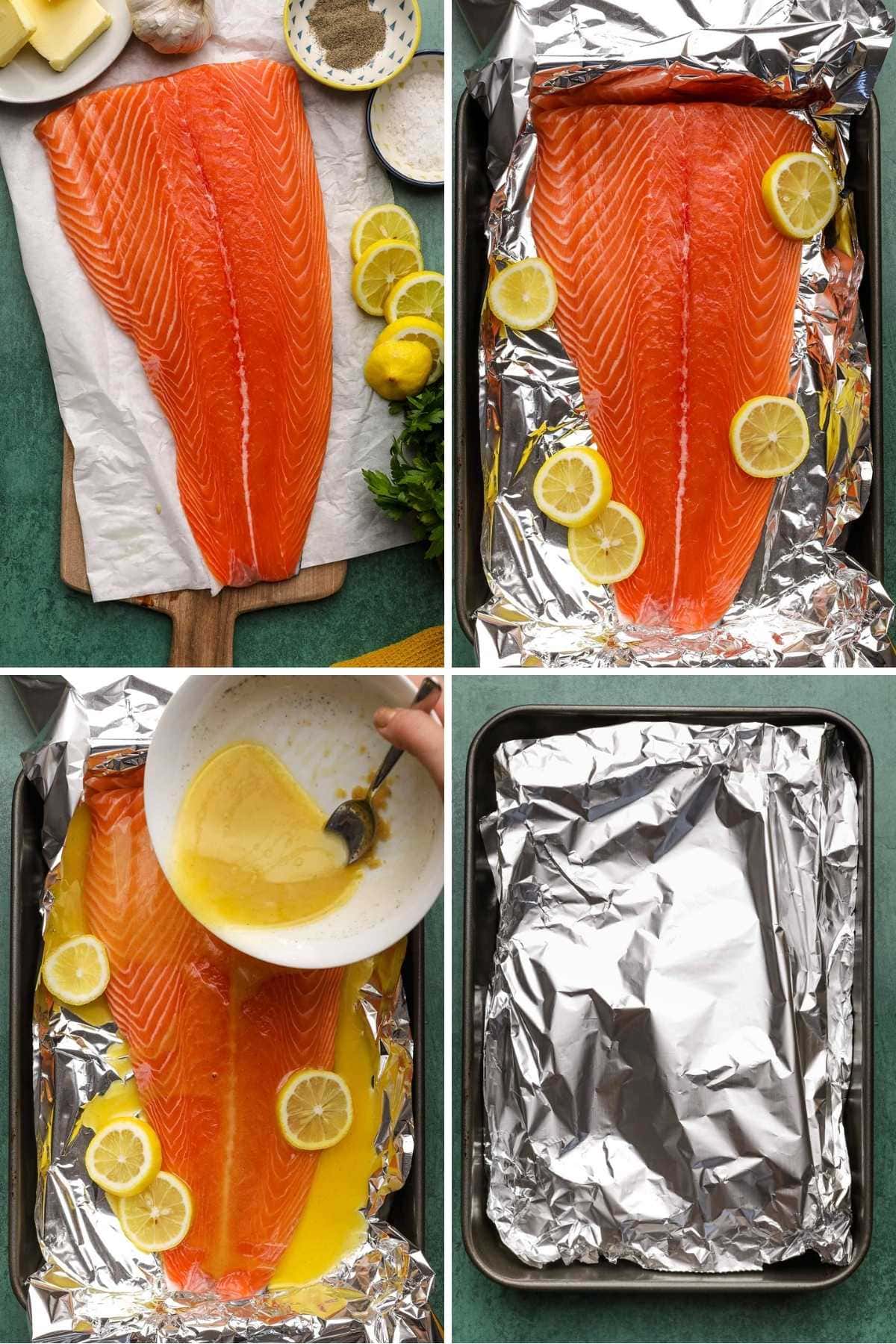 More Seafood Recipes
How to Make Garlic Butter Salmon
Prep: Start by preheating your oven to 375 degrees F and lining your baking pan with tin foil. Make sure the foil is large enough to close over the salmon without touching it.
Salmon: Put the fillet in the prepared pan skin-side down. Leaving the skin on and cooking the salmon with the skin down provides a protective layer so the meat doesn't get burnt or dried out by the hot pan. Instead, the skin just becomes delicious and flaky.
Garlic Butter: Whisk melted butter, garlic, lemon juice, salt, and pepper together then pour it over the salmon.
Bake: Close the foil over the salmon, but remember to keep the foil above the salmon and not touching it. Cook for 15-18 minutes. Adjust the cooking time depending on the doneness you want, but remember the internal temperature should be 145 degrees for the Baked Salmon to be safe to eat.
Serve: Be careful when you open the foil so that the hot steam doesn't burn you. Cut the salmon and serve with a lemon wedge garnish if desired.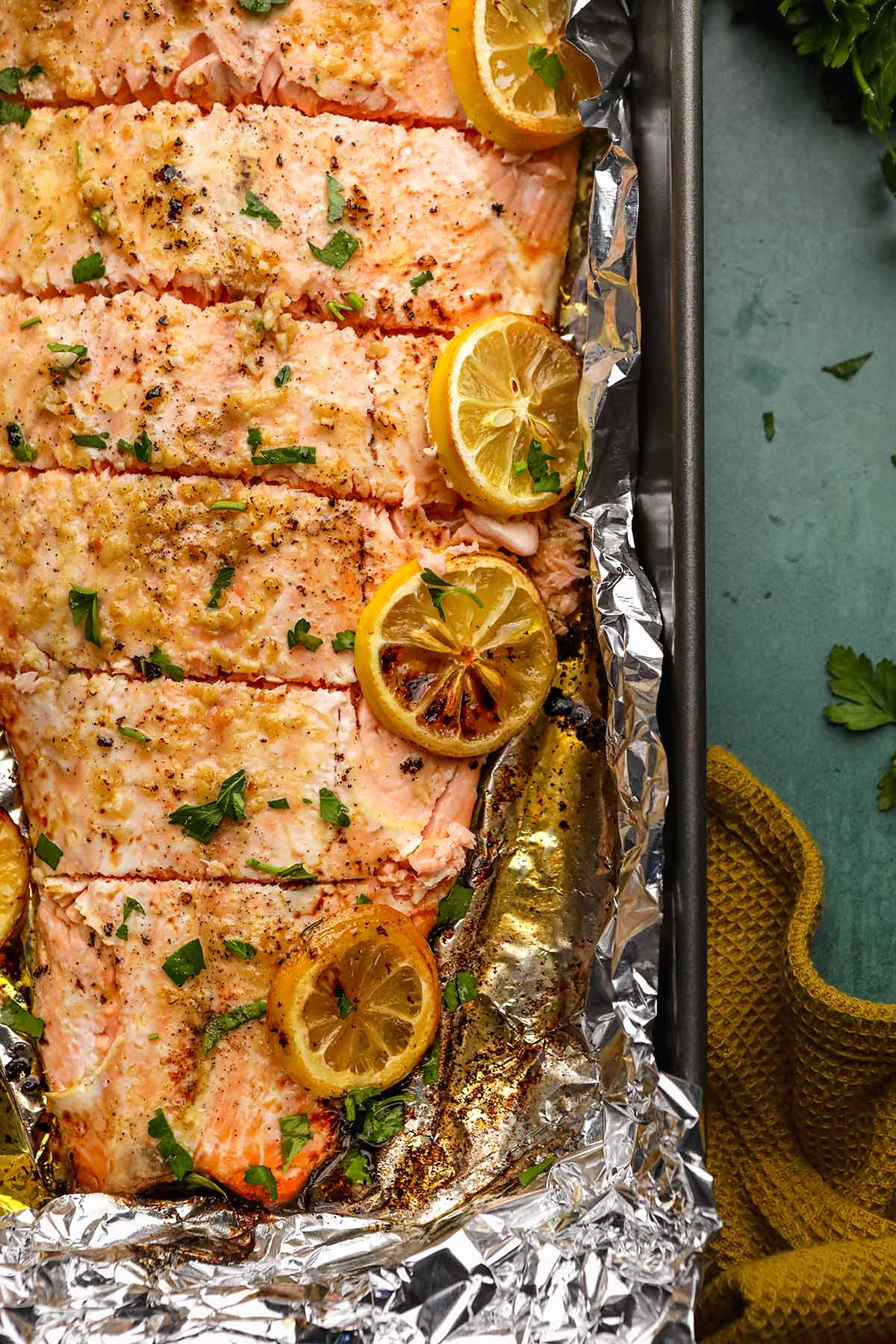 Create a free account to Save Recipes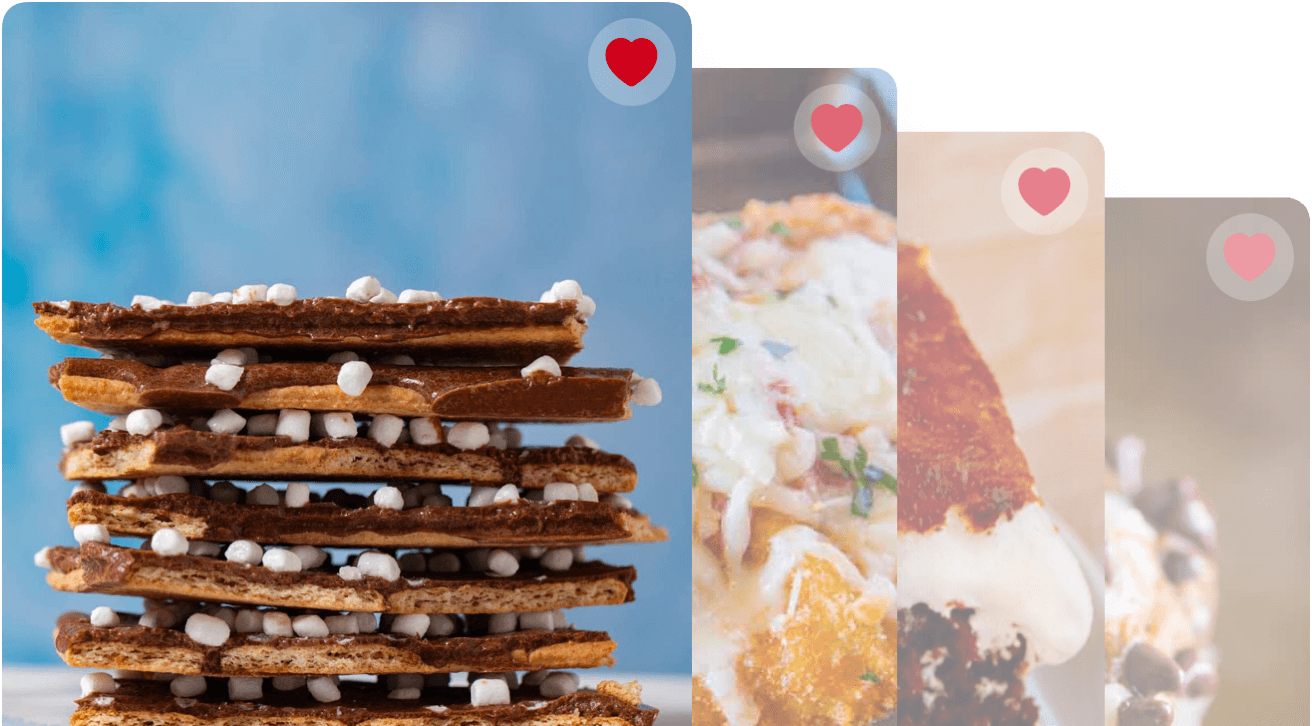 Frequently Asked Questions About Garlic Butter Salmon
Why Wrap Salmon Fillet in Foil?
One of the most important steps in this Easy Baked Salmon recipe is tenting aluminum foil around the fish. The foil works to trap the moisture so that the salmon doesn't dry out in the oven. It also works to keep all the flavors together so they combine and seep into the Lemon Garlic Butter Salmon.
What if the Salmon I purchased is not fully deboned?
Take out your Salmon and before you begin preparing it, double check that all the bones are out. Run your finger up and down the length of your salmon, along the middle. If you feel no prickly parts sticking your finger then it is fully deboned. If you feel some bones, the easiest way to get them out is with a small pair of needle nose pliers. Push down gently on the soft Salmon meat with your fingers, grab the tip of the bone with pliers, and pull it out at the same angle it is situated.
Variations on Garlic Butter Salmon
Sauce Mix-ins: There are lots of different ingredients you can try mixing into the garlic butter recipe to change up the flavor of the cooked salmon. Firstly, if you want to add some sweetness try mixing in honey to make Honey Garlic Salmon, or if you don't have honey use brown sugar. You could also mix in Dijon mustard or fresh herbs with your butter sauce.
Dairy-Free: If you need dairy-free Garlic Salmon, the only thing you'll have to replace is the butter in the salmon recipe. You can usually find vegan butter options at the grocery store. If not, try replacing the butter with coconut oil or olive oil.
Add-ins: There are so many different seasonings and add-ins you can try to experiment with the flavor of this Baked Salmon recipe. Fresh parsley or dry parsley is great to top off the cooked salmon before serving. You could also add Cajun seasoning, red pepper flakes, rosemary, or dill.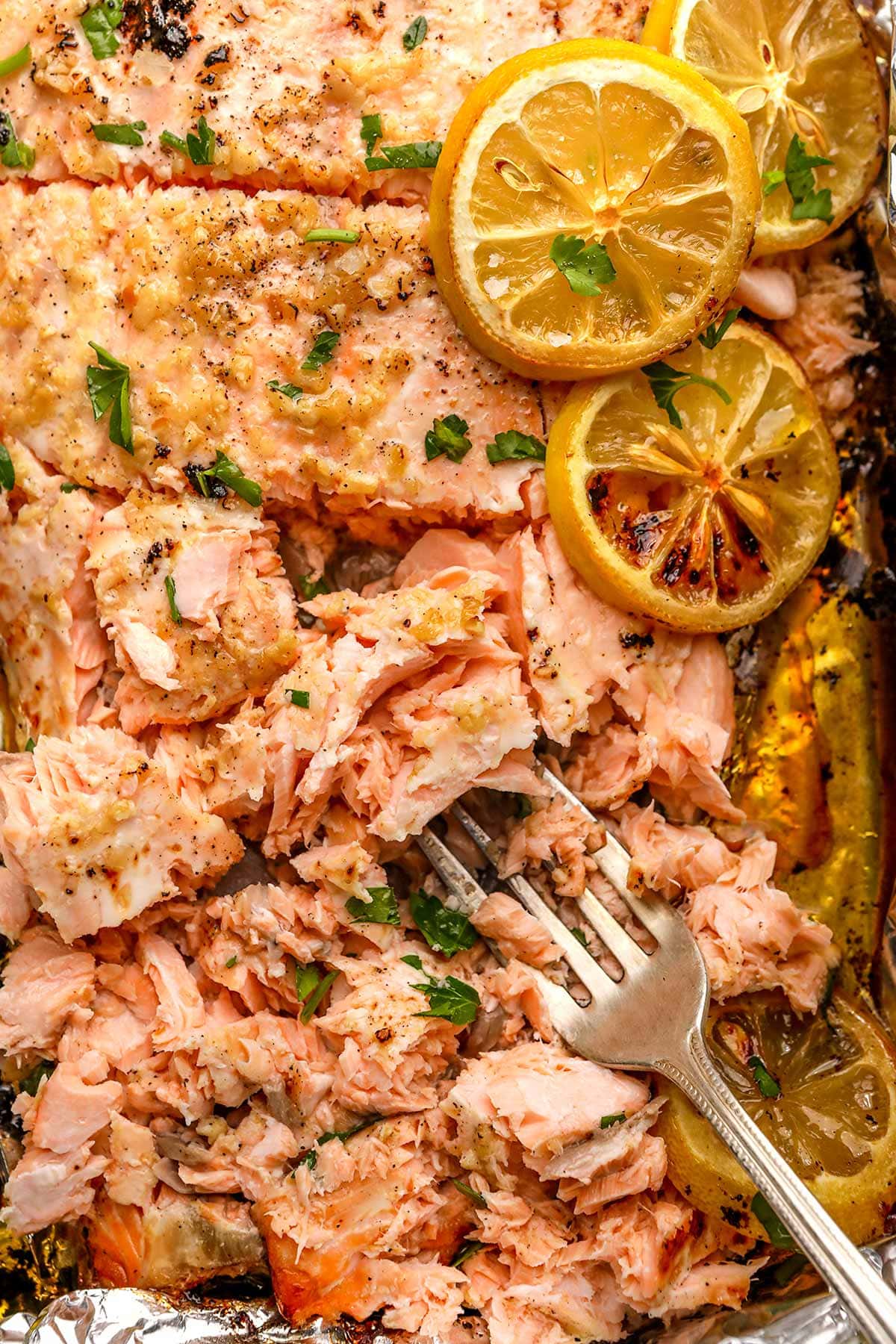 Serving Ideas for Garlic Butter Salmon
Dinner: Serve Garlic Butter Salmon as a delicious dinner alongside your favorite vegetables. Green vegetables will pair nicely with Salmon like Brussels Sprouts, Green Beans Almondine, or Broccoli. You could also serve the Salmon with a white rice, brown rice, or a rice dish like One Minute Brown Rice Risotto.
Salad: Serve warm Salmon on top of your favorite salad. You can also use the leftovers to chop up and mix in to any salad cold, or warmed up. Garlic Butter Salmon can also be an excellent light lunch, served with a salad on the side.
Bowls: Make some yummy Garlic Butter Salmon bowls for a quick lunch. Use fresh, or leftover Salmon to top off a bowl of veggies and rice, or even pasta. You can use small veggies like peas or corn, a bagged mix of chopped frozen veggies, or chop up any of your favorite vegetables. Omit the rice or pasta for a low carb bowl. Quinoa would also be a fantastic addition to a Salmon bowl.
What to Serve with Garlic Butter Salmon
How to Store Garlic Butter Salmon
Serve: Don't leave your salmon recipe at room temperature for more than 2 hours.
Store: Kept tightly wrapped or sealed in an airtight container, Baked Salmon will stay good in the fridge for 3-5 days.
Freeze: This is also a great recipe to store in the freezer. It will stay good for 2-3 months. When you're ready to reheat the salmon, let it thaw in the fridge then reheat it in a skillet. You'll want to make some fresh sauce to heat it in and reawaken the flavors.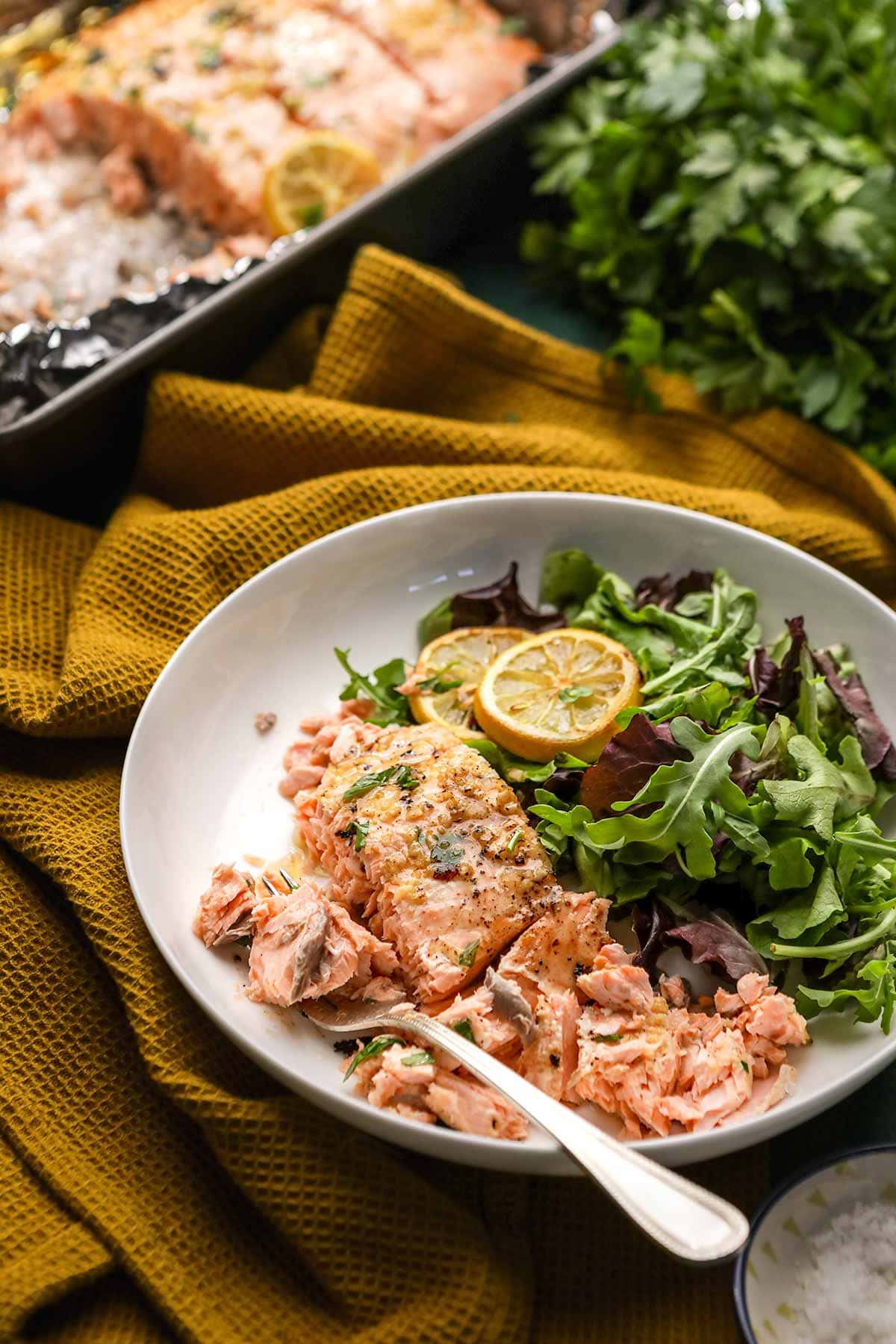 Ingredients
2

pound

salmon filet

, deboned

4

tablespoons

unsalted butter

, melted

4

cloves

garlic

, minced

1

tablespoon

lemon juice

1

teaspoon

kosher salt

1/2

teaspoon

coarse ground black pepper
Instructions
Preheat oven to 375 degrees and line baking pan with foil, large enough to close tightly over salmon without touching it.

Add the filet to the foil, skin side down.

Mix the butter, garlic, lemon juice, salt, and pepper in a small bowl, then pour it over the salmon.

Close the foil tightly over the salmon.

Cook for

15-18 minutes

, then carefully open the foil (be careful, steam will escape).
Nutrition
Calories:
286
kcal
|
Carbohydrates:
1
g
|
Protein:
30
g
|
Fat:
17
g
|
Saturated Fat:
6
g
|
Polyunsaturated Fat:
4
g
|
Monounsaturated Fat:
5
g
|
Trans Fat:
1
g
|
Cholesterol:
103
mg
|
Sodium:
456
mg
|
Potassium:
756
mg
|
Fiber:
1
g
|
Sugar:
1
g
|
Vitamin A:
295
IU
|
Vitamin C:
2
mg
|
Calcium:
25
mg
|
Iron:
1
mg