Garlic Confit recipe for how to make slow roasted garlic in olive oil. Simple recipe with step by step instructions, tips, and serving ideas!
Use it for Tomato Bruschetta, level up your Garlic Bread or toss in your favorite Pasta Dishes, no matter how you use this gourmet garlicky spread, Garlic Confit is the ingredient you need to keep in your Kitchen!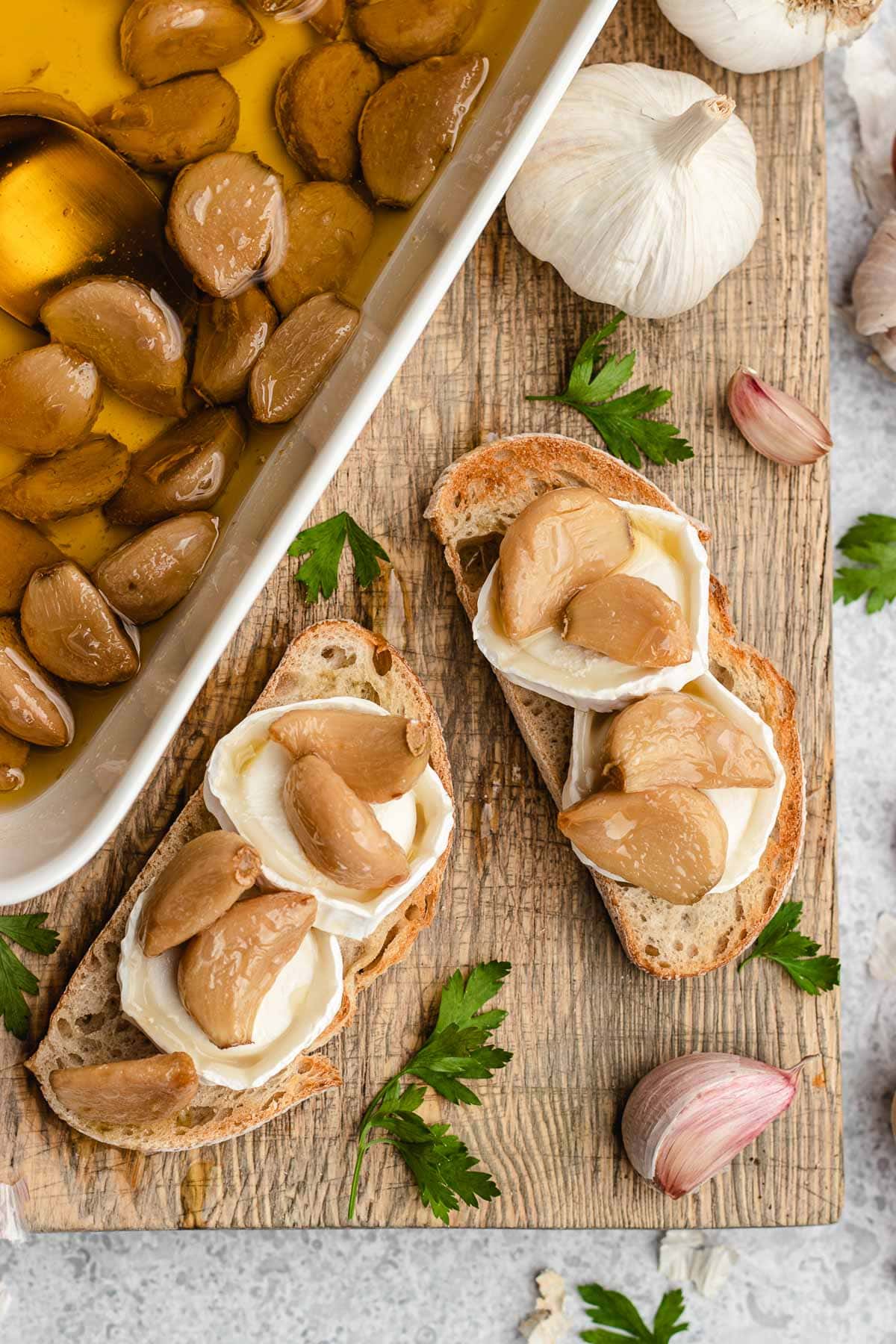 If you've never had Garlic Confit, you are in for an amazing treat! It sounds fancy but it's actually super easy to make – so easy, you'll wonder why you never made it before now. All you need is a bunch of garlic, a couple cups of olive oil, and about 2 hours. The result is a rich, buttery garlic spread and infused oil that you will want to put on anything and everything.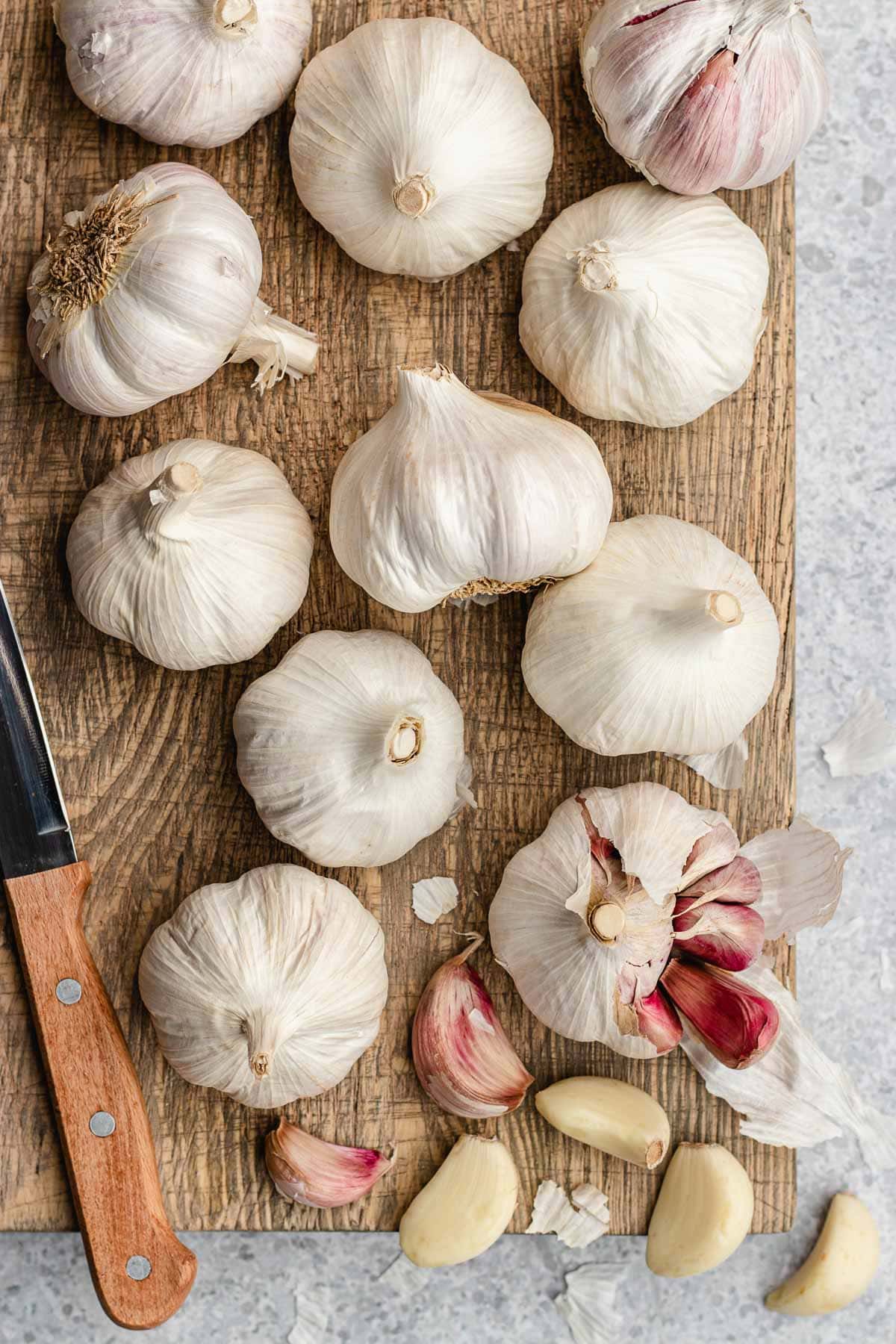 The most difficult part of making Garlic Confit is peeling the garlic cloves, but that task can be made easier with a glass jar with a lid. Just add a handful of cloves to the jar, close the lid, and give it some vigorous shaking. Most of the peels will slide right off and any that are left will easily come off by rubbing the cloves.
After your cloves are peeled, you just pop them in a baking dish, cover them in olive oil and let them slow roast for a couple hours. That's it! The result is tender, spreadable garlic with a mild flavor and just a hint of sweetness. Plus you can keep all that oil for cooking, adding to salad dressings, or even just a flavorful drizzle on a bowl of creamy soup. Truly, this easy Garlic Confit is about to be the new best friend to all your favorite recipes.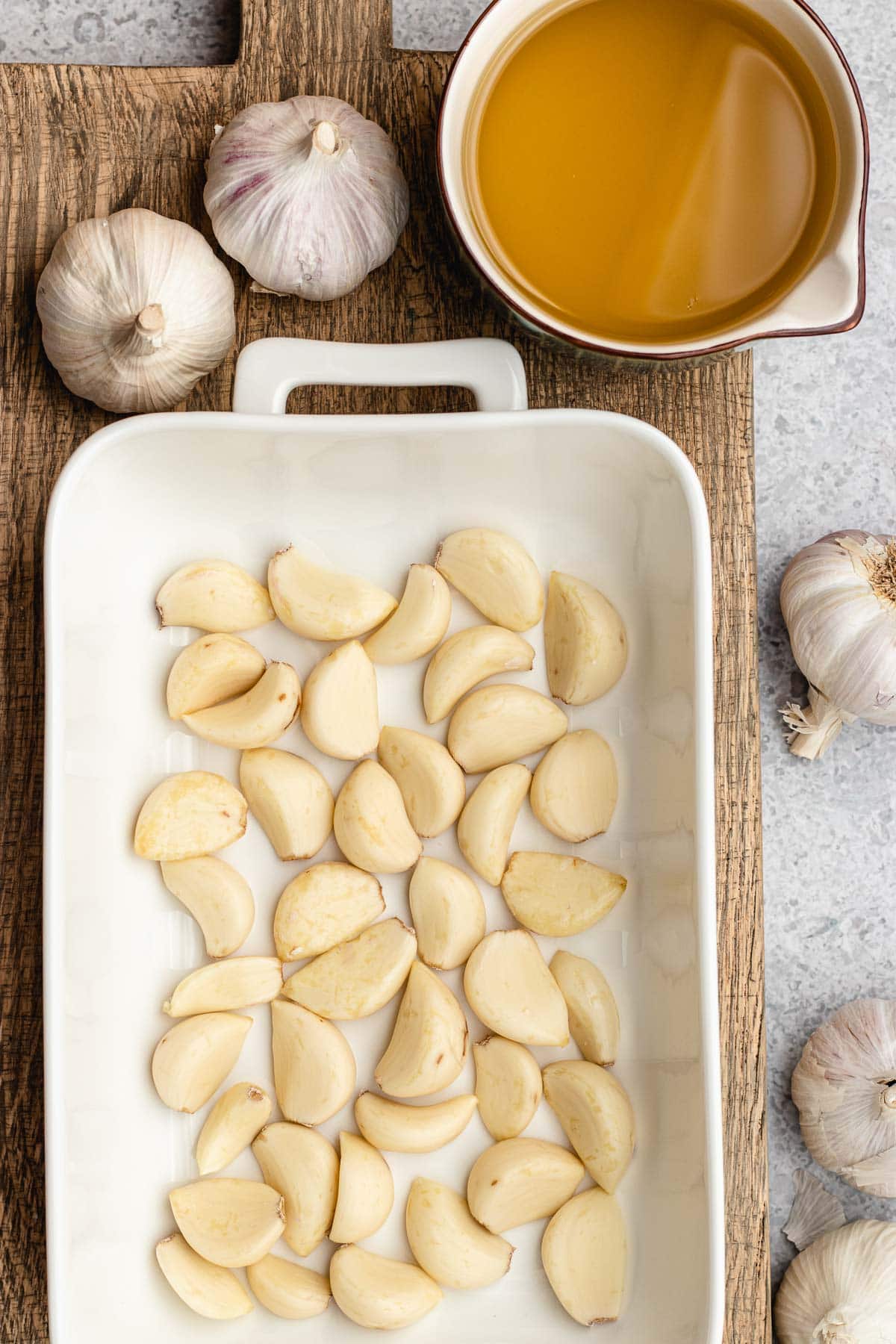 What is Garlic Confit?
Garlic Confit, originating from the French word "confire," meaning "to preserve," is a method of slow-cooking garlic cloves in a bath of olive oil. The low, gentle oven heat and long cooking time coaxes out the nuanced flavors of garlic, resulting in a melt-in-your-mouth texture that's far from the assertive bite of raw garlic. The process of submerging garlic in oil also lends the oil a delicate garlicky flavor, ideal for enhancing a variety of recipes.
How to Make a Garlic Confit
Prep: Preheat your oven. Separate the garlic bulbs and peel all the garlic cloves. Do not smash the cloves of garlic or cut the ends off, keep them whole.
Coat: Add the raw garlic cloves and olive oil to an oven-safe dish that will fit all the cloves of garlic but allow the oil to cover them. A 7×11 inch casserole dish would work best, just make sure to completely cover the garlic in oil.
Bake: Cover the casserole dish with aluminum foil tightly. Bake the garlic in olive oil for 2 hours. Remove the baking dish and let garlic cool a bit before serving. Cool completely to store.
Store: Transfer garlic with some of the oil to an airtight glass jar. You can also store the leftover garlic oil in a lidded glass jar. Store the cooked garlic cloves and oil in the refrigerator, do not store at room temperature.
Serve: Spread the confit garlic on toasted crusty bread with soft cheese, use the garlic oil in your favorite pasta dishes, and so much more. There are more serving ideas at the bottom of this post!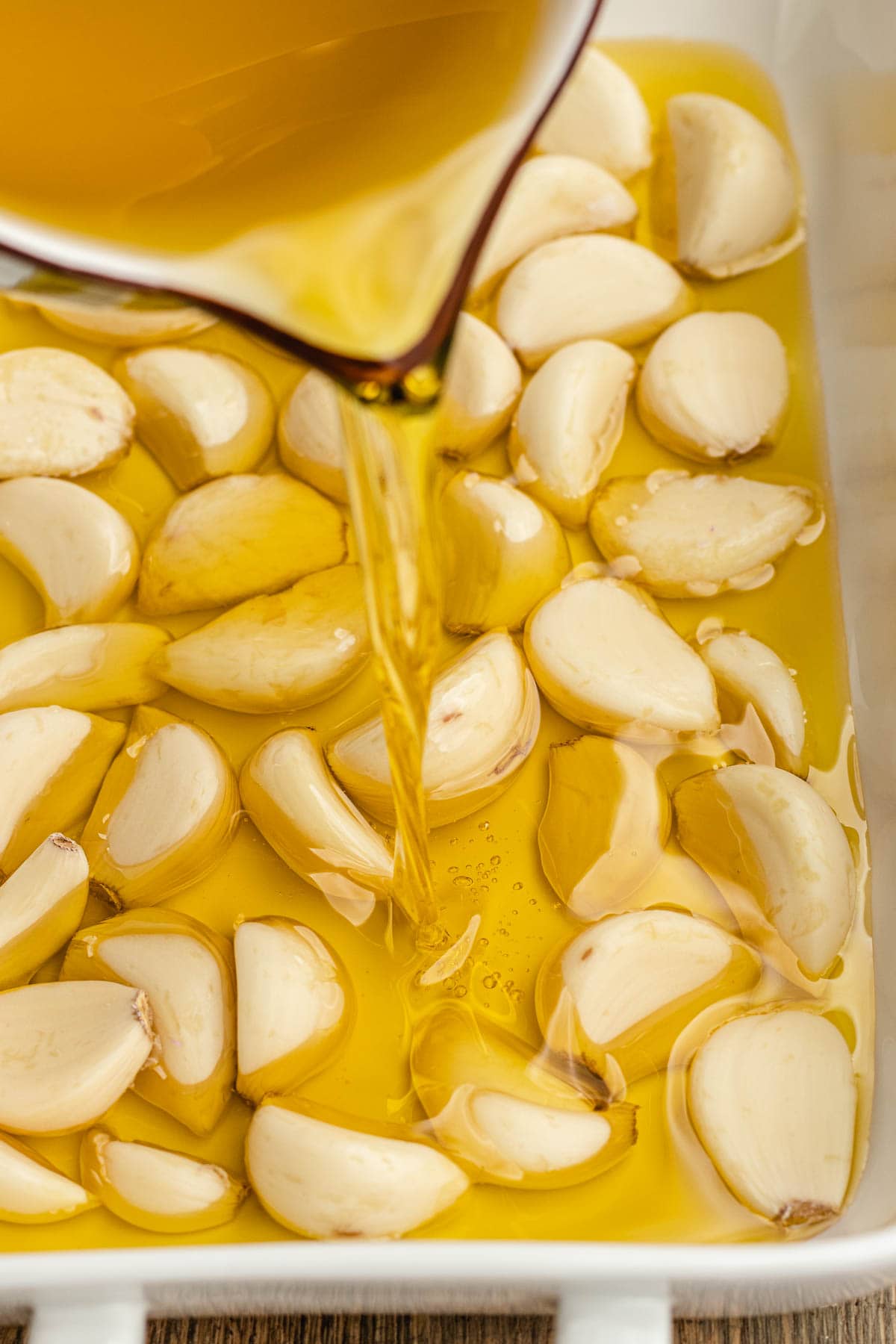 Ways to Serve Garlic Confit
FAQs for Garlic Confit
What is the difference between Garlic Confit and Roasted Garlic?
Roasted garlic is typically baked as a whole clove in its skin, with the top cut off and a little oil drizzled over it, for soft, caramelized cloves with a more intense flavor. On the other hand, Garlic Confit is peeled garlic cloves slow-cooked in oil, resulting in a milder, smoother, almost sweet taste.
Is Garlic Confit safe?
Yes, Garlic Confit is safe to consume when prepared and stored correctly. It's important to refrigerate the confit with the clove fully submerged in oil to slow the growth of harmful bacteria. Use it within two weeks to prevent any risks of spoilage or botulism.
Can I use pre-peeled garlic cloves?
You can save yourself time and work from peeling lots of garlic by using pre-peeled garlic cloves. Unlike many packaged ingredients, they have an almost identical flavor to fresh garlic bulbs. The only downside is they cost way more than a few bulbs of garlic, so it comes down to paying for convenience.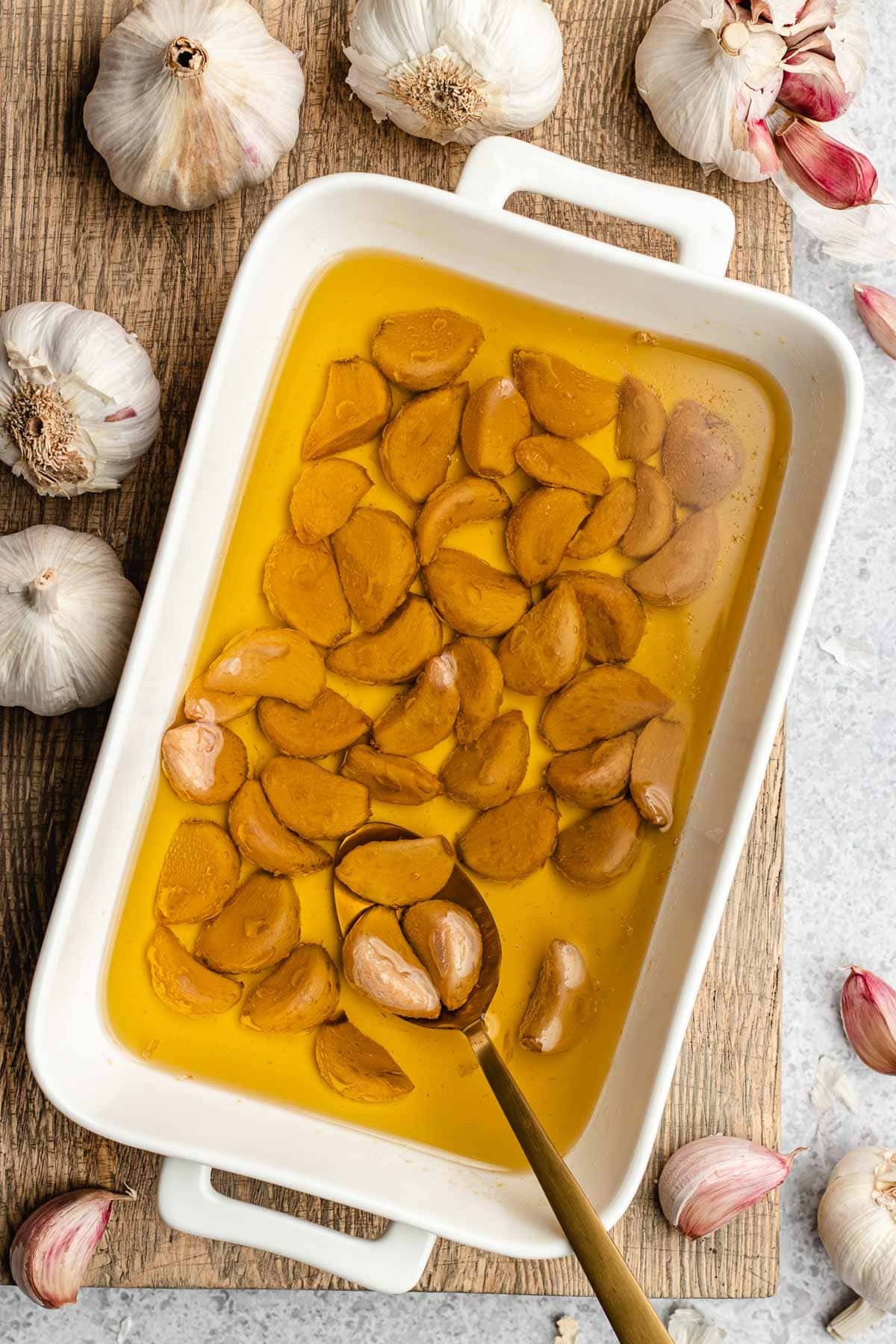 Create a free account to Save Recipes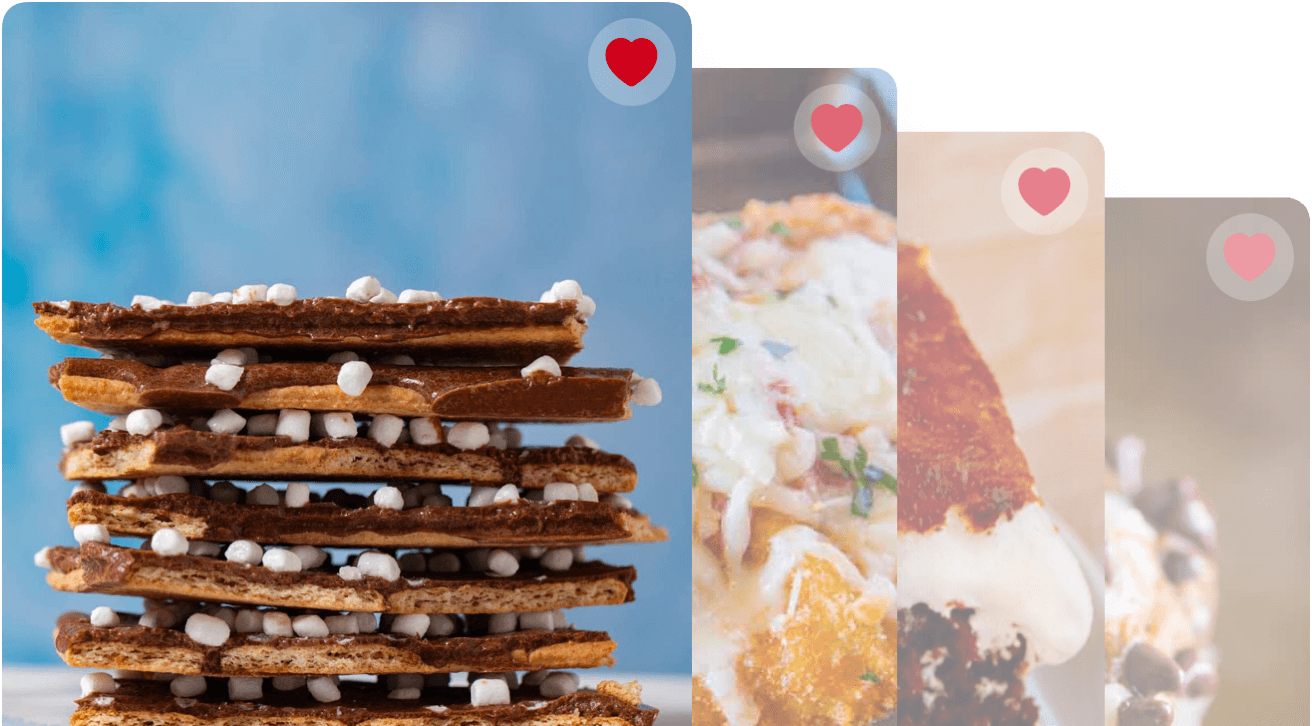 Key Ingredients
Garlic: Fresh garlic cloves undergo a transformation from pungent and sharp to tender and sweet through slow roasting in oil at a low temperature. Use fresh garlic heads and peel them yourself for the best flavor, however as long as they aren't preserved in oil, you can use pre-peeled garlic too.
Olive Oil: Beyond its role in tenderizing the garlic, high-quality olive oil infuses the cloves with its own distinctive fruity, floral flavor, resulting in a delicate almost sweet taste. The best part is you can keep the extra oil to use in future recipes like pasta and chicken, or as a garlicky garnish.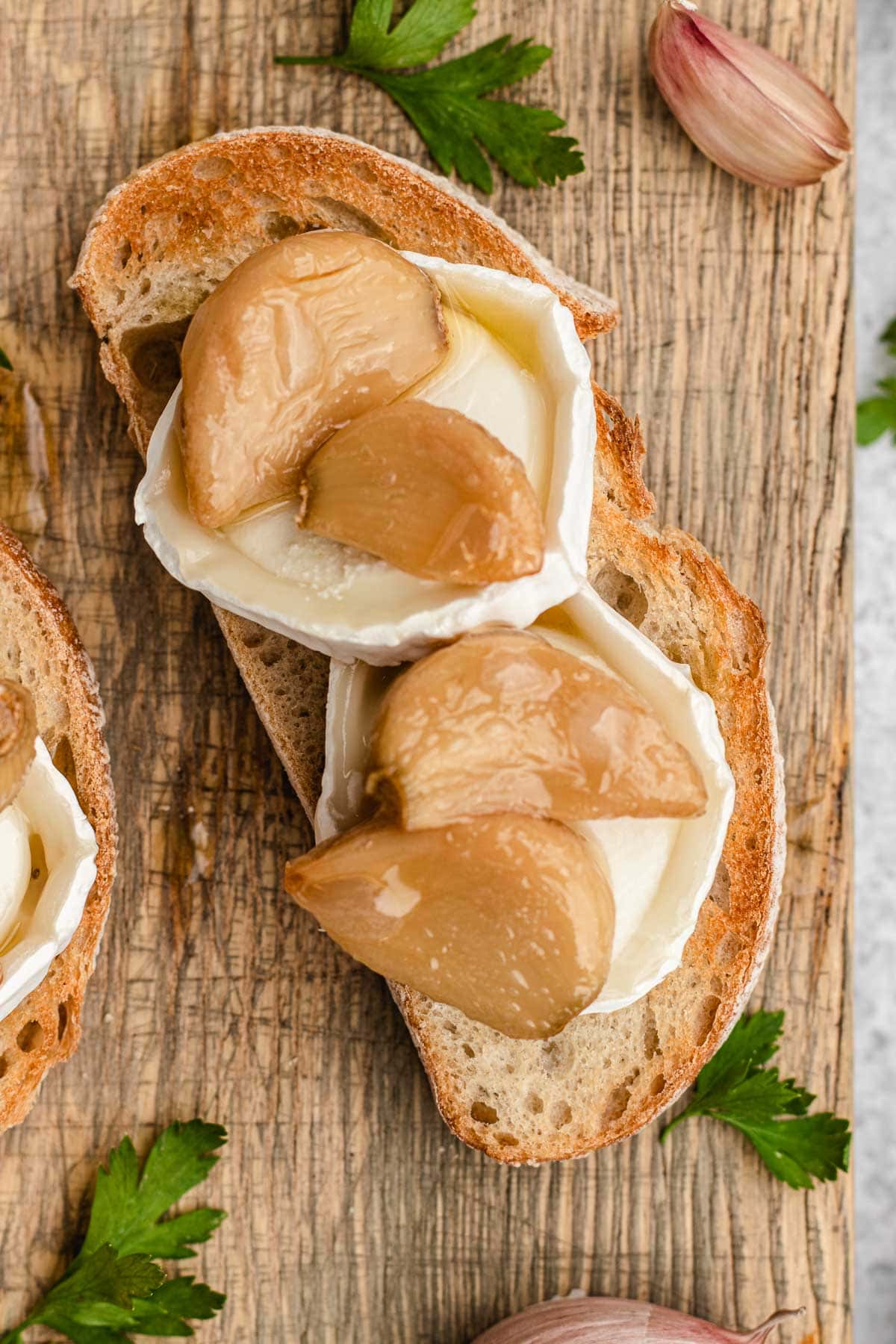 Can Garlic Confit be made ahead of time?
Indeed, Garlic Confit can be made ahead of time. The flavors mature over a day or two, it's actually better if you make it in advance if you can. You can also freeze individual portions for cooking in recipes.
Lightly smash the cloves then add a couple cloves to each well in a regular ice tray.
Fill with the garlic oil then freeze until solid. Transfer the frozen cubes to an airtight freezer safe bag.
Let them thaw overnight in a container or just toss them in the pan and let them melt and heat up before cooking your recipe.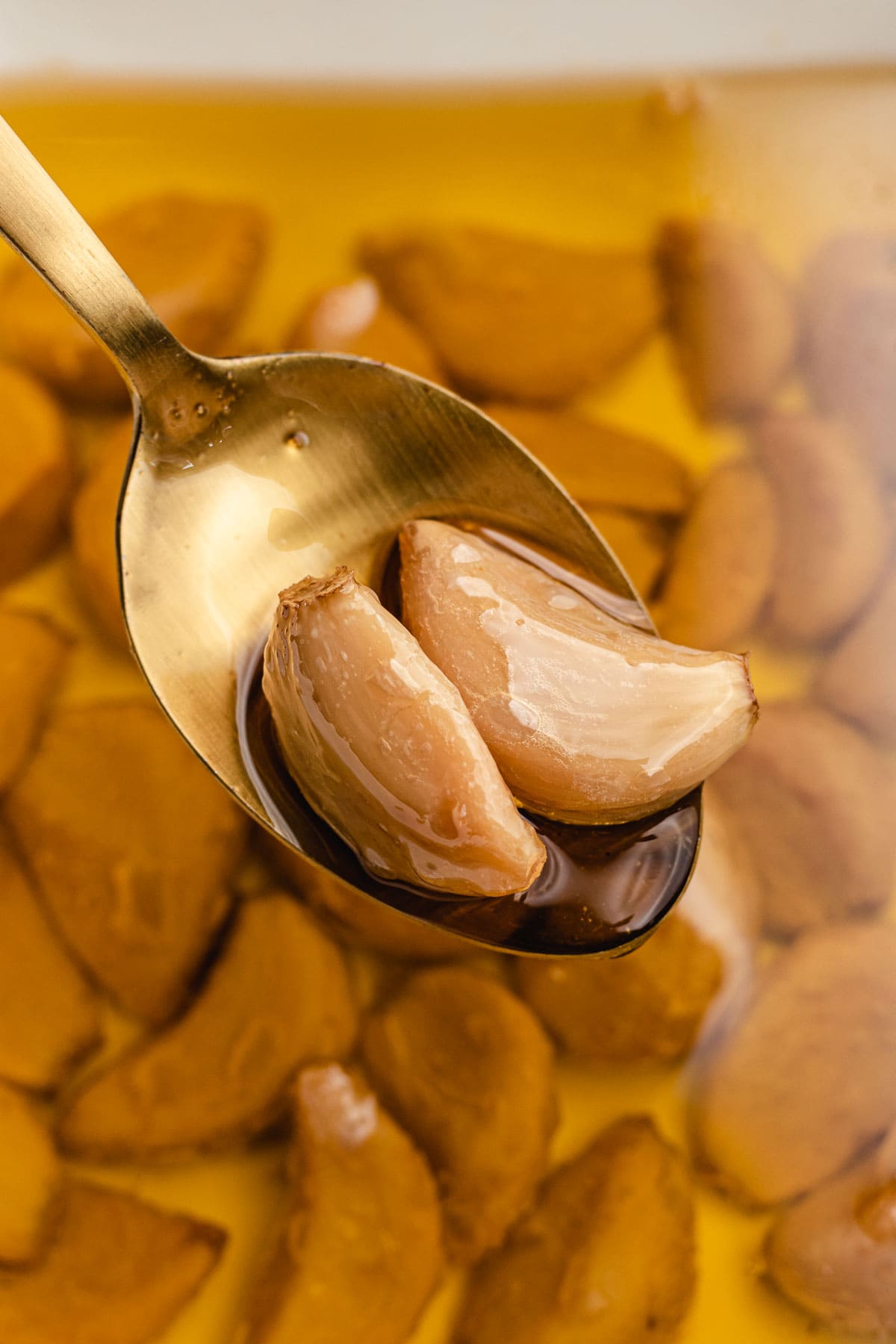 Variations
Spicy: Infuse the garlic and oil with some heat with dried chili flakes, whole peppercorns, or fresh hot peppers. Strain the whole peppercorns before storing so no one accidentally bites into the hard spice.
Herbs: Give your Garlic Confit a bright, aromatic herb flavor with fresh rosemary sprigs, thyme sprigs, or bay leaves. Use the whole sprigs while baking to make them easy to remove before storing.
Tomatoes: Add a pint of cherry tomatoes to make a Garlic Tomato Confit that has a delicious, funky sweetness perfect for the summer! Add some fresh basil ribbons to the mixture and you have an all-in-one bruschetta topping!
Other Seasonings: Try a tablespoon of balsamic vinegar or red wine vinegar and use the tnagy confit and oil in Italian recipes. Lemongrass and ginger pieces would make it great for adding to Asian dishes. Slices of fresh citrus, like lemon or orange, would be great with seafood dishes.
How to Serve Garlic Confit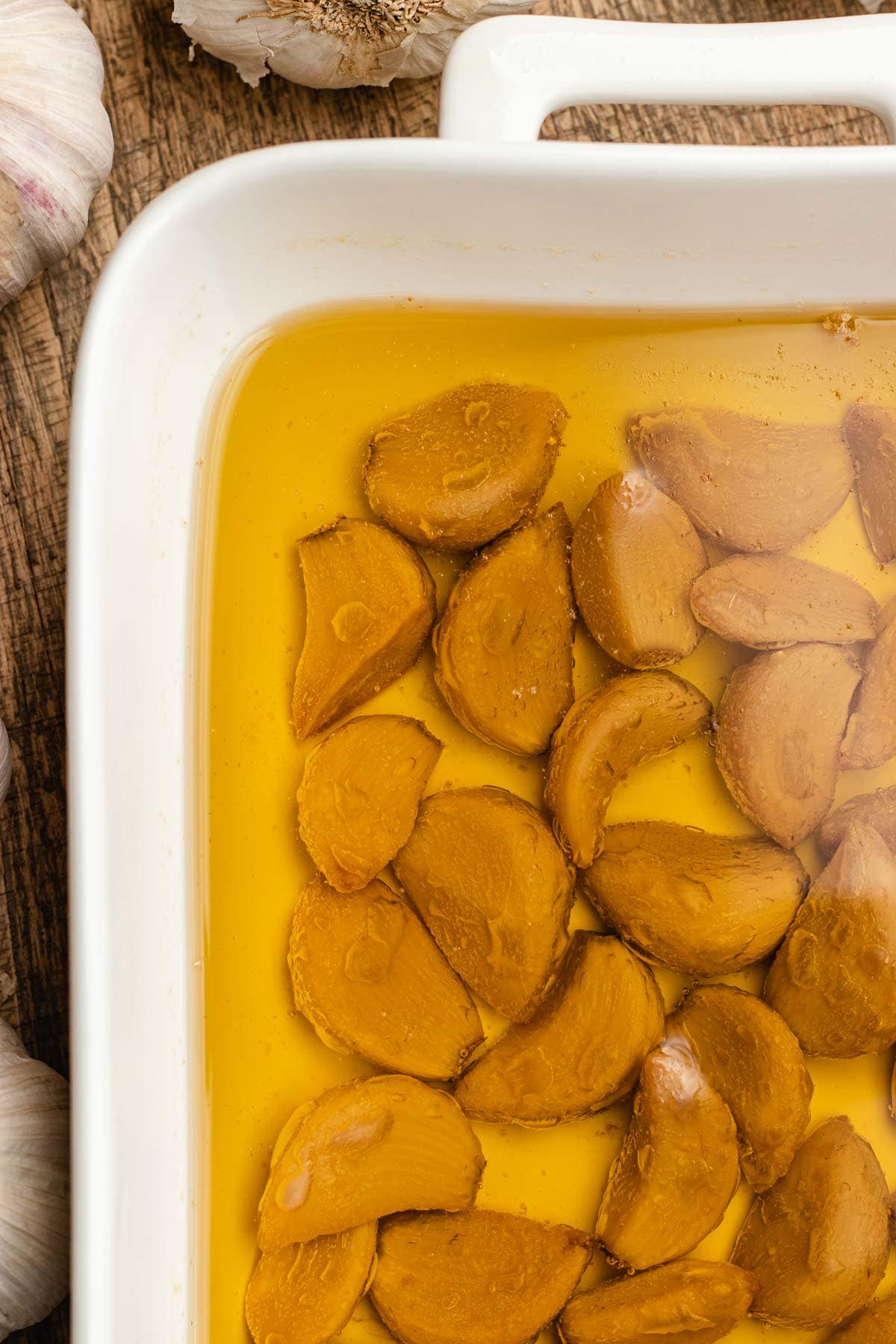 More Appetizer Spreads and Dips
How to Store
Serve: Allow the cooked garlic to cool down before serving as it will be really hot. Do not leave Garlic Confit at room temperature for more than 2 hours.
Store: To store Garlic Confit, place the cloves in a sealed glass jar and add enough oil to cover them to prevent spoilage. Refrigerate and use within 2 weeks. Store the leftover oil in an airtight jar and use within 2 weeks as well.
Freeze: You can freeze the Garlic Confit to keep it longer. It's easier to freeze in ice cube trays then transfer to a freezer bag. It will keep for up to 3 months, and you just thaw however much you want to serve in the fridge overnight then bring to room temp.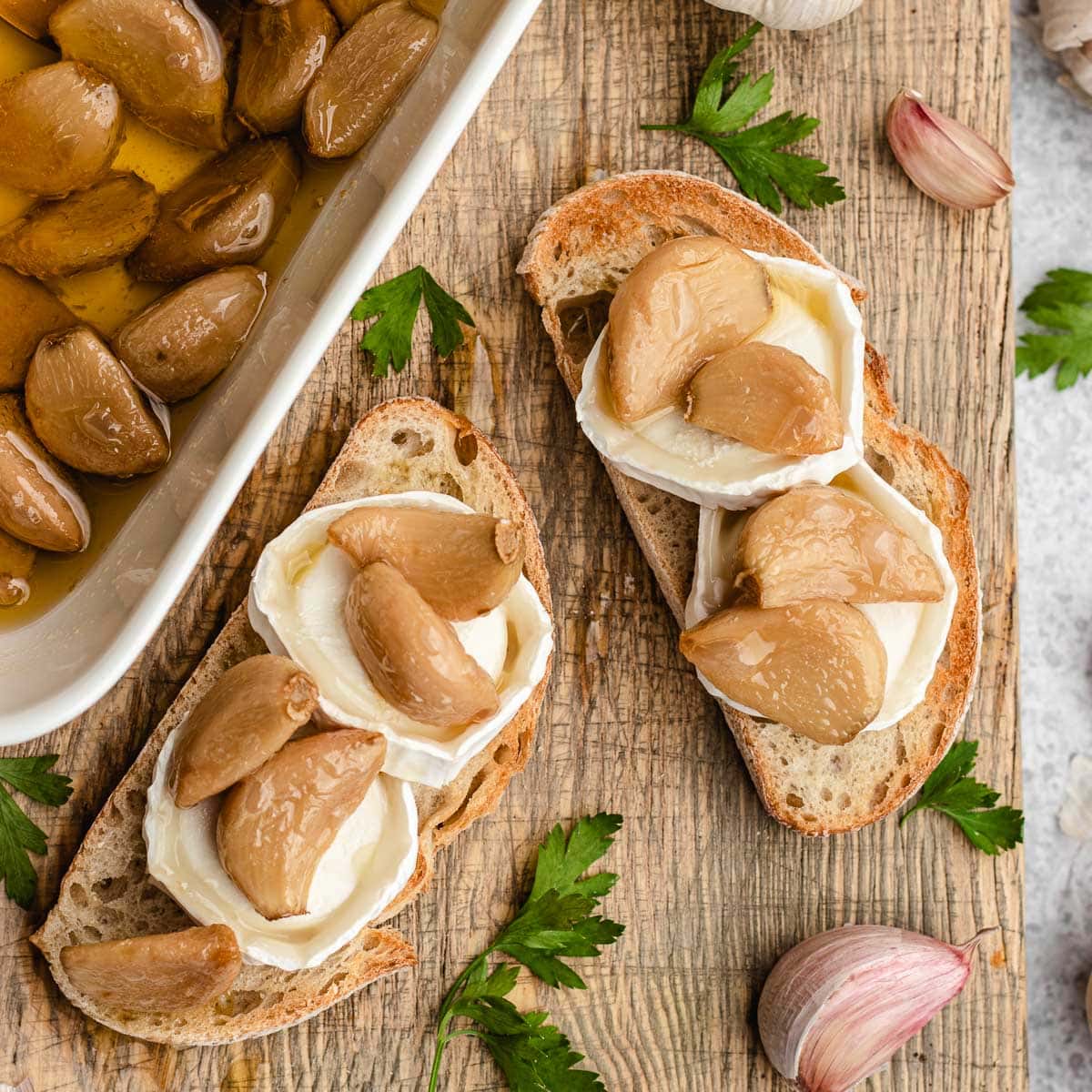 Ingredients
40

cloves

garlic

, peeled

2

cups

olive oil
Instructions
Preheat oven to 250 degrees.

Add the garlic to an oven-safe baking dish (you want it small so the olive oil will keep the cloves covered).

Cover the garlic cloves in olive oil.

Cover tightly with foil.

Remove and let cool on your stovetop naturally.

Store the garlic in a small glass jar with some of the oil in the fridge.

Reserve the remaining oil to be used in other cooking (the flavor will be garlicky and the oil is safe cooked at that temperature to be re-used). Store in the refrigerator.

To serve, you can add on crostini with goat cheese or in pasta.
Nutrition
Calories:
160
kcal
|
Carbohydrates:
2
g
|
Protein:
0.3
g
|
Fat:
17
g
|
Saturated Fat:
2
g
|
Polyunsaturated Fat:
2
g
|
Monounsaturated Fat:
13
g
|
Sodium:
1
mg
|
Potassium:
19
mg
|
Fiber:
0.1
g
|
Sugar:
0.05
g
|
Vitamin A:
0.4
IU
|
Vitamin C:
1
mg
|
Calcium:
9
mg
|
Iron:
0.2
mg