Gingerbread Toffee is a perfect Christmas candy! Caramel toffee with ground ginger and cinnamon, pecans and melted chocolate chips!
As addicting as Saltine Toffee and Peanut Brittle, this is a Holiday Candy Recipe that you are going to want to make for all your friends and family!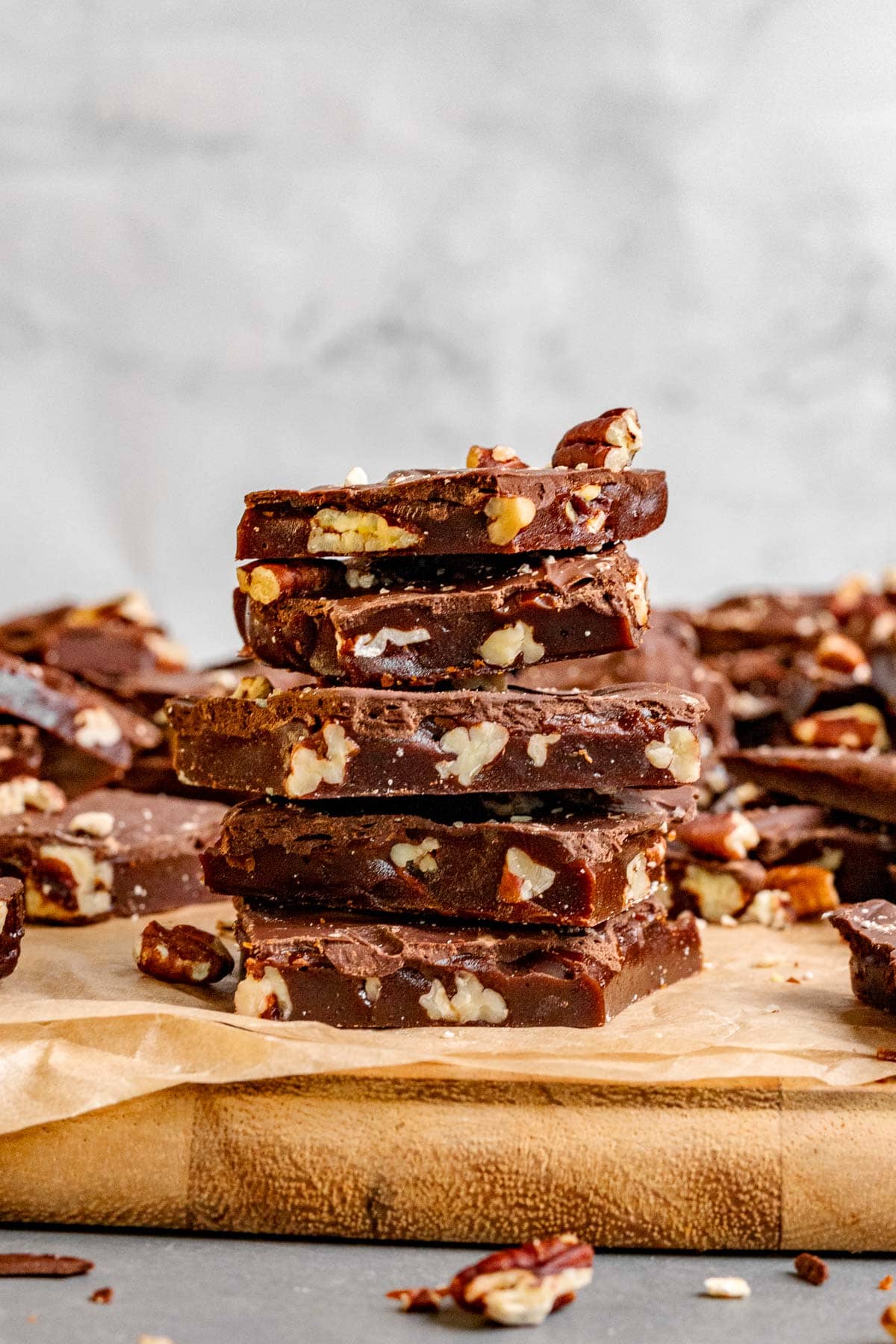 GINGERBREAD TOFFEE
Toffees, like peanut brittle, are about as traditional as a homemade Christmas candy can get. They are pretty easy to make, look beautiful and last a long time, as long as they don't get gobbled up first! Toffee is one of those irresistible candies you go back for "just one more piece," until suddenly it's all gone.
You might not have heard of Gingerbread Toffee before, but it's about to be your new favorite Christmas treat. With all the flavor of a traditional gingerbread in a hardened toffee sauce, toasted pecans, and then a layer of melted chocolate chips. What's not to love?
While Gingerbread Toffee makes a great holiday gift, especially arranged in a box with festive tissue, it can be so much more. Use as an Ice Cream topping or sprinkle crushed toffee bits on Whipped Cream on coffee or hot cocoa like a fancy coffee shop.
Upgrade your favorite holiday desserts like a Gingerbread Cake with Gingerbread Toffee. Frost your cake with Cream Cheese Frosting with Gingerbread Toffee bits folded in. Decoratively place large toffee pieces on the top for an ultimate gingerbread holiday cake!
These Gingerbread Toffees might seem super sweet with using both white and brown sugar, plus corn syrup and dark molasses, but it gets balanced out from all the savory gingerbread spices like ground ginger and cloves, and the toasted pecans. To toast pecans, follow the simple instructions below.
EASY CHRISTMAS CANDY RECIPES
Tips for Making Gingerbread Toffee
Use a candy thermometer, it makes it so much easier to keep an eye on the temperature. High temperatures will ruin your toffee and can happen fast!
Occasionally stir your toffee to keep from burning. This is a recipe you want to pay attention to.
Watch those fingers! The caramel toffee will reach 300 degrees, which could cause a bad burn.
No need to melt chocolate ahead of time. The toffee is hot enough to melt the chocolate chips as you sprinkle them on. Spread with the back of a spoon or angled spatula.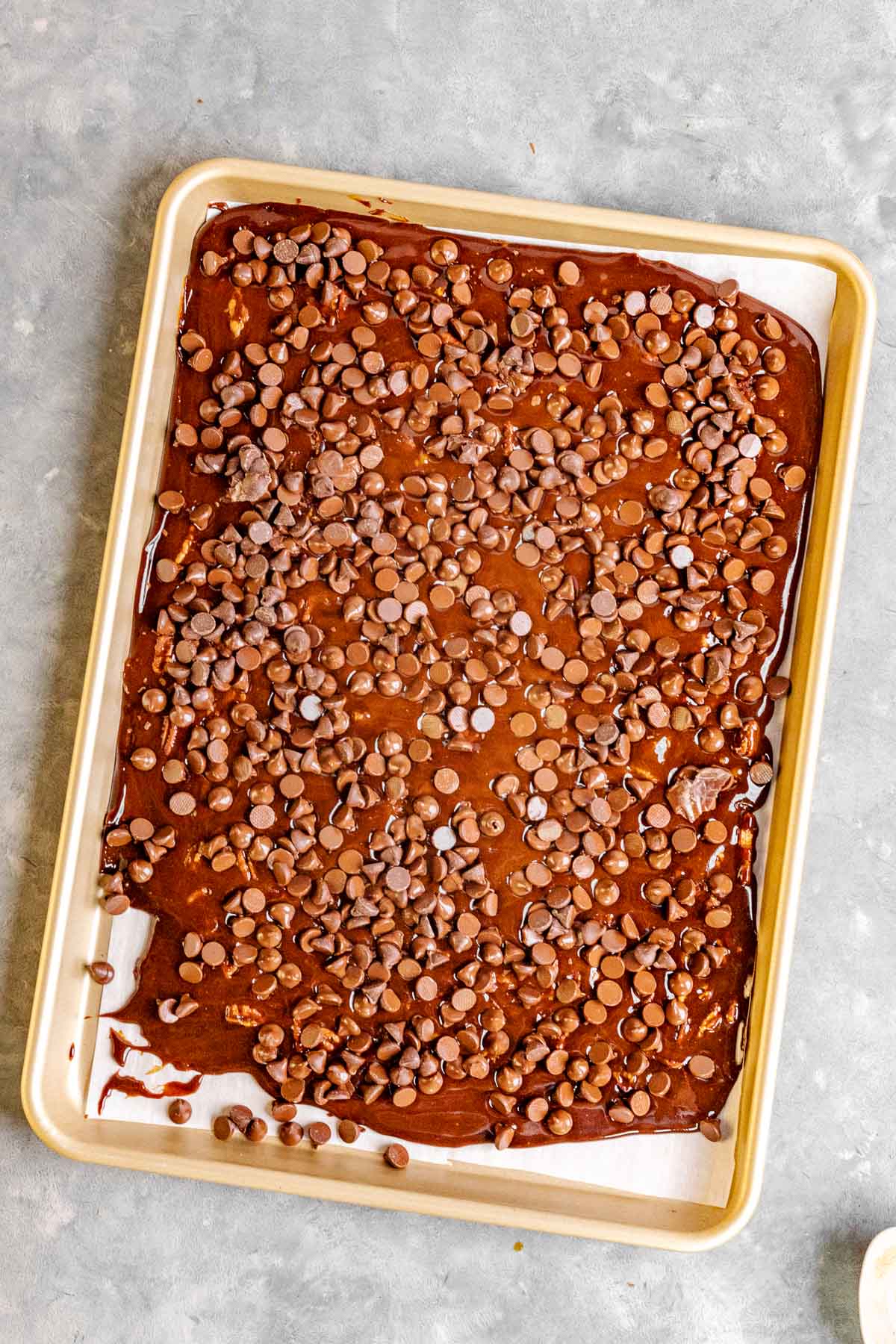 Create a free account to

Save Recipes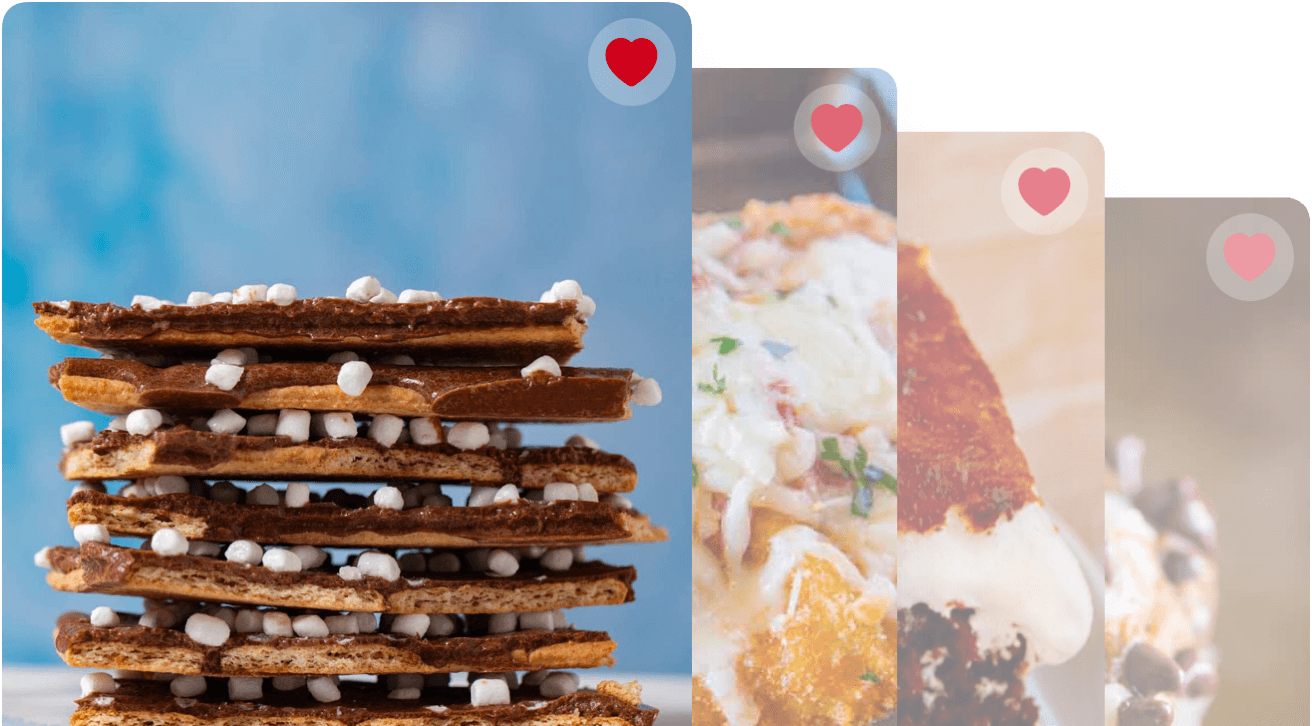 VARIATIONS ON GINGERBREAD TOFFEE
Crackers: Pour over saltine crackers for an extra salty, crunch. You can also pour Gingerbread Toffee over ginger snaps or leftover Ginger Cookie pieces.
Spices: For a Pumpkin Spice Toffee, use Pumpkin Pie Spice. You can also add nutmeg, allspice, or cayenne (for a kick) to your toffee.
Chocolate: Use dark chocolate chips, white chocolate chips or milk chocolate chips instead of the semi-sweet chips. Flavor white chocolate with vanilla extract for the flavor of icing on gingerbread cookies.
Caramel Sauce: Drizzle Gingerbread Toffee with Salted Caramel Sauce once it has set. Place in freezer for 20 minutes to harden caramel sauce before putting in a gift box.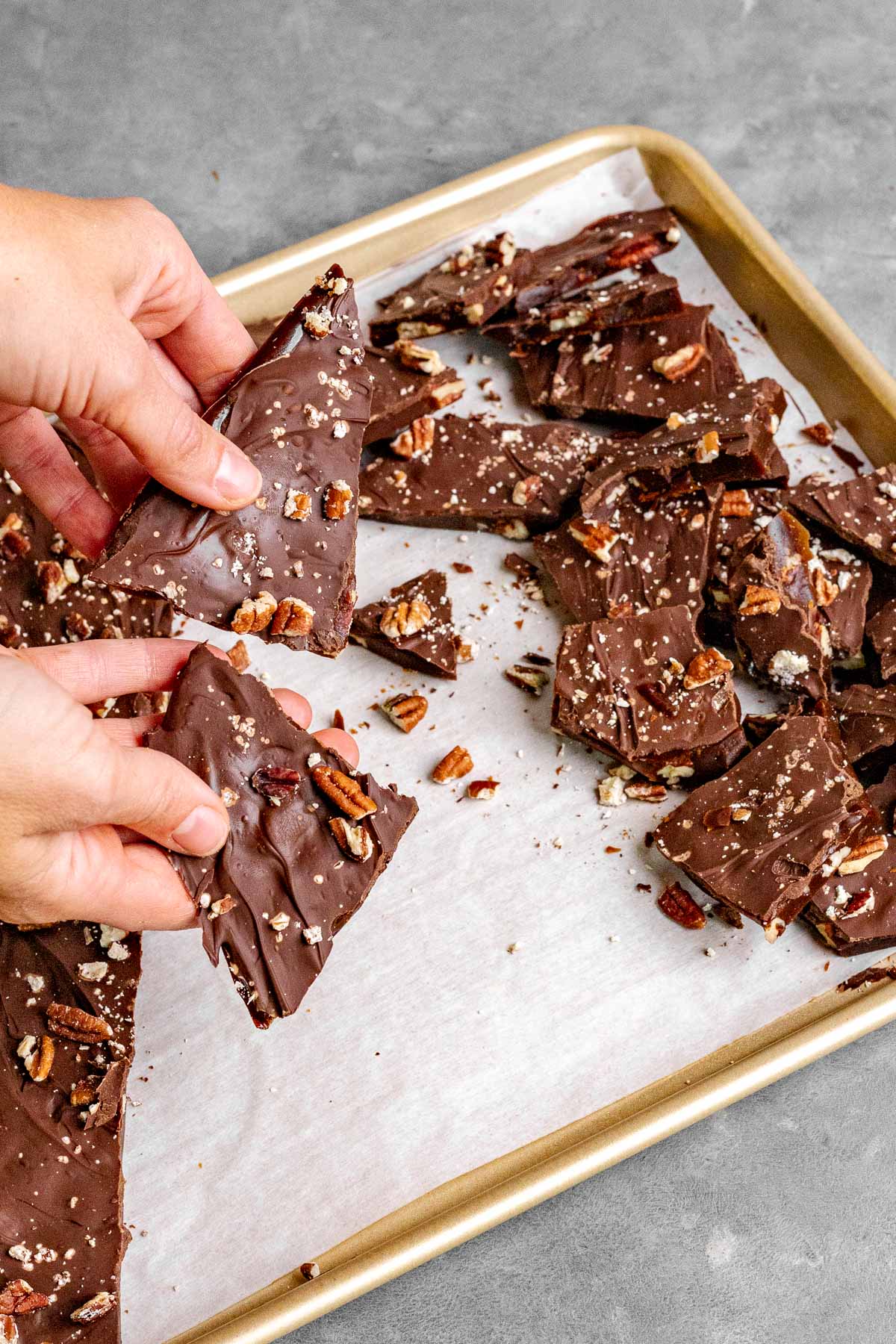 How to Toast Pecans for Gingerbread Toffee
Easily toast pecans on the stove top or in the oven. For the stove top, place pecans in a skillet over medium heat. Stir over heat until they smell toasted, about 5 minutes. For the oven, spread pecans evenly over a baking sheet. Bake at 325 degrees until toasted, about 10 minutes, checking about 5 minutes in.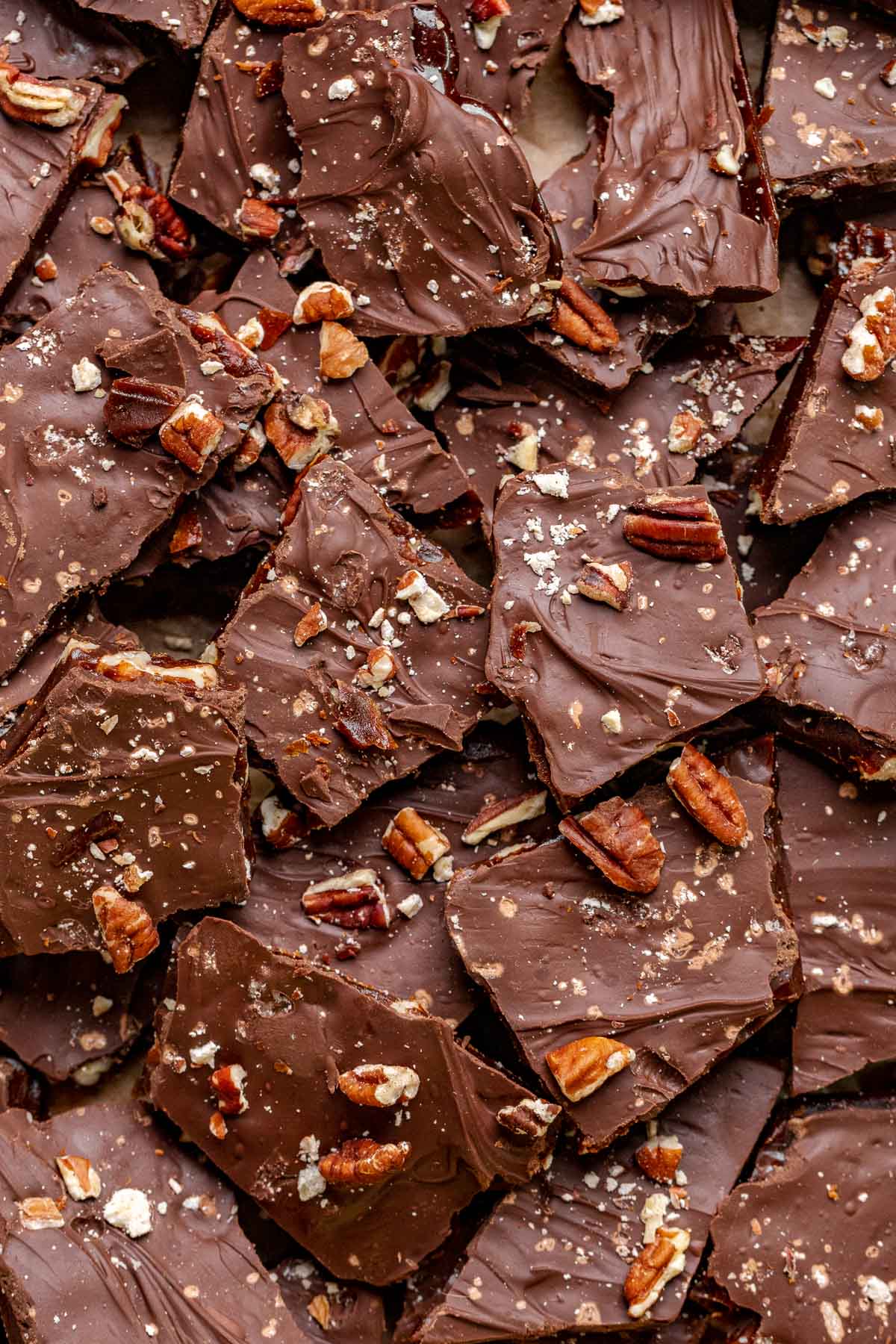 MORE HOLIDAY DESSERT RECIPES
HOW TO STORE GINGERBREAD TOFFEE
Serve: Store at room temperature for up to 2 weeks in an airtight container in a cool, dry place out of the sun.
Store: If it is too warm at room temperature, store in the refrigerator in a sealed container.
Freeze: This candy will stay good in the freezer for up to 3 months. Cool completely to keep moisture out before storing.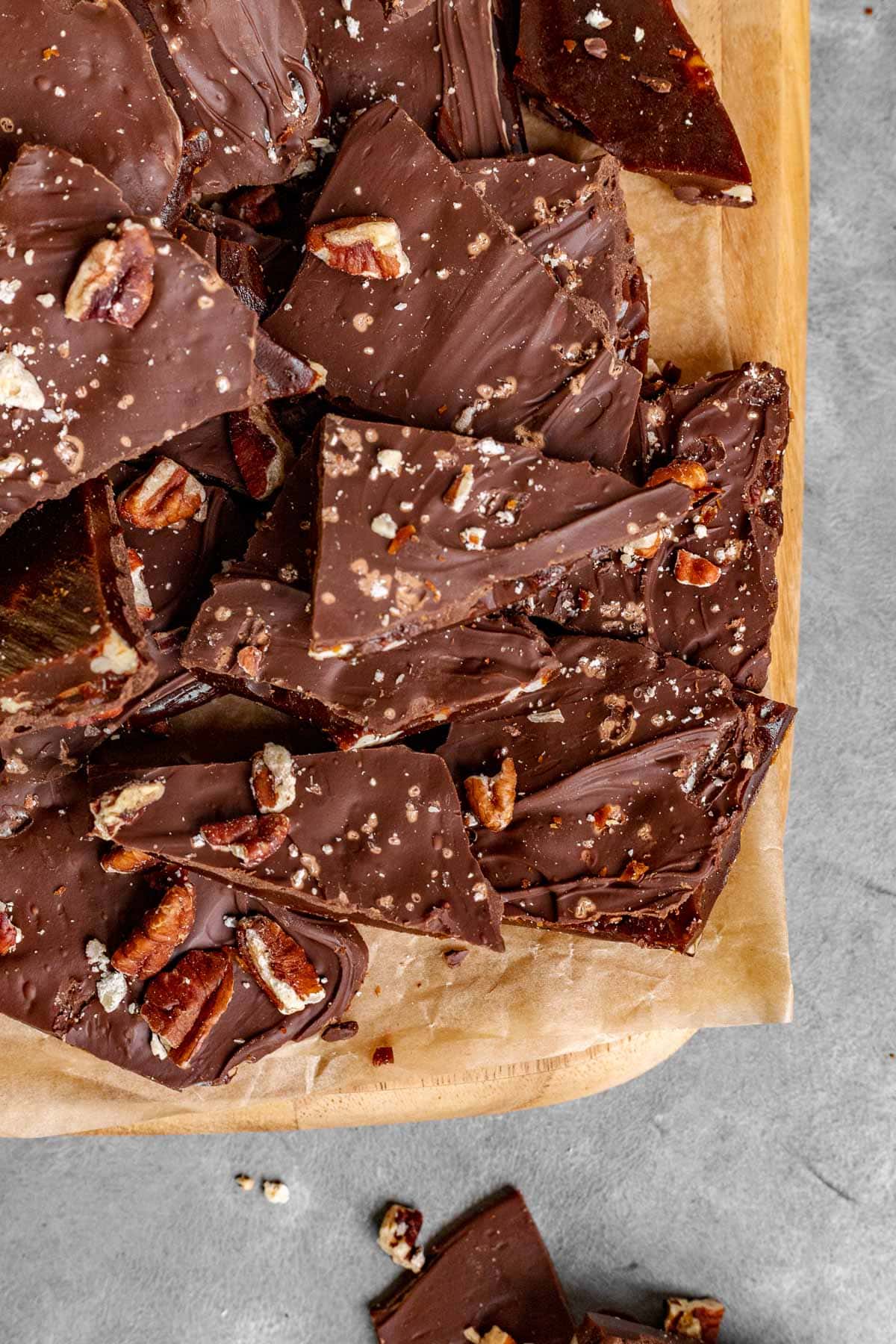 Ingredients
2

cups

butter

1

cup 

sugar

1

cup

dark brown sugar

1/3

cup

molasses

1/4

cup

water

, plus 2 tablespoons

2

tablespoons

light corn syrup

1

teaspoon

ground cinnamon

1

teaspoon

ground ginger

1/4

teaspoon 

ground cloves

1

teaspoon

vanilla extract

1 1/2

cup

chopped pecans

, toasted, divided

2

cups

semi-sweet chocolate chips
Instructions
Add the butter, sugar, dark brown sugar, molasses, water and light corn syrup to a large heavy-bottomed saucepan over medium heat.

Stir constantly until the butter melts and turns into one smooth mixture.

Clip a candy thermometer to the saucepan. Don't let the bottom of the thermometer touch the saucepan to ensure accuracy.

Continue to cook the toffee mixture until it reaches 300 degrees. Stir occasionally. As it cooks, the mixture will turn to a roiling boil and eventually reduce in volume.

As the toffee mixture cooks, stir together the cinnamon, ginger and cloves; set aside.

Line a large baking sheet with parchment paper.

Once the toffee mixture reaches 300 degrees, turn off heat. Stir in the spice mixture, vanilla extract and 1 cup pecans.

Carefully pour the toffee onto the baking sheet.

Sprinkle chocolate chips evenly over toffee. Allow to sit for

3-5 minutes

.

Use a spoon to spread and melt the chocolate on top of the toffee. Continue until the chocolate is fully melted and smooth.

Sprinkle with remaining pecans.

Allow the toffee to sit for at least

3 hours

. Once the chocolate is set, break into pieces.
Nutrition
Calories:
217
kcal
|
Carbohydrates:
20
g
|
Protein:
1
g
|
Fat:
16
g
|
Saturated Fat:
8
g
|
Cholesterol:
25
mg
|
Sodium:
85
mg
|
Potassium:
119
mg
|
Fiber:
1
g
|
Sugar:
18
g
|
Vitamin A:
290
IU
|
Vitamin C:
1
mg
|
Calcium:
22
mg
|
Iron:
1
mg