Gooey Butter Cake is a rich, sweet, melt-in-your-mouth treat with a simple cake base and gooey, sweetened cream cheese topping.
This amazing Cake Recipe is a fun and easy twist on classic Butter Cake. The rich, gooey topping tastes wonderful, and only adds a couple extra minutes of prep to the delicious Dessert Recipe.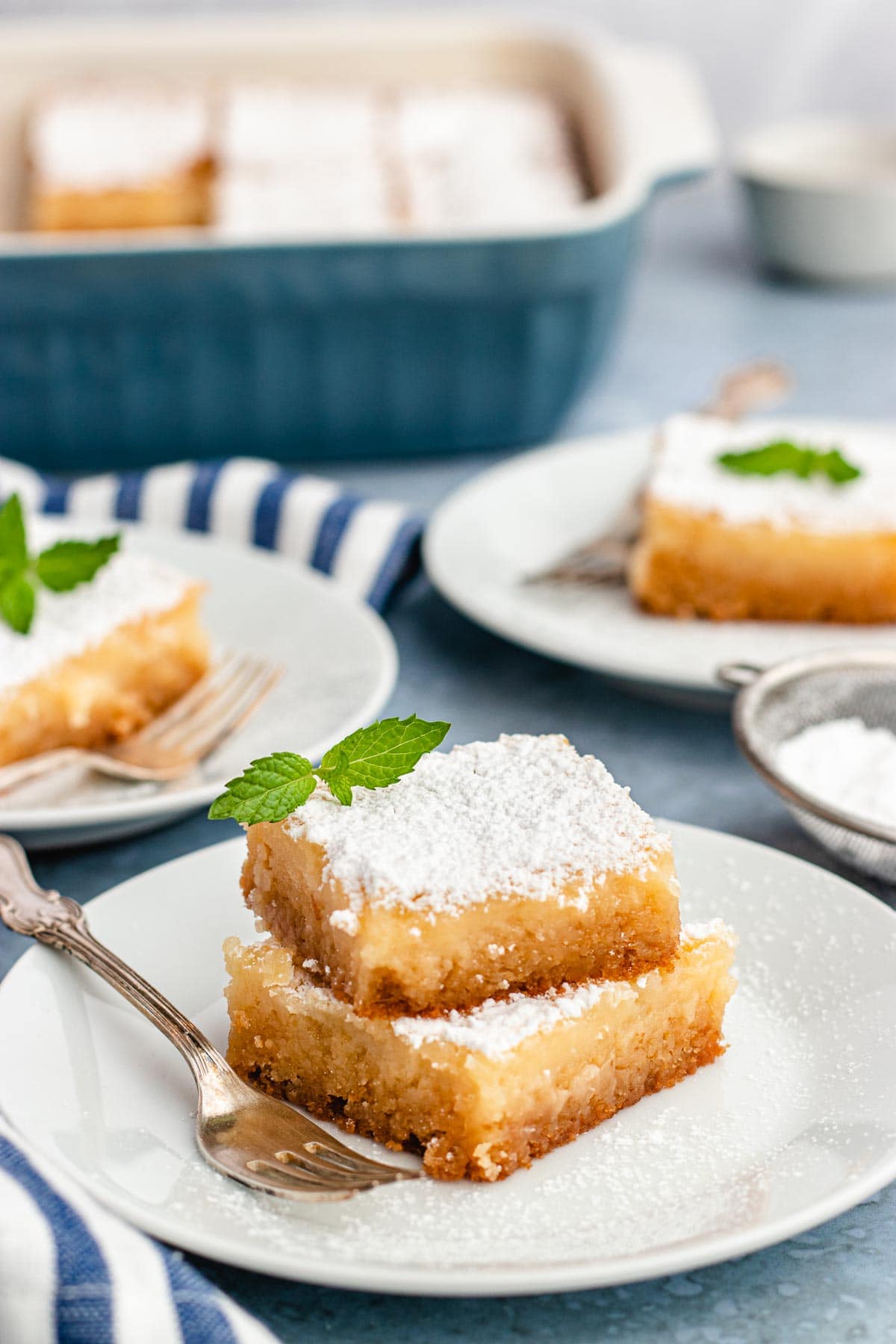 This Gooey Butter Cake recipe makes an easy and delicious treat to share. You'll bake it in a 9×13″ pan, so there are plenty of pieces to share with a group. The size and simplicity makes it the perfect last minute dessert for a potluck, party or family get-together.
When serving the Gooey Cake wait for it to cool, then slice the pan into squares. It's quite rich, so you don't need large pieces. To finish the decadent dessert, you can serve it with a scoop of Vanilla Ice Cream. It also tastes amazing with dessert toppings like Hot Fudge Sauce, or Homemade Strawberry Topping. But, you can also enjoy it as is. The simple butter cake and gooey topping are plenty delicious with or without extra add-ons.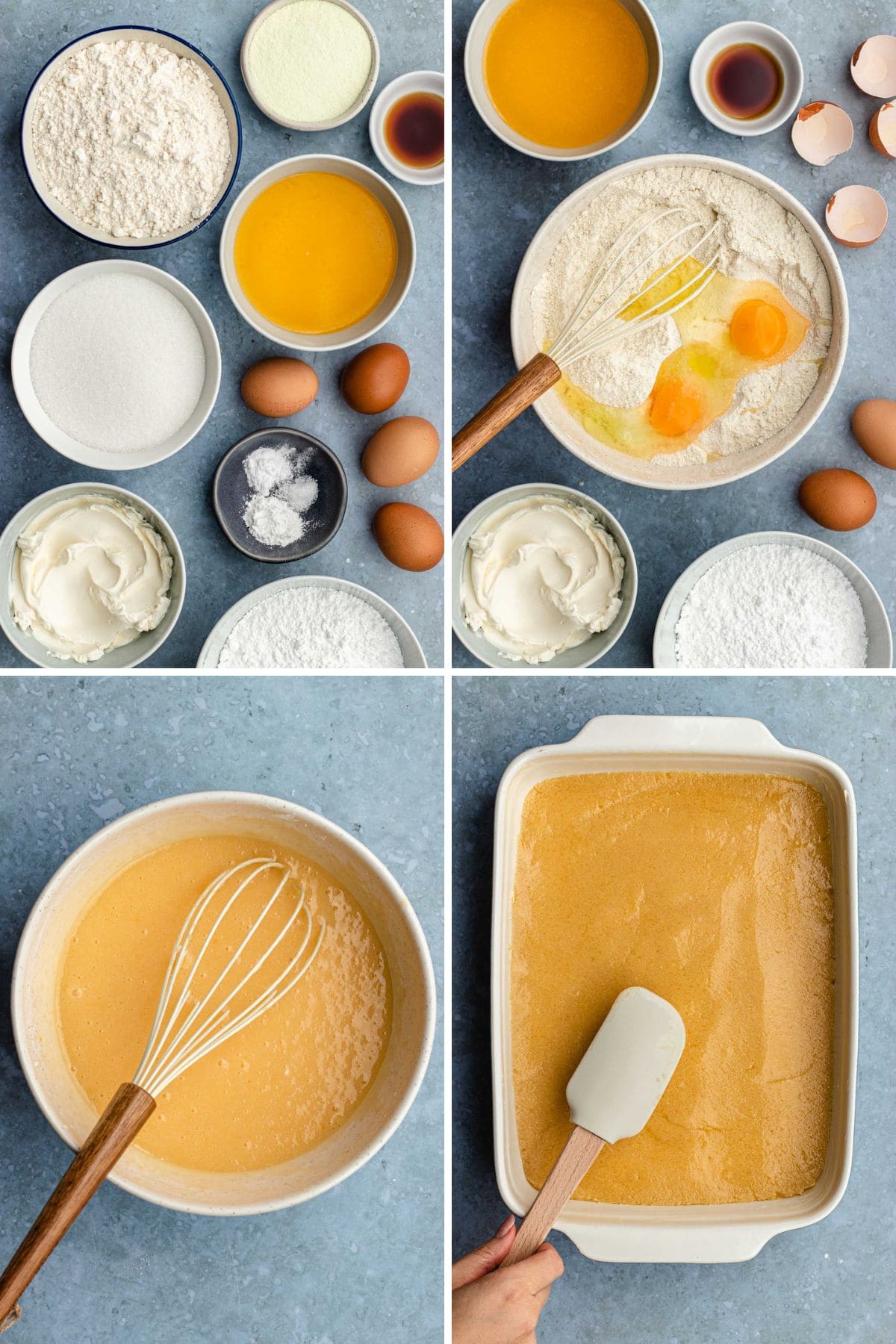 How to Make Gooey Butter Cake
Prep time: To start, preheat your oven to 350 degrees and spray a 9×13″ baking dish with nonstick cooking spray.
Cake batter: Add the flour, granulated sugar, powdered milk, baking soda, and kosher salt to a large mixing bowl. Then add the melted butter, eggs, and vanilla extract to the dry ingredients. Using an electric mixer or handheld whisk, mix until the batter is well combined. Then spread the cake batter layer in the prepared baking dish, using an offset spatula to spread it evenly.
Gooey layer: Add eggs, vanilla, softened cream cheese, and powdered sugar to your stand mixer or a medium bowl. Mix at medium speed until the cream cheese mixture is well combined and smooth. Then spoon the gooey topping evenly over the cake batter layer.
Baking time: Put the pan in the preheated oven and bake for 40-45 minutes until golden brown.
Finish: Take the pan from the oven and let the Gooey Cake cool completely. Dust the top with a layer of powdered sugar, slice into squares and serve.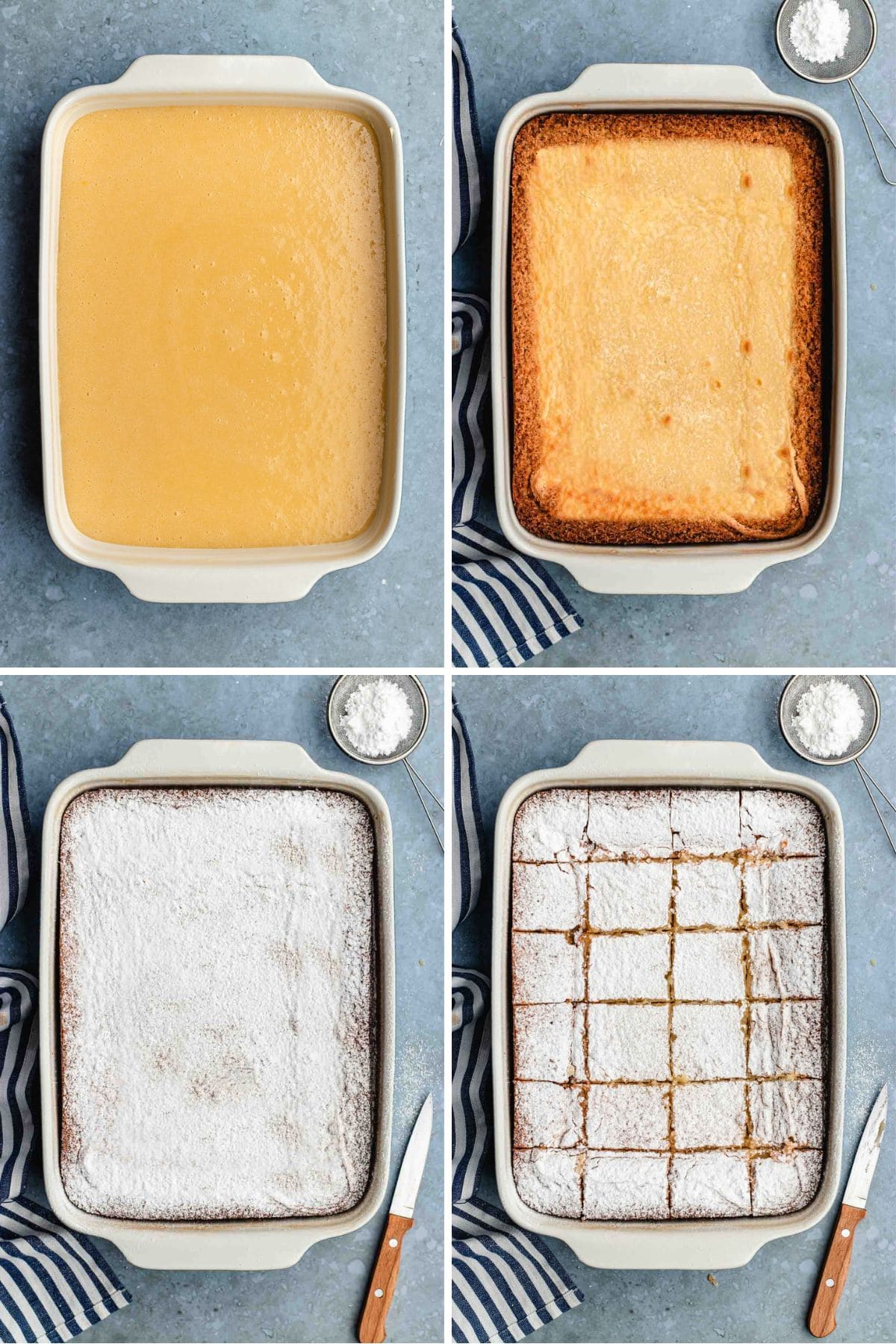 More Easy Sheet Cake Recipes
FAQs
What is Gooey Butter Cake?
This simple butter cake is a popular dessert in the South, often referred to as the St. Louis Gooey Butter Cake. It's distinct because of the two delicious layers it's made with. The base layer is just a classic butter cake, but then it's topped with a delicious cream cheese, egg, and sugar mixture. While the recipe bakes, the cream cheese mixture seeps into the classic cake a little bit to create the perfect gooey consistency, but there are still two separate layers. 
Why is it called gooey cake?
The butter cake gets its name because of the cream cheese layer on top. It has a thick, pudding-like consistency. Though the top of the cake will appear golden brown and flaky, when you bite into it you'll see just how soft and gooey the texture is. 
How to know when Gooey Cake is done baking?
Because of its consistency, it's hard to know when this cake is done baking. It should still seem underbaked on top when you take it out. So, to check if the cake is done, look to see the the edges are golden brown and puffing up. While the center will appear flaky, if you jiggle the pan it will still be soft enough to jiggle. Because of this underbaked texture, it's essential to let the cake cool before serving, or it will be completely runny. 
Does Goeey Cake need to be refrigerated?
No. This cake will stay good longer stored in the fridge. But, as long as it's covered and kept in a fairly cool part of your kitchen you can keep it at room temperature for a couple of days.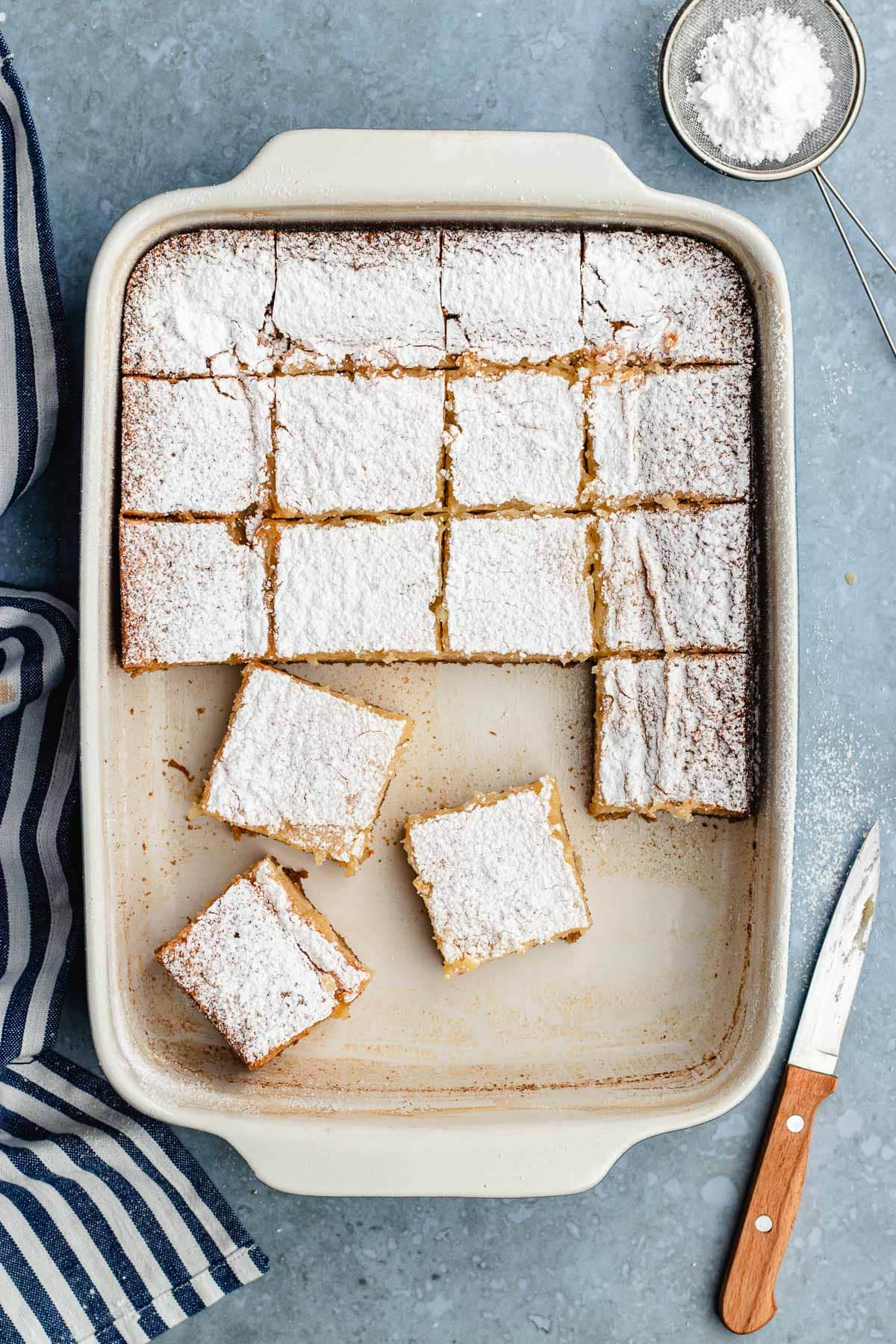 Create a free account to Save Recipes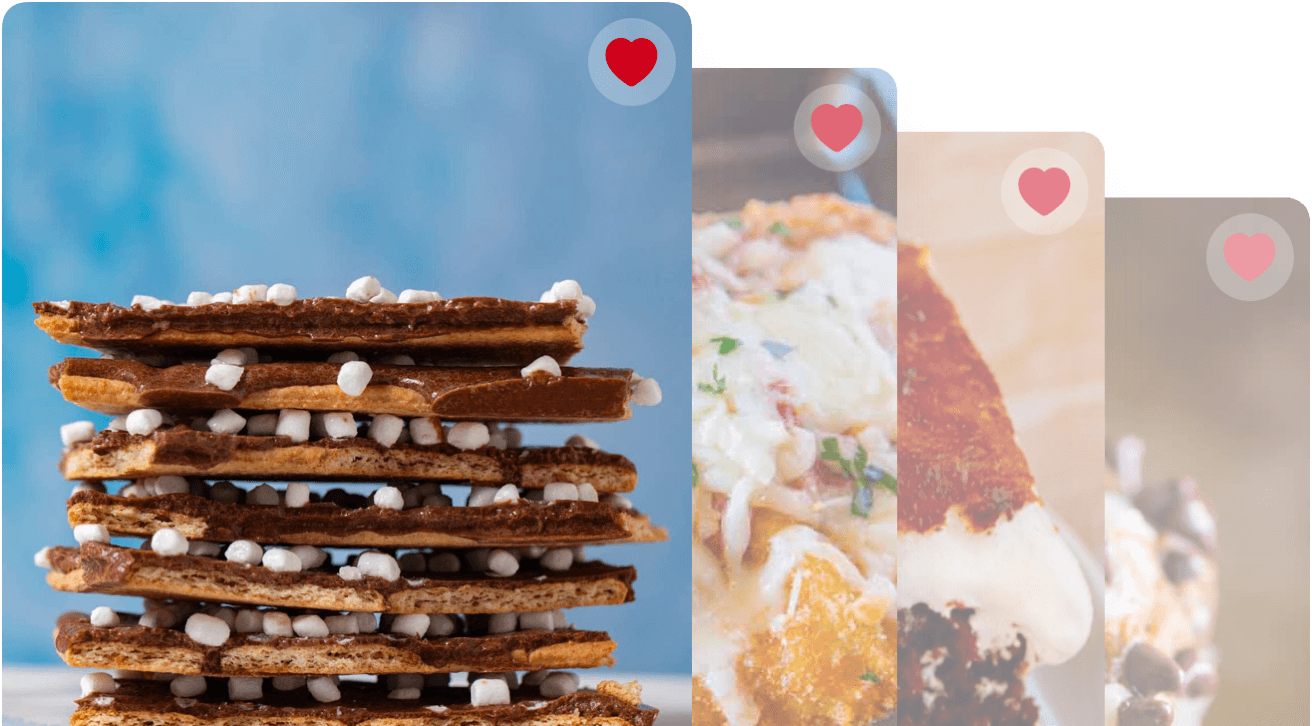 Key Ingredients
Flour: For the best results, I'd recommend using cake flour instead of all-purpose flour. Although either option works, cake flour is milled into a finer powder. This results in a soft, tender cake crumb, which is exactly what you want for this recipe.
Butter: Make sure to melt 1 cup of unsalted butter before starting the recipe. The butter's fat content gives the cake its moist consistency. It also adds a rich flavor to the simple cake ingredients.
Powdered Milk: You'll want to use non-fat powdered milk for this recipe. The concentrated milk powder is a great alternative to regular milk. It gives all the flavor you need from milk, without adding more liquid to the batter.
Eggs: The eggs add protein, and create a creamier cake batter. Eggs are important in many baked goods because they acts as a binding agent bringing the wet and dry ingredients together. You'll also use eggs in the topping to help create the thick, gooey consistency.
Cream Cheese: This is an essential ingredient to the gooey topping. It's rich, and thick, but soft enough to blend with the other ingredients into a pudding-like mixture. It also has a distinct tangy flavor, that balances out all the sweet ingredients.
Powdered Sugar: Mix powdered sugar with the cream cheese. This creates a light, smooth mixture with the perfect amount of sweetness. You'll also sprinkle powdered sugar over the top as the perfect easy, but elegant finish.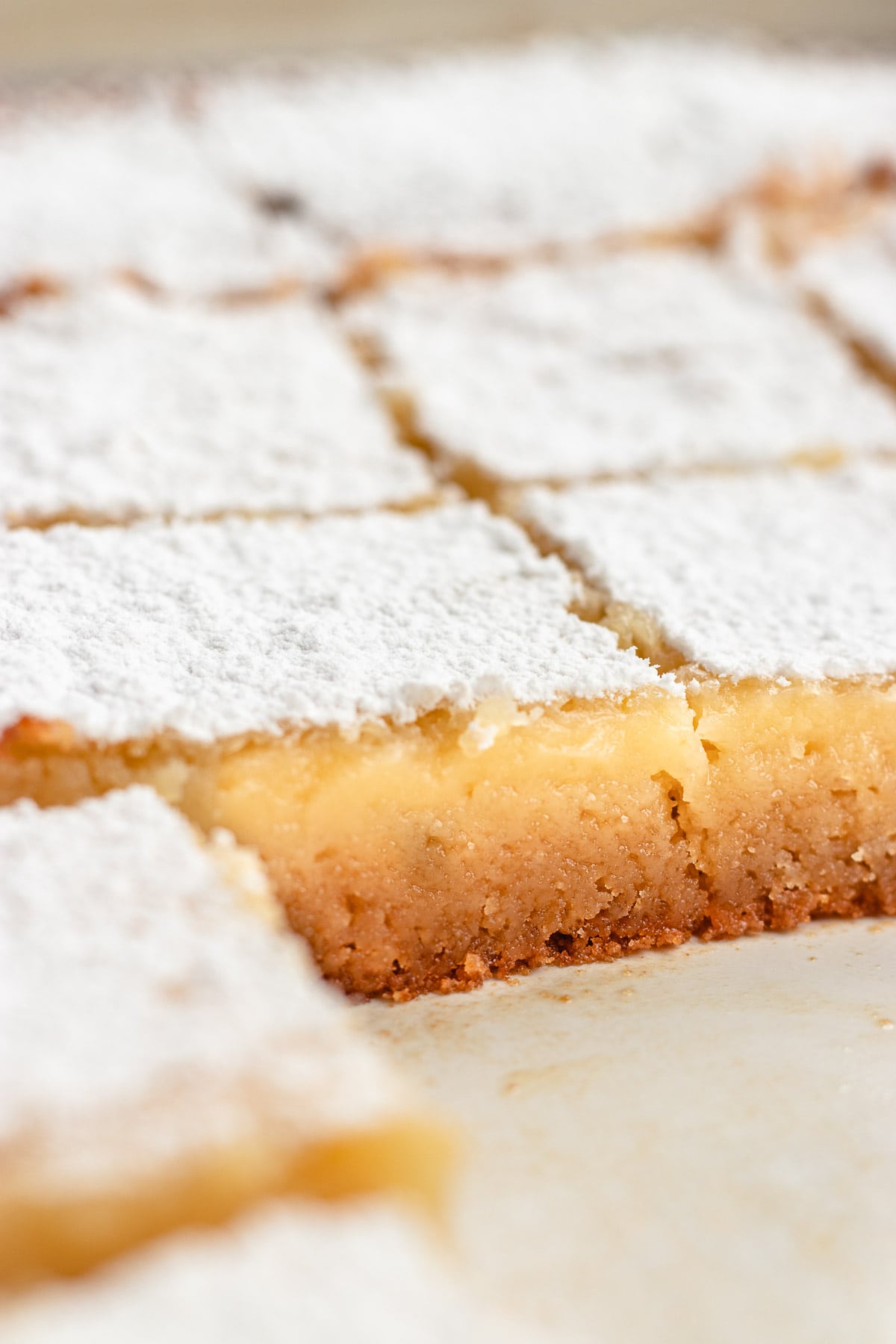 Variations
Cake Mix: Instead of making the cake base from scratch, you can use cake mix. For this cake mix version, you'll need a box of yellow cake mix, a cup of melted butter and 2 large eggs. Whisk the butter and eggs into the powdered cake mix. Once it's formed into a smooth batter, pour the mixture into your cake pan. You'll prepare the gooey cream cheese topping the same as usual.
Gooey Caramel Cake: To make the gooey topping with a rich, caramel flavor, you'll keep most the ingredients the same, but add dulce de leche, or caramelized milk. Mix the caramel with the cream cheese mixture until smooth. Then add the caramel cream cheese layer over the cake batter. You can also top this caramel version off with a sprinkling of brown sugar or Salted Caramel Sauce before serving.
Gooey Lemon Cake: For a fresh, citrusy version of this simple cake add a tablespoon of lemon juice and a sprinkling of lemon zest to the cake batter. You can also add extra lemon zest along with the powdered sugar topping.
Gooey Almond Cake: Another delicious variation you can try is adding chopped nuts to the cake mixture. Sprinkle chopped almonds between the cake batter and the gooey topping. For more almond flavor in this variation, you can also whisk almond extract into the batter.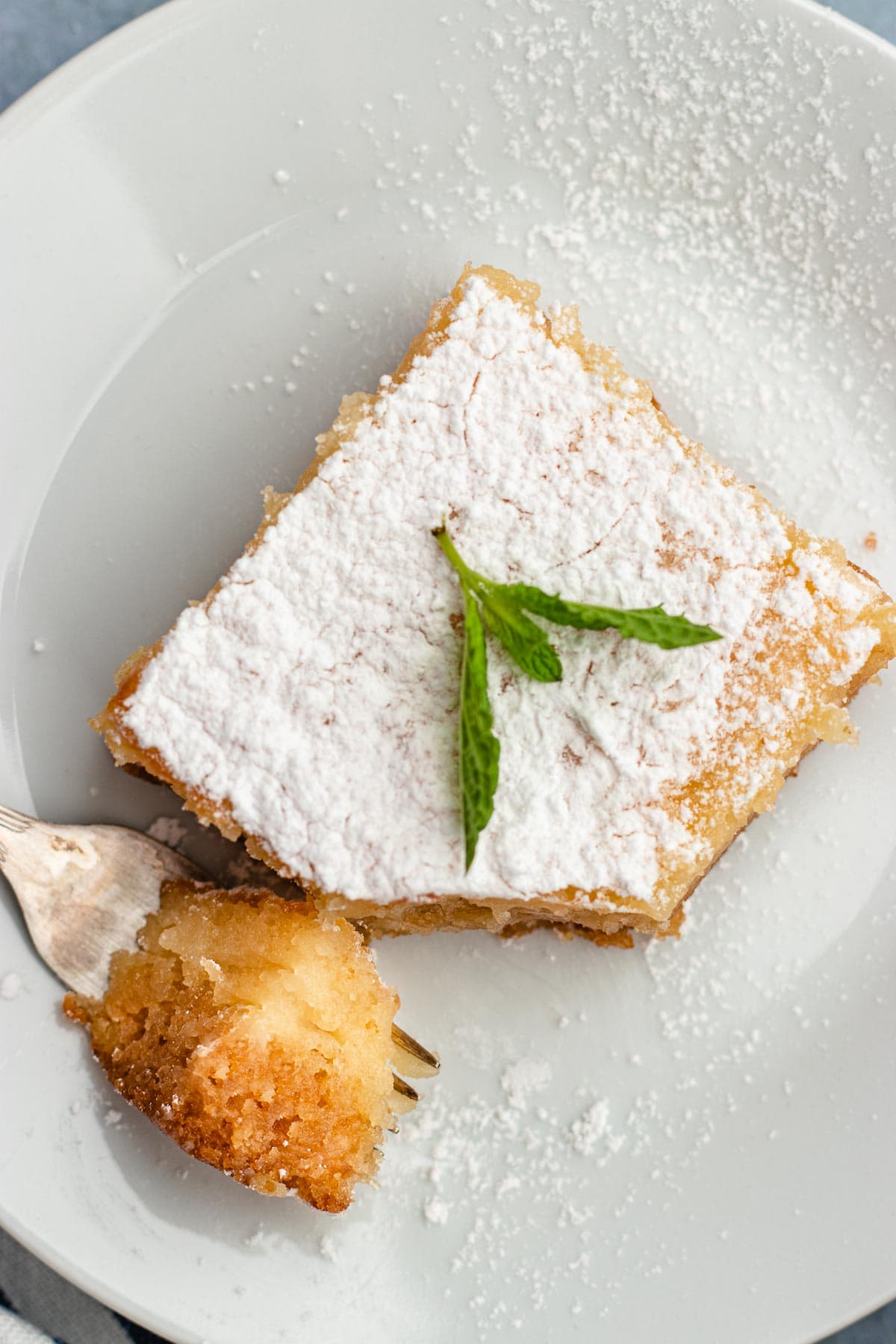 How to Store
Serve: Make sure to let this cake recipe completely cool before slicing it. While the cake is supposed to be gooey, if you slice into it while it's still hot, it will be too gooey to serve.
Store: You don't want to leave this cake sitting uncovered at room temperature for more than a few hours. To store the butter cake, cover it tightly in tin foil. Then you can store the Gooey Cake in the fridge for up to 1 week, or keep it at room temperature for 1-2 days. If you store the recipe in the fridge, let it sit on the counter a few hours before serving, so that it can come to room temperature again.
Freeze: To freeze the cake, cut it into squares, and place them in a gallon freezer bag with parchment paper between the layers. That way, the squares won't freeze together. The cake will stay good frozen for up to 3 months. When you're ready to serve, put the freezer bag on the counter and let the cake bars thaw. Once they've come to room temperature you can serve them as the perfect dessert.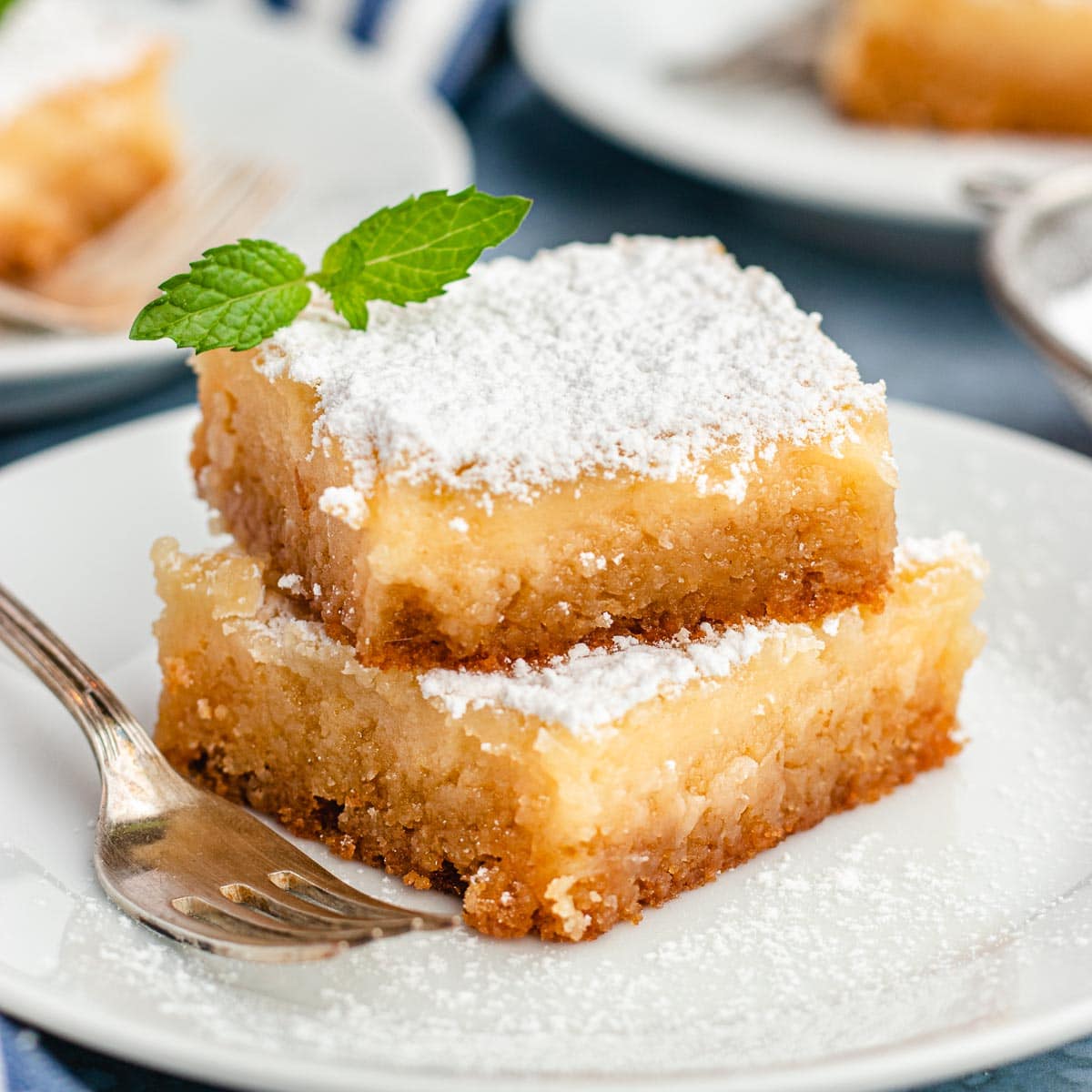 Ingredients
Cake Layer:
2

cups

flour

1 1/2

cups

sugar

1/2

cup

non-fat powdered milk

1

tablespoon

baking powder

1/2

teaspoon

baking soda

1/2

teaspoon

salt

1

cup

unsalted butter,

melted

2

large

eggs
Gooey Layer:
2

large

eggs

2

teaspoons

vanilla extract

8

ounces

cream cheese,

softened

2

cups

powdered sugar
Instructions
Cake Layer:
Preheat the oven to 350 degrees and spray a 9×13" baking pan with baking spray.

In a large mixing bowl add flour, sugar, powdered milk, baking soda and salt.

Add in the melted butter, eggs and vanilla extract, whisk well to combine.

Spread the mixture evenly into the baking pan.
Gooey Layer:
Add eggs, vanilla, cream cheese and powdered sugar to your mixing bowl and whisk or use a hand mixer to combine until smooth.

Spoon over the cake batter in an even layer.
To Finish:
Let cool completely before slicing.

Dust with powdered sugar.
Nutrition
Calories:
393
kcal
|
Carbohydrates:
52
g
|
Protein:
5
g
|
Fat:
19
g
|
Saturated Fat:
11
g
|
Polyunsaturated Fat:
1
g
|
Monounsaturated Fat:
5
g
|
Trans Fat:
0.5
g
|
Cholesterol:
95
mg
|
Sodium:
266
mg
|
Potassium:
111
mg
|
Fiber:
0.4
g
|
Sugar:
39
g
|
Vitamin A:
650
IU
|
Vitamin C:
0.3
mg
|
Calcium:
108
mg
|
Iron:
1
mg