Hot Chocolate Fudge is the perfect holiday treat! With sweetened condensed milk, vanilla, chocolate chips, hot chocolate mix, and topped with marshmallows.
This easy Candy Recipe is a combination of two classic seasonal treats Hot Chocolate and Chocolate Fudge. Serve it at your next holiday party for a unique crowd-pleasing dessert!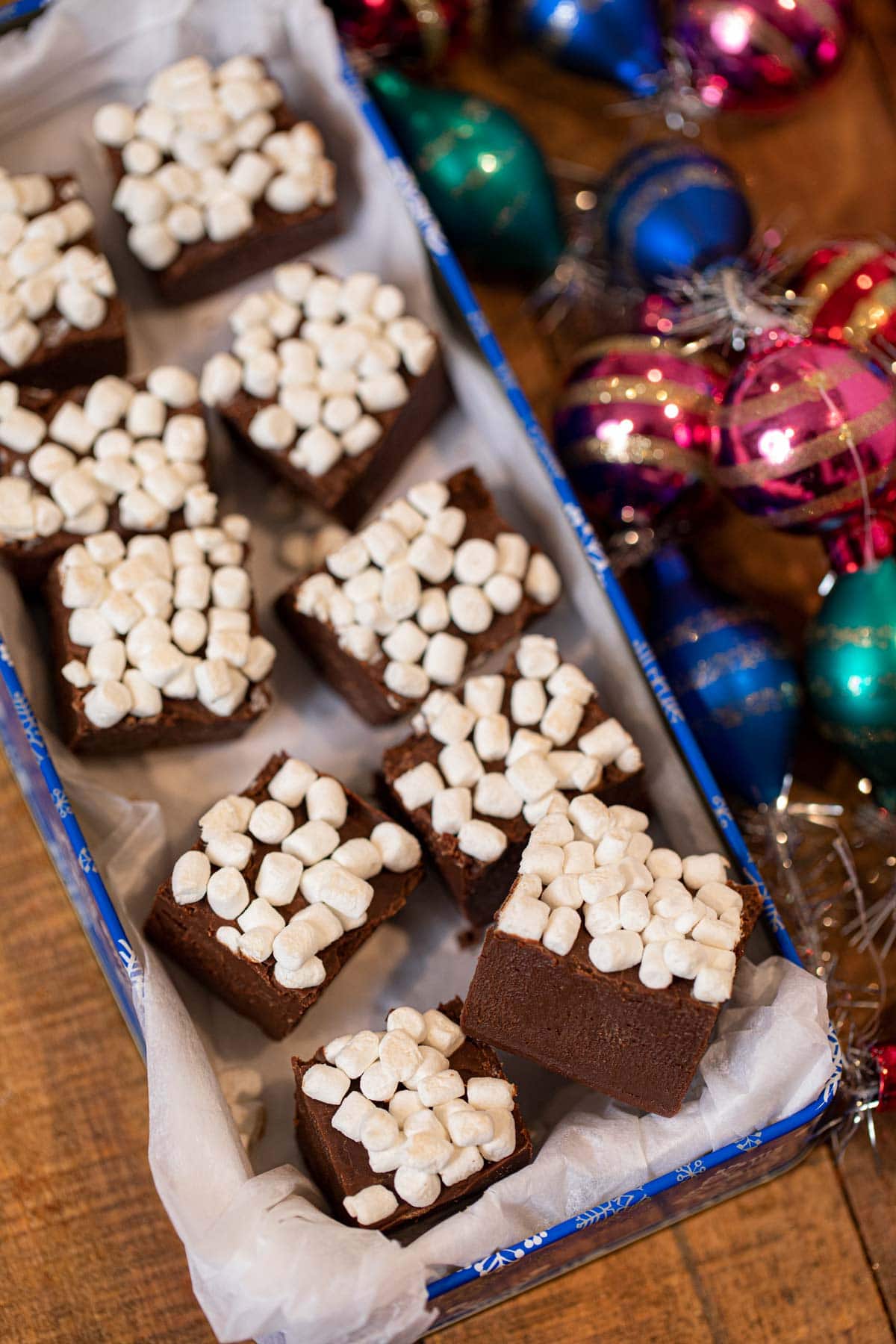 HOT CHOCOLATE FUDGE
Hot chocolate is the most iconic drink of the winter season, and it's no wonder why. There's nothing quite like a big mug of hot, creamy, chocolate-y goodness on a cold day. This recipe takes the taste we all love from hot chocolate and turns it into a fun, shareable dessert. Use your favorite kind of hot cocoa mix to make an equally delicious fudge!
Serve Hot Chocolate Fudge with other holiday favorites like Eggnog and Buckeye Balls at your next holiday get-together. The mini-marshmallows on top make an especially festive presentation that's perfect for a party. It's a rich, creamy finger food that adults and kids will absolutely love!
HOT CHOCOLATE FUDGE AS A GIFT
Fudge is also great for gift-giving. Cut the Hot Chocolate Fudge into squares then package it in a cookie tin. Lay a piece of parchment paper or decorative tissue paper over the bottom of the tin and between each layer of fudge so they don't stick.
If you're sending fudge in the mail put the container in a similar sized shipping box. To keep the fudge chilled in transit pack a frozen gel pack with it. Be sure to wrap the gel pack in plastic to make sure it doesn't leak. Send it off for the ultimate edible-gift!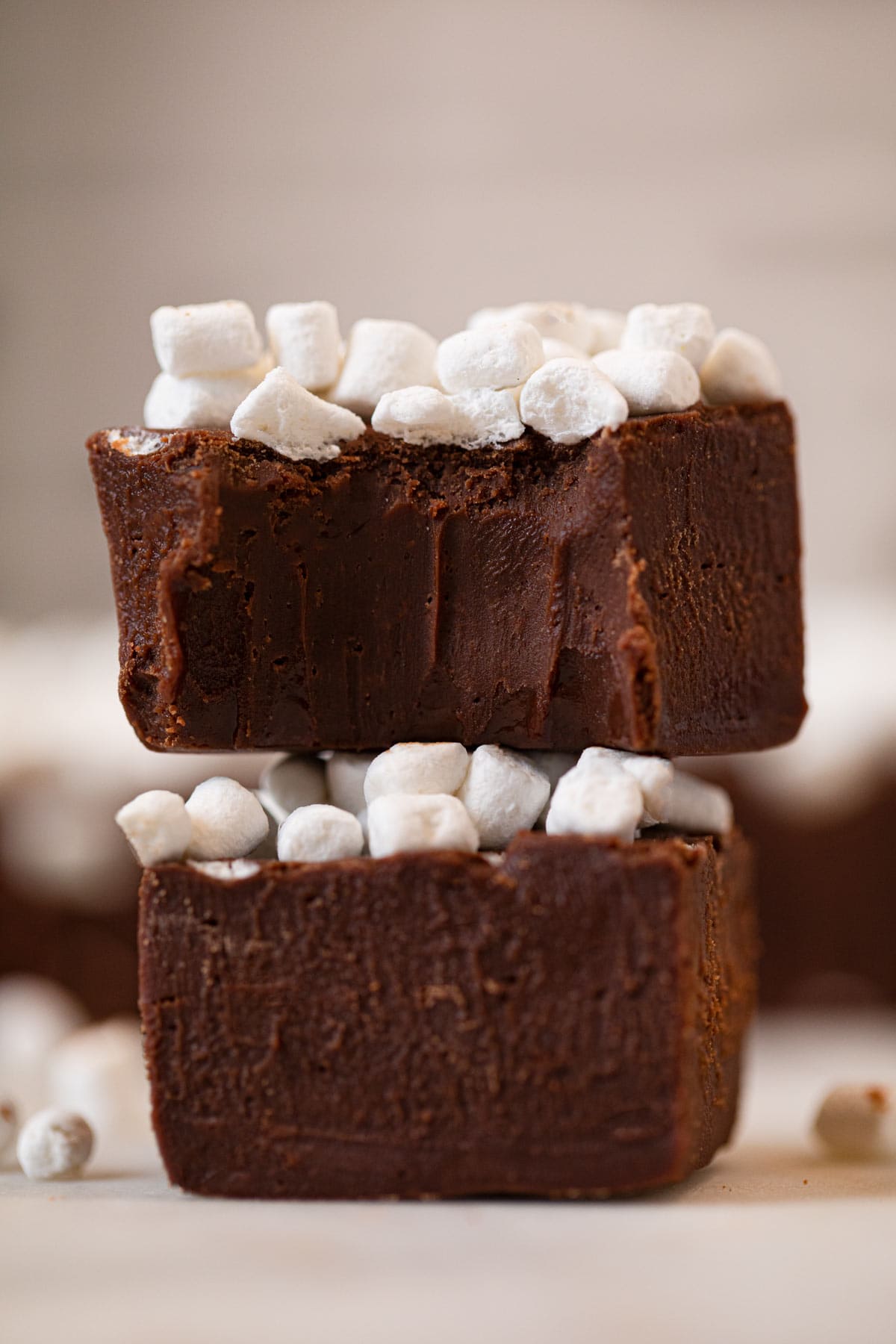 TIPS FOR MAKING HOT CHOCOLATE FUDGE
Start by prepping your pan with aluminum foil and cooking spray so the fudge doesn't stick.
Add chocolate chips, hot chocolate mix, and sweetened condensed milk to a sauce pan. Make sure to keep the heat low and stir as the chocolate melts.
Getting fudge to the right temperature is one of the hardest parts of any fudge recipe. If you overcook, you'll end up with dry crumbly fudge. Undercooking makes fudge that won't set right. To take out any guess work use a candy thermometer in the fudge mixture. The ideal temperature to bring your fudge to is 235 degrees F.
The chocolate mixture should be melted and smooth. Turn off the heat and add in the vanilla.
Spread the fudge into your prepared pan, then top it with your marshmallows. Press the marshmallows in gently so they're still on top, but stuck into the fudge.
Be sure to let the fudge set for the full 4 hours before digging in.
MORE FUDGE RECIPES
MAKE-AHEAD HOT CHOCOLATE FUDGE
If you wait to do all of your holiday baking until a few weeks before Christmas, it will all seem overwhelming. The great thing about this Hot Chocolate Fudge is that you can store it in the freezer for up to 6 months. Most fudge and a lot of cookie recipes are great make-ahead desserts. You can do your holiday baking slowly in the months leading up to Christmas, and keep the holiday goodies in the freezer until you need them. Here are the easy step-by-step directions for storing your fudge.
Start by preparing the fudge as usual and letting it set in the fridge.
Slice the fudge into bite-sized squares.
Wrap each piece of fudge in a piece of wax paper then double wrap it in plastic wrap. This will make sure the fudge stays fresh, keeps it's shape and doesn't stick to the other pieces.
Once you've wrapped all the candies, put them in a ziplock freezer bag or other airtight container, and put them in the freezer.
When you're ready to serve the fudge move it to the fridge to thaw out, unwrap, and enjoy!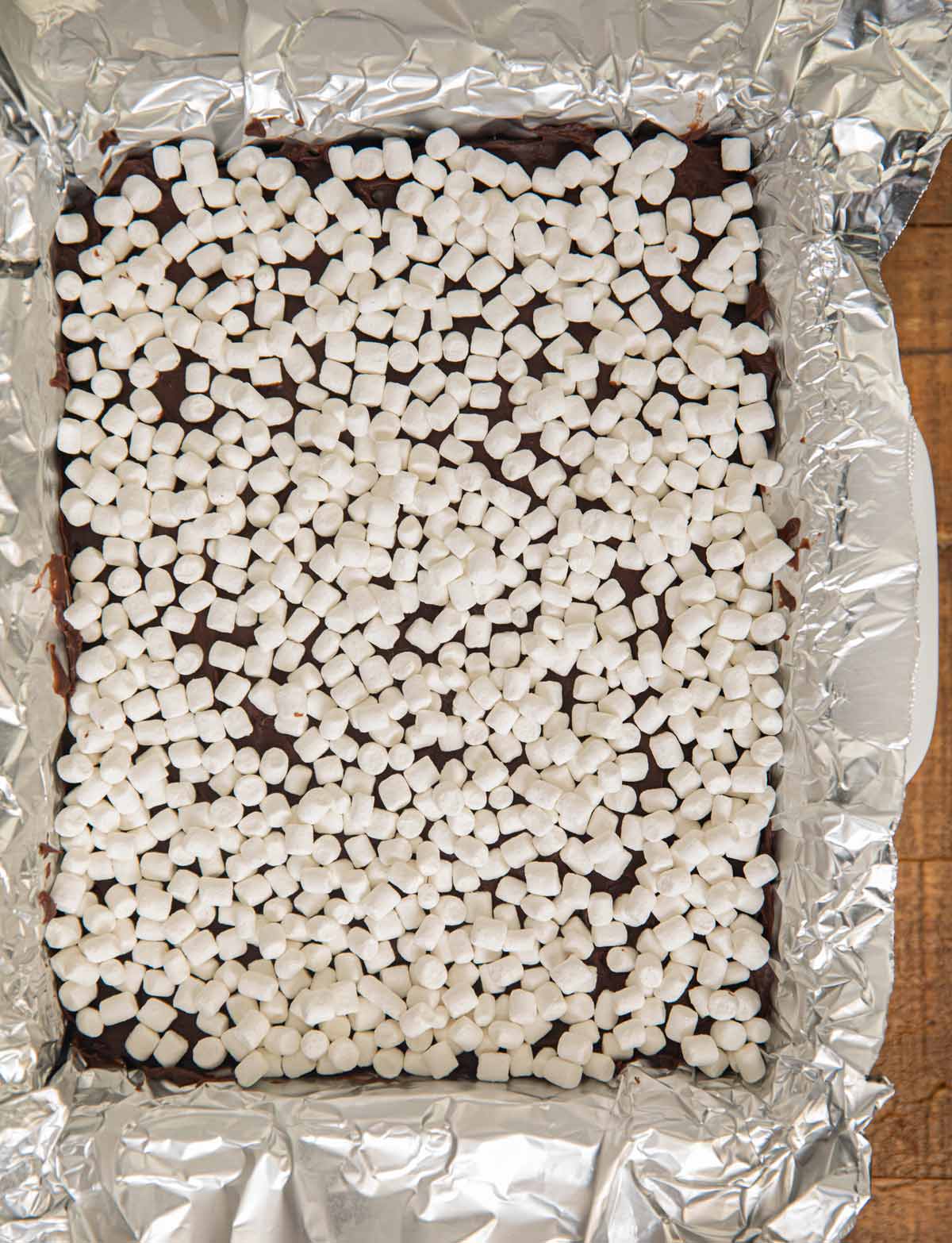 Create a free account to

Save Recipes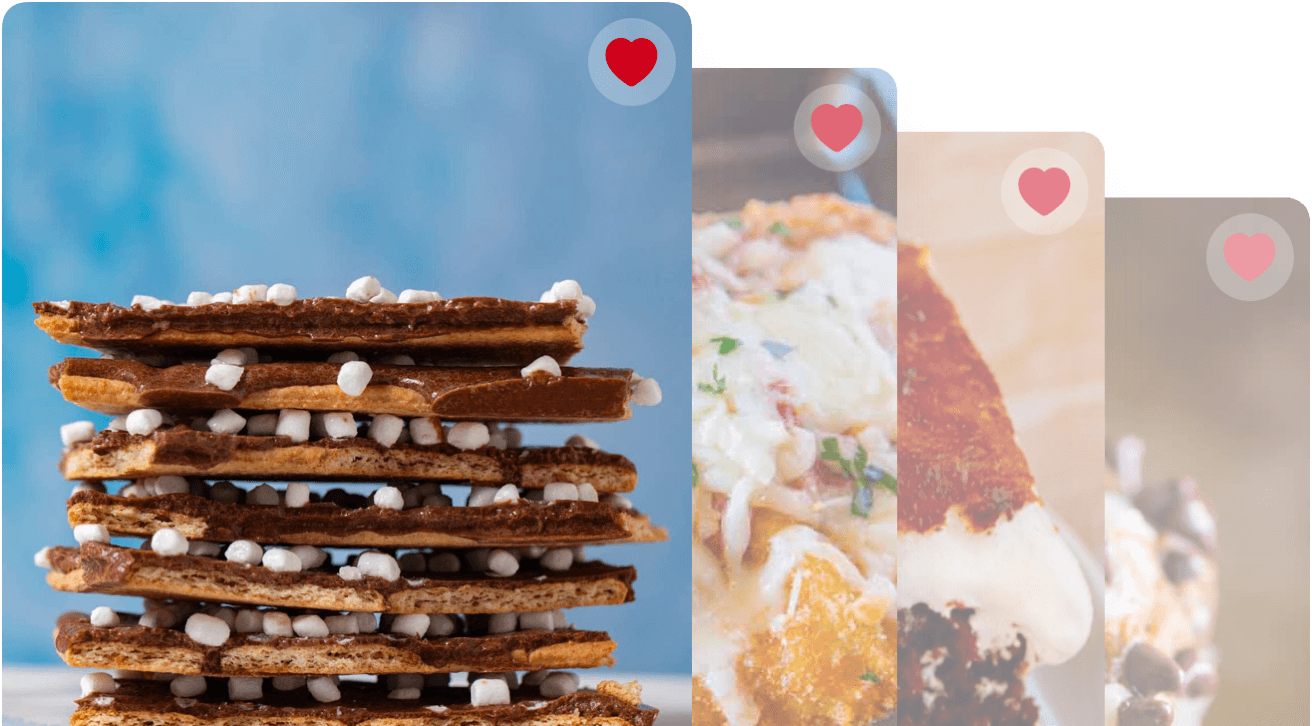 VARIATIONS ON HOT CHOCOLATE FUDGE
Chocolate chips: Depending on how deep of a chocolate taste you want, replace the semisweet chips with dark chocolate or milk chocolate chips.
Flavor add-ins: To change up the taste try replacing the vanilla extract with peppermint or mint. You could also add a little cinnamon or ginger to your mixture.
Two Layer Hot Chocolate Fudge: You can make this fudge with one layer of regular chocolate fudge and a top layer of white chocolate fudge. Cut the recipe in half to make the bottom layer. Follow the same recipe for the white chocolate fudge, but take out the cocoa mix and use white chocolate chips instead of semisweet. Pour the chocolate mixture in the pan first, then top it with white chocolate. Add on the marshmallows, and put it in the fridge to set.
MORE HOLIDAY DESSERTS
HOW TO STORE HOT CHOCOLATE FUDGE
Serve: Fudge keeps well at room temperature for up to a week. Be sure to store it in an airtight container in a cool area.
Store: To keep your Hot Chocolate Fudge a little longer store it in the fridge. It will stay fresh for 2 weeks. If you've cut the fudge into squares, store them in a ziplock bag or other airtight container with the layers separated by parchment paper.
Freeze: Fudge can keep well in the freezer for 6 months. Keep it in an airtight container with the pieces wrapped.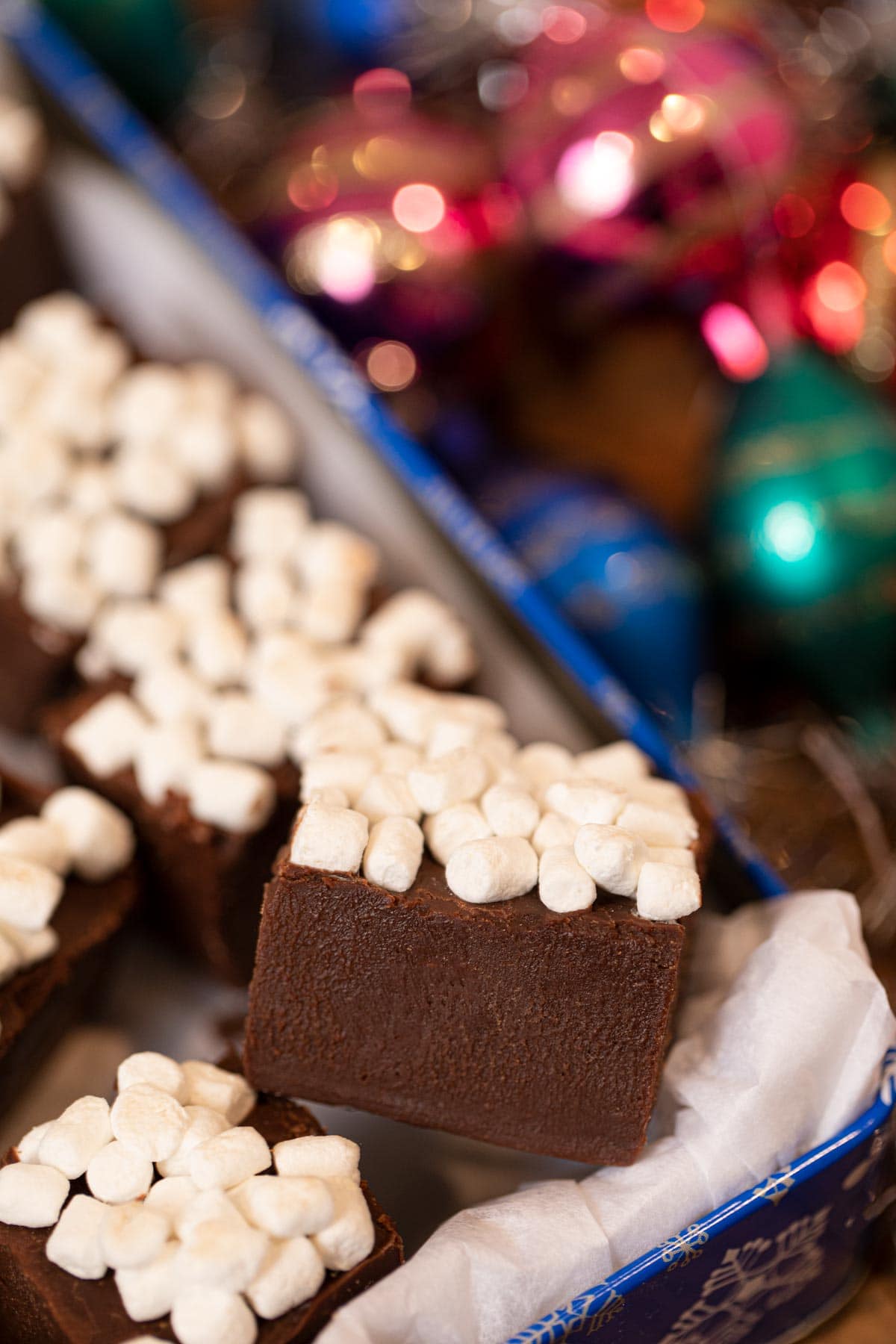 Instructions
Line an 8x8 pan with foil and spray with vegetable oil spray.

Add semi-sweet chocolate chips, hot chocolate mix and sweetened condensed milk to a large saucepan on low heat.

Stir until chocolate is melted.

Once chocolate mixture is smooth, turn off heat and add in vanilla extract.

Add fudge to baking pan and spread evenly.

Top with cereal marshmallows and press in gently.

Refrigerate for

4 hours

before slicing.
Nutrition
Calories:
173
kcal
|
Carbohydrates:
21
g
|
Protein:
2
g
|
Fat:
9
g
|
Saturated Fat:
5
g
|
Cholesterol:
7
mg
|
Sodium:
25
mg
|
Potassium:
168
mg
|
Fiber:
2
g
|
Sugar:
17
g
|
Vitamin A:
54
IU
|
Vitamin C:
1
mg
|
Calcium:
59
mg
|
Iron:
1
mg