Barley is an easy and healthy grain with a mild nutty flavor and chewy texture. It's perfect for soups, salads, or as a side to replace rice.
Just like Brown Rice, Wild Rice, or Quinoa, barley is a filling grain that you can use as a Side Dish to round out a lot of your favorite meals. You might be less familiar with barley than with rice, but it's just as easy to make with a few easy-to-follow directions!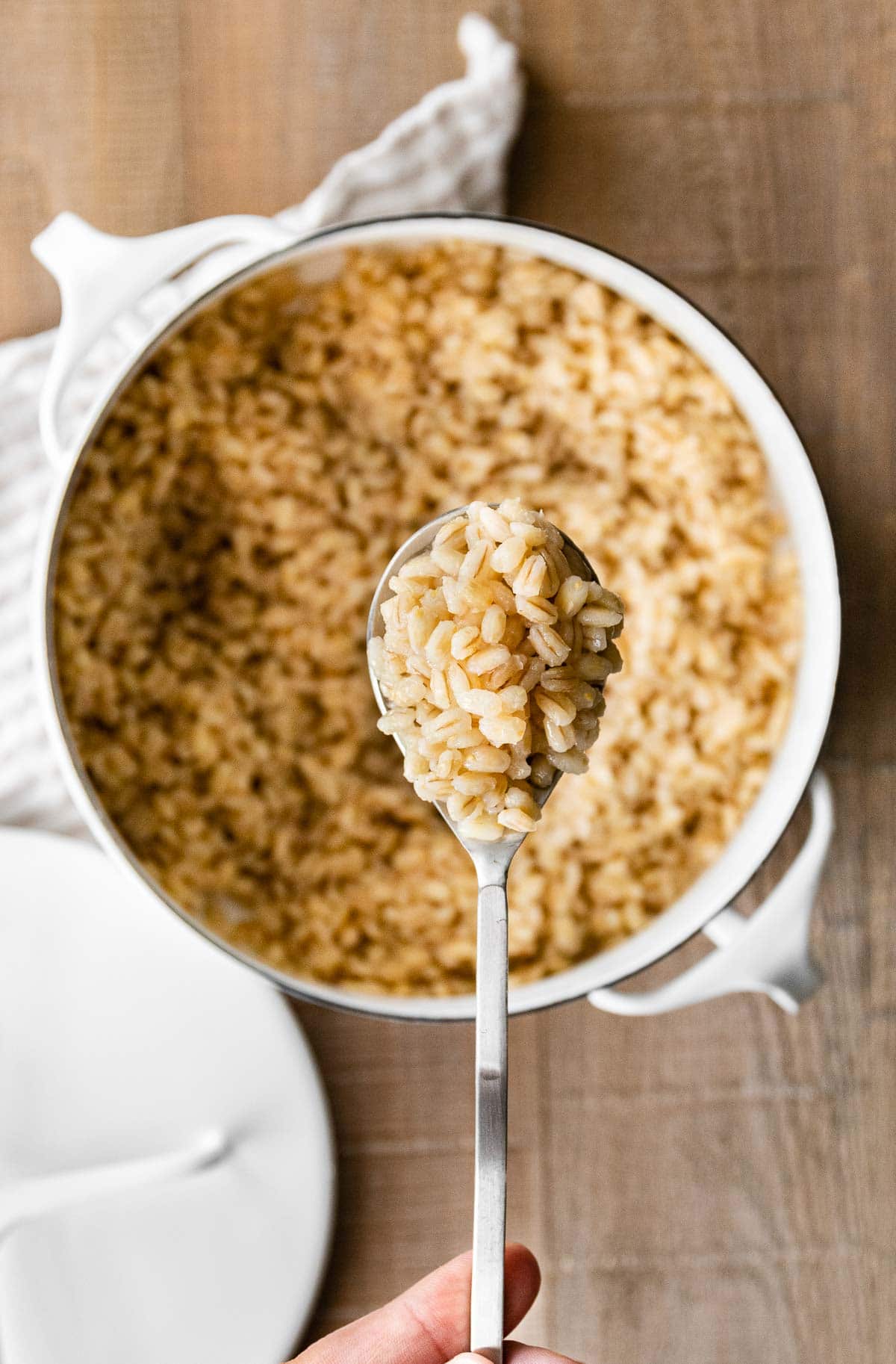 Cooked Barley is a great recipe to have up your sleeve. The nutrient-dense grain is a filling and healthy addition to any meal. The mild flavor and tender texture also make it similar to white rice or brown rice, so it goes great with a variety of different flavors.
You can find uncooked barley at most grocery stores near the rice and beans. You can buy a load of barley all at once because it stores so well, then it's ready the next time you want an easy chewy dish to go along with Weeknight Dinners. Barley is also a budget-friendly recipe.
To make the perfect barley, all you have to do is bring 2 ½ cups chicken broth and a pinch of salt to a boil in a medium saucepan. If you don't have broth, 2 ½ cups of water will also work. The chicken broth just adds a nice savory taste to the barley's naturally earthy flavor. Once the cooking liquid is boiling, add in the barley, and cover the pot.
Leave the barley to simmer for 12 minutes. Don't take the lid off for the duration of the cooking time. Then turn off the heat, but continue to leave the pot covered for another 5 minutes while the barley finishes absorbing the liquid for the perfect texture. To finish, take the lid off, stir the fluffy barley, and serve.
Keep in mind that the barley will double in size while cooking so it will yield more than it looks like. However, if you have a big family or are serving a lot of people, you can always double up the recipe. Just keep the ratio of broth (or water) to uncooked barley the same.
Types of Barley
Barley varies between a few different types. The most common that you'll find are hulled barley and pearl barley. The difference between the type of barley is how much processing it's gone through. Hulled barley is minimally processed to remove only the toughest outer layer or hull, but some of the bran layer remains to keep most of the fiber in barley. Pearled barley on the other hand has had most of the outer layers removed including the bran.
For this quick recipe, we've used quick pearl barley. Quick barley is partially cooked and then dried out again. This makes it so that you can prepare the dry barley in just a few minutes.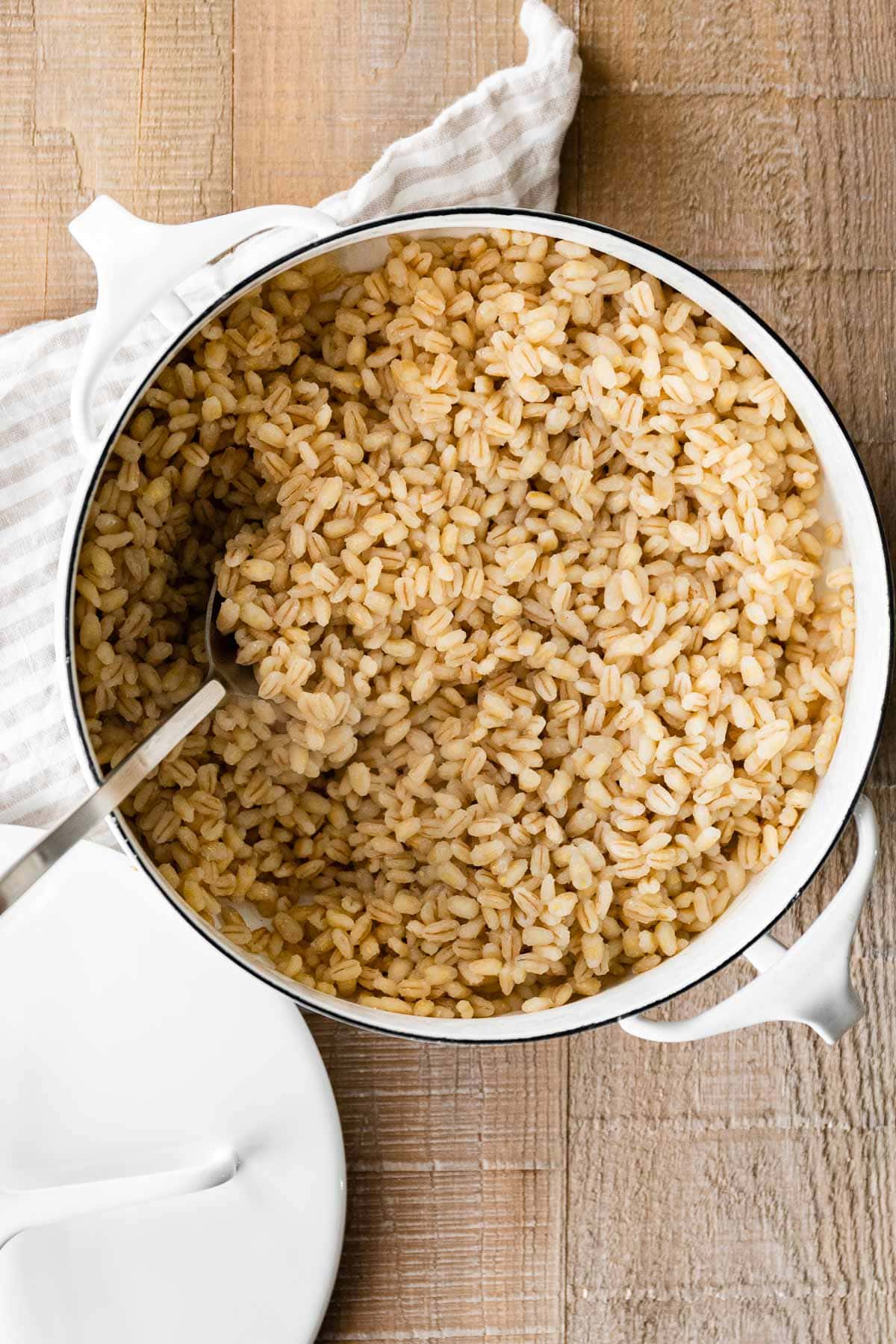 DISHES TO SERVE WITH BARLEY
WAYS TO SERVE BARLEY
The great thing about making a batch of barley is that you can use it with a variety of recipes. Not only is Cooked Barley a delicious side dish to go with chicken, pork, and beef main dishes, but you can also add barley to soups and salads.
Once you've cooked the barley, you can simply add it to your soup pot to cook along with the other ingredients. This is an easy way to make a simple soup more filling. You can also replace the rice in our Chicken and Rice Soup or Vegetable and Rice Soup to make Chicken and Barley and Vegetable Barley Soup.
Leftover barley is easy to toss into a salad for a filling lunch. Serve the barley as the base then add your favorite veggies like chopped tomatoes, bell peppers, mushrooms, cucumber, or green onion. Add in your favorite salad toppings like goat cheese, walnuts, and a bit of lemon zest. Toss it all in your favorite dressing to finish, and enjoy.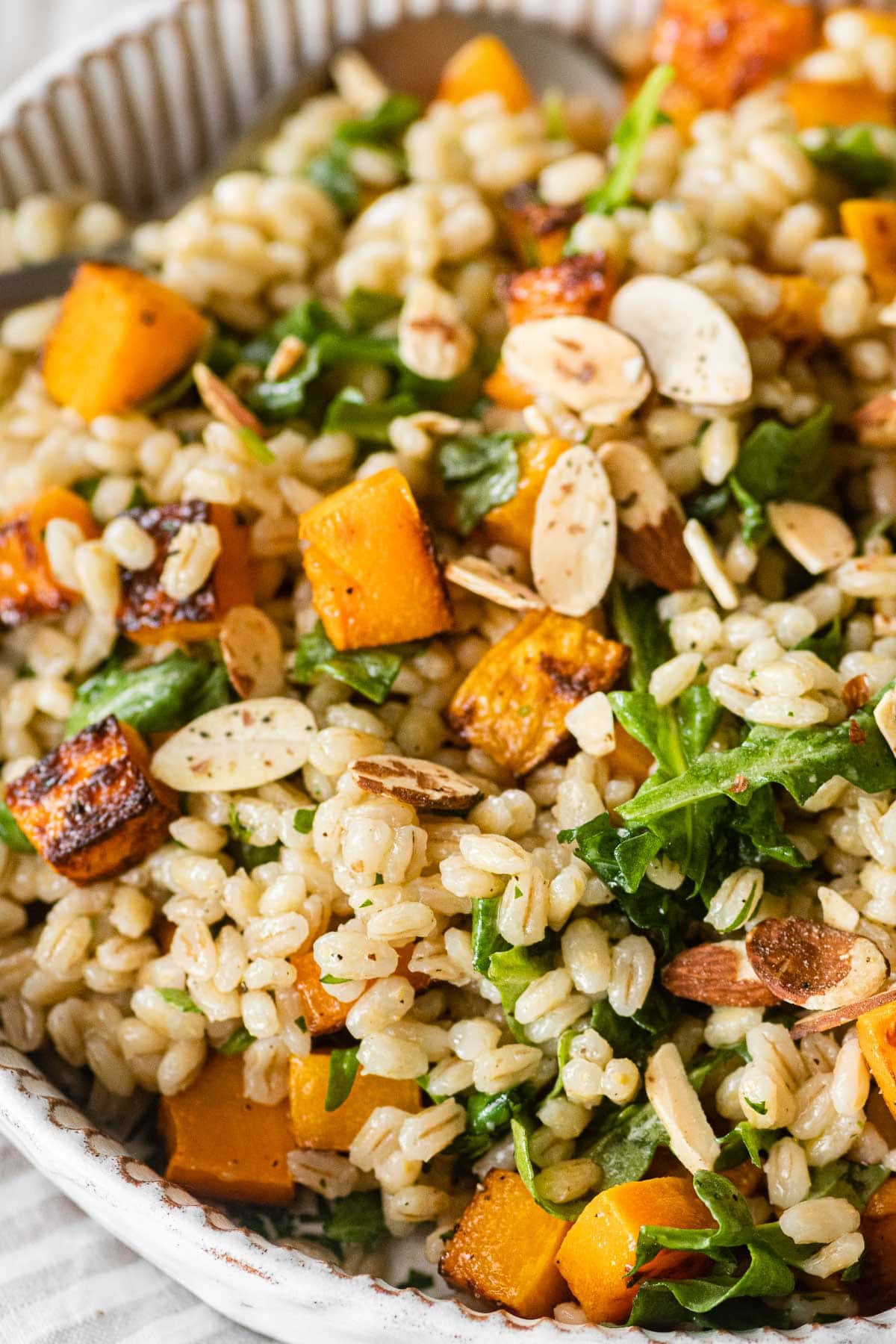 Create a free account to

Save Recipes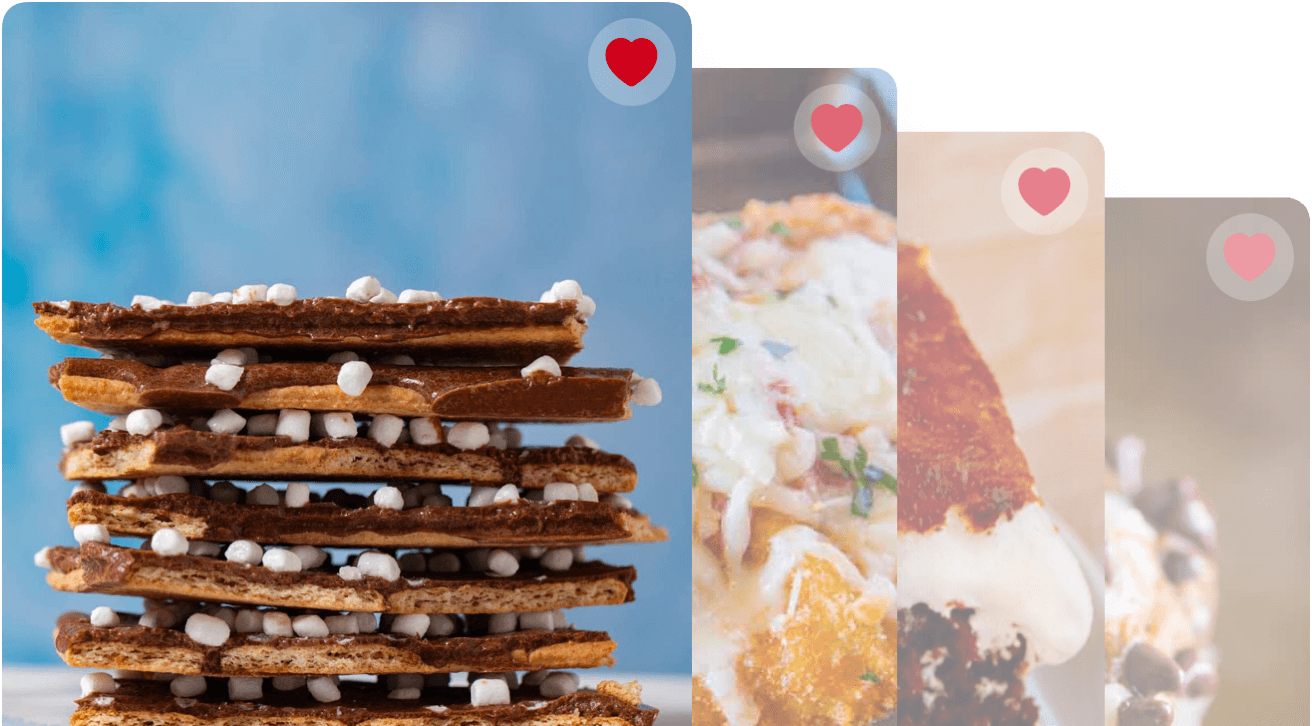 VARIATIONS ON HOMEMADE BARLEY
Seasonings: We've kept this version of Cooked Barley very basic, just adding a pinch of salt for flavor. It's a simple base that goes great with a variety of meals. However, you can easily add spices and herbs to the barley for some extra flavor. Try mixing in some paprika, cumin, coriander, red pepper flakes, oregano, parsley, or basil. If you're preparing the barley as a side, try adding some of the same spices from your main dish to create a cohesive taste for the whole dinner. Barley's neutral flavor makes it perfect to pair with any of your favorite seasonings.
Cooking Liquid: Although you can easily cook barley grains using hot water, we've used chicken broth to add some extra flavor to the barley. You could try substituting the chicken broth with your broth of choice like turkey, beef, or vegetable broth.
MORE EASY GRAIN SIDE DISH RECIPES
HOW TO STORE COOKED BARLEY
Serve: After cooking, don't leave Cooked Barley at room temperature for more than 2 hours.
Store: Let Barley cool then transfer it to an airtight container to store in the fridge. It will keep well in the refrigerator for 3-5 days.
Freeze: Carefully sealed, Cooked Barley can also stay good in the freezer for up to 1 month.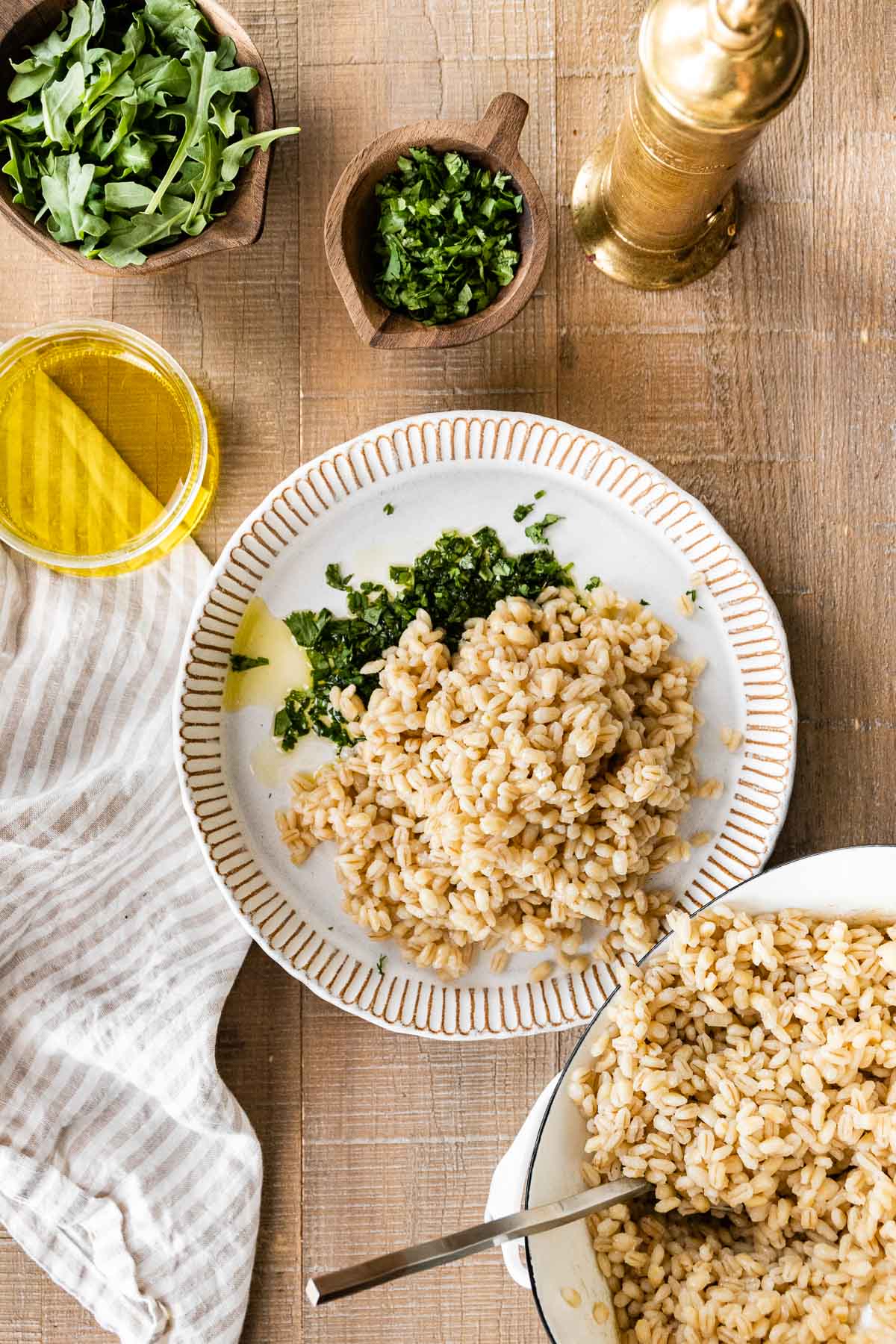 Ingredients
2 1/2

cups

chicken broth

, or water

1/4

teaspoon

Kosher salt

1

cup

quick-cooking barley
Instructions
In a medium saucepan bring chicken broth and salt to a boil.

Stir in the barley, reduce heat, and cover.

Simmer for

12 minutes

, do not open the lid.

Turn off heat, leaving covered for

5 minutes

.

Stir gently and serve.
Nutrition
Calories:
183
kcal
|
Carbohydrates:
39
g
|
Protein:
6
g
|
Fat:
1
g
|
Saturated Fat:
1
g
|
Sodium:
687
mg
|
Potassium:
258
mg
|
Fiber:
8
g
|
Sugar:
1
g
|
Vitamin A:
14
IU
|
Vitamin C:
10
mg
|
Calcium:
23
mg
|
Iron:
2
mg