Low Country Boil is a classic Southern dish with seasoned potatoes, kielbasa, corn, crab, and fresh shrimp served with garlic dipping sauce.
This Dinner Recipe is quite similar to our Classic Shrimp Boil, but with the addition of crab meat, flavorful Old Bay seasoning, and a buttery garlic sauce.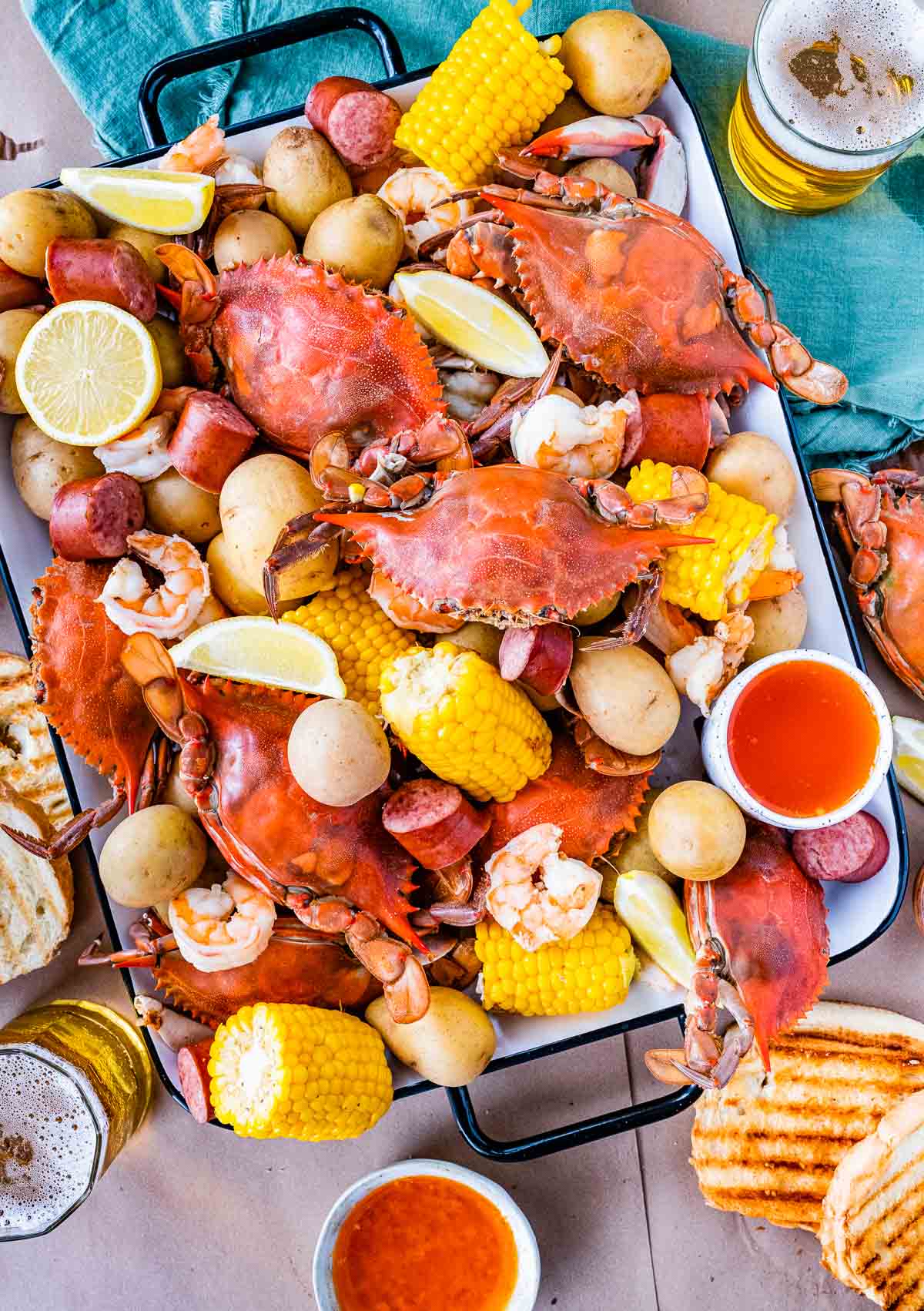 Although you can serve this Crab and Shrimp Boil recipe up on plates the same way you would a normal dinner, it's more fun to have a traditional Country Boil Dinner Party. Let the fun times roll by pouring this one-pot meal full of seafood flavor on a picnic table with craft paper. No need for dishes, just some paper bags, plastic forks, and paper towels for the easiest party clean up!
Besides the delicious seafood, the best part of a seafood boil is that you only need one pot to cook an entire meal. If you aren't from the south, this might be your first time seeing seafood made this way. But once you've tried it, you may never cook seafood any other way again.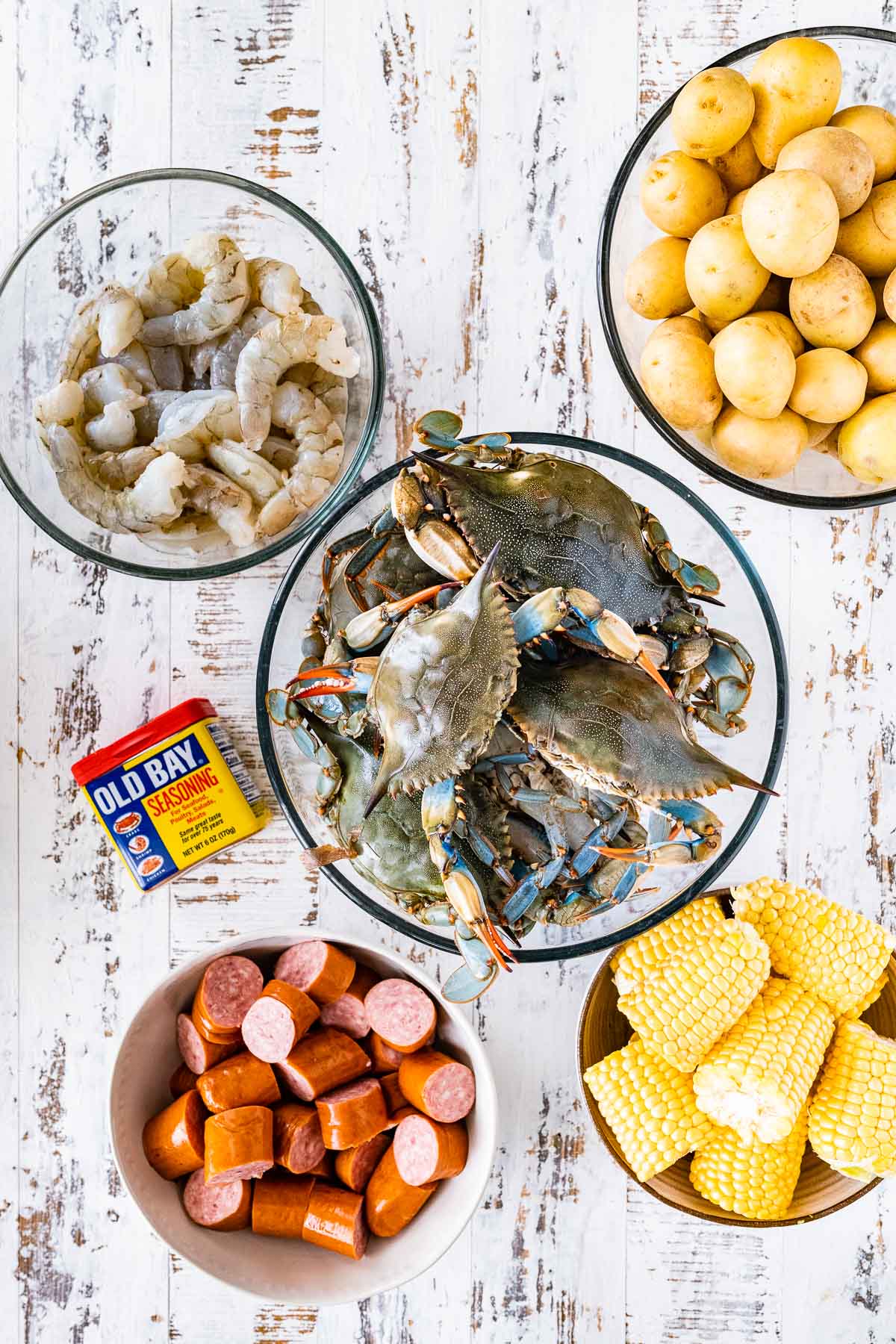 A Low Country Boil starts with potatoes, sausage and corn, then adds whole blue crabs and most importantly – fresh shrimp! It's the perfect dish for large groups, especially for outdoor parties. Once it's done cooking, you just strain everything before pouring it directly on a table to serve. Drizzle the garlic butter on top, or serve it in dipping cups, and then let your friends and family dig into your buttery and savory seafood feast.
The most simple and classic way to serve Seafood Boil is with cold beer and crusty bread. The refreshing drink tastes especially amazing with the smoky sausage and slightly spicy seafood. Toasted French Bread or slices of Garlic Bread taste great. Don't forget some lemon wedges to go with all that low country seafood flavor.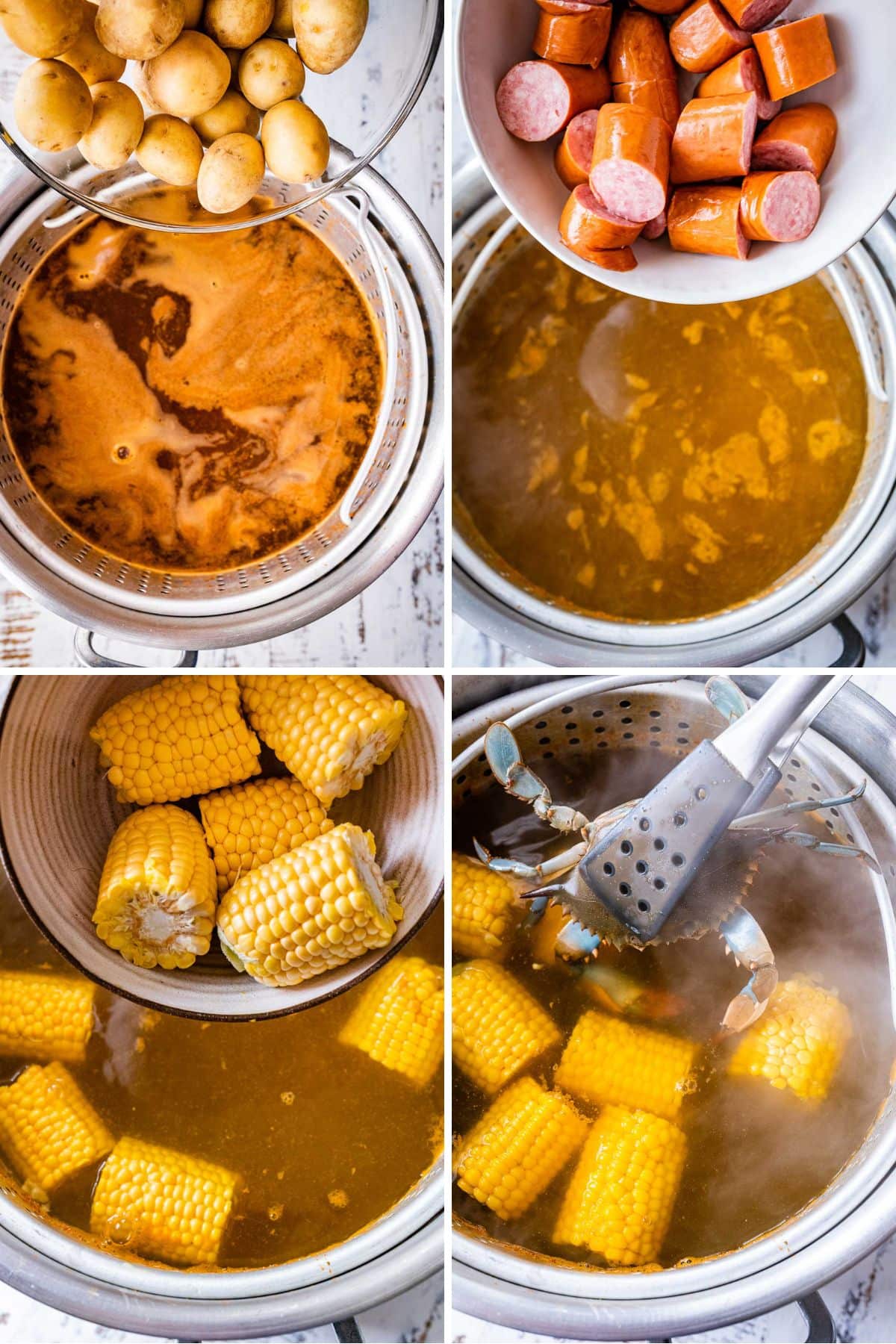 What is a Low Country Boil?
When it comes to classic Southern Low-Country Food, it doesn't get more traditional than a South Carolina Lowcountry Boil. This tasty, hearty seafood boil, also known as Frogmore Stew, is filled with fresh seafood, tender potatoes, smoky sausage, and sweet corn. Everything is simmered in spices found in Low Country cuisine, which are more mild than the spicy cajun seasoning in a Louisiana Boil. It's served family style, usually spread out on a paper-lined table, with some melted butter and warm bread.
What is the difference between Low Country Boil and Seafood Boil?
A Lowcountry Boil is technically a seafood boil, however "Seafood Boil" most commonly refers to a Louisiana Seafood Boil and there are slight differences. Low Country Boil always includes fresh shrimp, preferably from low coast regions like South Carolina and Florida. Louisiana Seafood Boil usually has crawfish, but can be any blend of gulf coast seafood like crab legs and shrimp. A Louisiana Boil is made with Creole or Cajun seasonings so they are usually much spicier.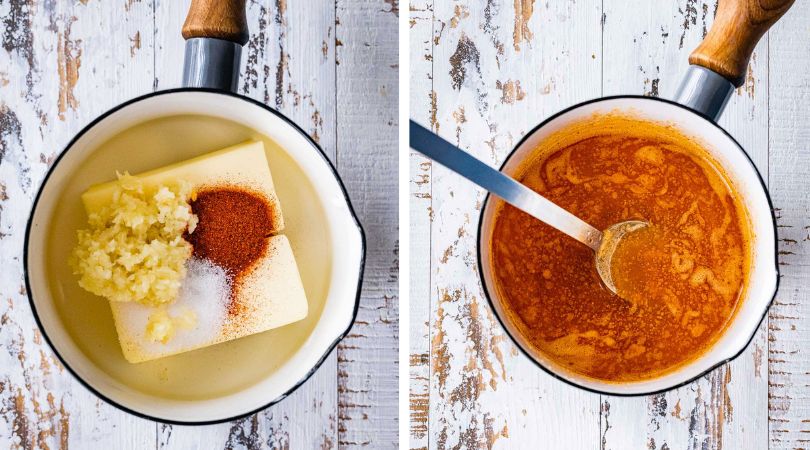 How to Make Low Country Boil
Prep: Prepare the boil ingredients by slicing the kielbasa, cutting the corn into thirds, cleaning and peeling the shrimp, and optionally you can break the crab into pieces.
Butter: Add butter, garlic, salt, and paprika to a small saucepan over low heat. Let it melt slowly. Stir the melted butter well, and cook for another 30 seconds before turning the heat off. Set the sauce to the side until you're ready to serve.
Broth: Fill a large stock pot, with the steamer basket if you have one, with 8 cups of water and stir in the Old Bay Seasoning. Bring the cooking liquid to a boil, then add the potatoes and cook for 10 minutes.
Boil: Add the sausage pieces, corn cobs, and whole crab and cook for another 5 minutes. Add the shrimp and cook for 3 minutes. Strain the cooking liquid out of the stockpot. If you are using a steamer basket, just remove it and let all the liquid drain.
Serve: Pour the Low Country Boil onto an outdoor table covered with craft paper or onto a large platter. Serve the butter on the side or drizzle over everything. Serve with cold beer and toasted bread.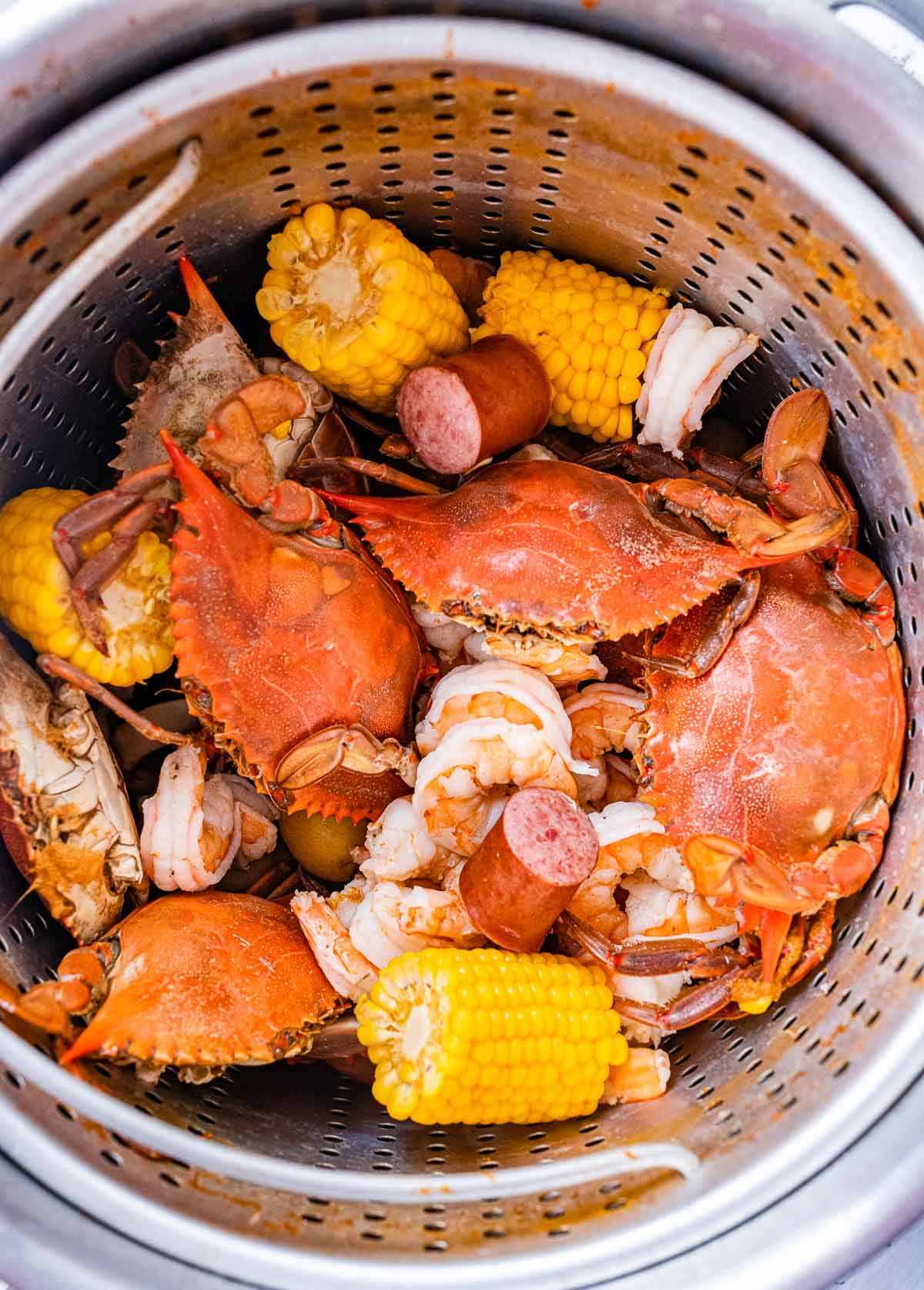 FAQs for Low Country Boil
Where does Low Country Boil come from?
While there are many versions of seafood boils, the Lowcountry Boil is from the South Carolina coast. It's often attributed to Frogmore, a small fishing community, but it is said to have actually originated from St. Helena's Island, South Carolina.
Why is it called Low Country Boil?
This South Carolina seafood boil is called Low Country Boil because it originates from the low coastal areas of the state. It also always includes shrimp which is a main product of the low country region, which separates it from other seafood boils.
What goes with Low Country Boil?
A Lowcountry Boil is a one-pot meal and all-in-one dinner so some warm bread and a cold beverage are the only sides you need. Of course you want garlic butter and plenty of lemon wedges for folks to season their seafood. Cornbread muffins or toasted dinner rolls are quick and simple bread sides to help soak up all those tasty flavors. 

Create a free account to

Save Recipes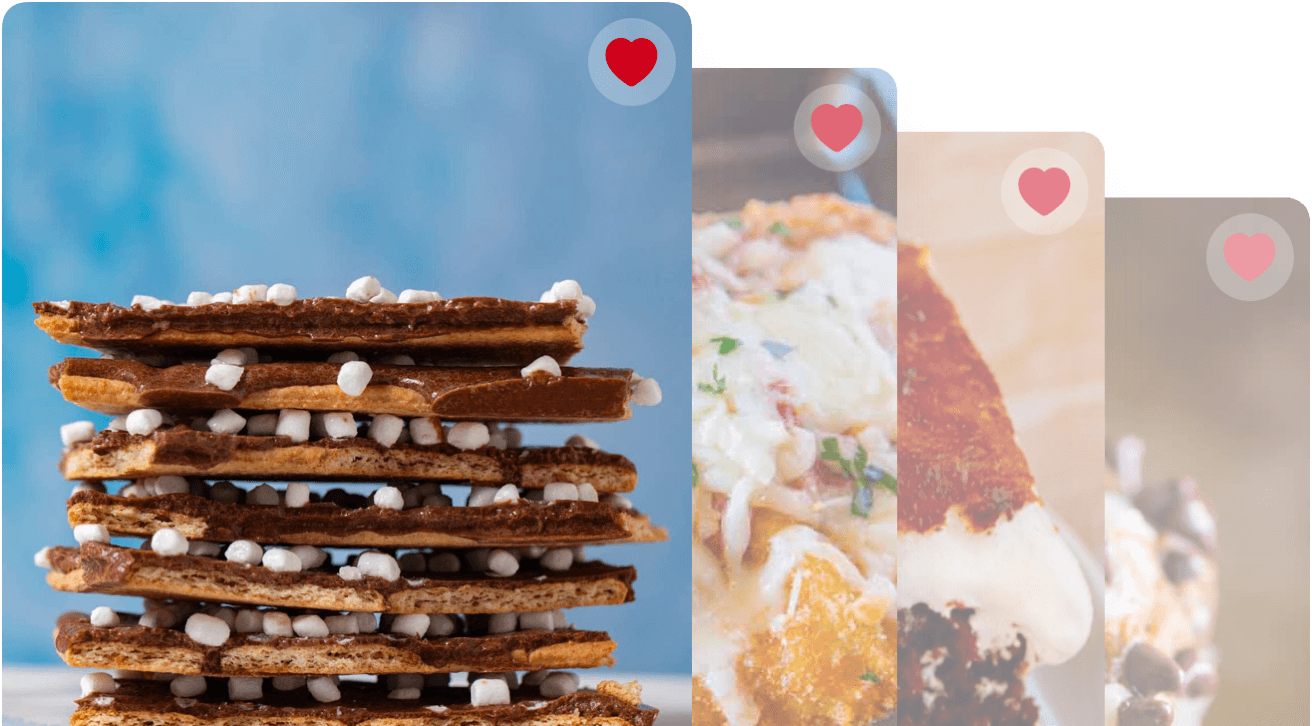 Key Ingredients
Garlic Butter: An easy garlic butter sauce made with minced garlic, butter, paprika, and kosher salt is the perfect dipping sauce for seafood. Cook it first so the flavors have time to develop while it rests.
Old Bay Seasoning: This is a classic flavor addition for Southern cooking, especially if you're making seafood. The blend is made with flavorful spices like paprika, white pepper, mustard, red pepper flakes, and allspice to add a complex and slightly hot flavor to the seafood boil.
Corn: Cut the fresh corn cobs into 3 pieces. This makes the corn more manageable, but the corn pieces are still large enough to eat off the cob.
Seafood: For a true Low Country Boil, you need to have fresh shrimp but if you can use frozen and thawed shrimp if needed. The whole blue crabs make a fun presentation but you can also chop them into pieces first to make them easier to eat.
Sausage: Spiced, smoky kielbasa sausage adds a lot of savory flavors and a change in texture from the tender potatoes and seafood.
Potatoes: Baby new potatoes are small with a thin, delicate skin that makes them perfect for boiling. They get delicious soft inside while still holding their shape.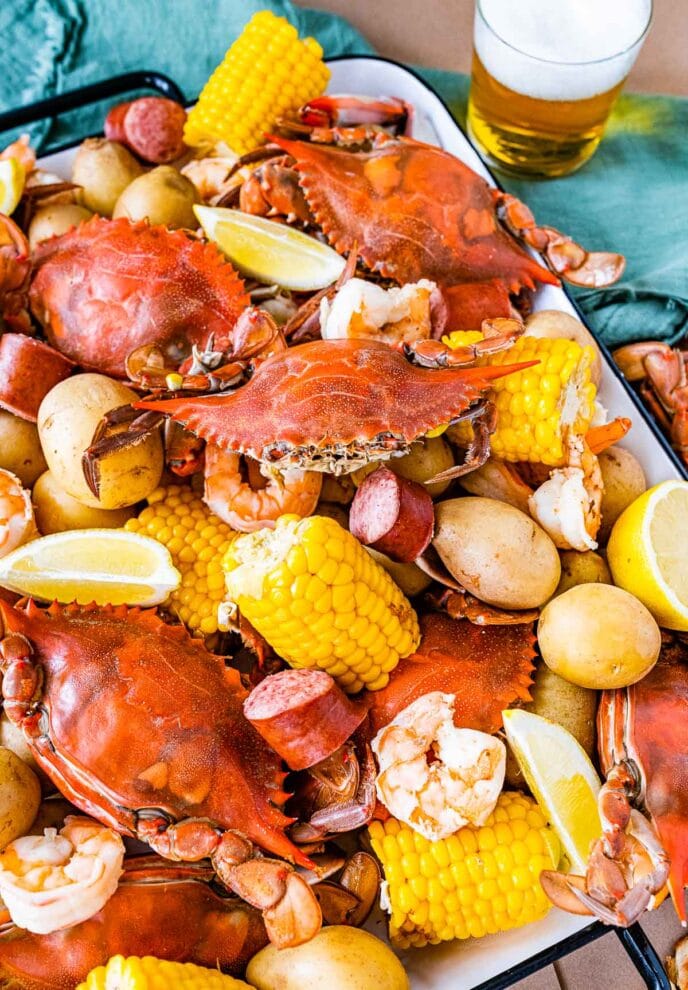 Can you make Low Country Boil ahead of time?
While you can do all the prep work the day beforehand, Low Country Boil and other seafood boils taste best when they are freshly made. The seafood can get tough and rubbery when reheating it. However, you can par-boil the potatoes the night before then you can add them to the boiling broth for a couple minutes before making the rest of the recipe as usual. You can also peel and clean the shrimp the night before, just store it in cold water so it stays fresh and firm.
Variations
Lemon: Give this seafood boil a delicious fresh lemon flavor that goes perfectly with the shellfish. Slice lemons into thick slices and add to the cooking liquid with the Old Bay seasoning. After boiling, remove the cooked lemon slices. Serve the dish with fresh lemon wedges to add more lemon juice as an optional garnish.
Sausage: If you don't have kielbasa, you can use other kinds of sausages like andouille sausage, chorizo, or German smoked sausage.
Vegetables: You can add different kinds of veggies like green beans, onions, cauliflower, carrots, or peppers to go with the corn and potatoes already in the recipe.
Seafood: Swap out the whole crabs with crab legs and claws. Use some lobster tails and claws instead for a fancier dinner. You can also add some mussels, clams, crawfish or scallops too!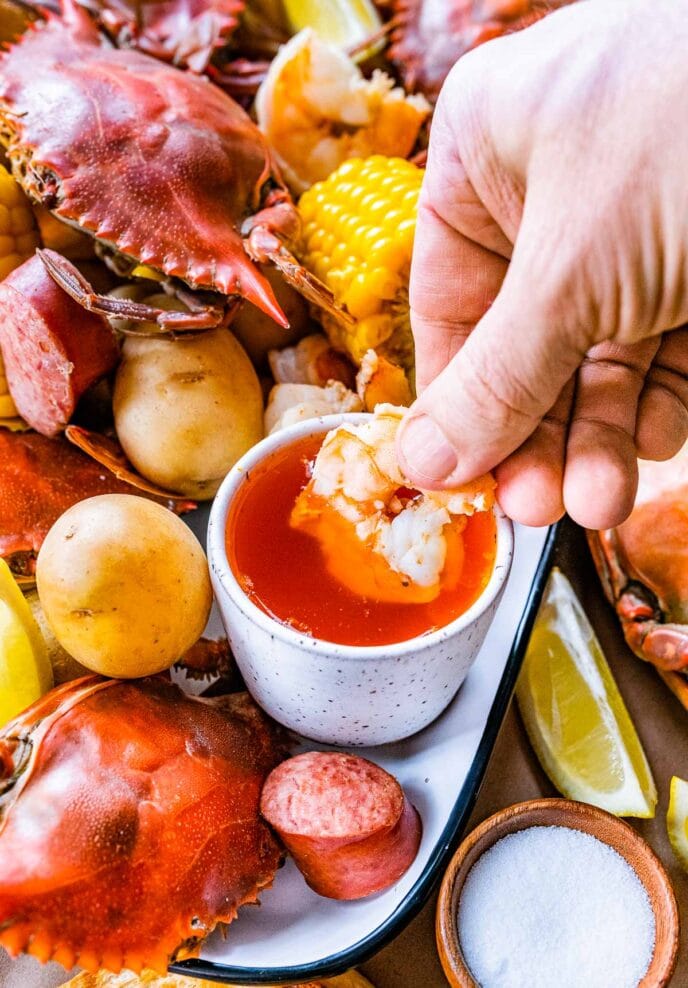 More Classic Seafood Dishes
How to Store
Serve: This Low Country Boil tastes best served fresh, and you shouldn't leave the recipe out for more than 2 hours.
Store: However, if you have leftovers, you can cover the dish tightly with a piece of foil and keep the recipe in the fridge for 3-4 days.
Freeze: You can freeze the boiled seafood; however, the cooked corn and potatoes won't keep their texture as well. If you'd like to keep the meat for later, I'd recommend separating it from the other boil ingredients and keeping it frozen for up to 3 months.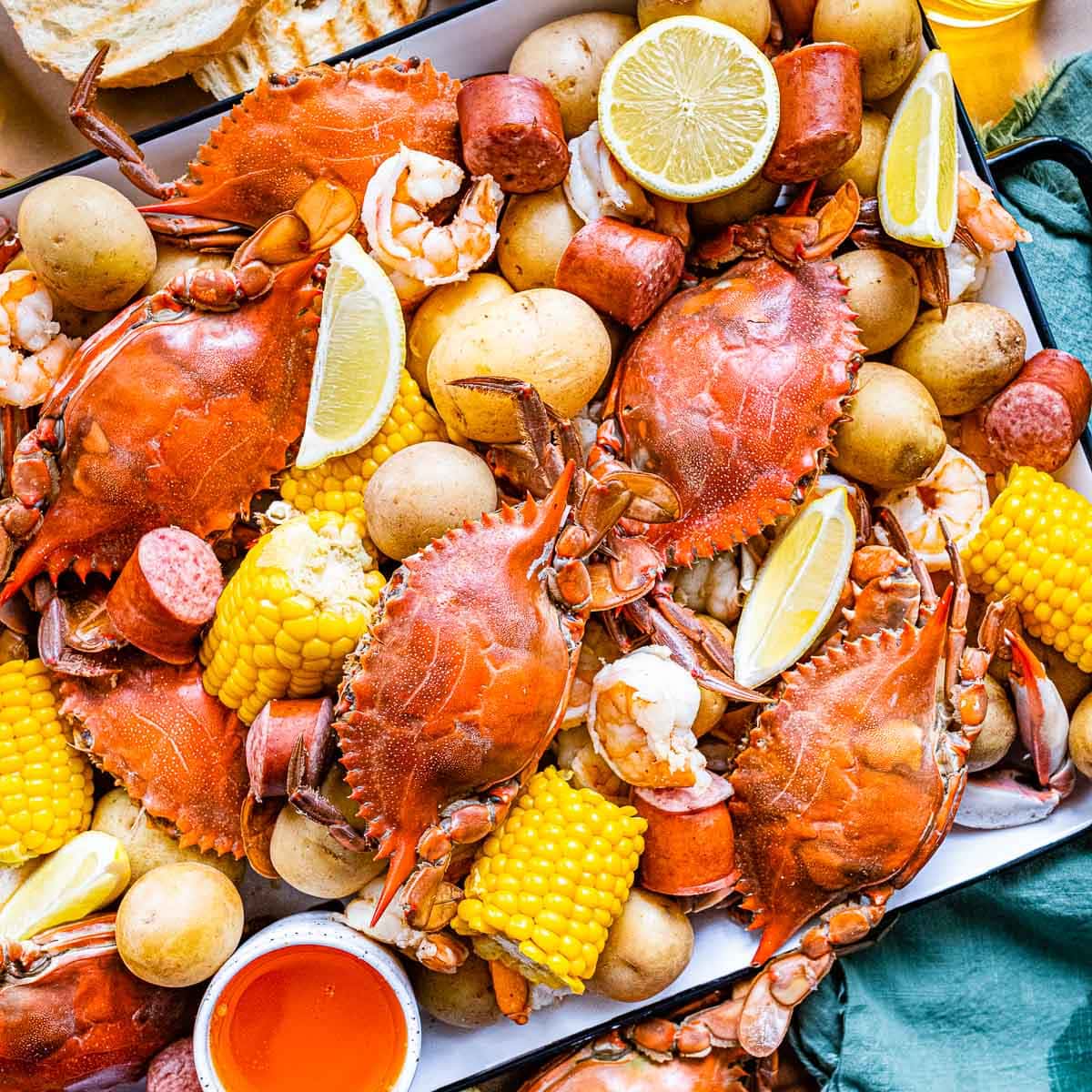 Ingredients
Garlic Butter Dipping Sauce:
1

cup

unsalted butter

2

cloves

garlic

, minced

1/2

teaspoon

kosher salt

1/2

teaspoon

paprika
Country Boil:
2

tablespoons

Old Bay Seasoning

5

pounds

baby new potatoes

32

ounces

cooked kielbasa sausage

, sliced in 1" pieces

4

ears yellow corn

, cut into thirds

5

pounds

whole crab

,broken into pieces

4

pounds

fresh shrimp

,peeled and deveined (13-15 count)

8

cups

water
Instructions
Garlic Butter Dipping Sauce:
Add the butter, garlic, salt and paprika to a small saucepan on low heat.

Let this melt slowly while you cook the boil.

Once melted, stir well, cook an additional 30 seconds, then turn off the heat.
Country Boil:
To a very large stockpot on medium high heat add the Old Bay Seasoning and 8 cups of water and bring to a boil. Use a steamer basket insert if you have one for your pot.

Add in the potatoes, and cook for

10 minutes.

Add in sausage, corn and crab and cook for

5 minutes.

Add in shrimp, cook for

3 minutes.

Strain out the cooking liquid very well. It's easiest to just lift out the steamer basket and let it drain.

Pour the contents onto an outdoor table covered with craft paper, paper grocery bags (inside side up) or newspaper (not preferred).

Serve with beer, french bread slices and keep trash plates or bags around the table for discarded pieces of shell or corn cobs.

When eating, drizzle with the melted garlic butter or use in a small cup as a dipping sauce.
Nutrition
Calories:
829
kcal
|
Carbohydrates:
42
g
|
Protein:
77
g
|
Fat:
39
g
|
Saturated Fat:
17
g
|
Polyunsaturated Fat:
4
g
|
Monounsaturated Fat:
14
g
|
Trans Fat:
1
g
|
Cholesterol:
449
mg
|
Sodium:
1502
mg
|
Potassium:
2101
mg
|
Fiber:
5
g
|
Sugar:
3
g
|
Vitamin A:
761
IU
|
Vitamin C:
46
mg
|
Calcium:
229
mg
|
Iron:
4
mg