Mint Chocolate Cheesecake is a refreshing sweet treat with an Oreo crust, creamy, green mint filling, and a rich chocolate ganache topping.
Cheesecakes have to be one of the best Dessert Recipes ever. The creamy, sweet, tangy cream cheese filling is so easy to add new flavors and mix-ins to. For this version, we've changed up Classic Cheesecake by adding mint extract, a chocolate cookie crust, and a mint chocolate topping.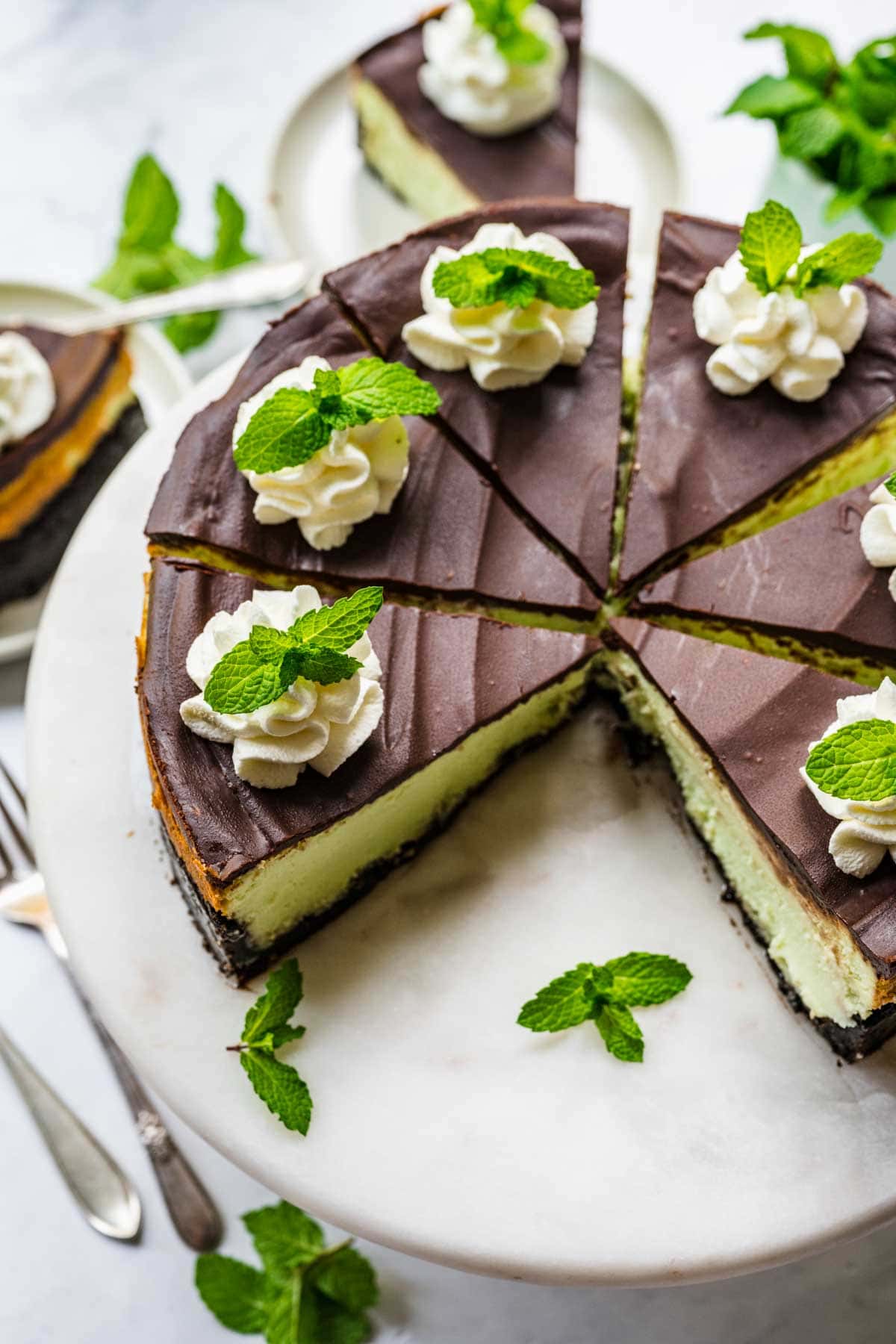 Mint and chocolate are one of those dessert combos that just seem like they were made to be together. Whether it's in Thin Mints, Mint Chocolate Chip Cookies, or this amazingly decadent Cheesecake, they're always incredible! The mint gives the rich chocolate a fresh, wintery taste that's both sweet and cooling.
If you're a mint chocolate lover, then you're sure to adore this Chocolate Mint Cheesecake recipe. But the mint flavor isn't overwhelming, instead it's the perfect amount of freshness to balance out the rich creamy cheese filling and sweet dark chocolate topping. Even people who aren't usually the biggest fans of mint will love this beautiful cheesecake. You can also feel free to experiment with the amount of mint extract you add until you have the perfect amount for your taste. Just keep in mind that a little goes a long way with mint, so increase the flavor slowly.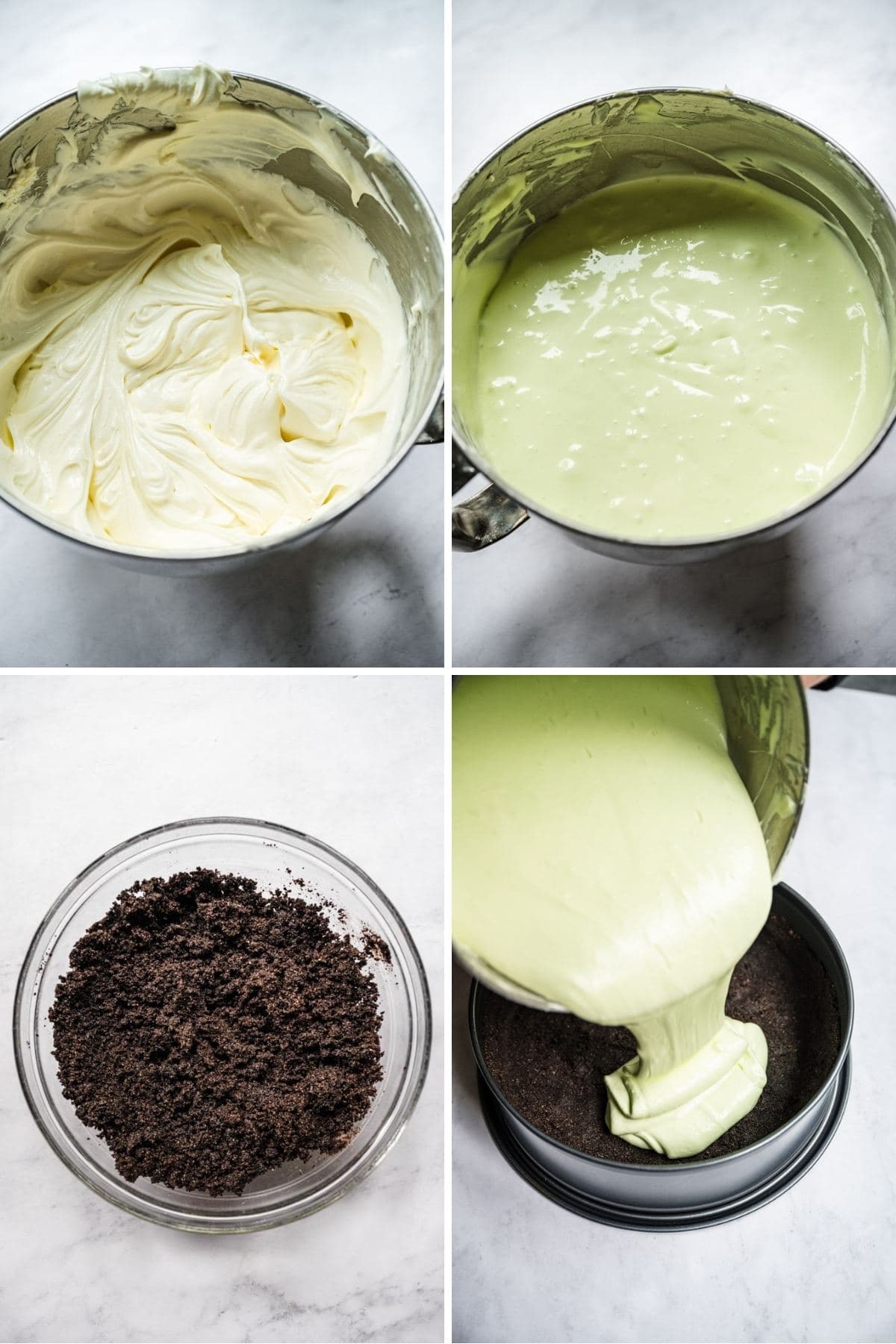 Mint Chocolate dessert recipes like this one are also perfect to serve for St. Patrick's Day! The green color makes it perfectly festive and you can add fun green sprinkles to the ganache before it sets to make it extra special. Prep this cheesecake the night before the holiday then take it out for the ultimate St. Patrick's Day party dessert.
How to Make Mint Chocolate Cheesecake
Chocolate cookie crust: Put the Oreo cookies in a food processor, and pulse until they're broken into coarse crumbs. Add the cookie crumbs to a mixing bowl with the sugar and melted butter. Mix the crust ingredients until the chocolate crumbs are moist. Press the Oreo crust into the prepared pan. Make sure it covers the bottom and goes about an inch up the sides.
Cheesecake mixture: Use room temperature cream cheese so it blends more easily with the creamy ingredients. Beat the cream cheese and sugar into a soft texture. Add the milk and mix at medium speed until combined. Add the sour cream, mint extract, green food color, and flour next. Mix until they blend into the cream cheese mixture. Pour the filling into the crust and use an offset spatula to spread it evenly.
Baking time: Place the pan in the water bath, then put it in the preheated oven. Bake cheesecake for 1 hour. Open the oven door, turn off the heat and let the cake cool for another hour. Carefully take the dish out of the oven and remove the foil. Put the cake in the fridge overnight to set.
Ganache: Add chocolate chips, heavy cream, and mint extract to a microwavable bowl. Microwave in 30-second increments until melted and smooth. Spoon the chocolate mixture over the cool cheesecake, and spread it evenly. Let the chocolate ganache topping set before serving cake slices.
More Decadent Cheesecake Recipes
FAQs for Mint Chocolate Cheesecake
What if I don't have a food processor?
If you don't have a food processor, you can crush your cookie crumbs the old fashioned way! Crush the cookies and put them in a heavy duty plastic storage bag. Then use a rolling pin or meat mallet to pound into crumbs. You could also put them in a large bowl and use a hand mixer on low speed, just make sure it's deep enough the crumbs don't fly out!
Can I use fresh mint instead of mint extract in the cheesecake filling?
Yes, you can use fresh mint in place of mint extract in the cheesecake filling. To do this, you will need to finely chop about ½ cup of fresh mint leaves.The finer the chop the better, then use a spoon to mush them to make a paste to release flavor before adding to the cheesecake batter. If you have a mortar and pestle it's great for extracting flavor.
Should you beat eggs before adding to cheesecake?
Yes, it is generally recommended to beat the eggs before adding them to the cheesecake batter. Beating the eggs helps to incorporate air into the eggs, which can help to give your cheesecake a lighter, fluffier texture.

Create a free account to

Save Recipes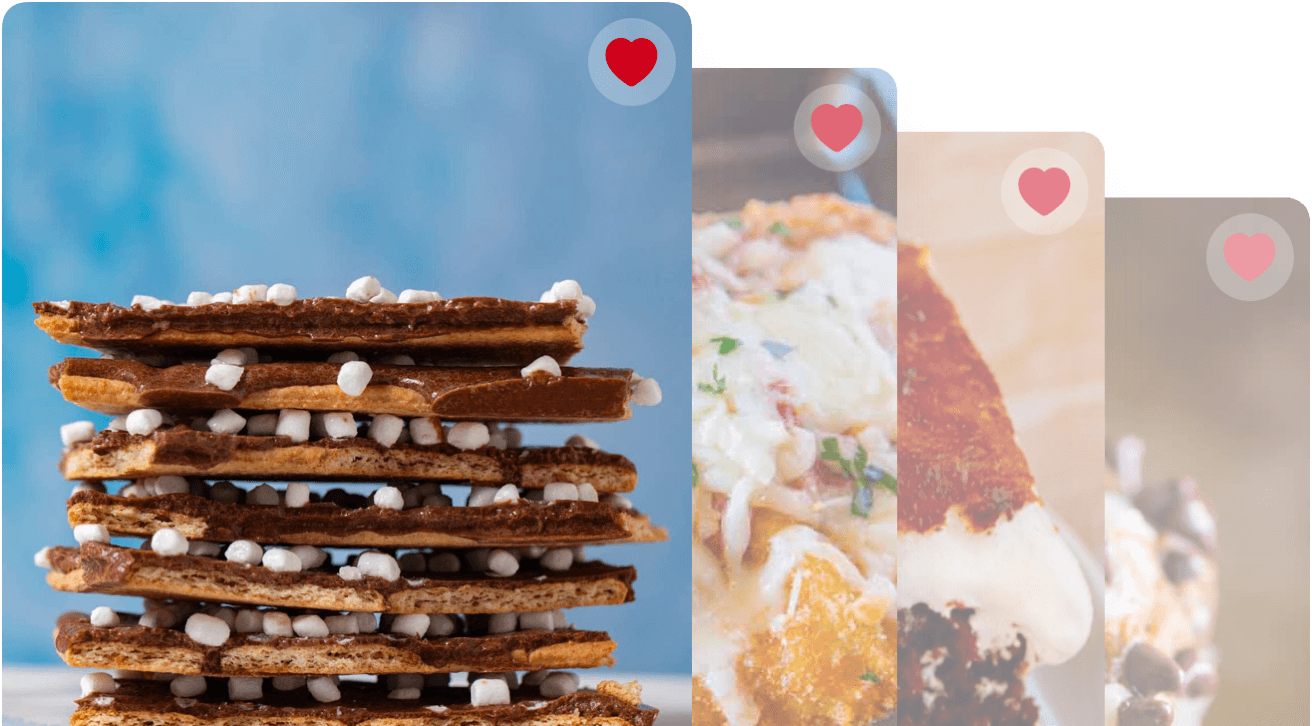 Key Ingredients
Cream cheese: This is the main ingredient in the cheesecake filling and gives the cheesecake its rich, creamy texture. Make sure your cream cheese is softened to room temperature so it is easy to mix and gets fluffy.
Eggs: These help to give the cheesecake its structure and hold everything together. Beat the eggs first to add air and keep your cake from sinking.
Sour cream: A true New York style cheesecake must have sour cream in it! It adds a delicious tangy flavor to balance the sweetness and it makes the filling extra smooth and creamy.
Mint extract: Mint extract is what gives this cake it's cool minty flavor that pairs so well with rich cream and chocolate flavors. Use peppermint extract or regular mint, but do not use spearmint it is very overpowering.
Flour: Flour is sometimes added to cheesecake recipes as a thickening agent to help give the cheesecake a firmer, more sliceable texture. It can also help to prevent the cheesecake from cracking on the top as it bakes.
Crust: For the Oreo Cookie Crust all you need are the cookie crumbs, sugar, and butter. The butter helps bond the other two ingredients together and form into a sturdy base for the cheesecake.
Ganache: Chocolate Ganache is typically just made with melted chocolate and heavy cream. But for this recipe, we've also added mint extract for a bit more of the fresh cool flavor.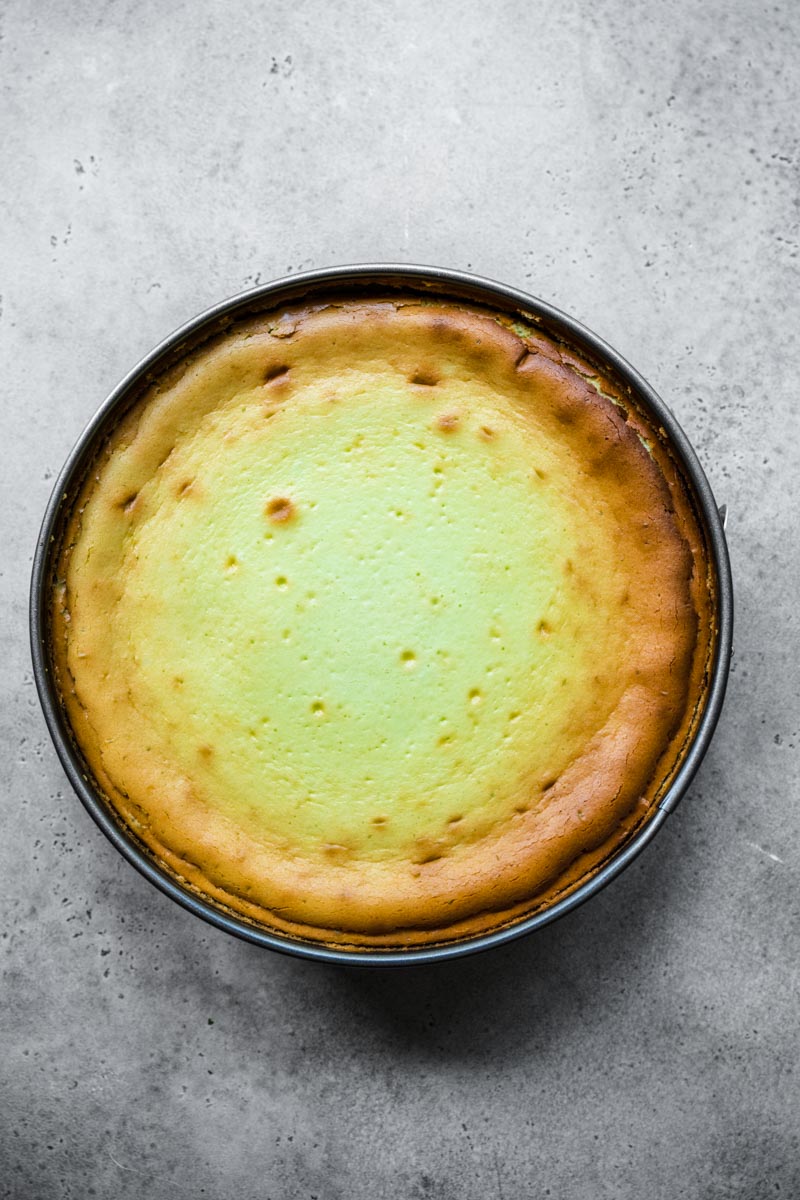 Can I make Mint Chocolate Cheesecake ahead?
Yes, this Mint Chocolate Cheesecake can be made ahead of time. In fact, it's a great make-ahead dessert because it needs to be refrigerated for at least 4 hours or overnight to set properly. To make the cheesecake ahead of time, follow the recipe instructions and bake the cheesecake as directed. Once it has cooled completely, wrap the cheesecake tightly in plastic wrap and then aluminum foil and refrigerate it until you're ready to serve it. The cheesecake can be stored in the refrigerator for up to 3 days before serving.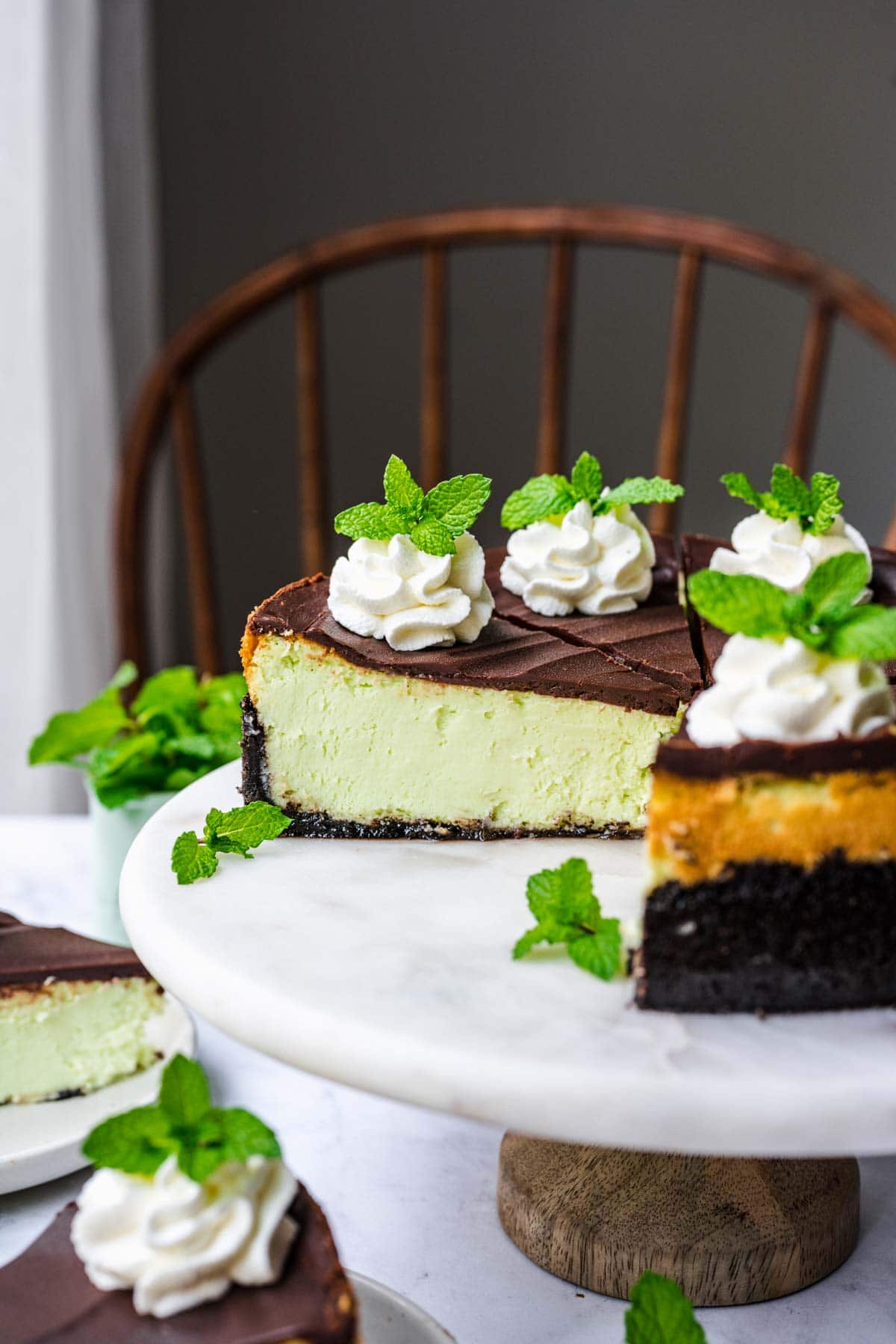 Variations
Mint Oreo Cheesecake: Fresh mint and ultra-chocolatey wafer cookies are just a match made in heaven, which is why we used an Oreo crust for this Mint Chocolate Cheesecake. But you can take the pairing even further by folding Oreo chunks into the cheesecake batter. Use either regular Oreos, or mint Oreos if you want to add extra mint flavor. Then follow the regular recipe to finish the Mint Oreo Cheesecake.
Extra chocolate: To get extra chocolate into the cheesecake recipe, mix mini chocolate chips into the filling. You could also add chocolate curls or chocolate shavings to the top as decoration. To make the topping contrast with the ganache layer, you can use white chocolate curls.
Peppermint Chocolate Cheesecake: For the holidays, you can make this same cheesecake, but with peppermint flavor. Simply replace the mint extract with peppermint extract and use red food dye. Top the ganache with crushed candy canes for more holiday flavor!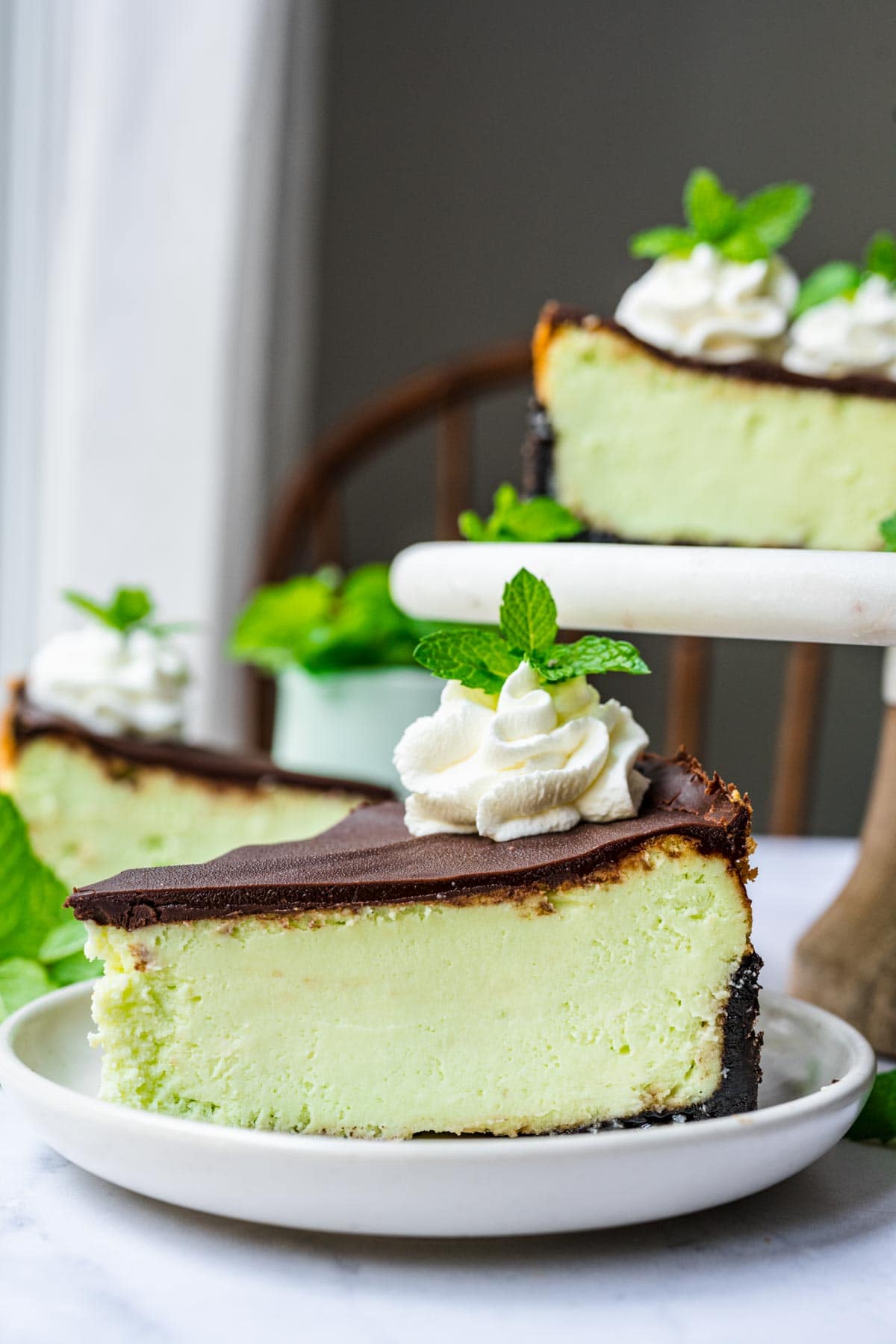 More Chocolate Mint Desserts
How to Store
Serve: Make sure to make Mint Chocolate Cheesecake a day in advance, so that you can leave it in the fridge to set overnight. Once it's ready, you shouldn't leave it at room temperature for more than 2 hours.
Store: To store, tightly cover the cheesecake with foil or plastic wrap. Keep it in the fridge for up to 5 days. Bring to room temperature for about 30 minutes to serve for best texture.
Freeze: To freeze the Mint Cheesecake, wrap it carefully or transfer it to an airtight container. It can stay good for up to 2 months, but holds its flavor best for 1 month. When you're ready to serve take the cake from the freezer, and let it thaw in the fridge overnight. Put it out at room temperature 1 hour before serving


Ingredients
Oreo Cookie Crust:
1 1/2

cups

Oreo Cookie crumbs

3

tablespoons

sugar

3

tablespoons

unsalted butter

, melted
Cheesecake:
32

ounces

cream cheese softened

1 1/2

cups

sugar

3/4

cup

whole milk

4

large

eggs

1

cup

sour cream

1/2

teaspoon

mint extract

1/4

teaspoon

green food coloring

. or to taste

1/4

cup

flour
Instructions
Preheat oven to 350 degrees. Get a large pan of water you can set a 9" springform pan in to bake. Wrap the 9" springform pan in a large piece of foil to protect it from the water bath.
Oreo Crust
Mix Oreo crumbs, sugar, and melted butter, and press into the bottom of the springform pan and 1 inch up the sides.
Cheesecake
In a stand mixer, beat the cream cheese and sugar, then add in the milk until combined.

Add in the eggs one at a time until fully combined, then add in the sour cream, mint extract, green food coloring, and flour until combined.

Pour filling into pan over the crust and spread evenly.

Place the pan in the water bath and bake for

1 hour

.

Turn off the oven, and open the door a couple inches to let the heat out gently. Let cheesecake cool in oven for

1 hour

.

Remove from oven and discard the foil. Refrigerate overnight before serving.
Ganache
Microwave the chocolate chips, heavy cream, and mint extract for

30 seconds

, then stir. Repeat until fully melted.

Spoon the mixture evenly over the top of the cheesecake.
Nutrition
Calories:
632
kcal
|
Carbohydrates:
54
g
|
Protein:
10
g
|
Fat:
43
g
|
Saturated Fat:
24
g
|
Polyunsaturated Fat:
3
g
|
Monounsaturated Fat:
12
g
|
Trans Fat:
1
g
|
Cholesterol:
165
mg
|
Sodium:
353
mg
|
Potassium:
268
mg
|
Fiber:
1
g
|
Sugar:
43
g
|
Vitamin A:
1414
IU
|
Vitamin C:
1
mg
|
Calcium:
134
mg
|
Iron:
3
mg