Mongolian Beef is easy to make in just 30 minutes, crispy, sweet and garlicky with flavors you love from your favorite Chinese restaurant.
When it comes to favorite Chinese takeout, Mongolian Beef is at the top of the list. The delicious sauce of this popular Beef Dish can be used to make Ground Mongolian Beef and Mongolian Beef Burritos too!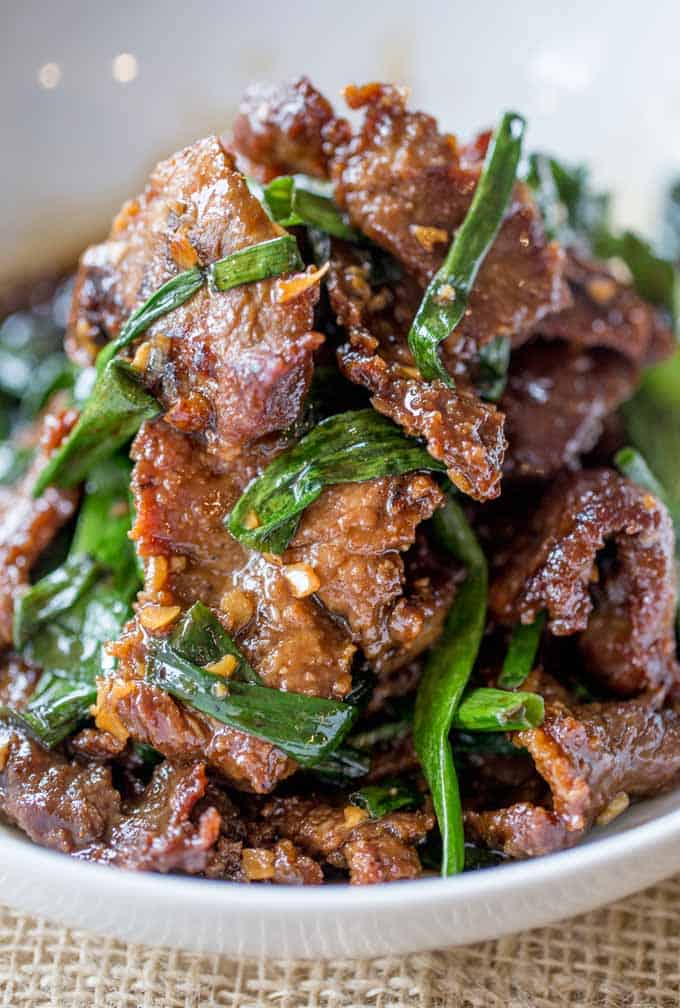 Mongolian Beef is very flavorful and takes just 30 minutes to make from start to finish including all the slicing of the meat! It also uses basic pantry ingredients, so you don't need to worry about running to the store today for oyster sauce or hoisin sauce. Everything in this recipe is available in every grocery store, so it makes the perfect weeknight dinner idea!
It will blow you away how much flavor you can get in less than half an hour and without any marinating or tons of ingredients. Thin cut steak is quick-fried with a cornstarch coating to give it the signature crispy edges that makes this dish so amazing. Some aromatics are sauteed in the beef fat and then sauce is added to soak up the savory, beefy flavor. Finally the beef gets coated in the amazing sauce and it's finished with some crisp fresh onions.
This authentic stir fried Mongolian Steak recipe is popular with adults and kids alike for a number of reasons. One, people love anything that tastes like Chinese takeout. Two, the sweet flavor of the dark brown sugar mixed with the salty soy sauce and the strong ginger and garlic is incredibly addicting. Three, you get to enjoy it over a mountain of Steamed Rice, which soaks up all the savory sauce and will take you to your happy place.
What is Mongolian Beef?
Mongolian Beef is a Taiwanese dish that originated where Mongolian BBQ cuisine was popular. In American-Chinese restaurants, it consists of thinly sliced red meat, usually flank steak, that is wok seared with green onions in a savory, sticky sweet sauce made with soy sauce, brown sugar, garlic and ginger. It is usually not spicy, and it can be paired with other vegetables and served over white rice.
Why should you make Mongolian Beef at home?
There are many benefits to making copycat versions of your favorite take out dishes at home. The obvious one is to stretch your dollar. You can typically serve an entire family at home for the cost of one or two restaurant entrees. You can tailor the seasonings and ingredients for dietary and taste preferences. Your homemade recipe will typically be much healthier than the takeout version, and the best part is you don't have to sacrifice any of the flavor!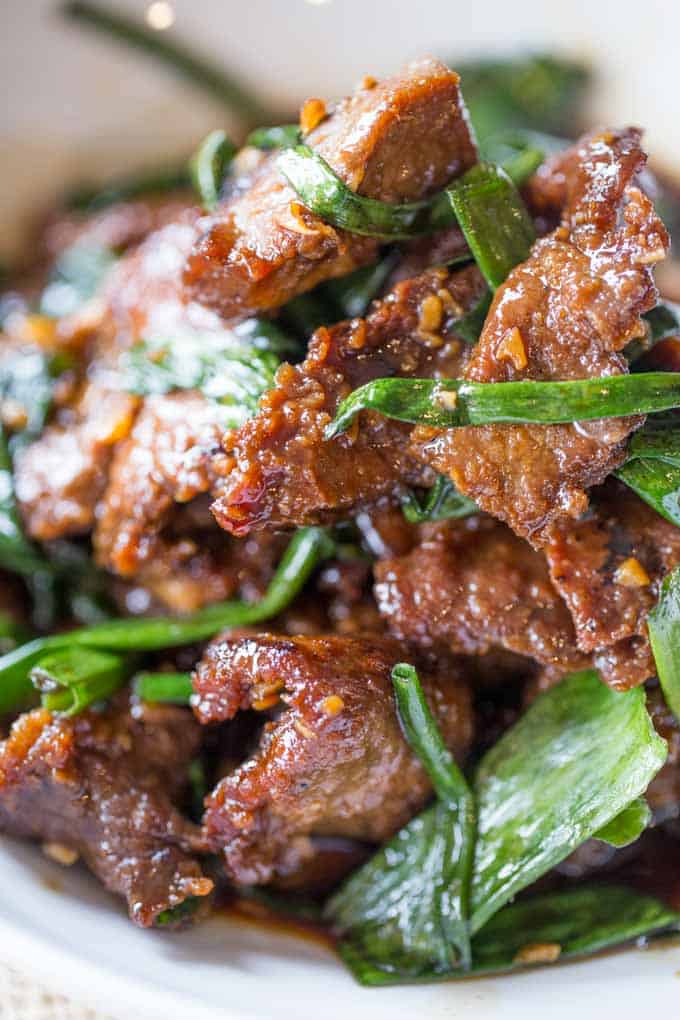 How to Make Mongolian Beef
Steak: Cut the flank steak into ¼ inch thick pieces, slicing against the grain. Place the meat and cornstarch in a large sealed plastic bag and coat the meat completely.
Fry: Heat the oil in a large skillet or wok over medium high heat. Sear the coated steak pieces in batches. Do not overcrowd the pan or your meat won't get crispy. Transfer the seared steak to a plate.
Sauce: In the same pan, cook the ginger and garlic until fragrant. Add the soy sauce, water, and brown sugar and let the mixture come to a boil.
Finish: Stir the steak back into the sauce and allow the sauce to thicken. If your sauce isn't thickening, add a cornstarch slurry and let the mixture simmer for a minute. Add green onions to the beef mixture and stir. Serve over rice and a side of steamed veggies
Classic Chinese Takeout Sides
FAQs for Mongolian Beef
What kind of meat is used for Mongolian Beef?
Flank steak is the common cut for Mongolian Beef recipes. You can use any quick cooking beef cut such as skirt steak, top round, or tri-tip steak.
What is Mongolian Beef sauce made with?
Mongolian Beef sauce contains soy sauce, brown sugar, garlic, ginger, water and cornstarch to thicken. The sauce ingredients are simple and you probably have most of it in your pantry right now.
How to I make crispy Mongolian Beef?
This Mongolian Beef recipe will have crispy seared edges and tender beef on the inside due to cutting the flank against the grain and quick cooking it. You want to make sure not to overcrowd the pan when you are frying or it will create steam and you won't get crispy beef.
How thin should I slice steak for Mongolian Beef?
You want to slice the flank into ¼ inch strips against the grain. If you feel uncomfortable with cutting the steak thinly enough and have an hour or so notice, place the steak in the freezer for one hour. This will freeze it just enough that slicing it will be as easy as slicing a vegetable. The meat will firm up enough that you can slice it even thinner if you'd like.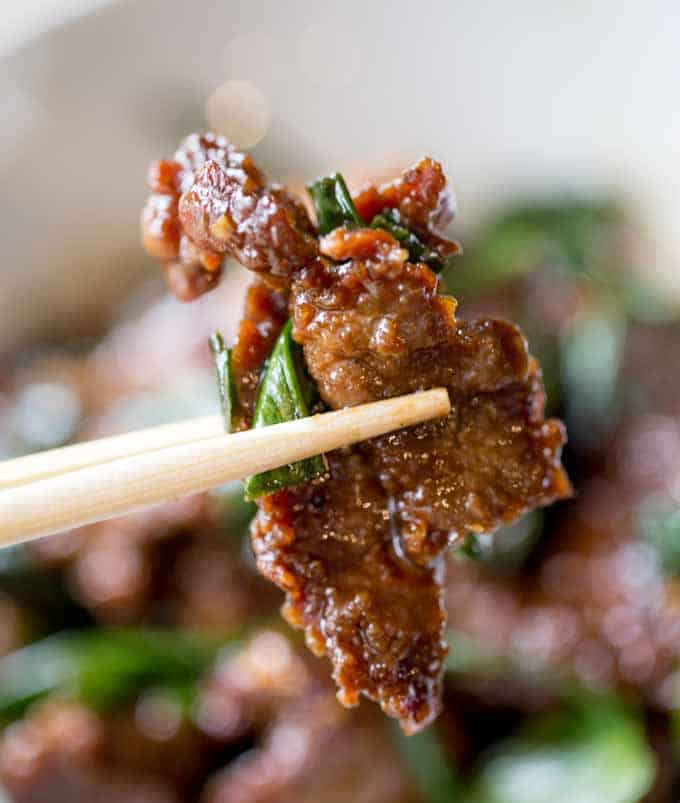 Create a free account to

Save Recipes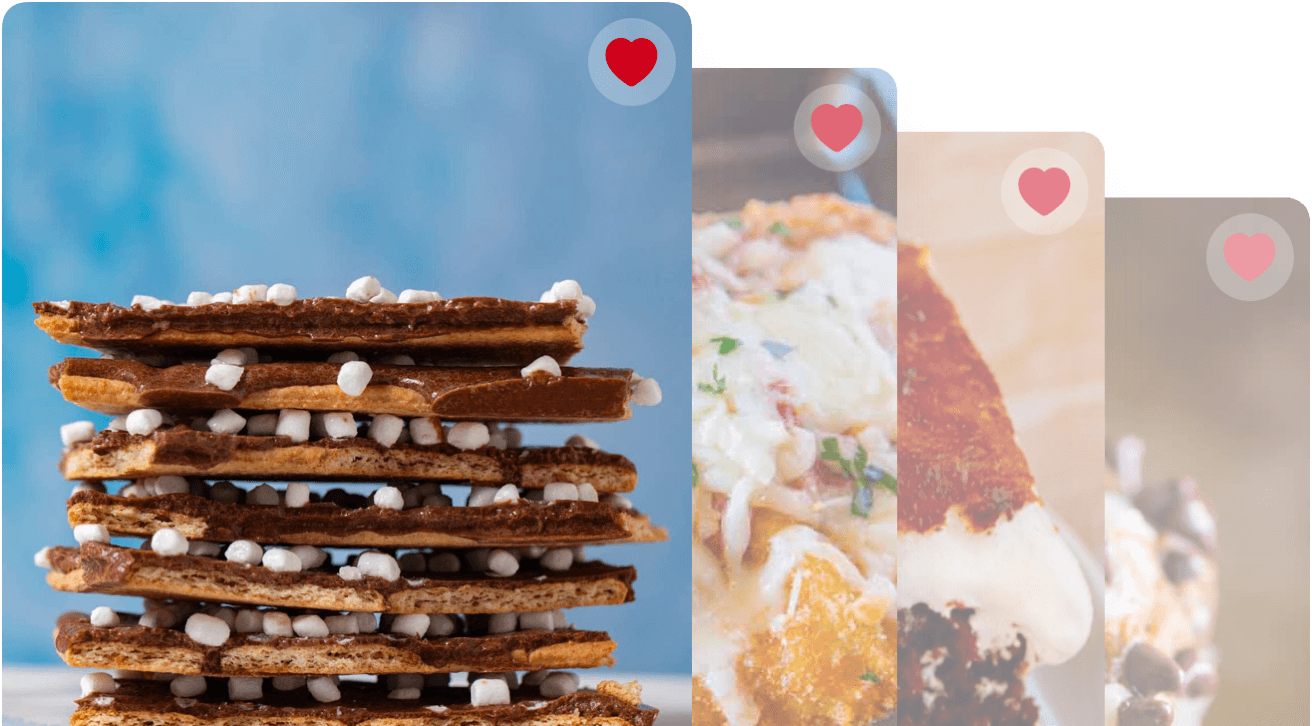 Key Ingredients
Steak: Flank steak works well for this recipe because it cooks quickly while staying juicy and flavorful. Plus it's a pretty inexpensive red meat. You can also use skirt steak, hangar steak, or other thin cut of steak for the same amazing flavors in this recipe.
Brown Sugar: The addition of molasses to the dark brown sugar adds to the depth of flavor in this dish. You can use light brown sugar if that is what you have on hand, and you'll still have a tasty meal. However, the slightly bitter molasses flavor does make a noticeable difference in the sauce.
Garlic: Fresh garlic adds a lot of aromatic flavor to Chinese cuisine, and complements the sweetness of the Mongolian beef sauce.
Ginger: Freshly grated ginger gives a slight kick to the recipe to balance the sweetness. If you don't have fresh ginger, you can substitute ½ teaspoon ginger powder, and add it with the soy sauce.
Soy Sauce: Always use low sodium soy sauce in Asian dishes, as it allows you to control the amount of salt. You can always add a little more to your taste.
Cornstarch: Cornstarch acts as a thickener when the sauce comes together at the end of this recipe. By coating the beef in it, the cornstarch will cook with the meat and add a crispy coating as well.
Can you make Mongolian Beef ahead of time?
While you can technically make Mongolian Beef ahead of time, it is definitely better when you make it fresh. This dish is known for the signature crispy beef and you will lose that tasty crispy goodness when the dish is reheated. However, one way to make the steak easier to cut is to cut it while it's really cold, so you can pop the beef in the freezer an hour ahead of starting the dish.
Variations
Spicy:  Make the sauce spicy by adding some red chili flakes, some fresh Thai chiles, or chili garlic sauce. You can also serve it with some Chinese hot mustard or Horseradish Sauce for a spicy creamy blend.
Meat: Instead of beef, thinly sliced pork, chicken, or even baked tofu would all taste amazing with this savory sweet sauce. Keep in mind that chicken and pork need to be cooked all the way through instead of just being seared like beef. You could also use ground beef or other ground meat.
Veggies: For a quick and easy one-pan beef dinner idea, you can toss in some popular stir fry veggies like pea pods, shredded carrots, broccoli, and bok choy. Cook the veggies until crisp tender, then toss in at the end with green onions.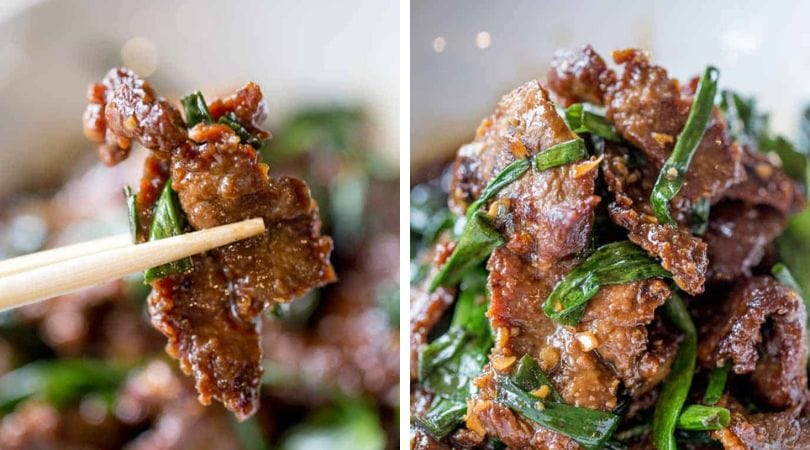 More Classic Asian Beef Dishes
How to Store
Serve: For the best flavor and texture, serve this dish right away while the edges of the beef are still crispy and the onions are still slightly crunchy. It can be at room temperature for up to 2 hours.
Store: Let any leftover Mongolian Beef cool down and then store in the refrigerator for up to 3 days in an airtight container. It's best to reheat it on the stove in a skillet.
Freeze: Freeze Mongolian Beef up to 3 months in a sealed container. Defrost in the refrigerator overnight before reheating.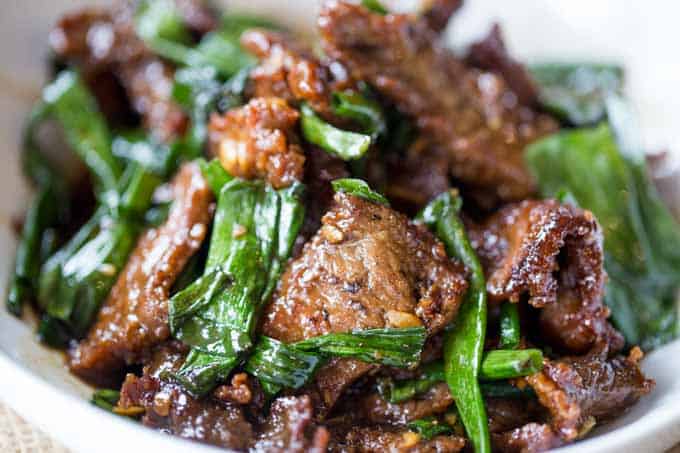 Ingredients
1

pound

flank steak

1/4

cup

cornstarch

1/4

cup

canola oil

2

teaspoons

fresh ginger

, minced

1

tablespoon

garlic

, minced

1/3

cup

lite soy sauce

, low sodium

1/3

cup

water

1/2

cup

dark brown sugar

4

stalks

scallions

, green parts only, cut into 2 inch pieces
Instructions
Slice the flank steak against the grain (the grain is the length of the steak) the long way in ¼ inch thick pieces and add it to a ziploc bag with the cornstarch.

Press the steak around in the bag making sure each piece is fully coated with cornstarch and leave it to sit.

Add the canola oil to a large frying pan and heat on medium high heat.

Add the steak, shaking off any excess corn starch, to the pan in a single layer and cook on each side for

1 minute

.

If you need to cook the steak in batches because your pan isn't big enough do that rather than crowding the pan, you want to get a good sear on the steak, and if you crowd the pan, your steak with steam instead of sear.

When the steak is done cooking remove it from the pan.

Add the ginger and garlic to the pan and sauté for

10-15 seconds

.

Add the soy sauce, water and dark brown sugar to the pan and let it come to a boil.

Add the steak back in and let the sauce thicken for

20-30 seconds

.

The cornstarch we used on the steak should thicken the sauce, if you find it isn't thickening enough add 1 tablespoon of cornstarch to 1 tablespoon of cold water and stir to dissolve the cornstarch and add it to the pan.

Add the green onions, stir to combine everything, and cook for a final

20-30 seconds

.

Serve immediately.
Nutrition
Calories:
433
kcal
|
Carbohydrates:
37
g
|
Protein:
27
g
|
Fat:
20
g
|
Saturated Fat:
3
g
|
Cholesterol:
68
mg
|
Sodium:
1152
mg
|
Potassium:
497
mg
|
Fiber:
1
g
|
Sugar:
27
g
|
Vitamin A:
120
IU
|
Vitamin C:
3
mg
|
Calcium:
63
mg
|
Iron:
3
mg
Photos used in a previous version of this post.