Monster Cookies are peanut butter oatmeal cookies with chocolate chips and m&ms mixed in that are naturally gluten free!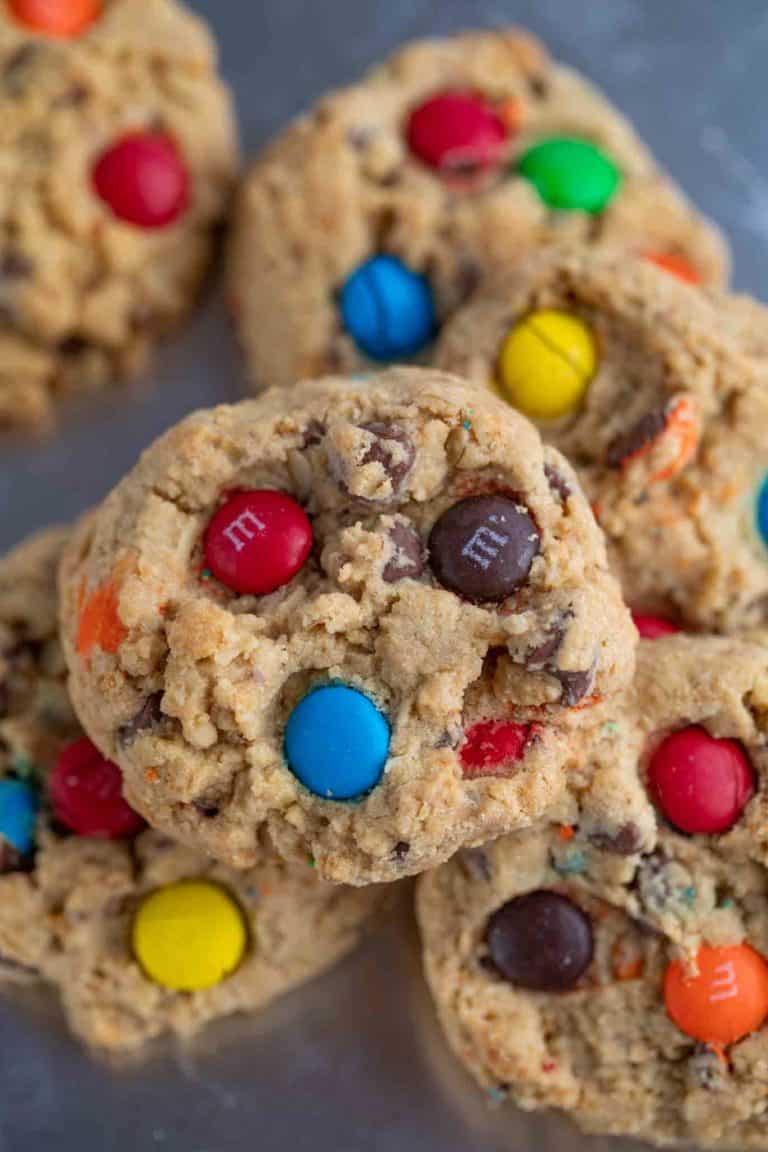 Peanut butter cookies are the most popular cookies on the blog including Peanut Butter Blossoms, Peanut Butter Cup Cookies and Peanut Butter Cookies.
MONSTER COOKIES
Monster Cookies are like kitchen sink cookies because they're basically full of all the delicious flavors you could imagine wanting in a cookie and yet they taste totally well balanced and delicious.
Even though they're naturally gluten-free without using any all-purpose flour they are still chewy from the use of both rolled oats and instant oats. One of my favorite tricks for these cookies I use is that I sometimes pulse the instant oats until they're half powdered when I want the cookies to be a bit less chunky.
In this recipe (and pictured here) I didn't process the instant oats but if you want them to taste less firm you can all more instant oats and put them in a food processor until it makes them into a flour.
Best Peanut Butter For Monster Cookies Recipe:
We used smooth peanut butter but many people who want to add more texture will use chunky peanut butter. I don't recommend using natural peanut butter for this recipe as the texture isn't firm enough to hold together the recipe.
Additional Mix-In Ideas for Monster Cookies:
Raisins
Toffee Bits
Candy
Candy Coated Sunflower Seeds
Chopped Nuts
Reese's Pieces
Mini Caramel Cups
Mini Peanut Butter Cups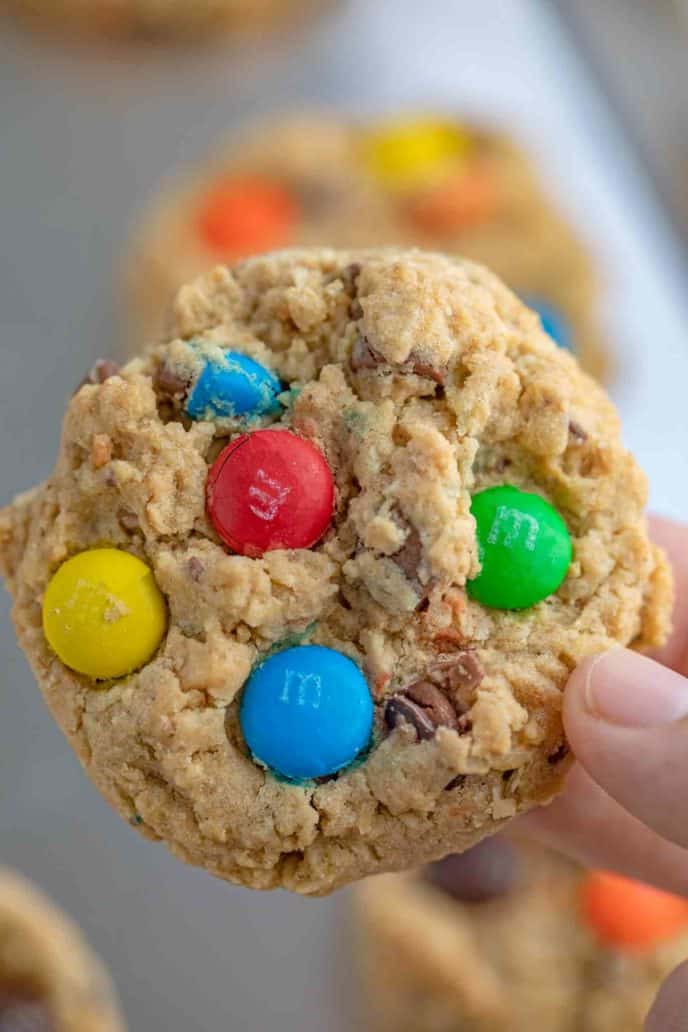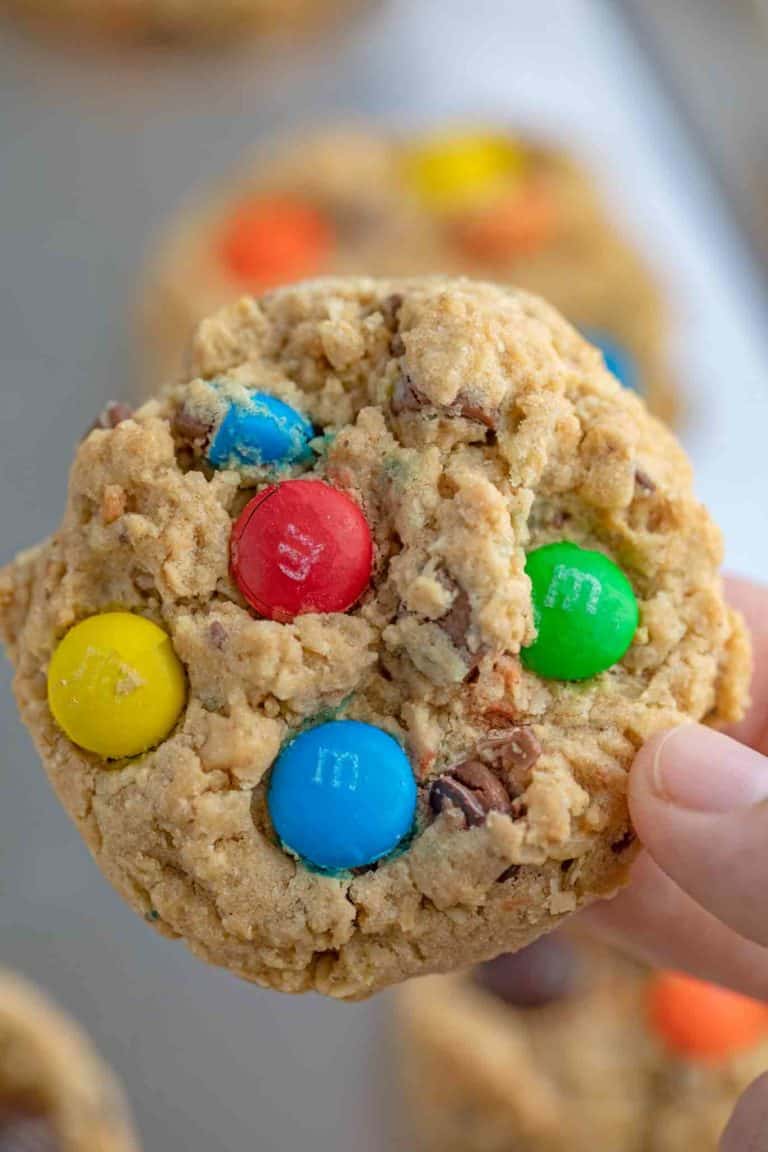 HOW LONG DO MONSTER COOKIES LAST?
Monster cookies can be kept in an airtight container at room temperature for 4-5 days.
I don't like to refrigerate most cookies because they can harden compared to room temperature cookies.
CAN I FREEZE MONSTER COOKIES?
Yes, you can scoop the dough with your cookie scoop onto a baking sheet and freeze the scoops. Defrost in your refrigerator until fully defrosted then follow the cooking instructions for your monster cookie recipe.
Monster cookie dough will last for about a year in the freezer.
MORE COOKIE RECIPES

TIPS FOR MAKING MONSTER COOKIES
This recipe calls for both rolled oats and instant oats (or quick oats – they're the same thing). Do not skip using both varieties of oats. The rolled oats will give the cookies chew and texture while the instant oats will keep the cookies tasting softer and more like they have some flour in the recipe.
Use an ice cream scoop to help make all of the cookies the same size and don't crowd your cookie sheet.
You can use other candy instead of M&Ms with this recipe. Try peanut butter chips, mini marshmallows, white chocolate chips or dark chocolate chips, butterscotch, or caramels. Or check out my Oatmeal Reese's Peanut Butter Cookies.
If you don't have a stand mixer, you can cream the butter and sugar together with an electric hand mixer, or just do it with a bowl and a spatula.
You can make these cookies less chewy and more crunchy by adding a few minutes to the cooking time, but remember that because they are flourless they already won't be as chewy as most cookies normally would be.
Make sure to line your cookie sheet with parchment paper, unless your sheet is non-stick, but even then I still line them just in case. If you have a silicone baking mat that is even better than using a parchment paper liner.
If your cookies turn out under-baked but browned on the outside, your oven may not be cooking true to temperature. Try using an oven thermometer to make sure it's heating right. Since your cookies will have such a firm texture it may be hard to know if the inside is under-baked.
Once you have your cookies scooped out into balls, place a few M&Ms and chocolate chips decoratively on top before baking.
Use creamy peanut butter for your recipe if you want a softer cookie but use chunky if you want a firmer one.
If you want to make a giant monster cookie use a ½ cup measure to measure out the cookie, roll to 1 inch thickness, lower the temperature to 325 degrees and cook for 18-20 minutes and watch for the edges to brown.
Recipe
Save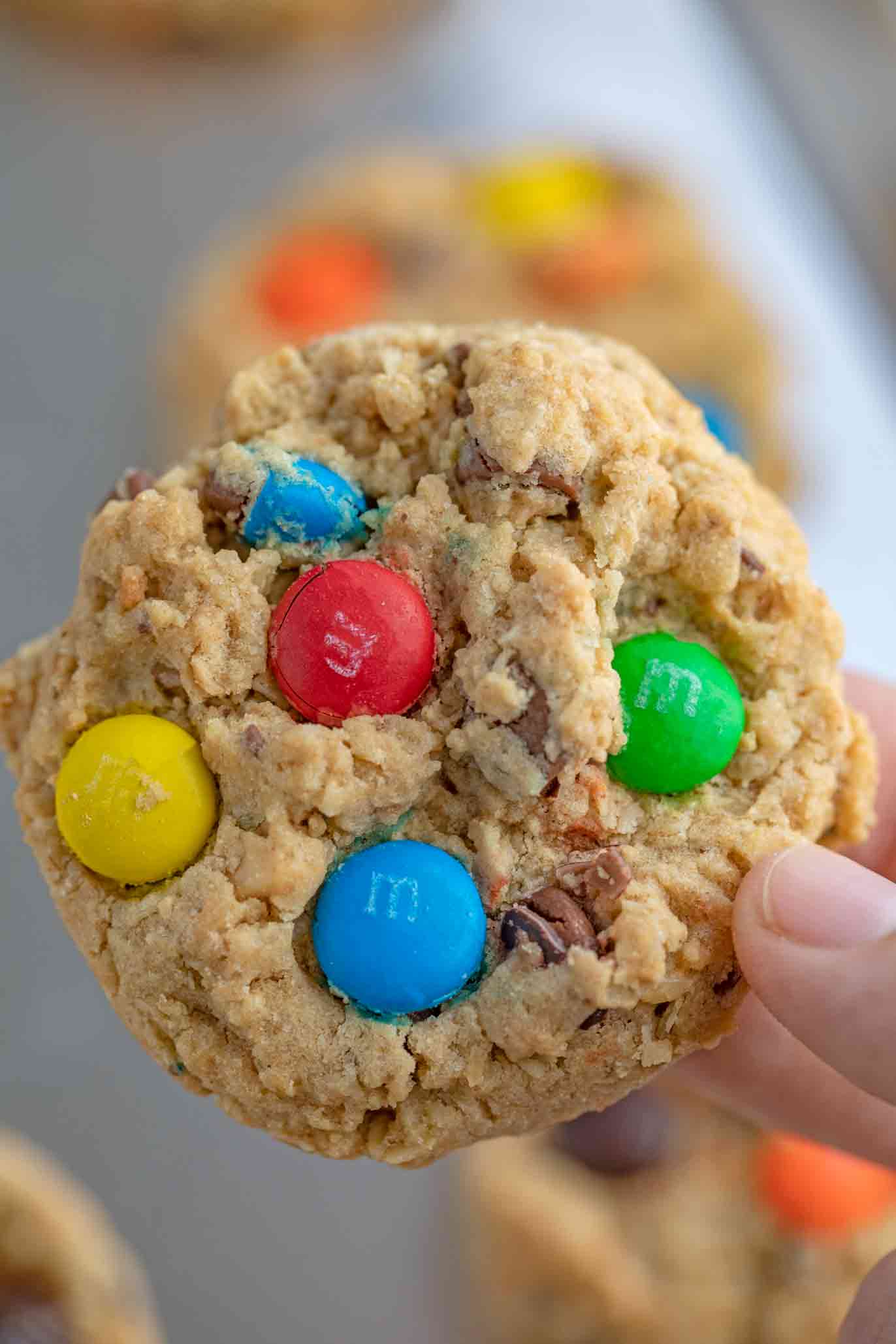 Monster Cookies
Yield:

24

cookies

Prep Time:

10

minutes

Cook Time:

15

minutes

Total Time:

25

minutes

Course: Dessert
Cuisine: American
Author: Sabrina Snyder
Monster Cookies are peanut butter oatmeal cookies with chocolate chips and m&ms mixed in that are naturally gluten free!
Ingredients
1/2

cup

unsalted butter

softened

1

cup

brown sugar

packed

1/2

cup

sugar

3

large eggs

1 1/2

cups

peanut butter

2

teaspoons

vanilla extract

2

teaspoons

baking soda

3

cups

rolled oats

2

cups

quick oats

1

cup

m&ms chocolate candies
Instructions
Note: click on times in the instructions to start a kitchen timer while cooking.
Preheat oven to 350 degrees.

To your stand mixer add the butter, brown sugar and sugar and beat until light and creamy, about 2-3 minutes.

Add in the eggs one at a time then add in the peanut butter until smooth.

Add in the vanilla, baking soda, rolled oats, chocolate chips and m&ms and combine.

Scoop with an ice cream scoop 3 inches apart and cook for 13-15 minutes.
Nutrition Information
Yield: 24 cookies, Amount per serving: 338 calories, Calories: 338g, Carbohydrates: 37g, Protein: 7g, Fat: 18g, Saturated Fat: 7g, Cholesterol: 32mg, Sodium: 183mg, Potassium: 227mg, Fiber: 3g, Sugar: 22g, Vitamin A: 170g, Vitamin C: 0.1g, Calcium: 42g, Iron: 1.8g
All images and text © for Dinner, then Dessert.
Keywords:
cookie recipes, cookies, M&M Cookies, Monster Cookies
Save