Morning Glory Muffins are moist, tender, and packed with fun mix-ins. There's carrots, walnuts, raisins, and coconut all baked into one glorious breakfast!
Think of Morning Glory Muffins as a combination of Carrot Cake and a Spice Cake all made into one easy Breakfast Baked Good.
MORNING GLORY MUFFINS
These tender, buttery muffins pack quite the punch. We've made muffins with all different flavors from Blueberry to Oreo to Pumpkin, but Morning Glory Muffins may have the most variety of taste and texture you'll ever see in one muffin.
Brown sugar, applesauce, vanilla, cinnamon, carrots, walnuts, raisins, and coconut flakes all come together to make this breakfast treat. It may sound like a lot, but the flavors and mix-ins all compliment each other perfectly in Morning Glory Muffins!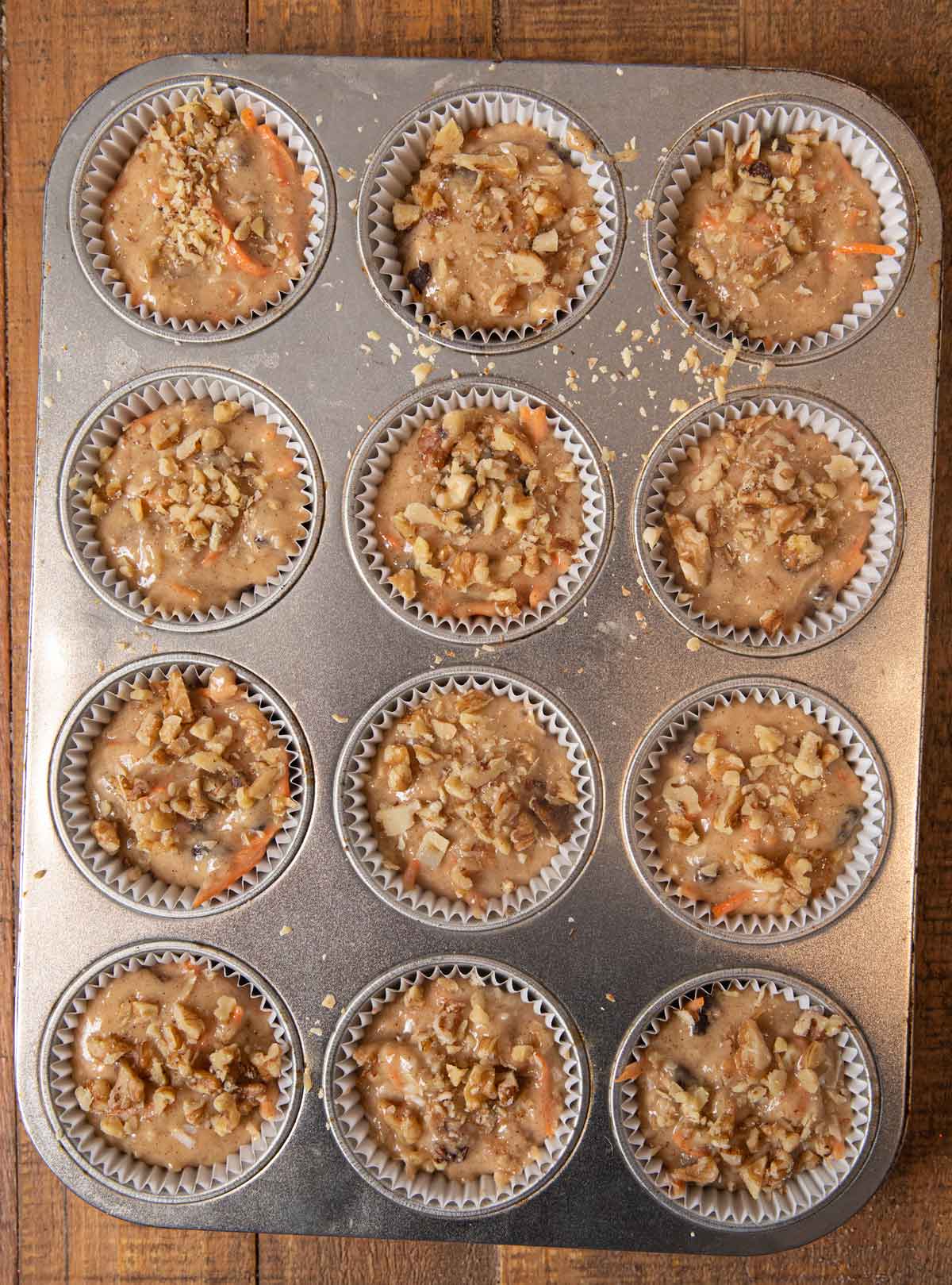 These muffins are great to bake for breakfast, enjoy as an afternoon snack, or pack for an on-the-go treat. Whenever you eat them, you're sure to love these irresistible muffins! They're especially wonderful fresh from the oven when the moist cake is still warm and it all melts in your mouth.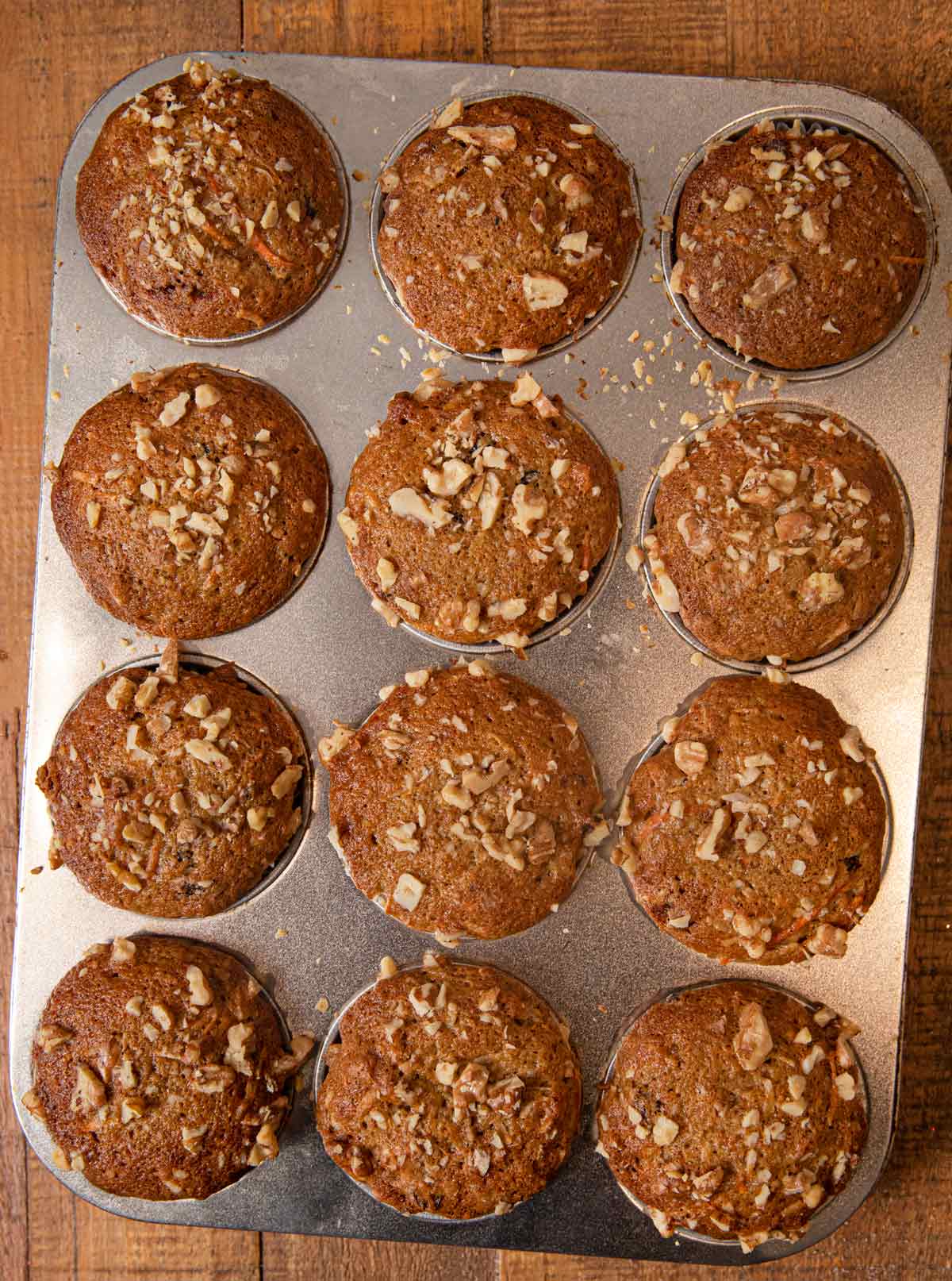 WHY ARE THEY CALLED MORNING GLORY MUFFINS?
Over time the Morning Glory Muffin has become a classic in American baking, but it's actually a fairly recent development. The Morning Glory Muffin was developed in New England at a restaurant called Morning Glory Cafe. Hence, the name.
Of course, we like to joke they're called Morning Glories, because eating one of these for breakfast can make even the gloomiest day seem glorious!
MORE MUFFIN RECIPES
HOW TO MAKE MORNING GLORY MUFFINS
Prep: Begin by preheating your oven to 350 degrees and line a 12 cup muffin tin with paper liners so everything is ready for the batter.
Batter: Whisk together the vegetable oil, applesauce, sugar, brown sugar, eggs, and vanilla extract in a large bowl. Once the ingredients are well combined slowly sift in the flour, baking soda, cinnamon, and salt. Combine the wet and dry ingredients, but only until just combined. It's important when making muffin batter not to overmix.
Mix-ins: Chop the walnuts and apples. Then use a peeler to shred the carrots. Once the mix-ins are ready, fold the carrots, walnuts, raisins, coconuts, and apples into the batter.
Bake: Use a ¾ measuring cup to scoop the muffins into the prepared tin. Bake for 20-22 minutes. Use a toothpick to test if the muffins are ready. Put the toothpick in the center of one muffin. If it comes out clean, then they're baked through.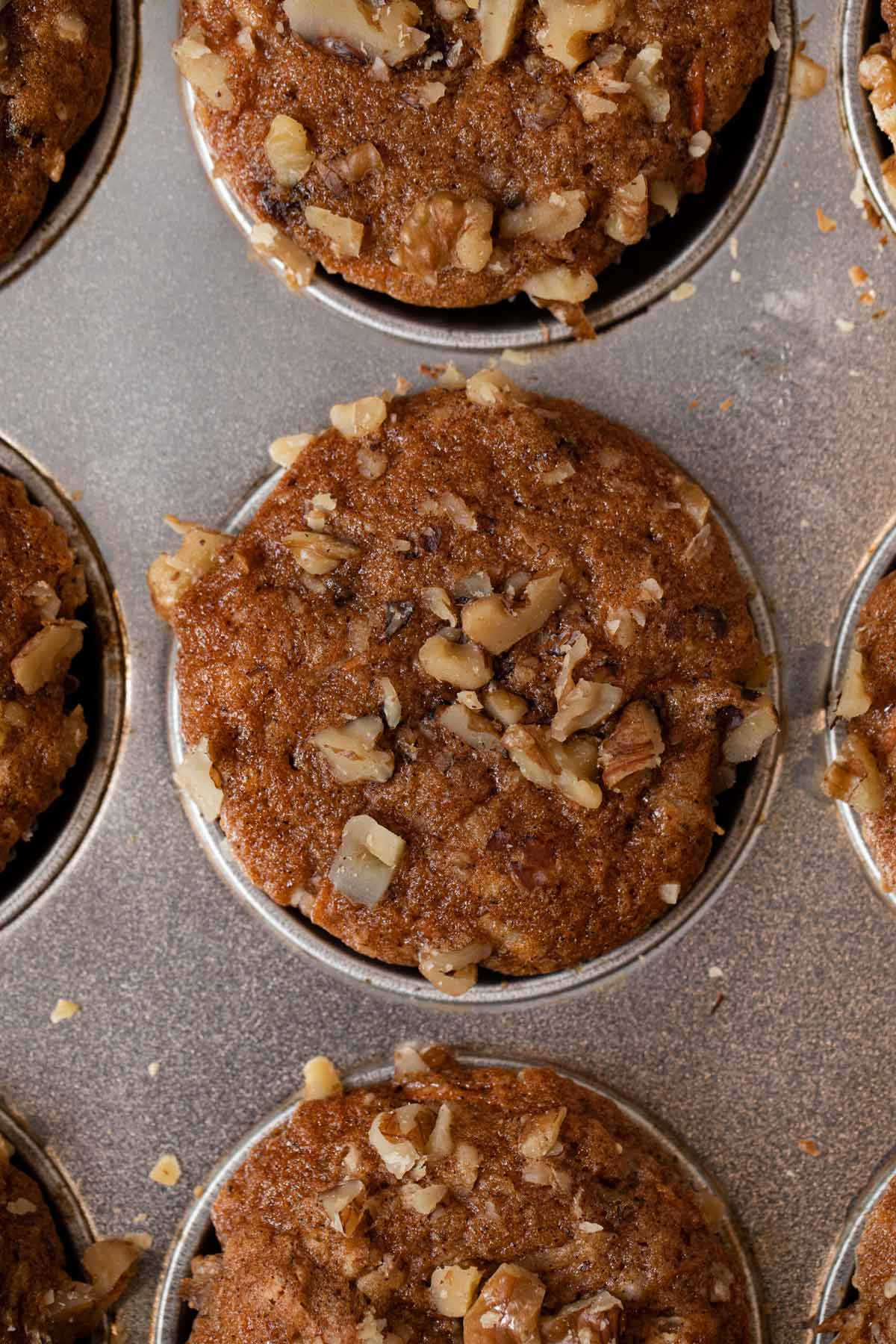 Create a free account to

Save Recipes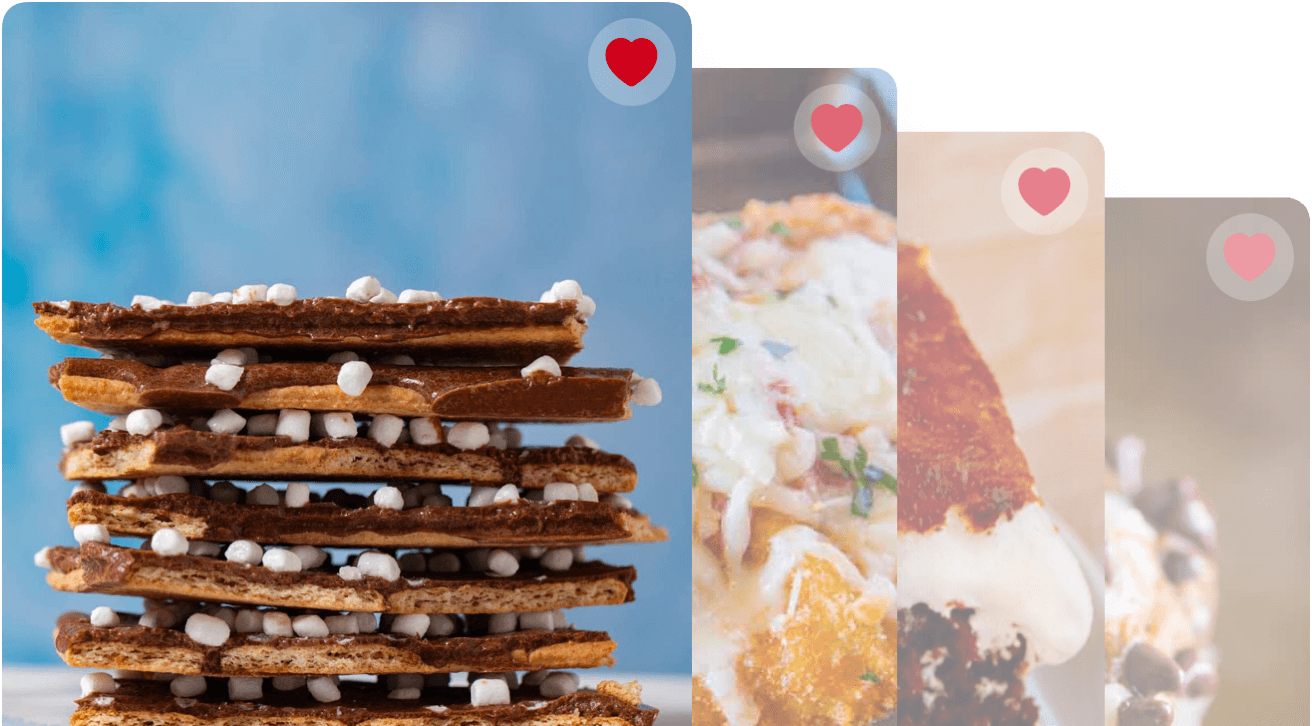 VARIATIONS ON MORNING GLORY MUFFINS
Nuts: Instead of using walnuts, you could try adding chopped pecans, almonds, or cashews. You can also use a combination of nuts in the Morning Glory Muffins.
Fruit: Try adding other dried fruits besides raisins like cranberries or dates. You could also add some citrus flavor with orange or lemon zest.
More mix-ins: Even with all the delicious ingredients already in Morning Glory Muffins, you could always experiment with more. Try folding in poppy seeds, pumpkin seeds, or white chocolate chips. Cinnamon chips would also make a delicious addition.
Flour: To make Morning Glory Muffins gluten-free replace the 2 cups of all-purpose flour with a gluten-free alternative. Almond flour, coconut flour, or arrowroot would work nicely.
MORE CLASSIC BAKED GOODS
HOW TO STORE MORNING GLORY MUFFINS
Serve: Muffins will start to get dry if they're left sitting out, so you'll want to store them in an airtight container to keep them fresh. As long as they're sealed, you can keep them in the pantry for up to 2 days.
Store: Once the Morning Glory Muffins have cooled down, put them in an airtight container to store in the fridge for up to a week.
Freeze: To freeze the muffins leave them in the tin and flash freeze them for an hour. Once they're frozen you can move them to a freezer bag and they won't get stuck together. Muffins stay good in the freezer for 6 months.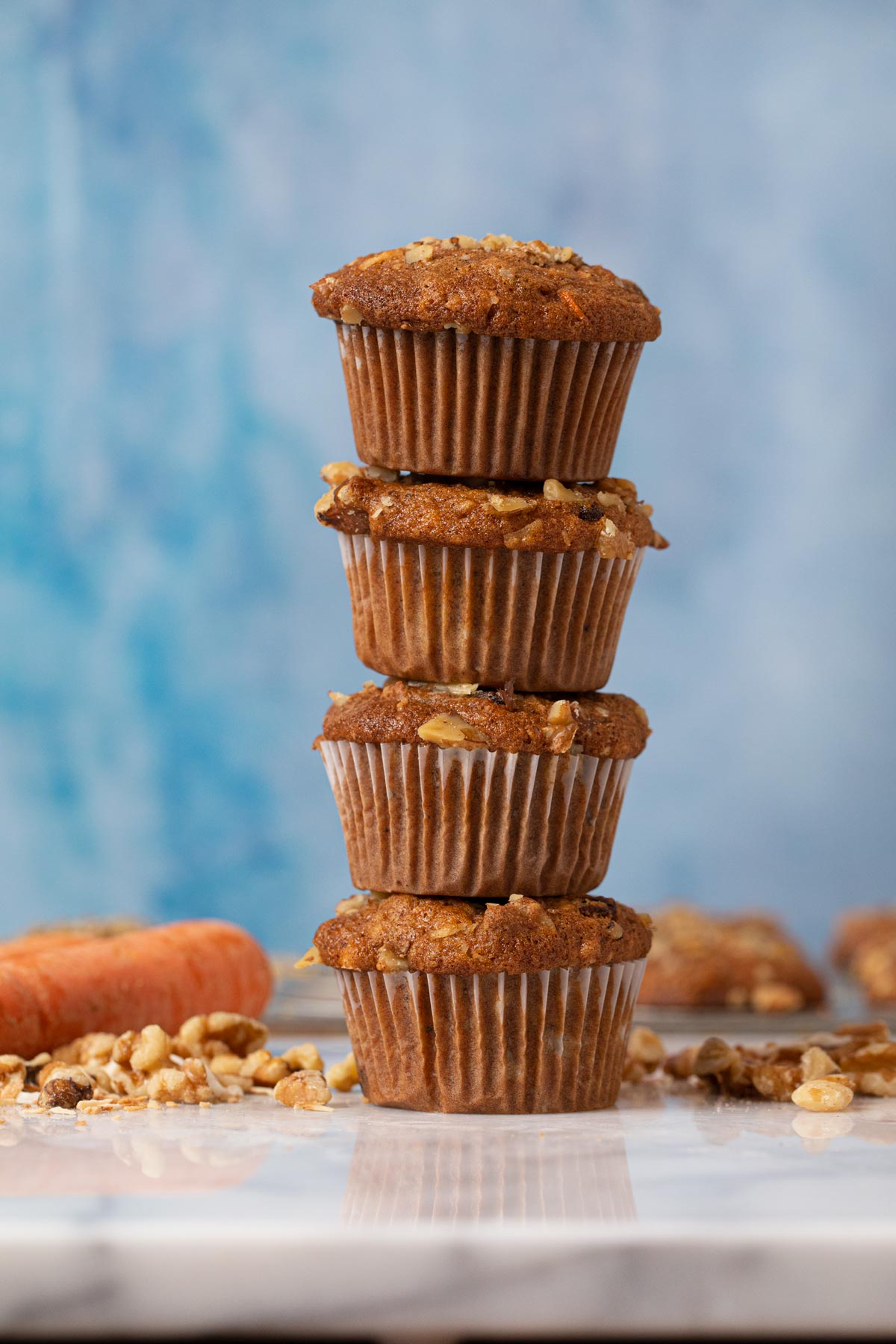 Ingredients
1/4

cup

vegetable oil

3/4

cup

applesauce

1/2

cup

sugar

1/2

cup

brown sugar

, packed

3

large

eggs

2

teaspoons

vanilla extract

2

cups

flour

2

teaspoons

baking soda

2

teaspoons

ground cinnamon

1/4

teaspoon

salt

2

cups

shredded carrots

1/3

cup

walnuts

, chopped

1/3

cup

raisins

1/3

cup

sweetened flaked coconut
Instructions
Preheat oven to 350 degrees and line a 12 muffin tin with muffin liners.

In a large bowl whisk together the vegetable oil, applesauce, sugar, brown sugar, eggs, and vanilla extract.

Sift together the flour, baking soda, cinnamon, and salt.

Whisk the flour mixture into the wet mixture until just combined.

Fold in the carrots, walnuts, raisins, coconuts, and apple.
Nutrition
Calories:
262
kcal
|
Carbohydrates:
42
g
|
Protein:
5
g
|
Fat:
9
g
|
Saturated Fat:
5
g
|
Cholesterol:
47
mg
|
Sodium:
275
mg
|
Potassium:
187
mg
|
Fiber:
2
g
|
Sugar:
21
g
|
Vitamin A:
3636
IU
|
Vitamin C:
2
mg
|
Calcium:
32
mg
|
Iron:
2
mg