Orange Julius (Copycat) tastes just like the creamy mall food court drink. Made easily with cream, orange concentrate, and ice.
This Orange Julius recipe is the perfect refreshing drink to enjoy on a hot summer day. For more icy treats to keep you cool throughout the summer try more Dessert Recipes like Ice Cream Sundae, Frozen Mud Pie, or Chocolate Ice Cream.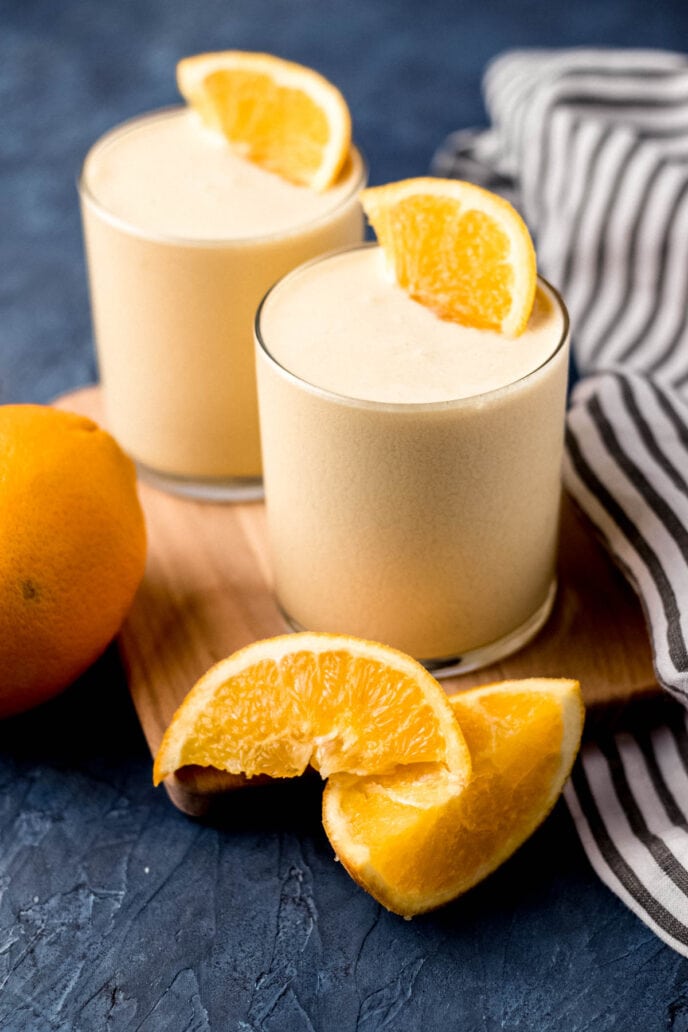 For most people, this orange, creamy drink just takes you right back to when you were a kid hanging out at the mall. After a back-to-school shopping trip, there was nothing quite as good as mall food court favorites like a Gooey Cinnabon or Chilled Orange Julius.
If you haven't tried one before, Orange Julius is a rich, frothy drink with lots of tangy orange flavor. It's made with an amazing blend of orange concentrate, vanilla, and creamy ingredients. The Orange Julius chain is owned by Dairy Queen. Though you can no longer get this yummy recipe at Dairy Queen Stores, they are still available at Orange Julius stands in a lot of malls.
But, you can skip the trip altogether and make this Orange Julius copycat yourself. The copycat recipe is just as smooth, and flavorful as the original frothy smoothie. Plus, you can make the refreshing treat in just a few minutes. Just combine a few simple ingredients like milk, heavy cream, sugar, ice, and orange juice concentrate in your blender. Then combine it into the simple copycat recipe. It's simple, delicious, and way less work than going to the mall for your smoothie fix.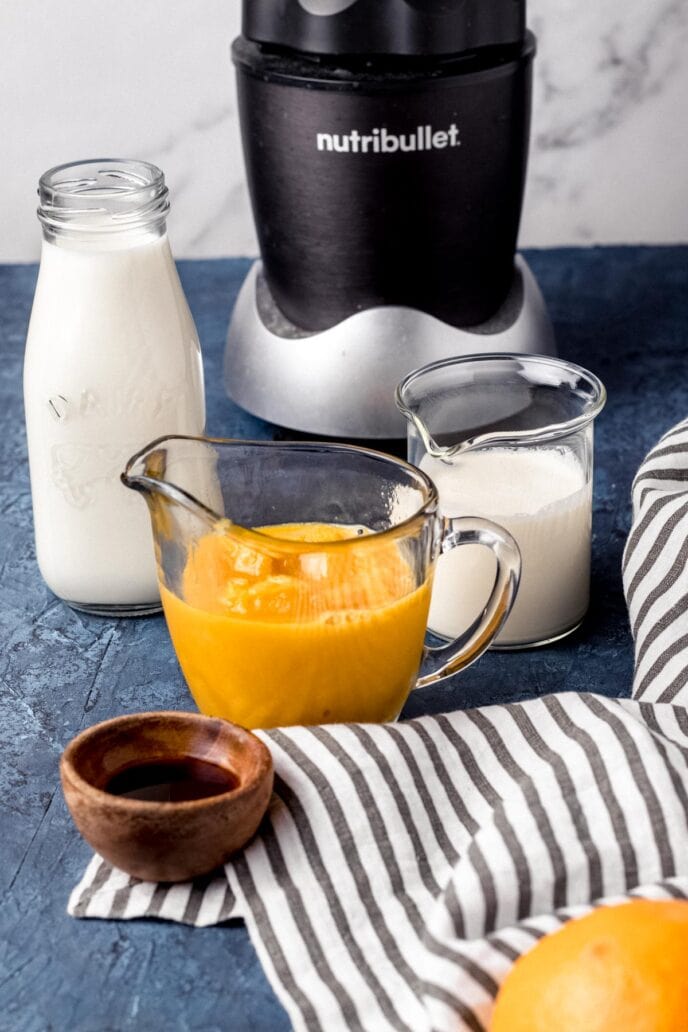 This homemade smoothie drink is perfect to enjoy as an afternoon pick-me-up or as a sweet treat after dinner. If you want enough to serve a bigger group, simply double up the ingredients to make enough for everybody. The recipe is so quick that you can easily blend a few batches if you need to.
More Drink Recipes
FAQs About Orange Julius (Copycat)
What is the difference between an Orange Julius and a shake?
You will find the texture to be the main difference between an Orange Julius and a shake. Shakes use ice cream to make the drink nice and thick. An Orange Julius is not nearly as thick, but it is still a sweet and creamy drink that could serve as a refreshing snack or a sweet treat after a meal.
How did Orange Julius get its name?
Orange Julius was created at an orange juice stand run by a man named Julius. Rumor has it that the drink got its name because the drink became very popular and customers would order at the counter, "Give me an Orange, Julius!" The name apparently stuck!
Key Ingredients
Milk and Cream: For the base liquid ingredients in the Orange Julius Copycat, use whole milk and heavy cream. It's important to use heavy cream along with the whole milk because its higher milkfat content makes a velvety, more creamy beverage.
Orange Juice: To give the drink its iconic orange flavor, use frozen concentrate. The concentrate is better than using regular orange juice because it won't make the mixture too runny. Plus, it's the perfect secret ingredient to give it the right amount of fruity taste since the flavor is so condensed.
Ice: To make the Orange Julius frosty cold, and to thicken it up, add in some ice. You can use small cubes, or crushed ice so that it can easily blend into the liquid ingredients. You want the finished mixture soft enough to drink through a straw.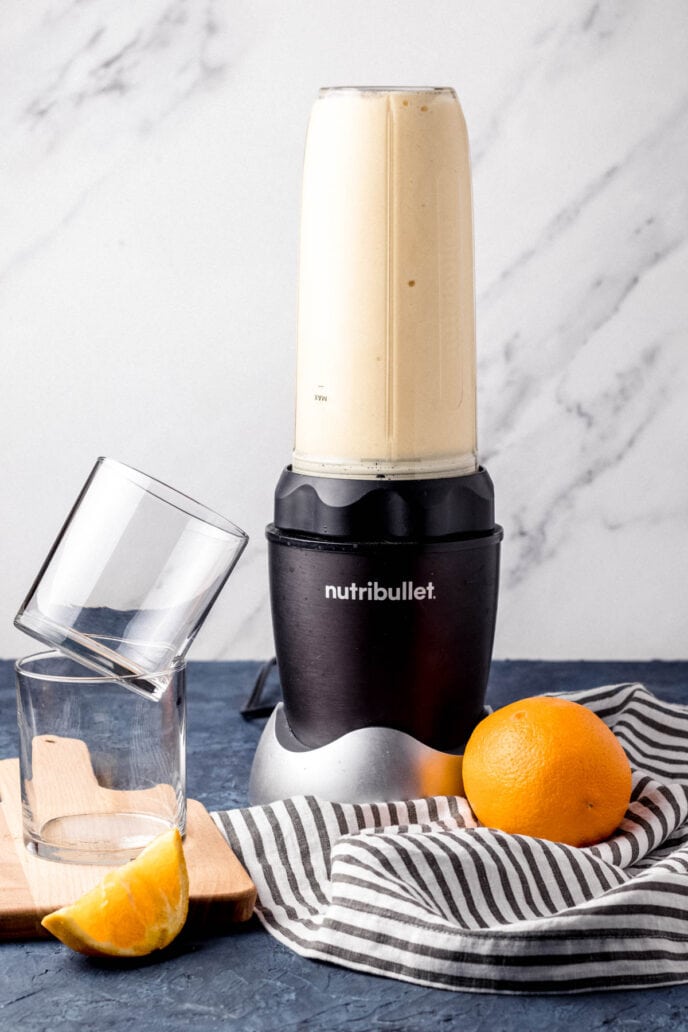 How to Make Orange Julius (Copycat)
Prep Time: Make sure all your ingredients are prepped before starting the recipe. Have water chilled, and the ice prepared in ice cube trays ready to go.
Blend: Add the milk, heavy cream, orange juice concentrate, granulated sugar, and vanilla extract to your blender. Once you have the ingredients in blender, turn it onto high speed. Continue blending for about 20 seconds, or until it's all combined into a smooth orange juice mixture. Then add the ice cubes, and blend again until smooth.
Serve: Pour the Copycat Orange Julius recipe into glasses and add an orange slice for garnish if desired.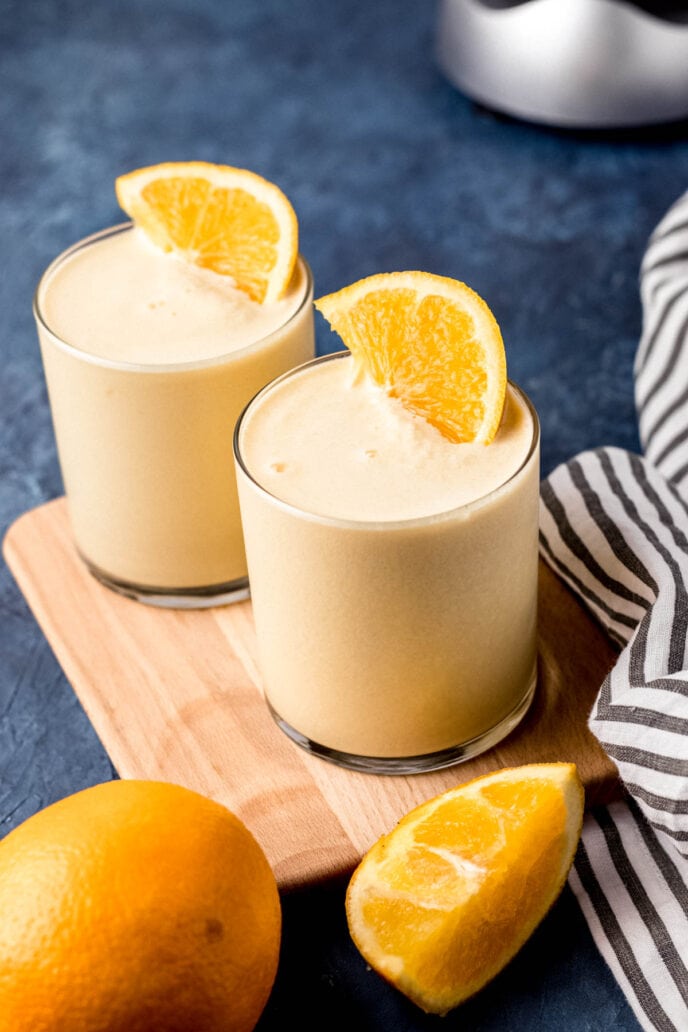 Create a free account to Save Recipes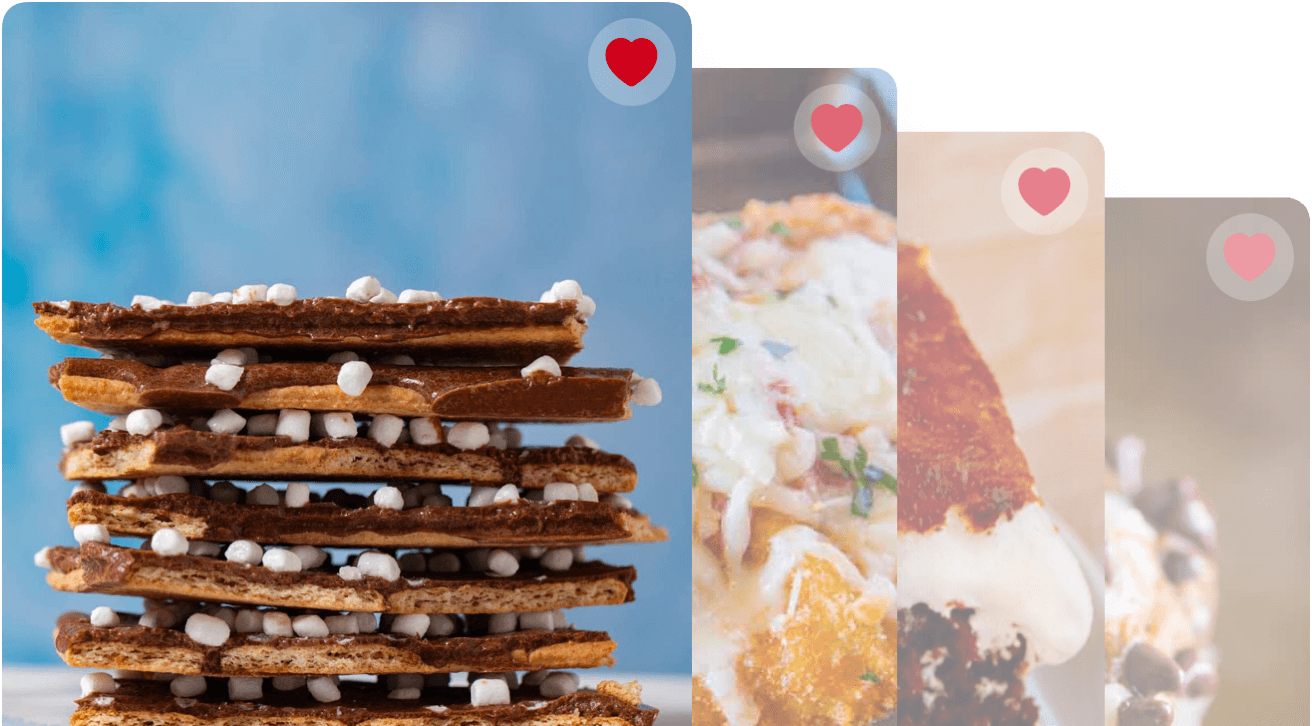 Variations on Orange Julius (Copycat)
Pineapple Orange Julius: One of the great things about this recipe is that you can add a variety of different fruit flavors to the original recipe. Instead of just using orange juice concentrate, you can use half orange juice and half pineapple juice concentrate. Then blend the Pineapple Orange Julius as usual to finish the recipe.
Fruit: For more fruit options, you could also add frozen fruit to the blender. Try adding in frozen strawberries, blueberries, raspberries, or frozen bananas at the same time you add the ice cubes to the Orange Julius mix. Then blend until smooth.
Thicker Drink: In order to thicken your Orange Julius to be more like a shake, you can add a couple scoops of ice cream to the drink. Other options would be to add frozen yogurt, or a frozen banana to thicken it and add some extra flavor.
Healthy Orange Julius Copycat: When you make a copycat version of your favorite restaurant recipes, you can swap out any of the ingredients you want in order to meet your dietary restrictions or goals. To make a Healthy Orange Julius Copycat, you can exchange the heavy cream and whole milk with almond milk or coconut milk.
Can Orange Julius (Copycat) be made ahead?
While Orange Julius is best served made fresh due to the mix of refrigerated and frozen ingredients, you could make it ahead of time if you really needed to. One way to make sure your drink is cold and frothy the next day would be to mix all the ingredients together except the ice. Then store it in the refrigerator over night. The next day take it out of the fridge and add the ice, then blend it and serve it to your happy friends, family, or guests.
More Fruit Desserts 
How to Store Orange Julius
Serve: This Orange Julius Copycat recipe definitely tastes best served fresh. That way it's still perfectly chilled and creamy.
Store: If you have any leftovers, you can store the drink in an airtight container in the fridge for 1-2 days.
Freeze: You can also freeze Orange Julius for up to 3 months. Let it thaw in the fridge, and then put the ingredients back in the blender to remix them before serving.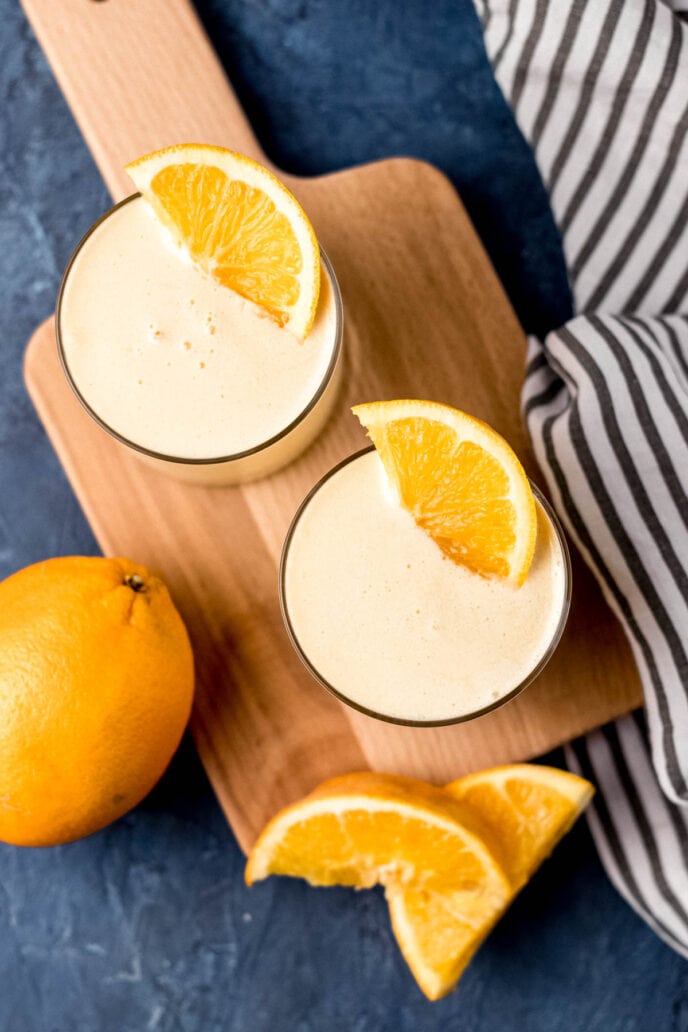 Ingredients
1 1/2

cups

whole milk

1/2

cup

heavy cream

6

ounces

frozen orange juice concentrate

2

tablespoons

sugar

1/4

teaspoon

vanilla extract

1 1/2

cups

ice

4

slices

orange
Instructions
Add milk, ice water, orange juice concentrate, sugar and vanilla to a high speed blender and blend for

20 seconds.

Add the ice and blend until smooth, another

30 seconds.

Pour the drinks and garnish with one orange slice, then serve.
Nutrition
Calories:
250
kcal
|
Carbohydrates:
27
g
|
Protein:
5
g
|
Fat:
14
g
|
Saturated Fat:
9
g
|
Polyunsaturated Fat:
1
g
|
Monounsaturated Fat:
4
g
|
Cholesterol:
50
mg
|
Sodium:
56
mg
|
Potassium:
430
mg
|
Fiber:
1
g
|
Sugar:
27
g
|
Vitamin A:
747
IU
|
Vitamin C:
59
mg
|
Calcium:
139
mg
|
Iron:
1
mg