Ice Cream Sundae is the perfect frozen dessert with all the best toppings like caramel sauce, chocolate ganache, whipped cream, peanuts, and cherries.
This is the perfect Dessert Recipe to enjoy during the Summer. It's easy, there's no need to turn on the oven, and the Vanilla Ice Cream and wonderful toppings are sure to be a hit with everyone. It's a great way to cool down and enjoy a classic treat from your childhood.
ICE CREAM SUNDAE
Rich, easy sundaes are the ultimate ice cream treat. They come together in almost no time at all with amazing ingredients like Caramel Sauce, Chocolate Ganache, Whipped Cream, and crushed peanuts, all over a creamy ice cream scoop.
You can make the recipe in just a few minutes with store-bought ingredients, or make it entirely from scratch with homemade vanilla ice cream, whipped cream, and sauces. Either way, the finished dish is sure to bring a smile to anyone's face! Finishing it off with whipped cream and a cherry gives this dessert the perfect nostalgic look, like it came right out of an old fashioned soda shop.
WHERE DID ICE CREAM SUNDAES COME FROM?
Ice Cream Sundaes are an iconic American dessert, but there is some debate over their origin. Many places lay claim to the sundae, including Illinois, Louisiana, Ohio, and New York. But no one really knows who made the first one.
One origin story for the popular ice cream treat is that it got its name from Sunday, as in the day of the week. According to this version of events, ice cream sodas were considered too "frilly" to serve on Sundays. So, soda fountains created a new dessert variation, the sundae, to serve the town on weekends. No matter how it came about, I think we can all agree we're happy to have it now!
MORE FROZEN TREATS
AT HOME SUNDAE BAR
For a fun dessert night with family and friends, you can make a DIY ice cream parlor at your own kitchen counter. First, set up some bowls and spoons for people to grab their own. Take out the vanilla ice cream or any other ice cream flavors you want to use as the base. Put out the caramel sauces, chocolate syrup, whipped cream, peanuts, and cherries for everyone to top off their own dish. It will only take a few minutes to arrange, and it doubles as a dessert plus an activity for everyone to enjoy their own delicious ice cream creations.
You could also put out other toppings like Hot Fudge for rich hot fudge sundaes. Or, try peanut butter syrup, sprinkles, marshmallow topping, your favorite candies, sliced fruit, and broken pretzel bits. Then, everyone can pick out their favorites to add to their ice cream scoops.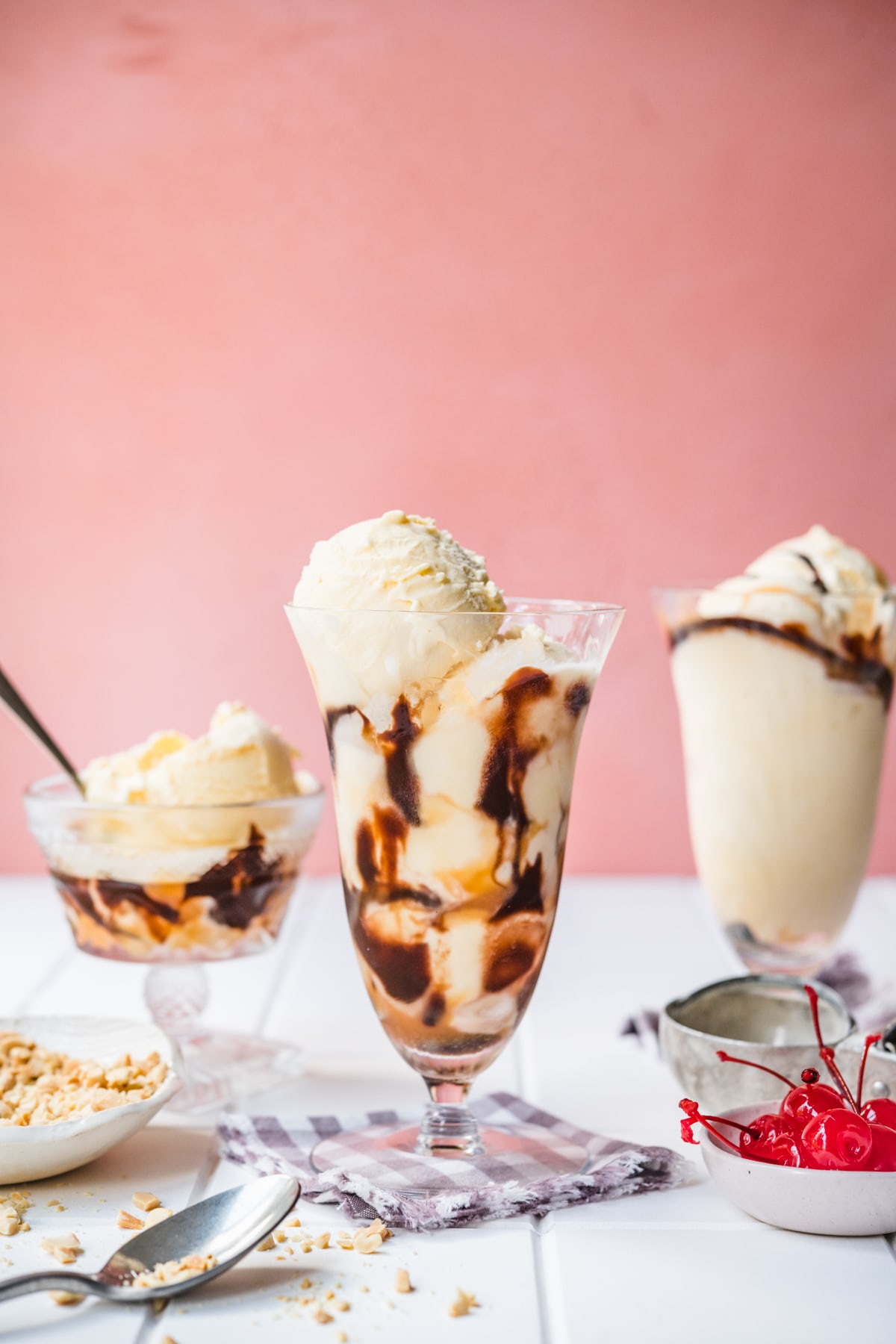 Create a free account to

Save Recipes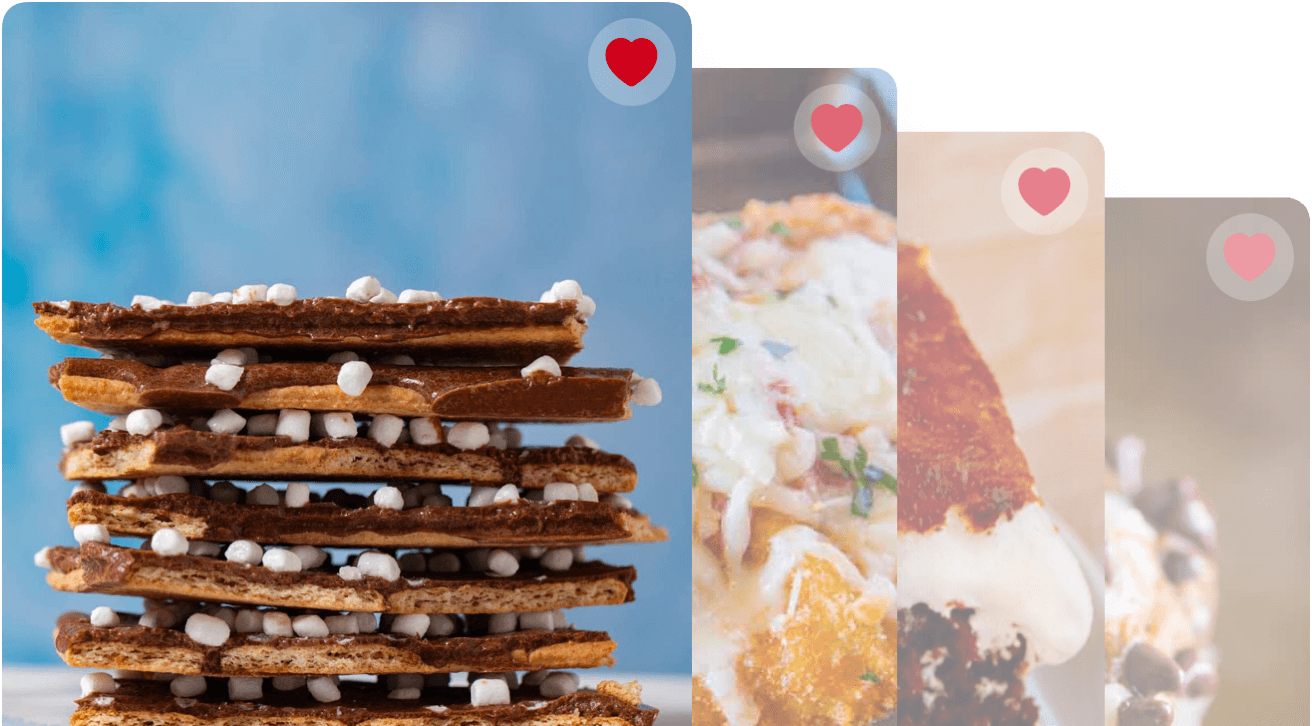 VARIATIONS ON ICE CREAM SUNDAE
Flavors: You can use the same toppings and basic recipe with a variety of different ice cream flavors as the base. Try out Strawberry Ice Cream, Chocolate Ice Cream, chocolate chocolate chip ice cream, coffee, mint, banana, cookie dough, or cookies and cream to experiment with different ice cream concoctions.
Sauces: There are plenty of other sauces and syrups you can pour over this recipe. Try out fruit syrups like raspberry, blueberry, Strawberry, or cherry syrup. You could also use chocolate syrup, peanut butter, or magic shell.
Add-ons: For some extra flavor try add-ons like sliced strawberries or bananas. You could also add candy toppings such as butterscotch chips, fudge pieces, gummy bears, M&Ms, or Reese's pieces. For crunchy toppings, try sprinkling broken waffle ice cream cones or cookie crumbs on top of the Sundae.
Ice Cream Sandwich: To make homemade ice cream sandwich recipes, first pick out what kind of cookie you want to use. Chocolate Chip, Sugar Cookies, or Peanut Butter Cookies would all taste great. Scoop the ice cream over one of the cookies, then add any of the toppings you want before adding the top of the cookie sandwich.
MORE FUN DESSERTS
HOW TO STORE YOUR ICE CREAM SUNDAE
Serve: It's best to serve your Sundae within minutes of adding the toppings. That way the ice cream won't have time to melt, and it will still have a beautiful presentation. Don't leave the finished dish out for more than 2 hours.
Freeze: If you can't finish, you can put the recipe in an airtight container to store in the freezer for up to 2 months. For the best results, take the cherries off before freezing and add new ones before you eat the recipe.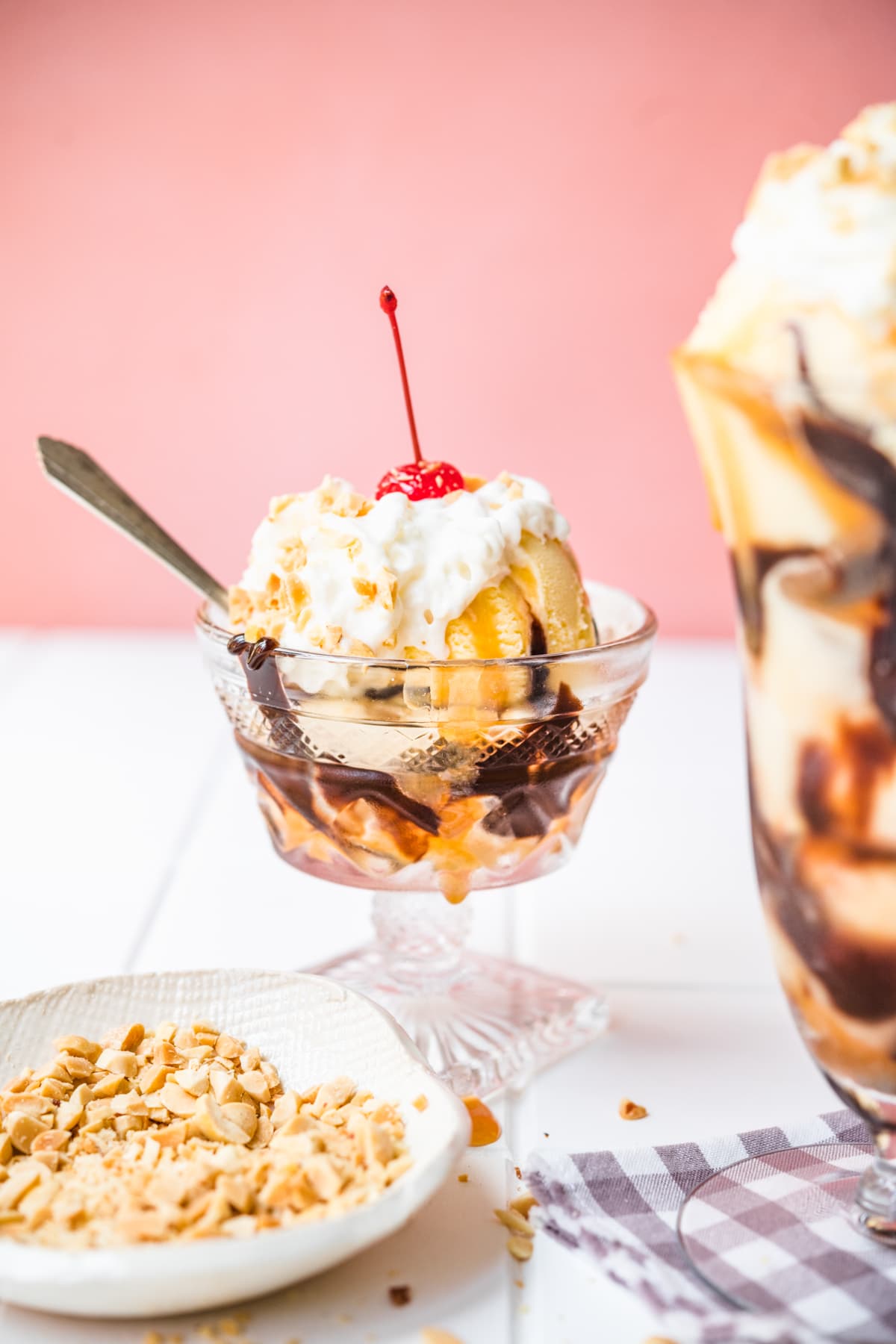 Instructions
Add ice cream to a bowl.

Add chocolate ganache drizzled over ice cream.

Add caramel sauce drizzled over ice cream.

Top with whipped cream.

Add cherry over whipped cream.

Sprinkle peanuts over entire dish.
Nutrition
Calories:
774
kcal
|
Carbohydrates:
105
g
|
Protein:
13
g
|
Fat:
35
g
|
Saturated Fat:
17
g
|
Cholesterol:
99
mg
|
Sodium:
306
mg
|
Potassium:
609
mg
|
Fiber:
4
g
|
Sugar:
69
g
|
Vitamin A:
979
IU
|
Vitamin C:
1
mg
|
Calcium:
319
mg
|
Iron:
1
mg