Oreo Fluff is an easy no-bake treat that you can use as a dip, filling, or topping to finish your favorite desserts.
This delicious Dessert Recipe is the perfect sweet dip to bring out for your next party. For more dessert dip recipes, try Toffee Apple Dip and 2-Ingredient Fruit Dip.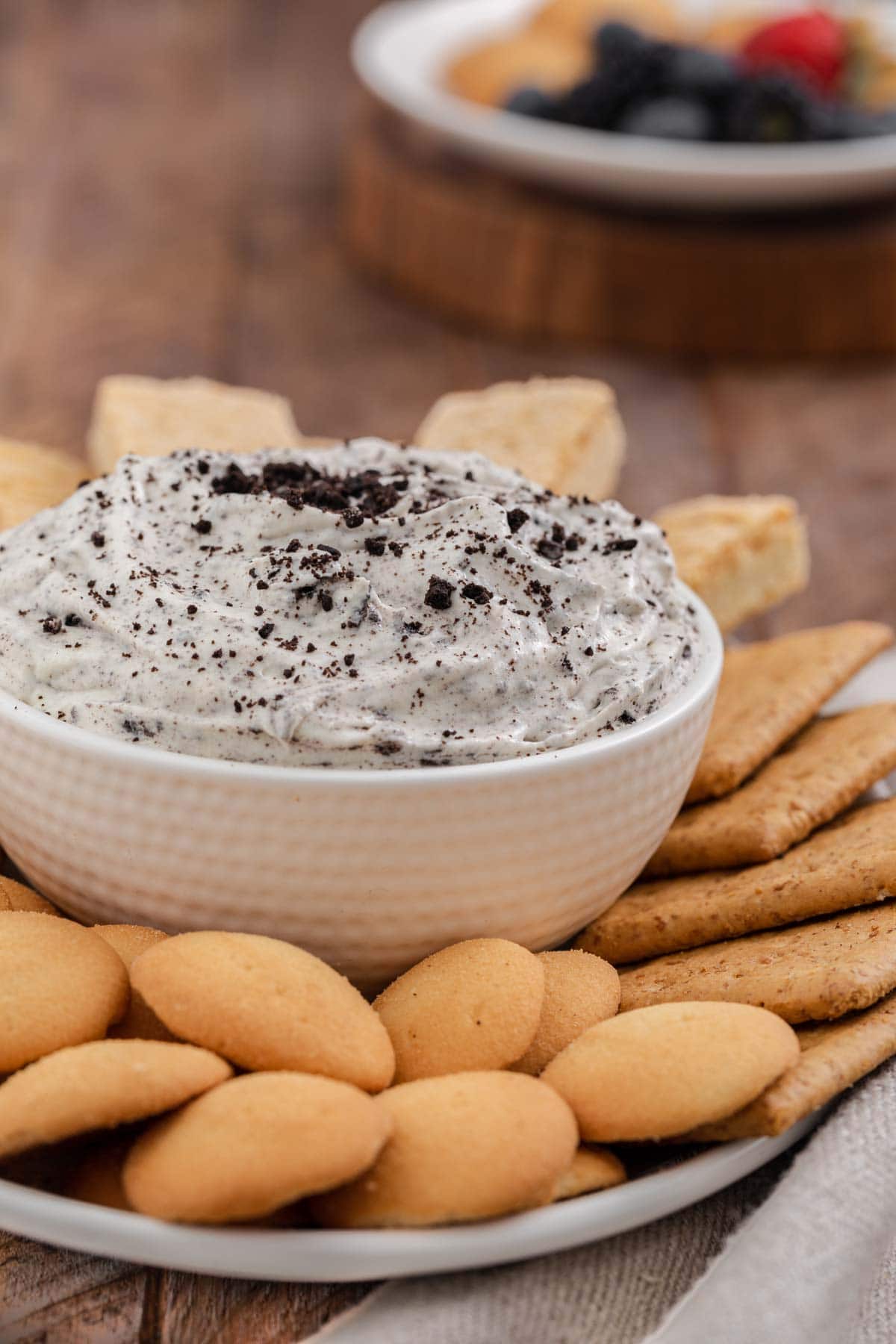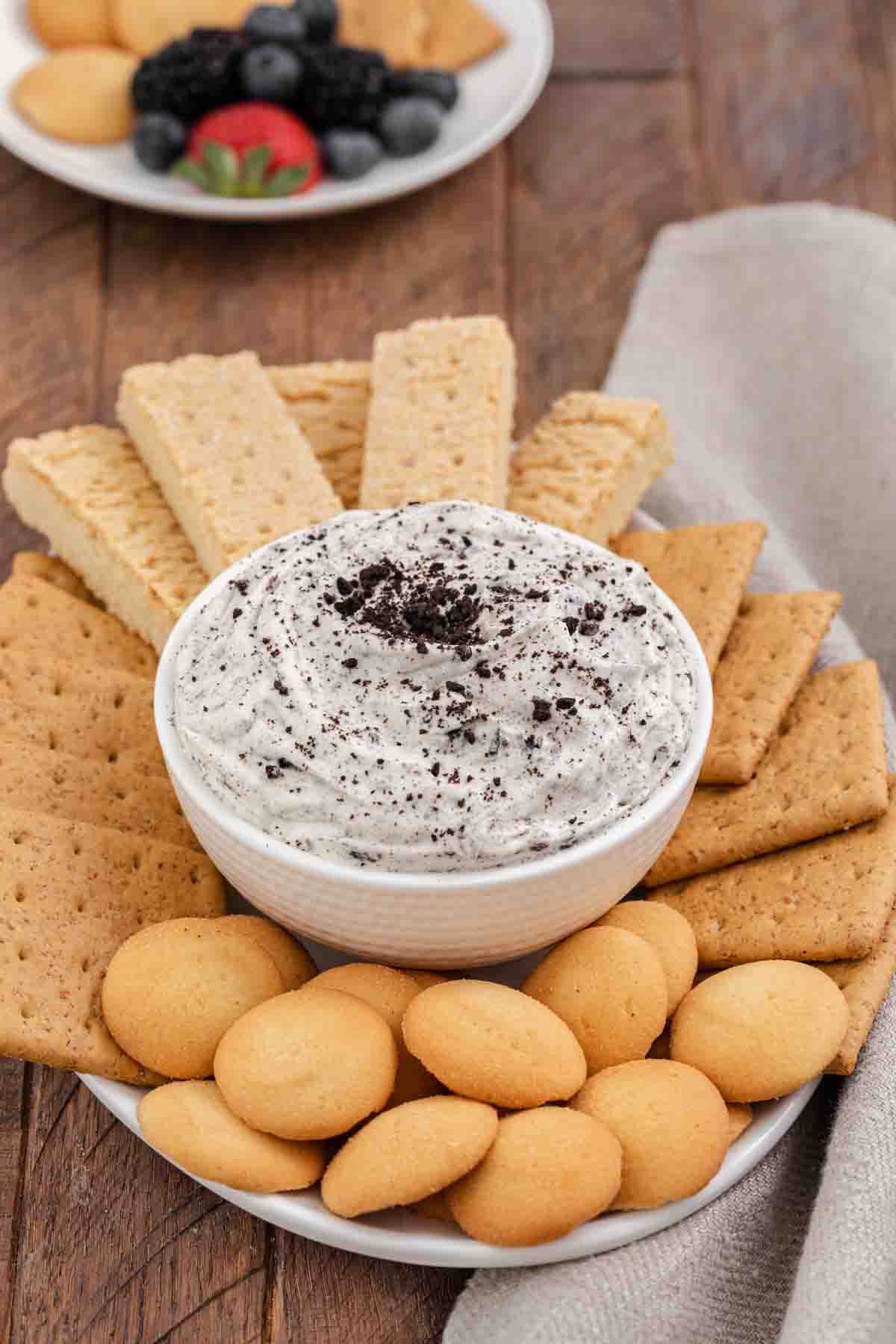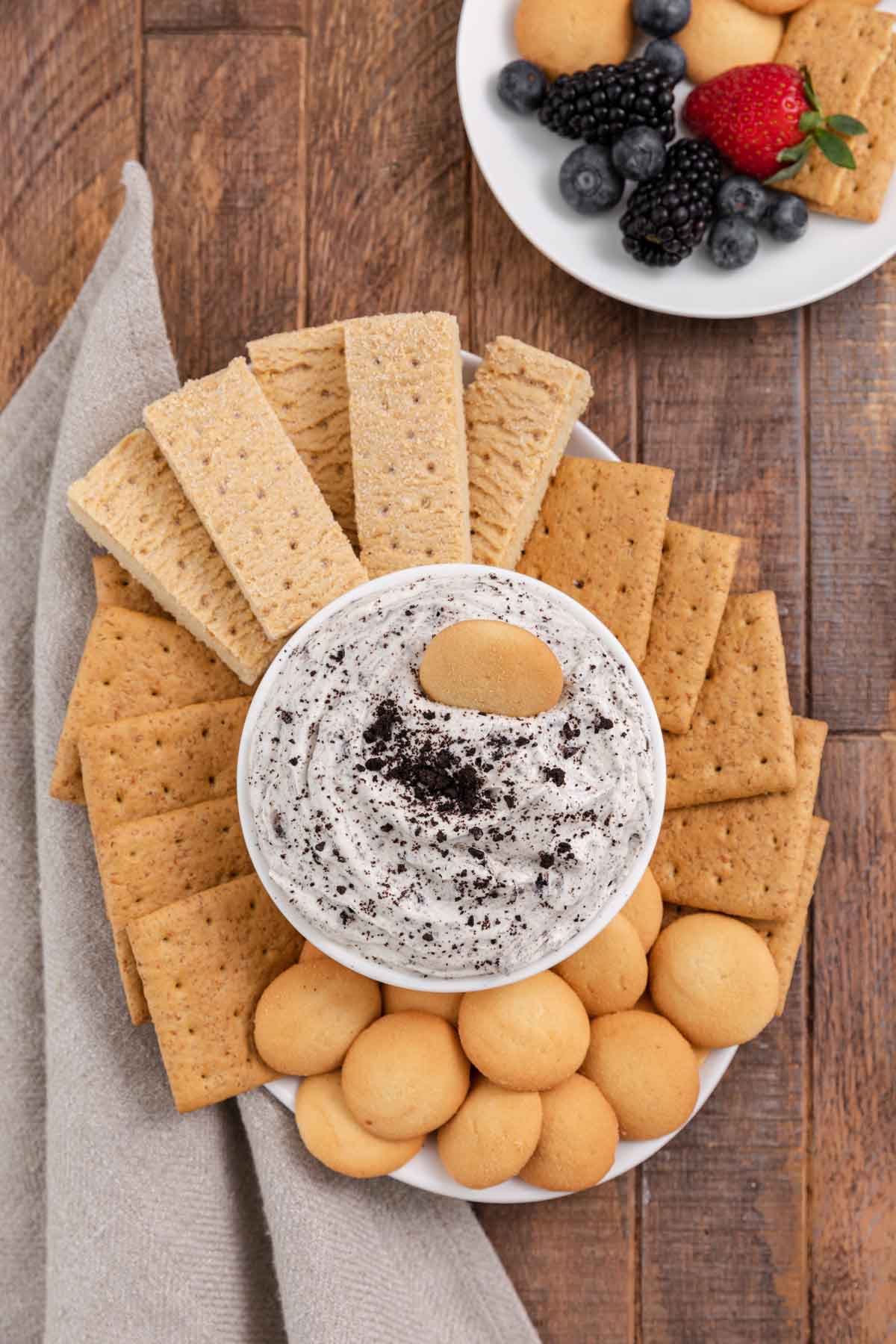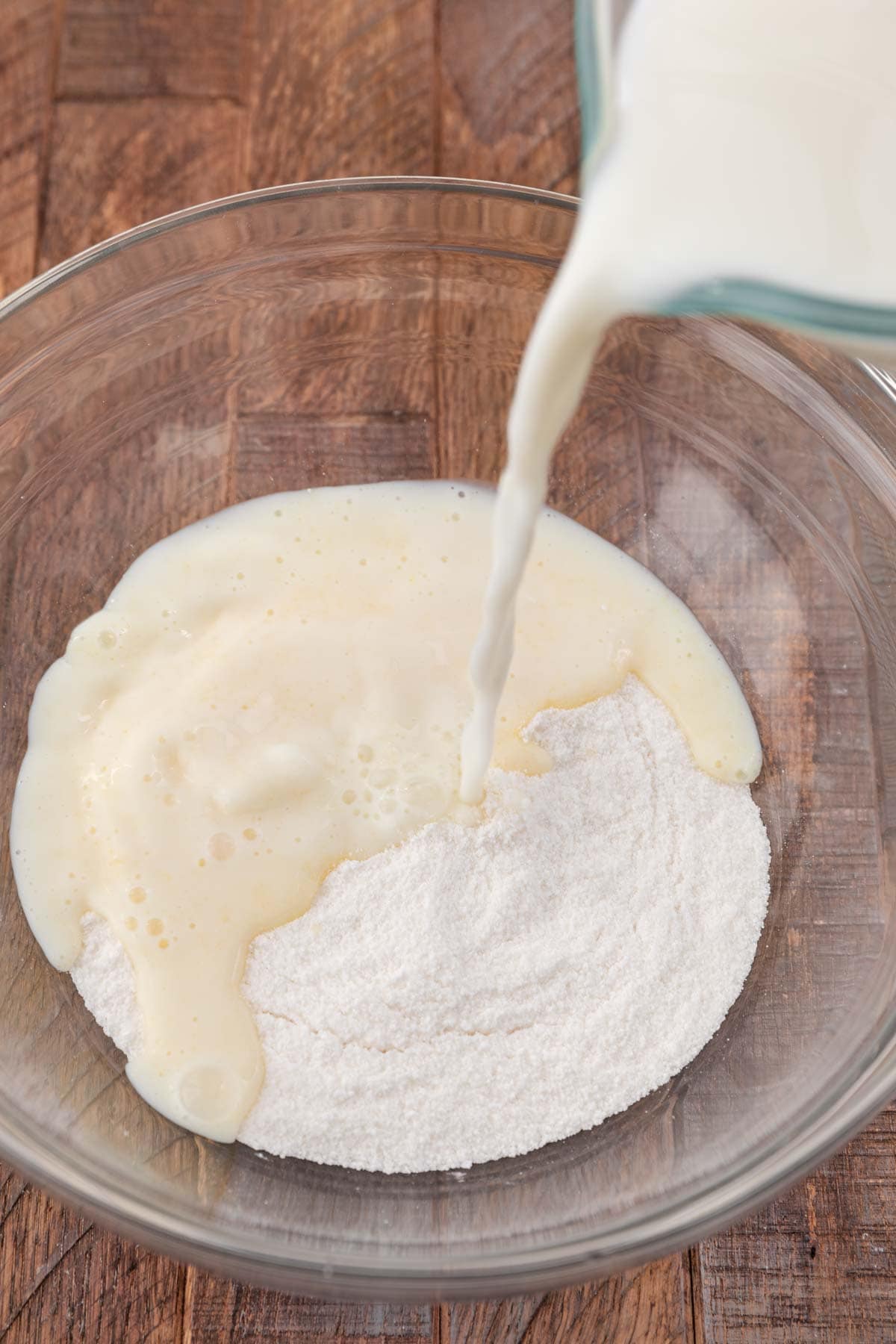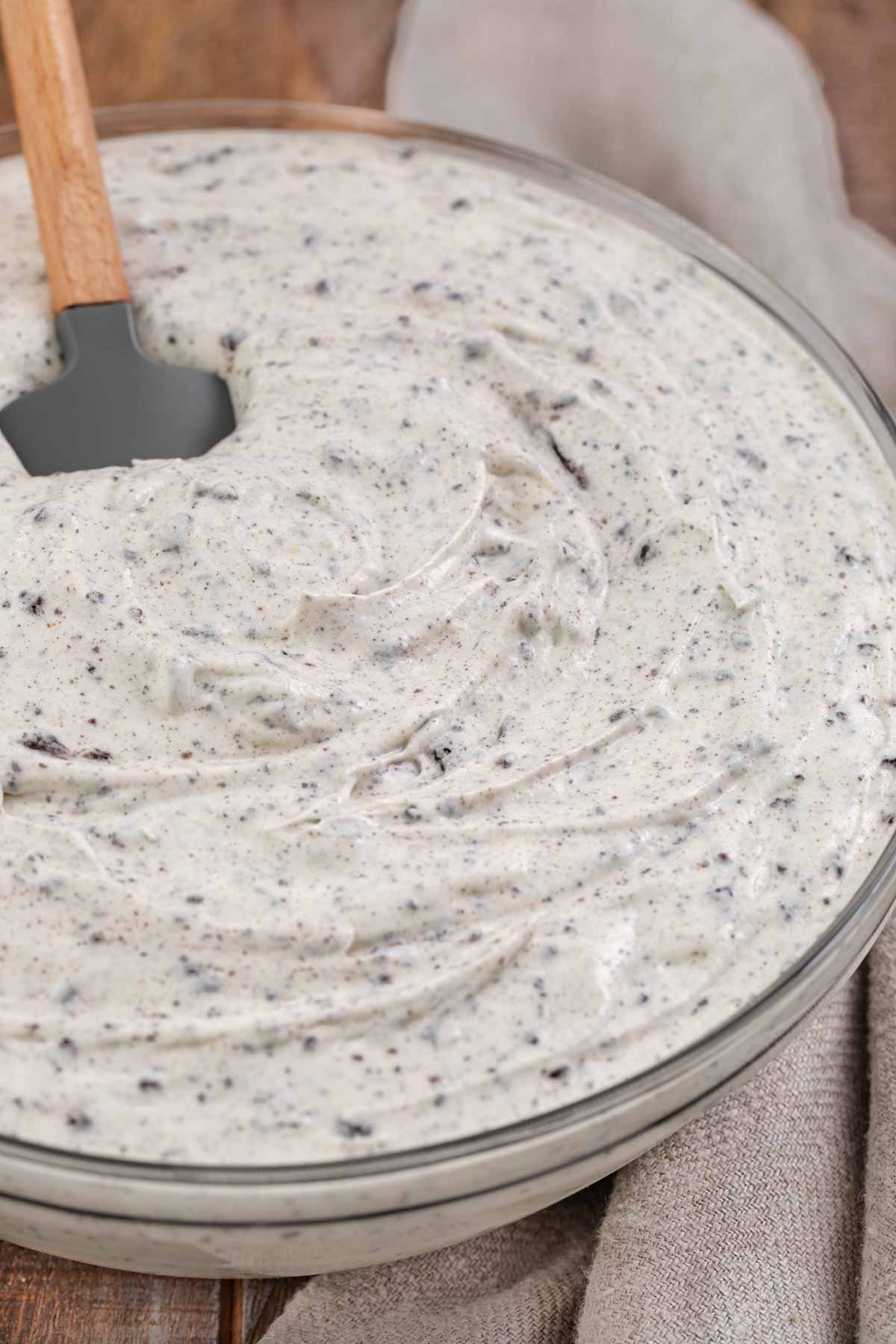 About Our Oreo Fluff Recipe
Readers of this blog are used to seeing Oreo cookie recipes. They are pretty popular, but hat's less because of the cookies on their own and more because the crisp chocolate wafers and creamy filling make them the perfect dessert ingredient that you can use in so many recipes. Whether it's Oreo Cheesecake Bars, Oreo Fudge, or Oreo Ice Cream Pies, there's virtually no end to the ways you can use these store-bought cookies to make incredible, crowd-pleasing treats.
This particular Oreo-inspired no-bake dessert is a family favorite and the perfect recipe to bring out for your next game night, movie viewing party, holiday get-together, or any other party. The creamy mixture has the same sweet flavor and fluffy texture as the delicious Oreo filling. Then it's finished with chunks of actual Oreo cookies for some chocolatey flavor and crunch. The dip is easy to make in a few minutes, and then you'll just need to let it chill before serving. However, there's no baking time to worry about.
Oreo Fluff Ingredients
2 packages Instant Vanilla Pudding: To make the thick base for this recipe, you'll want two boxes of instant vanilla pudding mix. The mix has a rich vanilla flavor and creates a thick but spreadable consistency perfect for a dip.
4 cups Whole Milk

: You'll want 4 cups of whole milk to mix the pudding into. As you stir, the pudding powder will dissolve into and thicken the milk into the perfect, creamy texture. If you prefer, you can use 2% or skim milk instead of whole milk. However, they won't give you as rich of a taste or velvety texture. You could also try a dairy-free alternative like almond milk, soy milk, or coconut milk for the pudding mix.

16 ounces Cool Whip

: Folding in the cool whip adds more air to the pudding mixture to create a fluffy dip. Be careful not to over-mix the Oreo Fluff.

26 Oreos

: Finish the dish with Oreo Cookie Crumbs for topping. They give the fluff mixture a more dynamic texture and create the cookies and cream flavor for the recipe.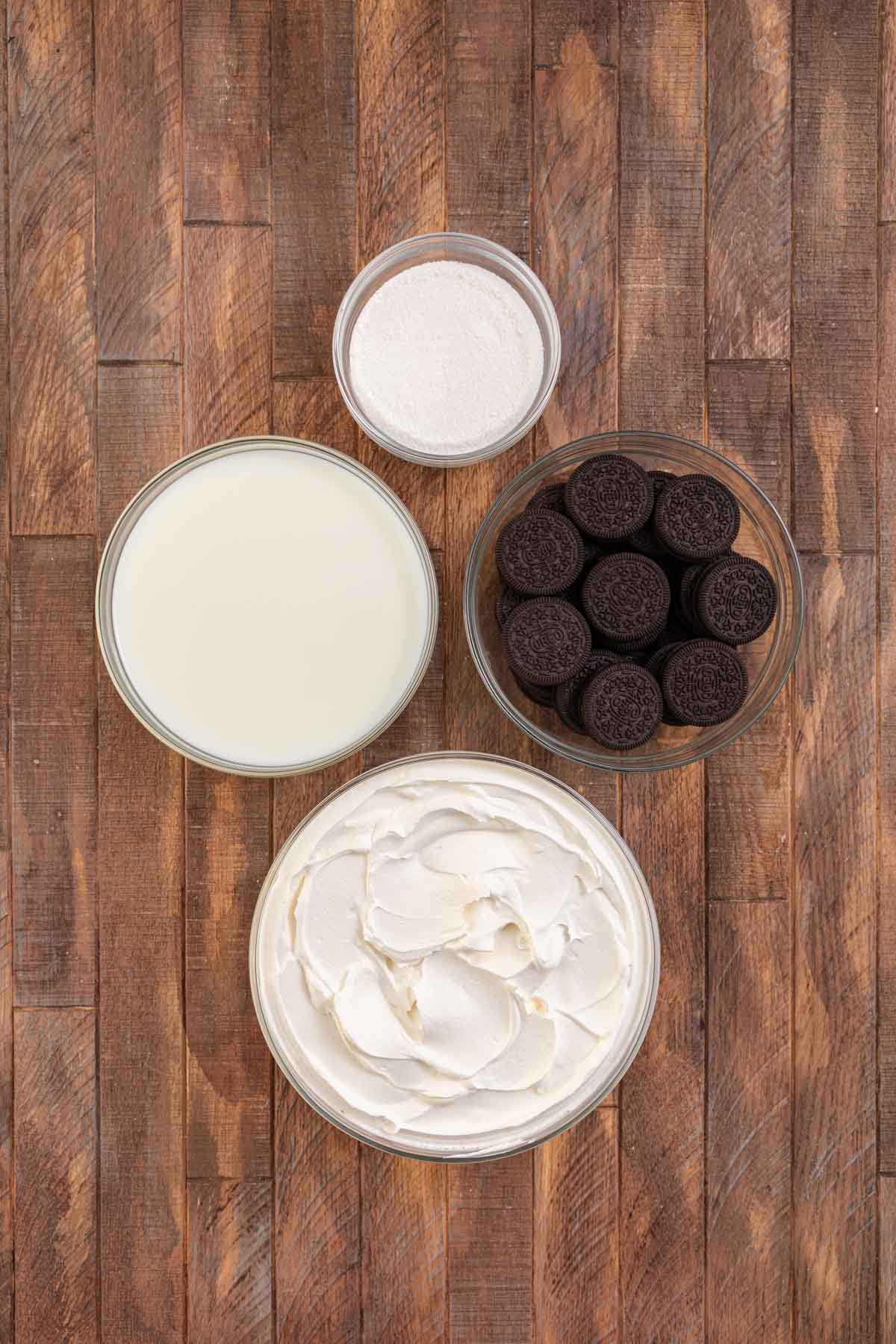 Kitchen Tools & Equipment
Mixing Bowl: You'll need a bowl large enough to mix everything together without spilling all over the counter.
Whisk: You can use either a wire whisk, or a silicone whisk to combine your ingredients thoroughly.
Food Processor: Use your favorite food processor to crumble the Oreos. However, if you don't have one, or if you just prefer not to use it and have to wash it afterwards, you can crush the Oreos with a rolling pin or mallet inside of a ziplock bag.
Rubber Spatula: A light tool is needed to fold in the Cool Whip, then the Oreos so that your mixture stays nice and fluffy. A rubber or silicone spatula is perfect for the task.
How to Make Oreo Fluff
Time needed: 40 minutes.
A few easy steps and your quick and easy Oreo Fluff dip will be ready.
Mix the Pudding

Add the milk and instant vanilla pudding mix to a large mixing bowl. Then whisk well until combined and starting to thicken. This should take about 1 minute. Be sure to stop before it becomes too thick and dense. Then let the pudding mix sit for 5 minutes.

Cool Whip

Use a rubber spatula to gently fold the cool whip into the vanilla pudding mixture.

Oreo Chunks

Add the Oreo cookies to your food processor and pulse until they have broken into small chunks. Alternatively, you can add the Oreos to a ziplock bag. Close the bag and use a rolling pin or another heavy object to break the cookies into pieces. Then fold the Oreo chunks into the cool whip mixture.

Refrigerage

Cover the bowl and refrigerate the Oreo Fluff for about 30 minutes. Serve with cookies, crackers, or fruit for dipping, and enjoy!
Nutritional Facts
Nutrition Facts
Oreo Fluff
Amount Per Serving
Calories 287
Calories from Fat 90
% Daily Value*
Fat 10g15%
Cholesterol 16mg5%
Sodium 261mg11%
Potassium 227mg6%
Carbohydrates 47g16%
Protein 5g10%
Vitamin A 198IU4%
Calcium 147mg15%
Iron 3mg17%
* Percent Daily Values are based on a 2000 calorie diet.
Recipe Tips & Tricks
This recipe is pretty straightforward but there are a couple of tips you could follow to make the best Oreo Dip.
Folding in the Cool Whip

Pay close attention to the tools you use and to the mixture when folding in the cool whip. You want to make sure you don't mix too rough, too fast, and don't use a heavy spoon because you want the cool whip to stay fluffy. A rubber or silicone spatula will work best.

Check the Size of the Oreo Chunks

Whether you pulse in a blender, or crush your Oreos by hand, you want to be mindful of the size of chunks you're making. It's okay to make very small crumbs, or larger chunks for your dip. The choice is yours. Just be mindful that the size of the chunks can change very quickly so be mindful as you crush them.
What to Pair With Oreo Fluff
Once it's ready, put out a bowl of Oreo Fluff with your favorite dessert dippers.
Crunchy Cookies: Try setting out some Shortbread Cookies, Vanilla Wafers, Sugar Cookies, or Peanut Butter Cookies.
Crackers: Set out some sweet crackers like honey graham crackers, chocolate graham crackers, or chocolate wafers to dip into the Oreo Fluff.
Fruit: fresh fruit go amazing with this delicious dip. The Oreo Fluff tastes particularly good with strawberries.
Topping: You can also use it as a topping or spread on pies, brownies, sundaes, or divide it into small serving bowls and enjoy it like a rich pudding.
How to Store Oreo Fluff
Serve: You don't want to leave the mixture out for more than an hour or so. The cool whip can start to melt, and the dip will lose its fluffy consistency.
Store:

To keep the recipe for later, transfer the Oreo Fluff to an airtight container or cover it in plastic wrap to store in the fridge for 3-4 days.

Freeze:

Unfortunately, the pudding and cool whip mixture won't maintain its consistency after freezing and thawing it. If you don't finish the Oreo dip within a few days, throw it out and making a fresh batch.
Ideas to Serve Oreo Fluff
Oreo Fluff makes a great party dip. Put the dessert dip out in a large serving bowl with a plate underneath or to the side with the dipper options. Set out a few different kinds of crackers, cookies, and fresh fruit so that everyone can pick what they want to use to dig into the Oreo Fluff. Make sure you give the Oreo mixture enough time to set in the fridge and serve the dish still chilled.
FAQs for Oreo Fluff
What can I substitute for the cool whip?
If you don't want to use cool whip, you can swap it out for Classic Whipped Cream.
Can I use different Oreo flavors?
You can easily change up the recipe by using different kinds of Oreo flavors. Double chocolate Oreos, mint Oreos, birthday cake Oreos, red velvet Oreos, golden Oreos, or peanut butter Oreos are all fun flavors to try out in this simple recipe.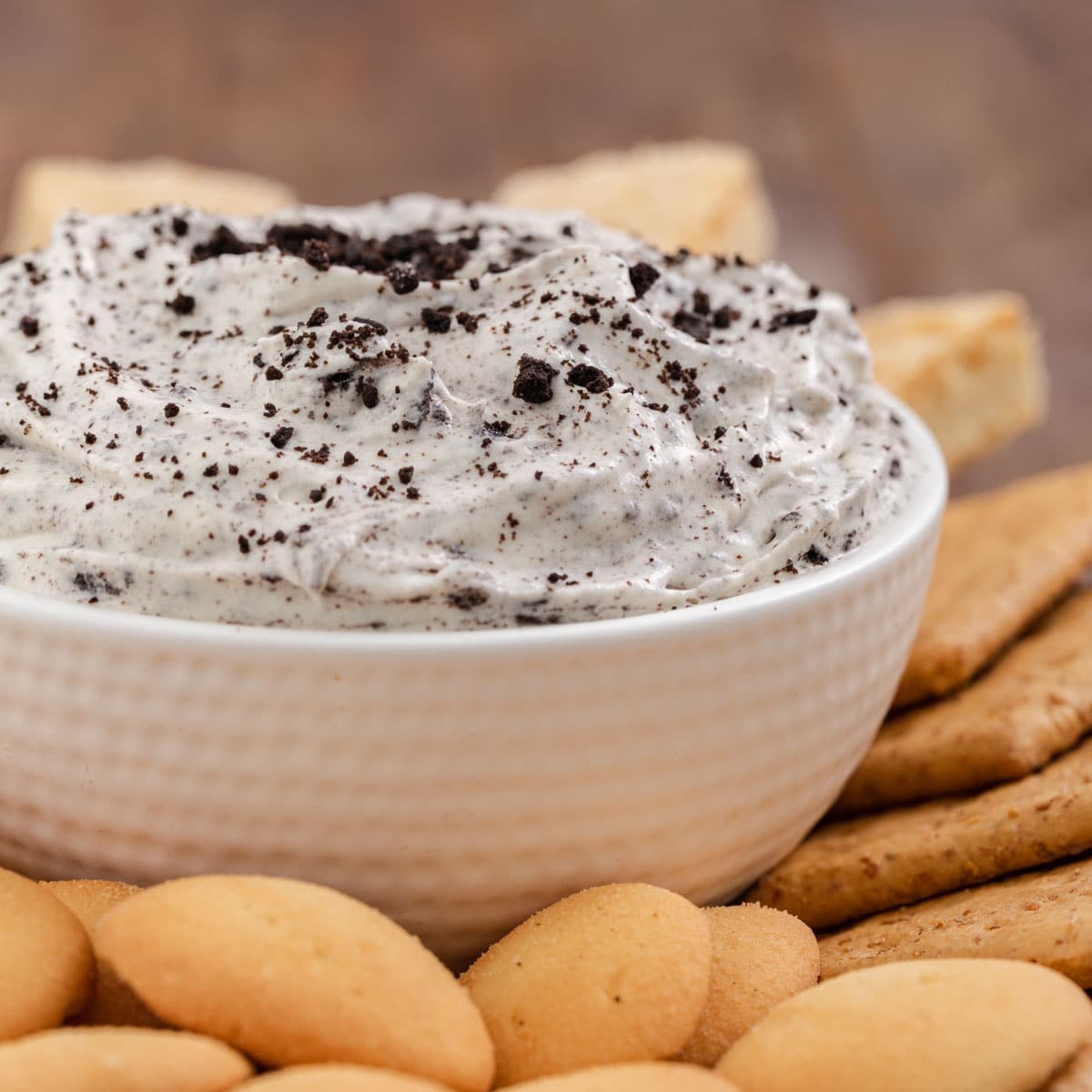 Recipe Card


Ingredients
Instructions
Add milk and pudding mix to a large mixing bowl.

Whisk well until combined and the mixture is starting to thicken, about 1 minute.

Gently fold in the Cool whip.

Add Oreos to a food processor and pulse (or add to a ziplock and crush with rolling pin) into small chunks.

Fold the Oreo chunks into the Cool Whip mixture.

Cover and refrigerate at least

30 minutes

.

Serve in a bowl with fruit, graham crackers, cookies, and nilla wafers for dipping.
Nutrition
Calories:
287
kcal
|
Carbohydrates:
47
g
|
Protein:
5
g
|
Fat:
10
g
|
Saturated Fat:
4
g
|
Polyunsaturated Fat:
1
g
|
Monounsaturated Fat:
3
g
|
Trans Fat:
0.01
g
|
Cholesterol:
16
mg
|
Sodium:
261
mg
|
Potassium:
227
mg
|
Fiber:
1
g
|
Sugar:
33
g
|
Vitamin A:
198
IU
|
Calcium:
147
mg
|
Iron:
3
mg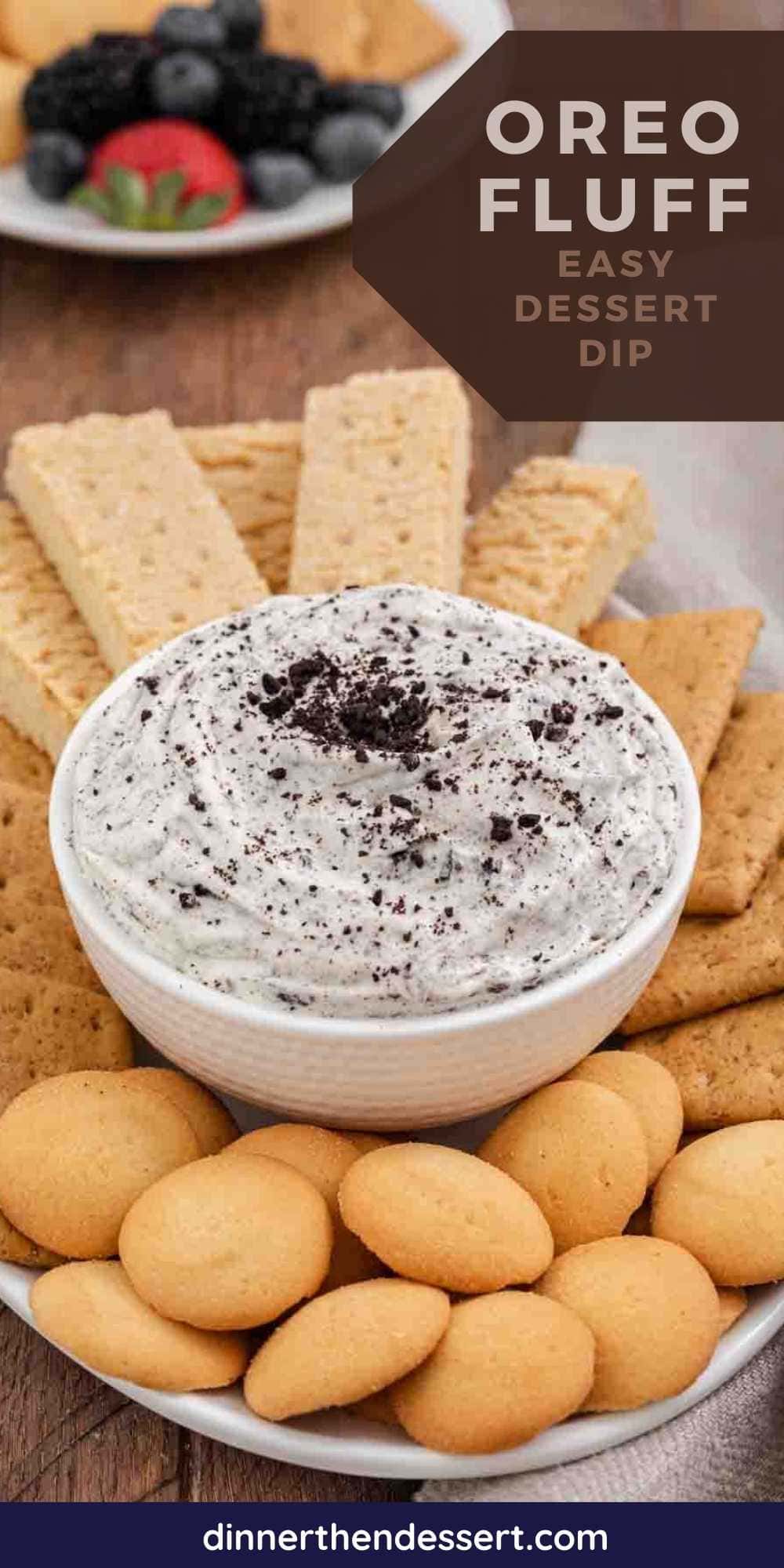 Variations for Oreo Fluff
Oreo Fluff Salad: You can add a few more mix-ins to the original recipe to make a delicious dessert salad dish. Mix in mini marshmallows or chop up full-size marshmallows to add marshmallow chunks. For more chocolate flavor, add chunks of chocolate or white chocolate chips. You could also add toffee pieces, M&Ms, Reese's pieces, or other favorite dessert mix-ins.
Cream Cheese Oreo Fluff

: To add a rich and tangy flavor to your Oreo Fluff mixture, you can mix 4 ounces of softened cream cheese with the pudding blend. Fold the cool whip into the cream cheese mixture and let it all set in the fridge before serving. This version can turn out quite a bit thicker. Add milk as necessary to get a softer texture.

Chocolate Oreo Fluff

: The original recipe calls for instant vanilla pudding. However, if you want to make this recipe with a rich chocolate flavor, you can use a chocolate instant pudding mix. Other than swapping the vanilla for the chocolate pudding mix, you don't have to change anything else in the recipe to make this alteration.

Flavor Variations

: There are other flavor variations that you could try in your Oreo Fluff. For example, you can mix in mint or peppermint extract for a holiday dessert. Use a strawberry instant pudding mix for the perfect Valentine's Oreo Fluff. Around Halloween, you can even pick up pumpkin spice pudding for a fun seasonal option, or choose pumpkin spice Oreos to mix in. With each flavor change you make, feel free to use the Oreo flavor that matches the mixture.
Related Recipes