Panda Express Honey Walnut Shrimp are fried with a tempura batter and quickly tossed in a honey sauce and sweetened walnuts.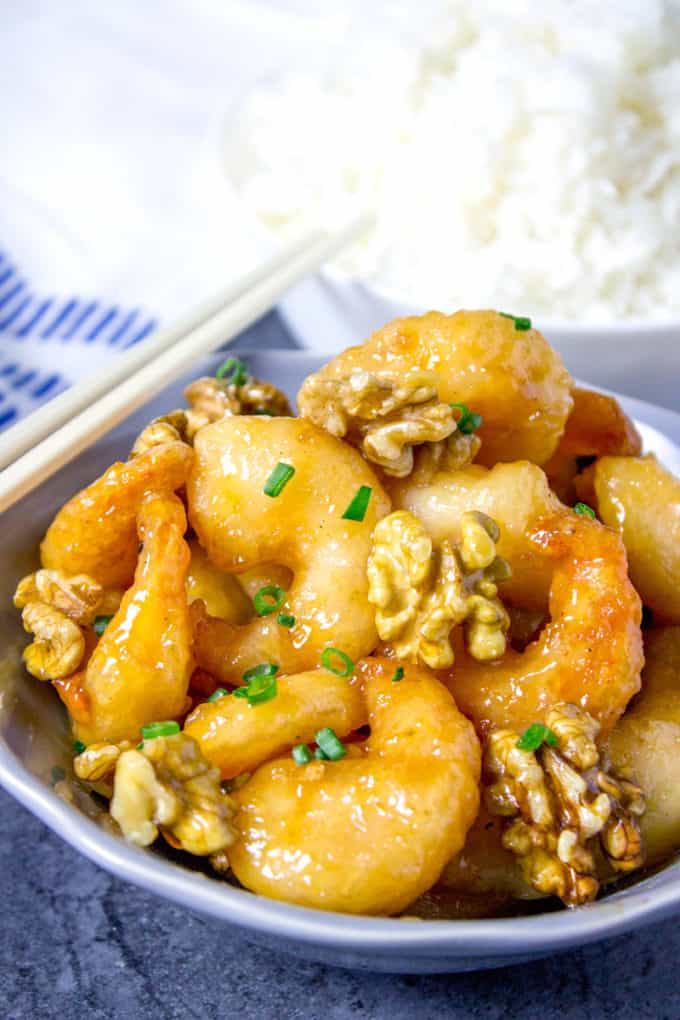 Panda Express Honey Walnut Shrimp has been long overdue on the blog. Crispy, sweet and savory, these tempura battered shrimps are the perfectly balanced shrimp dish and the crunchy sweetened walnuts add a wonderful texture. Best part is they're super easy to make and I don't charge you the extra $1 for a shrimp entree on the blog! 😉
For months I've had it on the calendar and for one reason or another it would get bumped back. Because of that delay I'm writing this post so far removed from when I made these that I am now craving them again!
For shrimp recipes I tend to not be as spontaneous as I am with other proteins. If I have a craving for a steak or pork chops I have a pretty darn good chance one of my favorite grocers will have a sale price I can take advantage of. Shrimp, and seafood in general, doesn't normally go on sale. If you're a fan of shrimp, I highly suggest you watch for such sales and that you stock up as much as your freezer will allow so that when you're having a craving you don't end up paying more than you need.
Example? As I right this post today I called around to the stores I would normally buy shrimp from. The price for the 18-20 count is $13.99, $18.99 and $14.99 a pound. The shrimp I actually used? $6.99 a pound. I know that the savings isn't a huge amount, but this dish is a really popular one in our house and we make it often for friends so I routinely make double or triple the recipe. Keeping my eye on sales saves me 20-30 dollars on food costs. Just some food for thought. Also shrimp freezes really well, I wouldn't recommend this with all proteins but shrimp handle it well.
Keeping track of all the Panda Express copycat recipes here on the blog?
Panda Express Honey Walnut Shrimp (you're here!)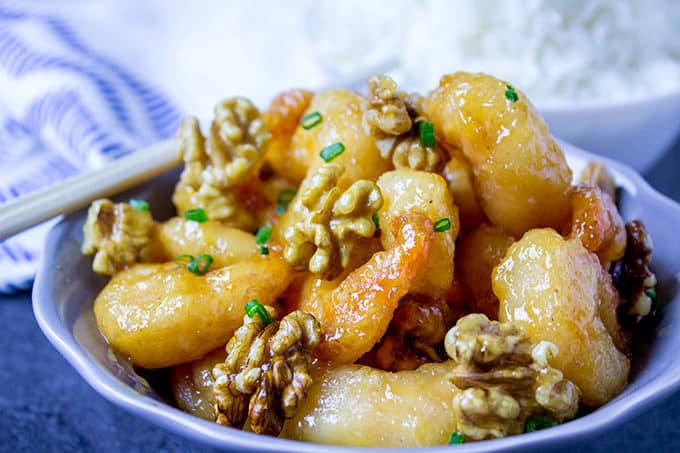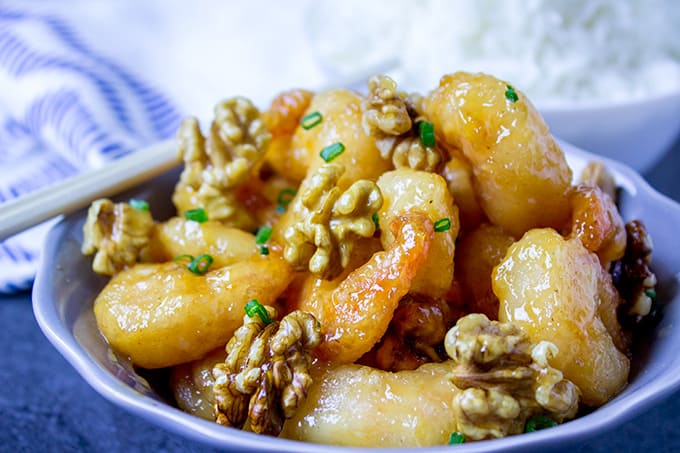 Ingredients
1

cup

water

2/3

cup

white sugar

1/2

cup

walnut halves

4

egg whites

2/3

cup

cornstarch

1/4

cup

mayonnaise

1

pound

large shrimp

, 18-20 count, peeled and deveined

2

tablespoons

honey

1

tablespoon

sweetened condensed milk

1

cup

vegetable oil for frying

scallions for topping

, optional
Instructions
Add the water, sugar and walnuts to a small saucepan and bring to a boil.

Boil for

two minutes

and remove the walnuts and dry on a dish to dry.

Whisk the egg whites until they are foamy then add cornstarch and continue whisking until combined.

Add the shrimp to the batter and one at a time using a fork or my favorite pig tail flipper pick up 1 shrimp at a time allowing it to drip off so that the shrimp has a thin coating and maintains it's shape.

Heat your oil in a medium sized pot on medium high (350 degrees) and fry until light golden brown,

4-5 minutes

.

To make the sauce, add the honey, mayonnaise and sweetened condensed milk and whisk to combine.

Add the fried shrimp to the sauce and coat with a large spoon.

Place into your serving plate and top with the candied walnuts.

Serve immediately with steamed rice.

Optionally you can top with sliced scallions.
Nutrition
Calories:
625
kcal
|
Carbohydrates:
66
g
|
Protein:
29
g
|
Fat:
27
g
|
Saturated Fat:
7
g
|
Cholesterol:
293
mg
|
Sodium:
1032
mg
|
Potassium:
222
mg
|
Fiber:
1
g
|
Sugar:
45
g
|
Vitamin A:
15
IU
|
Vitamin C:
4.6
mg
|
Calcium:
193
mg
|
Iron:
2.9
mg