The best Popeye's Green Beans Copycat recipe to recreate the tasty southern-style green beans with Cajun seasoning and bacon bit gravy!
Pair delicious Copycat Restaurant Recipes like Popeye's Cajun Rice, Popeye's Coleslaw and these creamy beans with your favorite Fried Chicken recipe for the perfect take-out meal at home!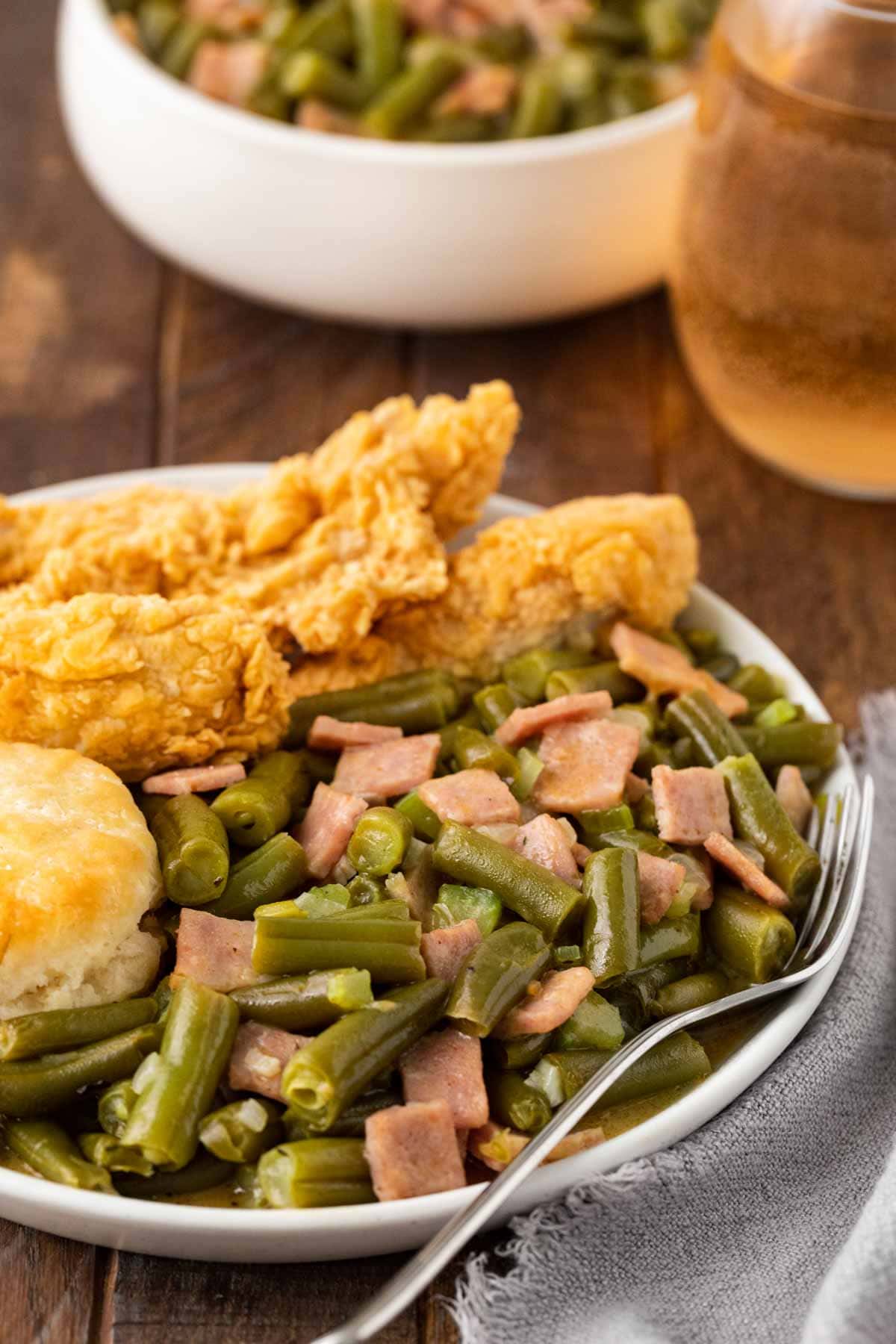 From their famous chicken sandwich recipe to popcorn shrimp to red beans and rice, Popeye's Louisiana Chicken has been serving up delicious meals you can't believe came from a drive-thru. For a brief, wonderful time, they were serving up the perfect side dish for fried chicken: their Southern-style green beans filled with smoky flavor and a Cajun twist. But sadly, they were discontinued a couple years ago.
These flavorful, creamy green beans with bacon might not be on the menu any more but with this Copycat Popeyes recipe, you can still enjoy them. This spot-on knockoff recipe is a quick delicious side dish using ingredients you probably already have on hand. You just need some frozen or canned beans, Cajun seasoning, turkey bacon and a handful of pantry items and about 30 minutes, start to finish.
This copycat recipe for Popeye's Green Beans is beyond bold when it comes to taste. There are layers of flavor from the sauteed veggies with chunks of bacon, to rich chicken stock and the spicy Cajun seasonings. Since this recipe uses turkey bacon, you don't have to drain the grease and you get all that delicious rich flavor with half the calories.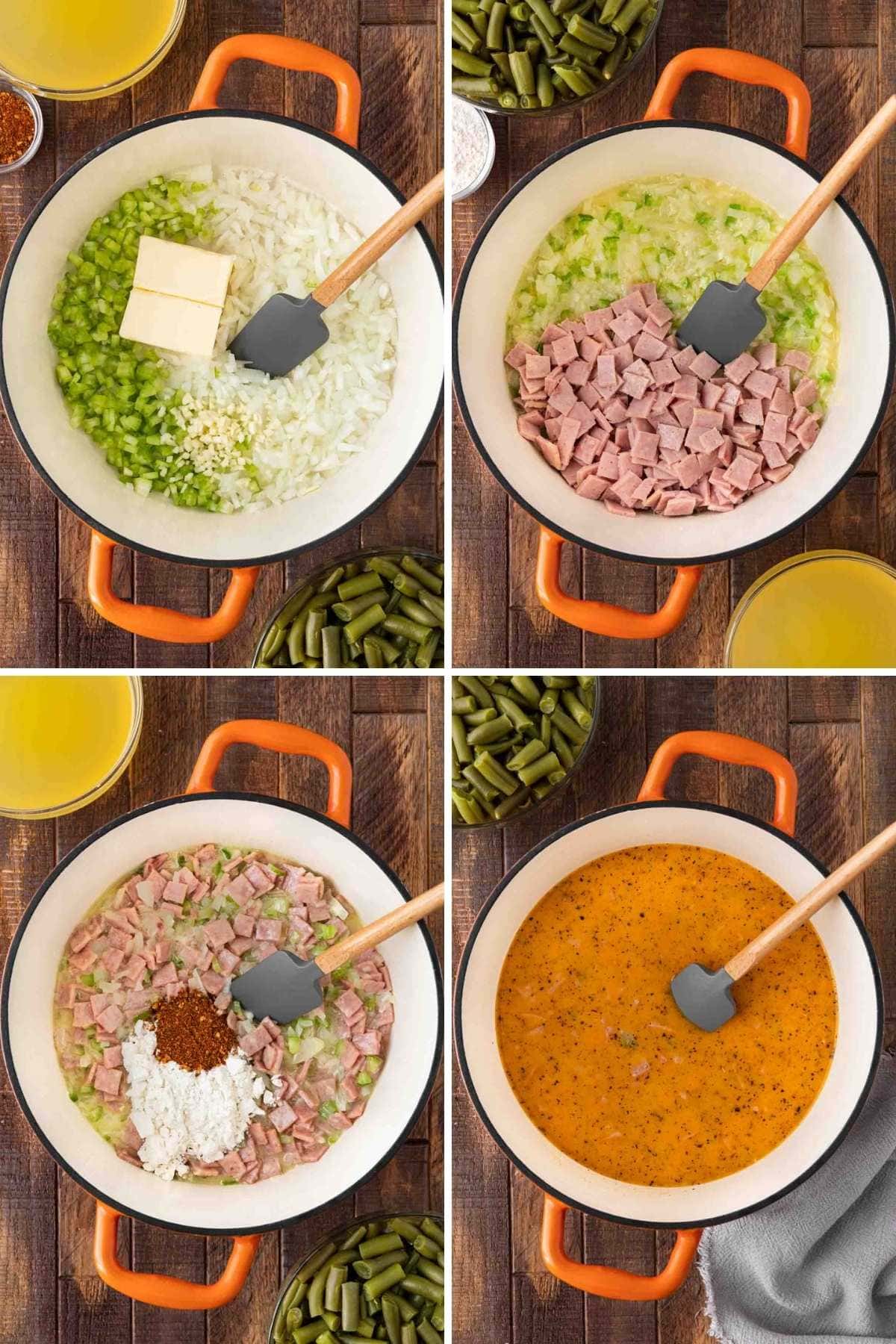 You can definitely serve Popeye's Green Beans with your favorite fried chicken or try other copycats like this KFC Original Recipe. They make a great side dish during the holidays with HoneyBaked Ham and Mashed Potatoes. You can also make Popeye's Green Beans in a slow cooker or even bake them into a green bean casserole to feed a crowd.
Why should you make Popeye's Green Beans at home?
Well, first off Popeye's discontinued their green beans so the only way you can enjoy them now is homemade copycat recipes. But why you should make these beans over other recipes like Green Beans and Bacon, is that thick, flavorful Cajun bacon gravy! The gravy is almost like a green bean casserole sauce but filled with a meaty smoky flavor. And unlike the original Popeye's recipe, this homemade version uses turkey bacon so it's quite a bit healthier but still as flavorful.
How to Make Popeye's Green Beans?
Saute: In a large dutch oven, saute the onion, celery, and garlic in the butter until the onions are translucent. Stir often so the veggies don't stick and the garlic doesn't burn.
Gravy: Add the turkey bacon to the veggies and cook for 5 minutes. Whisk in the flour and seasoning, cooking for one minute. Add the broth into the pot, and whisk until the flour is completely absorbed.
Cook: Cook, stirring occasionally, until the gravy has thickened and is simmering. Stir in the green beans and simmer until the beans are heated through.
Homemade Fried Chicken Dinner with Sides
FAQs for Popeye's Green Beans
Can you use Fresh Green Beans?
If you want to use fresh green beans, you will need to prepare them first or they will be far too crunchy for this recipe. Trim the green bean ends and cut into 2 inch strips. Microwave for 5-7 minutes with a tablespoon of water and covered with wet paper towel. Drain green beans and pat dry.
Are Popeye's Green Beans vegetarian?
No, both the original recipe and this Popeyes copycat recipe are made with bacon so they are not vegetarian. You could use a vegetarian bacon substitute but it won't have the same taste.
What is the difference between Cajun seasoning and Creole seasoning?
Cajun seasoning is associated with the rustic flavors of rural Louisiana and typically features bold and spicy elements, while Creole seasoning, rooted in the city of New Orleans, tends to be milder and incorporates a wider array of herbs and aromatic ingredients.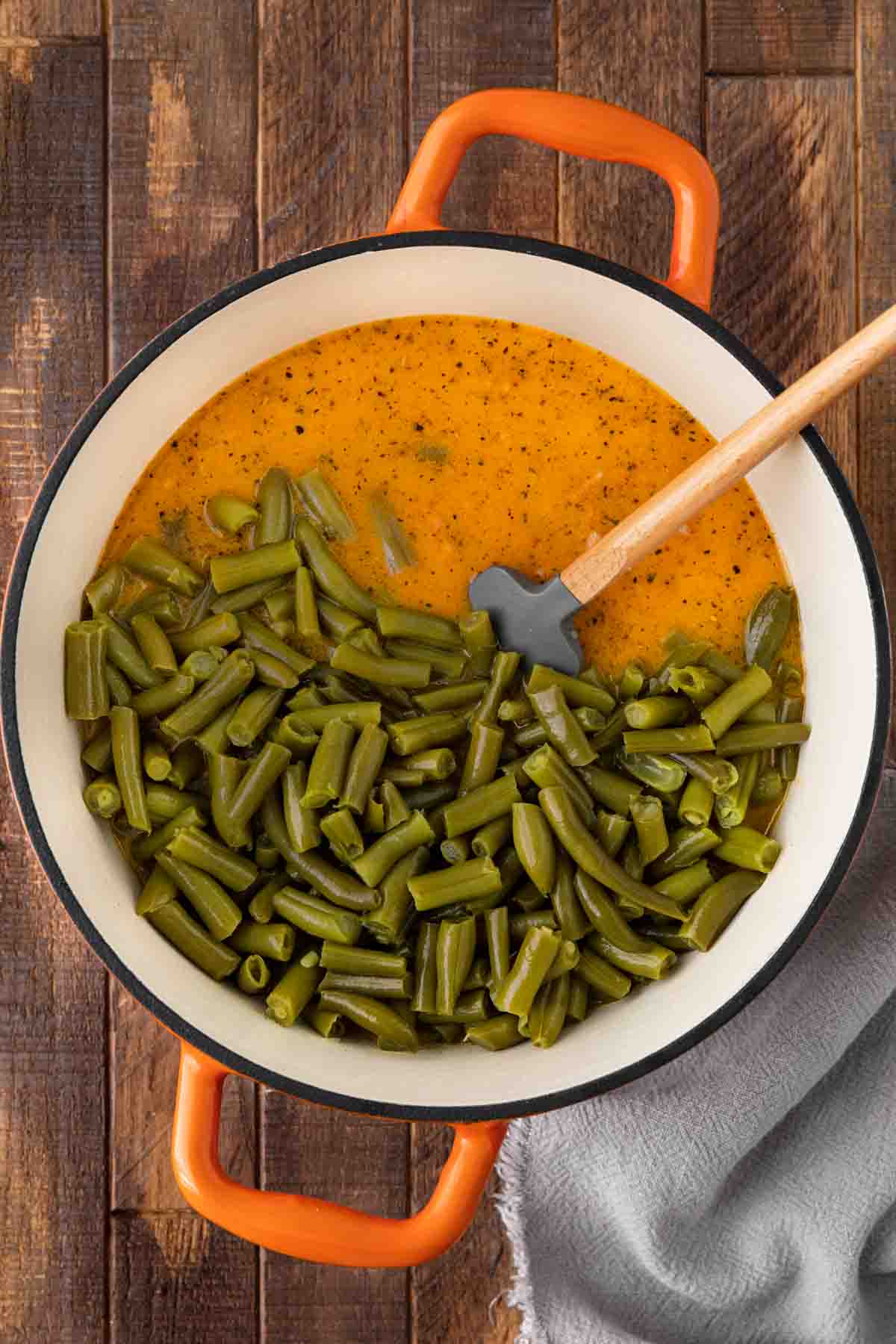 Create a free account to

Save Recipes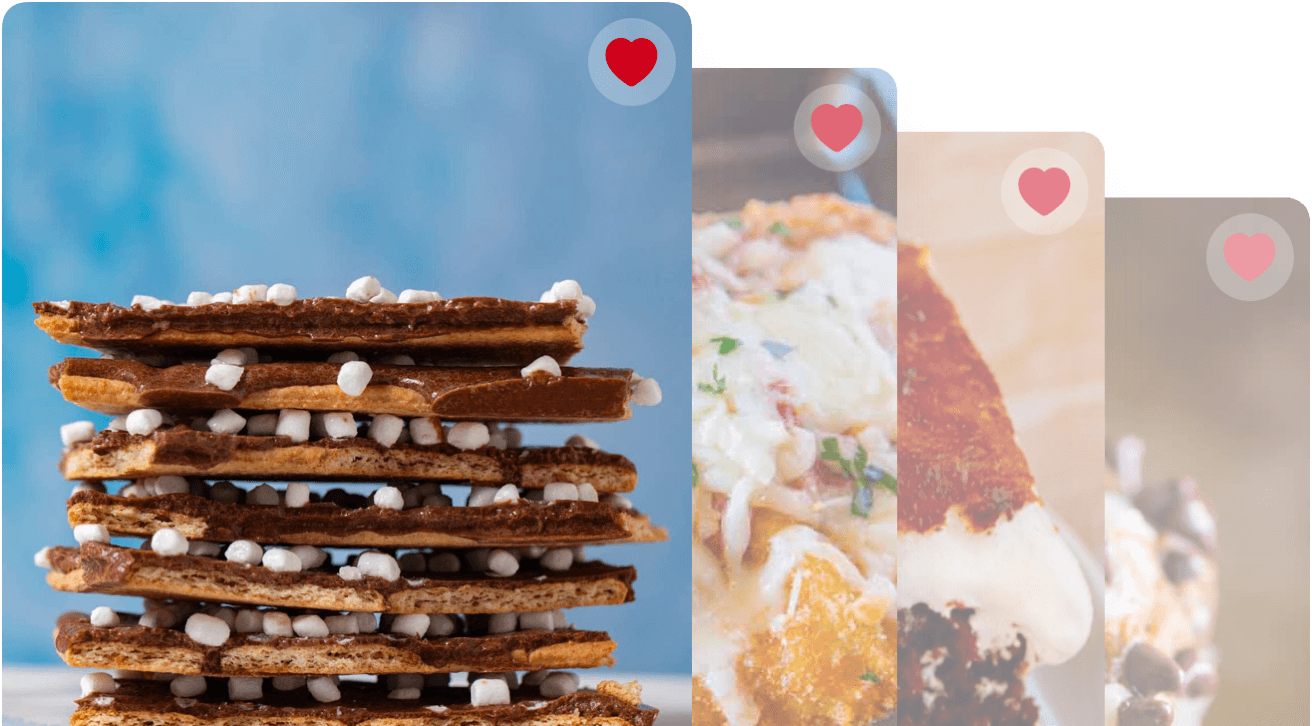 Key Ingredients
Green Beans: To make this dish super easy, you can use either frozen or canned green beans because they only need a few minutes to warm up in the delicious Cajun bacon gravy. Make sure to drain any excess canned liquid, or water if your beans defrosted, so your gravy stays nice and thick.
Cajun Seasoning: Cajun seasoning is a flavorful spice blend commonly used in Louisiana Cajun cooking. It typically includes a combination of paprika, garlic powder, onion powder, cayenne pepper, black pepper, and various herbs such as thyme and oregano. The seasoning blend adds a robust, smoky, and slightly spicy taste to dishes, infusing them with the distinctive flavors of Cajun cuisine.
Turkey Bacon: Turkey bacon is a leaner alternative to traditional bacon, so you still get the savory, meaty chunks of bacon and plenty of flavor without all the extra fat of pork bacon. Using turkey bacon makes the recipe quicker too because you don't need to drain the bacon grease.
Butter: Instead of bacon grease, butter is used as the cooking fat to add richness and flavor to the gravy. Sauteing the onions, celery, and garlic in butter infuses the butter it with their aromatic flavors.
Aromatics: Just because this is a fast food copycat recipe doesn't mean we are skimping on flavor or technique! The savory gravy is started by sauteing onions, celery, and garlic in butter for depth and rich, aromatic flavor.
Flour: The gravy is thickened and flavored with a buttery flour roux. You cook flour in the butter for a minute to cook off the raw flour taste and really incorporate the seasonings.
Chicken Broth: Chicken broth turns the seasoned flour roux into a rich, yet light savory gravy sauce. The chicken flavor adds to the meatiness from the bacon without being too heavy like a milk-based gravy.
Can I make Popeye's Green Beans ahead of time?
They are best freshly made, but you can make Popeye's Green Beans ahead of time and reheat them, or you can make the gravy up to a day ahead. If you make the gravy beforehand, prepare it as usual, then refrigerate it in an airtight container. Bring to a simmer on the stove, add the green beans and cook until the beans are hot.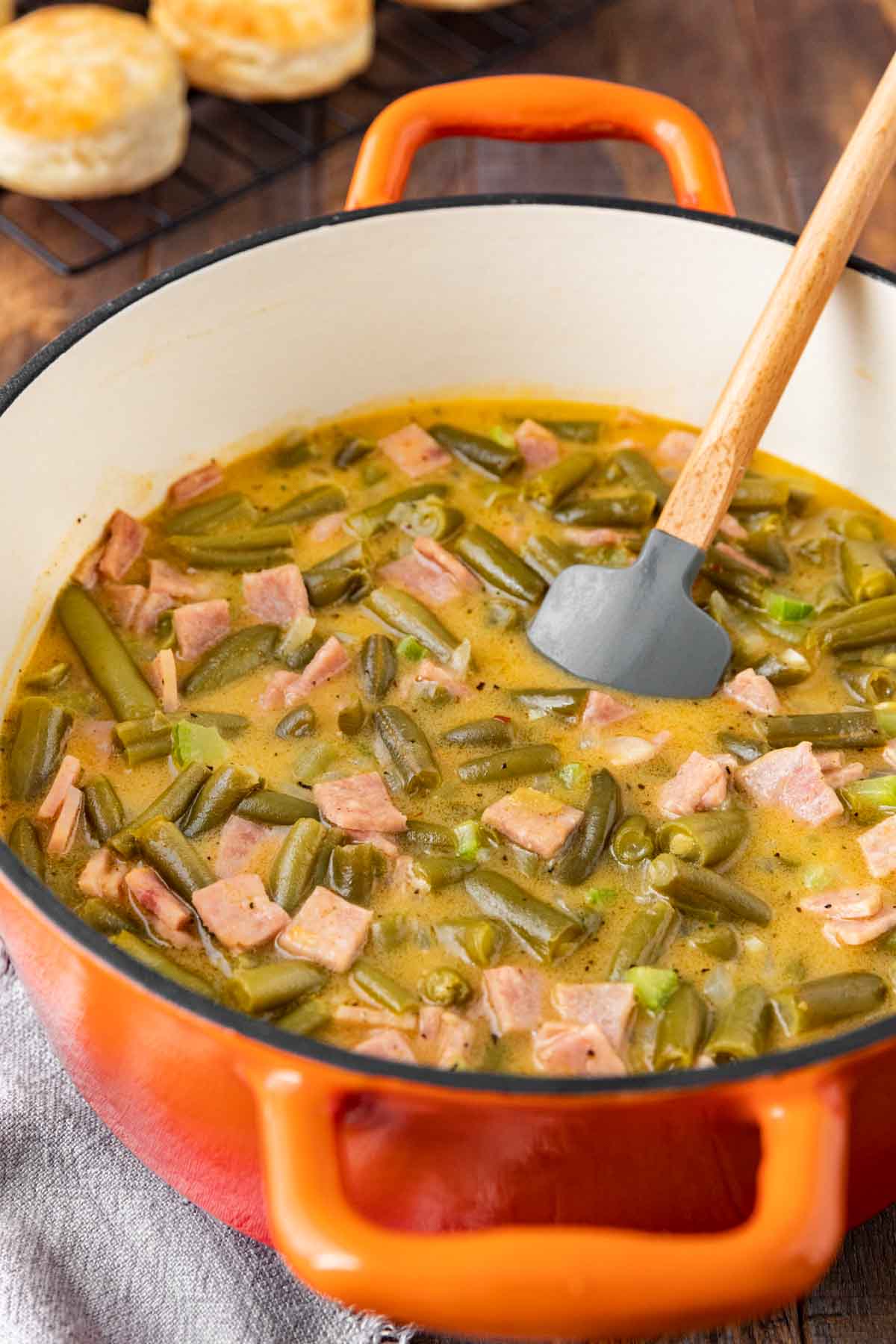 Variations
Veggies: Substitute other veggies for the green beans in this recipe like thin asparagus stalks, wax beans, collard greens, or fresh green peas. Add red peppers or green bell peppers with the onions for flavor and color.
Bacon: Try this recipe with pork bacon, ham hocks, leftover Baked Ham, or smoked sausage instead of turkey bacon.
Vegetarian: For a vegetarian version, use vegetable broth instead of chicken broth and swap in veggie bacon, seasoned tempeh, or omit the bacon entirely. Unless you are using veggie bacon with smoke flavoring, you will want to add some liquid smoke to get that delicious taste.
Beans: To make this green beans recipe heartier, why not do a three bean mixture by adding canned beans like kidney beans and white beans. Make sure to drain the cans of beans and rinse them.
Casserole: Upgrade your holiday green bean casserole. Prepare Popeye's Green Beans as usual. Stir in ½ cup of fried onions and 1 cup shredded cheese. Pour into a casserole dish and bake for 25 minutes at 350 degrees. Top with more onions and bake 5 more minutes.
Slow Cooker Popeye's Green Beans
To make this recipe in a crockpot, first saute bacon, onions, and celery for about 5 minutes.
Stir in butter and cook until melted.
Add mixture to the crockpot and whisk in flour. Then add chicken stock, whisking until smooth.
Add green beans and cajun seasoning. Stir a few times to combine.
Cook on low setting for 4-6 hours, or 2-3 hours on high. Use cornstarch slurry to thicken gravy if needed.
More Delicious Green Beans Recipes
How to Store
Store: These green beans can be at room temperature for up to 2 hours before they should be refrigerated. Cool green beans before placing in an airtight container and refrigerate for up to 4 days.
Reheat: To reheat, gently warm the green beans in a saucepan on the stovetop over medium heat until heated through.
Freeze: Allow the cooked green beans to cool completely, then transfer them to a freezer-safe container or bag. Freeze for up to 3 months. Thaw the green beans in the refrigerator overnight, then reheat on the stove.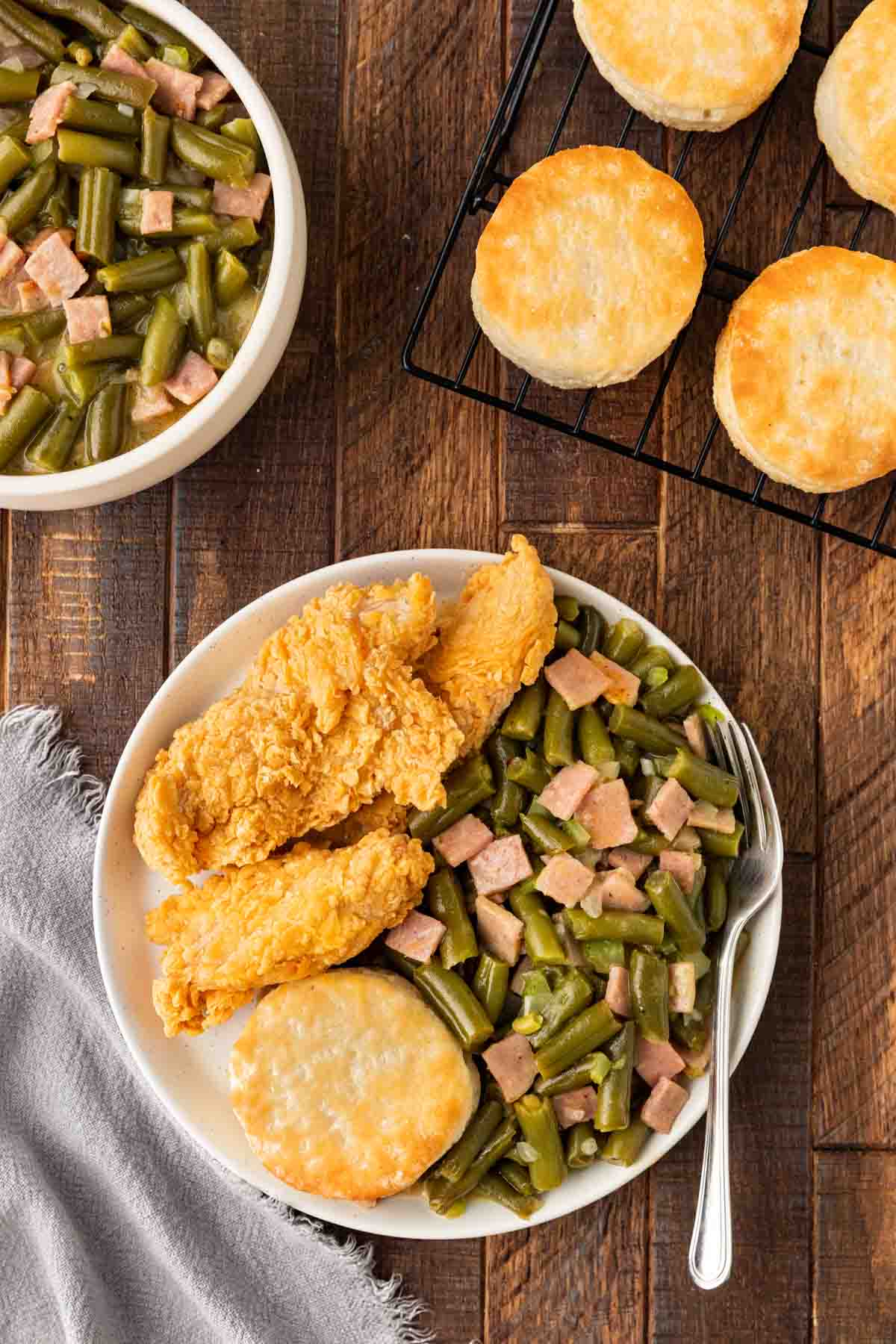 Ingredients
1/2

cup

butter

1

yellow onion

, minced

1

stalk

celery

, minced

2

cloves

garlic

, minced

1/2

pound

turkey bacon

, diced

1/4

cup

flour

1

tablespoon

cajun seasoning

2

cups

chicken broth

2

pounds

green beans

, frozen or canned – drain if canned
Instructions
Add the butter, onion, celery and garlic to a large dutch oven on medium heat and cook for

10 minutes

until the vegetables are translucent, stirring frequently.

Add in the turkey bacon and cook an additional

5 minutes

.

Add in the flour and cajun seasoning and whisk well, then cook for

1 minute

.

Whisk in the chicken broth until the flour mixture is fully dissolved.

Cook the mixture for

5 minutes

until it is simmering and thickened.

Add in the green beans and cook an additional

5 minutes

until the green beans are heated through.
Nutrition
Calories:
181
kcal
|
Carbohydrates:
9
g
|
Protein:
8
g
|
Fat:
13
g
|
Saturated Fat:
6
g
|
Cholesterol:
39
mg
|
Sodium:
651
mg
|
Potassium:
301
mg
|
Fiber:
3
g
|
Sugar:
3
g
|
Vitamin A:
1060
IU
|
Vitamin C:
13
mg
|
Calcium:
40
mg
|
Iron:
2
mg