Pumpkin Cheesecake Bundt Cake is the ultimate holiday cake with pumpkin puree, pumpkin spice, cheesecake filling and cream cheese frosting.
There are so many delicious ways to enjoy pumpkin flavor. This recipe combines Pumpkin Bundt Cake and Cheesecake into one incredible Dessert Recipe.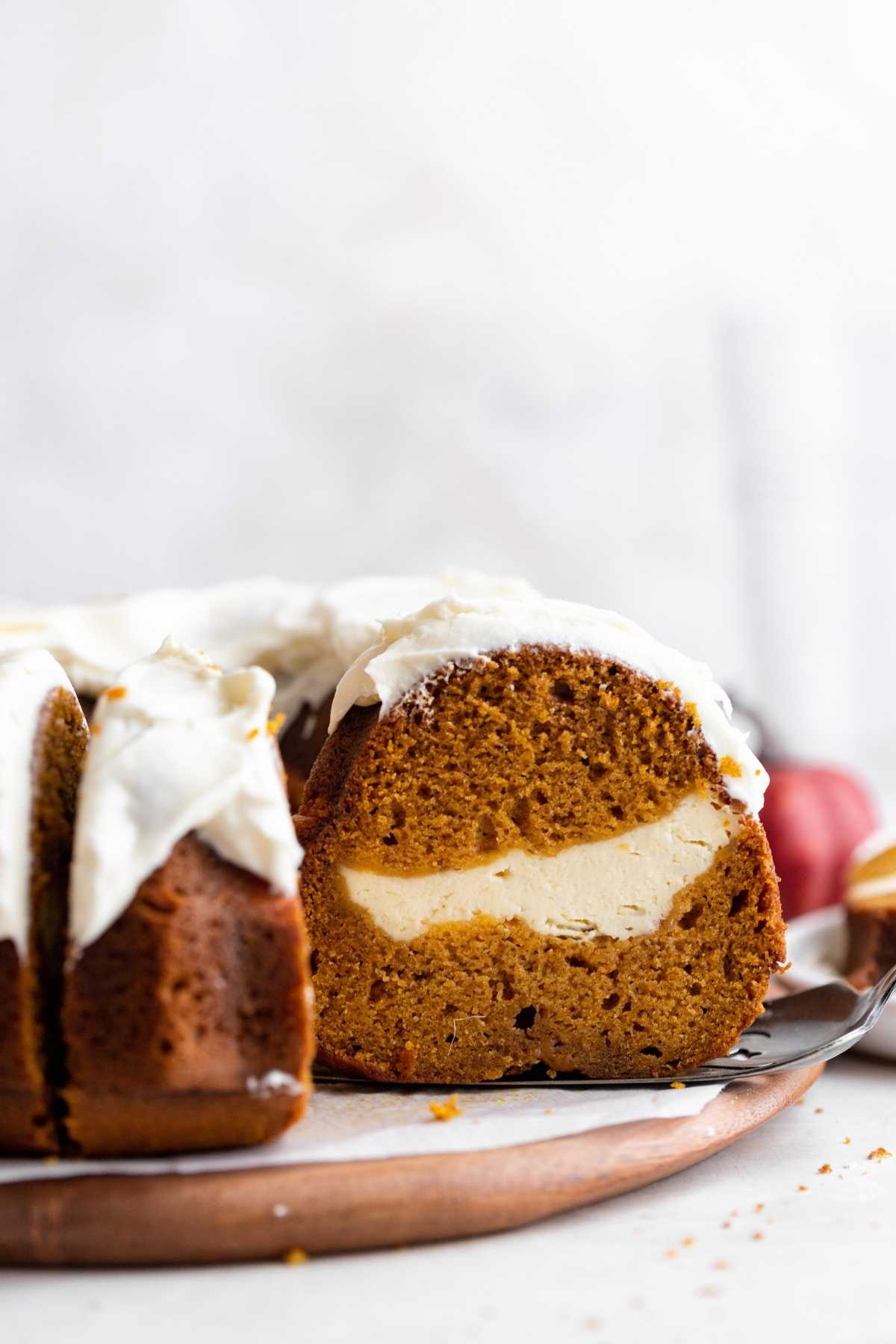 As soon as September rolls around it's time to stock up on pumpkin puree because there is baking to do! This amazing pumpkin cake with a cream cheese filling has quickly become a new seasonal favorite. It's great to bring to parties or serve as a surprising alternative to Pumpkin Pie on Thanksgiving.
The spiced pumpkin cake is wonderful enough on its own, but adding the Cream Cheese Frosting and delicious cream cheese filling just takes it to a whole new level. The cream cheese center is easy to make with just 4 ingredients mixed together. Just add it to the center, and bake. Once done, the cheesecake filling tastes sweet and tangy. It makes the perfect surprising middle that cheesecake lovers are sure to enjoy. The whole cake strikes the perfect balance between sweet, spiced, and cream cheese flavor.
This Pumpkin Cream Cheese Cake is the perfect sweet, flavorful Autumn treat for a party or dessert night. You won't be able to get enough! But, if you want to make it a little less sweet you can serve it without frosting. Then you can even get away with having a slice with your morning cup of coffee.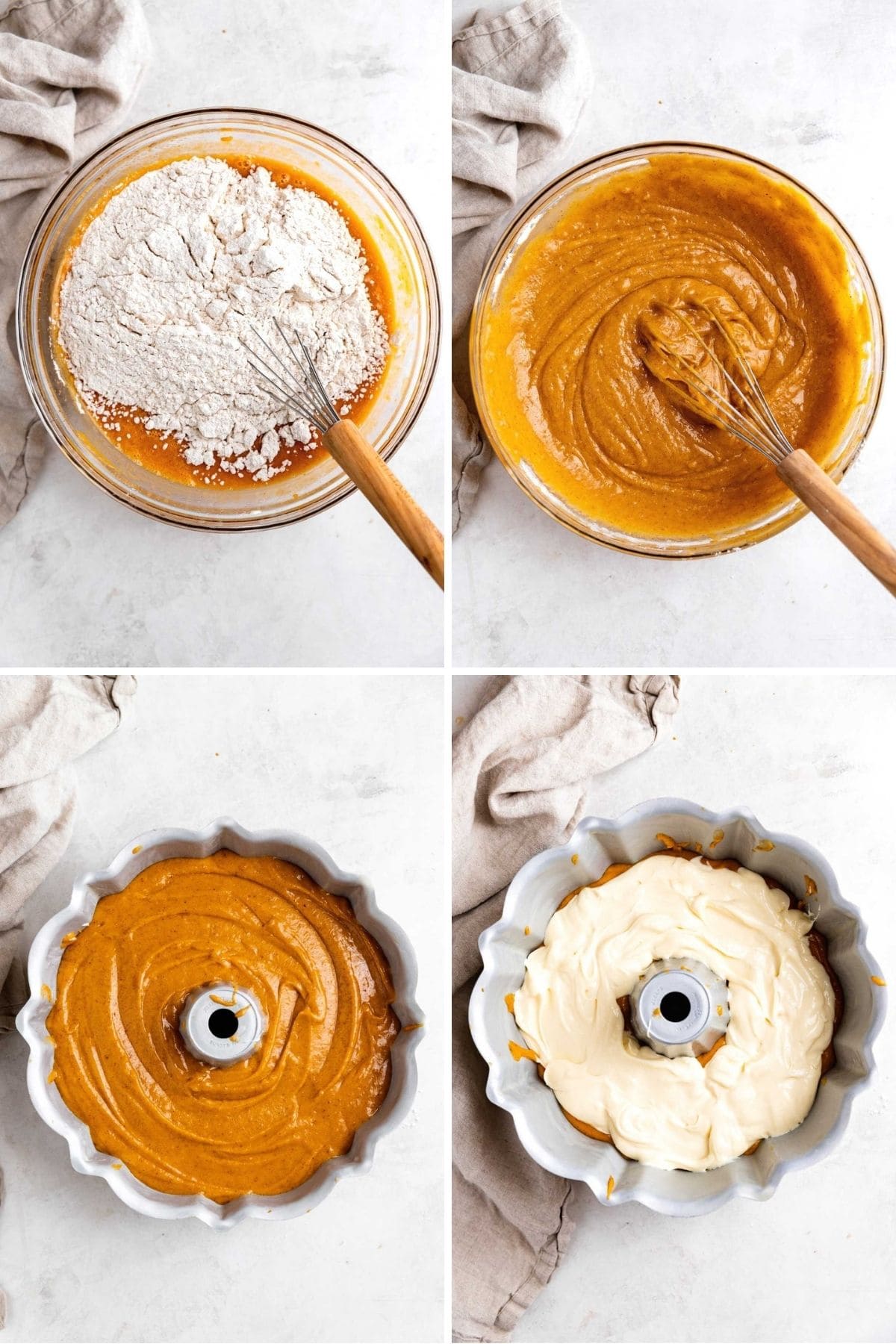 How to Make Pumpkin Cheesecake Bundt Cake
Prep Time: Start by preheating the oven to 350 degrees. Spray a 10-inch Bundt pan with nonstick cooking spray.
Cake Batter: Add the granulated sugar, vegetable oil, eggs, and pureed pumpkin to a large bowl. Whisk the pumpkin batter by hand, or use an electric mixer with a paddle attachment until smooth. Sift the all-purpose flour, baking soda, cinnamon, nutmeg, cloves, ginger, and salt into a separate bowl. After that, pour the flour mixture into the batter, and mix until just combined.
Cream Cheese Layer: Add softened cream cheese, an egg, white sugar, and vanilla extract to your stand mixer. Beat the cream cheese mixture until smooth and creamy.
Combine: Add ⅓ of the pumpkin cake batter to the base of the Bundt pan. Add the cream cheese layer evenly over the top. Top that off with the rest of the Bundt cake batter.
Baking Time: Bake for 70-75 minutes. Test if the cake is done using a toothpick, if it doesn't come out clean, add a couple of minutes to the baking time. Take it out of the oven and let the cake cool before adding the frosting.
Cream Cheese Icing: Add unsalted butter, cream cheese, and vanilla to your stand mixer. Then set the mixer to medium-high speed for 2-3 minutes until light and fluffy. Lower the speed completely, so you can add powdered sugar. Raise the speed to medium, and beat for another 30 seconds until fluffy. Pour the icing over the cooled cake. Slice into pieces and share.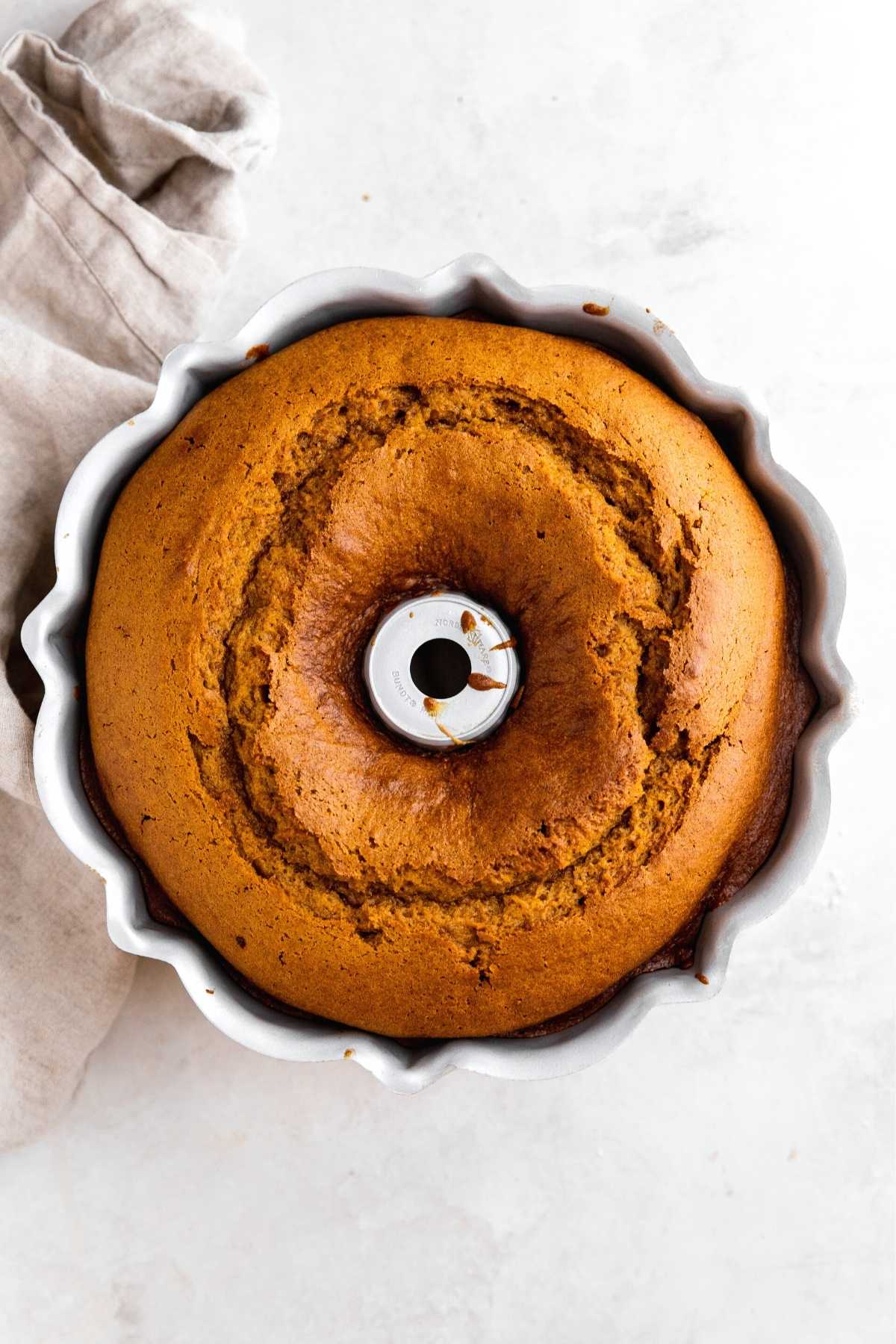 More Pumpkin Recipes
Frequently Asked Questions
Why did my bundt cake stick to the pan?
Make sure you are generously coating the bundt pan with nonstick baking spray. This is different from regular spray oil because it contains particles of flour, which helps to keep the cake from sticking. If you do not have baking spray on hand, you can easily grease and flour the pan yourself. Generously coat the pan with butter, vegetable oil, or shortening, and then sprinkle a few tablespoons of flour into it. Turn the pan while tapping the outside to spread the flour all over the inside, then tap out any excess. This should ensure that your bundt cake easily releases from the pan.
How long should I let a bundt cake cool before removing it from the pan?
Cool on a wire rack for at least 15 minutes before inverting pan to remove. As the cake cools, the steam trapped inside releases. Steam is what causes the cake to break apart, so give it time to evaporate before trying to flip and remove.
How do I fix a broken bundt cake?
There's nothing frosting can't fix! If pieces of the cake stick to the pan, or even if it comes out in two pieces, you can still salvage it. Use the cream cheese frosting to stick the pieces back together, and cover the cracks with more frosting. Sprinkle some chopped pecans on top to help cover any imperfections. The results will be so delicious, nobody will even notice!
How do I keep a bundt cake from tasting dry?
If your cake is turning out too dry, your oven could be too hot. Use an oven safe thermometer to check that your oven temperature is correct. If it is off, adjust the dial accordingly until the thermometer reads the correct temperature. You also want to make sure that you are measuring the flour correctly. To correctly measure flour for baking, fluff the flour with a measuring cup so it is not compacted, before spooning flour into the measuring cup, then leveling it off with a flat knife. This way you are not using additional flour from it being compacted in the bag.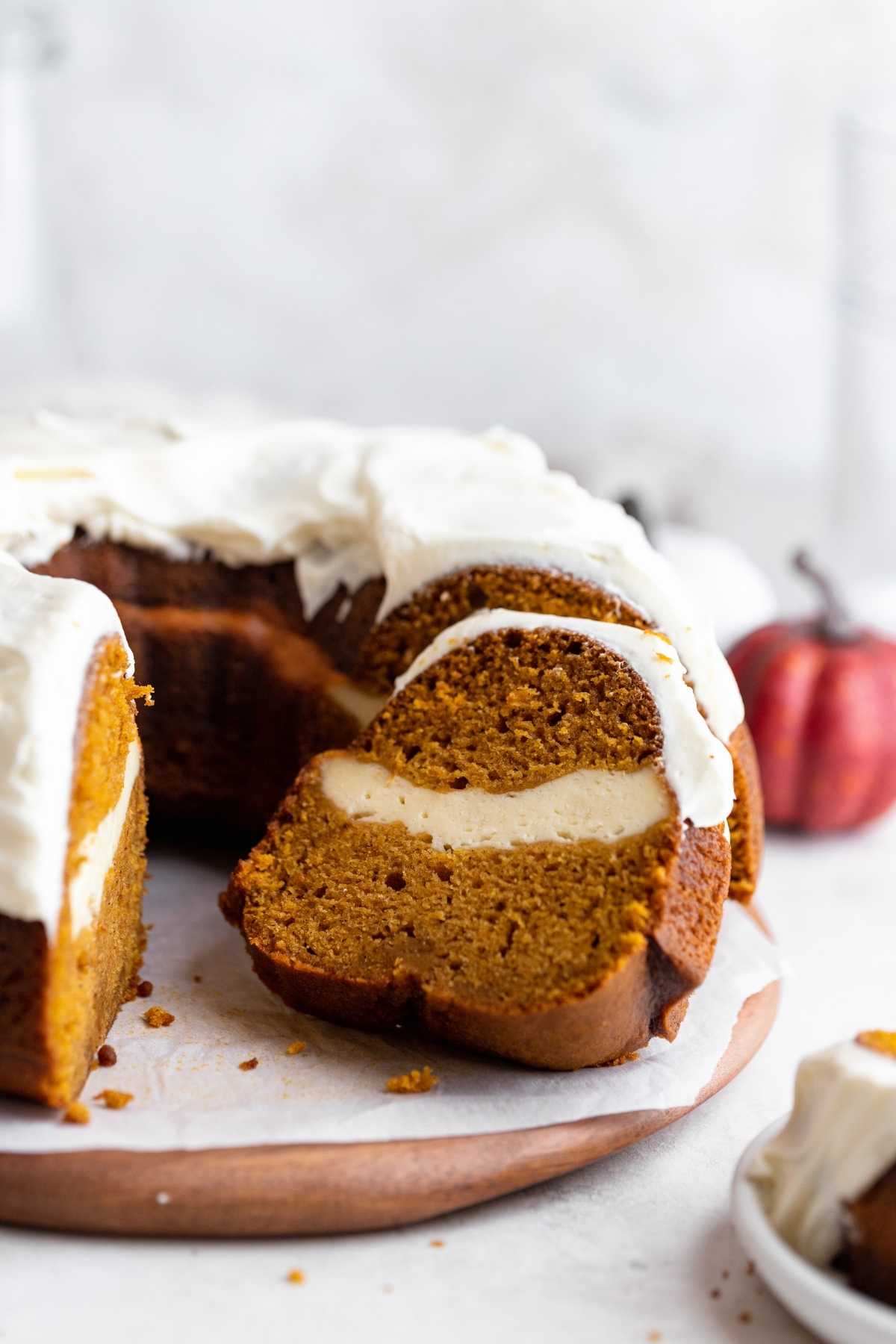 Create a free account to Save Recipes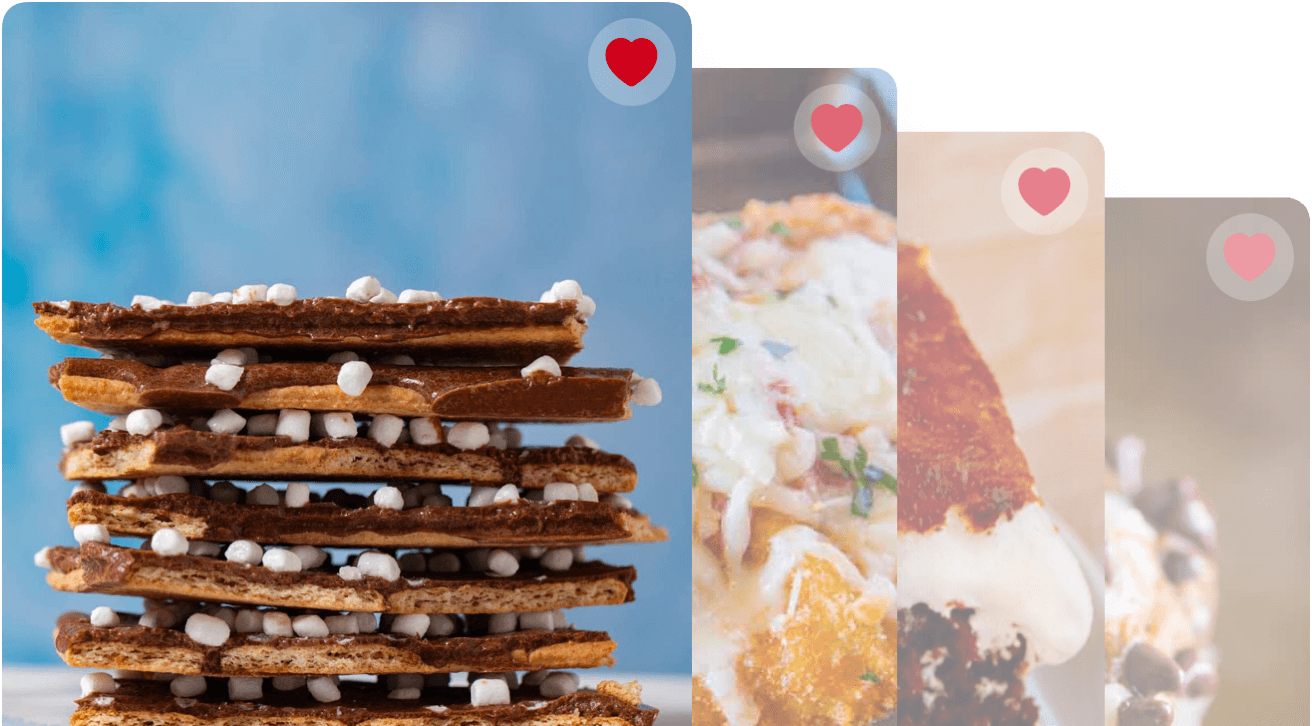 Key Ingredients in Pumpkin Cheesecake Bundt Cake
Basic Cake Ingredients: Apart from important add-ins to get the pumpkin spice flavor, the cake batter is made with standard pantry ingredients. Granulated sugar, vegetable oil, eggs, flour, baking soda, and salt are all ingredients that you probably have in your pantry.
Pumpkin Flavor: To get the rich pumpkin flavor in this recipe, all you need is canned pumpkin puree. It's the same basic ingredient that you'd use for pumpkin pie, but don't use pumpkin pie "filling" because it already has sugar and spice added. Try making homemade Pumpkin Puree if it's pumpkin season!
Pumpkin Spice: Along with the pumpkin flavor, you also need seasonal spices. The blend of ground cinnamon, nutmeg, cloves, and ginger gives the moist cake a comforting, warm fall flavor.
Cream Cheese Filling: You only need cream cheese, an egg, sugar, and vanilla for the filling. Make sure to let the cream cheese soften a little at room temperature before the recipe. It will be easier to blend into a smooth mixture.
Cream Cheese Frosting: The recipe is finished with cream cheese icing. Just like the filling, you only need a few ingredients. Butter, cream cheese, vanilla, and powdered sugar are easy to mix into a sweet and fluffy mixture perfect to top the cake off.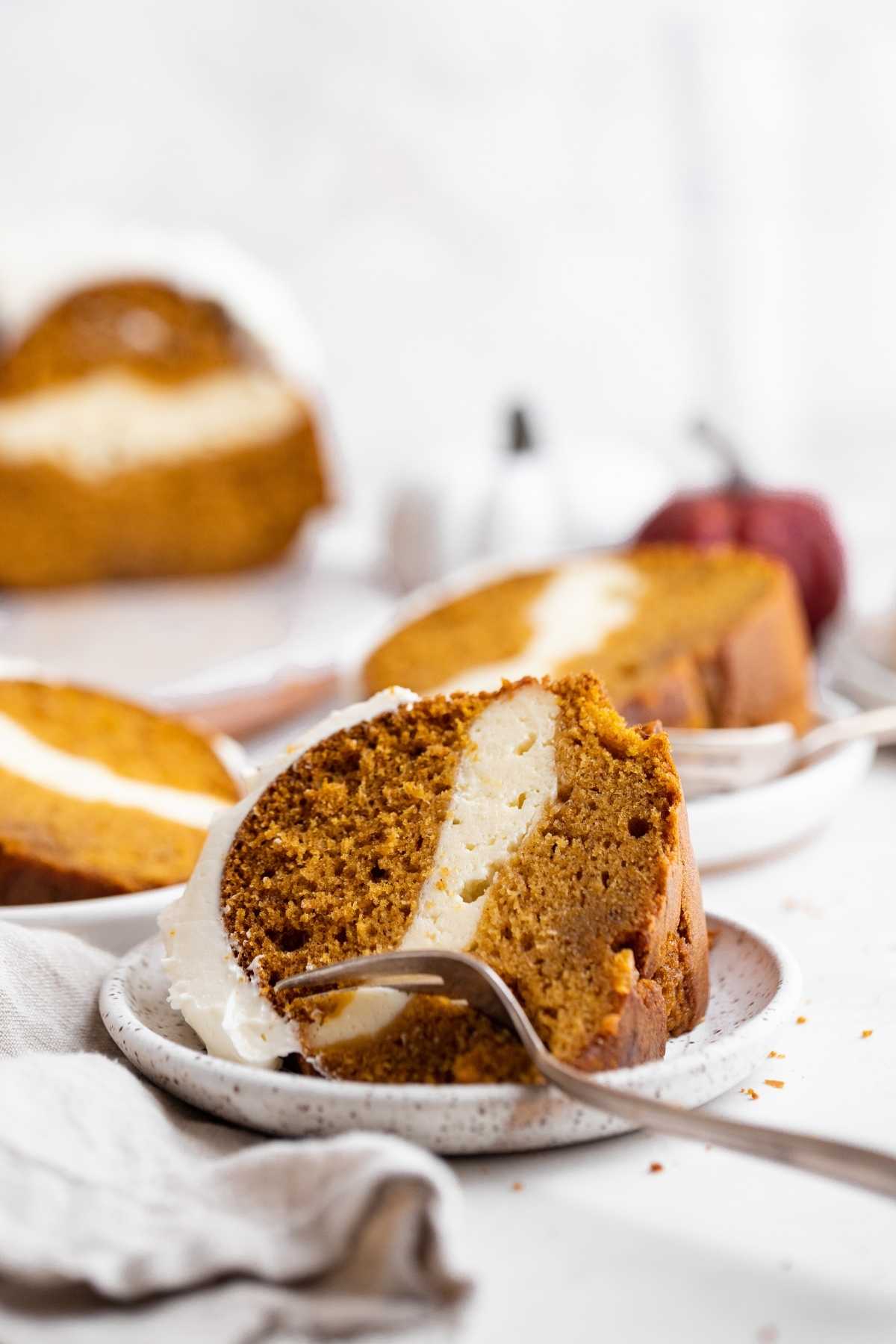 Variations on Pumpkin Cheesecake Bundt Cake
Chocolate Chips: If you want some delicious chocolate in this recipe, you can add chocolate chips. Milk chocolate, semisweet chocolate, dark chocolate, or even white chocolate would taste amazing. Pick your favorite or do a chocolate mixture with a few different chocolate chip varieties. Then just fold it into the pumpkin batter.
Brown Sugar Glaze: Instead of the cream cheese icing, try making brown sugar icing. To make the glaze, add ¼ cup butter, ½ cup brown sugar, and 2 tablespoons milk to a small saucepan. Bring the mixture to a simmer while whisking until the sugar dissolves. Remove from the heat and let cool for a few minutes. Add ¼ teaspoon vanilla, and whisk in ¾ cup powdered sugar a little bit at a time. Once combined into a smooth mixture, drizzle the brown sugar icing over the Pumpkin Cheesecake Bundt Cake. Let the icing harden, then slice and serve.
Buttercream Frosting: Alternatively, you could exchange the cream cheese frosting for Buttercream Frosting or use a store-bought frosting. It also tastes sweet and delicious without frosting, especially as an extra special brunch treat.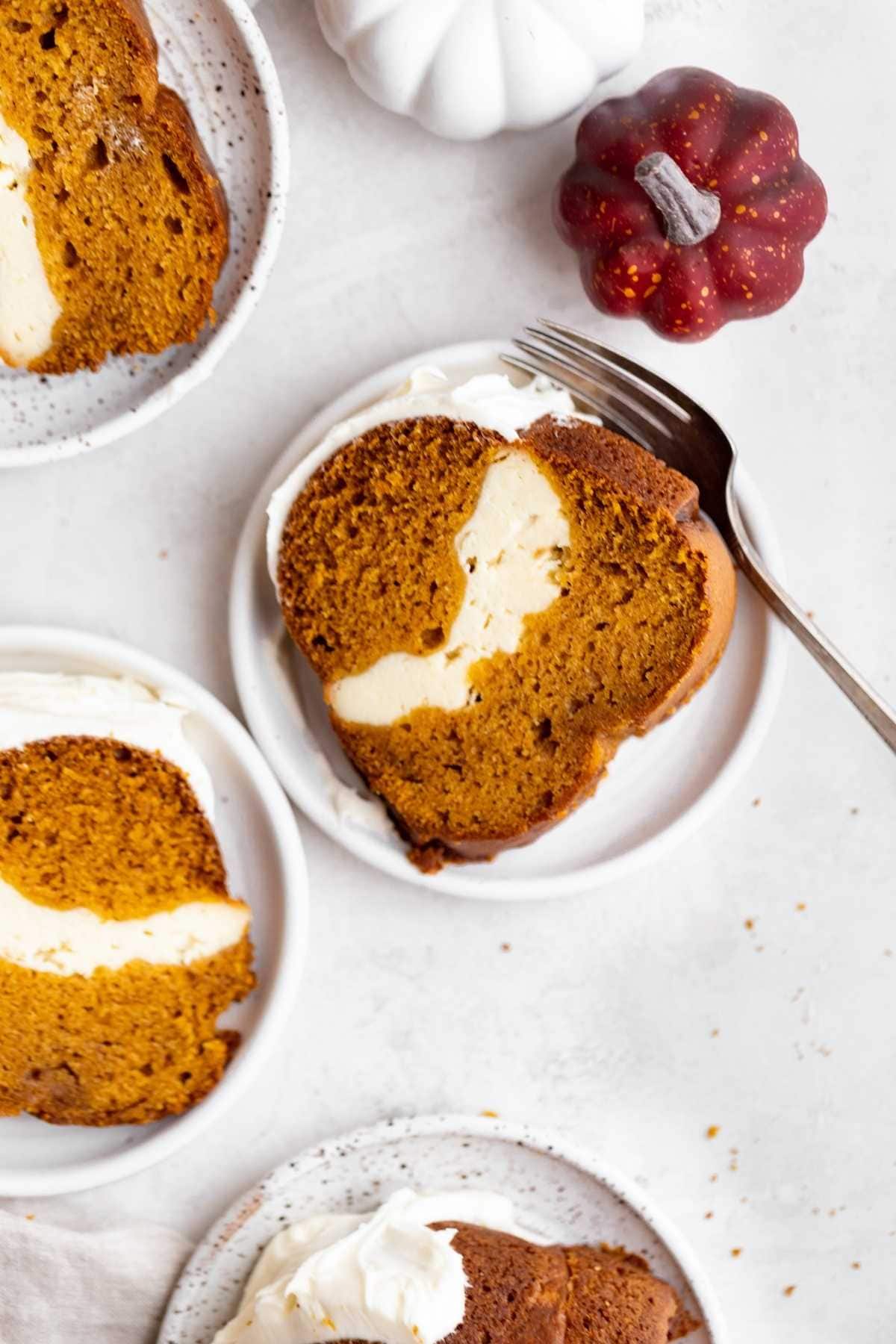 More Bundt Cake Recipes
How to Store Pumpkin Cheesecake Bundt Cake
Serve: Since there is a cheesecake layer and cream cheese frosting, Pumpkin Cheesecake Bundt Cake should not be at room temperature for more than two hours.
Store: After that, it's time to store the cake. Cover it in plastic wrap or tin foil to store in the fridge. Keep in the refrigerator for up to 5 days.
Freeze: You can also wrap the cake carefully in plastic wrap followed by tin foil to store in the freezer. Or, slice it into pieces, wrap individually in plastic wrap and freeze in an airtight container. Either way, make sure the cake is sealed tightly and it will stay good frozen for 2 months.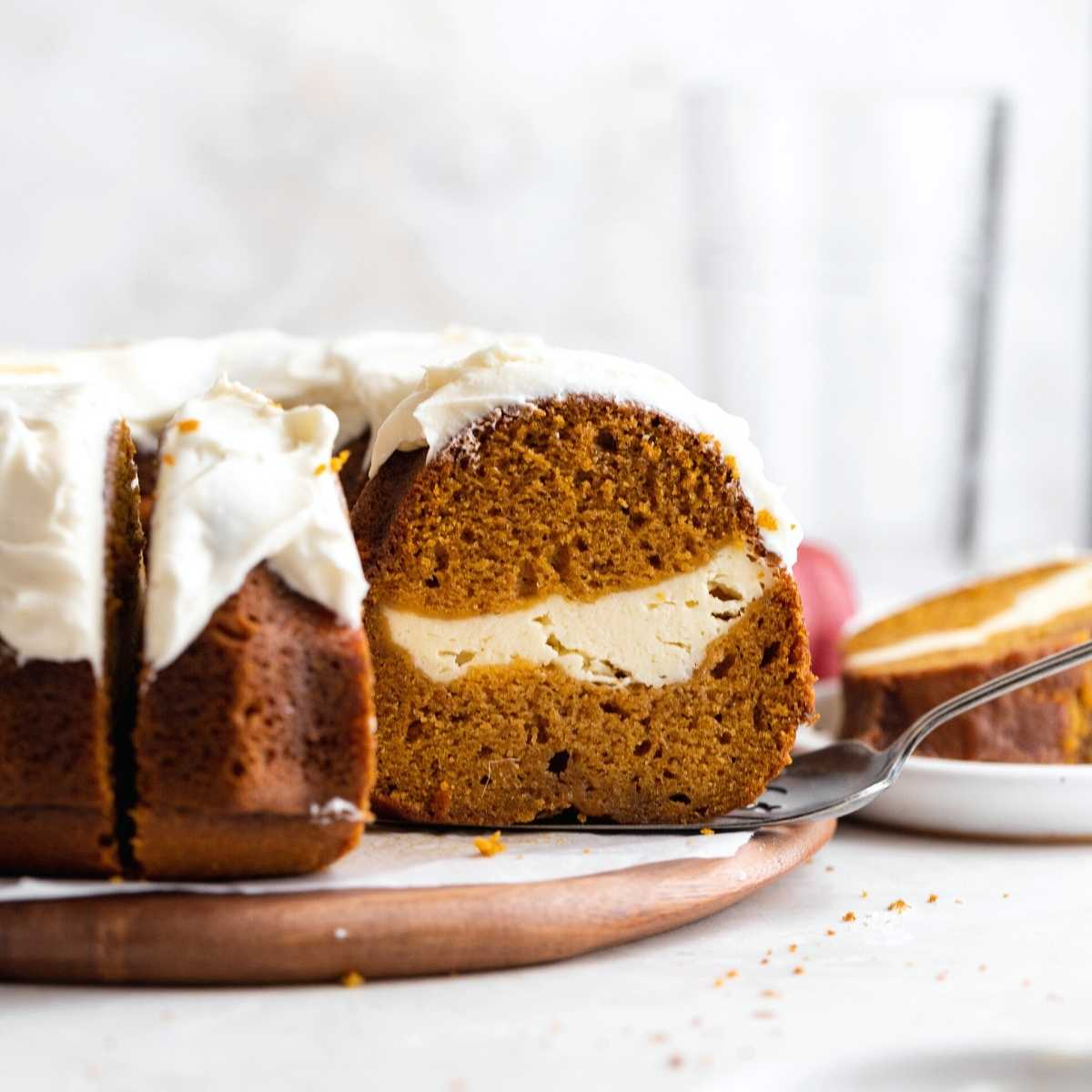 Ingredients
Pumpkin Bundt Cake:
2 1/4

cups

sugar

1

cup

vegetable oil

3

large

eggs

15

ounces

pumpkin puree

3

cups

flour

2

teaspoons

baking soda

2

teaspoons

ground cinnamon

1

teaspoon

ground nutmeg

1/2

teaspoon

ground cloves

1/2

teaspoon

ground ginger

1/2

teaspoon

salt
Cream Cheese Frosting:
4

tablespoons

unsalted butter

, softened

4

ounces

cream cheese

, softened

1/2

teaspoon

vanilla extract

3

cups

powdered sugar
Instructions
Pumpkin Bundt Cake:
Preheat oven to 350 degrees, spray bundt pan with baking spray.

Whisk together sugar, vegetable oil, eggs and pumpkin puree in a large bowl.

Sift flour, baking soda, cinnamon, nutmeg, cloves, ginger and salt.

Add dry ingredients to wet ingredients and whisk until just combined.
Cheesecake Layer:
Beat the cream cheese, egg, sugar and vanilla extract together until smooth and creamy.
To Finish:
Spray a 10 inch bundt pan well with baking spray.

Add ⅓ of the pumpkin cake batter.

Add the cheesecake filling evenly.

Top with the remaining cake batter.

Bake for

70-75 minutes

or until a toothpick comes out clean.
Cream Cheese Icing:
To your stand mixer add the butter, cream cheese and vanilla extract on medium high speed and whip for

2-3 minutes

until light and fluffy.

Lower the speed to the lowest setting and add in the powdered sugar until just combined.

Raise speed to medium until fluffy for

30 seconds

.

Pour over the cooled cake.
Nutrition
Calories:
731
kcal
|
Carbohydrates:
107
g
|
Protein:
9
g
|
Fat:
31
g
|
Saturated Fat:
10
g
|
Polyunsaturated Fat:
11
g
|
Monounsaturated Fat:
8
g
|
Trans Fat:
1
g
|
Cholesterol:
82
mg
|
Sodium:
471
mg
|
Potassium:
248
mg
|
Fiber:
2
g
|
Sugar:
79
g
|
Vitamin A:
5962
IU
|
Vitamin C:
2
mg
|
Calcium:
97
mg
|
Iron:
2
mg