This classic Pumpkin Roll is an easy, rich cake made with pumpkin puree and filled with cream cheese frosting that can be served for breakfast or dessert.
We love classic pumpkin recipes like Pumpkin Muffins and Pumpkin Pie all year long. Check out all our fall flavored Dessert Recipes whenever a craving hits!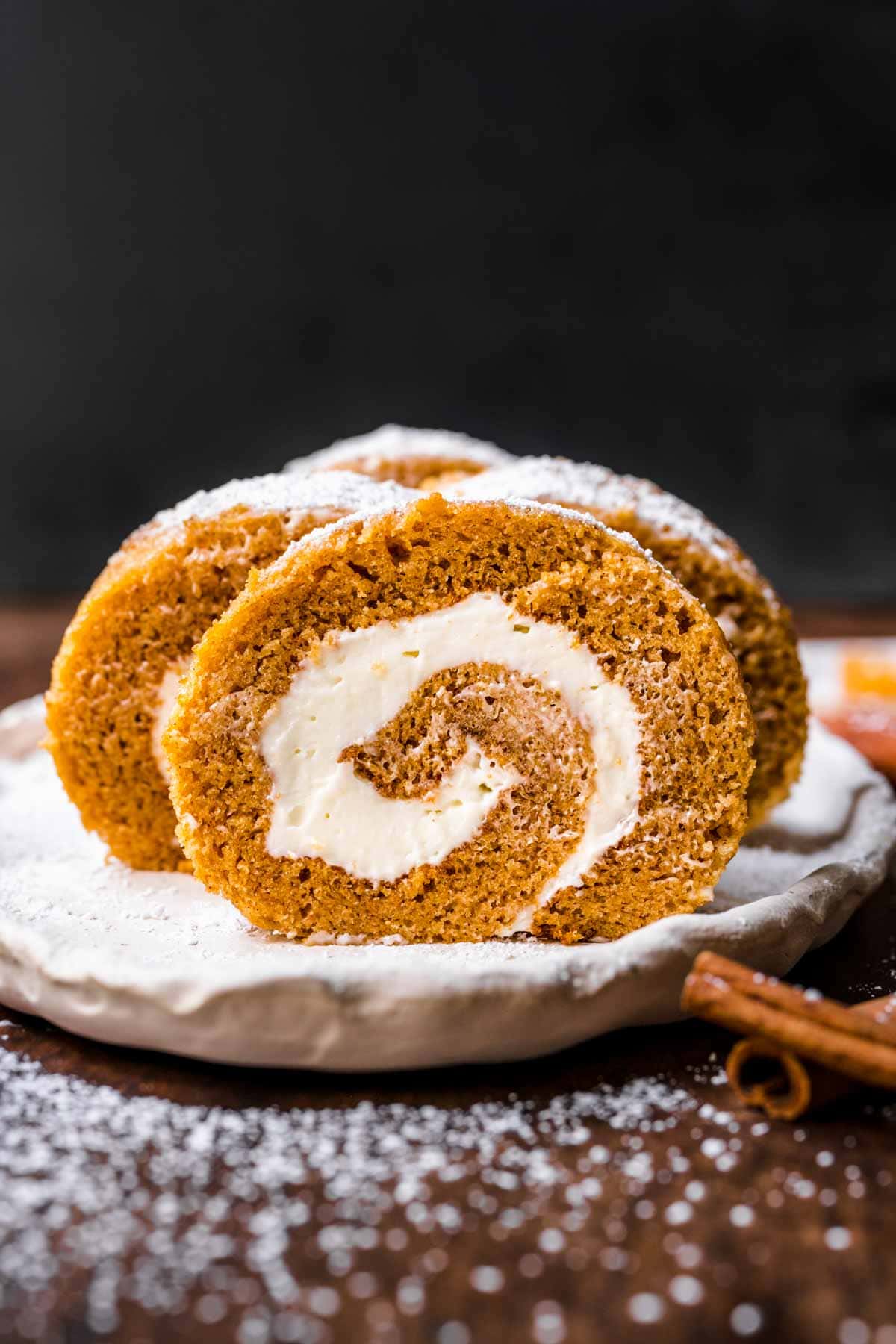 PUMPKIN ROLL
Fall may be gone, but that doesn't mean that we have to give up our favorite pumpkin recipes until next September. We make a big batch of homemade Pumpkin Puree and store it in the freezer for whenever we are craving a pumpkin treat.
This Pumpkin Roll recipe is surprisingly easy, even if it looks super fancy. If you are feeling intimidated by rolling the cake, you aren't alone. One of the top concerns with a roll cake is how to keep your roll cake from cracking.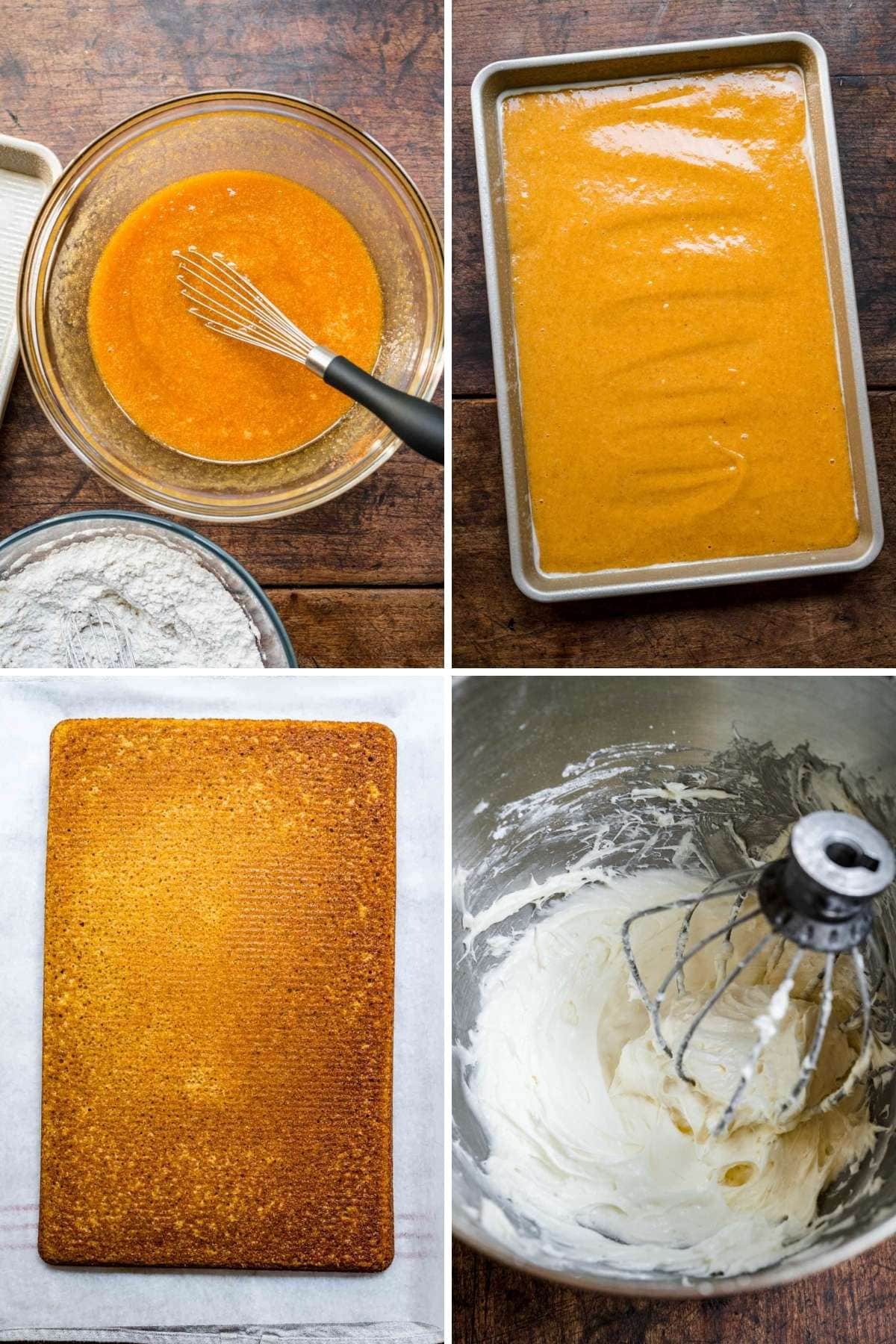 The most important step to keep your roll cake from cracking: roll your cake when it is still warm and pliable.
You might be tempted to cool your cake before adding the filling, since that is how you frost most cakes. But, with the roll cake you want to at least "pre-roll" it. Rolling the sponge without the filling helps it remember that shape when you go to fill and roll it later.
Once it comes out of the oven, flip over on to a tea towel that as been dusted with powdered sugar. Roll your cake (without the filling) in the tea towel and set aside. When you are ready to fill, simply unroll, spread the filling and then roll again from the short side.
If you forget this little hack to keep your cake from cracking, don't worry! Even the best pastry chefs forget now and again. A little frosting can hide the cracks and no one will be the wiser.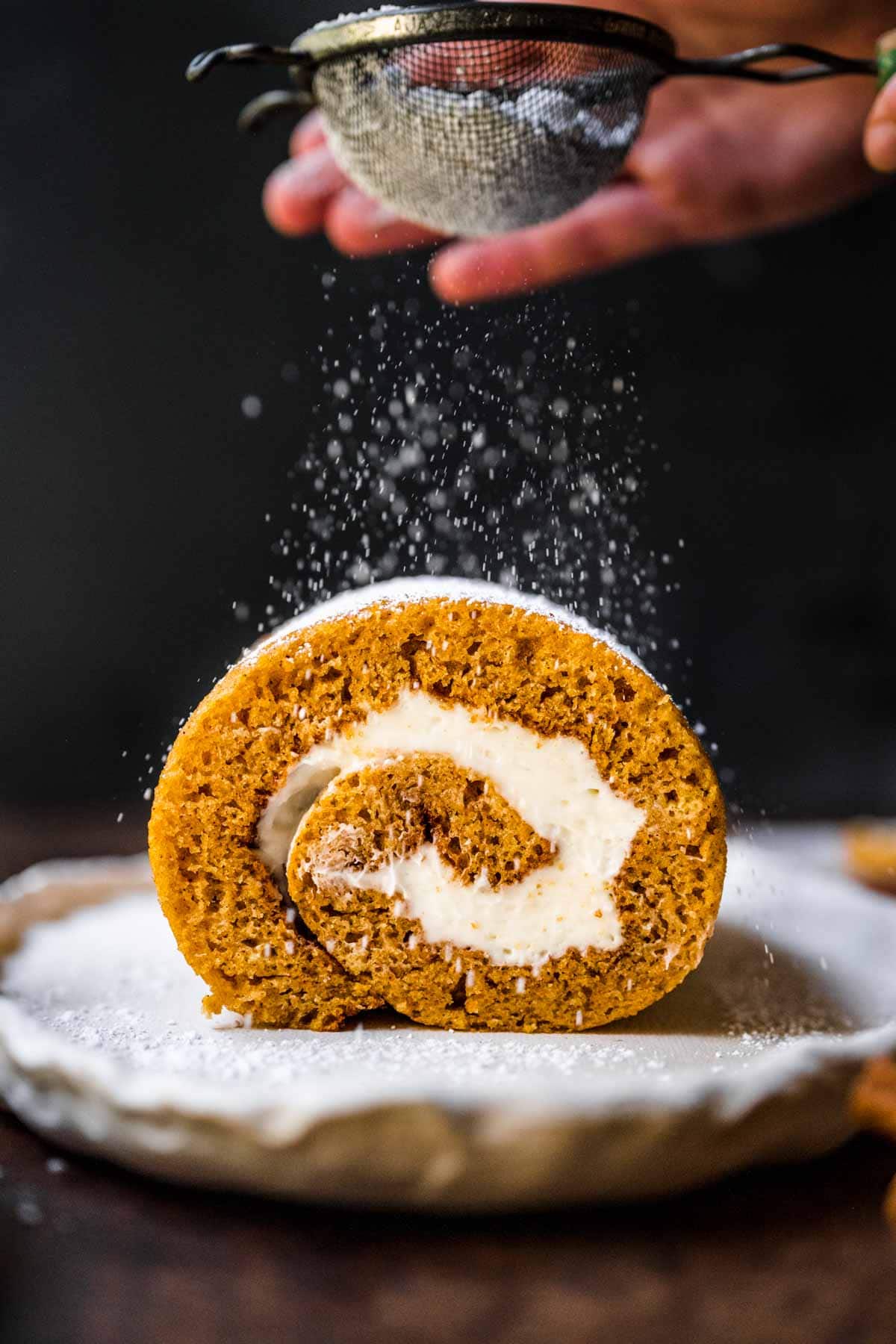 With this cake, most of the time I like to keep the decorations simple, dusting a little powdered sugar on top. However, you can always cover it with some white chocolate ganache or Cream Cheese Frosting for a festive winter cake.
This Pumpkin Roll makes a delicious and stunning dessert, but you can also enjoy it for breakfast. The slightly savory, warm spices and pumpkin puree go perfectly with a cup of dark roast coffee. It would also make a great brunch dish for any holiday celebration.
A handy, but not exactly necessary, tool to have if you plan on making Swiss Roll cakes is a jelly roll pan. The main difference between a jelly roll pan and a baking sheet is that a jelly roll pan is slightly smaller with higher sides. They are basically interchangeable but the benefits are a thicker sponge cake and they fit better in the dishwasher.
MORE DELICIOUS PUMPKIN RECIPES: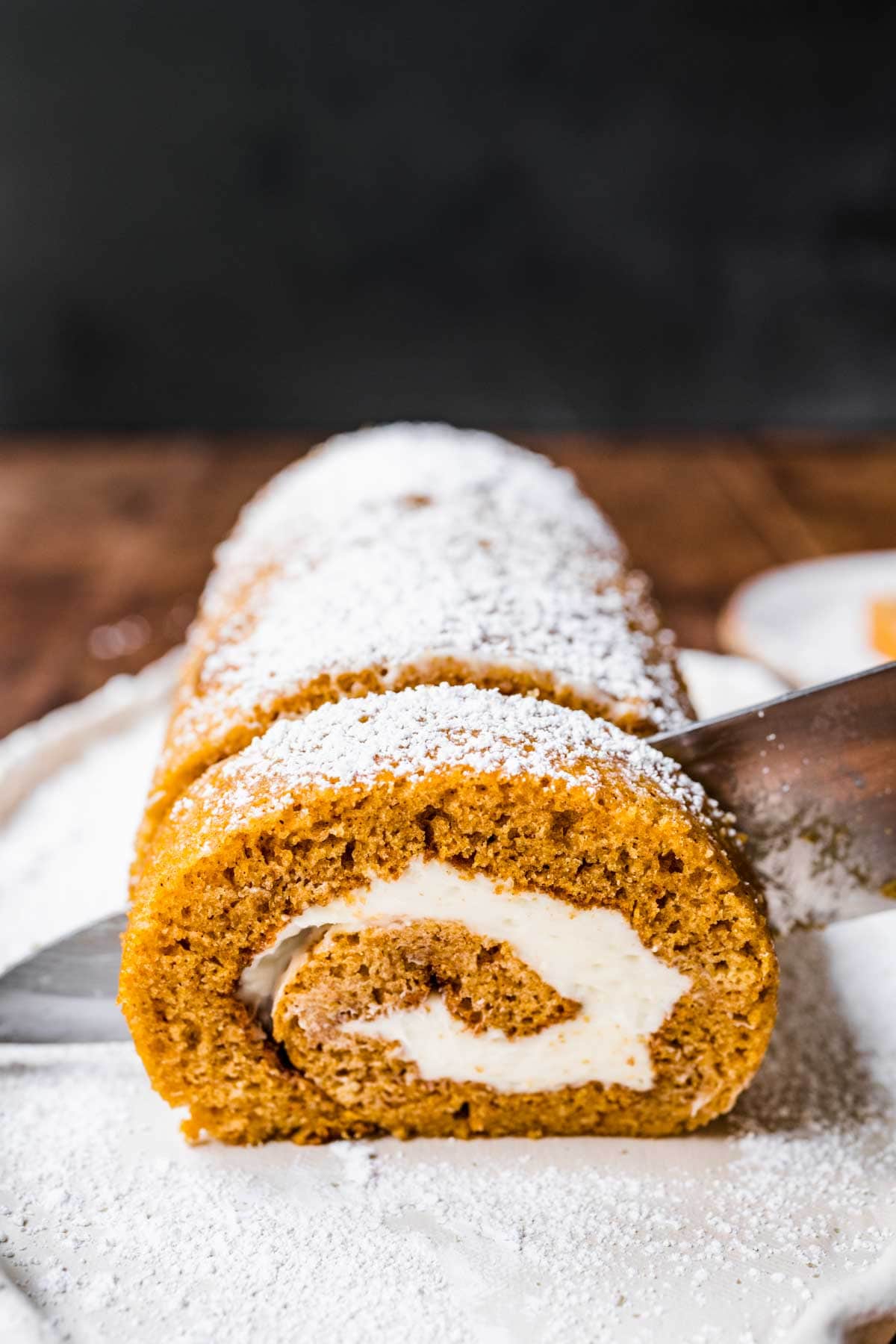 Create a free account to

Save Recipes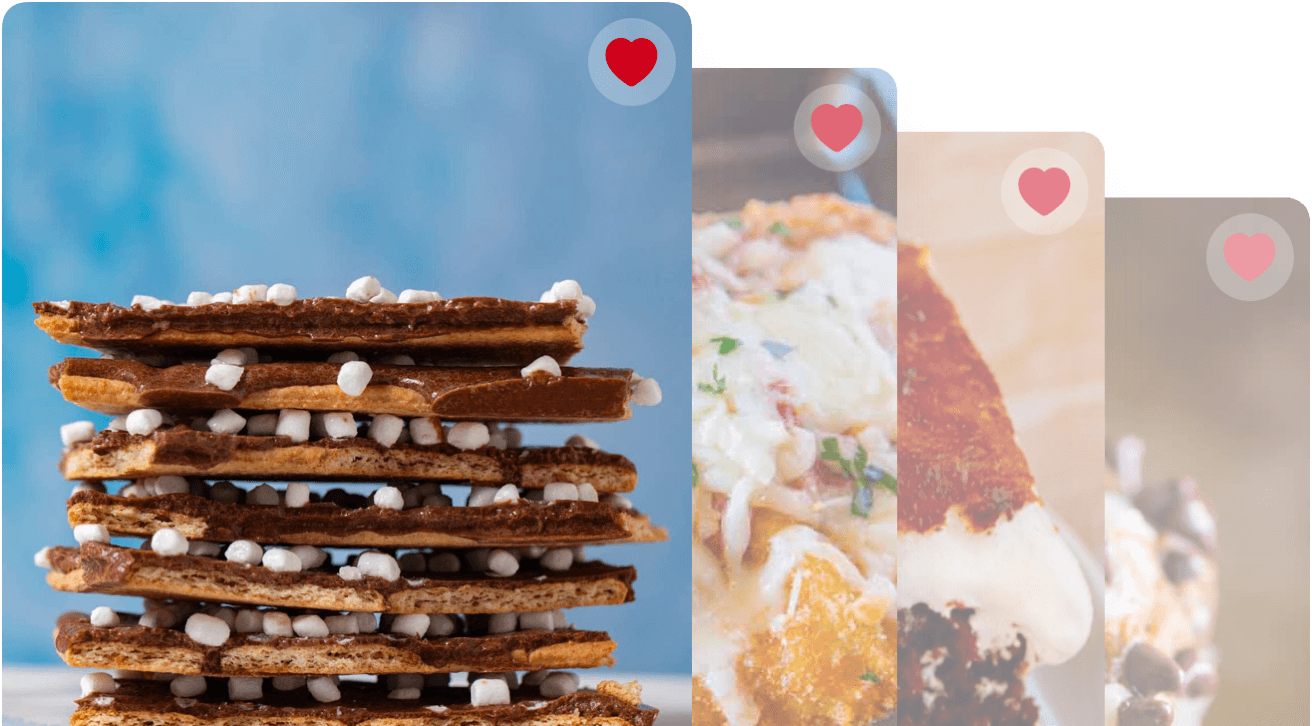 VARIATIONS ON PUMPKIN ROLL
Pumpkin Pie Spice: To give this a warmer, pumpkin pie taste, add a tablespoon of Pumpkin Pie Spice to your cake batter or your cream cheese filling.
Pecans: Stir in some chopped pecans into your cream cheese filling for a crunchy, nutty flavor. Garnish by sprinkling more pecans on top of the cake.
Marshmallow Creme: Try some melted Marshmallows instead of frosting for a fluffy, thick filling that goes perfectly with the pumpkin flavor. To give it more of a marshmallow fluff texture, stir in a bit of corn syrup while melting.
Dessert: Make this even more decadent by covering the top of the cake with some Salted Caramel Sauce and sprinkling with chopped walnuts. You can also serve a scoop of Vanilla Ice Cream for a Pumpkin Cake Sundae.
Pumpkin Roll Bars: Make mini Pumpkin Roll Cakes by slicing your sponge cake in half and then into long strips from the narrow end, about 3 inches wide . Fill and roll as normal and you'll have Pumpkin Roll Bars.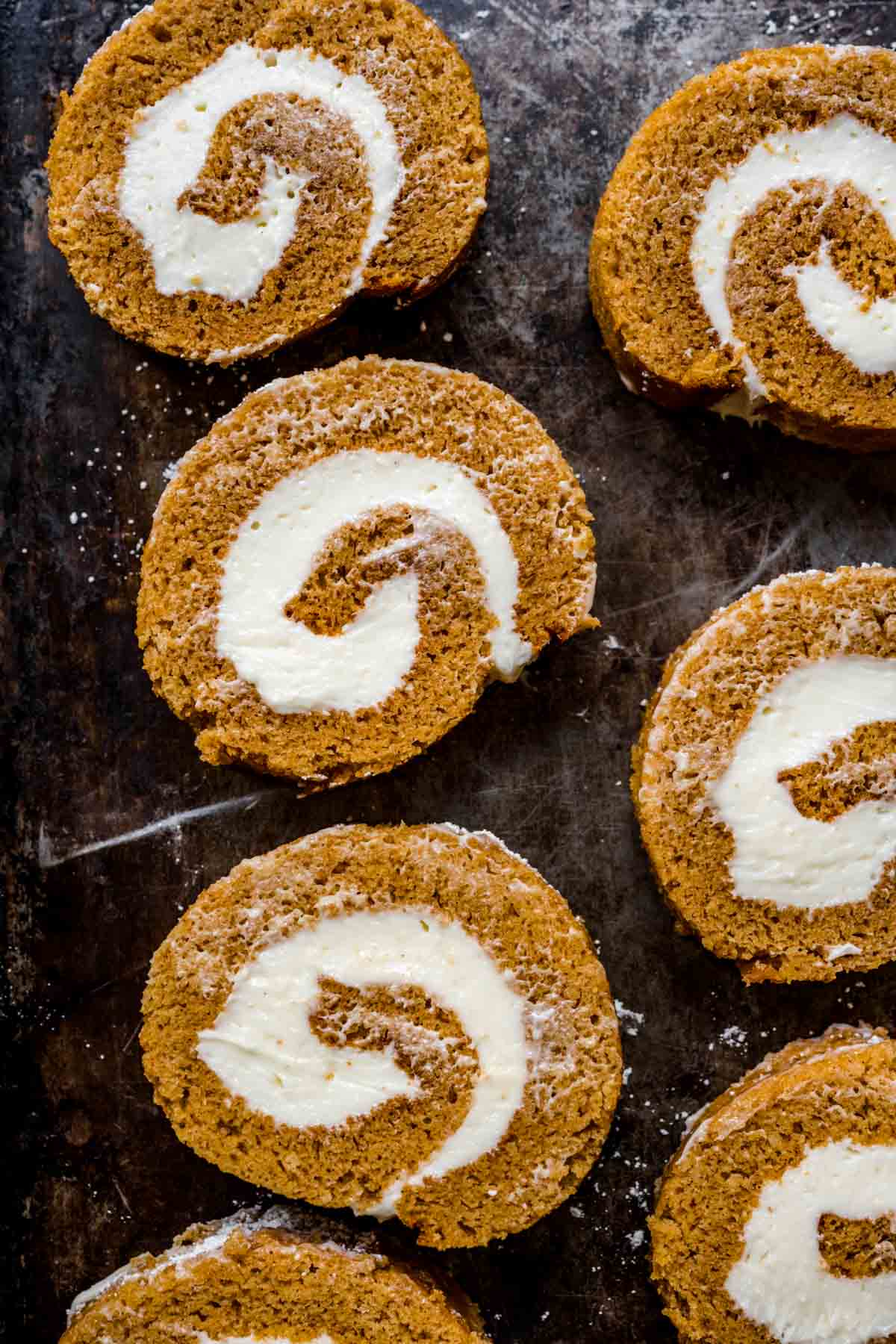 How to bake decorations on a Swiss Roll Cake:
If you've ever watched the Great British Bake Off episodes on Swiss Roll Cakes, you know their decorations are much more elaborate than just dusting powdered sugar. But it's not so hard that you can't do it!
Simply make about 1-2 extra serving's worth of batter (use the serving adjustment below to easy calculate). After mixing, reserve ¼ cup of batter in a bowl. Add food coloring or molasses to stand out. Transfer batter to piping bag. Pipe out designs onto your jelly roll pan lined with parchment paper. Freeze for 30 minutes. Pour rest of the batter on top of your designs and bake like normal.
MORE BEAUTIFUL, TASTY CAKES
HOW TO STORE PUMPKIN ROLL
Serve: This Pumpkin Roll recipe is good at room temperature for up to 2 hours.
Store: Keep your Pumpkin Cake in the refrigerator for 4 days in a sealed container.
Freeze: Cakes like this Pumpkin Roll are great to make ahead and freeze. Sealed in an air-tight container, this cake will stay fresh for up to 3 months in the freezer.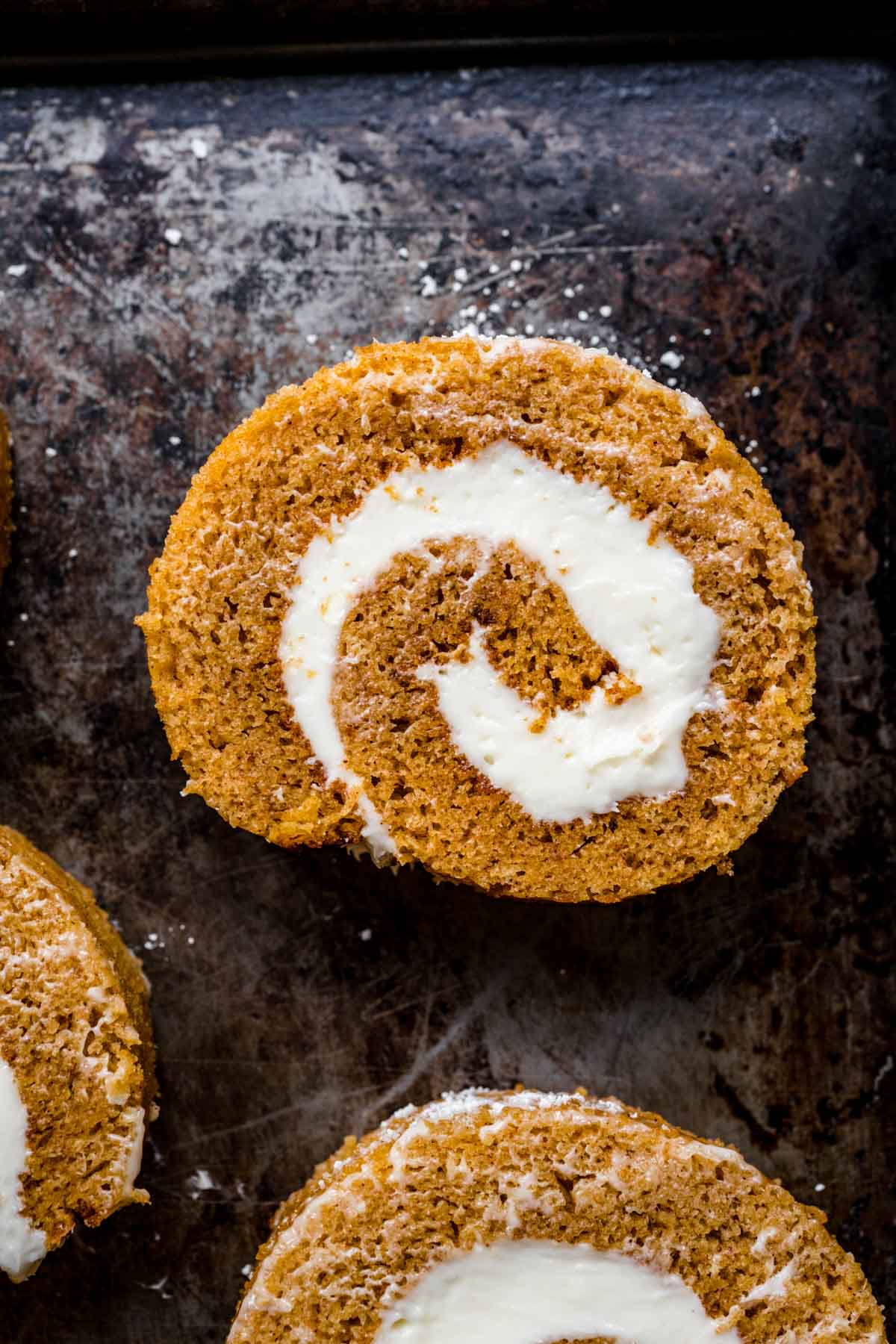 Ingredients
3

large

eggs

, beaten

1

cup

sugar

1/2

teaspoon

ground cinnamon

2/3

cup

pumpkin puree

3/4

cup

flour

1

teaspoon

baking soda

2

tablespoons

unsalted butter

, softened

8

ounces

cream cheese

1

cup

powdered sugar

1/4

teaspoon

vanilla extract

powdered sugar for dusting
Instructions
Preheat oven to 375 degrees.

Line a 15 inch by 10 inch baking pan with parchment paper and grease well.

Stand mixer on medium speed, mix together the eggs, sugar, cinnamon, and pumpkin until creamy.

In a separate bowl, sift together flour and baking soda.

Mix flour mixture into pumpkin mixture on low speed until just combined.

Pour mixture evenly into prepared baking pan.

While the cake is still warm, roll the parchment paper into a roll and let cool in the roll shape.

In a medium bowl, mix the butter, cream cheese, powdered sugar, and vanilla.

When cake is completely cooled, unroll and spread with cream cheese filling.

Roll up again without parchment paper. Wrap with plastic wrap and refrigerate at least 2 hours.

Dust top with powdered sugar and cut into slices.
Nutrition
Calories:
234
kcal
|
Carbohydrates:
35
g
|
Protein:
3
g
|
Fat:
10
g
|
Saturated Fat:
5
g
|
Cholesterol:
67
mg
|
Sodium:
185
mg
|
Potassium:
78
mg
|
Fiber:
1
g
|
Sugar:
28
g
|
Vitamin A:
2490
IU
|
Vitamin C:
1
mg
|
Calcium:
29
mg
|
Iron:
1
mg